Some of the best cocktail bars in Vancouver can be found in Chinatown.  We were going to put Sai Woo on our Chinatown Cocktail Crawl map a year ago but unfortunately, it was not open that day.  Actually, it is not open on Sundays and Mondays.
I was invited by Sai Woo's mixologist, Mark, to sample the cocktail creations here, on and off their menu. I was also greeted by Tracy, another star here behind that impressive bar, which is the very first thing everyone notices walking through the front door. We had some great chats while she was working the magic into the cocktails that I was tasting.
First,  she brought out a small squeeze bottle, filled with the result of Mark's latest experiment, a rhubarb shiraz reduction, and whip up a special drink also using vodka, Aperol, Meyer lemon, and a touch of rosemary, garnished by a thin dried apple chip and a cute tiny wood clip. The name is just as whimsical: "Barb's other sister Rosemary".   I don't usually order vodka cocktails, as I might have lost interest in vodka long time ago when I had way too many Cosmopolitans. But with a fun drink like this,  so full of flavours and so full of life, I totally could start drinking vodka again.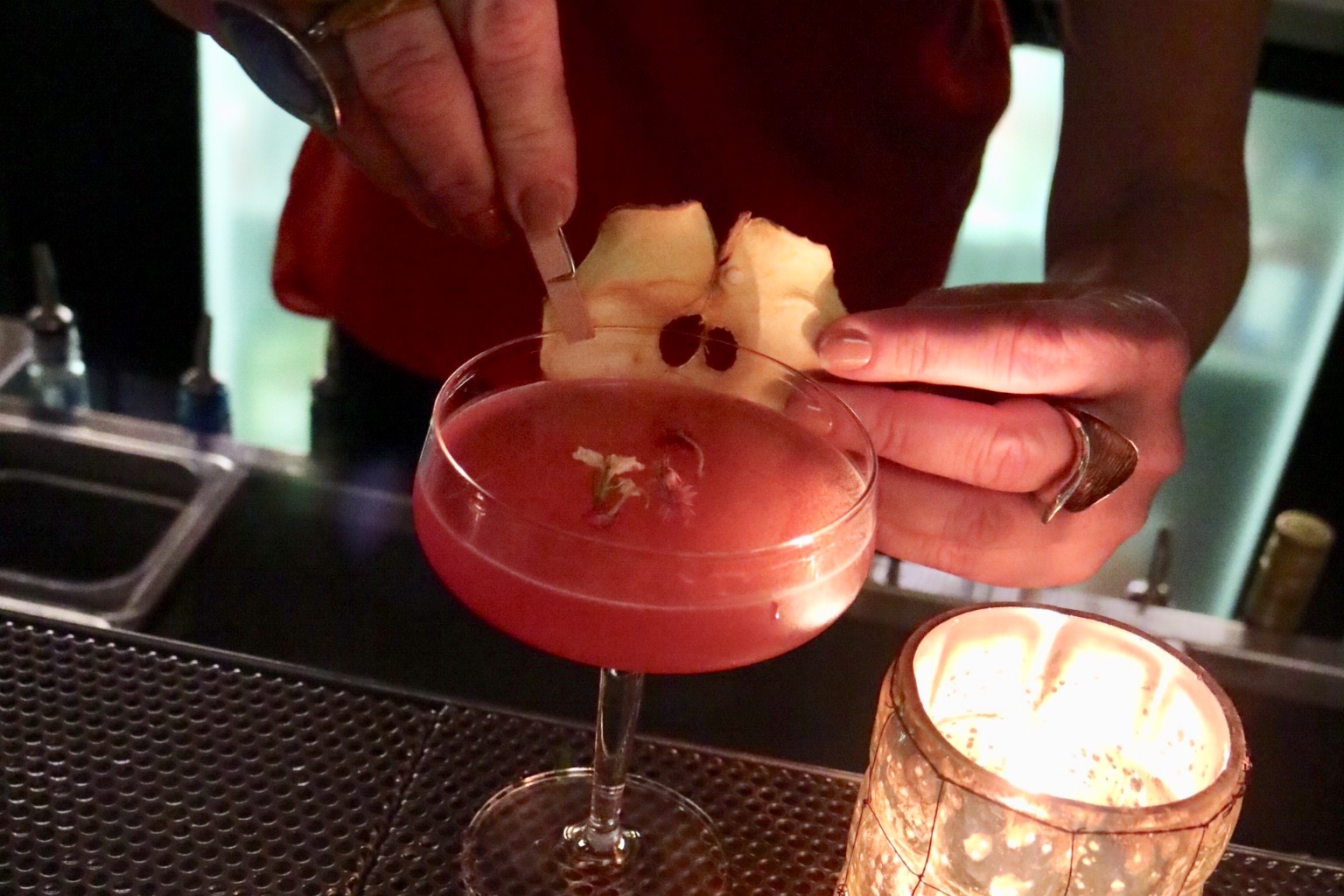 Sai Woo is known for serving casual Asian fusion food prepared in their "East-meets-West" kitchen using the fresh locally sourced ingredients. I was presented the Prawn Gyoza, the deep-fried Japanese style dumplings filled with marinated prawns, scallions and bamboo shoots. The dumplings were delicious, highlighting the sweetness of juicy prawns, also enhanced by the touch of spicy aioli, sesame seeds, pea shoots, and the house-made pickles on the side.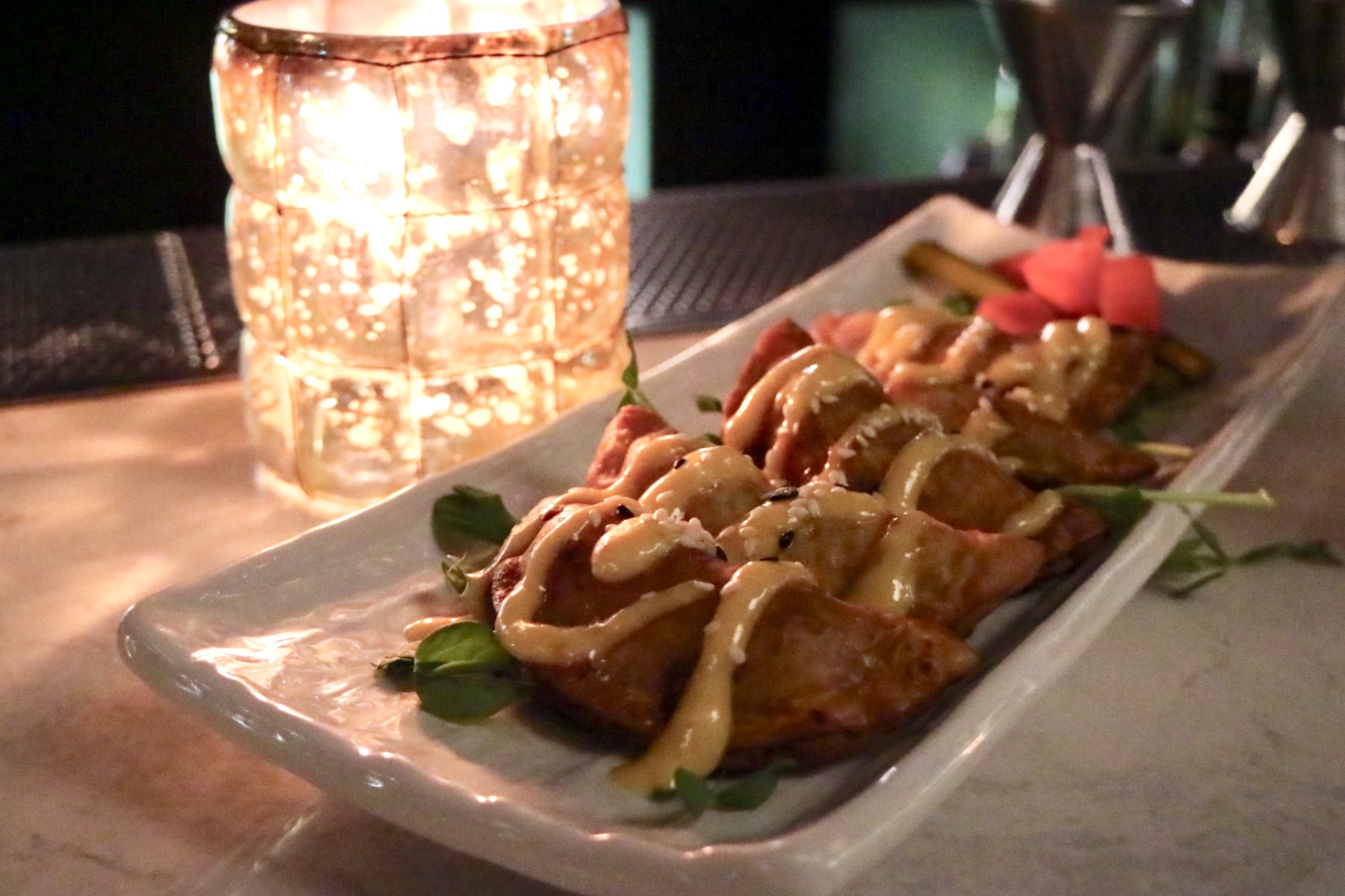 Next, I requested to try something on their regular cocktail menu. And Tracey put on a show for me as she started making the Smoking Gun.
Featuring El Dorado 12 Years Old Rum (which was replaced with Flor de Caña for the evening due to the outage of El Dorado), bitters, brown sugar, oak, and smoke from Lapsang Souchong tea.
The tea smoke from the smoker was caught and held in a skull-shaped glass bottle, and the mix was poured into the bottle as the smoke was infused into the beautiful amber liquid.  I have fortunately captured the entire process on video.
The Smoking Gun was fantastic. Again I was nervous about being outside of my comfort zone, as I tended to favour cocktails made with gin and whisky. Rum always sounds a little too sweet in the back of my head. But this cocktail, after the tea smoke incorporated, tastes very much like a super smooth bourbon. The smokiness reminds me the quality of Old Fashion.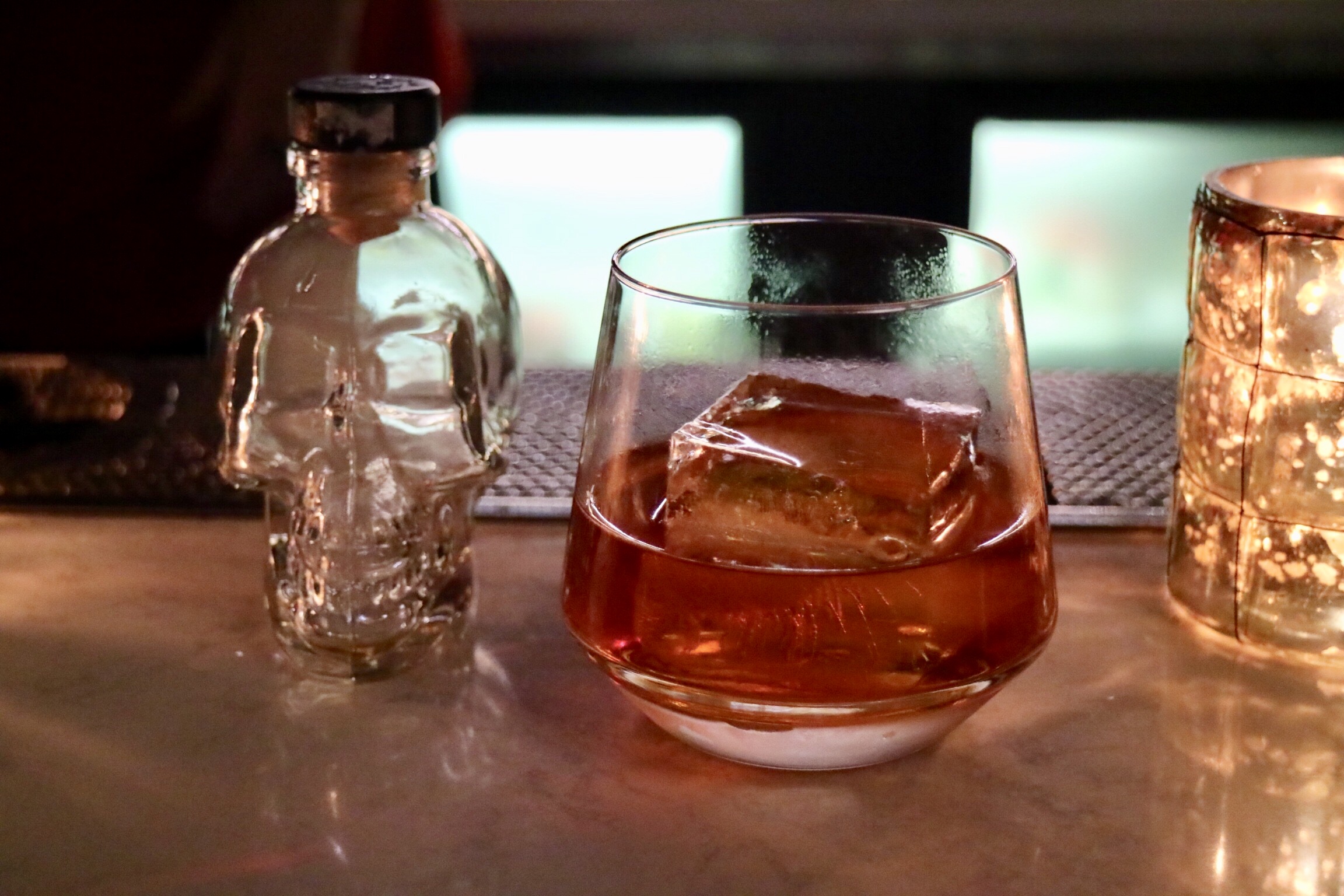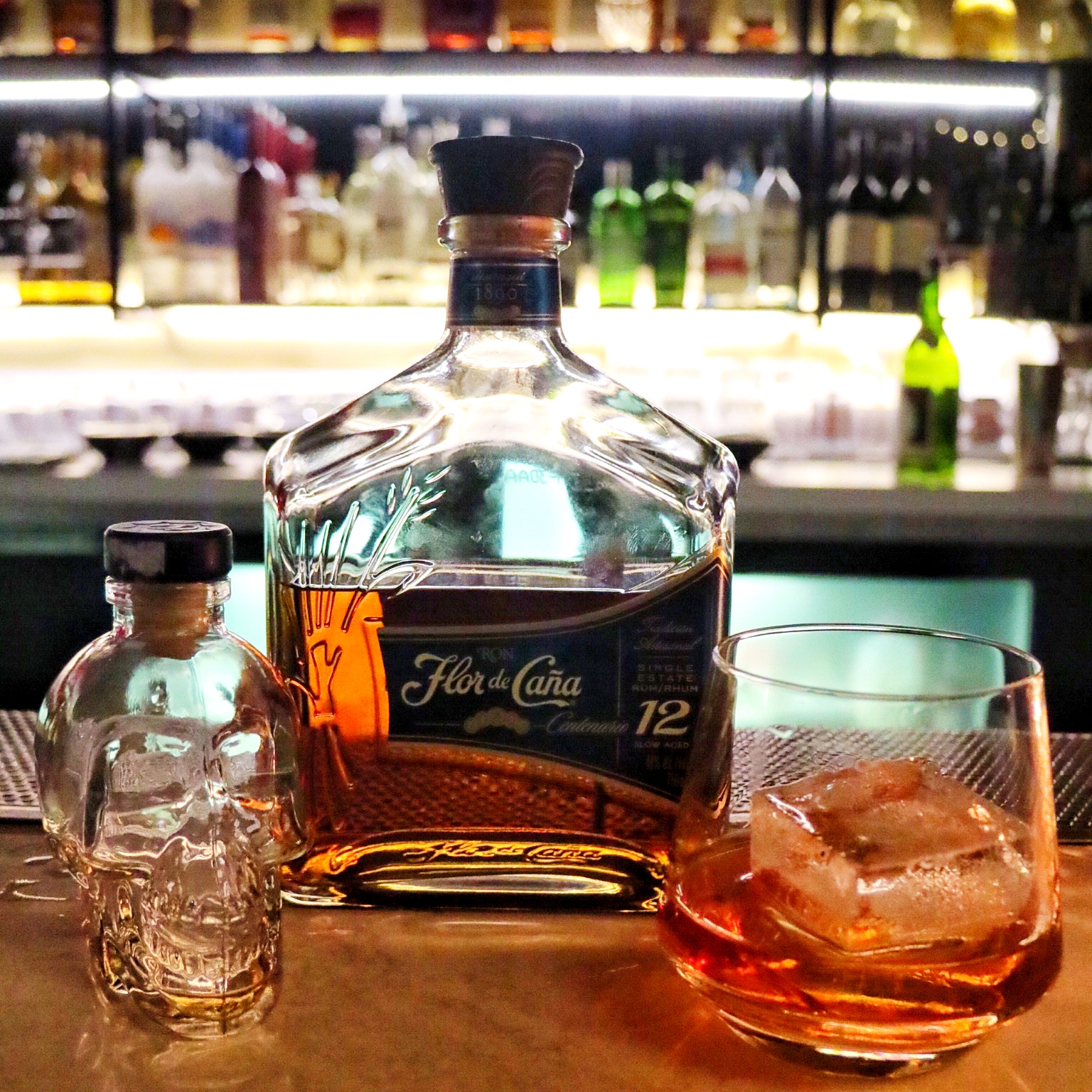 I finished my tasting with the Sai Woo Sour,  something to fix that gin bug of mine before I leave any bar. It was made with Bombay Sapphire East, Bénédictine, ginger syrup, lemon juice and egg white, the classic gin sour flavours with an exotic twist of ginger.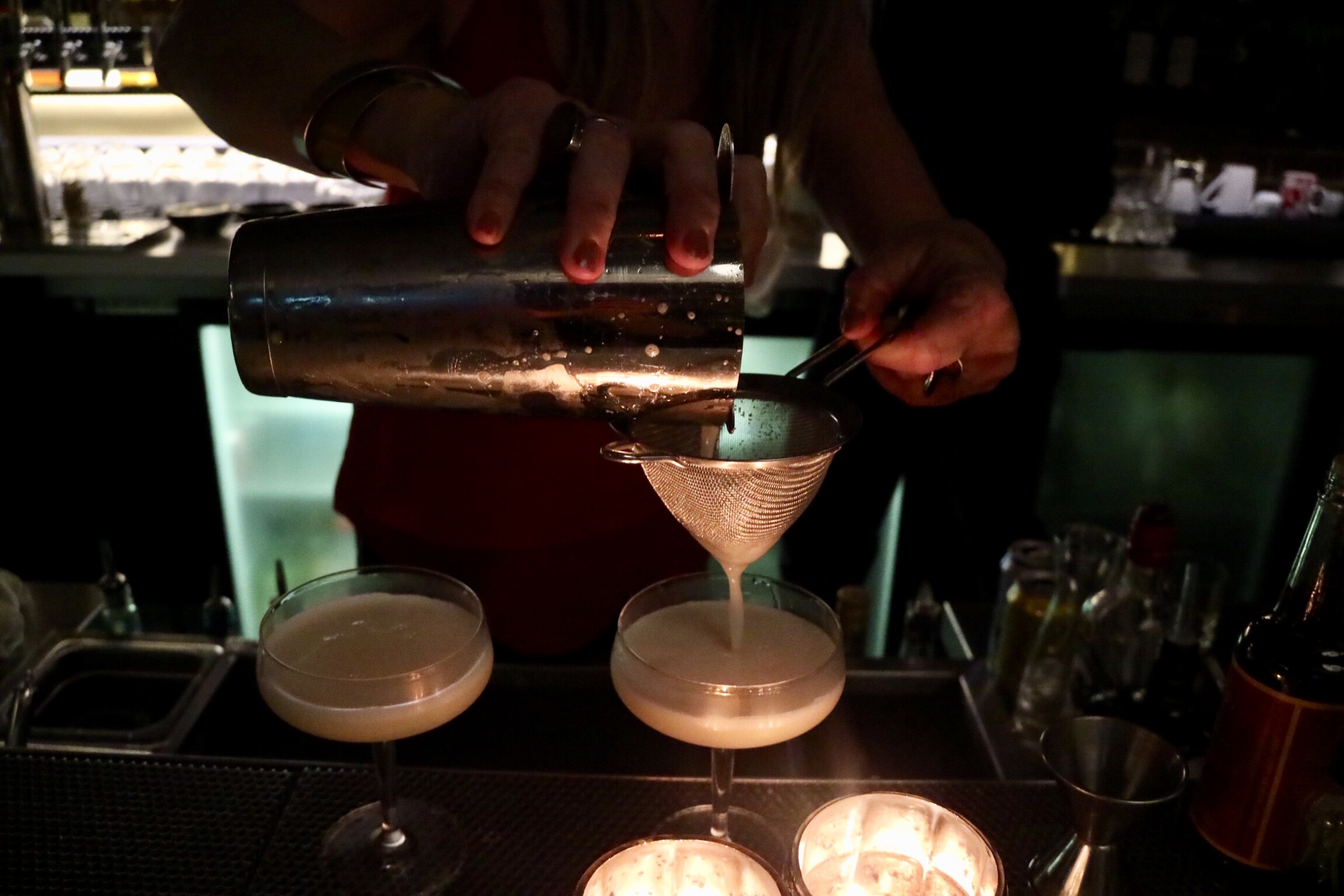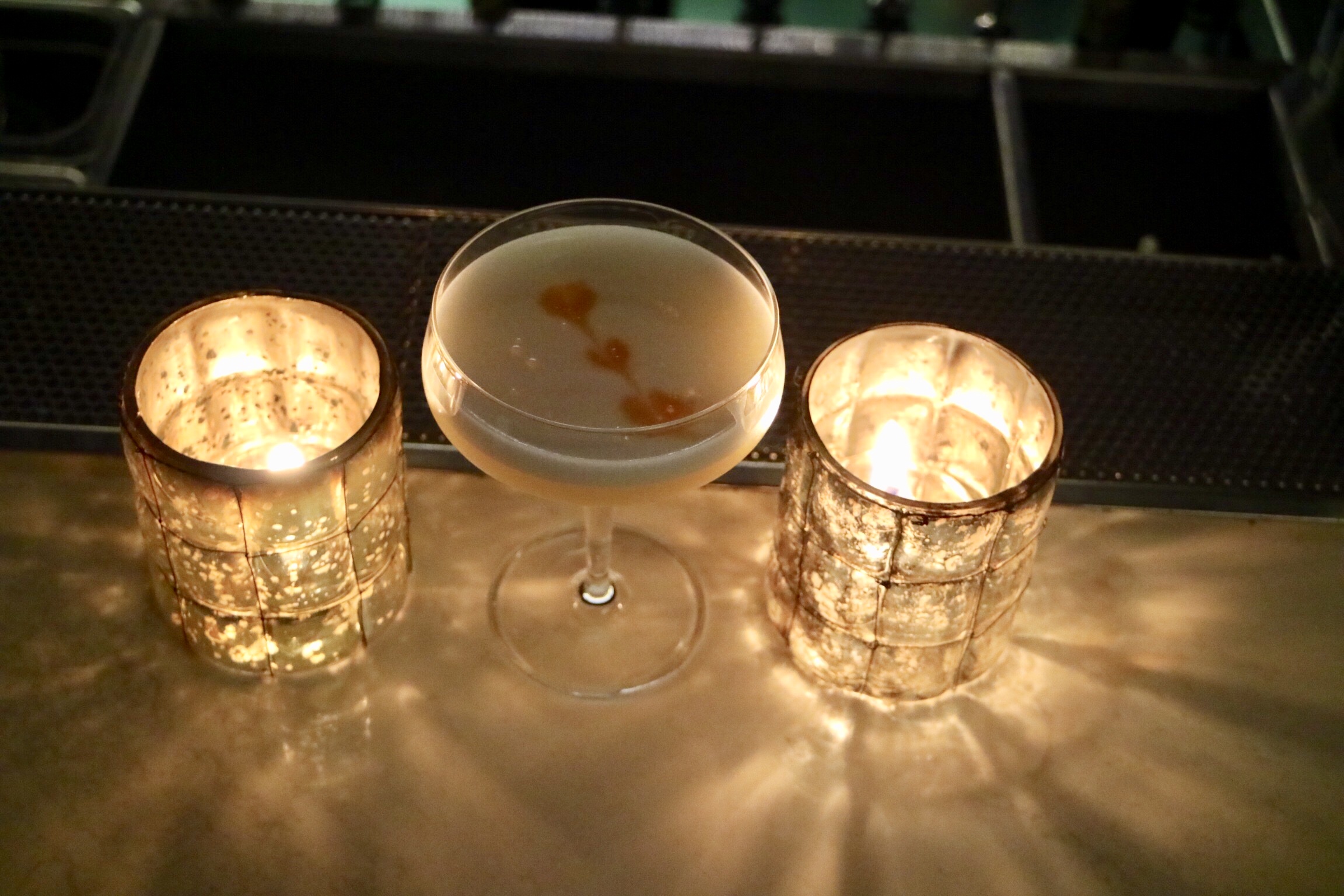 Overall
It was a lovely evening trying different fantastic cocktails at Sai Woo, where I was hanging out at the bar with some of the most passionate mixologists in the city.  I was honoured to try the "Barb's other sister Rosemary", an Aperol vodka cocktail highlighted with the amazing house-made rhubarb shiraz reduction and rosemary. To get a taste of it, make sure you ask for it in advance as this is not on their regular menu and won't be always available.  Another memorable moment was looking at the bartender making the Smoking Fun. Another great benefit of sitting at the bar.  Although I only had the prawn gyoza, it was enough for a glimpse of what they served from their "east meets west" kitchen. And I would love to come back for a full dinner.
* All dishes and beverages tasted in this post were complimentary. Opinions are on the reviewer's own.
$$
rating: [wp-review id="14316″]
Saiwoo
158 E Pender St, Vancouver, BC V6A 1T3;
(604) 568-1117 or saiwoo.ca