2021 is a tough year for everyone!  No overseas traveling has limited the list to food or drinks from only local businesses.
But here they are without particular ranking – all are listed in random order.
Venison Crudo
Carlino, Shangri-La Vancouver, Coal Harbour
Carlino is the new eatery that took over the short-lived Miantiao at Shangri-La Vancouver. The Italian restaurant offers a menu inspired by regional fishes from Friuli in Northern Italy, which is said to share many similarities with British Columbia – the mountains, forests, lakes, and coastal waters. The Venison Crudo ($29) is the perfect example. With the rich and delicious venison being widely accessible in BC, dressing in premium olive oil and other beautiful Friulian flavours really has made the ingredient shine. Make sure to make friends with Gianluigi at the bar and get a taste of his house-made Amaro!
Carlino
1115 Alberni St, Vancouver
(604) 695-1115 or carlinorestaurant.com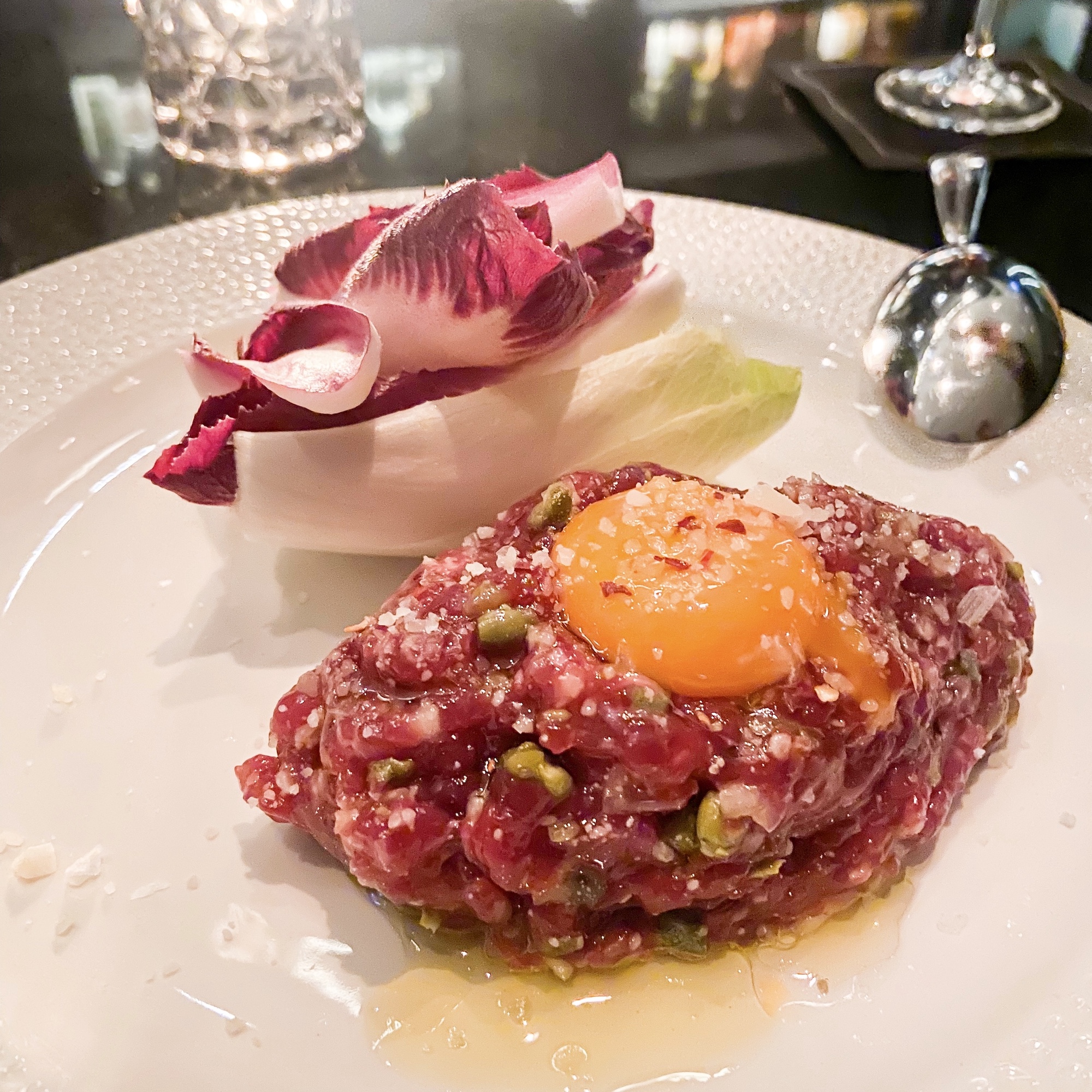 Fine Vermicelli Noodle
Bonjour Vietnam Bistro, Fraserhood
The Vietnamese restaurant in Fraserwood is known for both its exotic garden theme and elevated Vietnamese menu. Although The Pho ($17) here is equally exceptional, the Fine Vermicelli Noodle ($20) does a better job showcasing what people should expect from the best Vietnamese flavours. The perfectly cooked fine vermicelli noodles are topped with lemongrass-centric grilled pork, sweet and crunchy sugarcane shrimp skewers, fresh herbs, cucumber, carrots, and finished with aromatic green onion oil and house-made chili fish sauce.  Don't forget to chew on the sugar cane after you eat up the shrimp and suck out the sweet juice.
Bonjour Vietnam Bistro
3944 Fraser St, Vancouver, BC
(604) 879-3633 or bonjourvietnambistro.com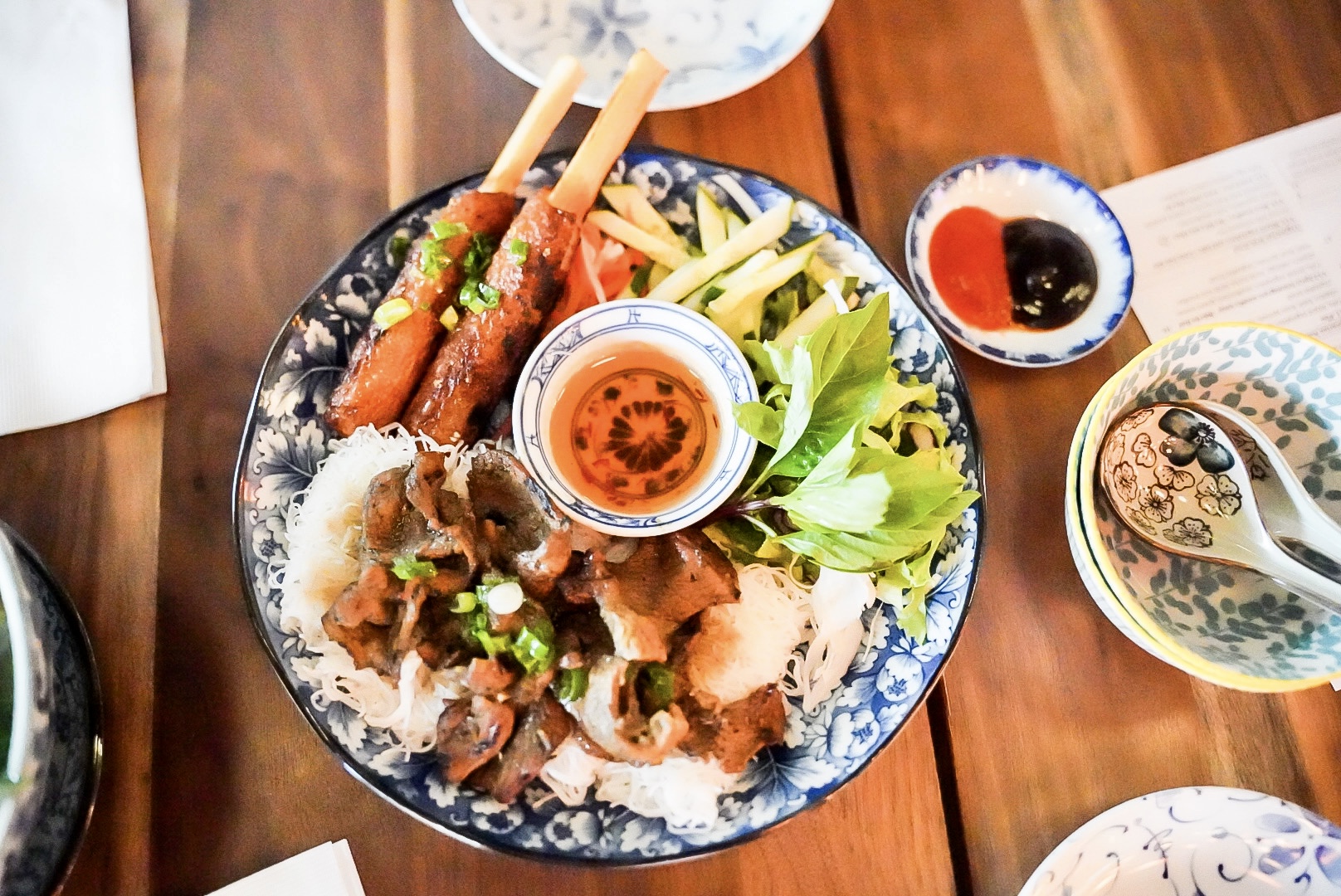 Umami Bomb
Fanny Bay Oyster, Yaletown
It was such a spectacular oyster night!  We tried all the 5 featured oyster varieties that evening.  While the oyster happy hour is fun with the buck-a-shuck deal, the quality is much better when the oysters are served at a regular price! The Umami Bomb ($12) is a large, juicy Fat Bastard oyster on the half shell topped with fresh uni and caviar and a generous bite of ocean goodness for true seafood lovers.  The Gold Rush ($10) comes as an oyster shooter drenched in a shot of Russian vodka with gold flakes – highly recommended if you are up for drinking fun!
Fanny Bay Oyster Bar & Shellfish Market
762 Cambie St, Vancouver, BC
(778) 379-9510 or fannybayoysters.com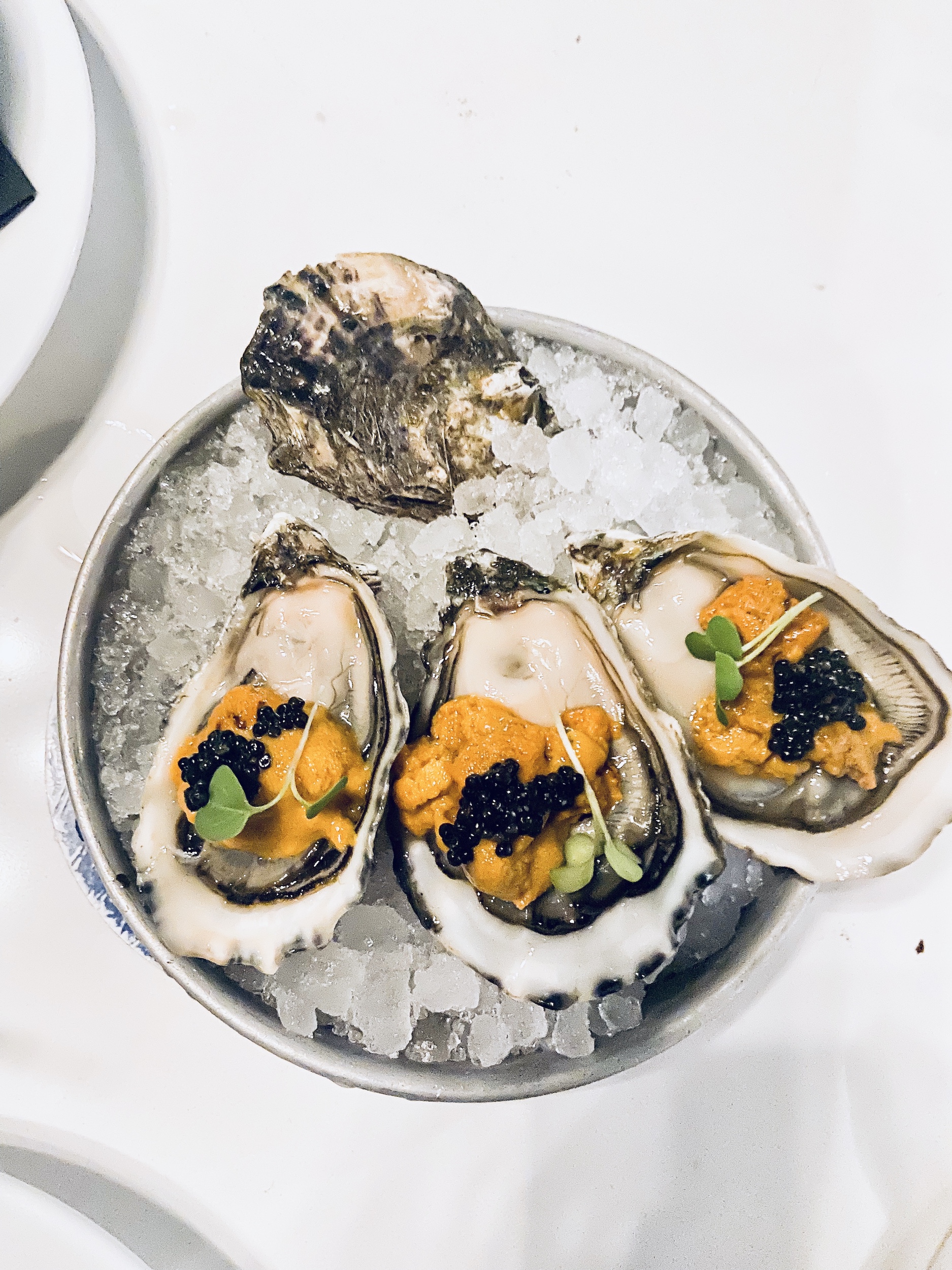 Liberica Coffee
Archipelago Marketplace, Gastown
It's common knowledge that Arabica and Robusta are the common commercial coffee beans. Hower,  Liberica, which accounts for less than 2% of commercially-produced coffee worldwide is starting to gain attention. Grown in Indonesia and roasted locally in Vancouver, the coffee brewed from the Liberica beans at Archipelago is absolutely flavourful,  with a unique subtle sweetness! Archipelago Market Place, now a pop-up shop at Indonesia Trade Promotion Centre, is known for quality free trade food products imported from Indonesia. Drop-in coffee tasting and tasting by appointment are also available on weekends. 
Volcano Lava Buns
Blossom Seafood Restaurant, Richmond
When it says "Seafood Restaurant" in Richmond, you can be sure this is Cantonese fine ding and the restaurant is very likely to serve dim sum. The dim sum here at Blossom Seafood Restaurant is legit! The Volcano Lava Buns ($8.80) is basically the classic "pineapple" BBQ pork bun with red colouring on the sugar crusty top. But the whimsical appearance isn't the only key to success – these buns are filled with soft, saucy BBQ pork that tastes heavenly with a perfect balance of sweet and savoury flavours.  The rest of the dim sum dishes are also hitting the spots. The Har Gow ($8.80) here features the best shrimp dumplings with sweet and crunch filling made with super fresh shrimp. And both the Angus Rice Noodle Roll ($8.80) and the Shunde Fish Crepe ($8.80) present the taste of the key ingredients precisely.  This is my new go-to dim sum place in Richmond!
Blossom Seafood Restaurant
100-3600 No. 3 Rd, Richmond
(778) 297-0868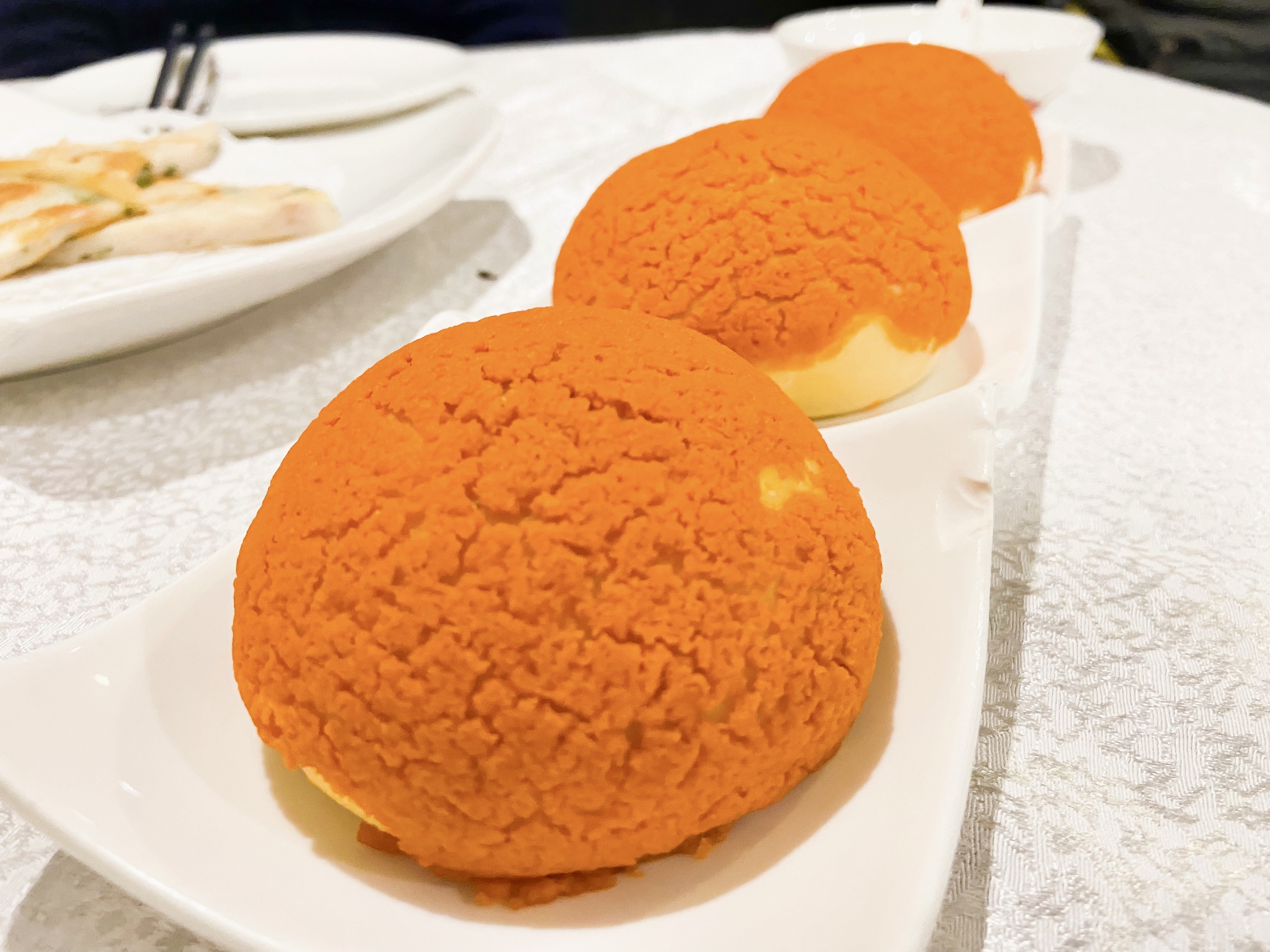 Pizze Tartufo Nero / Black Truffle Pizza
Acquafarina, Downtown
Among the most expensive restaurants in Vancouver, Acquarfarina is also known for its no-cell-or-camera policy. They are going to ask you to turn up your devices at the door, but trust me, they do a great job detecting the rule breakers and ask you to put the device away politely.  I came here with one of the most respected Vancouver foodies and it was such an amazing experience.  The Black Truffle Pizzed was brought up when we needed recommendation for munches to go with our cocktails. A bit fancy to have a $51 pizza for a cocktail snack – but the pizza is out of this world and worth every penny. With just crema, fontin, and thinly shaved fresh truffle from Italy, the pizza was rustic and properly charred, giving soulful flavours injected from one of the 2 lambourginis of pizza ovens.
Unfortunately I couldn't take pictures but I have a shot of the leftover pizza.
acquafarina
25 W Georgia St, Vancouver, BC
(604) 558-3099 or acquafarina.com
Scotch Egg
Pourhouse, Gastown
The last time I had a tasty gourmet Scotch Egg, it was years ago at Tuc Craft Kitchen. But the version here at Pourhouse is just at another level, featuring a soft hen's egg wrapped with fennel sausage and a crispy panko crust, served with spicy mayo – both flavour and texture are heavenly!
If I have another vote, I will give it to the burger here too. The Pourhouse Burber features a 7oz dry-aged beef patty, confit pork belly, aged cheddar, caramelized onion, grainy mustard mayo, and potato bun.Medium rare is the way I like it – succulent, juicy and full of flavour!
Pourhouse Restaurant
162 Water St, Vancouver, BC
(604) 568-7022 or  pourhousevancouver.com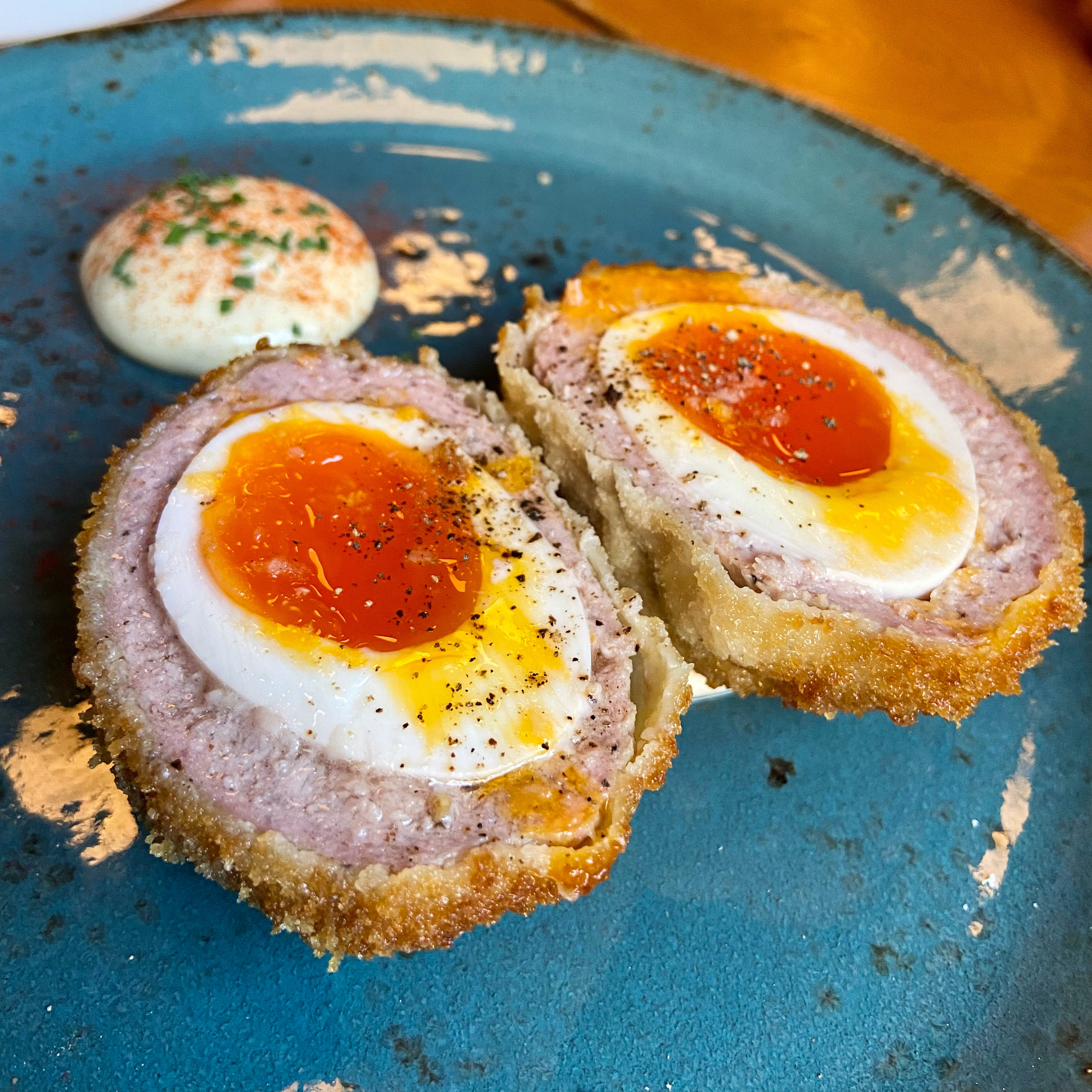 Salty Egg Yolk Cake
Tina Cake Desserts, East Vancouver
The cake has a texture like Swiss Roll – soft, smooth but bouncy, and a subtle sweetness. But adding salty egg yolk, meat floss and lemon cream has elevated it to a whole new level. This is addictive.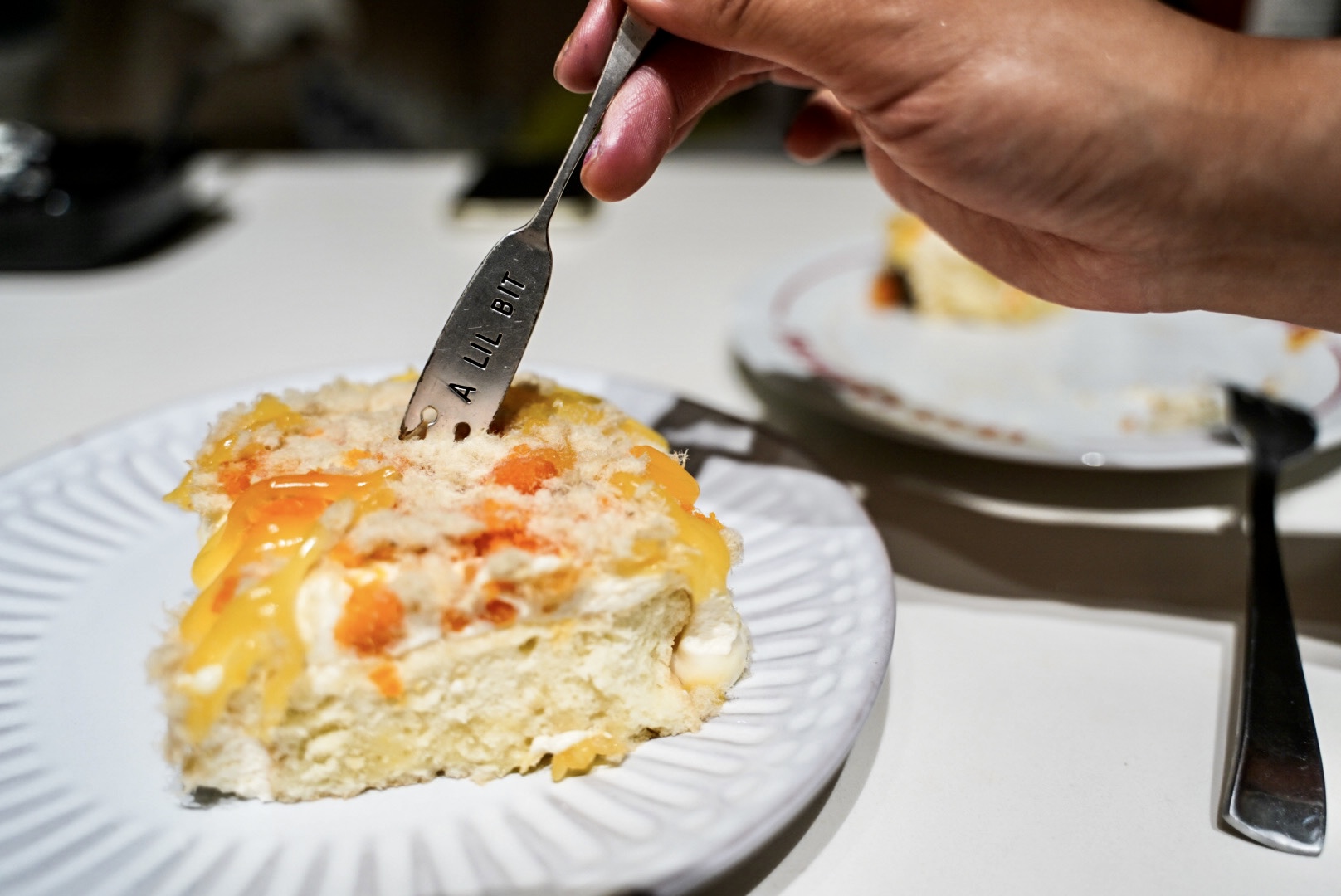 Tina Cake Desserts
888 Kingsway #128, Vancouver, BC
(604) 428-5181
Croque Monsieur
Nemesis, Gastown
Yes, it is just a sandwich. But the Croque Monsieur ($13.25)at Nemesis has done everything right to please someone like me, who is not a crazy bread or cheese lover! Just look at it – black forest ham covered in béchamel and toasted house milk bread slabbed with torched, melted gruyère cheese, definitely one of the best food porn that I have seen. I sometimes order the sandwich with a fried egg, making it a "Croque madame", with oozing golden liquidy yolk for a different kind of sexy look! And of course, get one of their super yummy pullover coffees as well!
Nemesis Gastown
302 W Hastings St, Vancouver, BC V6B 2N4
nemesis.coffee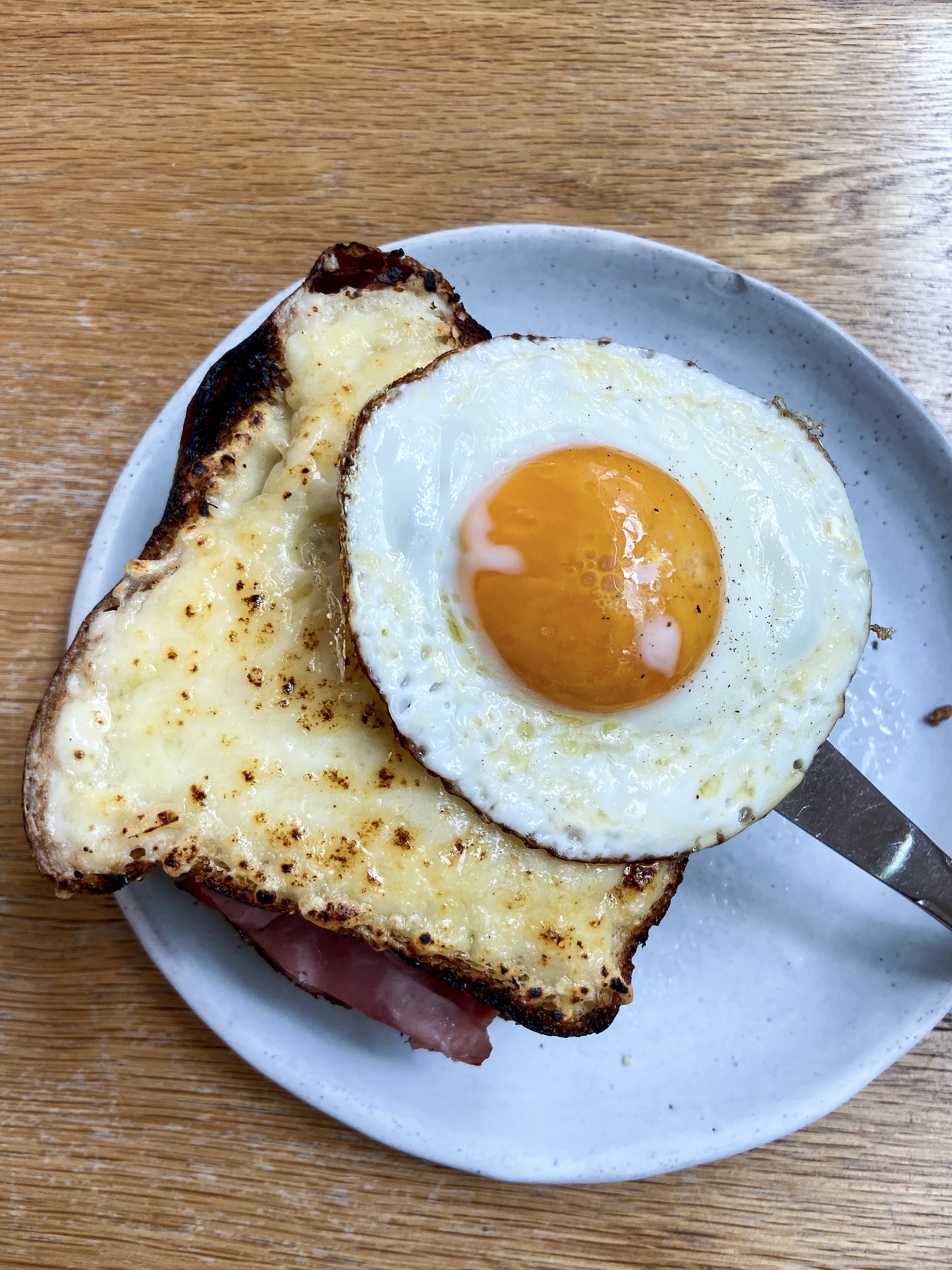 Shrimp Wonton
Congee Noodle Delight, Chinatown
This is another newly found in my neighbourhood.  As I usually don't suggest a lot of Chinese restaurants in Chinatown except Chinatown BBQ, now I have one more to recommend, which is Congee Noodle Delight. It is said to be run by the same people who ran  Congee Noodle House on Broadway, an iconic Cantonese eatery that was permanently closed.
The wonton here is freshly made with quality ingredients like how they do it at the traditional shops in Richmond like Neptune or Tsim Chai. The dumpling is huge and it's crunchy and bursting out sweet seafood juice when you bite on it, thanks to the use of super fresh shrimps. It makes me feel like back in Hong Kong or Guangzhou. I like their stir fry noodle dishes too, such as Beef Chow Fun or Singaporean Rice Noodle, delicious and very affordable.
Congee Noodle Delight
88 W Pender St #1021, Vancouver, BC
(604) 336-3311 or congeenoodledelight.com