The rest of the stops of our Chinatown Cocktail Crawl were all very close to each other on Keefer street. And we walked into Juke, a new spot known for their fried chicken.
We got the best table in the house again! I'm pretty sure Mag (vieamaggi.com) was loving where we seated, with the bright green and pink neon sign "chickadee" right over our heads. It was the type of cheekiness that reminded me of Gringo, where we visited in our Gastown crawl.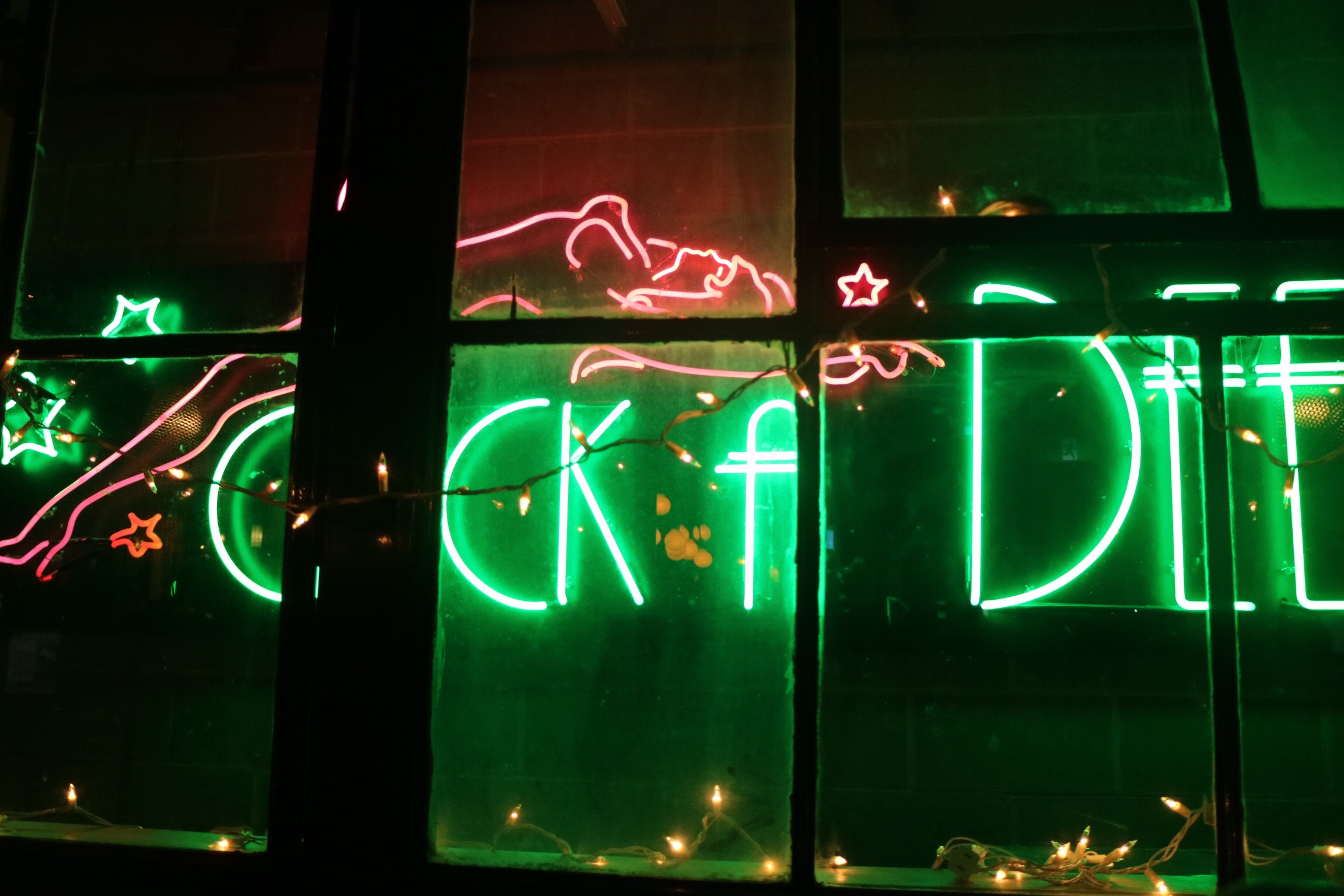 The rest of the restaurant was cozy and sleek, decorated with glass and real wood, and a very impressive bar with the shelves of colourful bottles taking over a whole side of the room, making it pretty clear that they are definitely not just selling fried chicken.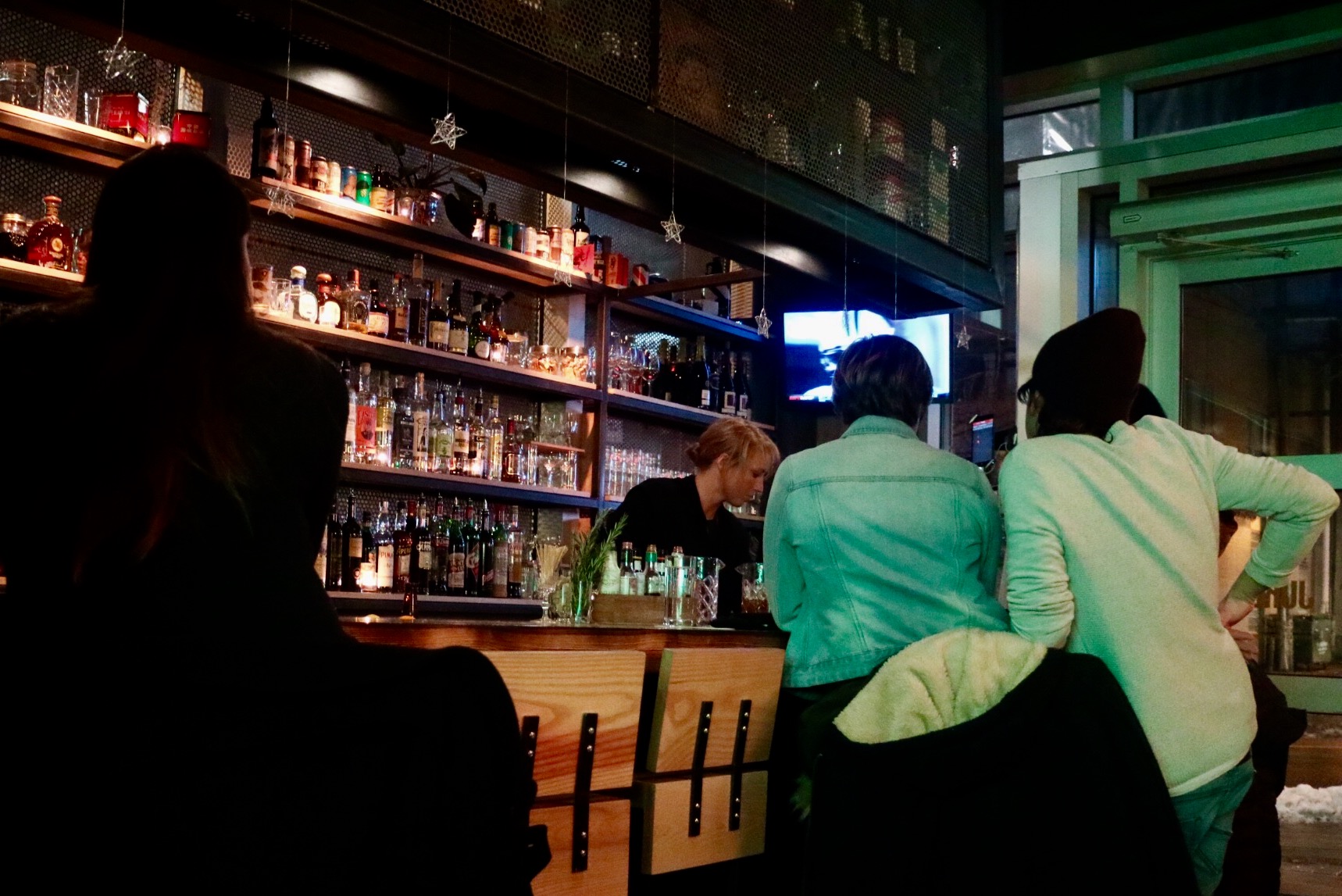 And yes their cocktails are just as cheeky and colourful.  Lou's Ms Jackson featured Zubrowka vodka, iced tea blend and yuzu syrup. Hmm, ice tea for fried chicken. Sounds like they have that covered. The yuzu was a nice exotic touch, and extra bonus for me since I'm a fan of Zubrowka vodka myself.    My Lady Don't Tek No was made of Bulleit Bourbon, Fernet, dry vermouth, pomegranate and palm syrup. I do like bourbon, maybe not as passionately as Kristina does. But I like how the bourbon was balanced with bitterness and sweetness. Kristina picked something light this time, the Take 5,  mixed with sake, Thai basil, topped with central city cider and a cassis float. The aroma and frizziness were quite pleasing, and it was not too sweet, definitely a favourite among all of us.  Mag is a big fan of drinks with egg white foam, and it was no surprise she ordered the Snoop Fizzle, consisting of Beefeater gin, orange blossom, grapefruit, lemon, and egg white, and topped with sparkling, and apparently, she loves anything associated with Snoop Dogg as well. Clearly not quite sure the name reference, I found the cocktail nice and refreshing as well, but maybe a tad bit too light for me.
From to to bottom clockwise: Snoop Fizzle, Take 5, Lady Dont Tek No and  Ms. Jackson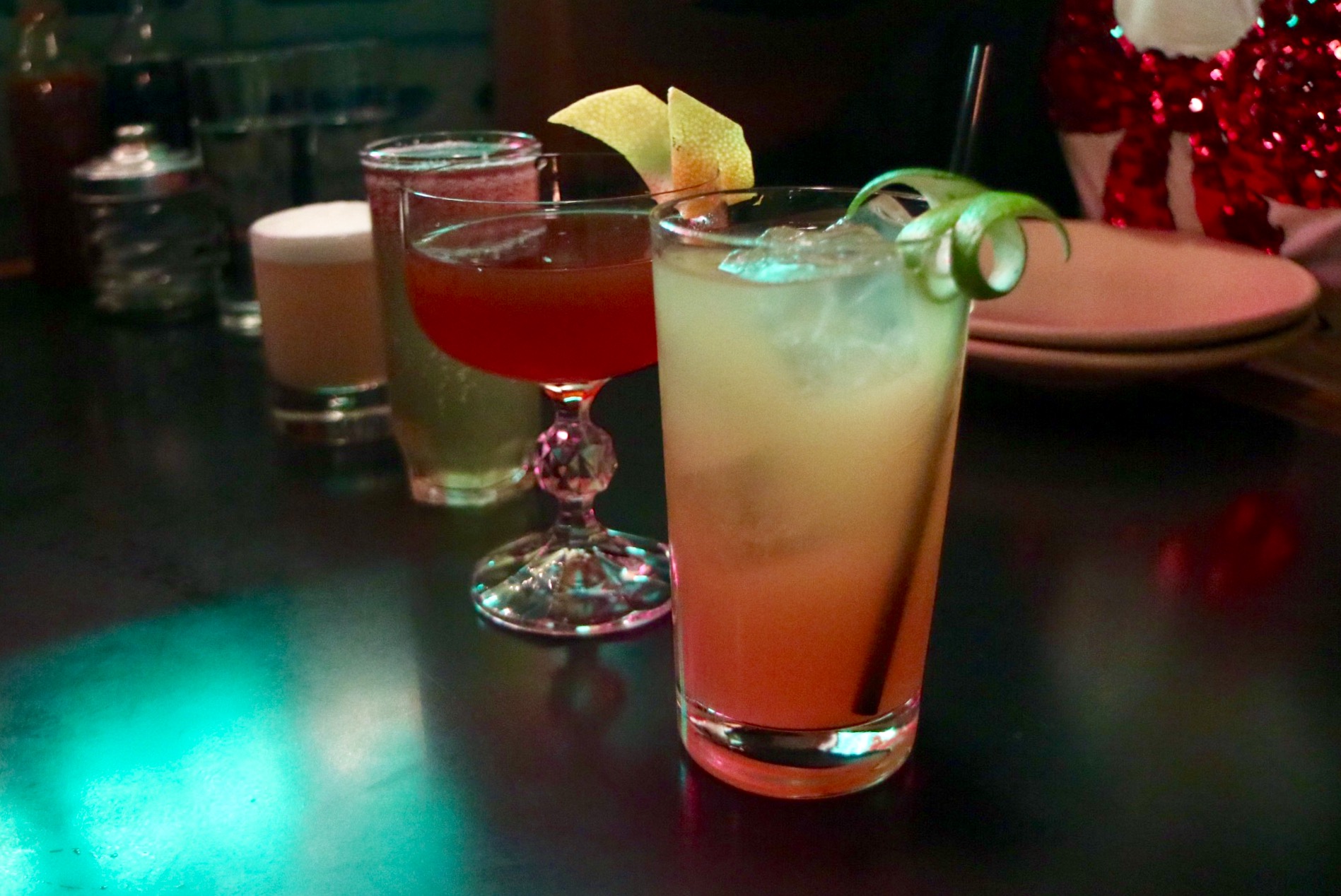 Lou and I never had the Fried Chicken here, and definitely, wouldn't pass on the opportunity this time. I liked the crunchiness of the skin, as much as how moist and juicy the meat is underneath, but I found the chicken a little bland. Errr this was frustrating because the execution of frying seemed perfect, and only if there was an extra touch of salt.  I do however think they deserve another chance for redemption.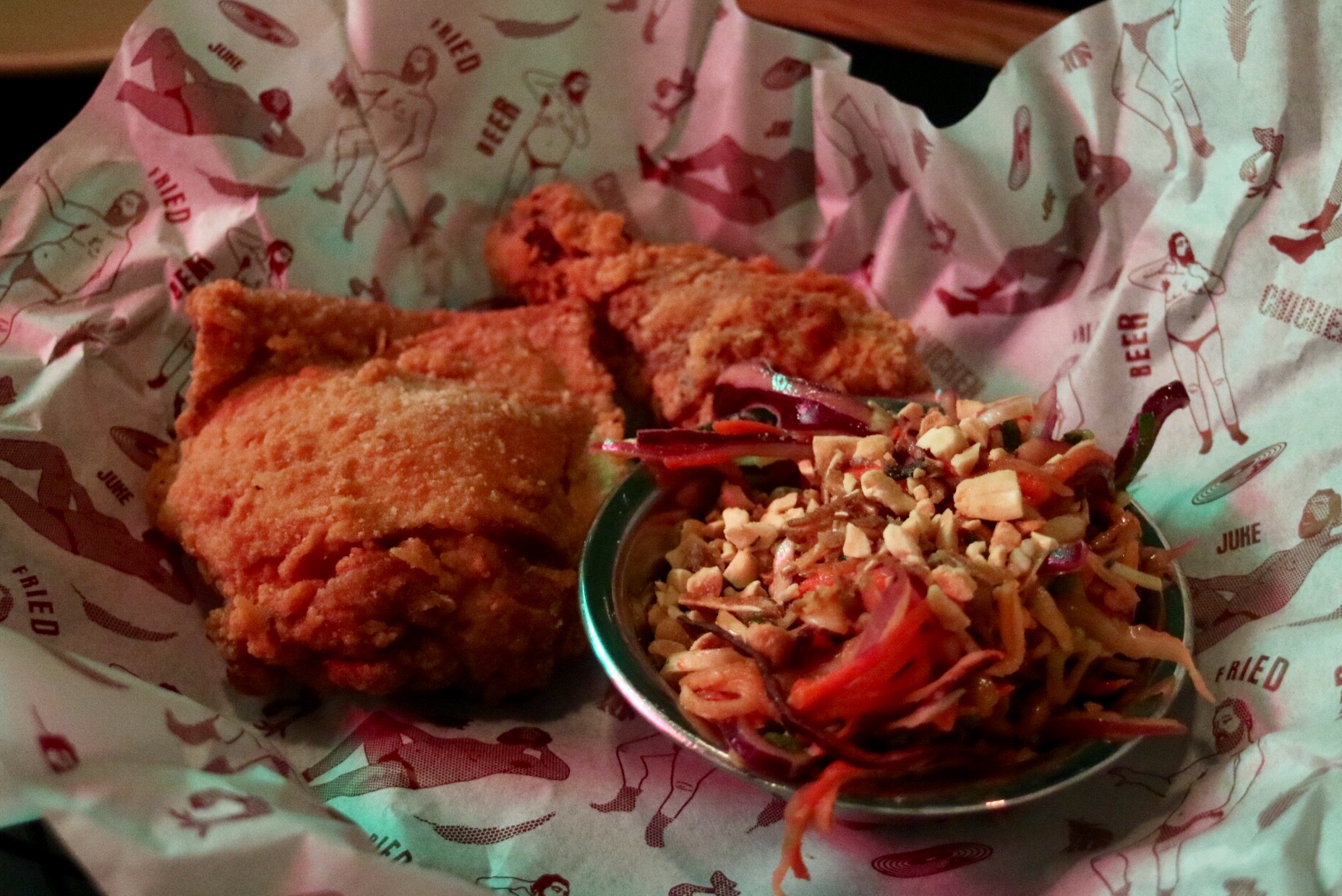 Kristina ordered the Chicken Sandwich ($5) as it was her favourite.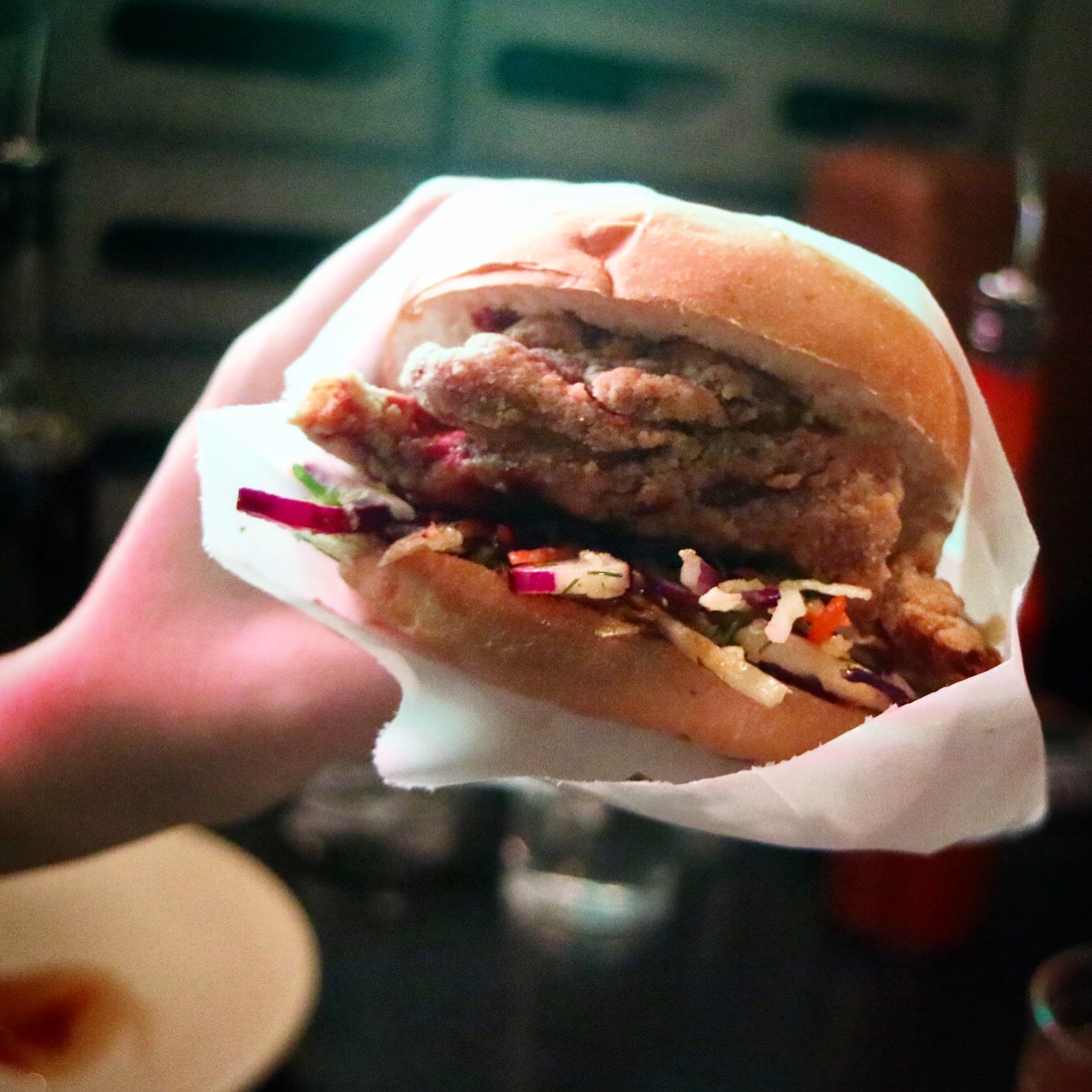 It was a nice surprise to find out about the cocktail menu at Juke.  Visually pleasing, the drinks we tried all happened to be quite light as well, which was not necessarily a bad thing for pairing with fried chicken. Although the chicken tasted a little bland to me this time, it was satisfactory in texture and earned a return visit from me. I would love to try their ribs and the stronger drinks next time.
Also see:
Chinatown Cocktail Crawl Part 1 – Mamie Taylor's
Chinatown Cocktail Crawl Part 2 – Juke
Chinatown Cocktail Crawl Part 3 – Juniper
Chinatown Cocktail Crawl Part 4 – Bao Bei
Chinatown Cocktail Crawl Part 5 – Keefer Bar
Website:
http://www.jukefriedchicken.com/
More reviews:
Location: