The whole city of Vancouver was celebrating the Italian Heritage Month (IHM) in June.  The festivities had brought many together in experiencing and sharing Italian culture and heritage, and of course Italian food!
I was honored to attend the Italian Top Chef Showcase, presented by The Italian Chamber of Commerce in Canada-West, in cooperation with the Consulate General of Italy.  This superior Italian culinary experience was hosted at the Saffire Ballroom of Fairmont Pacific Rim Hotel, featuring a 6-course dinner by Top Vancouver chefs Pino Posteraro (Cioppino's) Angus An (Maenam, Longtail Kitchen, Fat Mao, Sen Pad Thai), and Nathan Brown (Fairmount Pacific Rim), using authentic Italian products specifically selected and flown from Italy for the event!
Wine Reception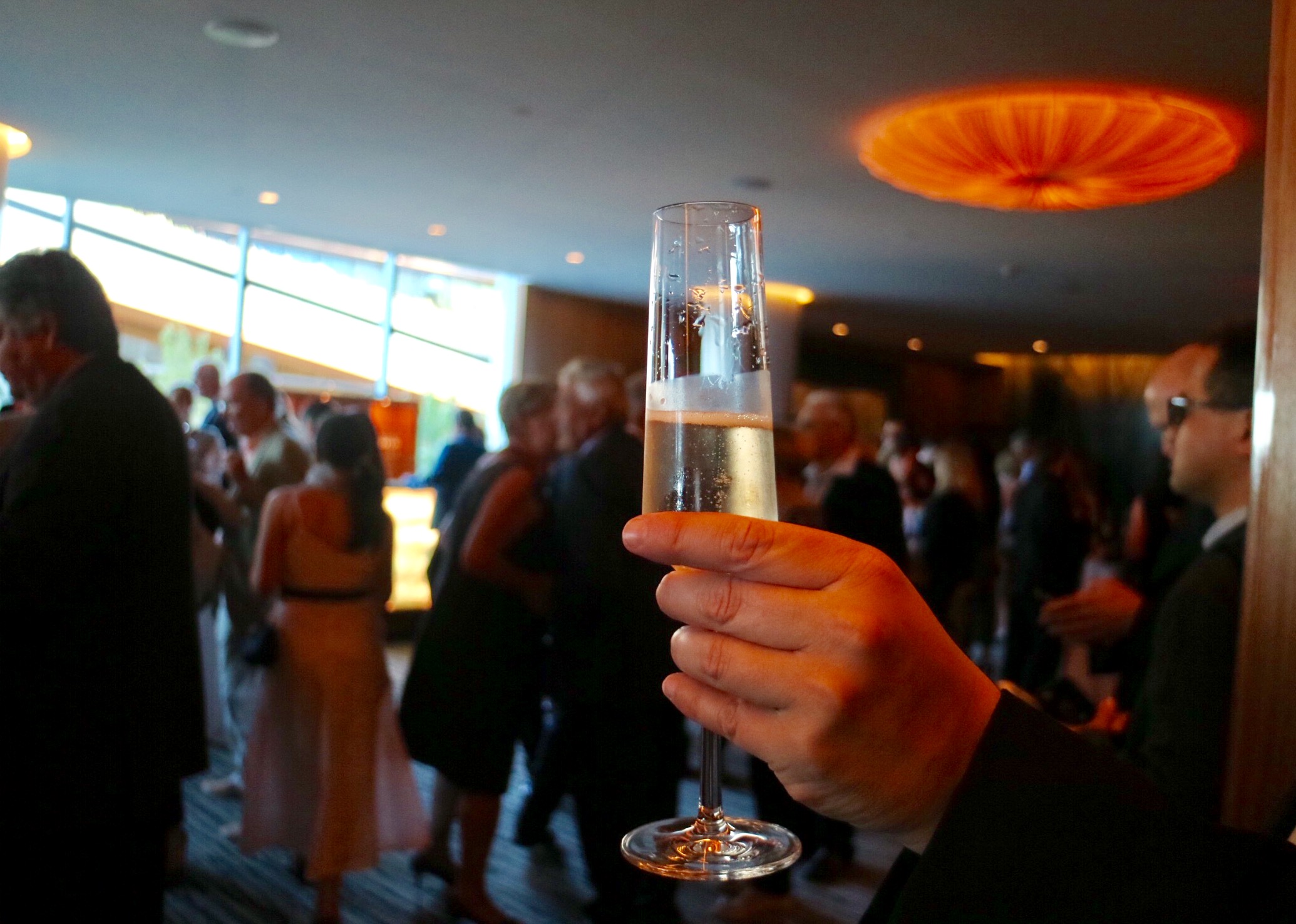 The event started with a wine reception with a Salumi & Formaggi station, a mouth-watering showcase of the finest Italian DOP & IGP cheeses, cured meat delicacies and a variety of bread.
Such stunning Italian products represented The Extraordinary Italian Taste campaign, supported by the Italian Ministry of Economic Development and the Ministry of Agriculture, Food and Forestry. The campaign was created in 2016 to promote products that are 100% made in Italy abroad.
Within the campaign, #TrueItalianTaste is the initiative focusing in USA, Canada, and Mexico. They want to make sure that consumers in those markets are able to taste the most authentic foods from Italy.
Learn more about the True Italian Taste project here…
So from now on, the DOP (protected designation of origin) and IGP (protected geographical indication) labels are your good friends if you want to enjoy 100% authentic products made in Italy.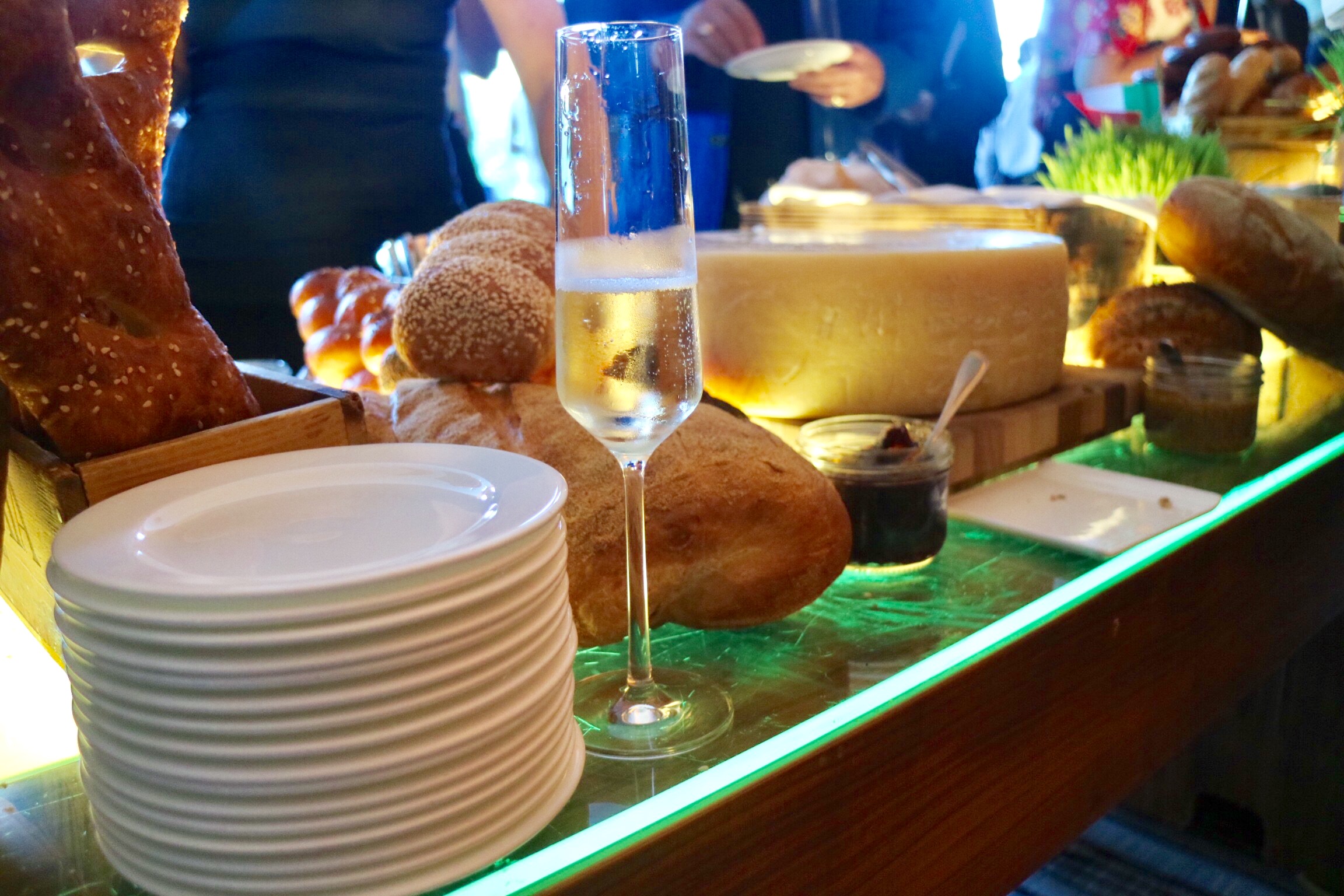 I was truly in heaven while tasting these amazing Italian products such as the Parmigiano Reggiano (DOP) and the Prosciutto di Parma (DOP). It was the history of those authentic products,  centuries of efforts on calibrating to meet the finest taste,  that has achieved such quality on such beautiful and delicious foods!
Silent Auction
There was a silent auction for a cause at the event.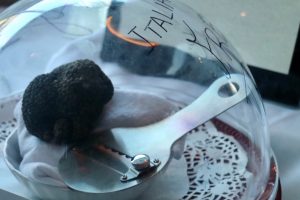 Greetings from the Hosts
We were seated at 7 pm and received greetings from Celso Boscariol, Q.C., the president of Italian Chamber of Commerce in Canada West, and Massimiliano Iacchi, the Consul General of Italy.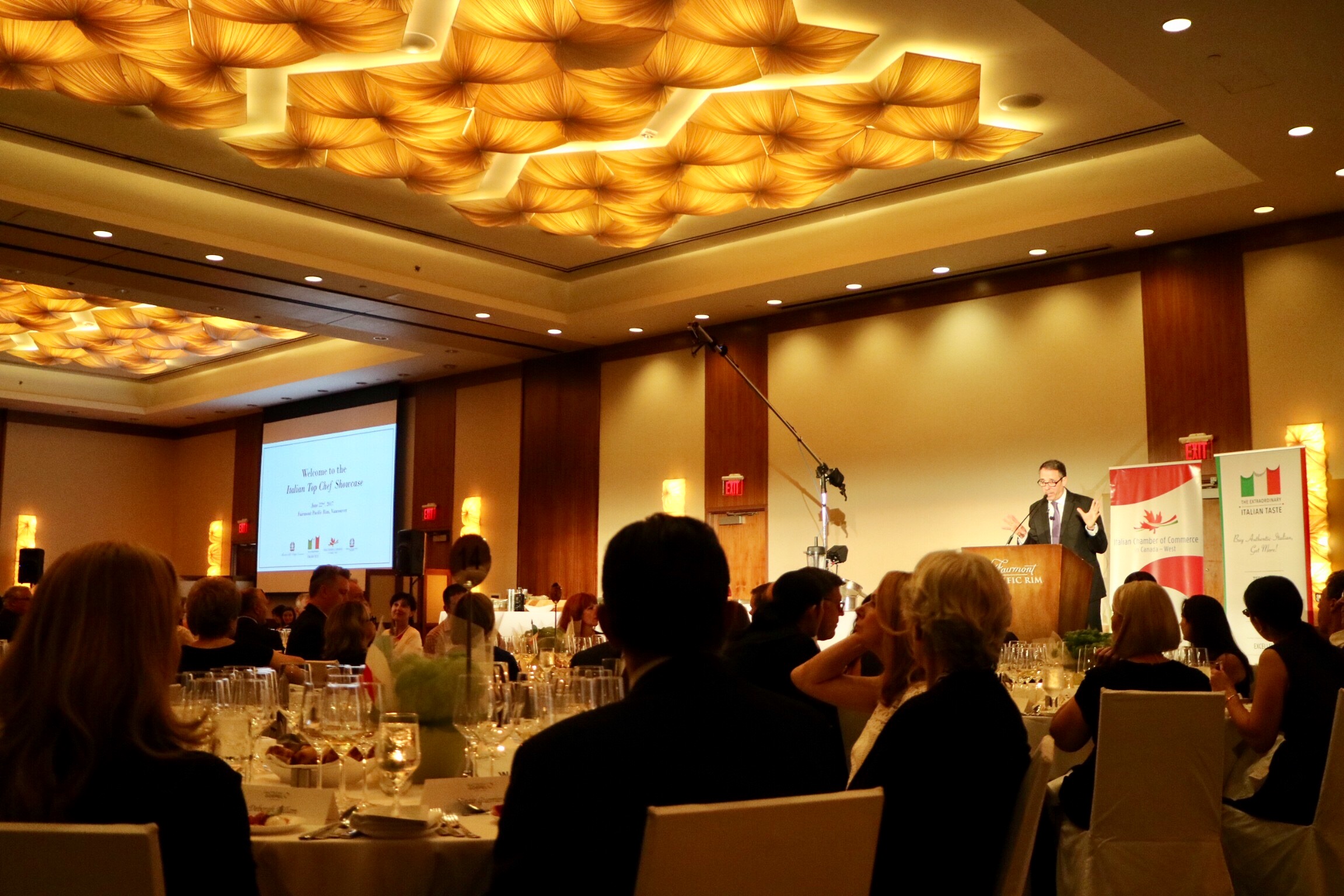 Top Chef Showcase
Then the Top Chef Showcase started with Chef Angus An's demonstration on his dish served at the dinner, the Albacore Tuna Crudo. Later Chef Pino Posterano joined the live cooking fun as well.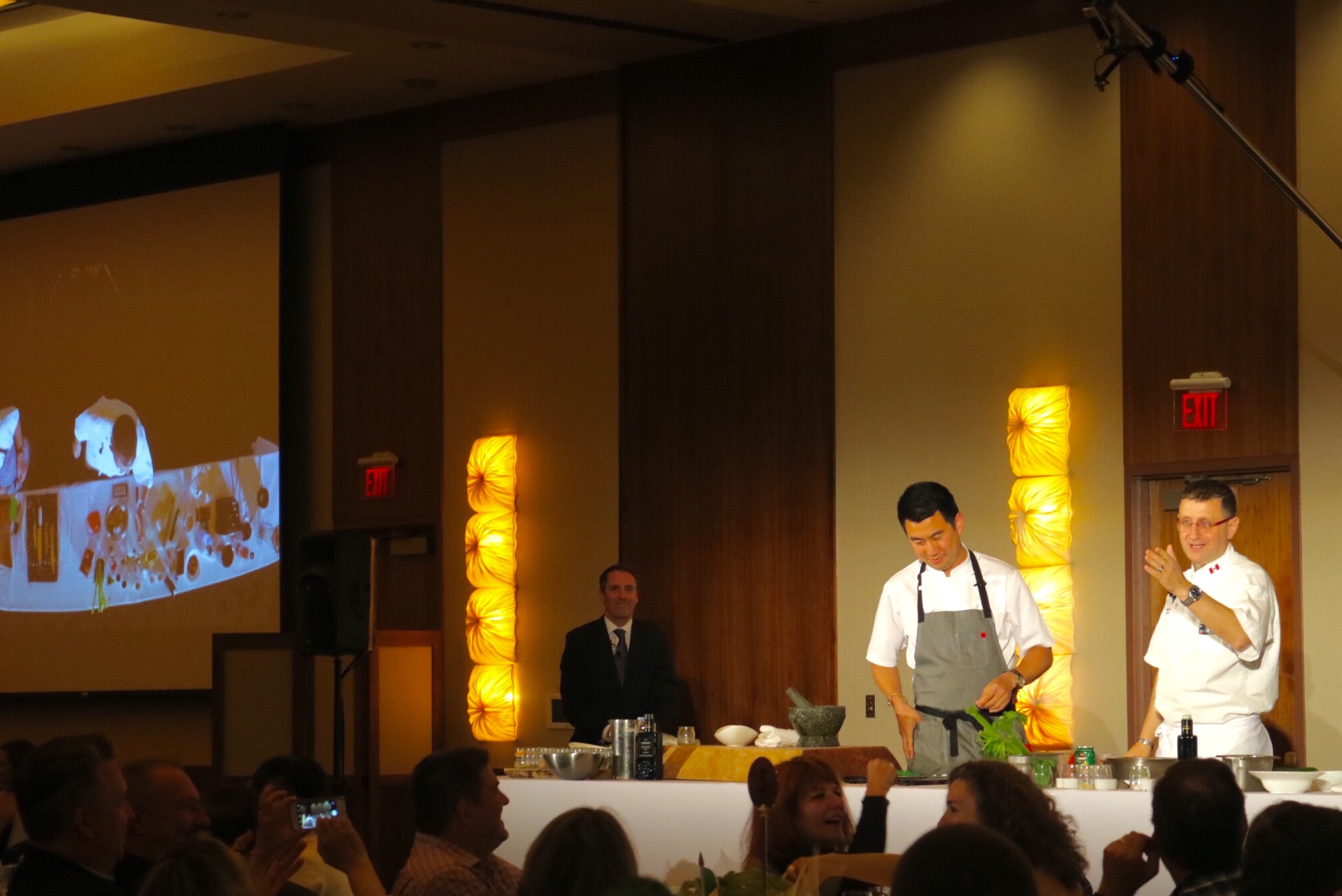 It has been almost 10 years since Anthony Boudain aired his No Reservations episode on Vancouver. Chef Pino Posterano was featured alongside with Tojo and Vij on the show. They were the pioneers of redefining culinary trends in Vancouver, introducing world cuisines for which they were classically trained, but with a whole Northwest product-driven mentality that Vancouver shared with other big cities on the coast such as Seattle and San Francisco.
I'm glad that Chef Pino has since picked up new friends along the way, such as Chef Angus An. Representing the new generation of the top chefs in Vancouver, Chef An has embraced the same mentality and greatly contributed to the culinary trends.
Now Chef Pino is going back to his roots and representing the amazing products from his motherland. And his friend Chef An is also here today to help showcase the quality of the Italian products by using them in his own style of world cuisine, proving that there is no border and no limit when it comes to enjoying world class products made from traditions.
The 6-course dinner
1st Course by Chef Angus An was the Albacore Tuna Crudo, dressed with Hazelnuts Tonda Gentile di Piemonte (IGP), white anchovy, marinated celery, and Extra Virgin Olive Oil (DOP).   The hazelnuts had an incredible aroma and the quality of the olive oil was superb, which had brought one of the most subtle fish to such a vibrant dish.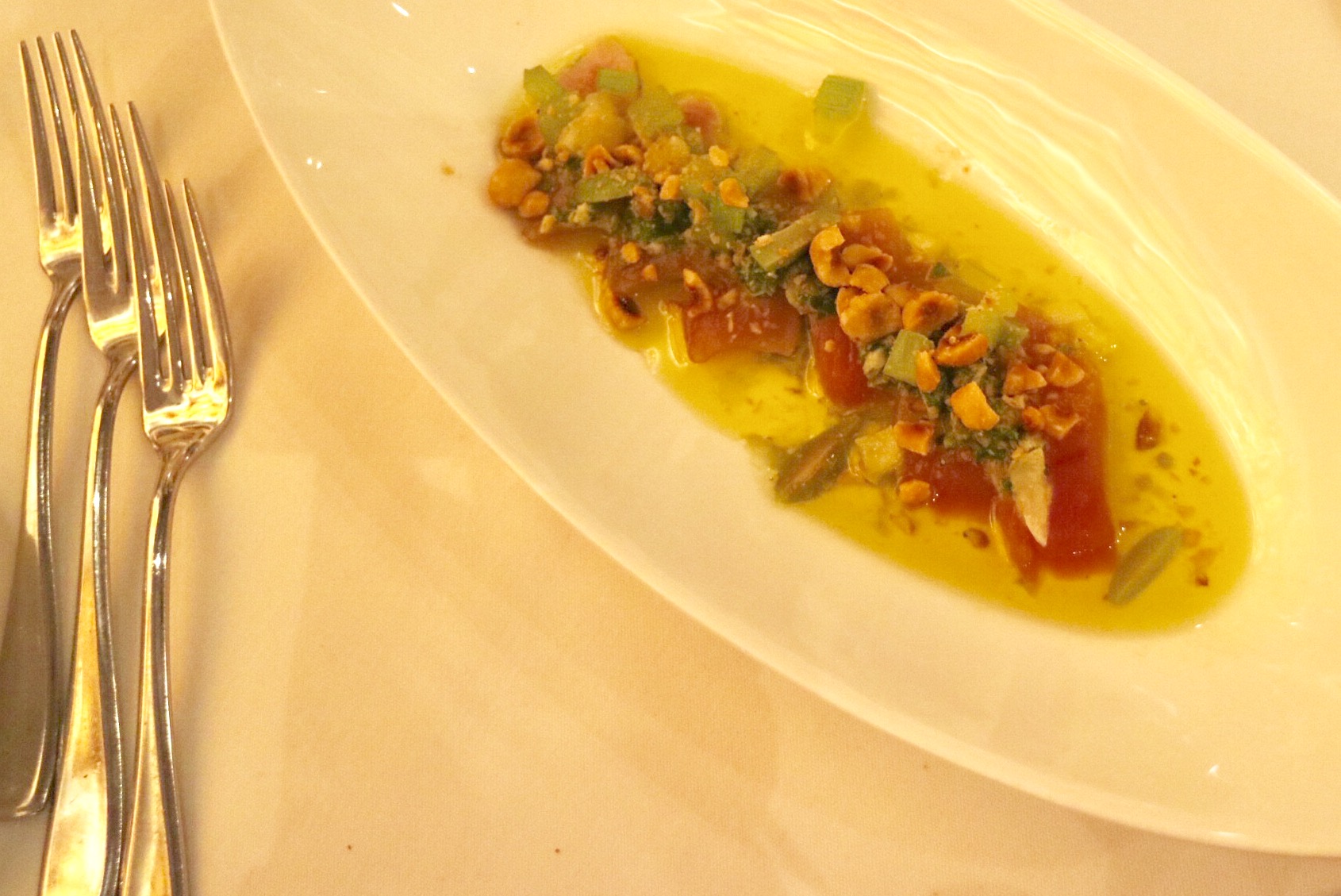 2nd Course by Chef Pino Posterano was the Heirloom Tomato and Garden Vegetable Crudaiola, featuring marinated diver scallops, Mozzarella di Bufala Campana (DOP) and Extra Virgin Olive Oil (DOP). Although never had scallop and mozzarella on the same plate, I found the gazpacho-like crudaiola sauce bound everything together nicely.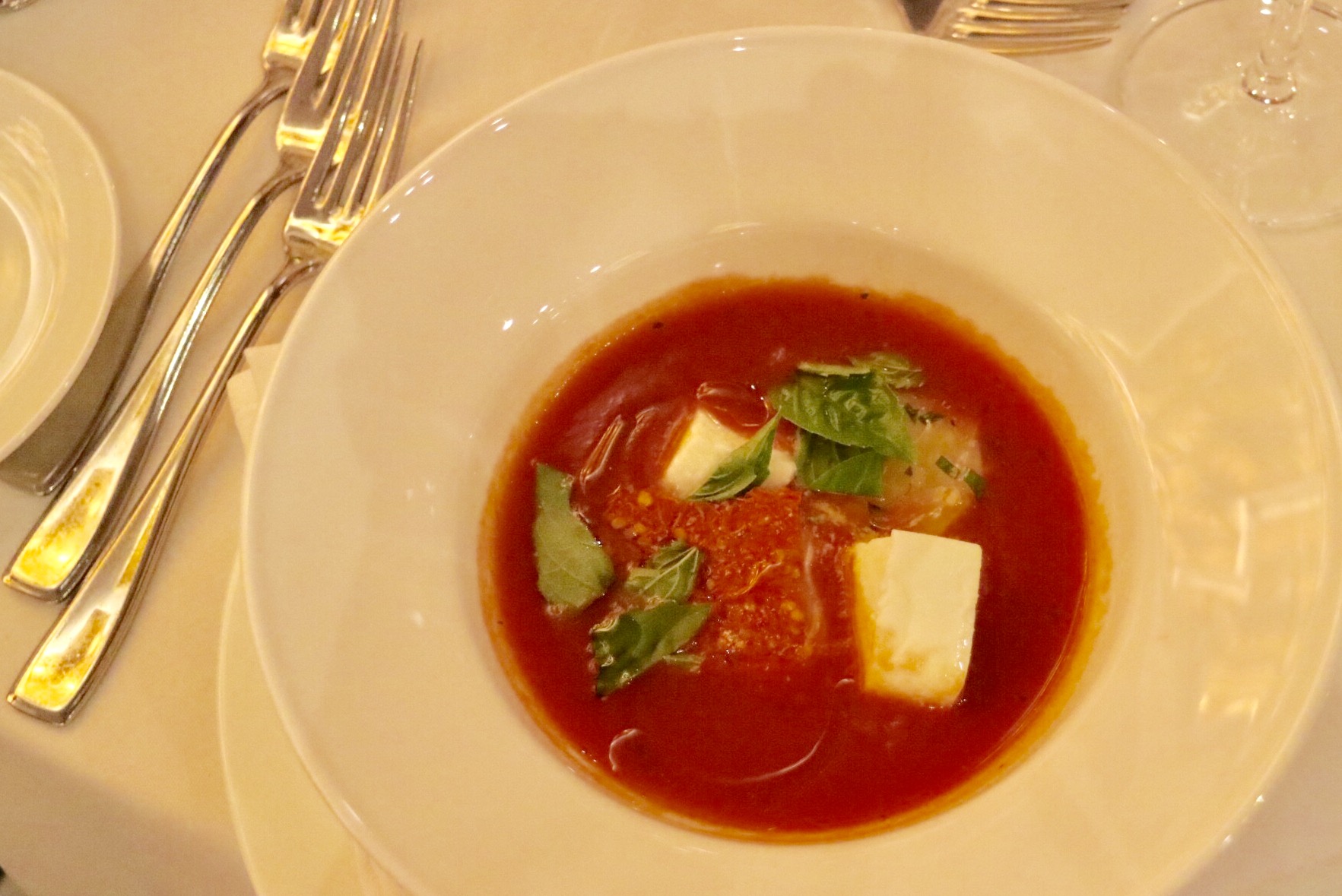 3rd Course by Chef Nathan Brown was the Risotto Al Salto, made with Carnaroli rice (IGP) and saffron, topped with a veal meatball, and finished with veal jus – rustic but elegant.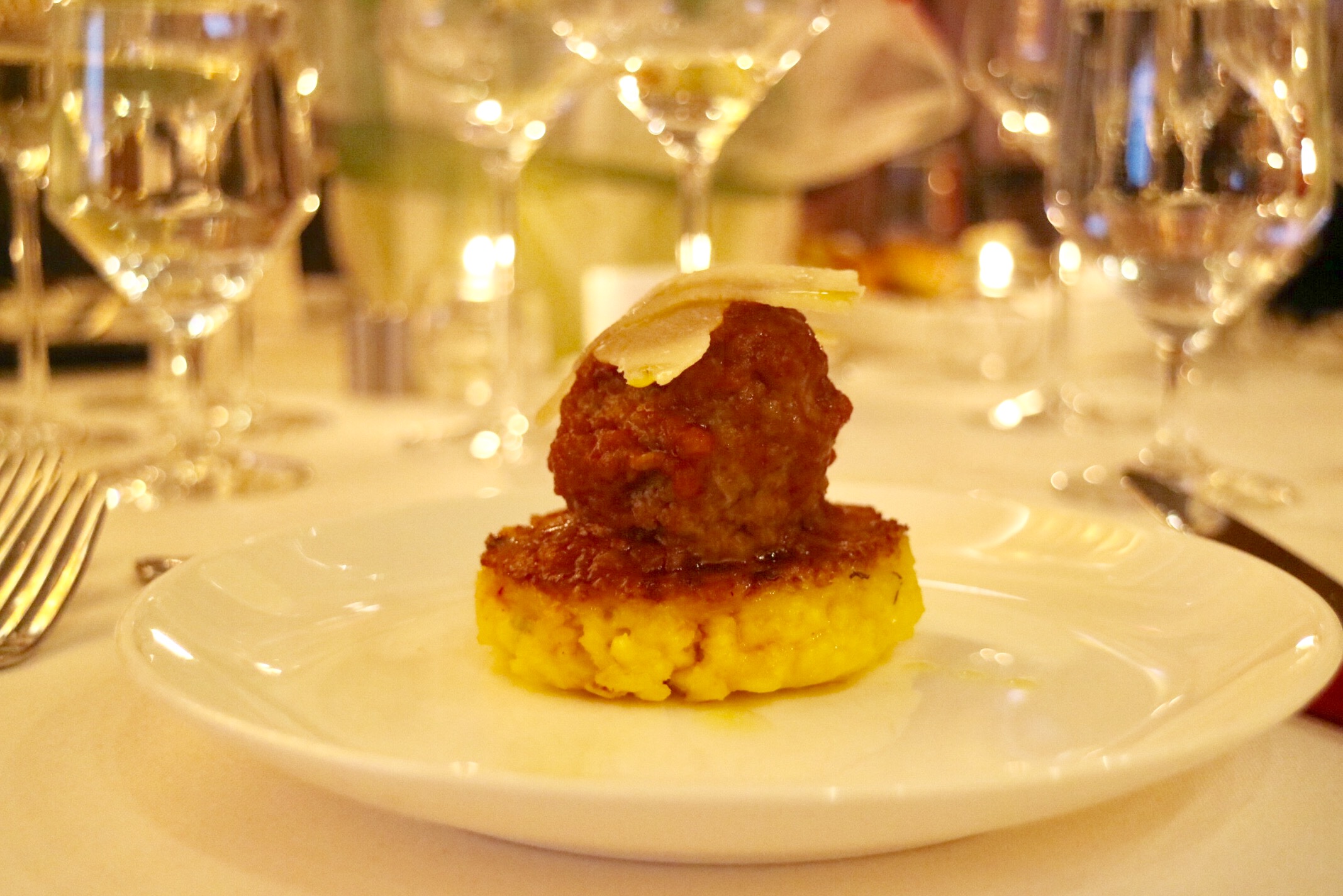 The Main Course by Chef Nathan Brown was the Braised Angus Reserved Short Rib, with truffle polenta, braised salsify, broccolini, honey glazed carrot,  and smoked onion jus. The short rib was fork tender and loaded with a ton of flavours. I also enjoyed the smooth and luscious polenta.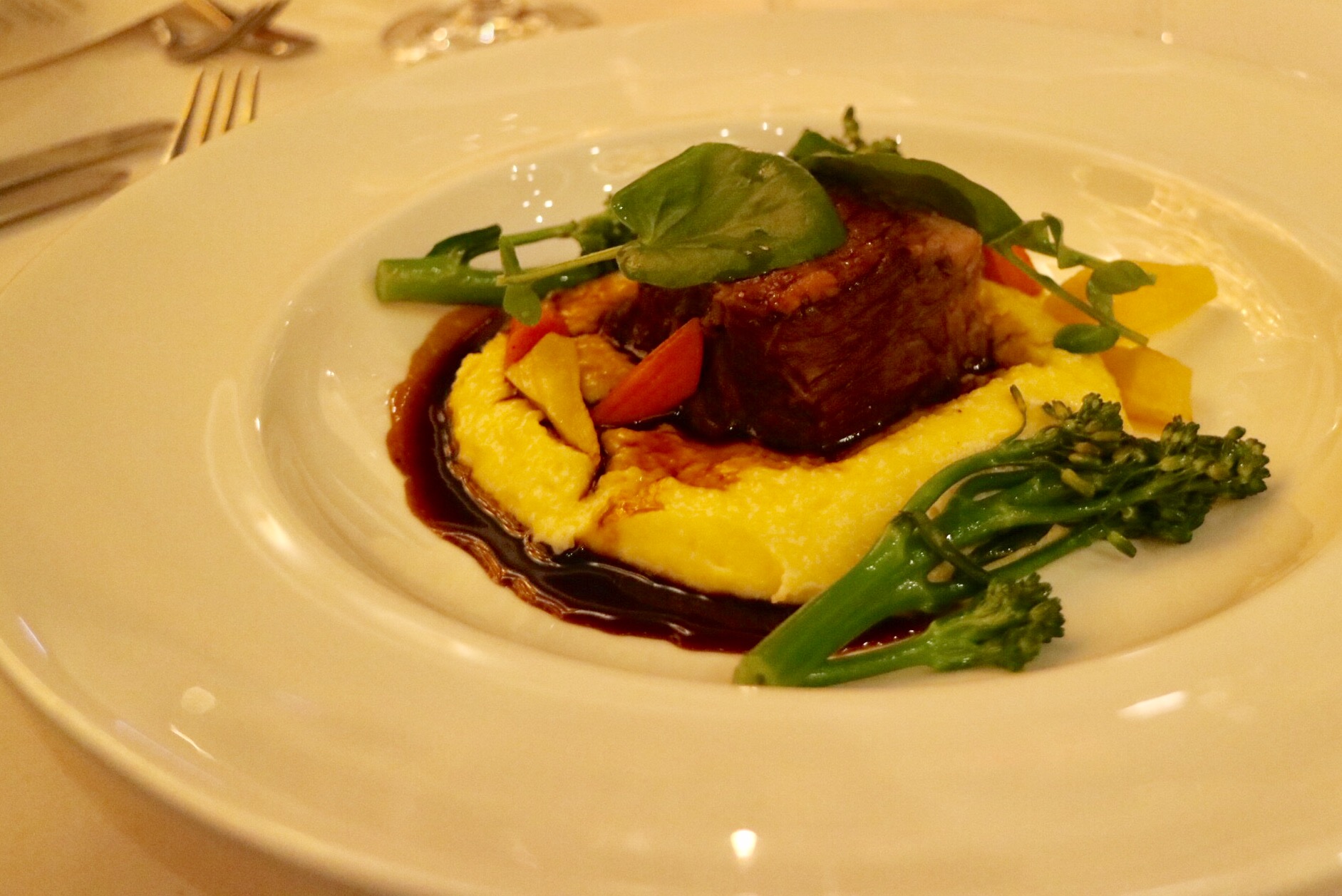 A Cheese Course was presented with Taleggio (DOP), Piave Vecchio (DOP), Monstasio Straecchio (DOP), Pecorino Sardo (DOP) and Gorgonzola Piccante (DOP).  I like bigger flavours so I was quite fond of the last 2, with pecorino sardo being a sheep cheese and gorgonzola, the blue cheese.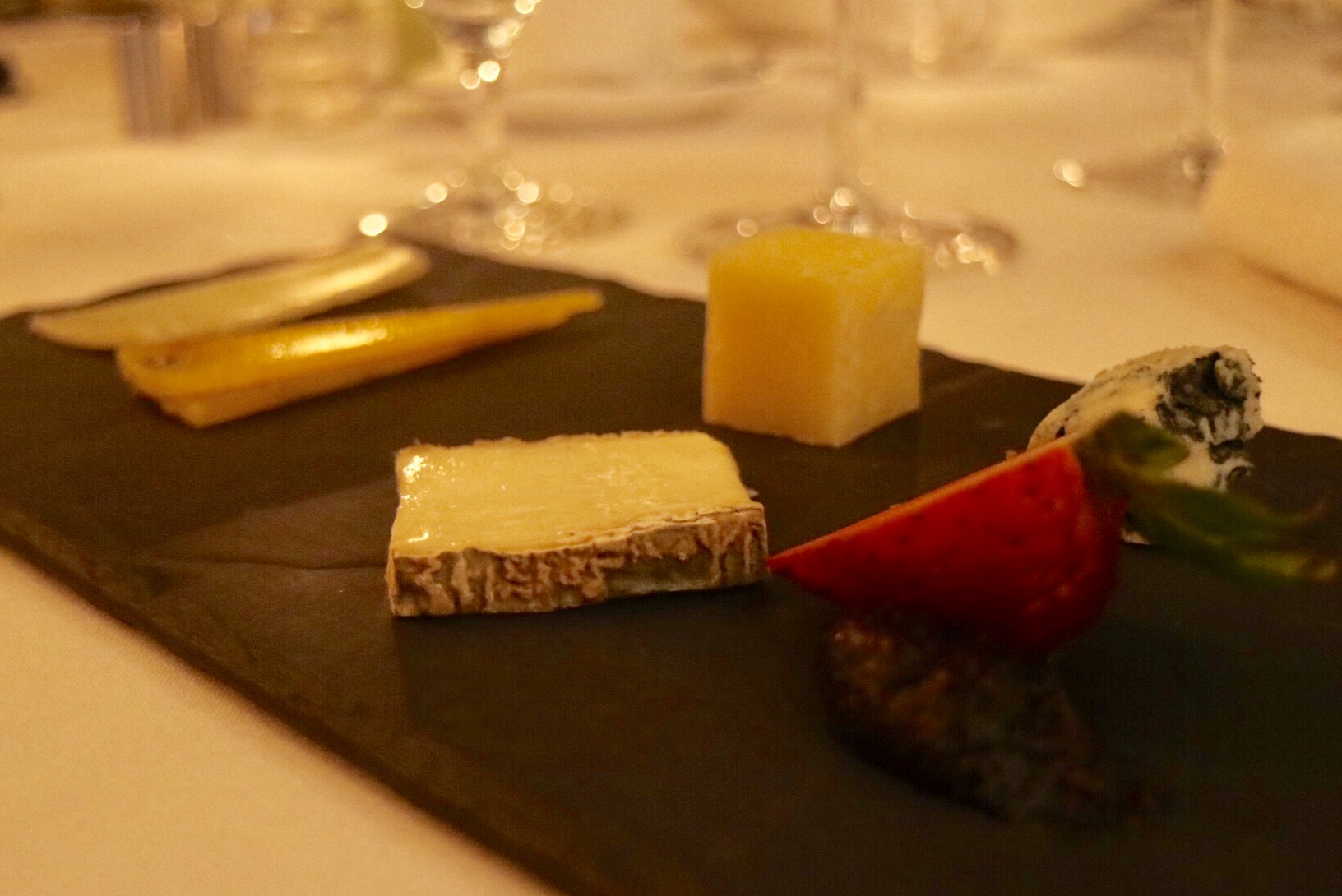 The dinner came to a sweet end with the Dessert Course, the Tiramisu, an Italian classic. It's definitely one of the best versions that I have ever had. I was also impressed with shape of it, which reminded me more of a panna cotta.
All the courses were paired with a particular wine.  One of my favourites wines was Casale del Giglio's Petit Manseng supplied by World Wine Synergy Inc.
Gourmicious
During the dinner, the launch of the new online platform, Gourmicious, was announced by founder Zara and participating chef Alex Mok (Boat House Port Moody).
Gourmicious is a by-invitation platform that connects like-minded gourmet enthusiasts, including diners hosts, and chefs, through unique dining experiences.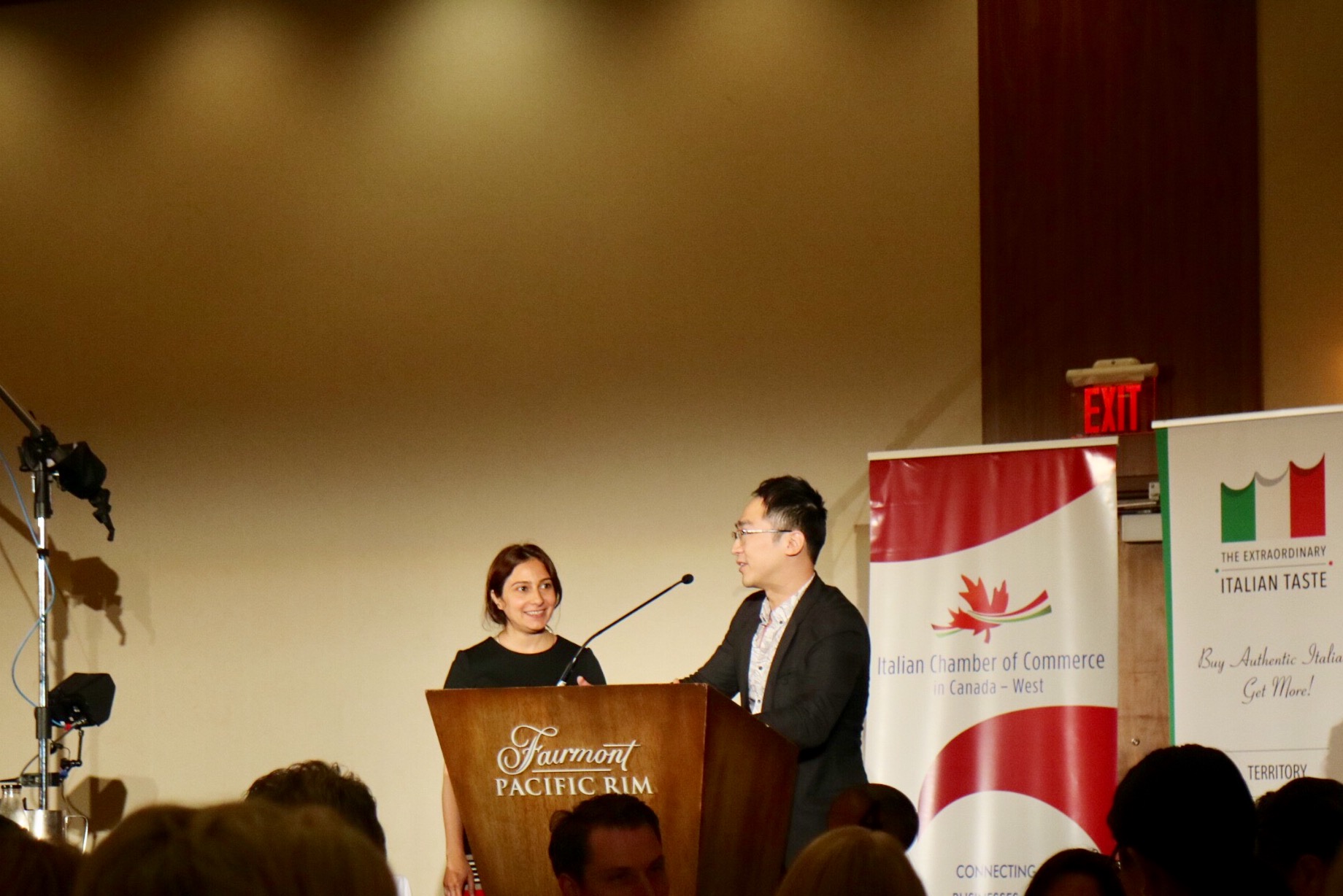 Sold-Out Event
The dinner was sold-out with 320 guests and it's one of the can't-miss dinner parties every year.  And it is such eye-opening event to learn about the characteristics of authentic Italian agri-food products and culture.