Richmond is known for amazing food by Chinese and other Asian ethnic restaurants, but not so much for the number of options for fine dining.  While tons of visitors staying at the hotels in downtown Richmond for traveling or conferences, many of them might want to try something more exquisite than Cactus Club or hotel restaurants. The situation seems to be changing however. With more high end condo buildings finished and more commercial space available, we get to see new fine dining restaurants like Origo Club and Com Vietnamese. And I decided to give Com Vietnamese a try with my buddy Gary.
The interior is stunning here, with the design work done by  Ste. Marie Art Design and branding done by Glasfurd and Walker.  The 2400-sq-ft chic space can seat more than 80 people. The high ceiling and the energy flow will be incredibly important when it gets warm in the summer. There is an impressive looking full bar right next to the kitchen. However, with licensing issue yet solved, they can only serve beer and wine, not the cocktails that they already put on their menu.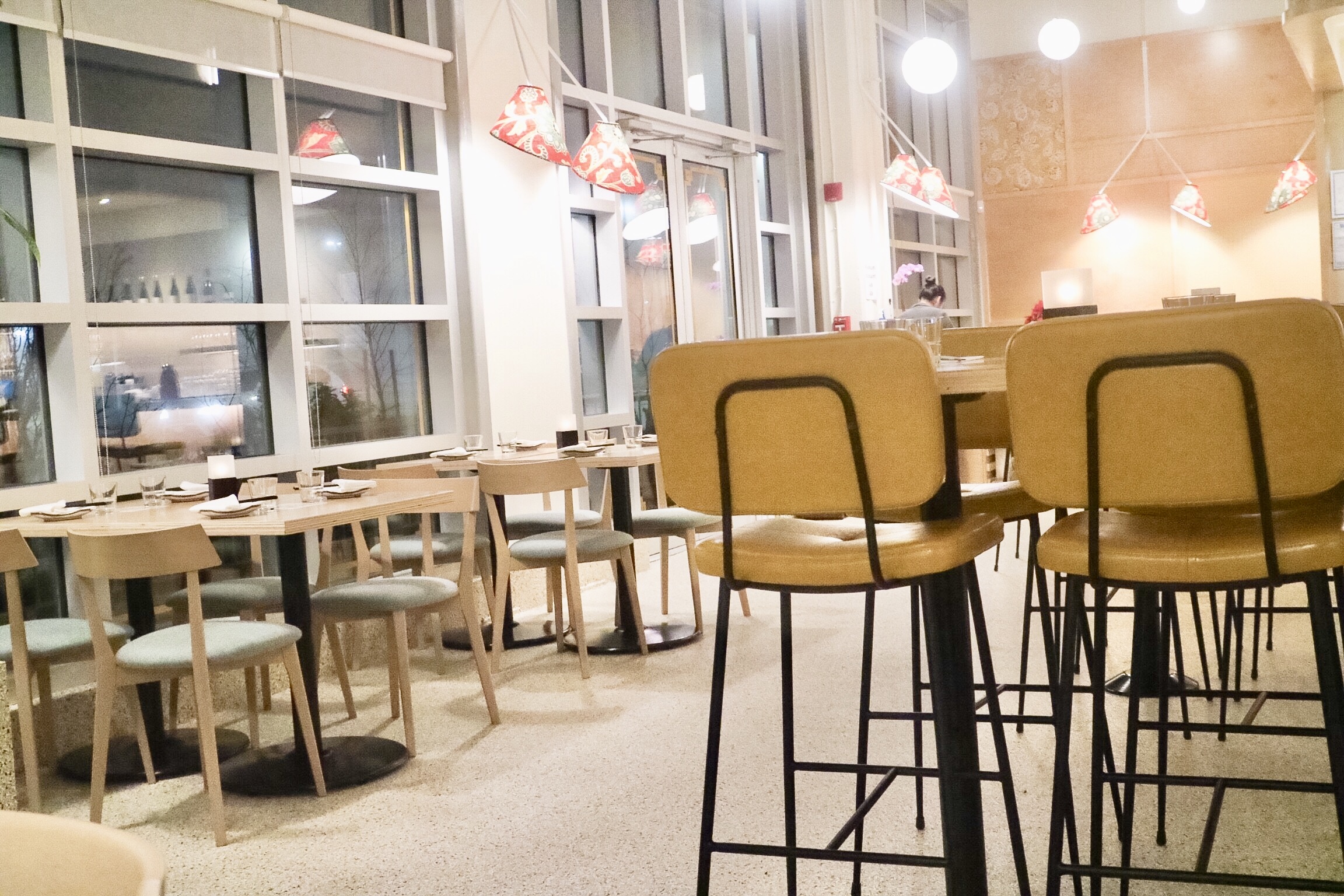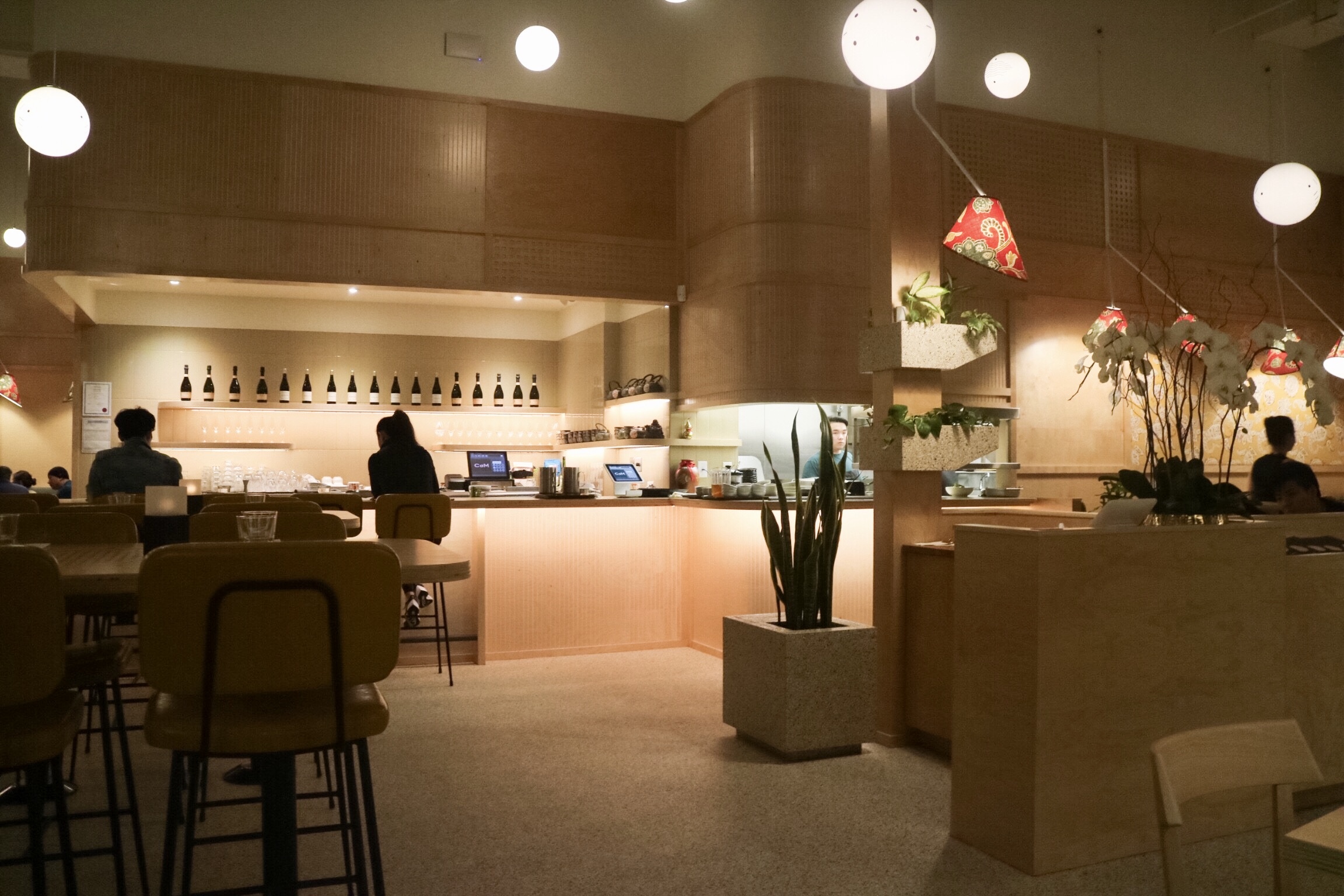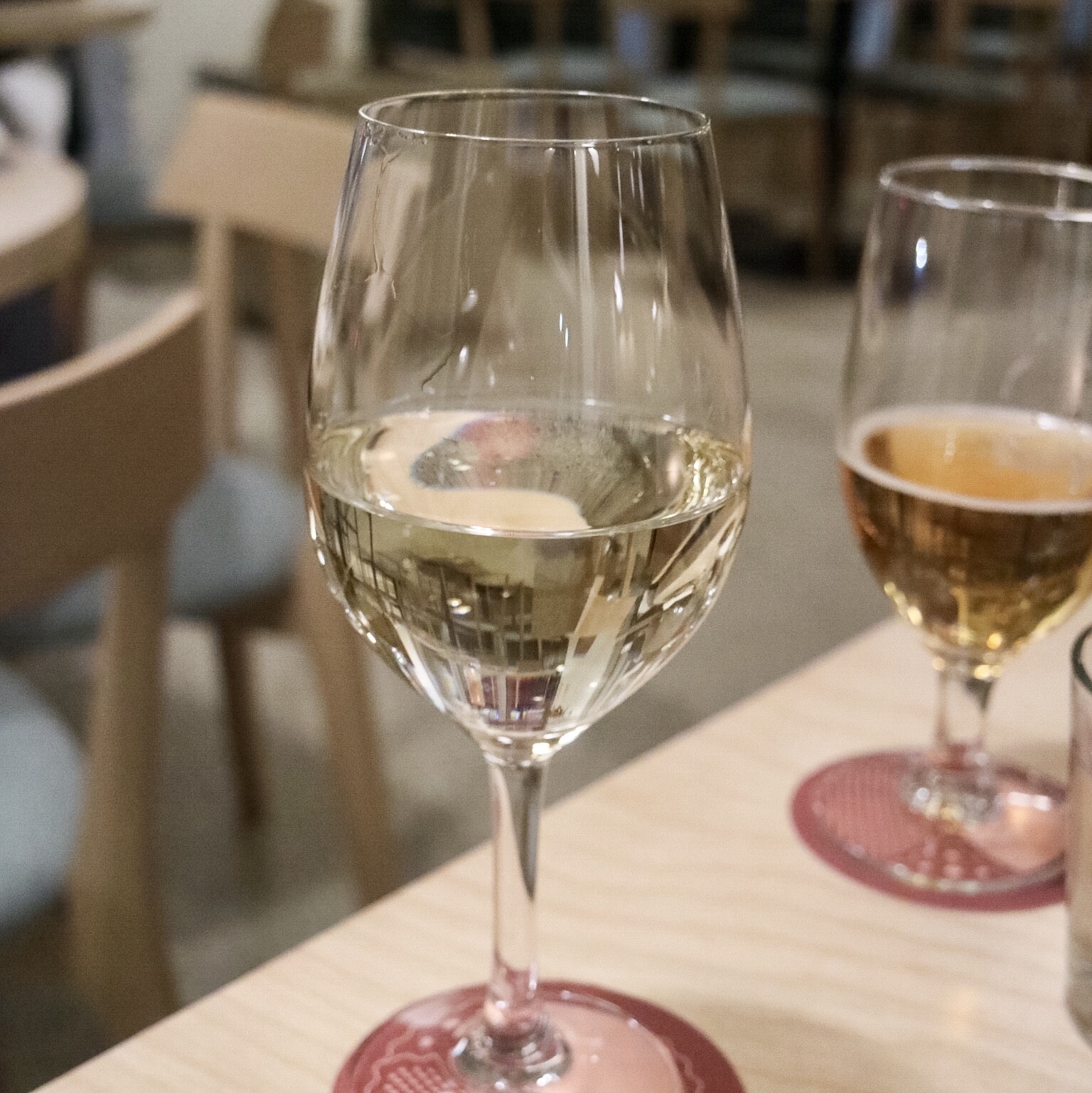 The food is described as "family style meets modern cuisine", which makes me expect elevation on traditional Vietnamese cuisine. We have been having a good run of elevated Vietnamese restaurants the last ew years. House Special in yaletown and Anh & Chi in Mount Pleasant are among the ones I enjoy very much.  So let's see how they do here.
Although only 2 of us, we ordered a few dishes so that we could try more different things. But the portion size here is big. So if you get one item form their "One-Bowl Dishes" section, it's enough food for a meal. Even the Papaya Salad ($16.50) here has a generous portion. The classic shredded fresh papaya salad is topped with prawns, thin slices of pork loin, carrot, onion, mixed herbs, and crushed peanuts, and flavoured by a house made dressing, tasty, refreshing, and satisfying.   For appetizer, we chose the Chicken Wings ($14.50) to be flavoured by caramelized chili fish sauce, and the other option is butter garlic.  I would love to come back next time for the butter garlic one because it would be more comparable to the famous butter garlic wings at Phnom Penh, but the chili fish sauce wings are just incredibly delicious – perfectly crispy skin with juicy meat underneath, and bursting with flavours.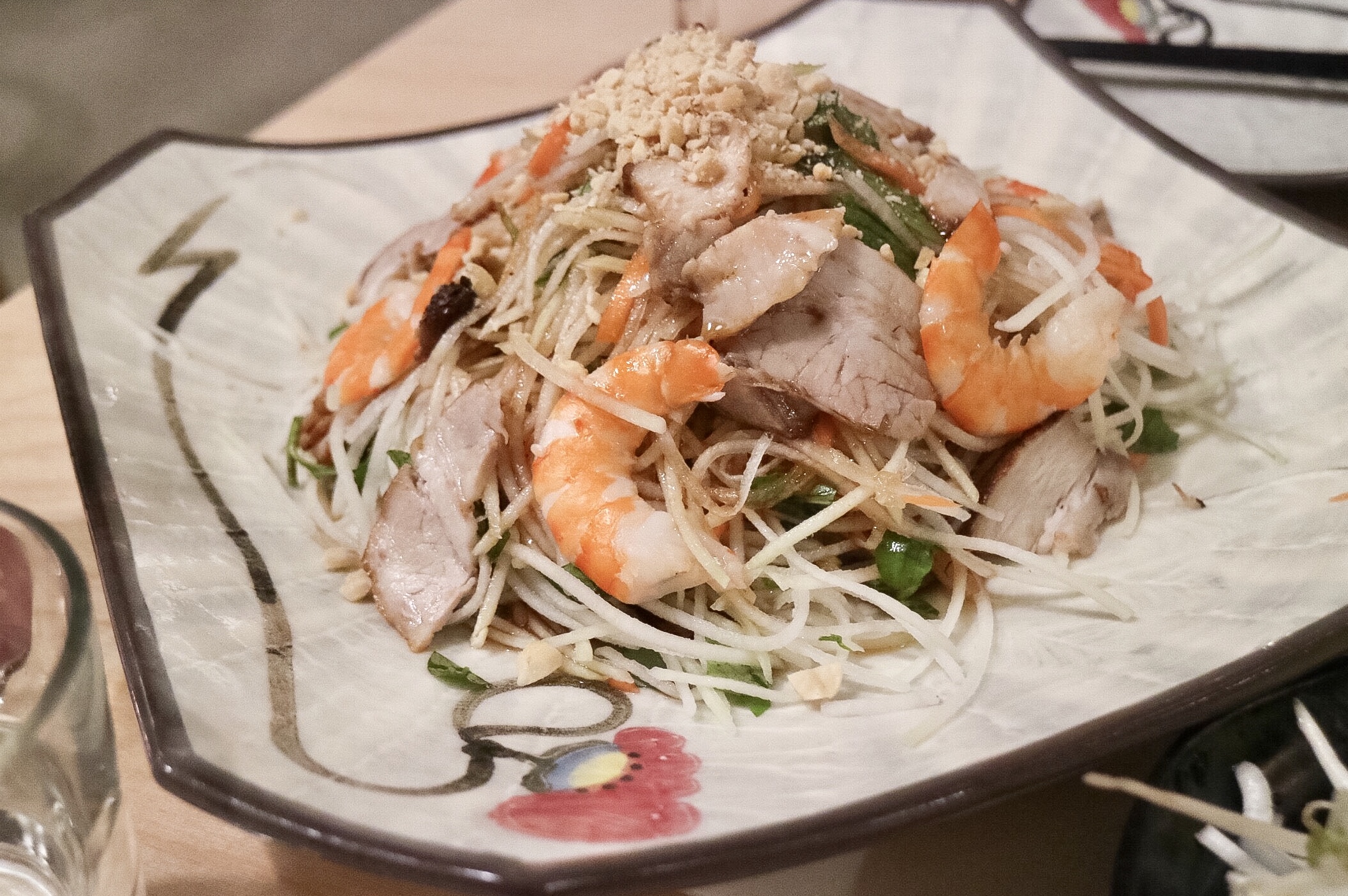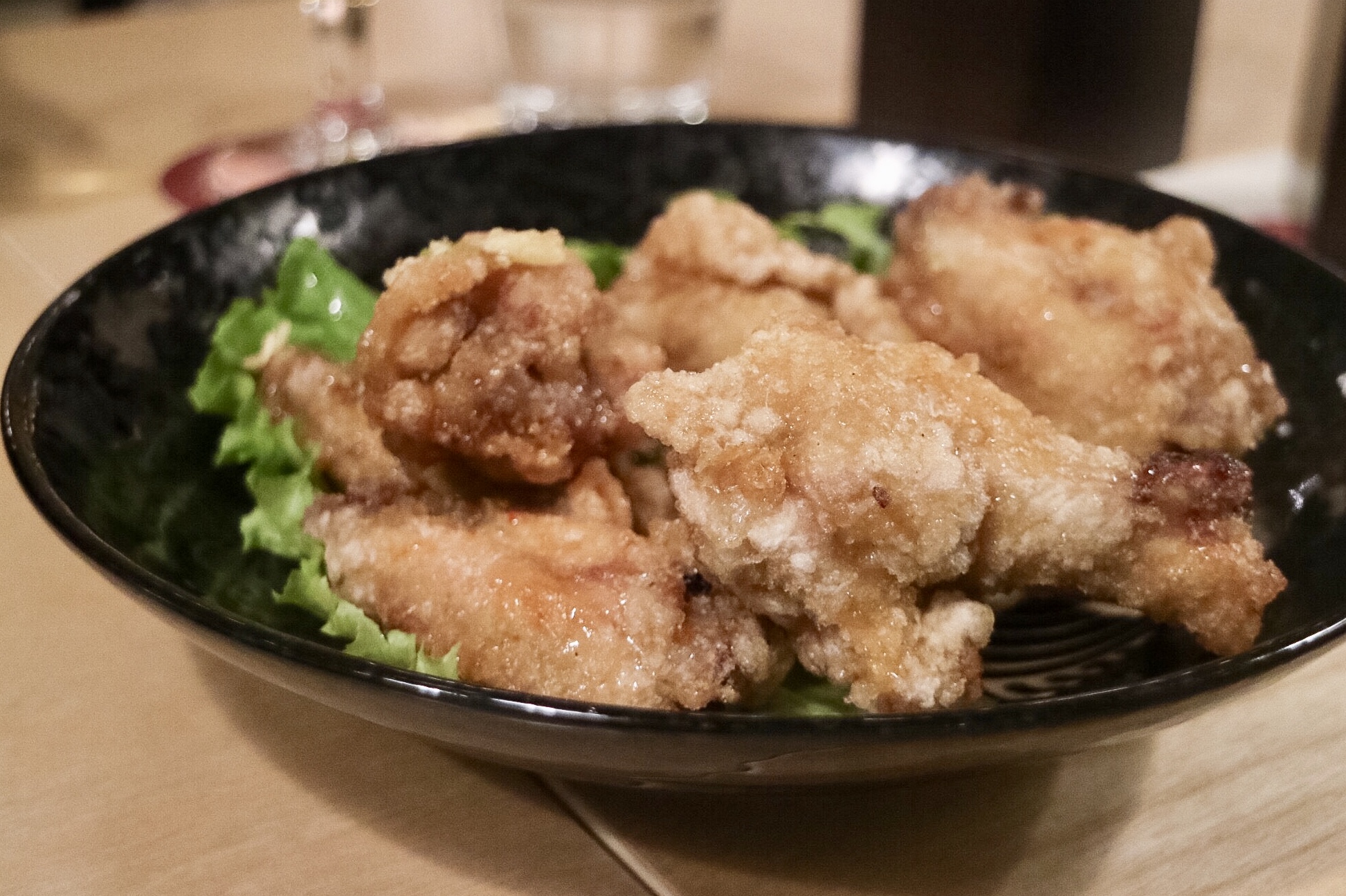 For the one-bowl dishes, the Pho Saigon ($14.00), as the signature pho noodle bowl, is probably the most expensive pho around.  The signature pho is $13 at House Special or Anh & Chi, when many people already think $12 is expensive for a bowl of pho at Banh Mi Tres Bon. The noodle soup was good but somehow less impressive than I expected. I don't see this one look or taste a lot better than a lot of the $10 pho that I have tasted.  However, the Cari Bò($18) hit the home run for me. The Vietnamese version of curry beef not just won my heart by the flavour, but also the texture, in thanks to the black wood mushrooms added. I think I could have been very satisfied with this meal by just having it alone, maybe with a glass of white wine or a bubbly cocktail like French 75 or something.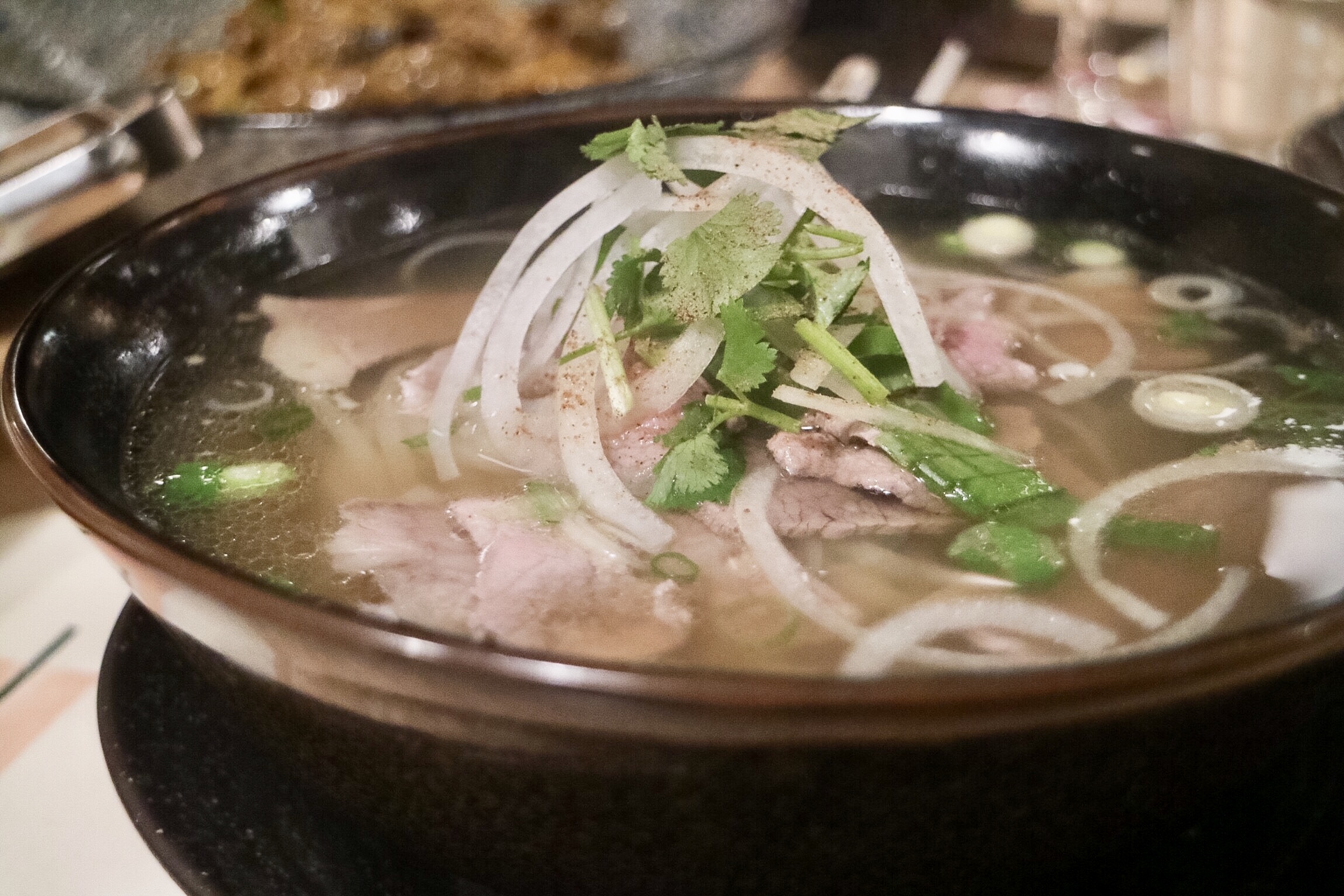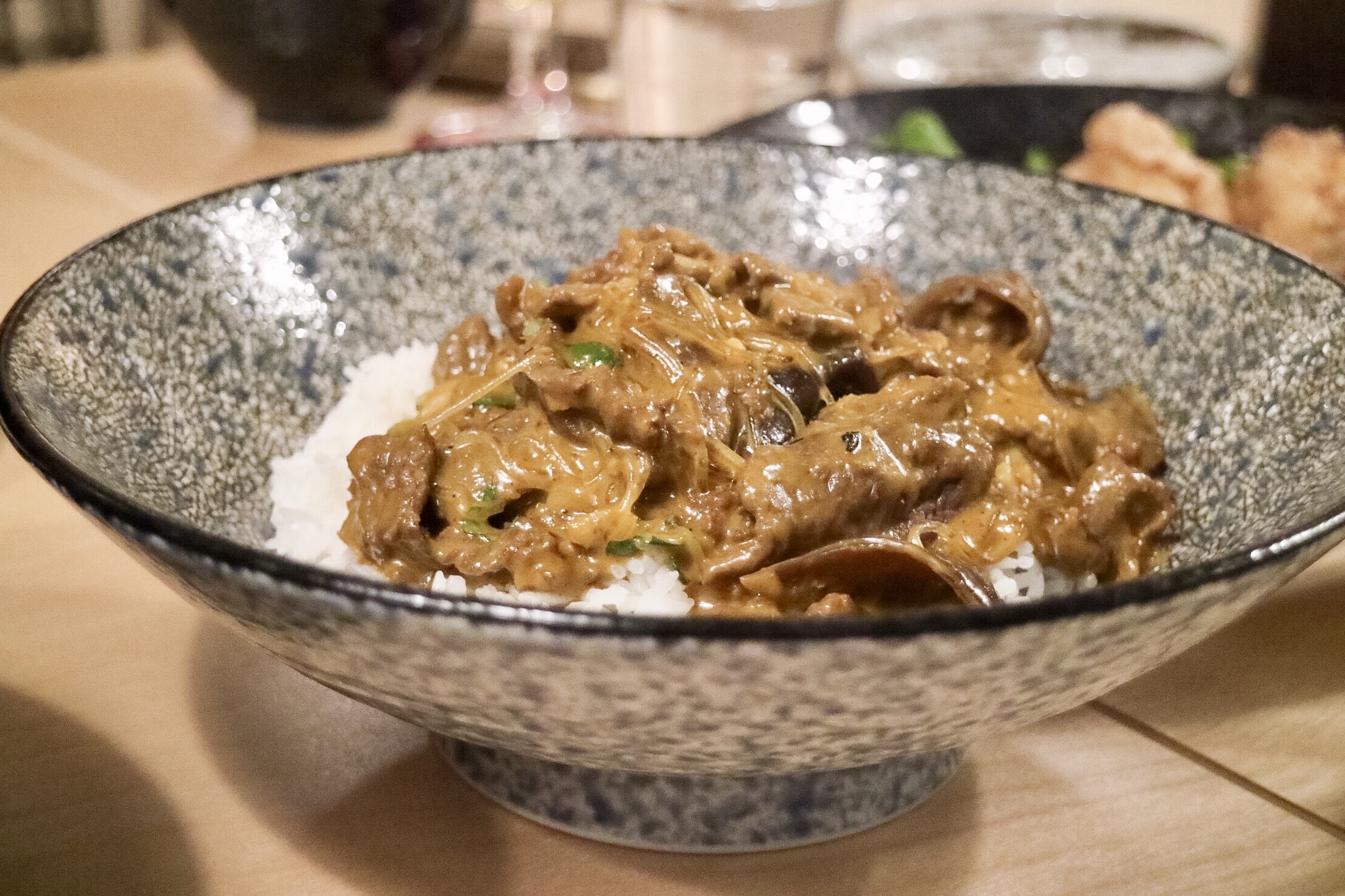 Both desserts were enjoyable, particularly my house-made Coconut Ice Cream ($7). Gary's Grass Jelly with Coconut Milk ($6) was also refreshing.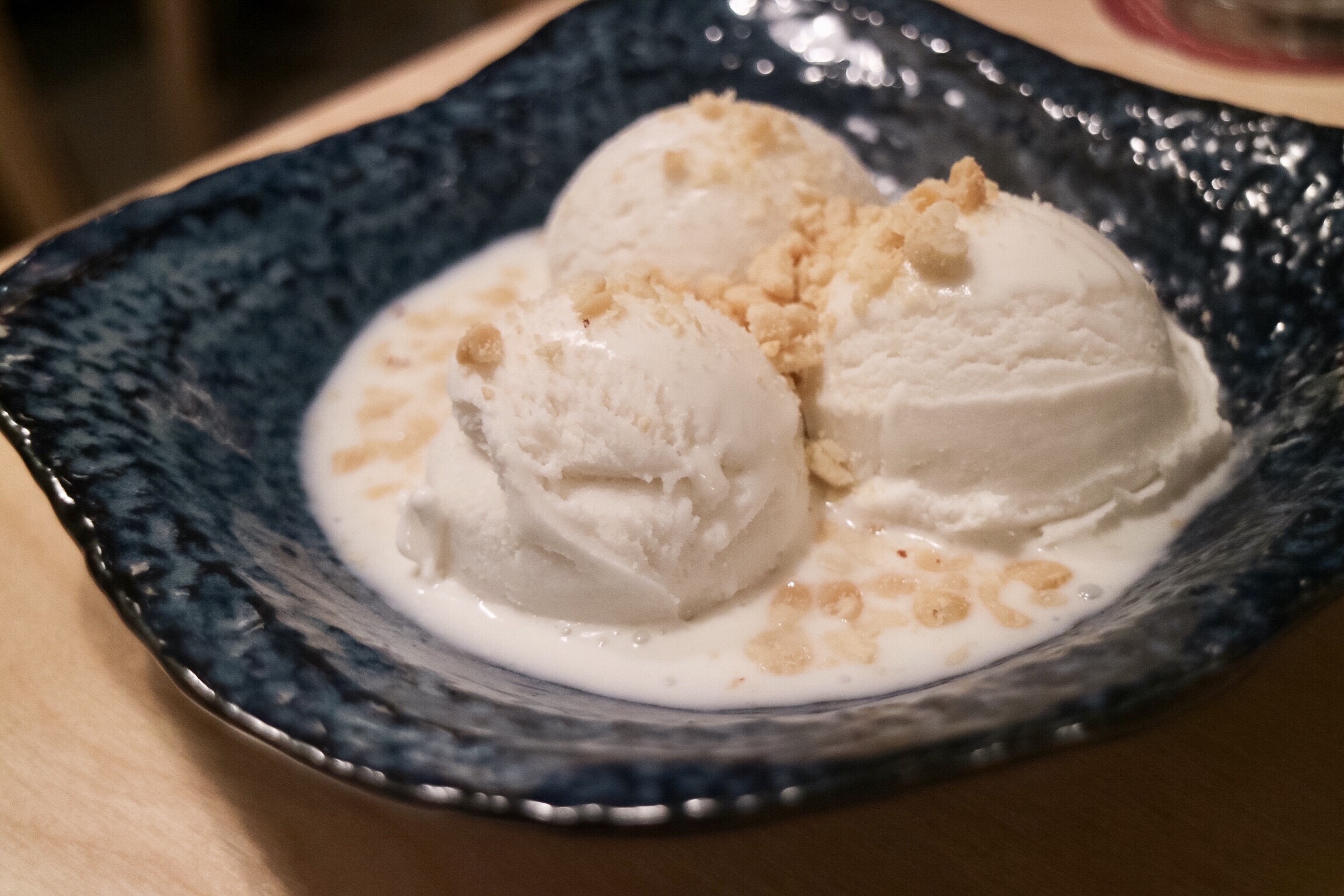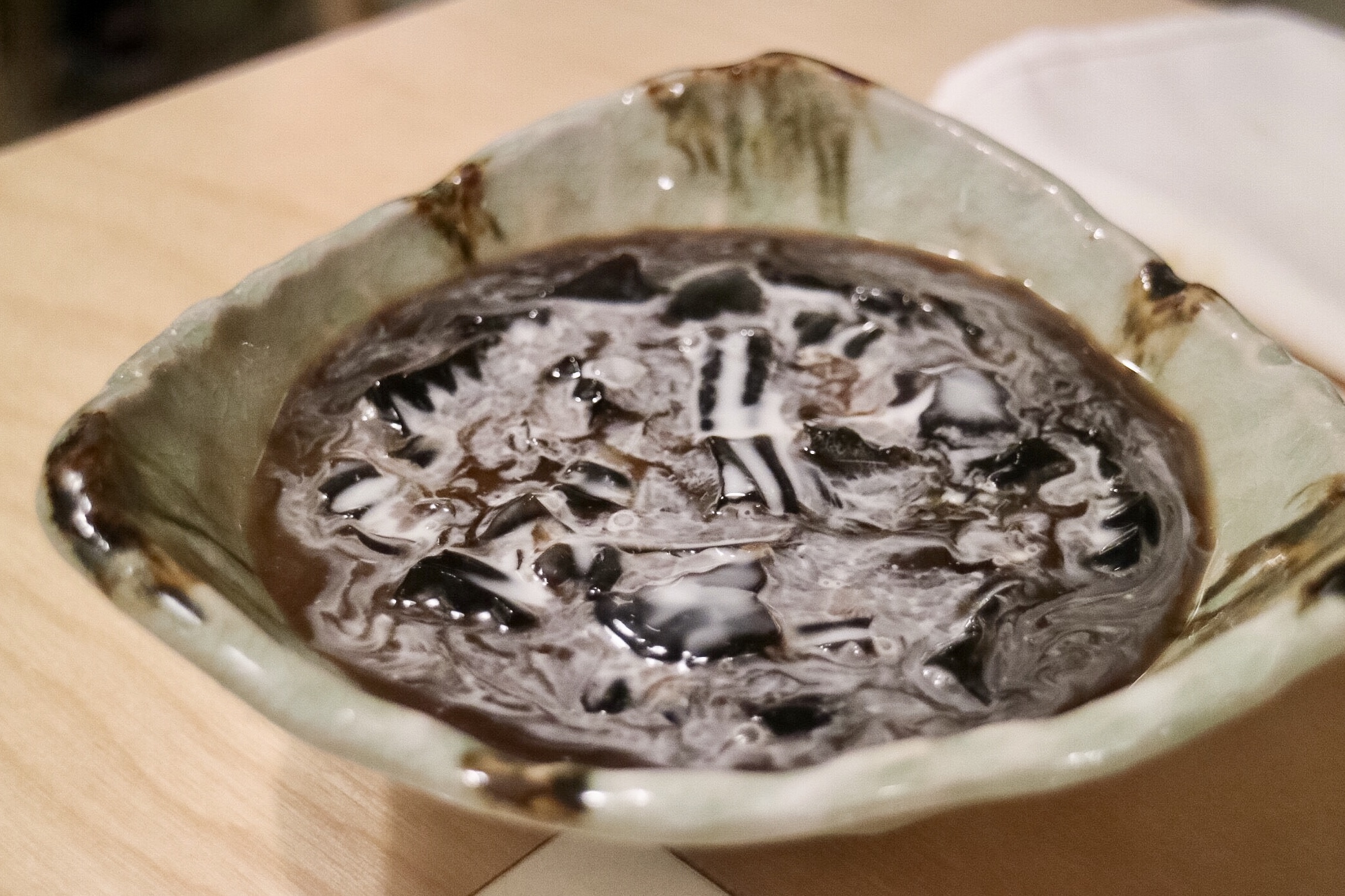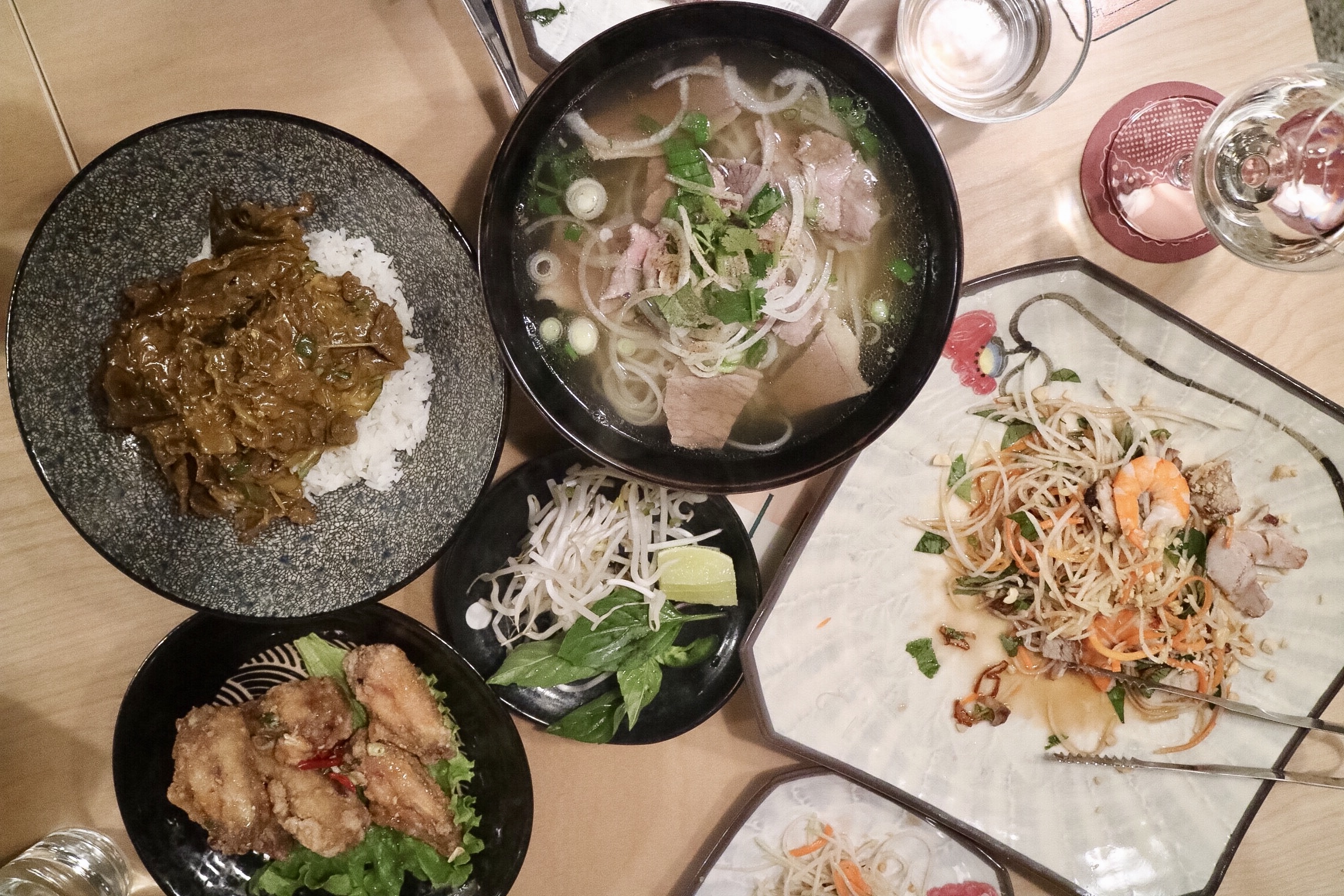 Final thoughts
The impressive interior design and the above-average pricing set me up for a high expectation for COM Vietnamese.  I couldn't help comparing the place with 2 of my favourite high end Vietnamese eateries, Yaletown's House Special and Mount Pleasant's Anh & Chi.  COM seems more comparable with Anh & Chi as the dishes still seem rather traditional than innovative. However I still need to try more dishes, especially the larger family style ones, which seem to reflect the chef's inspiration a bit more. For only 2 people, we do our best to tack on the amount of food that's more than we could finish. The pho here is good but does not strike me as the $14 pho that's much better than the $10 lot in Richmond. The chicken wings are fantastic, just as good as the ones at Phnom Penh, and so is the fully loaded Papaya Salad. However, the Curry Beef stole the show for me, as the black wood mushroom provides the interesting texture,  adding an extra sensory pleasure on top the already flavourful curry. This is the elevation what I was looking for. I would definitely come back for the crafted cocktails they have promised and the large family dishes.
$$
rating: 3.5/5
COM Vietnamese
7688 Alderbridge Way #120, Richmond, BC V6X 2A2
(604) 285-2654 or comvietnamese.com