So the Japanese taco shop Kurumcho on Hornby only lasted a bit more than a year, and they closed down shortly after I moved to the neighbourhood last summer. As a regular at Pokerrinto, I had been curious what they were going to do with the vacant space. Finally the spot turned into The Alley, an established Taiwanese bubble tea shop that had already set foot in Ontario. They are apparently opening more outlets in Alberta and Quebec later this year.
I do enjoy bubble tea but not super crazy about it. I used to find the "pearls", or what they all now call "boba", very boring in flavour. But it seems that due to the fierce competitions, everyone has to step up the game on boba making now. I remember the first time I got really impressed with bubble tea pearls was at Gong Cha. The Alley is supposed to known for their special made "pearls" and generated a lot of buzz. They were even giving out free drinks for 2 whole days!  All of a sudden, people are lining up for bubble tea on the street in downtown. I patiently waited for the craze dying down a little bit and visited the shop.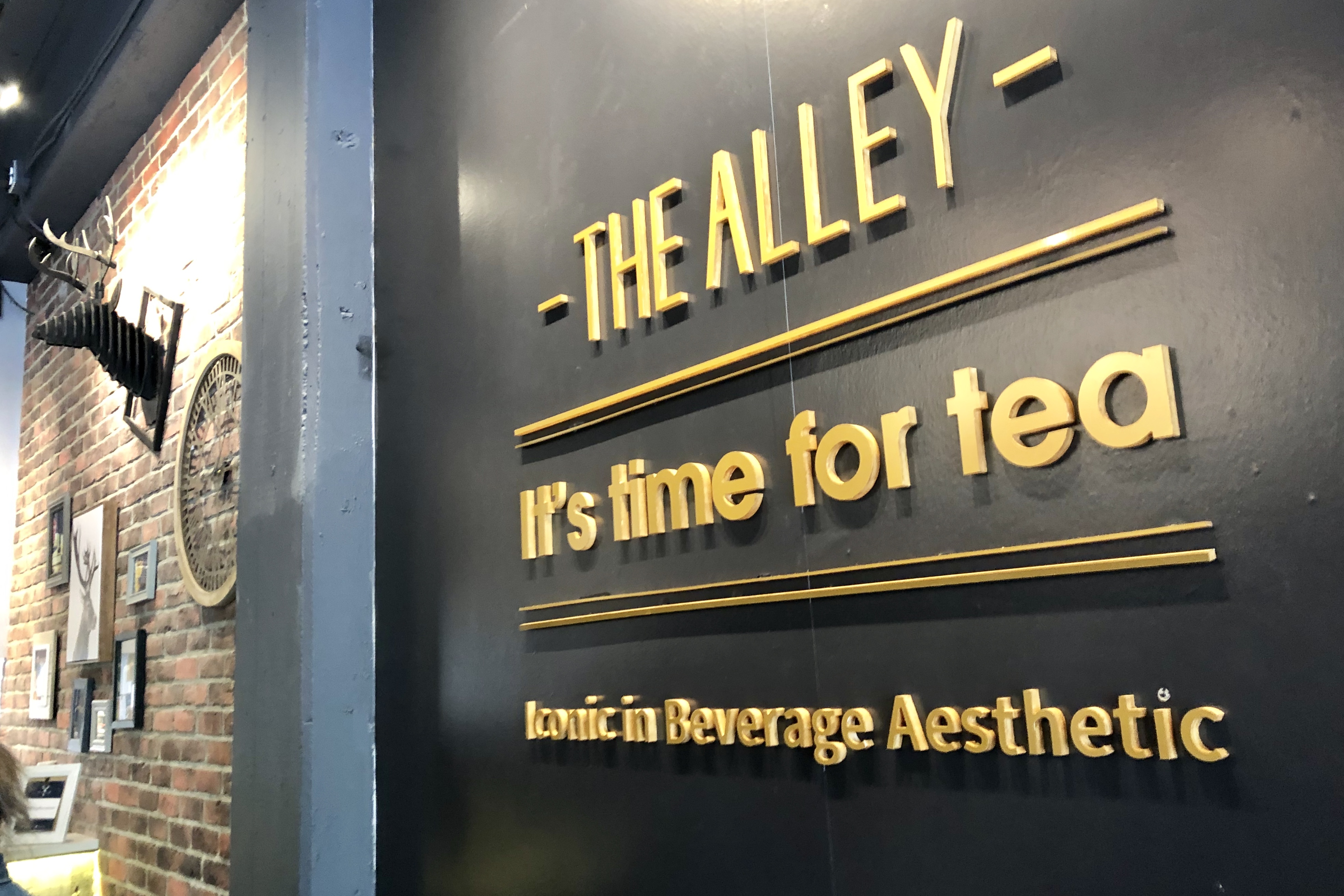 I have to give the thumbs up to their branding, which is done well and very memorable. The logo or symbol of a buck is everywhere in the shop, with the most impressive form being a buck head made in dark metal hanging on a brick wall.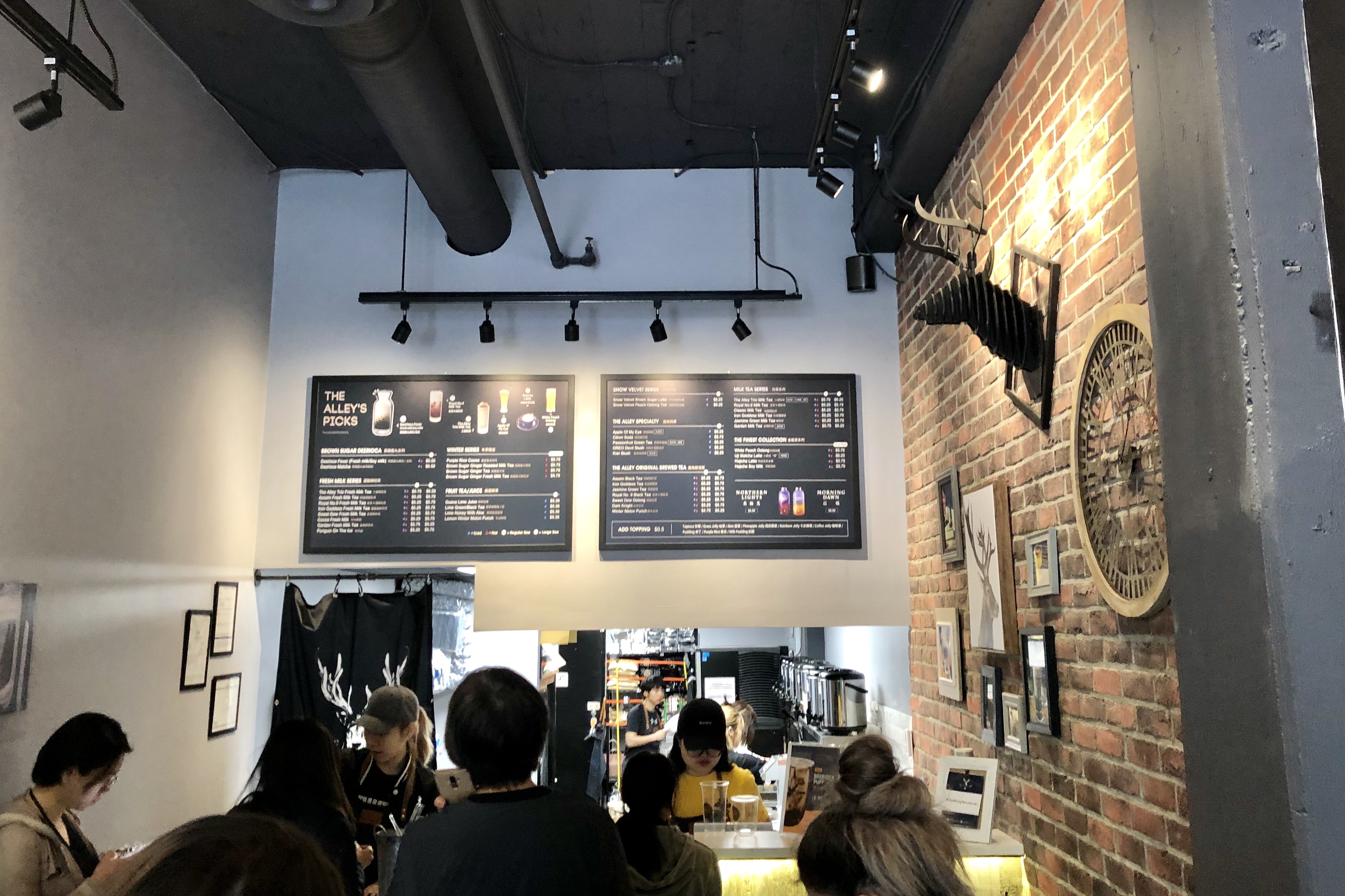 They have a very extensive drink menu, yes all drinks – tea, milk tea, tea latte, juice, slush, fruit punch; however many drinks come with various edible toppings.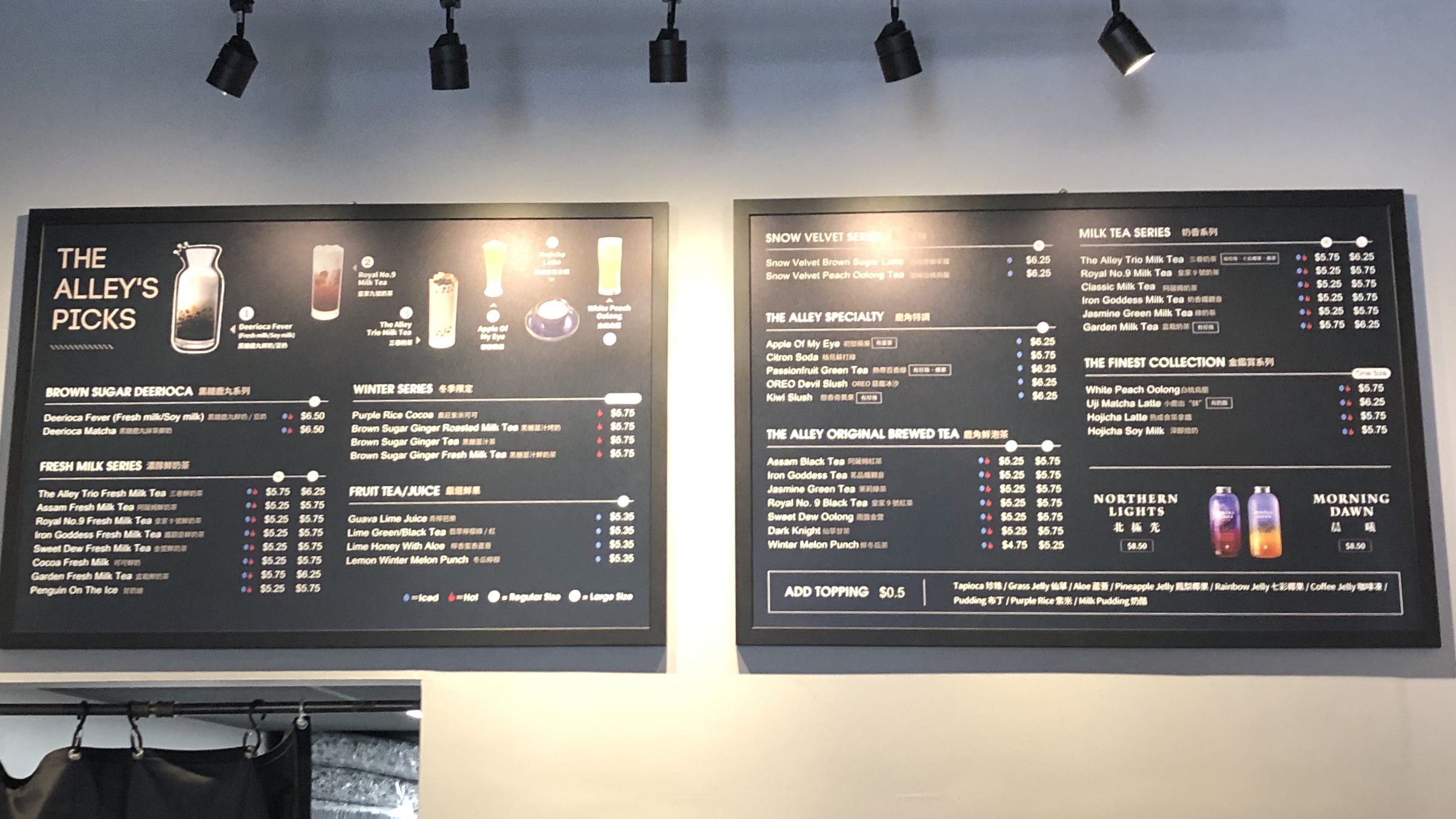 The most popular signature drinks are the Deerioca Fever ($6.50) and the Deerioca Matcha ($6.5) featuring handcrafted boba called Deerioca. The Deerioca are slow-cooked in a hot lava-like brown sugar liquid for two hours. Naturally I ordered the Deerioca Fever, even with fresh milk. I always suspect myself to be slightly lactose intolerant, to only milk though, and I'm fine with ice cream and cheese usually. But because I want to get the most original taste I sacrifice myself a little bit.  The Deerioca Fever is served with brown sugar-made "pearl" mixed with warm brown sugar liquid and milk. I found the brown sugar mixture very delicious, with a nice caramel flavour. Besides that, the "pearls" were chewy, almost a little too chewy for some people, but as a texture guy I was loving them.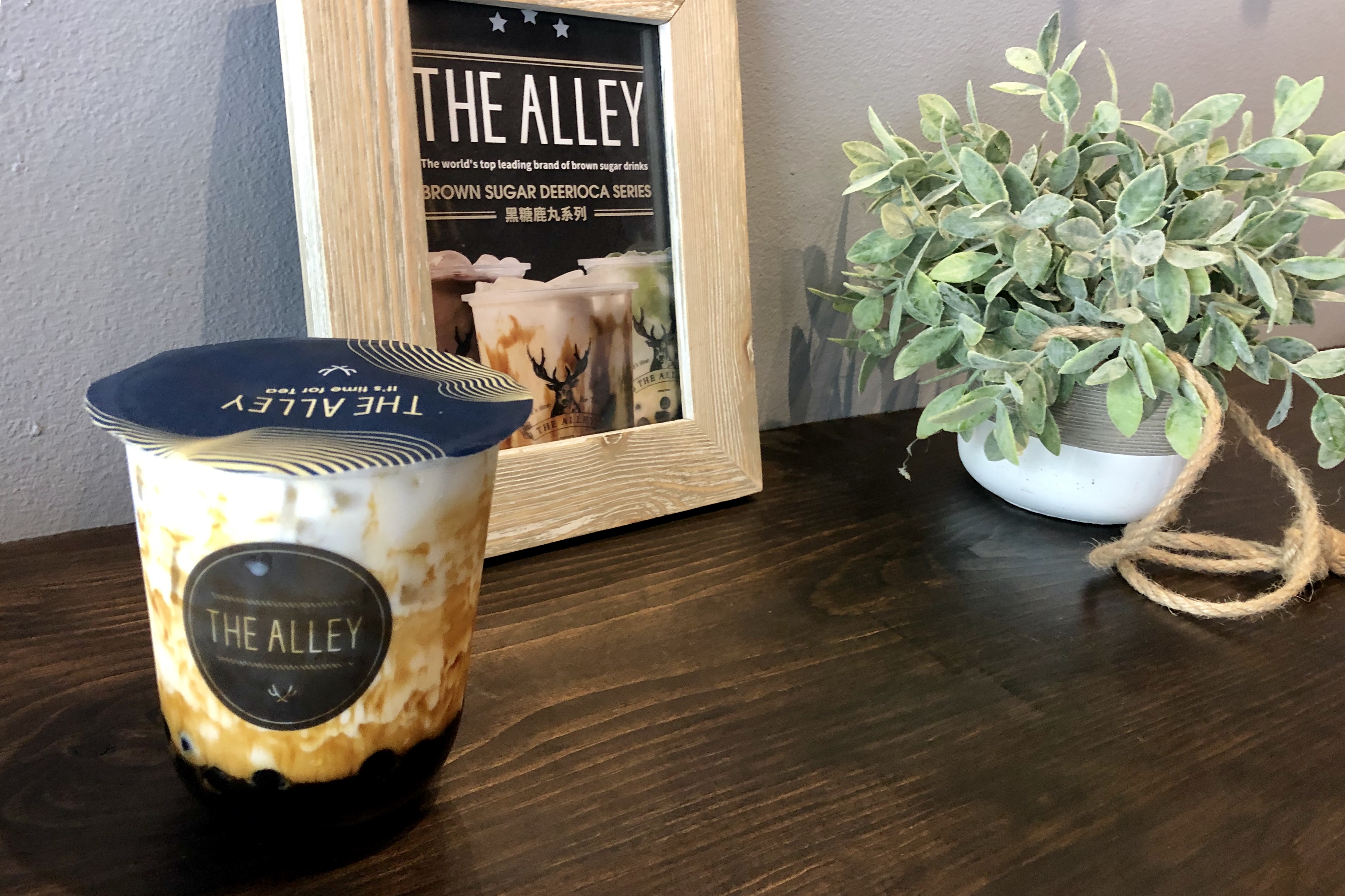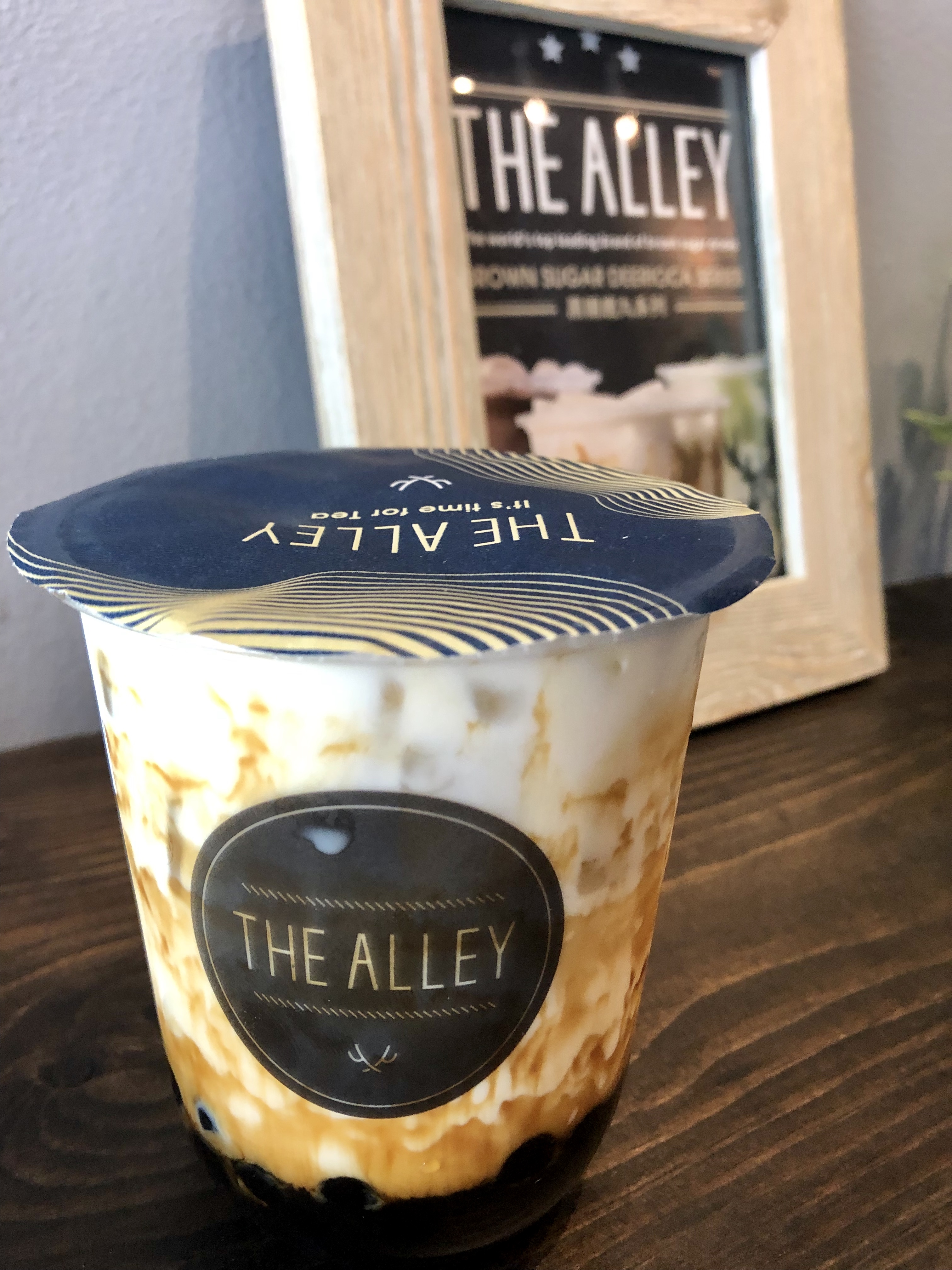 Final thoughts
The special brown sugar boba, aka the Deerioca, slow-cooked in a house-made hot brown sugar liquid for two hours, is the big selling point for the bubble tea shop. I have heard complaints about it being too hard, but it's quite decent for a texture guy like myself who likes to chew. For the signature Deerioca Fever with fresh milk, I enjoy the texture and the caramelized flavour of the warm, slightly coarse brown sugar mixing the boba and the milky liquid. Maybe they should consider replacing milk with ice cream or shaved ice or something if they decide to go beyond just a tea shop. I would definitely come back to try the other drinks.
$-$$
Rating: 3.5/5
The Alley
985 Hornby St, Vancouver, BC V6Z 3G5
the-alley.ca