Nothing is more exciting than visiting a highly raved restaurant that lives up to its reputation. My dinner at Ask For Luigi is one of the most delectable meals I've had in a long time. Every single dish I tried was exquisite, the whole experience was comparable to sitting through movement after movement of a symphony masterpiece.
I was in the middle of a small lineup at the door at 5:15pm, hoping to get a table for 4 when the restaurant was opening in 15 minutes. The place is small with barely over 10 tables, and I have been told they hold a very limited number of reservations, and the best bet is to come here early.
The place was instantly fully occupied and filled with chatters and laughters within the first 15 minutes, as if everyone had been waiting for the whole week for this amazing dinner at grandma's kitchen. We opened a bottle of Pinot Noir Mezzacorona. The young delicious wine was clean and delightful, and the ambiance became even warmer and cozier.
The food came rather quickly. Hardly having touched the bread and olive oil that arrived first, we received our first antipasto course. It was one of the specials of the evening, the Chicken Liver Mousse with Mushrooms and Quail Egg. What a stunning dish! The mousse was rich and velvety, probably the best pâté I'd ever had! I loved the bread too. I usually don't mind crunchy toasted baguette type of bread, but sometimes it could inconveniently distract you from tasting the food served on it. The house made bread here is tasty and gives no distracting crunch, but hard enough to serve as a vessel. We are off to a good start!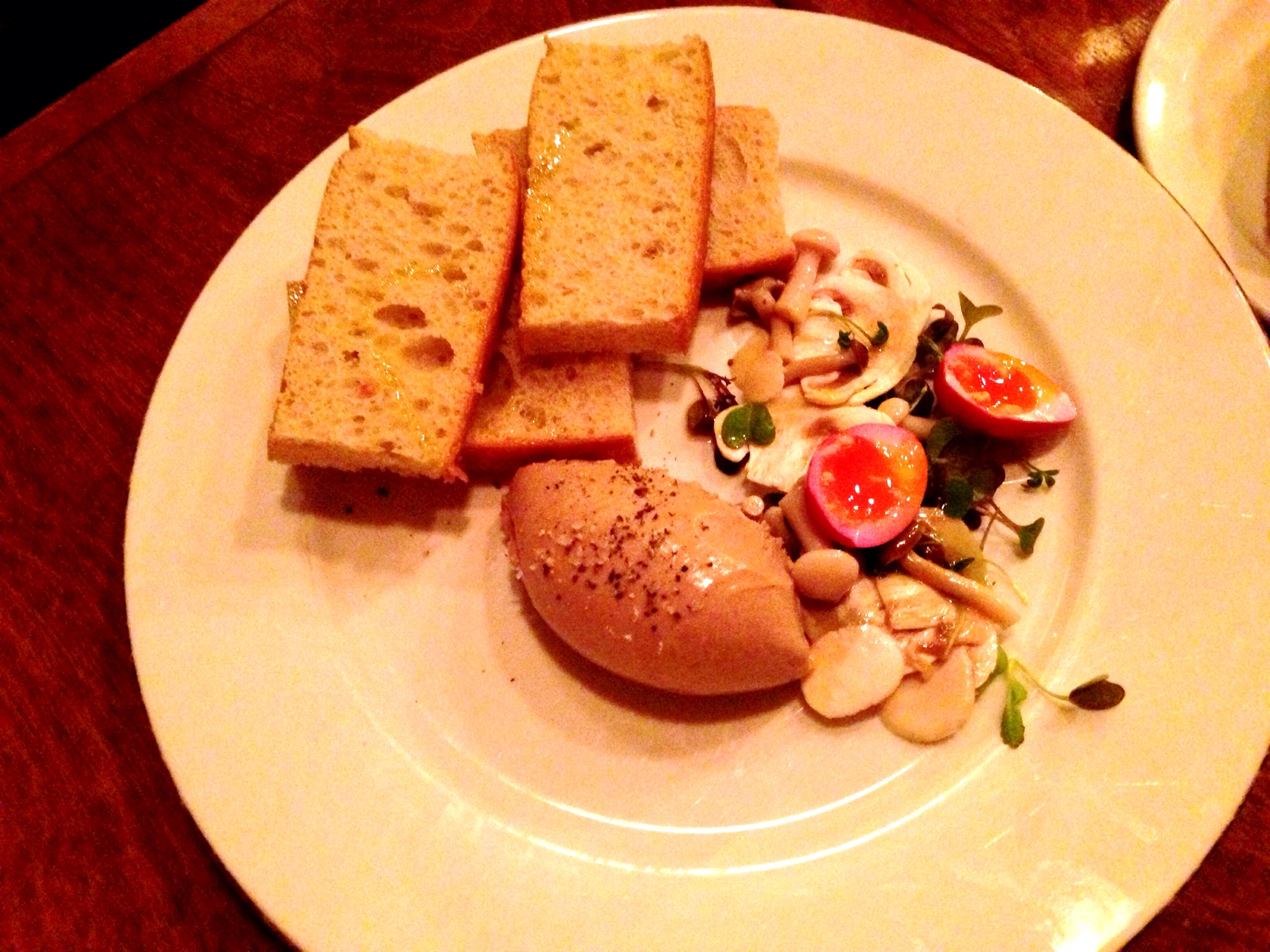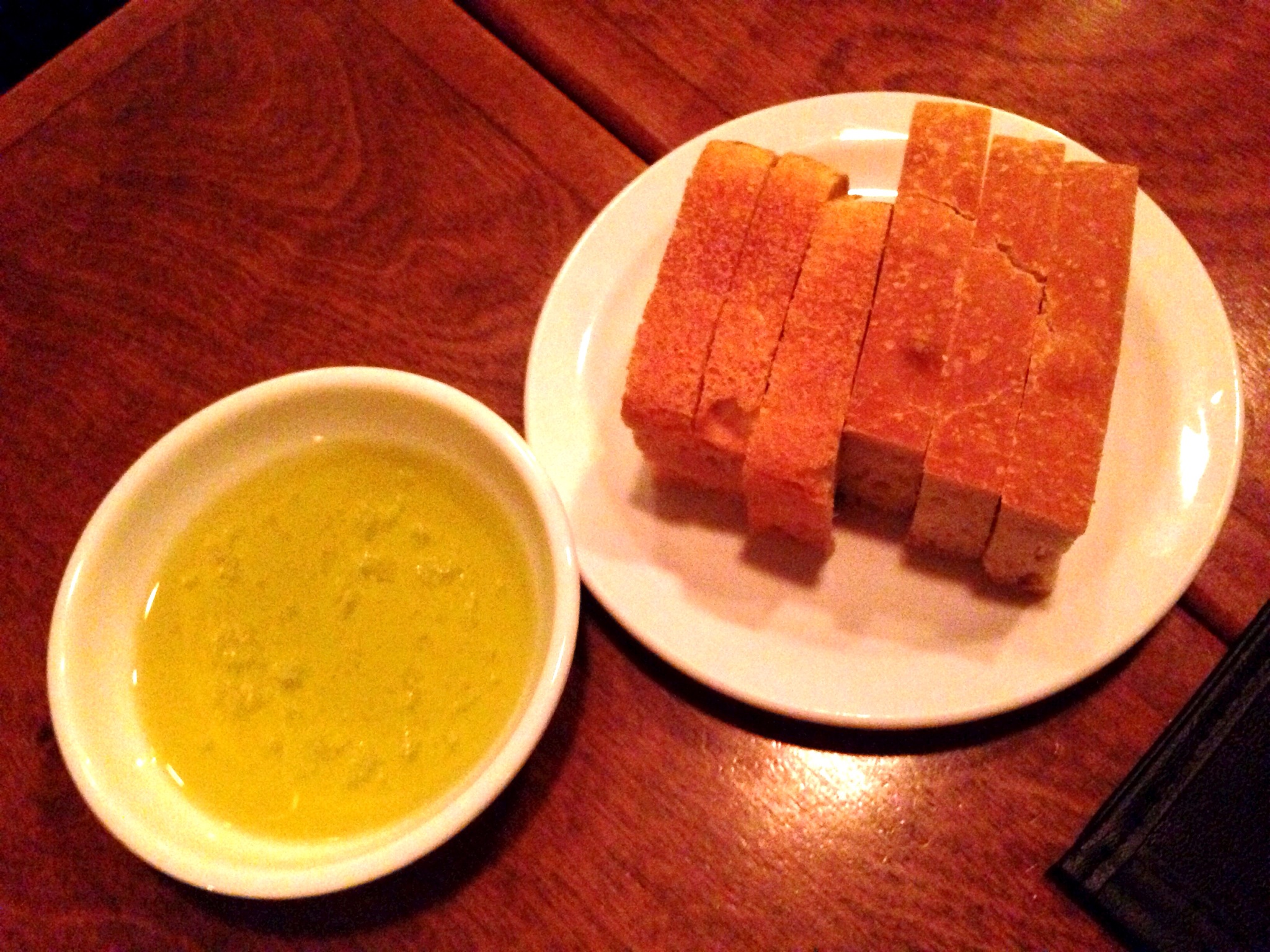 The Fried Cauliflower with Aioli was a plate full of flavours and excitements. Cauliflower was slightly browned and crispy outside but tender inside, and topped with layers of crunch chick peas, fresh herbs, parmesan, and aioli. I got quite a kick from the aioli at first but it gradually started binding all the ingredients nicely together. It was rustic but also very sophisticated.
And here comes the first climax of the evening, the Bone Marrow and Escargots. What a luscious ingenious combination. If one feels bone marrow is still too rich to eat on its own even on a piece of bread, this is the solution. So let's begin on a slightly toasted bread, spread a big spoon full of bone marrow, placed 3 escargots evenly, and bite. Oh – my – lord, I see Christmas lights! I see shooting stars! Slightly salty escargots provided the perfect texture and flavours that balanced the rich butteriness of bone marrow – a perfect marriage made in heaven.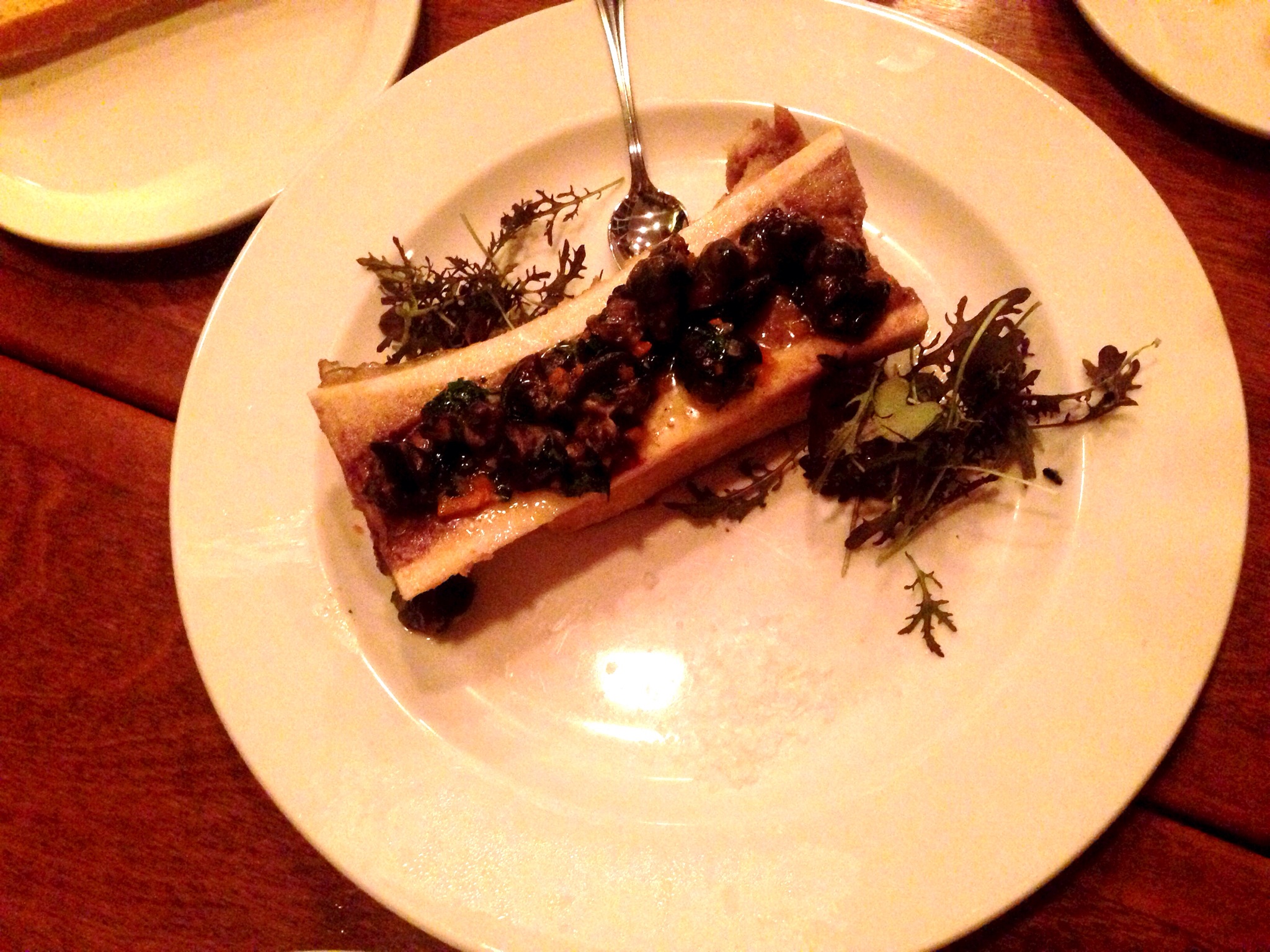 There were only 4 pasta dishes and 2 risotto dishes to choose from on the main course menu.
Before I got busy digging into my own Red Wine Risotto. I had a quick taste of all my buddies' pasta dishes. After savouring all the bites from each dish, I was speechless for a couple minutes, and suddenly I had this awkward feeling of.. envy. I was jealous… All those 3 pasta dishes for my friends were out of this world!
The lovely house-made pasta noodles aside, the craft of sauce making at this place is just mad, mad, mad! And I just wanted to close my eyes and picture the love and effort put into slowing cooking and transforming the ingredients.
LoLo's Fusilli with Rabbit Ragu was on the lighter and more elegant side, the sweetness of rabbit was well balanced with the richness in pancetta. Bert's Duck Ragu Pappardele tasted bolder from the acidity in tomato with sophisticated touches of herbs and spices, quite suitable for the delicate pappardele noodles. Jane's Tagliolini with Mussels and Fennel Sausage brought in quite the seafood love affair in a harvesting vegetable garden by the ocean. All were unique and equally brilliant.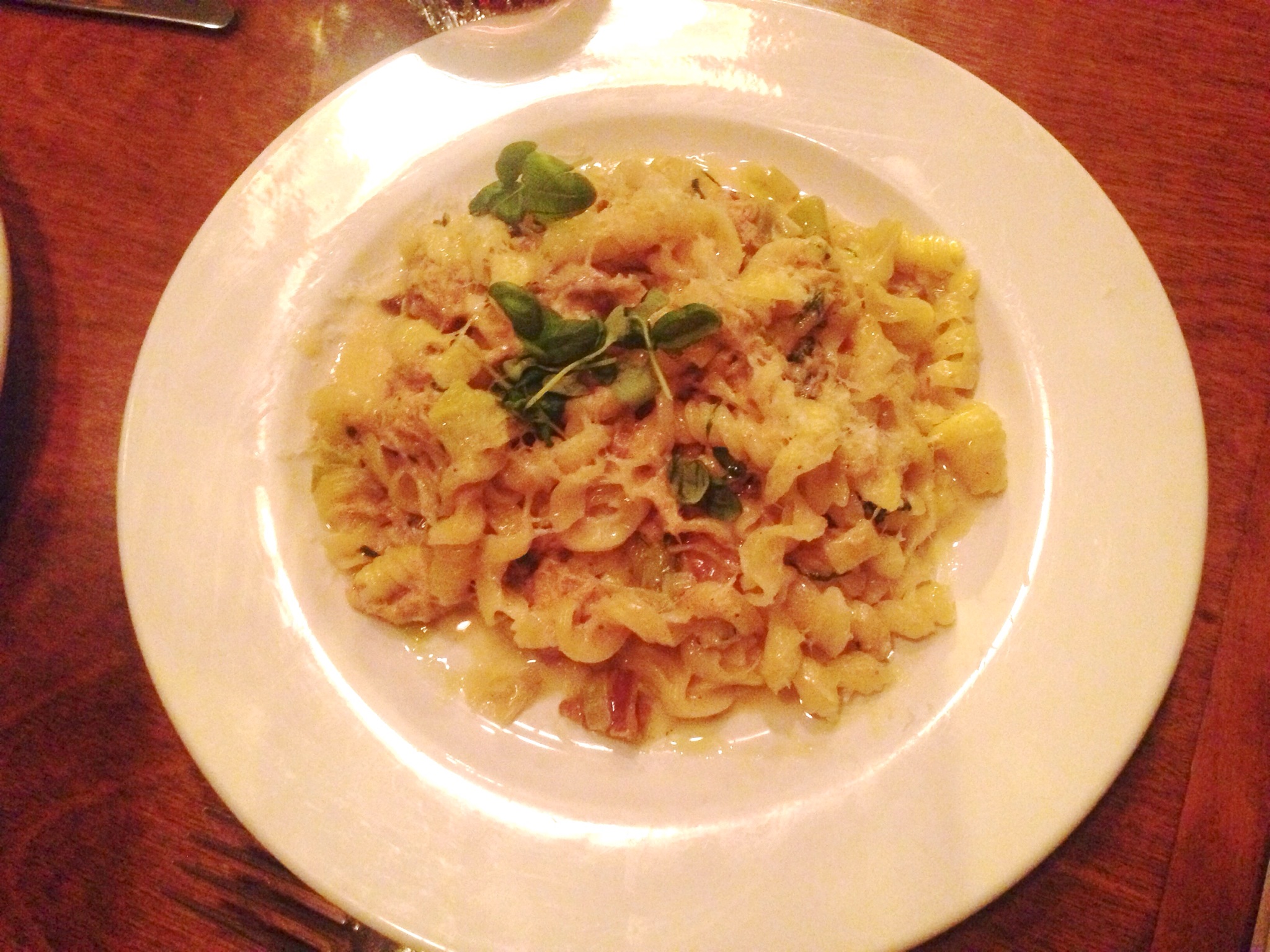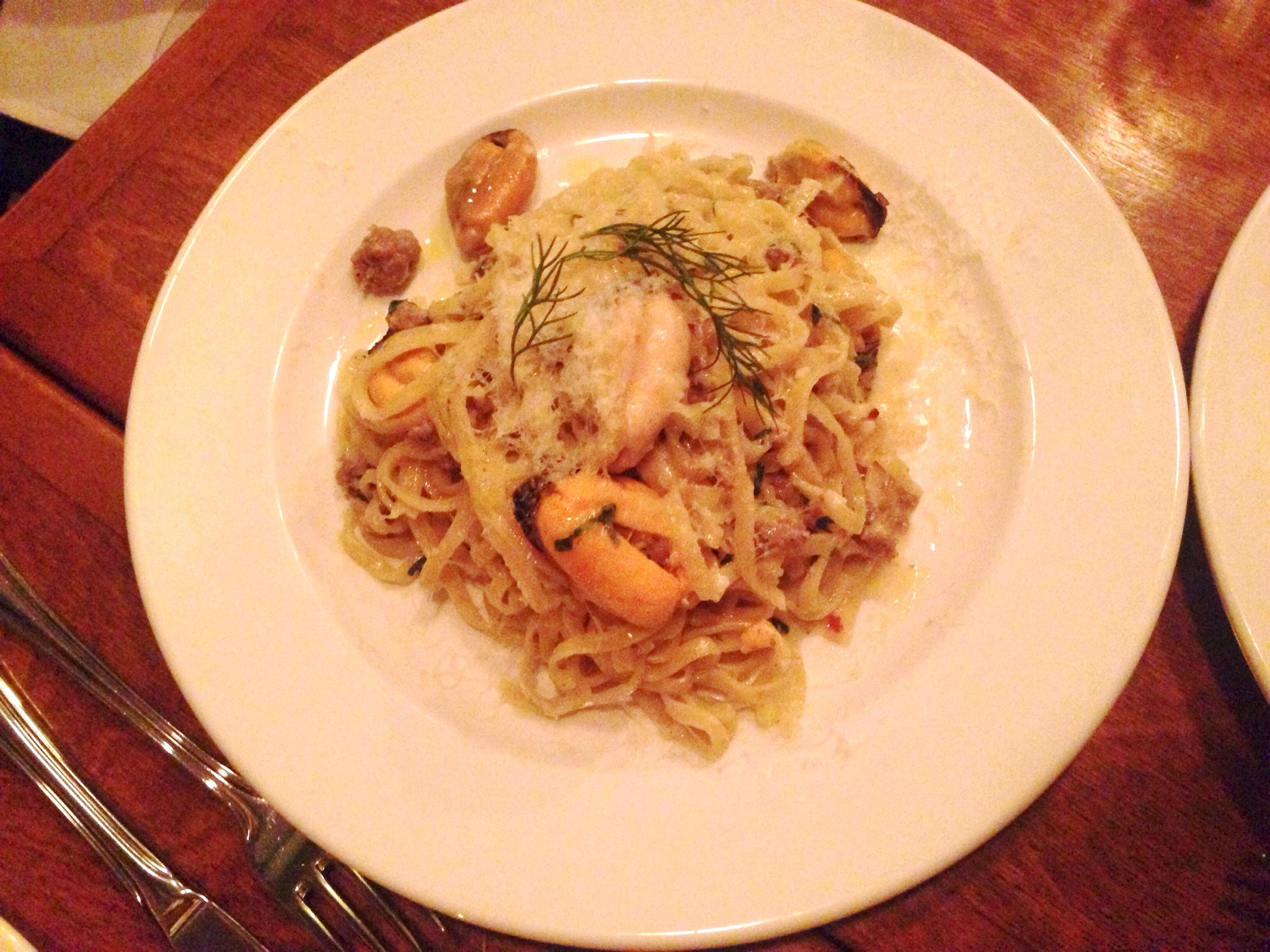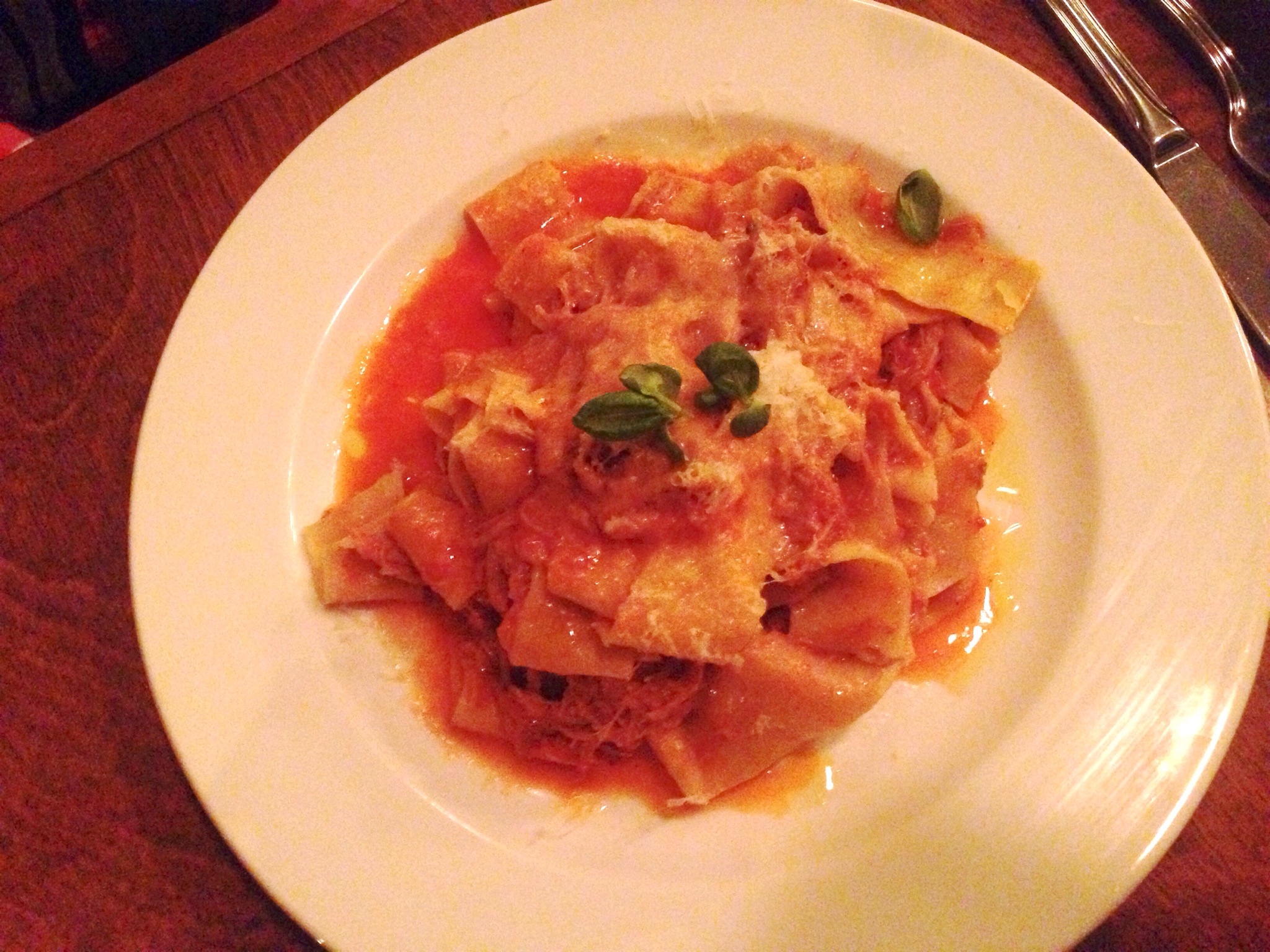 Finally, I turned to my own Red Wine Risotto. The presentation looked mysterious and seductive – a bouquet of what seems to be wild maitake mushrooms was right in the middle with finely chopped crispy bits of prosciutto scattered around. As the star of the dish, the mushrooms were sooooo delicious. I was quietly eating, and touched. The risotto was a little less al dente than I expected but I had no complains at all. The presence of red wine in the dish was surprisingly subtle. The prosciutto bits only added a little depth to the texture and the flavour, but were not overpowering,  letting the star ingredient shine through. I had to stop for moment, as a token of compliment to the level of finesse and sophistication of an extremely well done dish. It was another climax, a triumph. I was no longer jealous of my peers!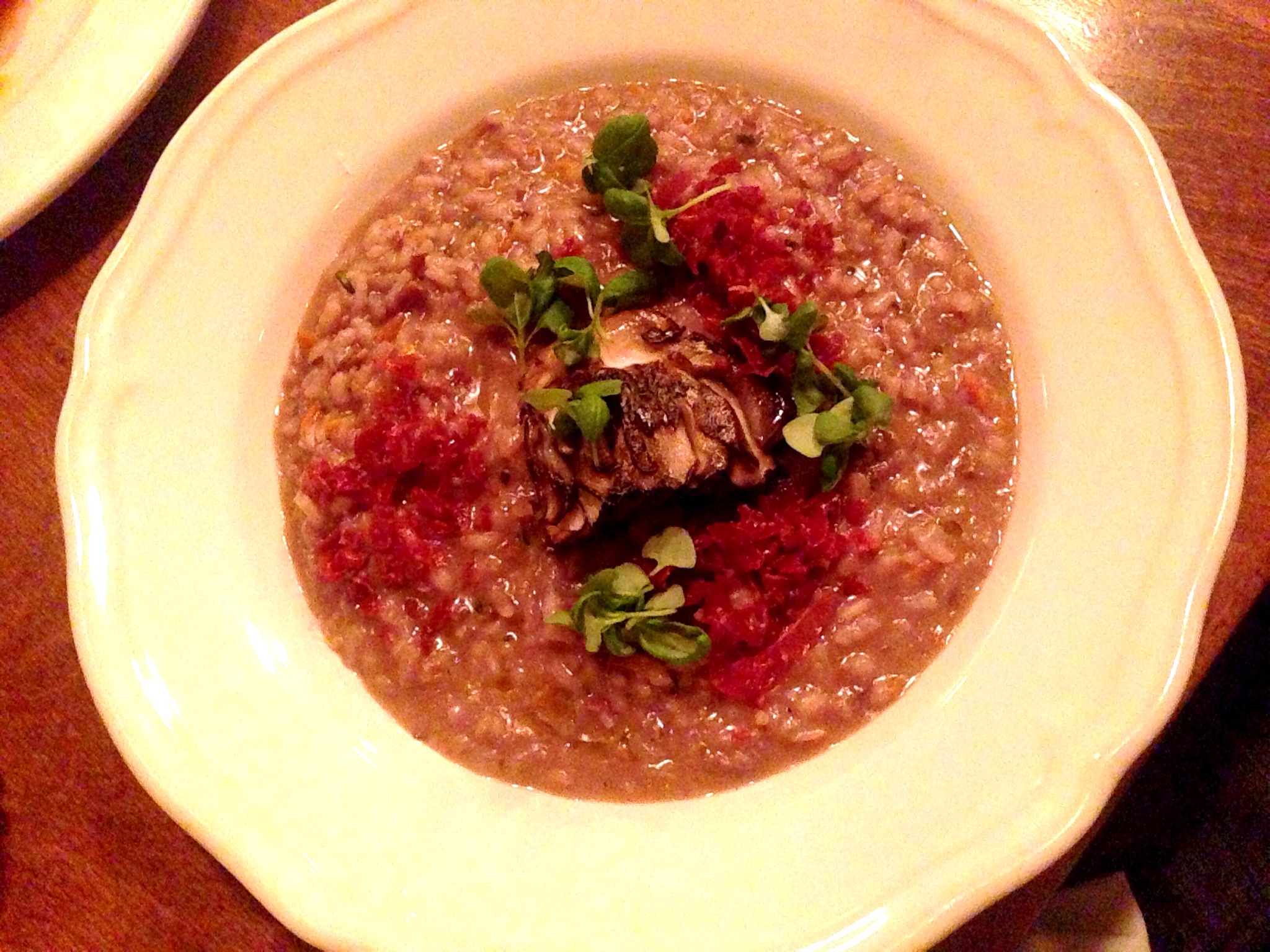 All the pasta and risotto dishes came out so quickly and flawlessly. What kind of magic are they conjuring in the kitchen?
Going into the dessert course. We ordered the Olive Oil Cake and the Chocolate Budino to share.
Olive oil cake was absolutely remarkable. Topped with a creamy and fluffy quenelle and sitting on a few slices of what looked like quick preserved orange. The cake itself was not a lot to look at but but it was moist and delicate.
The Chocolate Budino seemed to a piece of dense flour less cake. It was super rich. So I had to ask for a cup of latte. Oh by the way, when I was waiting at the lineup, Ann Marie mentioned they had good coffee as well. The latte was great, but with strong floral notes, which was somewhat surprising as well.
As I am not much of a dessert person, I am thankful that the Olive Oil Cake brought the dinner to a final climax.
This is definitely a dinner to remember for years. When people address the dishes as Rustic here at Ask For Luigi, I would rather consider them as refined with impeccable techniques. This is definitely not an Italian grandma's kitchen, although it might been inspired by one.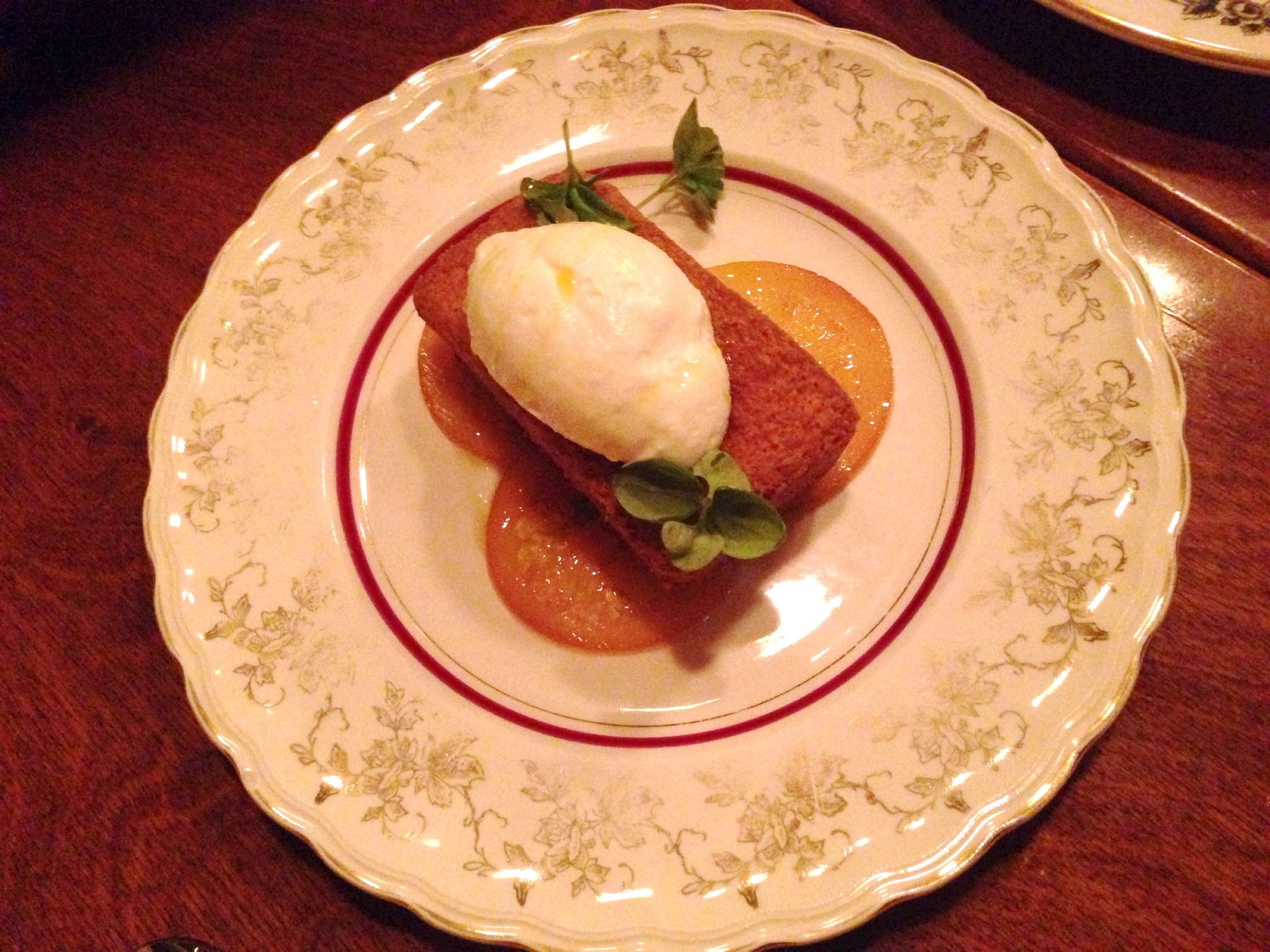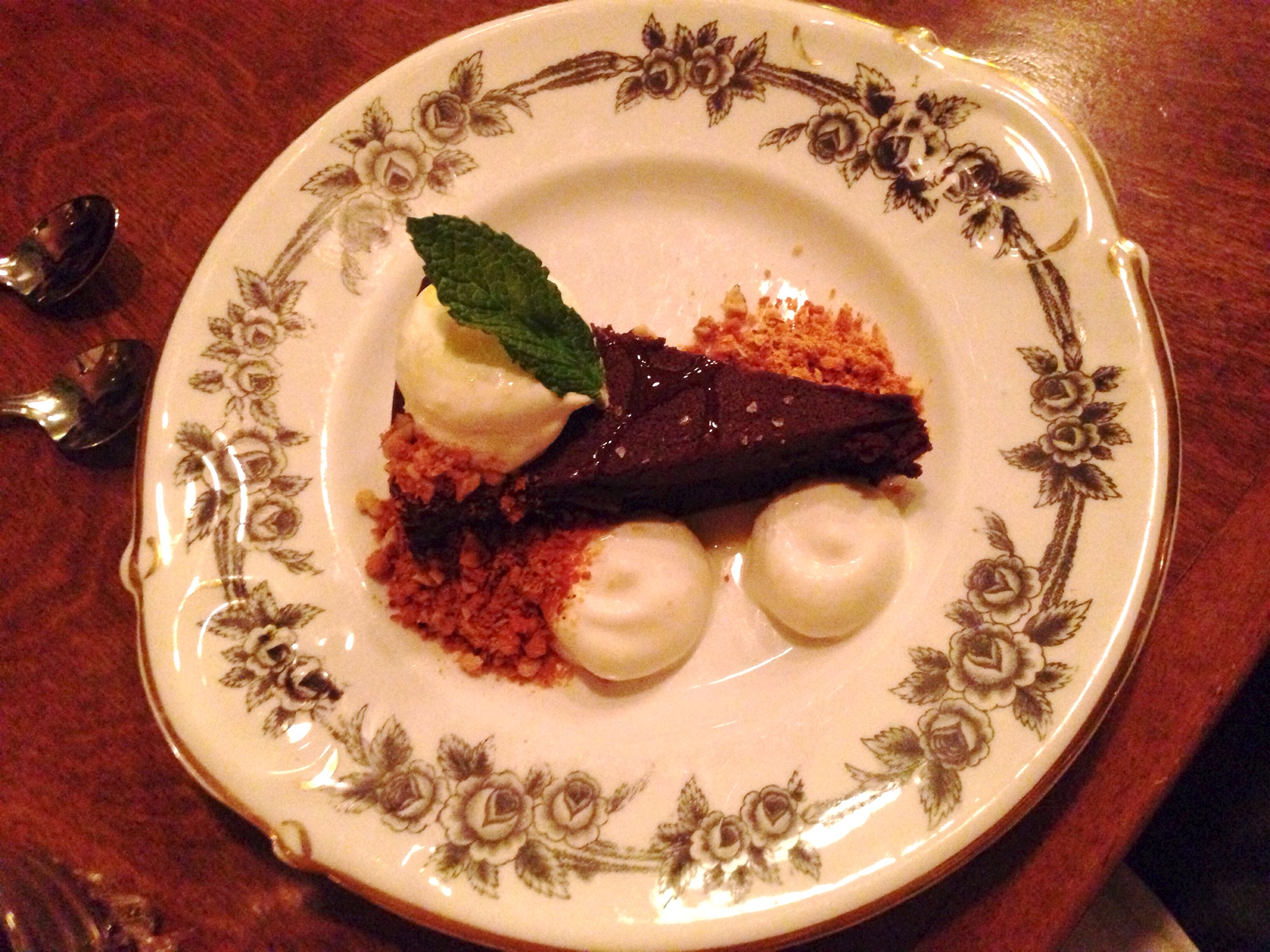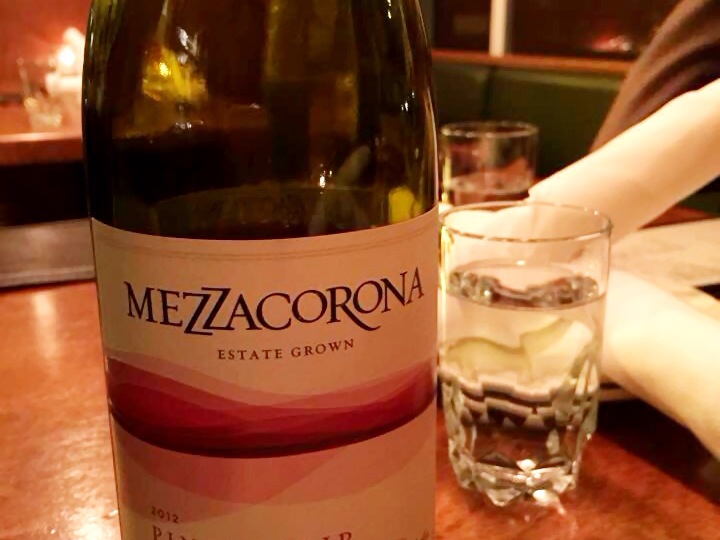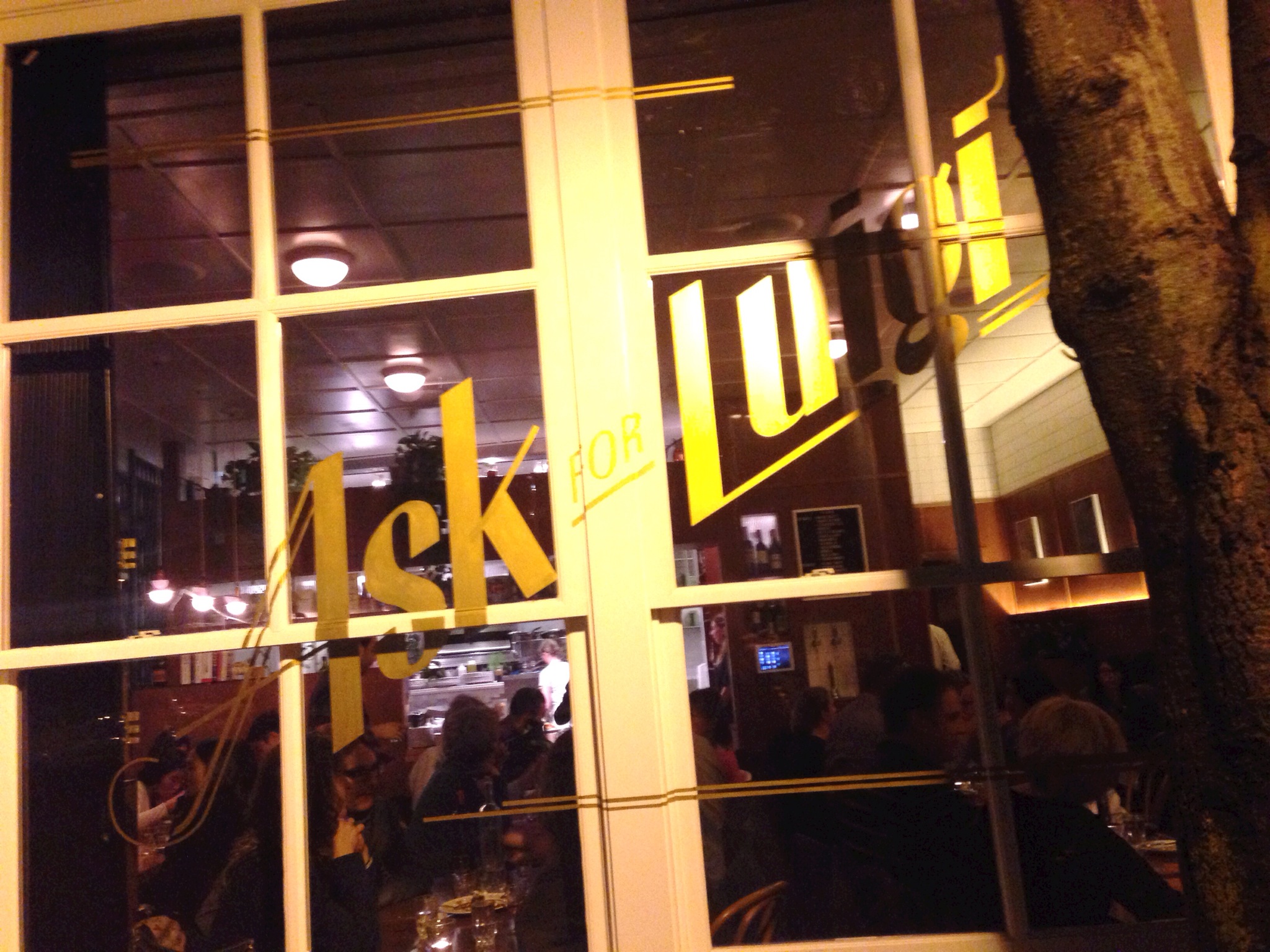 Official website:
http://www.askforluigi.com

Map and other reviews: