I am always fascinated by dragon fruit (or pitaya) for its vibrant colours, subtle but refreshing sweetness and kiwi-like texture. This dish is inspired by Thai dishes that utilize yellow curry. But adding the fresh dragon fruit in the curry, it creates an even more exotic flavour profile.
Cooking tips:
To keep it original, I picked up a pack of curry powder. If you want to use Japanese or Thai curry mix it is totally fine!
To get an even more vibrant golden yellow colour, I added 1/2 tsp of turmeric to the 2 tbsp of curry powder in this recipe. It is very likely that there is already turmeric in most curry powder mixes, but having more turmeric is the key to the beautiful colouring!
Obviously, you can use any other ingredients than prawns and mushrooms. You can also do chicken or go completely vegan!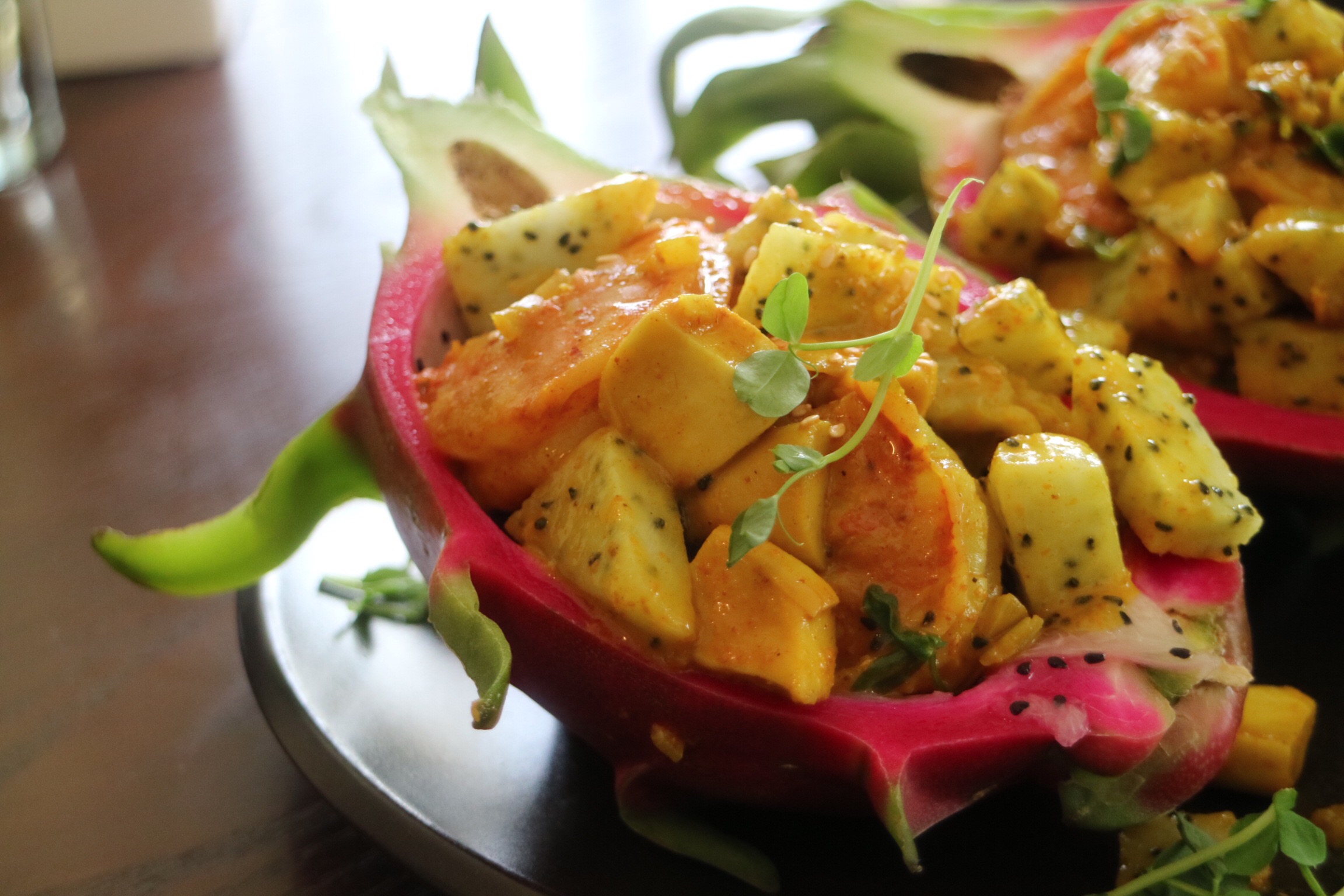 Here is the recipe for serving 2.
Ingredients:
dragon Fruit (large) 1
tiger prawns (large) 6 – 8, peeled and cleaned
mushrooms (baby king oyster or brown button) 6 – 8, cut into halves
yellow curry powder 2 tbsp
coconut milk 1 cup
shallots 1 – 2, finely chopped
garlic 2 cloves, finely chopped
ginger 1 tsp finely chopped
brown sugar 2 tsp
salt 1/2 tsp
cooking oil 1/2 tbsp (coconut or olive buy valium oil)
sesame seeds 2 tsp
baby pea shoots 20 (can substitute with cilantro or parsley)
Cooking Video
Steps
cut dragon fruit in half
cut and detach the flesh from dragon fruit shell, using a small knife and a large spoon.
dice the dragon fruit flesh into small cubes, and put away half of the cubes for other use.
add cooking oil a non-stick frying pan on high heat
add ginger and let it brown for 1 minute
add shallot, garlic and mushrooms and stir-fry for 1 minute
add yellow curry powder and stir-fry for 1 minute
add coconut milk, mix and stir,
turn down the heat to medium-low, simmer and reduce for 3 minutes, while stirring
add prawns, turn up the heat to medium-high, and stir-fry till prawns are cooked
turn off the heat, transfer the curry prawns to a large bowl, cool it for 1 minute
mix in diced dragon fruit and half of the pea shoots
place the mixture in the dragon fruit half shells
garnish with sesame seeds and the rest of pea shoots.