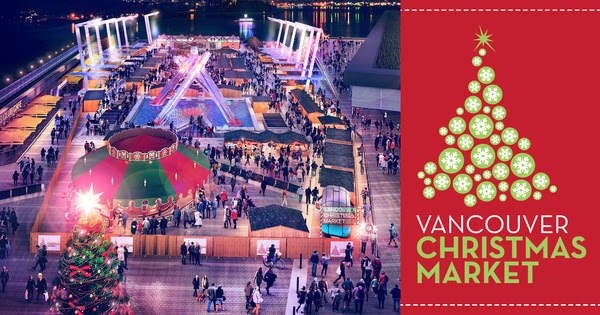 Cherish the Charm, Taste the Tradition as German Christmas Fest Lights Up 50,000 Square Feet of Holiday Fun & Finery at Jack Poole Plaza 
Vancouver, BC – Nothing says "It's Christmas Time in the City" like the Vancouver Christmas Market, launching its 7th season on November 26 at a new and expanded scenic site at Jack Poole Plaza. Bigger, better, and brighter this year, the cherished annual event runs to December 31 and features more of everything Vancouverites have come to love about this German-flavoured festival of authentic food, drink, entertainment, and foraging for unique treasures to stuff into stockings or tuck under the Christmas tree.
With more than 70 huts featured in the 2016 event, Malte Kluetz, Founder and President of the Vancouver Christmas Market, says, "We're thrilled by the number of vendors participating this year and by the capacity our new location affords to add even more guests to the hundreds of thousands of visitors who make our annual offering part of their family holiday tradition."
Shiny and New …
The 2016 market will introduce Canada's first-ever Christmas Pyramid: a 23-foot tall structure adorned with angels representing various aspects of European culture. Designed locally by architect Jordan Kutev and Lukas One Productions, the rotating sculpture plays festive music from various regions of Europe where Christmas Pyramids are a time-honoured tradition. Also new this year is an enclosed Alpine Haus tent and seating area, designed to accommodate more than 250 people and overlooking spectacular views of the North Shore.
The increased vendor space at Jack Poole Plaza allows for the introduction of many new sensations, such as daily demonstrations of the Feuerzangenbowle ("Fire Tongs Punch"), a traditional German mulled wine and rum beverage whose ceremonial preparation includes caramelizing a large sugar cone over the concoction. New vendor Olga Capone Cannoli Company offers Italian-style cannoli made from an Old World recipe passed down from generation to generation since the 1930s.Those with dietary restrictions will want to visit new vendor Marie's Guilt Free Bakery where they'll find gluten-free, egg-free treats that cater to the needs of vegan and sugar-free diets.  In total, the market will boast 24 food and drink huts –11 of which are appearing for the first time in 2016.
New international vendors include Nica Ceramica, selling hand-made ceramic vases and other products from Nicaragua that are difficult to find in Canada, and MisH MasH, featuring hand-made Christmas angel ornaments and little elephant figurines from Africa.
This year, the market also offers gifts for the ecologically-minded with Eco Books 4 Kids offering safe place to buy modafinil online books about Canadian wildlife that are printed on FSC or recycled paper with vegetable inks and non-toxic coatings, and Mistura & Fento's handcrafted watches and sunglasses made from wood and other sustainable materials.
Tried and True …
Recognizing that nothing succeeds like success, the market is delighted to welcome back many of the vendors that have helped build its reputation for European charm and epicurean choices. The signature array of mouth-watering German delectables will be back, including Glühwein (hot-spiced mulled wine), Bratwurst, Gulasch, Spätzle, Handbrot, German Pizza, and so much more. This year's selection of German and Austrian beers includes Stiegl's Radler, Stiegl's Pilsner, Erdinger Weissbier, and Erdinger Dunkel. Sweet tooths can be satisfied at The Gingerbread Haus with its own line of artisanal German gingerbread, and ART Meets CHOCOLATE, which offers locally hand-crafted pieces of edible art.
Gift hunters will want to make their way to The Nutcracker House for classic Christmas decorations made in the Erzgebirge region of East Germany, and to Käthe Wohlfahrt of America, Germany's largest Christmas retailer whose wares include ornaments made of wood, mouth-blown glass, and hand-painted pewter. Herrnhuter Sterne is also back with stunning star ornaments and the launch of a new product – handmade metal incense smokers from Huss/Neudorf. Market favourite Provence En Couleur Home Décor is returning with unique wood kitchen utensils and soaps from France.
In the Mood …
The Vancouver Christmas Market swings into Yuletide with a lively line-up of entertainment, including house band The Gingerbread Men. Dashing and debonair, The Gingerbread Men will croon irresistible holiday classics. Also setting the seasonal mood will be Phat Santa Swing; jazz pianist Aiden Miller; one-man cover band Rob Eller who channels performers from Dave Mathews to Stephenwolf; and Andrew Mockler, an Auckland-based singer/songwriter originally from Middlesbrough, UK.
Little ones can look forward to an array of activities designed to delight. From the market-wide scavenger hunt to gingerbread decorating at Gingerbread Haus through assembling star ornaments at the Herrnhuter Sterne Hut and riding the Christmas Carousel, Mom and Dad may find it hard to keep up. The Vancouver Christmas Market mascots 'Holly and Jolly' will be on hand for hugs and photo ops and the jolly old elf, Santa himself, will be ready to hear children whisper their Christmas wishes when they visit him at the Photo Hut.
Perhaps the best memory of all to take away from the Vancouver Christmas Market is strolling the twinkling pathways of a European-inspired Christmas village in the crisp winter air, discovering the flavours, fun, and family feeling of the city's premier pre-Christmas event.