It was Lou's last dinner for his visit, and we picked Twisted Fork Bistro, a cute and quaint little bistro on Granville. Still quite early around 6 pm, we took the best table in the house by the front window. The space is tastefully designed with charming characters, rather suitable for a romantic date. I have heard good things about this place, especially their brunch. And their dinner menu looks attractive – mostly French influenced comforting dishes with local ingredients, and prices seem quite reasonable.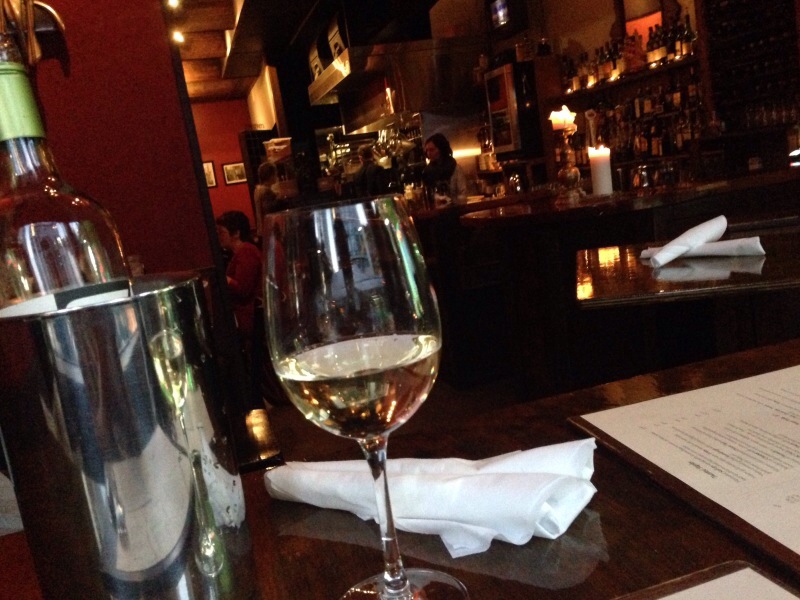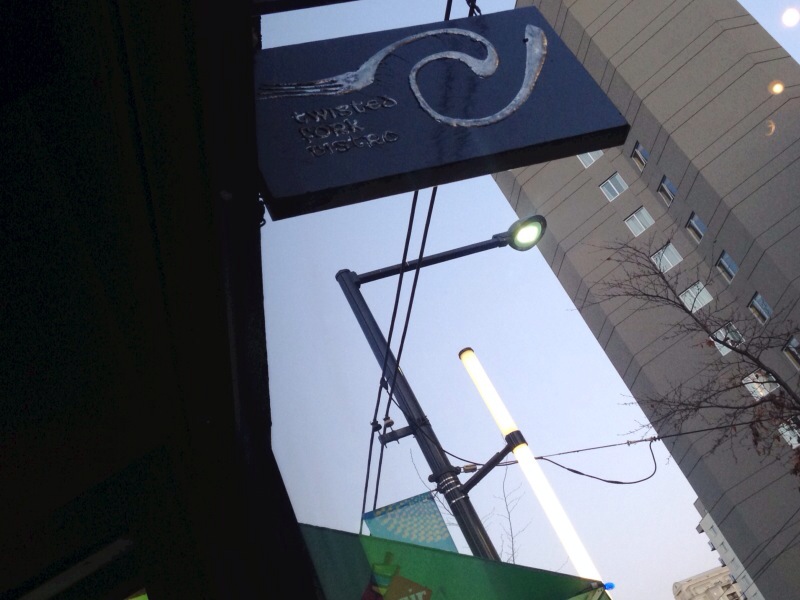 I have no idea they have Mussels Night on Tuesdays. The waitress's repeatedly emphasizing how busy they would get in the evening just like their popular weekend brunch, which I thought, was completely unnecessary. Okay pardon us for being ignorant, and we do get your point – your restaurant is truly amazing!
It was a no-brainer to order their Mussels special ($8.50, regular price is $17), to go with a bottle of young Bench 1775 Chill from Oakanagan ($36). The mussels were served with a classic French cream sauce with an exotic hint of coconut milk, and topped with generous servings of yam and potato fries. Mussels were cooked properly, but we kept hitting empty shells but found the actual mussel bodies at the bottom of the bowl. The sauce was good, quite nice for dipping the house-made dinner rolls in, although a bit too thick. Compared to the mussels that I had at Tuc Craft Kitchen, I found over here the handling and plating might have cost them a point or two.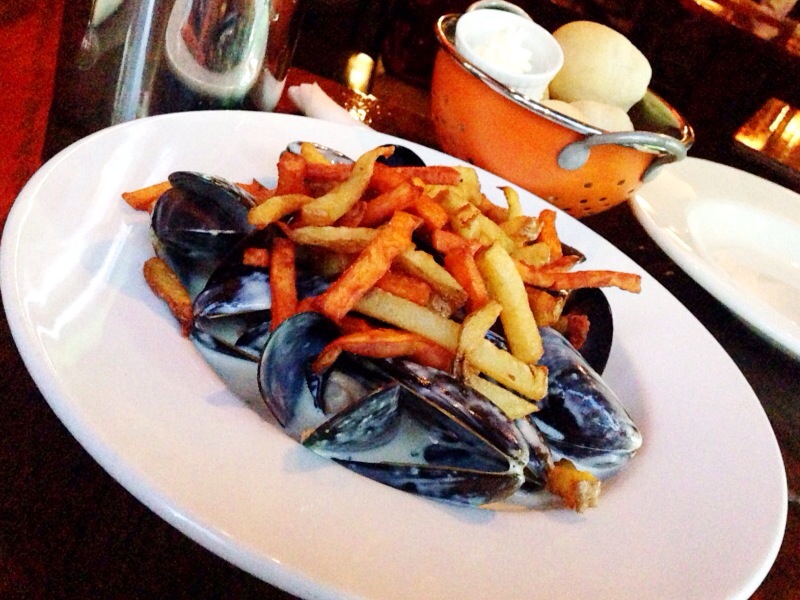 The place was getting filled up gradually but it was not as busy as the waitress had predicted. But the service was slow. We probably waited for another 30 minutes before our next dish came. The Scallops ($12) dish was served with caramelized onions, potato puree, local double smoked bacon and corn relish. The first thing we noticed was a big pile of potato in the centre. There were 4 small pieces of scallops scattered around the potato. This was not how I had pictured, as I thought this would be a smaller appetizer or tapas plate. And the potato was clearly too thick to be puree which is supposed to be silky and much ligher? There is no way you could pile up potato puree like this. The scallops, being well seasoned and tasty, were clearly pan seared. But I wonder why the description on the menu says 'marinated'. With the pile of potato topped with lots of bacon and corn relish, this is a big dish and could easily feed most people as a main course. I mean it was not bad, but it was not quite expected.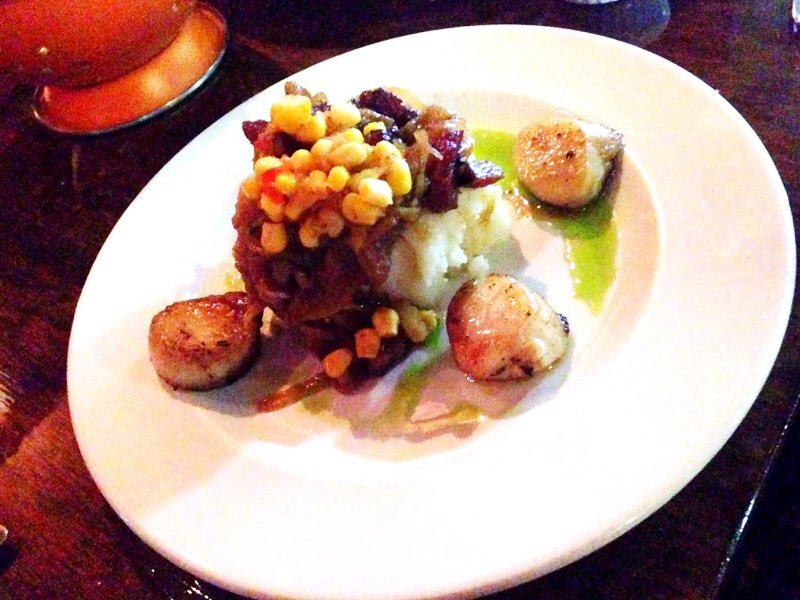 Alberta Strip Loin ($20) came shortly after the Scallops dish. As we cut up the steak, and it was obviously overcooked for a medium rare. The waitress took it back but she did not look sincerely apologetic. Yes we understand that it doesn't make any of us happy when this happens, but at least don't be a grump in front of the customer – sometimes a tiny gesture or facial expression could be such a turn off. So we waited for a bit for the 2nd steak they fired, it was still not exactly medium rare… But we accepted it. Less stringy than the first one, the 2nd steak still felt a little tough in my mouth. It was also pretty salty, which makes me wonder if it is the marinate that might have toughened the steak. For the rest of the dish – oh boy, another pile of potato! At this point I was pretty full already after Mussels and Scallops with lots of potatoes, and I just couldn't taste any of the pickled water melon rind or even the Gorgonzola sauce in the dish. And I was too full to try their much talked about desserts. It could have been nice if the waitress had warned the size of the dishes, or made some helpful suggestions.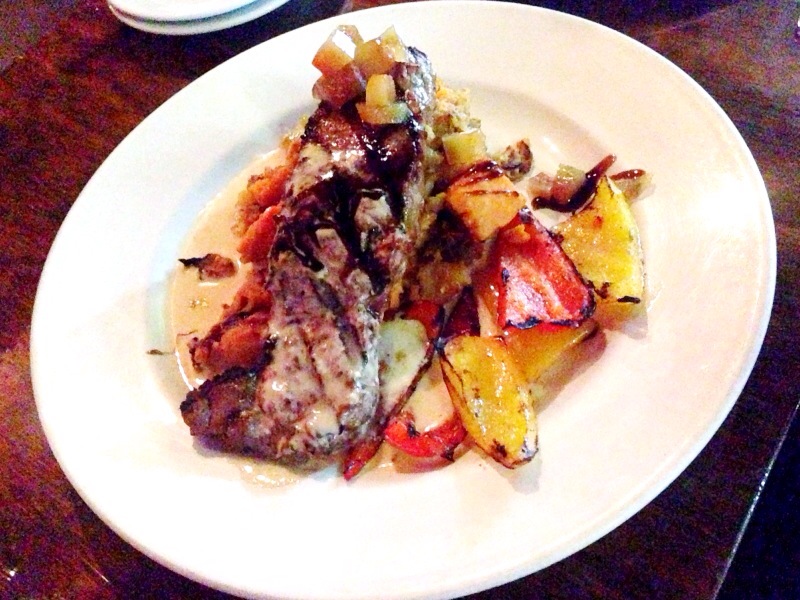 They do have great ideas on their menu, but except the Mussels special, the portioning and execution of other dishes were a bit off for the evening. I'm still curious to check out their famous brunch or pick an evening when they don't expect everyone to order just mussels.
The yes's
– portions for hungry folks
– good deal on Mussels night
The no's
– portions for food tasting and not so hungry folks
– dish execution
Map and other reviews:
Website: