I was sitting at the bar at Araxi, one of the most popular fine-dining restaurants in Whistler, and chatting up the young handsome bartender from Australia. I asked him where he would like to have a great meal in Whistler besides at any of the Top Table Group restaurants, he told me The Red Door Bistro. I was like, where is that?  And the next day, another bartender said the same thing to me!
I probably shouldn't feel bad not knowing about this place because many people, including some seasoned foodies in Vancouver, have never heard or been to this place either. Despite winning an honourable mention at Vanmag's Vancouver Restaurant Awards for "Best Whistler Restaurant" in 2019, the French bistro is still well under the radar, maybe due to its out-of-way location in Whistler.
I was curious. And I had a chance to find out this place when I decided to make a trip to Whistler with a media vehicle from Honda Canada.  But when I tried to make a reservation for the 2nd week of December, I was shocked that they were fully booked through January 8.  The bartender at Araxi did warn me that this place was popular, but I had no idea it was that popular. But there is still hope – the bartender also told me that sometimes they could fit a drop-in diner at the chef's counter.  As I happened to book a room at Nita Lake Lodge, an upscale hotel in the Creekside Village that is only a few steps away from Red Door, it makes it convenient for. I was about to find out if I would get lucky enough to get a meal here.
And I did get lucky! When I arrived The Red Door Bistro right before they opened at 5, they told me I could sit at the chef's counter! This is one of the benefits of travelling/eating on your own I suppose. The counter could fit about 6 – 8 people, and right behind you can see Chef RD Stewart and 3 other cooks in action working on the line, dispatching dish after dish from the open kitchen.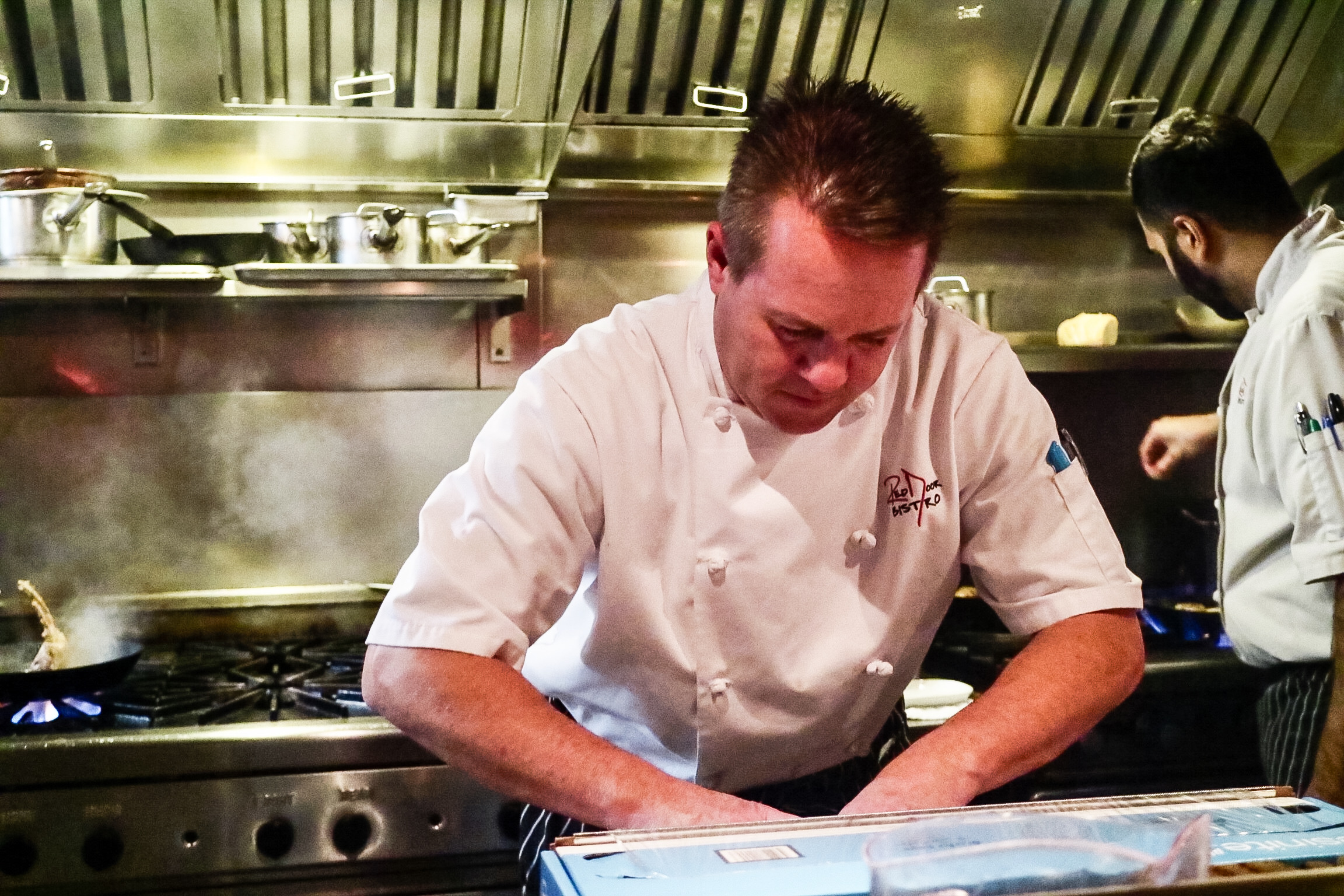 The wine list is written in chalk on the wall right above the open kitchen – a rather impressive one showcasing mostly premium BC wines.  However, only a few of the wines are offered by the glass – 3 whites and 2 reds. My Da Silva Pinot Noir was delicious, although a bit pricey at $20/glass.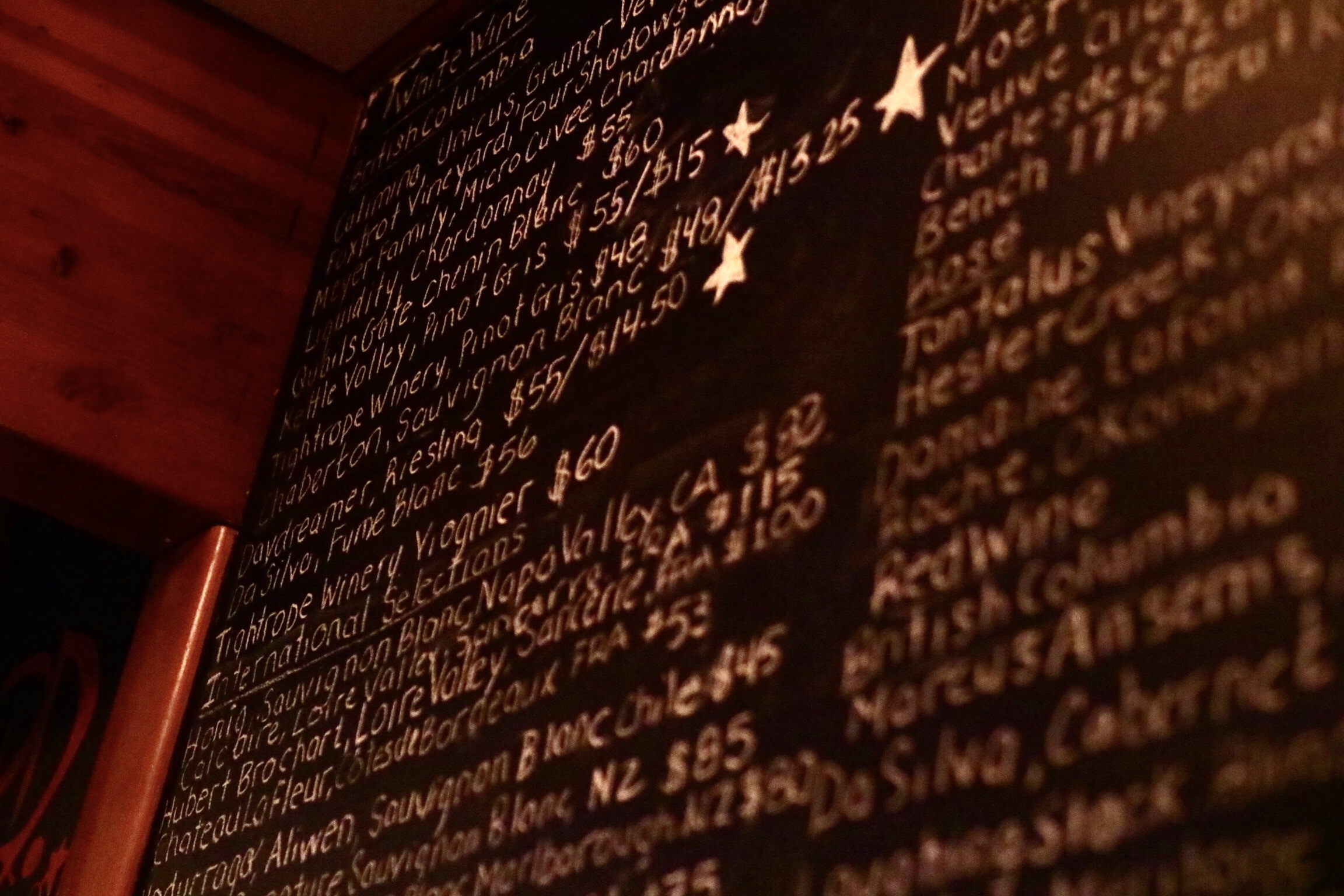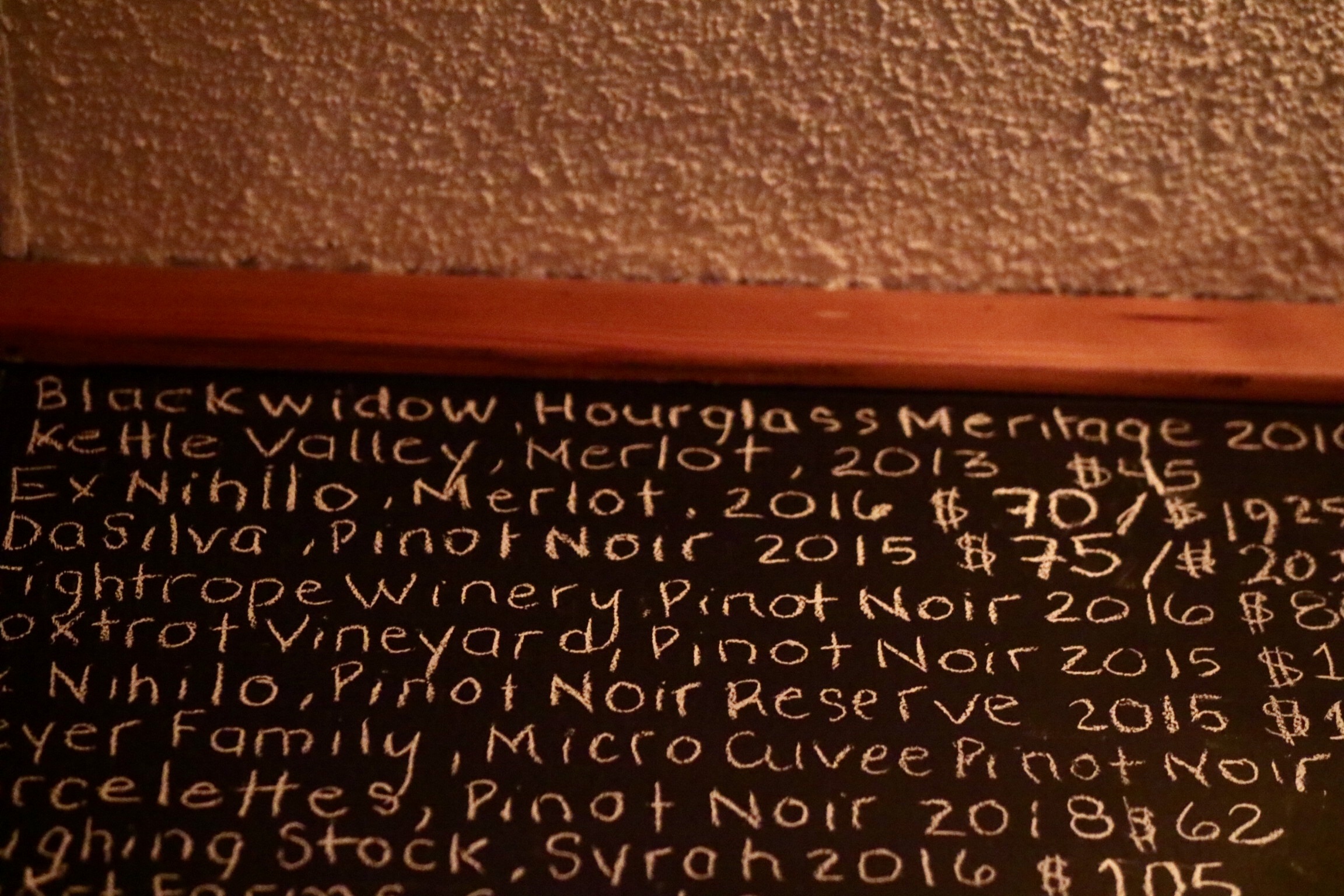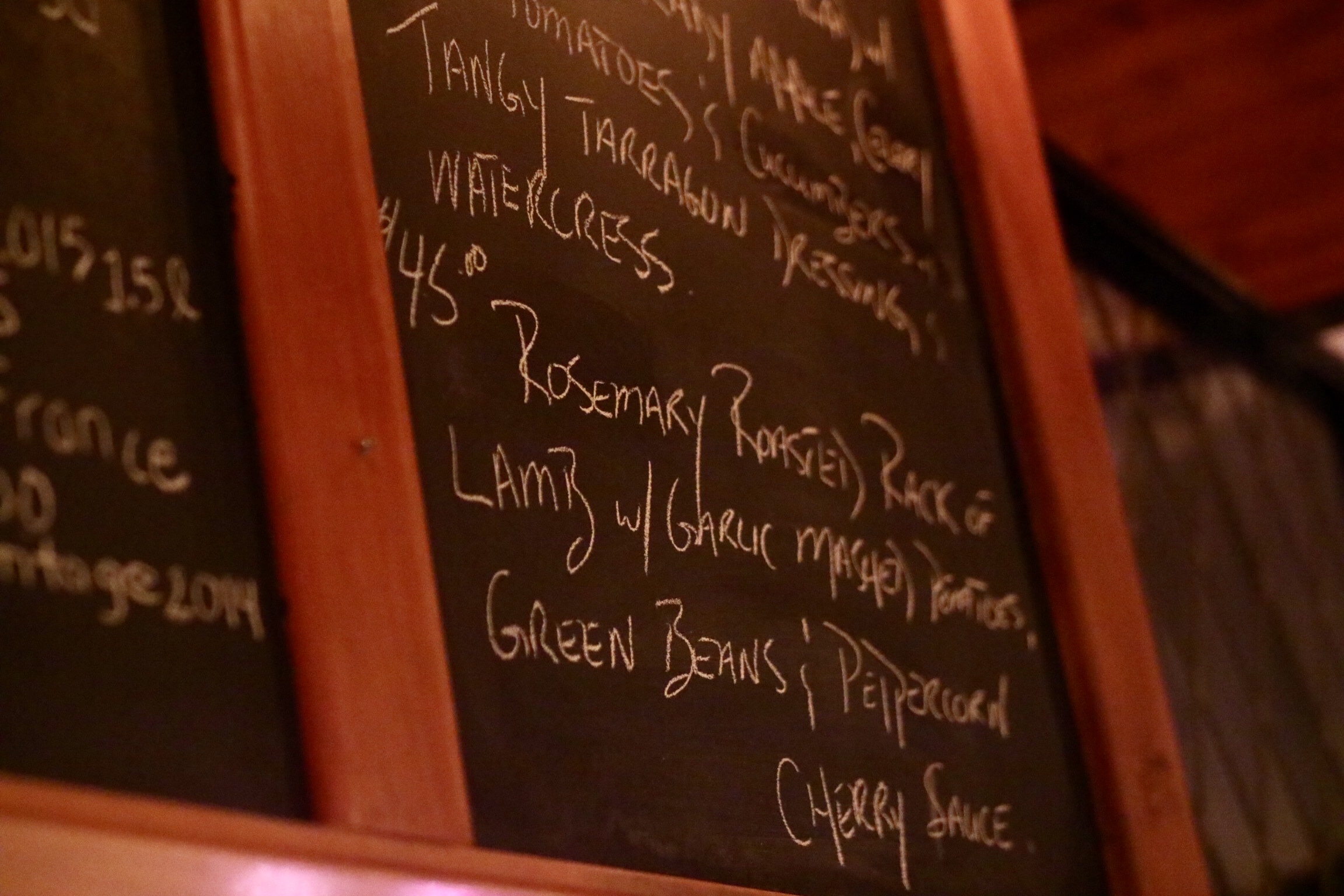 The food menu does look French bistro, with nothing overly complicated.  I went adventurous, trying the two out of the three daily specials. This has become a new trend for myself when I visit highly praised restaurants. Who wouldn't want to see how the chef handles what's in for the season, instead of tasting something the chef might feel bored cooking every single day. I'm more a risk-taker now I guess?
The starter was lovely. I really enjoyed the kick from the touch of cayenne pepper on the vibrant looking Bistro Tomato Soup ($8.50). The rich flavour of tomato and the smooth creamy texture were spot on.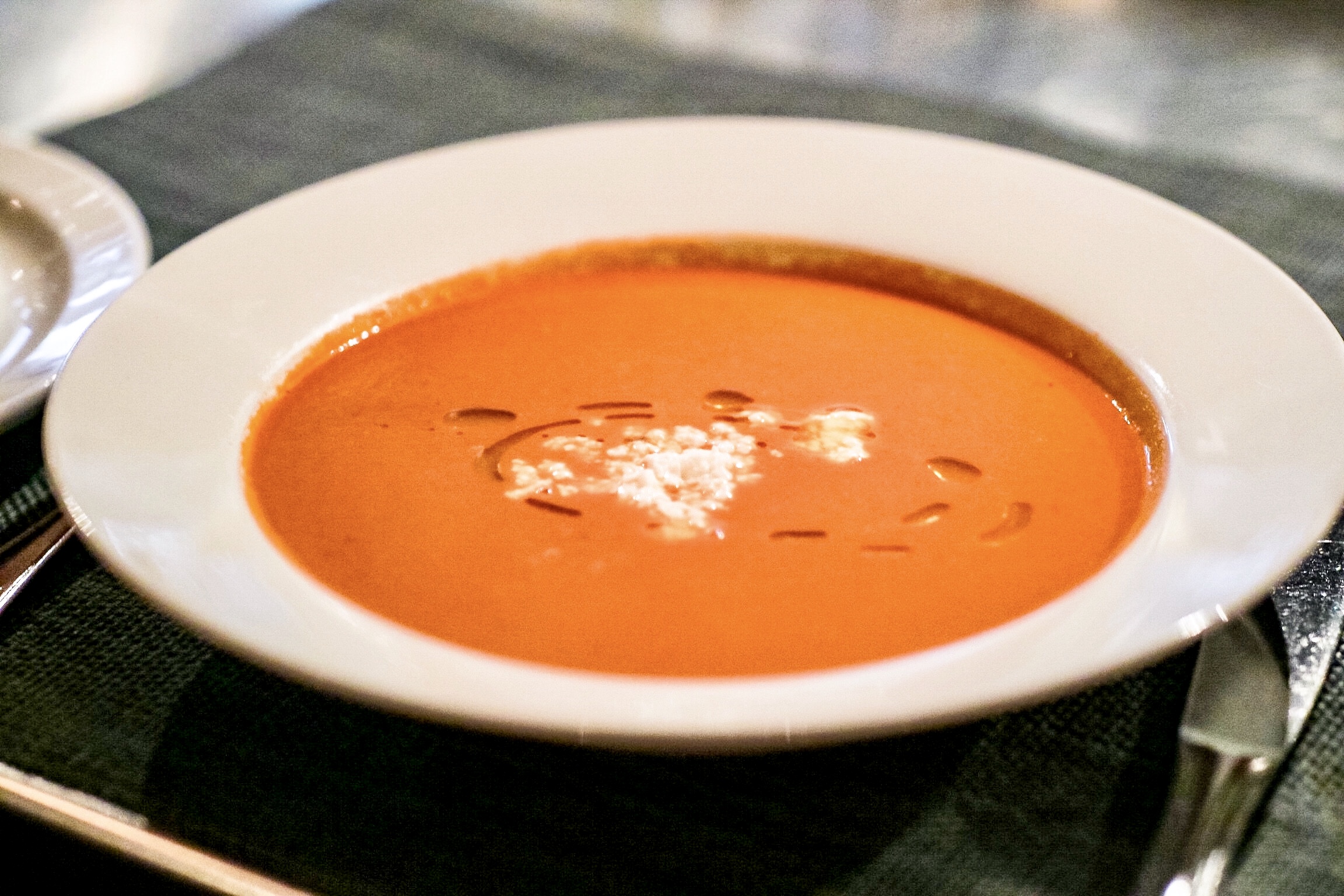 I was a bit concerned with the portion of the Rosemary Roasted Rack of Lamb ($45) as I was going to have another dinner later in the Village with a friend. But they told me it was only half of a rack.  It was a lot of fun watching how the lamb was prepared and served in front of you.  The side components were simple, with garlic mashed potato, green beans, and finished with a luscious pepper cherry sauce – all incredibly flavourful. The lamb was cooked perfectly and I enjoyed each meaty succulent bite. It was an amazing dish.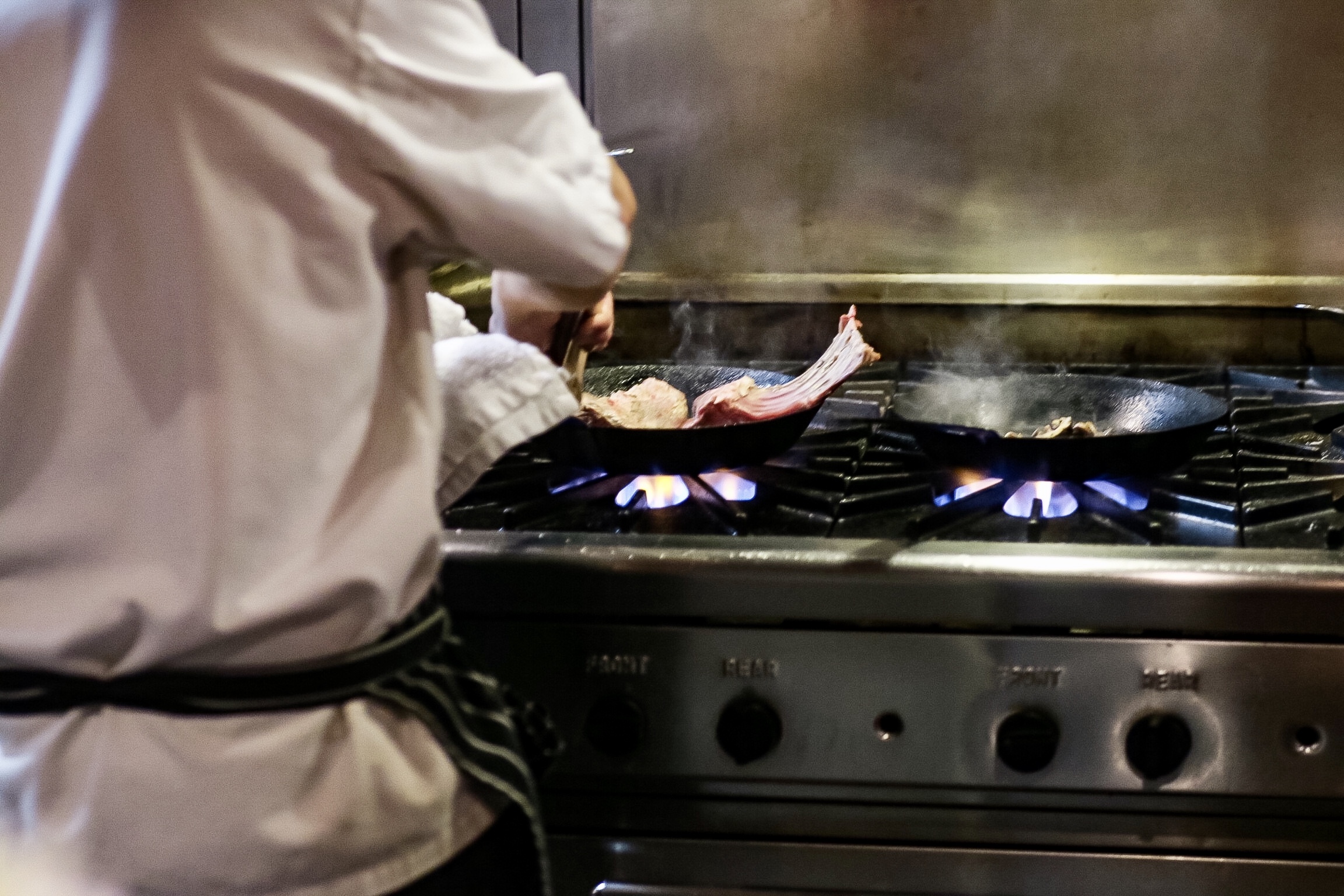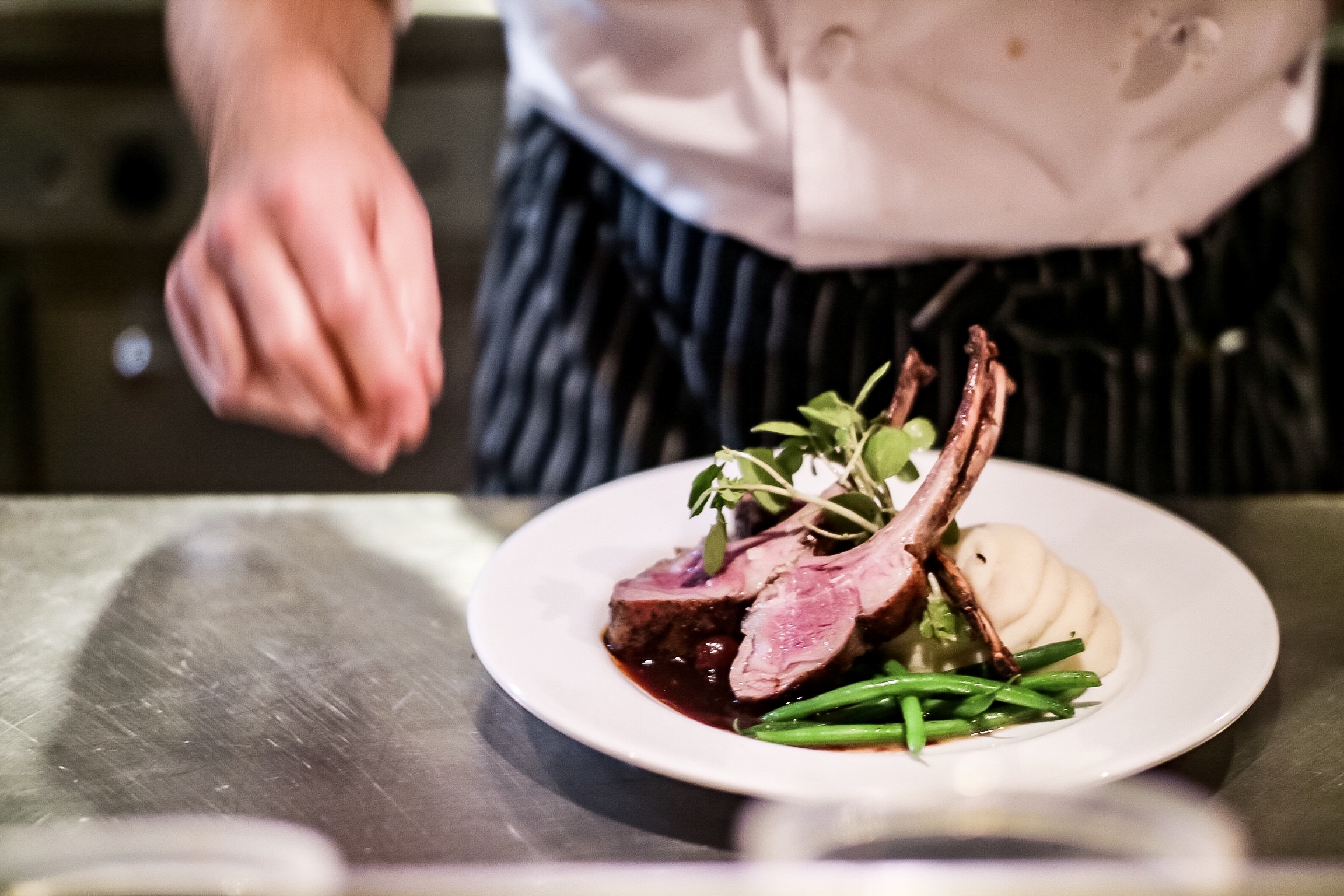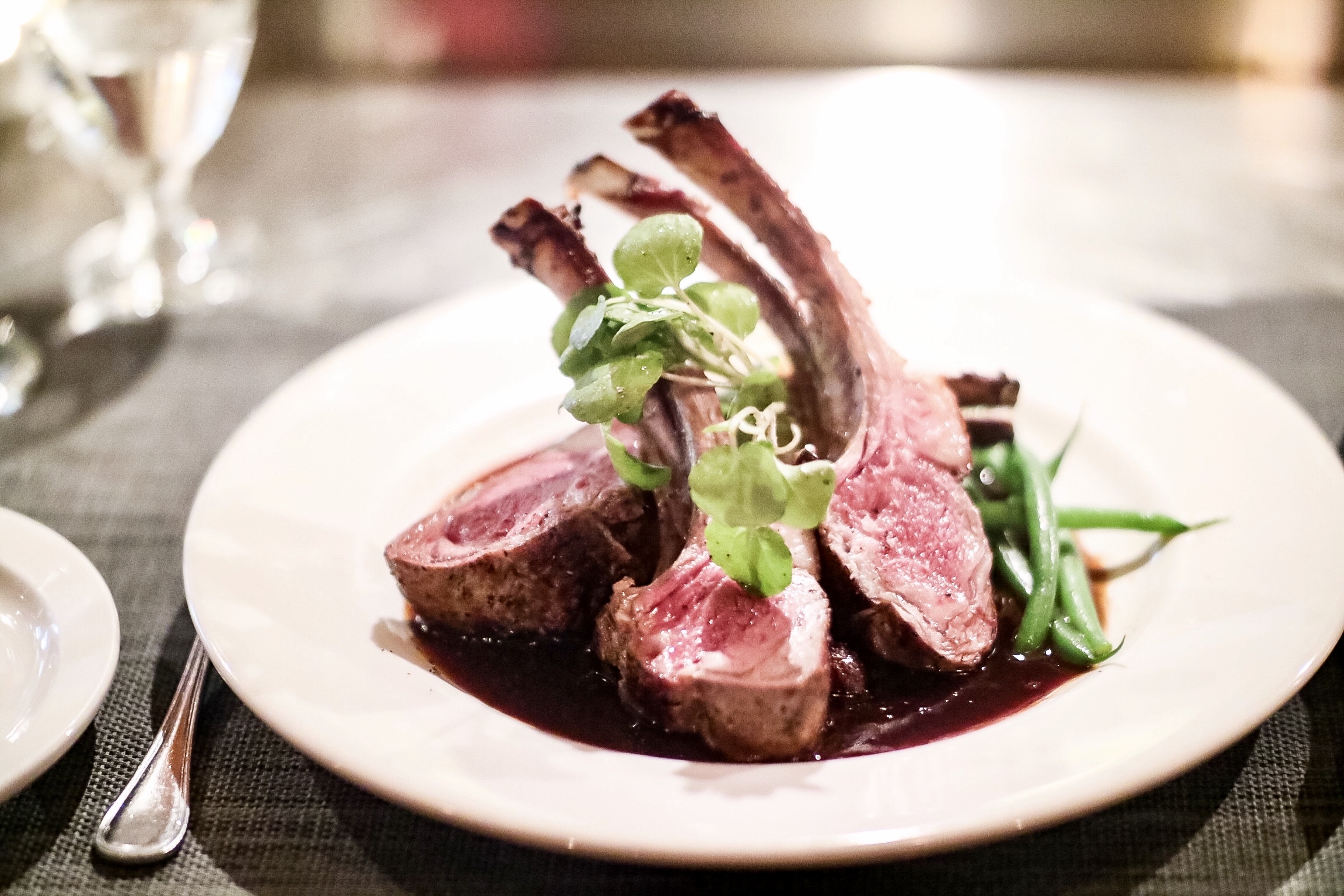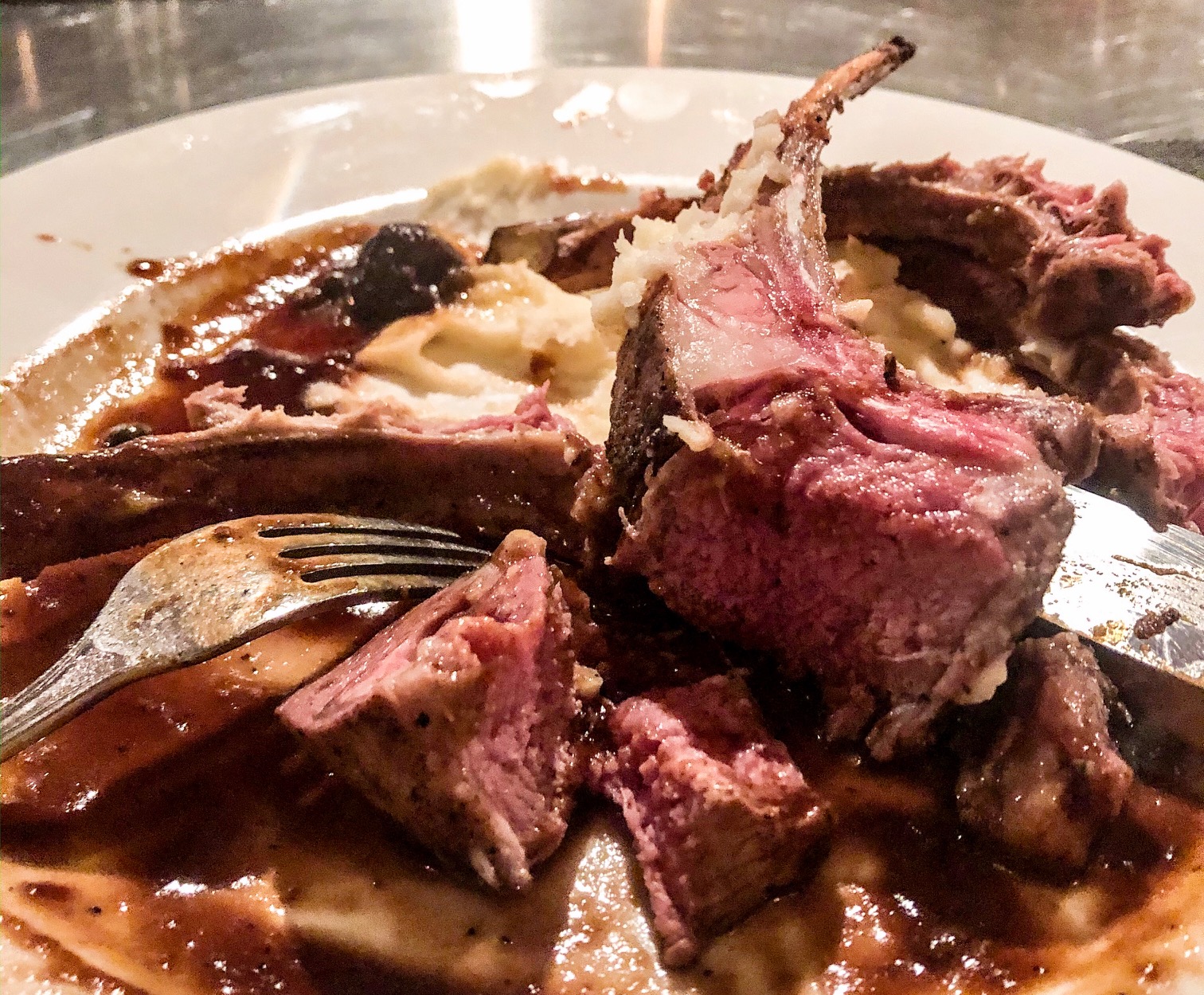 It was also fun to watch the chef and his team preparing all kinds of dishes. There was a lot of heat in the kitchen with the open flame grill but there was also harmony among the team members.  And now I have an idea of what the popular dishes are from this kitchen. All the dishes are bistro-like, with only a few components on each plate. However, with a bit of smart arrangement, each dish looks incredibly enticing, especially the Veal Porterhouse, the West Coast Bouillabaisse, the Duck Breast, and the Braised Chuck Flats.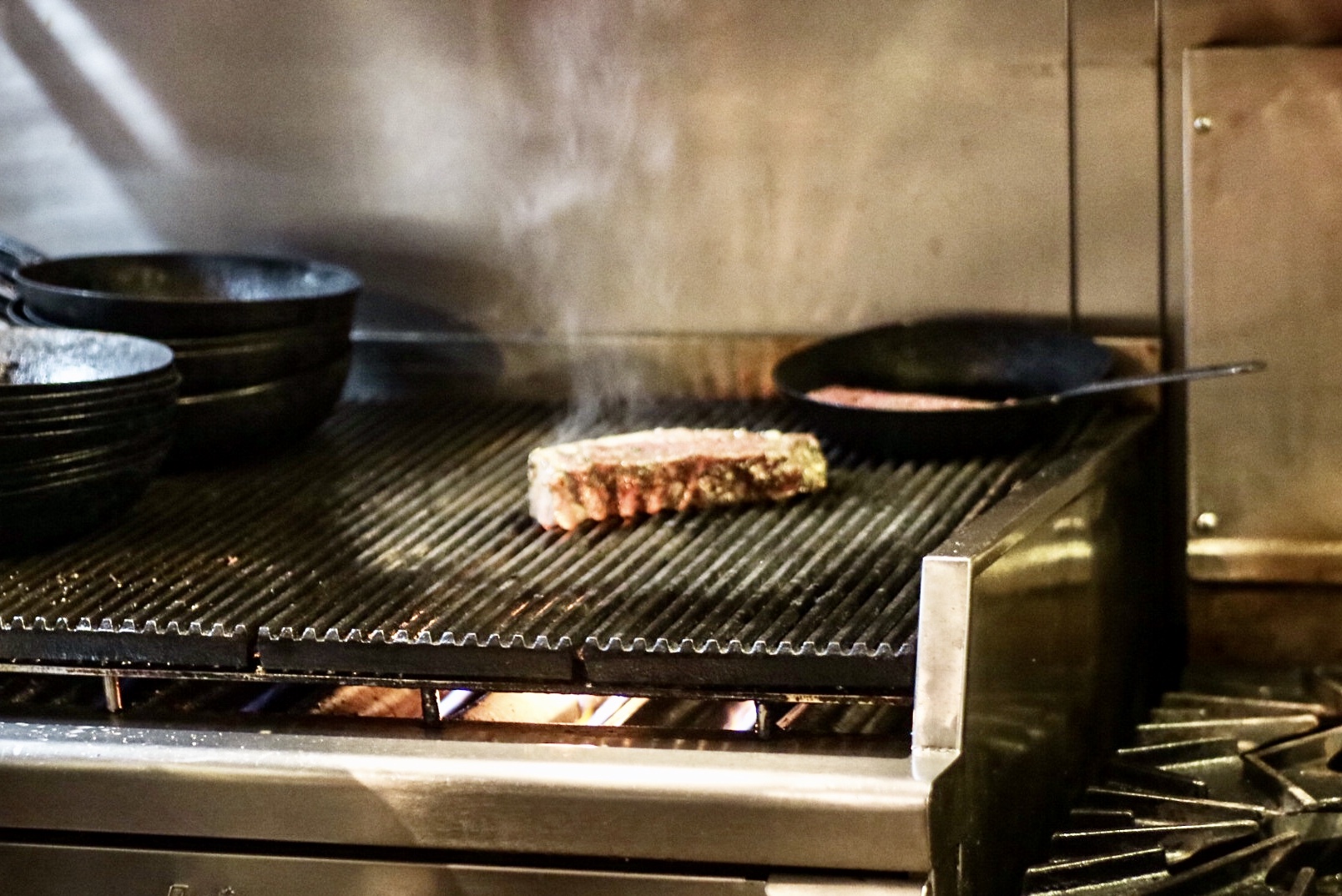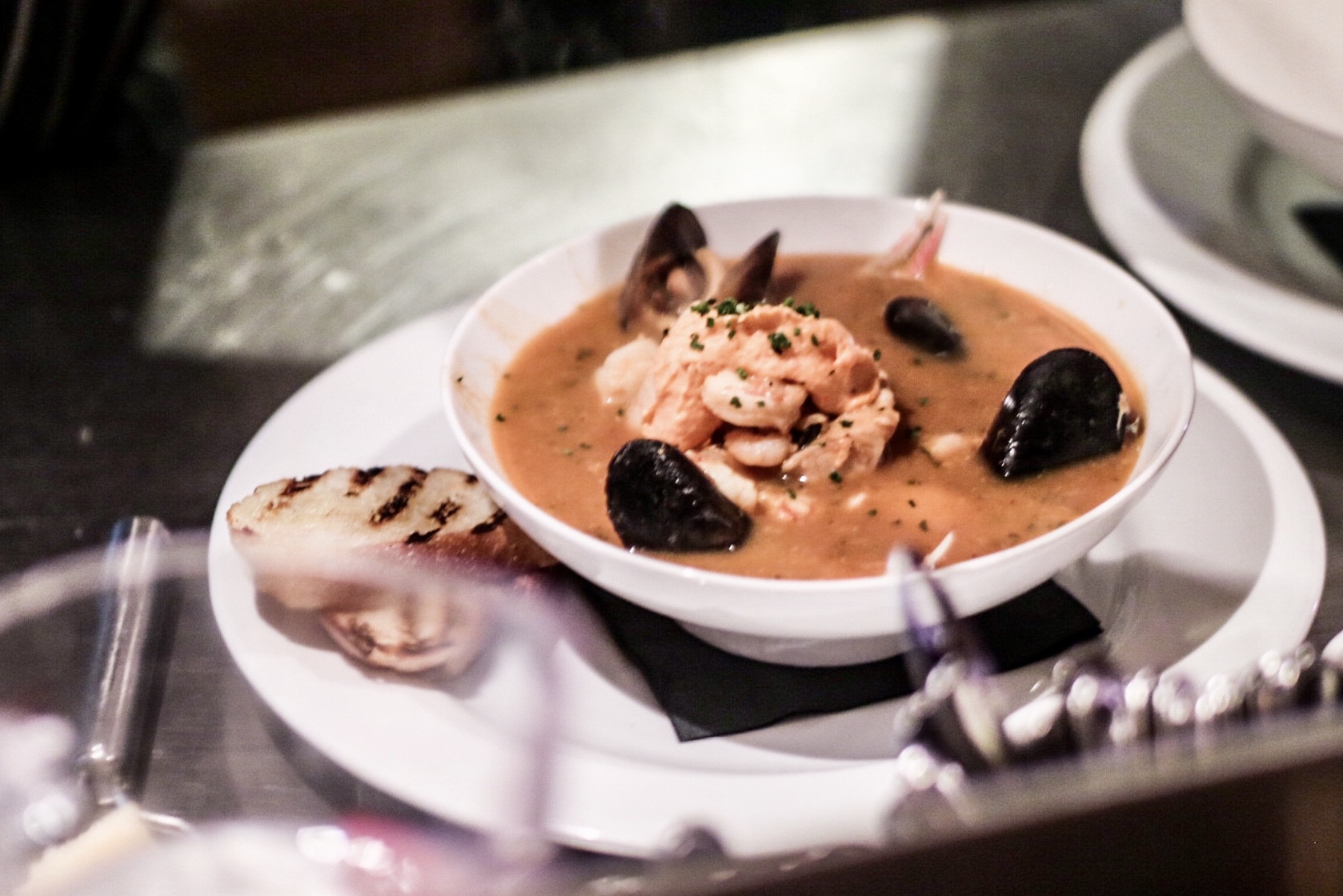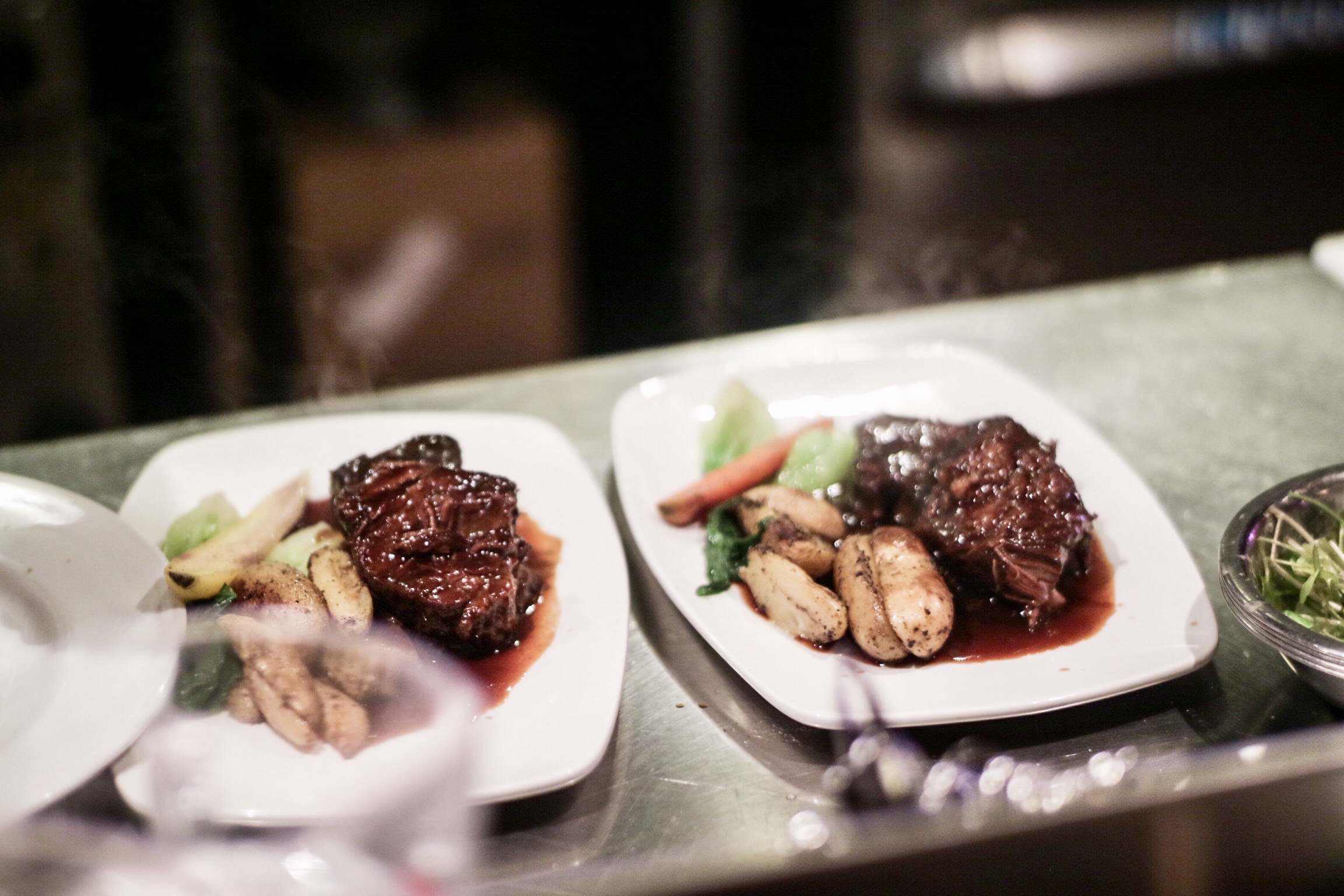 Chef RD Stewart is cool as a cucumber in spite of the heat in the kitchen, and the team works like a clock – executing and delivering each dish with such precision.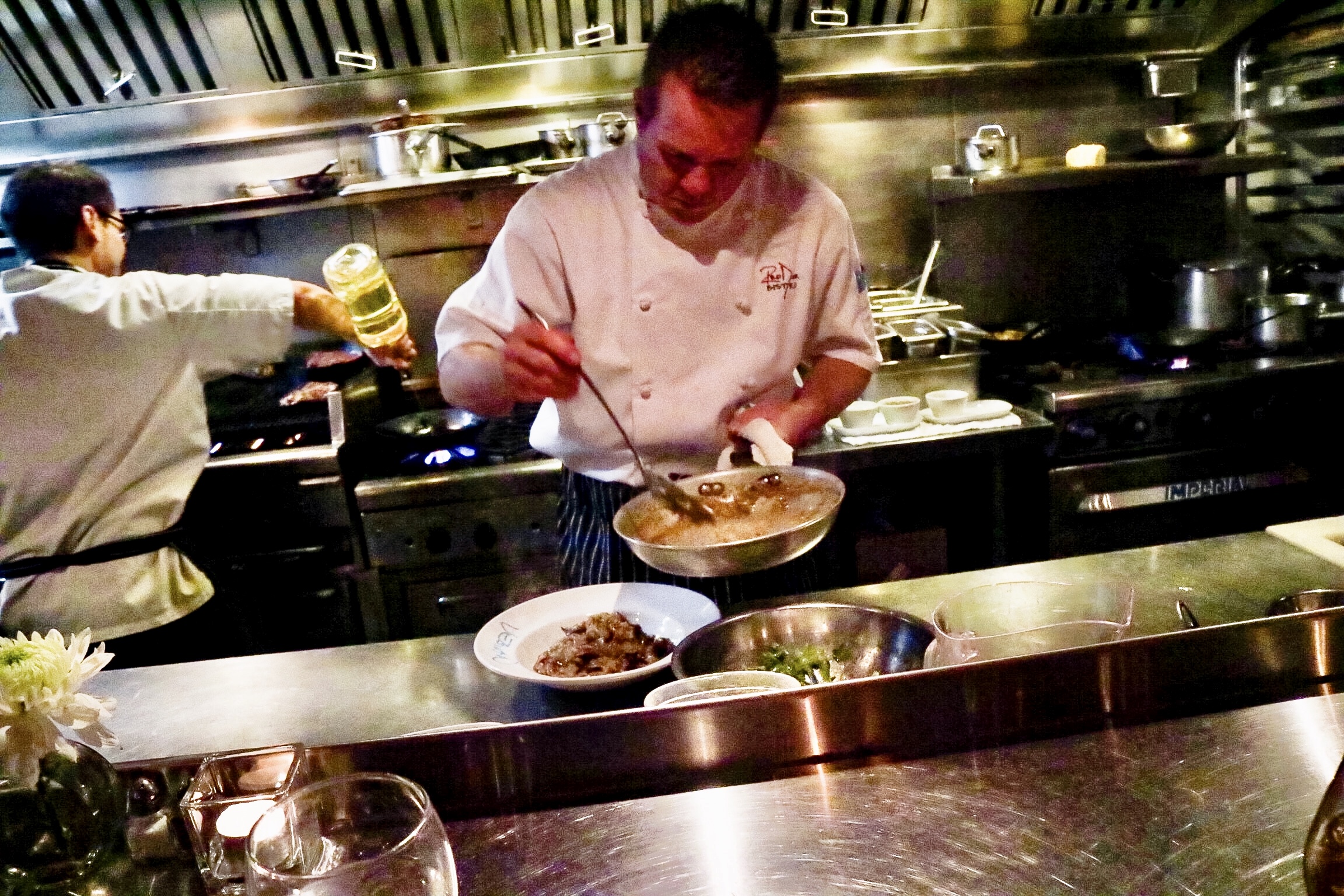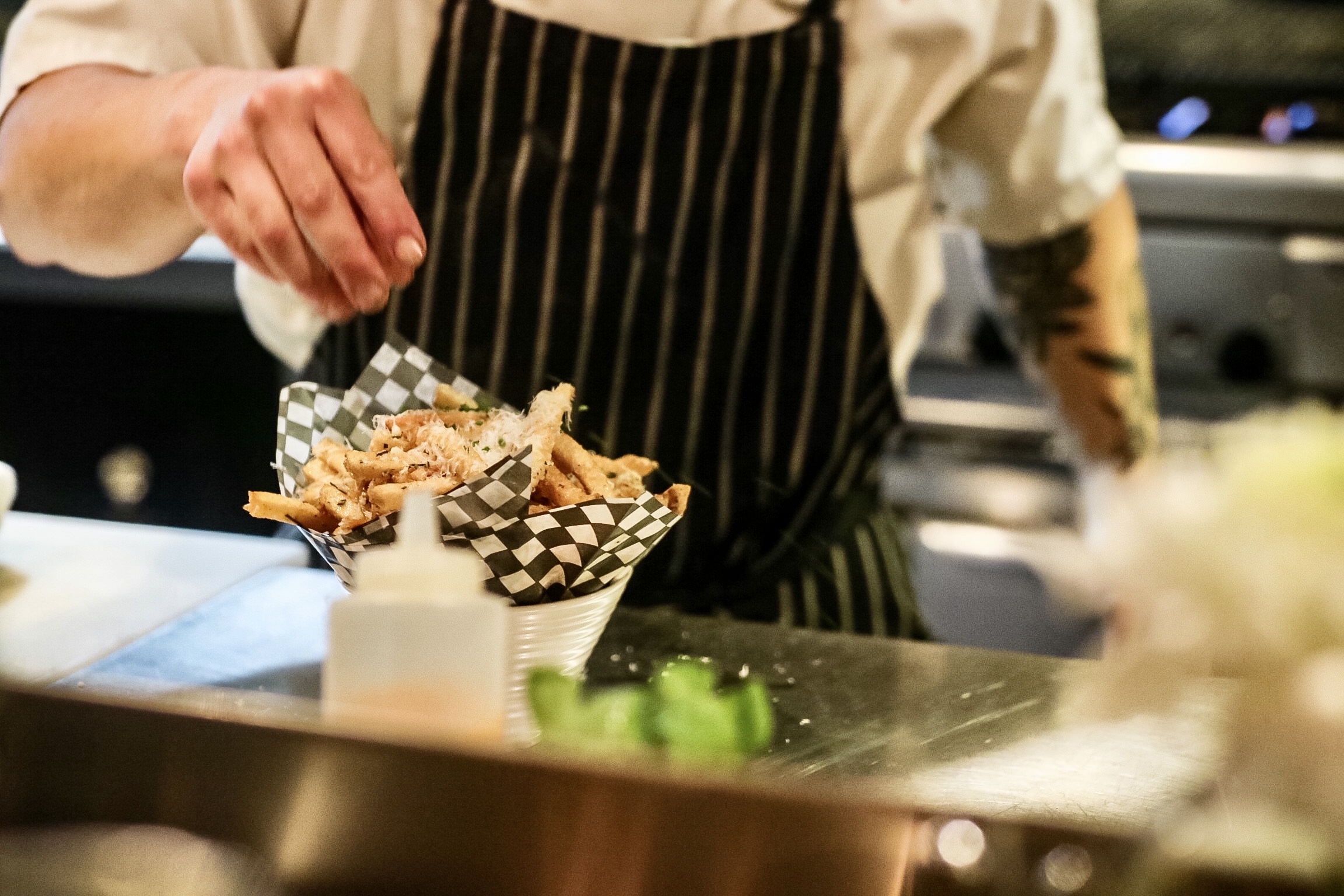 For saving some room for the 2nd dinner, I only ordered a cocktail as my dessert. The Gail's Old Fashioned ($12) was a stiff one. I suppose this Gail probably could handle a lot of alcohol.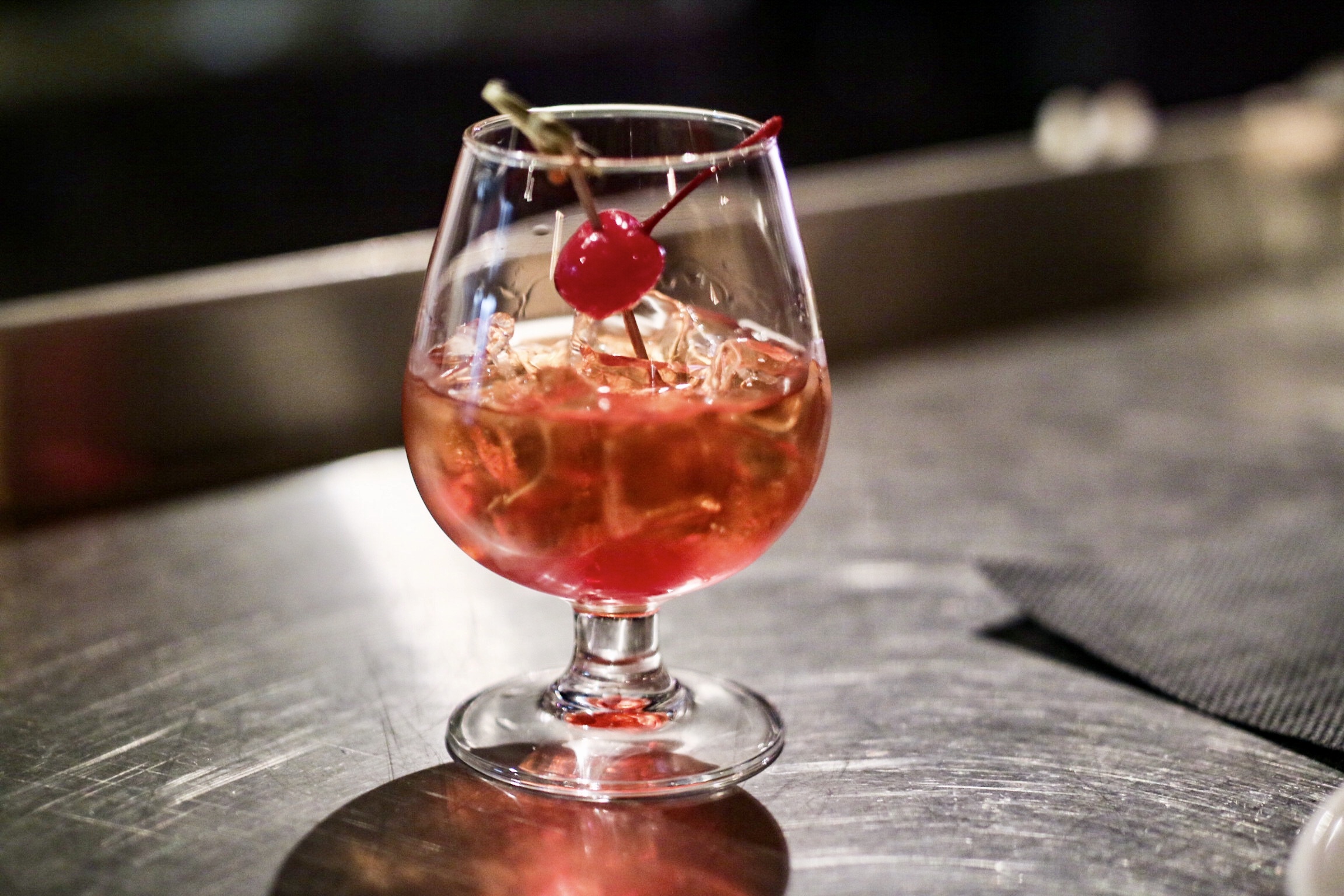 Final thoughts
When classic dishes are done right, putting your tastebuds to dance, and touching your heart a little, they might beat the fancy dishes with extravagant ingredients or mad techniques. The Red Door Bistro offers solid French bistro-style dishes with a West Coast touch and it is the best Whistler restaurant away from the Whistler Village. If you want to book a table here, you better call now because they are usually booked up for the next 4 – 6 weeks. But luckily, there always seems to be a seat or two at chef's counter if you show up without a reservation. Just come when it is opened at 5 pm.  This worked for me. And of course, staying at next door, Nita Lake Lodge had helped a little bit too.
$$$
rating: 4.5/5
The Red Door Bistro
2129 Lake Placid Rd, Whistler, BC V0N 1B2
(604) 962-6262 or reddoorbistro.ca