Sushi Bar Maumi was my maiden nigiri omakase experience in Vancouver, although not my very first overall – the dinner with 20+ courses at Sushi Ketsu in Hong Kong was the eye-opening introduction to this unique form of culinary art from Japan.  To whom that are not familiar with the concept, there quite a few popular mentions in the media,  including Anthony Bourdain's visit to Sukiyabashi Jiro  in Tokyo on his 'No Reservation', and chef Jiro's own documentary 'Jiro Dreams of Sushi'. There is also a scene on Netflix's recent documentary, 'Foodies: The Culinary Jet Set', featuring the model-turned-foodie Aiste Miseviciute visiting the Michelin 3-star sushi joint, Sushi Saito, for a quick but beautiful meal. Michelin starred or not, the whole experience is more of less the same. You will have to completely trust the chef and eat whatever he decides to serve in front of you. You will not ask for any extra sauce sauce or wasabi.  You will eat quietly, and the only conversation you make with the chef is your brief and sincere compliment. And hopefully,  you will appreciate what mother nature has offered us in the ocean, and the transformation of the product by a sushi master of years of training, who produces a perfectly balanced piece of nigiri, the impeccable combination of  raw and cooked.
I visited the sushi bar with fellow blogger Food Wench from Drunken Noms and Raymond from Raymond's Sushi Adventure. Having written almost 200 sushi episodes on his adventure, Raymond  is the clearly the man for insights when it comes to having sushi. And as for Food Wench, my drinking buddy, I hoped we were going to to survive the whole 60 minutes despite the fact they don't serve alcohol at Maumi. Jokes aside, we celebrated Raymond's very first foodie meet and I think we all hit it off pretty well.
We arrived at their earliest set of seating at 6pm at Maumi, where they also offer sets of seating at 7:30pm and 9pm. As the bar only fits 2 hands full of people, they only serve up to 30 people per day.   The sushi master, or what they call an 'itamae' in Japan, Maumi Ozaki was the sole show runner behind the sushi bar, as he hand crafted each piece of nigiri and placed it right in front of my plate, piece by piece, in a quick but comfortable pace. I noticed that, as he had to do that for 9 people at the same time, he already had all the fish and seafood ingredients pre-cut into uniform slices. Although technically,  it does make a subtle difference on the freshness and dryness of the fish between pre-cutting it and cutting it right in front of you,  I think that's part of what you would pay the extra for the true Michelin experience.  However we still got to see him making those little rice pillows with swift motion, as if he was practicing a martial art move with his hands.
The sushi Omakase sets come in 3 options. Besides the $40 set (10 piece), you can also find a $60 set (15pc) and  a $90 one (18pc) if you wanna try more of their selection of fish and other seafood, which are primarily imported from Japan.
Let's go back a bit to before the sushi arrived. We wanted to try their tempura, for which several bloggers had highly praised. We had the Anago  (sea eel, $12) and Kisu Tempura (whiting, $8). Maybe because our expectation was high, it was not as amazing as we had hoped.  Raymond suspected the oil was over used, but my guess is the oil temperature – as it was not hot enough for frying,  the exterior was less fluffy and crunchy than desired. However I did find the fish moist and juicy inside – although not as flavourful, Anago is quite delicate compare to Unagi (freshwater eel).  Each tempura order also includes with a couple pieces of vegetable tempura.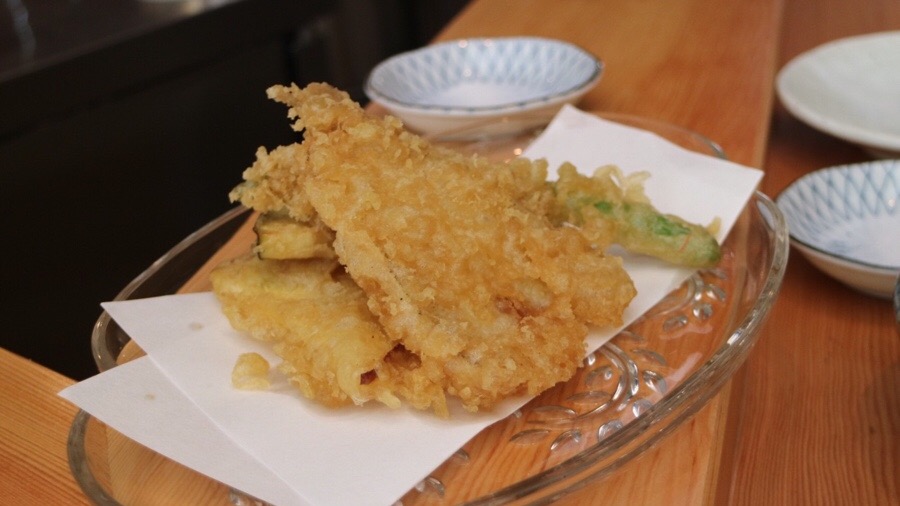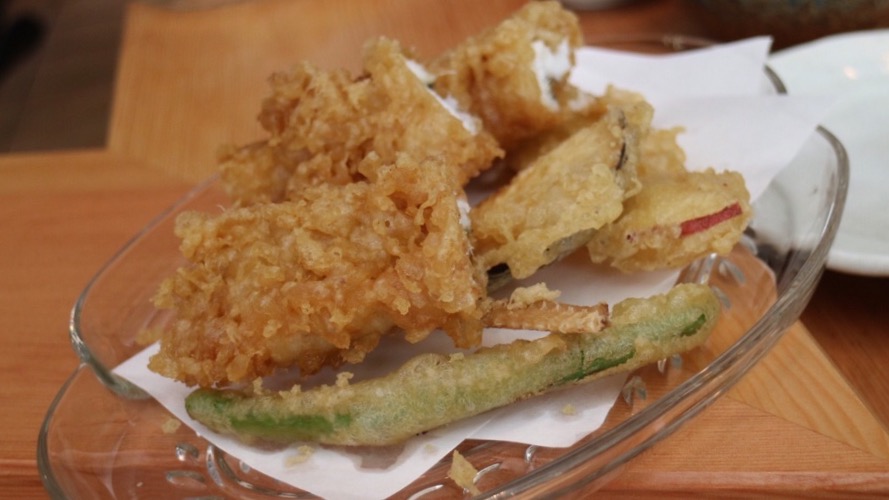 To be honest, I was little bit nervous and excited right before the sushi service started.  And when the first piece came, I took a deep breath as I were about to enter another dimensional plane. The Meijina (large scale black fish or girella) had a pink overtone on it similar to Tai (red snapper) although more subtle and translucent. I picked it up with my chopsticks… And I almost screamed because a chuck of the rice had fallen off the nigiri and fell on the floor.  I was petrified… for about 1.5 seconds.  Put it in your mouth damnit!  I was almost yelling out loud at myself.  Despite a third of the rice lost, the sushi was good. The fish was on the lean side but it was cut very thin so that it was very soft and delicate. The sweetness of the fish was light and pleasant and complimented well with the vinegar in the rice, the small chunk of wasabi, and the soy sauce very gently brushed on the fish.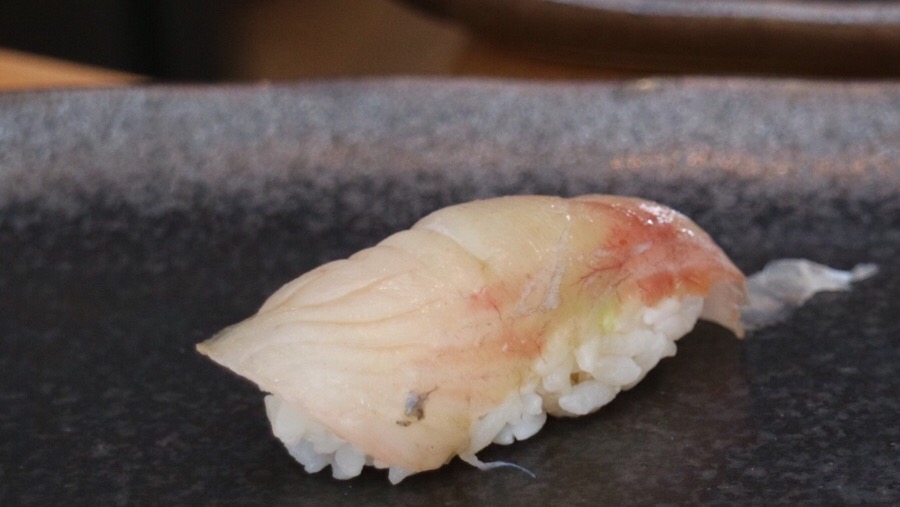 It was a good start although not a perfect one. Why was I so clumsy? Wait a minute… Why was I using chopsticks. I was supposed to use my hand to pick up the sushi! I couldn't believe I had completely forgotten this. Apparently a good sushi master is not likely to pack the rice tightly for a nigiri because the loosely packed rice pillow goes much better with the delicacy of the fish, especially the ones with richer and creamier texture. When Food Wench pointed out that there was a sealed hand towel to sanitize my hands right next to my chopsticks, I almost died a little. Anyway I must move on.
The 2nd piece might not sound as exotic as the other pieces as it was not an import from Japan, but it had been always the pride of British Colombians and my favourite. The Amaebi (or the Spot Prawn) tasted exactly what it was supposed to taste – sweet, soft and creamy. And only a fresh catch could exhibit such flavour and texture. And this would be the only locally sourced product we were having today.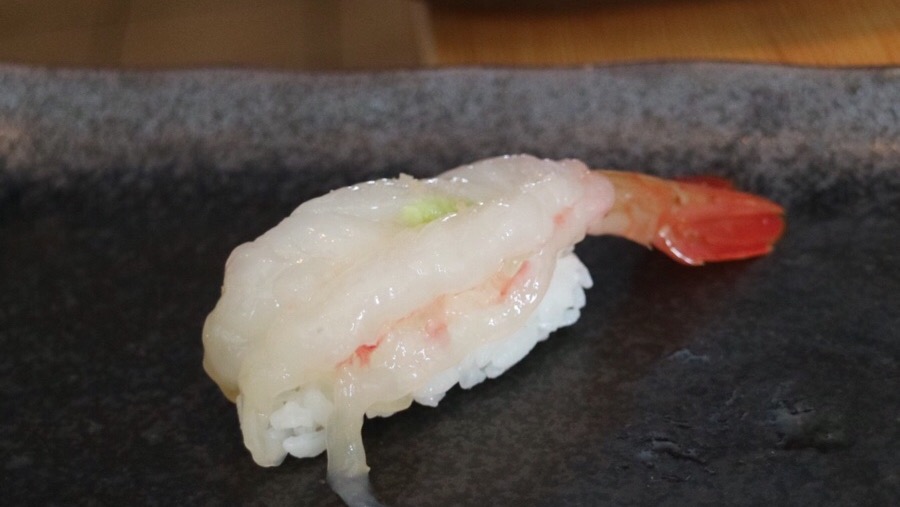 And as always, the shrimp head was deep fried and served as a bonus course for the diner. But the heads were not as crunchy as expected, which again indicates that their oil temperature for frying should be a little higher.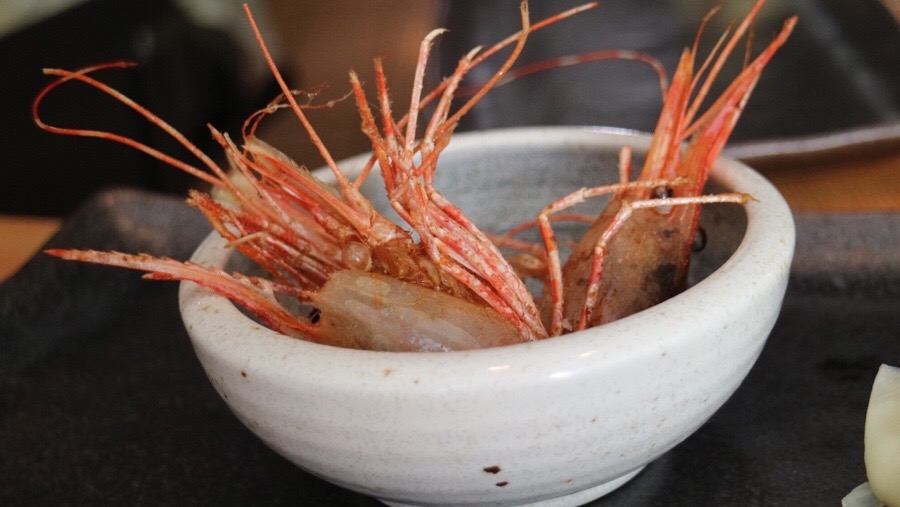 I really enjoy the 3rd piece because I'm such texture guy.  The Surume Ika, or the Flying Squid with the touch of of light soy sauce and the fancy texture cut on the piece. It was tender and not slimy like how it was served at some sushi places.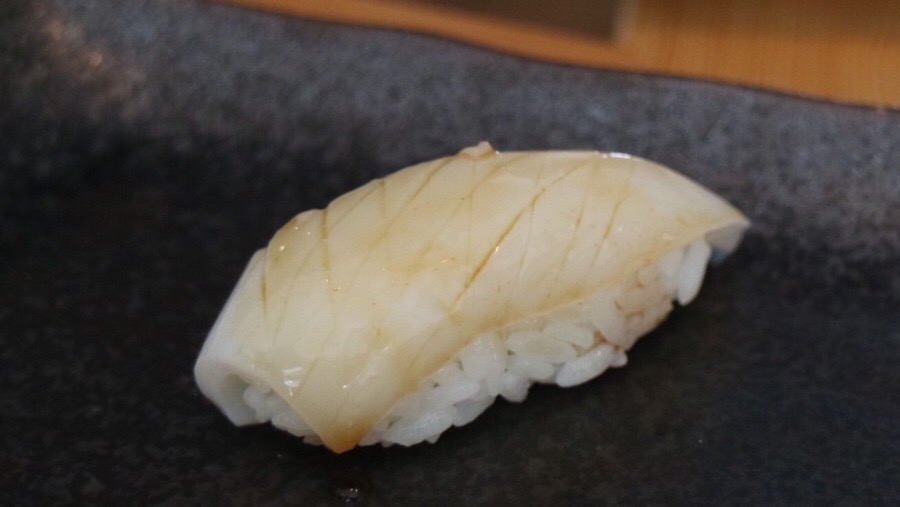 The Mebachi Maguro (big eye tuna) is a beautiful cut from the type of red tuna. The colour looks even sexier tinted with a brush of soy sauce. Taste wise, although it was a leaner cut the the flavour was fantastic. So this one definitely went to the top of my list.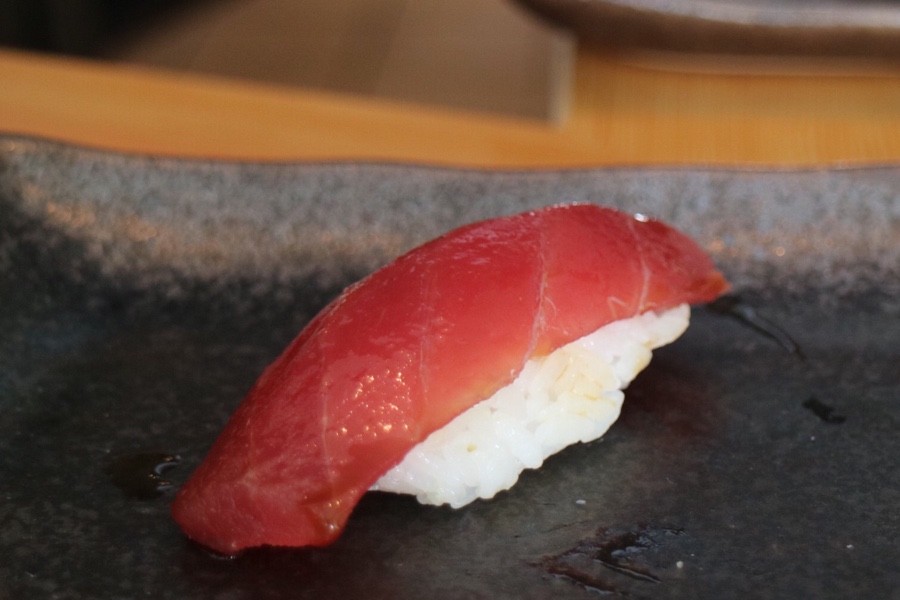 I recently had the Shima-aji  at Sushi Hachi, and fell in love with it.  Although it looks similar to Aji in appearance with that gorgeous metallic overtone on their skin, the oily content is much richer in Shima-aji and it tasted more luschious.  The version here at Maumi has an extra touch of soy sauce that brings out the sweetness and the richness even a little more on the fish. This just became the new winner on my list!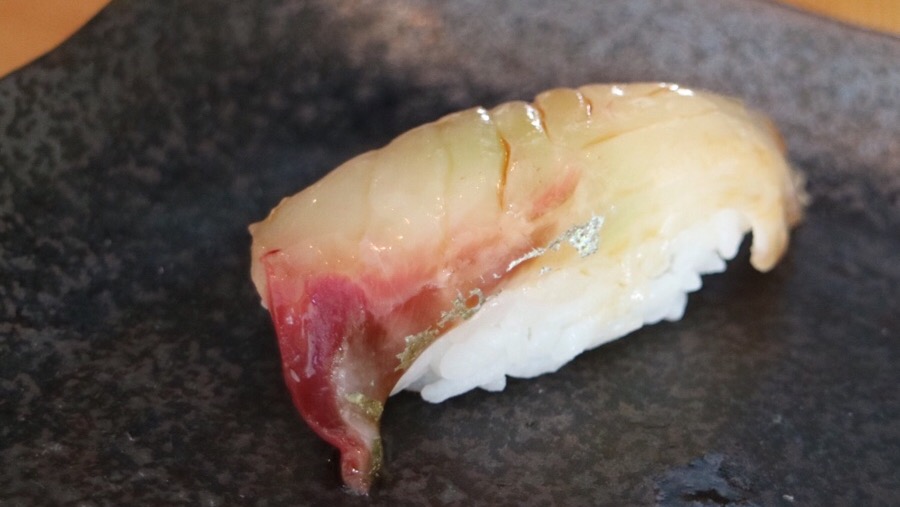 The Aji (horse mackerel) has a slightly leaner texture. Since it was cut differently and it showcased the beautiful metallic overtone. Although it was not as rich and flavourful as Shima-aji, the chef added a touch of green onion and ginger making it a little bit zestier and bringing this piece to the same level with the other ones.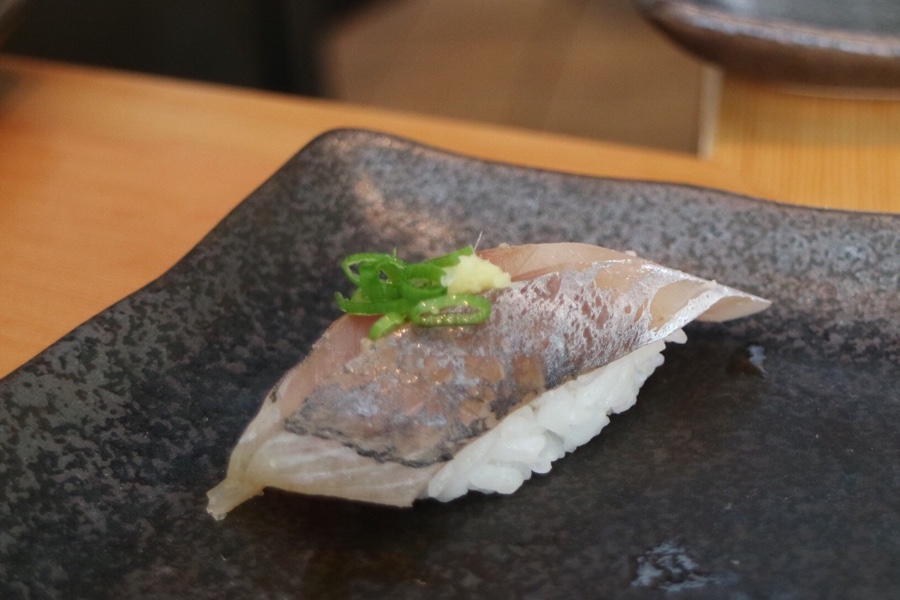 It hits another high note when the piece of Kanpachi (amberjack) arrived on my palate. Another meaty and luscious cut of fish with high oil content, melted in my mouth after an omega 3 explosion. Again the touch of soy sauce enhanced the overall flavour and complemented the creaminess well. I think we have a tie between the Shima-aji and the Kanpachi for the winner!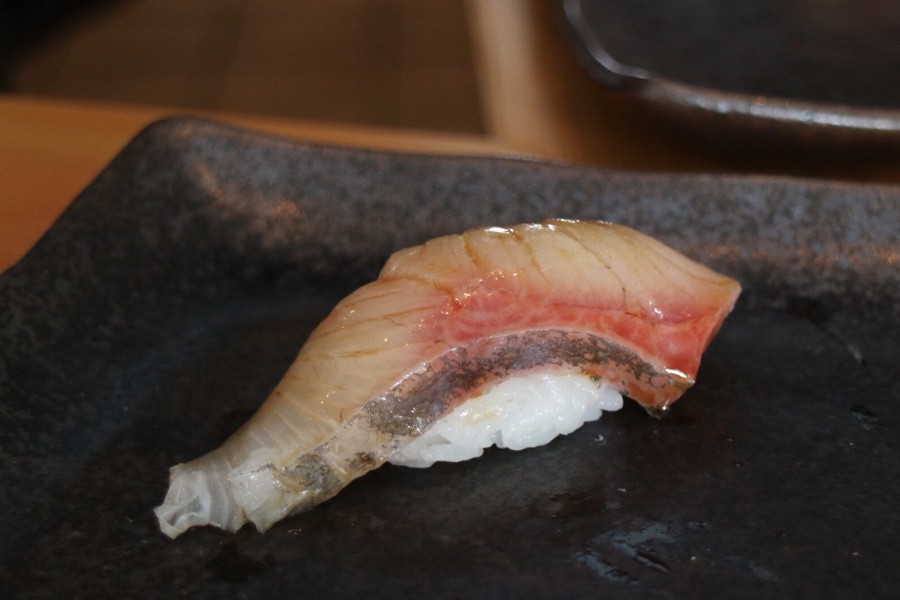 The Saba (mackerel) was served similar to what i had in Hong Kong, which was just slightly marinated and had kept the natural fleshy colour, unlike more Saba sushi or sashimi served in the city that is marinated in vinegar for a much longer time. It was the the richest in flavour but I much prefer the subtlety of taste of Shima-aji or Kanpachi.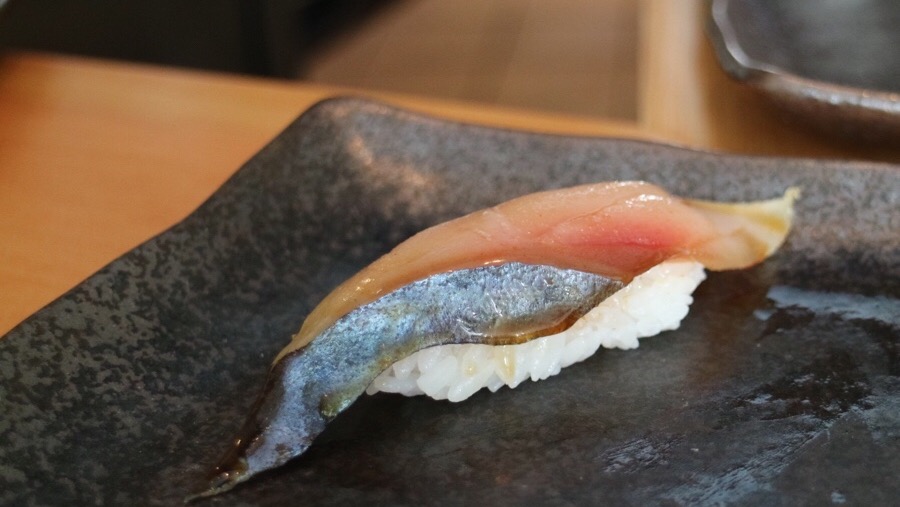 The 10-piece omakase was put to an end with the Anago (sea eel). It was much more delicate than the commonly seen Unagi but less flavourful. Although it was not a big powerful finish to our meal, at this point I  was pretty satisfied with all the food.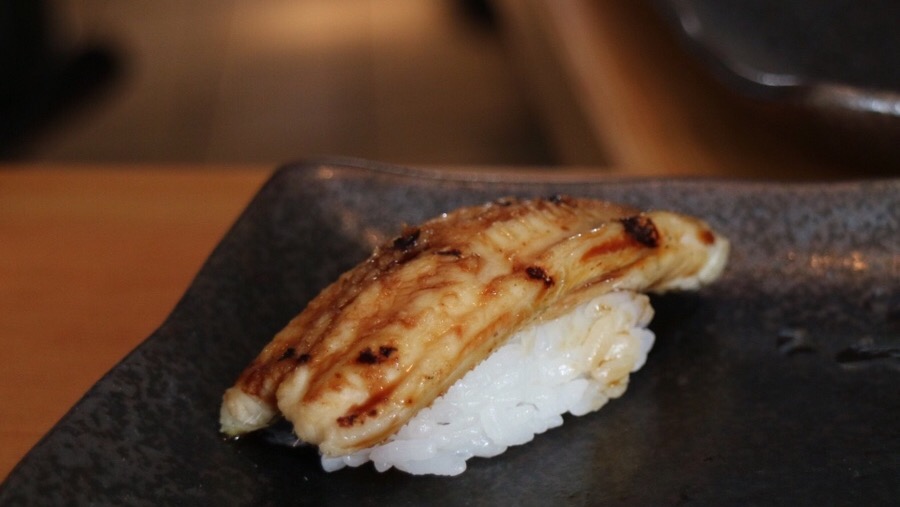 After the set is ended, we still have time for some a la carte orders. Raymond and I both tried the Ezo Awabi (abalone),  often considered a luxury delicacy in Asia. As I knew it would be slightly chewy, the texture was even tougher than I expected. The touch of the house-made abalone sauce didn't do much  and it still tasted a little bland.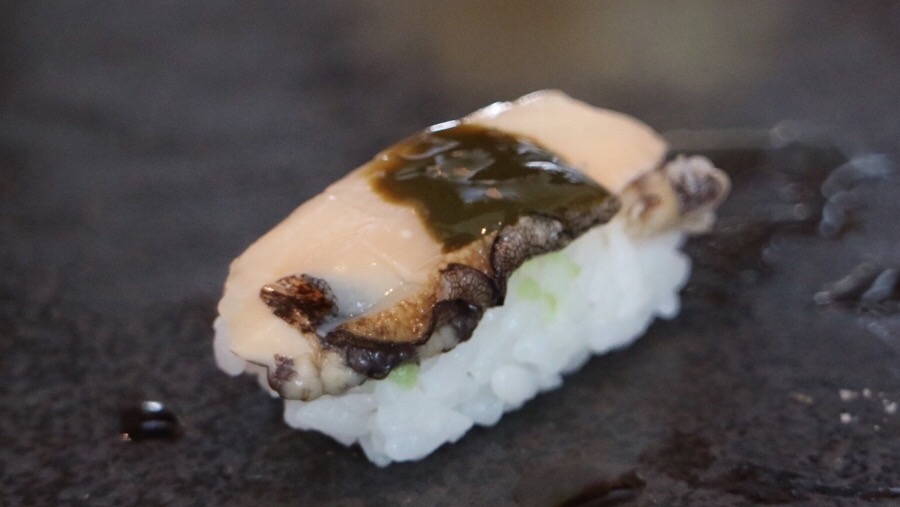 And Raymond went all out with this piece of Hon Maguro O-toro (fatty blue fin tuna, $12), one of the priciest items on the menu. It was absolutely amazing to just look at it. Although tempted, as I had decided that I would only allow myself to eat blue tuna once a year, I would have to wait till next year.. Raymond enjoyed it but he said he'd had better one at Octopus Garden.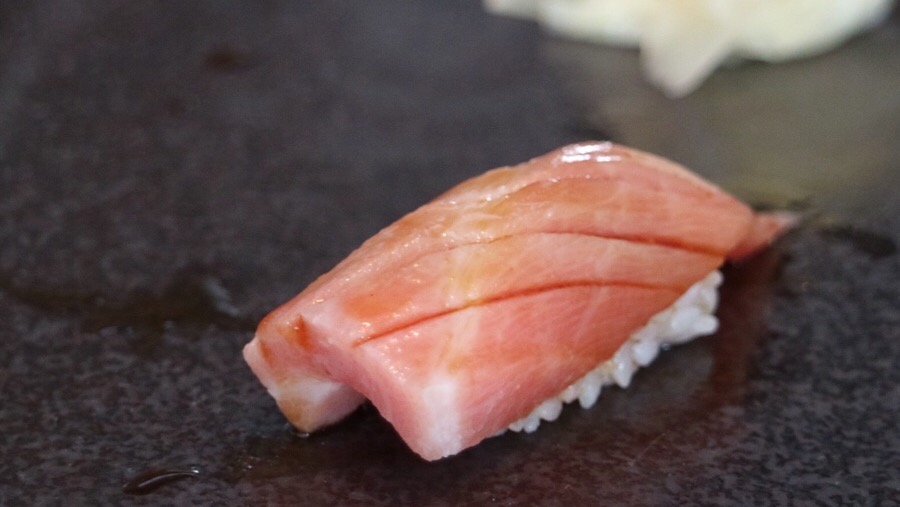 Overall, the whole sushi omakase experience was quite enjoyable. There were a few highlights such as the Shima-aji and the Kanpachi that were just divine and almost mind blowing, while the rest were also uber scrumptious, in large thanks to the quality seafood and the great consistency on the sushi rice. The whole service is staged and executed rather quickly. Despite the fact that we weren't able to see some fancy knife work on cutting and slicing from different types of fish as the chef had pre-sliced all the fish before the service, unless  you are willing to pay over 200 bucks for a Michelin starred experience, for $40, this is just as good as it gets.
Read more about this sushi omakase experience on Raymond's Sushi Adventure.
Facebook:
https://www.facebook.com/sushibarmaumi/
More reviews:
Location: