I have to admit that I wasn't paying much attention to Gringo when I was looking at Maggi (vieamaggi.com)'s list of suggested places for our Gastown Cocktail Crawl.  As I was happy to see Wildebeest, Tuc, PidGin and Bambuddha on the list,  Gringo was the only place I knew nothing about. Maggi proposed to start at Wildebeest, and Food Wench (drunkennoms.com) gladly complied because apparently she is a fan of a young talented chef there, which would be a story for another post.  But just a couple hours before we met up, Maggi decided to start the crawl at Gringo.  She thought it would be a good idea to have some food in our belly before starting a long night of drinking. Ahh it is always great to hang out with people who know how to party.
After going through the fun part of Blood Alley with walking by interesting figures hanging out around dumpsters, we found ourselves sitting on the neon stools in an open area at the front of the taco bar. I was totally captivated by the fact that how funky this place was.
I was sitting right next to all these vibrant items – the bar's mascot flamingo with sunglasses on a neon sign, a cheerful 2-D red parrot on a rainbow bicycle, and a bright purple fan.  While I was having the full view of the alley, the girls were sitting across from me and facing the bar, which was also filled with flashy decors and colourful objects.  Hah I think I might as well pretend that I'm partying in Tijuana.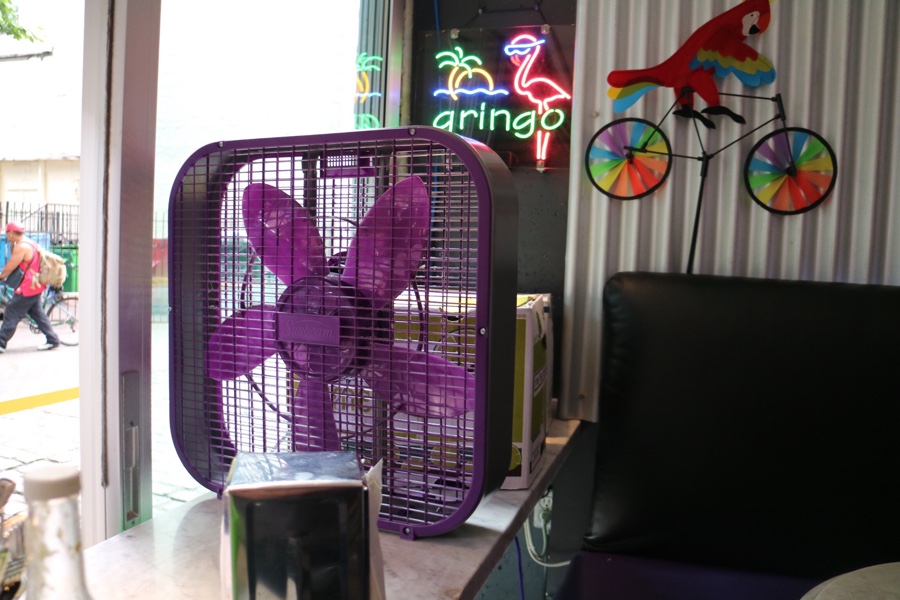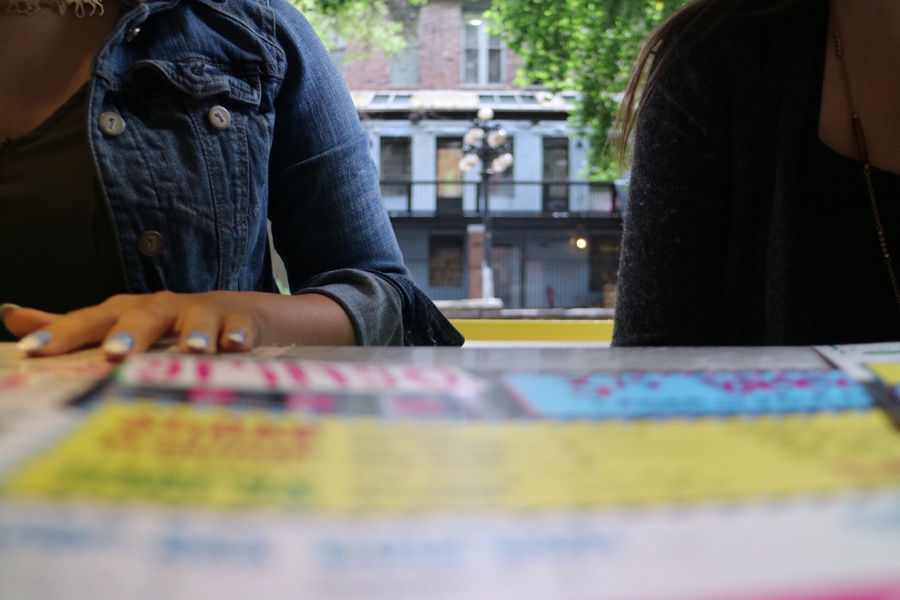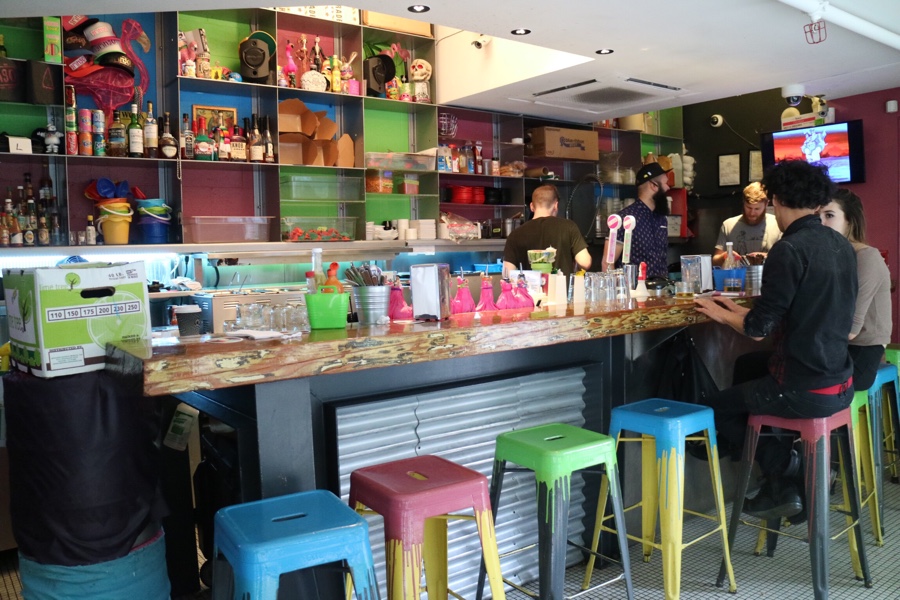 So we ordered our cocktails in those Thai Buckets with triple dosage of alcohol ($16). Each of them came with a colourful bucket and a tiny shovel which little kids use to build their sand castle. Well if the shovel doesn't really help you to drink from the bucket,  there is a straw too of course.  So how did they taste? I had to agree with Food Wench, our cocktail snob – they weren't exactly super tasty with way too much sugary mixer, likely fruit punch or pop soda. But it was all about "cheap"cheesy fun so I was actually having a good time.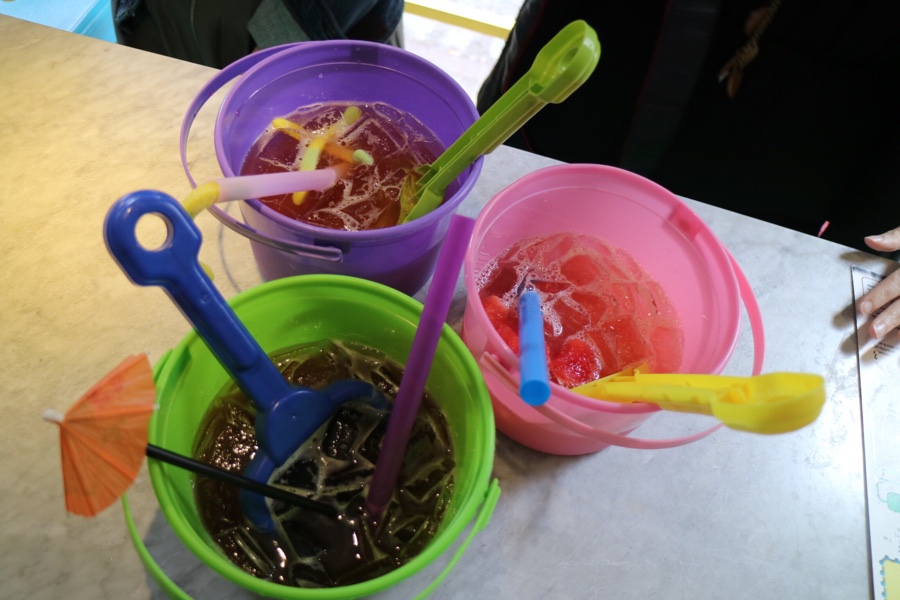 Food Wench chose the least 'girly' one on the cocktail list, as her Bourbarita featured the use of bourbon, but her bucket was pink and the girliest –  how ironic!  Although it was also supposed to mixed with lemon juice, watermelon and demerara, it just tasted like bourbon diluted with sugar water. Down her whole bucket pretty quickly, she was sneakily helping herself with Maggi's and mine.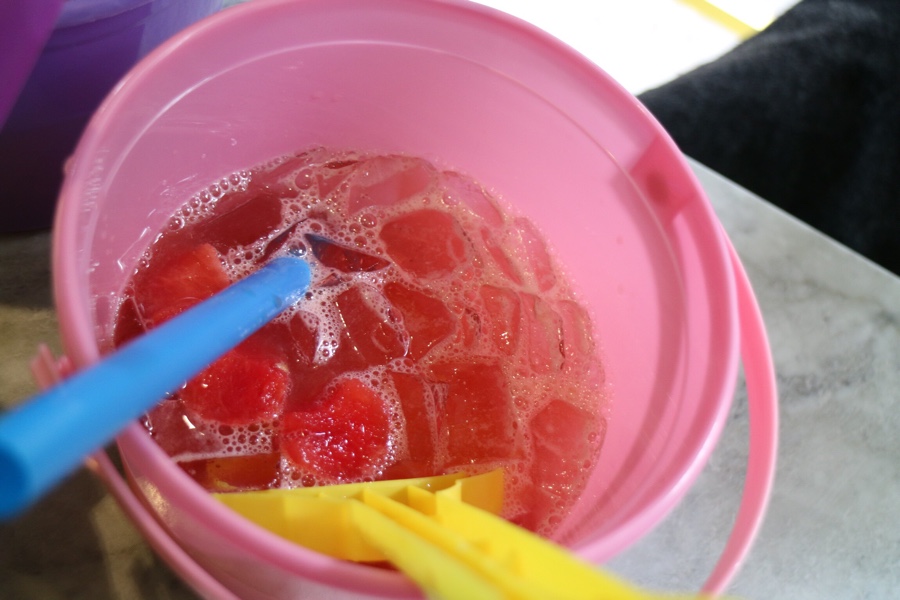 Maggi's Pink Flamingo was indeed a pink drink but served in purple bucket,  and featured tequila, pink grapefruit and lager.  When Maggi liked the whimsical gummy worms crawling in her cocktail, Food Wench again found this drink too sweet and too girly for her liking. I seriously don't remember exactly what it actually tasted like –  hmm,  kind of like the ruby grapefruit Palm Bay but weaker?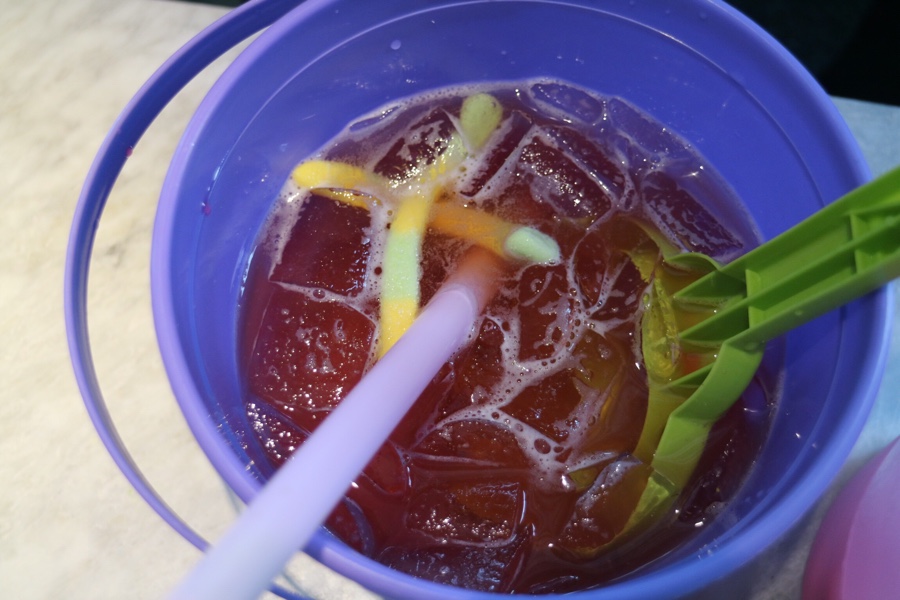 As indecisive as I always am, I didn't have a lot of choices left after my buddies picked their type of bucket. I figured that the Beera CoLada with the little cocktail umbrella sounded a lot classier than the White Girl Wasted or the Poor Man's Sangria… Well not really. But anyway,  unanimously it turned out to be the tastiest of all three buckets we ordered !  As it's mixed with rum, lime, coconut and pale ale, it proves that the fruity cocktails are just better with rum!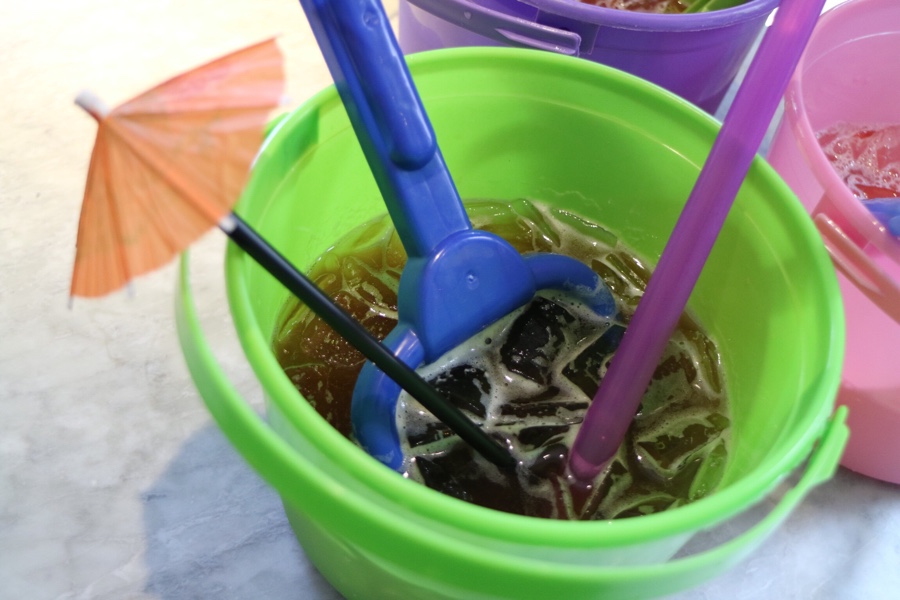 And here came the better part of the crawl stop, the tacos. They are actually quite tasty and the price is very reasonable. 3 for 8 bucks?  It's pretty hard to beat this price considering these taco are quite decent. While I can't say they are better than the ones from La Taqueria or Tacofino, they are definitely not worse either with that price.
As the Carnivore, I enjoyed all the meat tacos – The Chuck (house-seasoned ground beef),  The Wilbur (maztlan braised pork) and The Austin (brisket). The meats here all very well-seasoned and all surprisingly moist. I understand that a lot of people prefer a good balance of meat and veggie components with a kickass sauce on their taco. But I have found the impartant balance in a taco for me is between the warm and savory filling and the tortilla, which is like having a good meat bao bun in Chinese cuisine. Sometimes too much of raw veggie and the salad dressing like sauce is too distracting for the main flavour profile of the taco.
The Encino with spicy pulled roast chicken was not bad, although it could have been spicier as the name suggested. Ant it was dry as expected. Pulled pork is always so much better than pulled chicken because of the fat. But for a healthier option I would eat it more often too. The Pink is their stable white fish taco, almost the most important taco of all the taquerias.  The choice of poaching the fish is interesting and pretty brave. But I still prefer fried fish in my fish taco for that crunchiness. The Mugroso, their vegetarian option, is not as memorable as the other ones and my least favourite.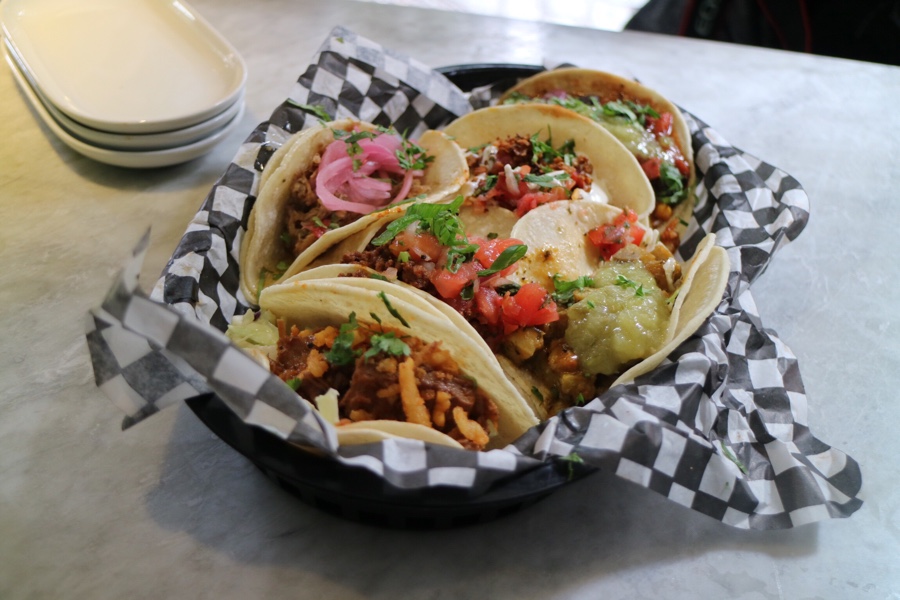 Overall, their affordable and tasty tacos made me happy. The flamboyant Thai Buckets were pretty fun too, but I doubt I would spend $16 for one next time. It might not be the greatest spot for cocktails and cocktail crawls if the quality of booze really matters to you, but the experience is definitely one of a kind. However I would come back here for the tacos.
Website:
More reviews:
Location: