Spaghetti pizza a simple dish to make, and a fun way to eat spaghetti. If you have eggs in your fridge, this would a great idea to eat your leftover spaghetti. Or if you want to make a pizza "from scratch" to impress your friends, this saves your time on making the dough.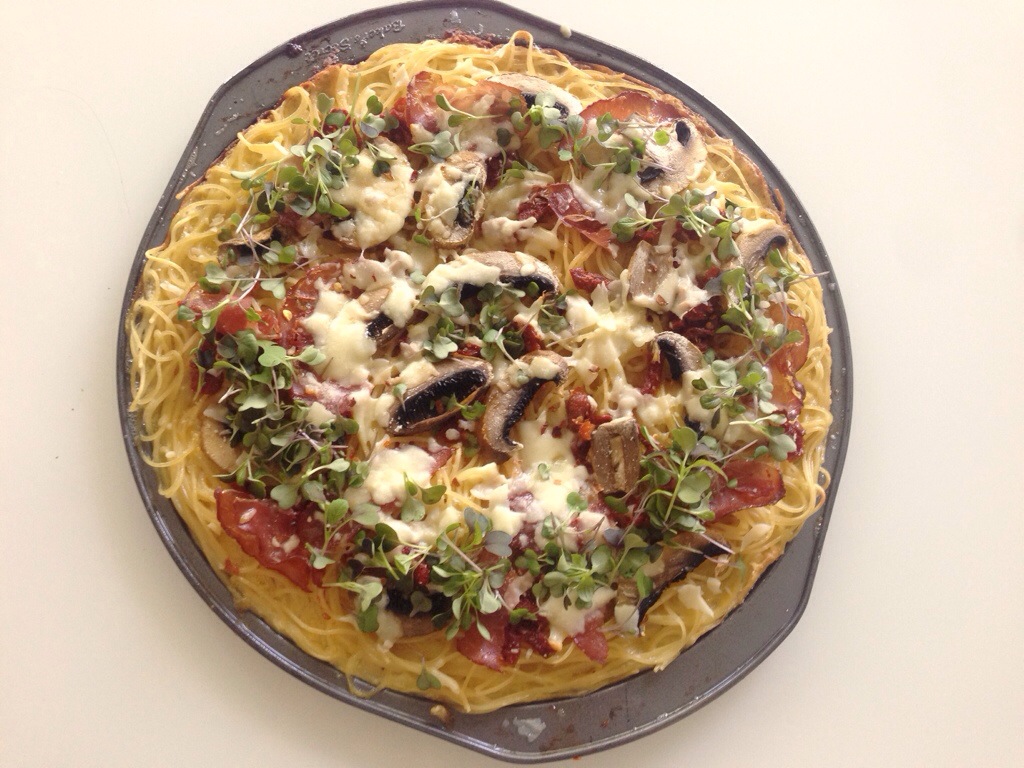 This is the recipe to make a 10 inch spaghetti pizza pie to feed 3 – 4 people. Here are the ingredients:
250 g spaghetti (about half of a bag)
2 tbsp olive oil
2 cloves garlic, thinly sliced
6 eggs, large
1/2 tsp salt
1/2 tsp black pepper
1 tbsp flour, all purpose
1 tbsp butter
50 g capocollo
2 large mushrooms, thinly sliced
1/2 cup sun dried tomato
1/2 cup shaved parmesan
1 tsp chilli flakes
Make a simple garlic flavoured oil by heating the garlic in the olive oil in lowest heat. Boil tramadol 50mg online spaghetti, drain, and blend in the garlic oil. Preheat oven to 400F. Beat eggs with flour, salt and pepper. Brush the pizza pan or a large oven safe frying pan with melted butter. Lay spaghetti noodles even in the pan. Pour mixture of eggs evenly on noodles. Add capocolla, sun dried tomato, parmesan, mushroom, and chilly flakes on top. Put the pan in the oven and bake for 20 – 25 mins. Garnish with micro greens, baby peashoot, or julienned fresh basil. Voila, you get to eat spaghetti and pizza at the same time!
Note: if you want to put tomato sauce, don't put too much because it will make it too moist for the pie to get a crispy crust.