After a night of foodie fun in Whistler and Pemberton with Areta (Foodgressing), it was lunchtime when we drove back to the city, and we were up for checking out a new place.  Saku is not new to Vancouver as the Japanese tonkatsu chain opened its first location in Vancouver on Robson last year.  And we were about to check out their newly opened location on Broadway and Cambie.
I never visited the original location as there was always a long lineup when I walked by. As much as I loved the iconic deep-fried, breaded pork cutlet, I find it ridiculous having to wait in line for it. Tonkatsu is probably one of the most common meals in Japan, and you get it anywhere in Japan. Actually I make katsu don myself all the time too.  Sitting down, I was super anxious to find out how good the food was.
As a key attraction. Tonijiru (pork miso soup), rice, and cabbage salad here are refillable for hungry folks. However, unlike the Robson location,  this location does not offer udon dishes. Cheese lovers might enjoy the cheese-filled pork cutlet. Other special dishes also include black miso katsu and potato croquettes.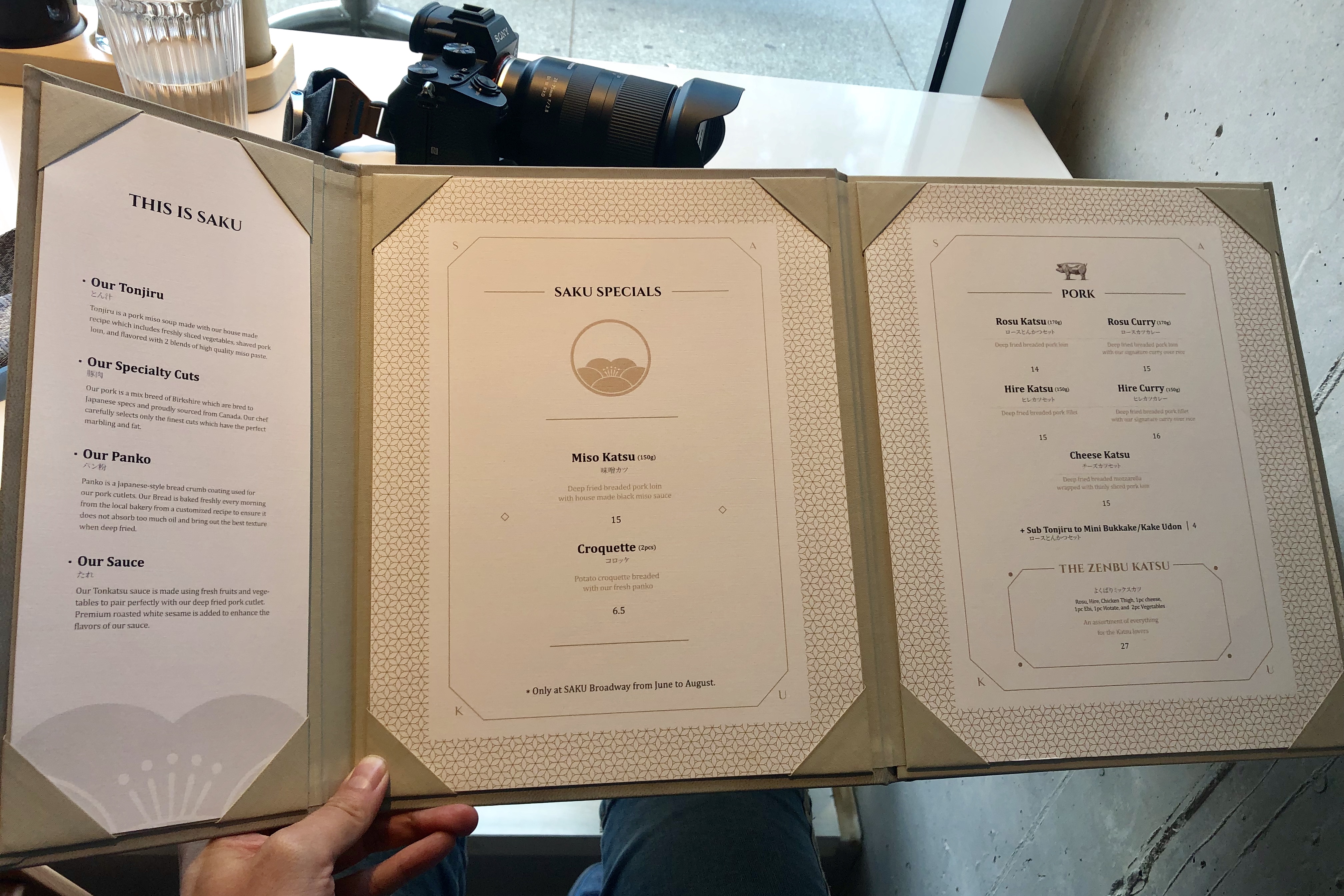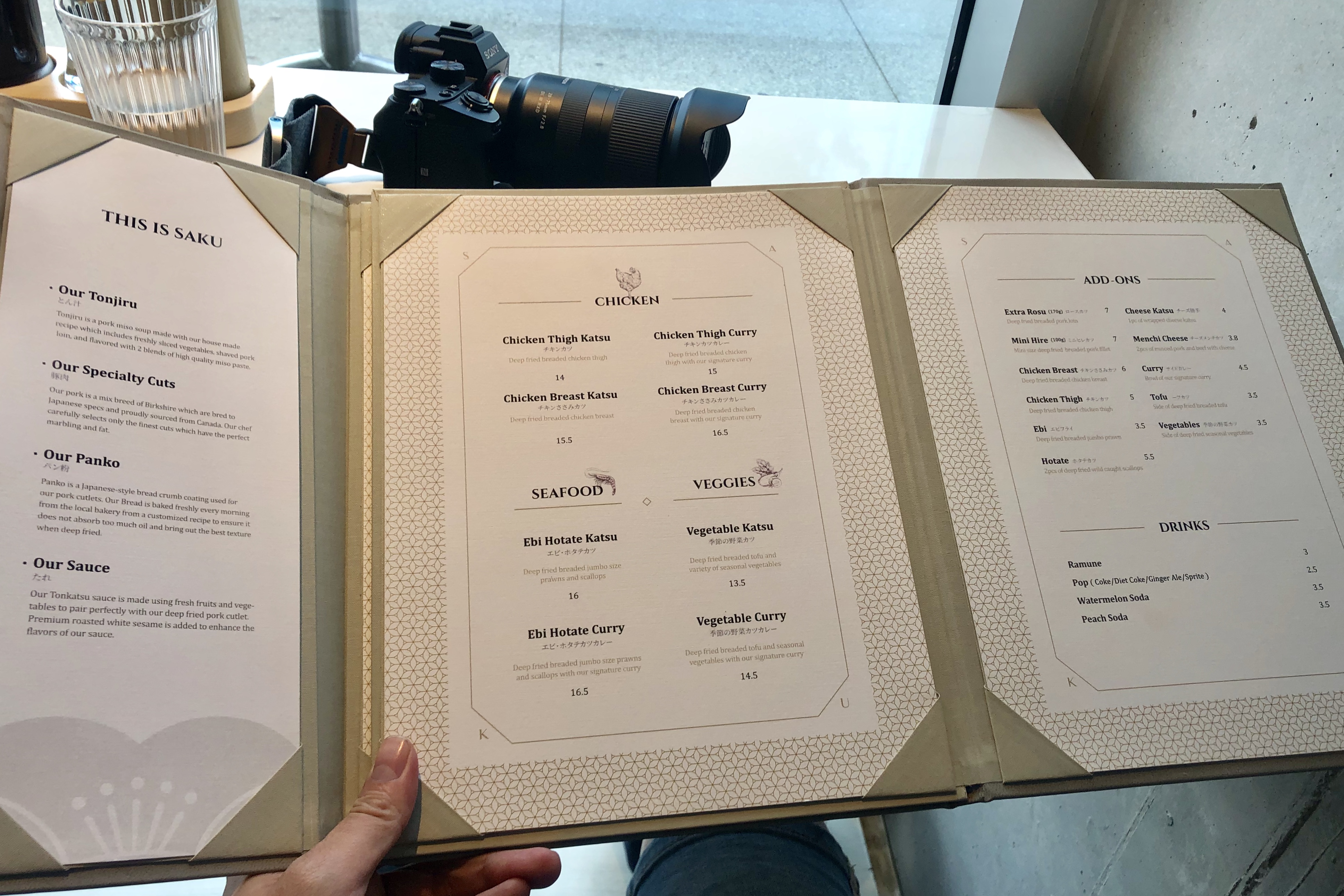 I chose the classic Rosu Kasu ($14), a pieced of 130-gram deep-fried, breaded pork loin that looked extremely enticing, I added a pieced of Jumbo Ebi ($3.50), a giant deep-friend prawn breaded the same way.  I was surprised how thick the panko breading was. It was crunchy but I rather like it lighter in a crispy texture. And the pork was flavourful but a little dry – not as moist and juicy as what I had expected.  Areta enjoyed her Ebi Hotate Curry ($16.50), and I had to admit that the prawns and scallops were more pleasing,  texture-wise with the slightly hard breading. And the curry sauce was delightful.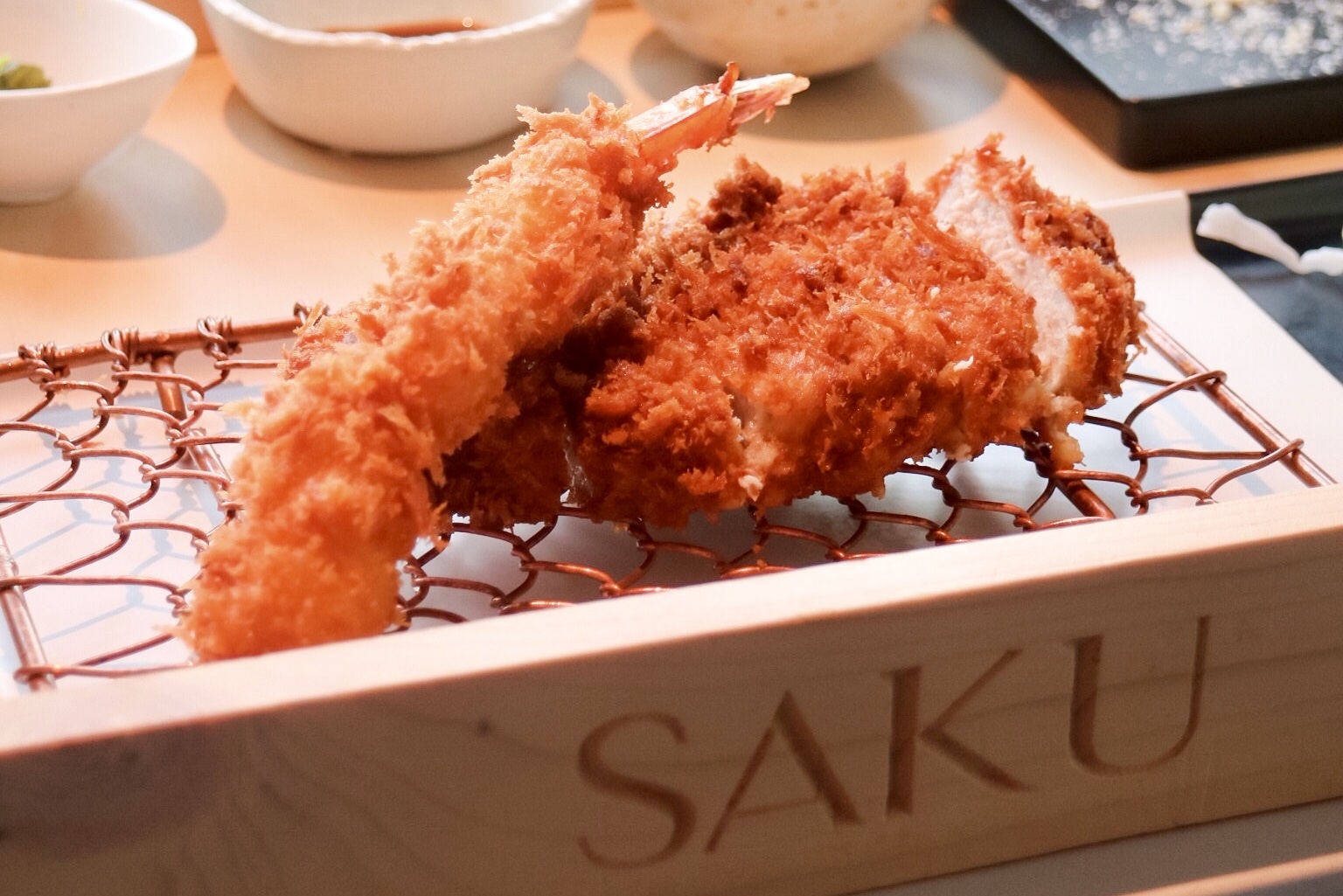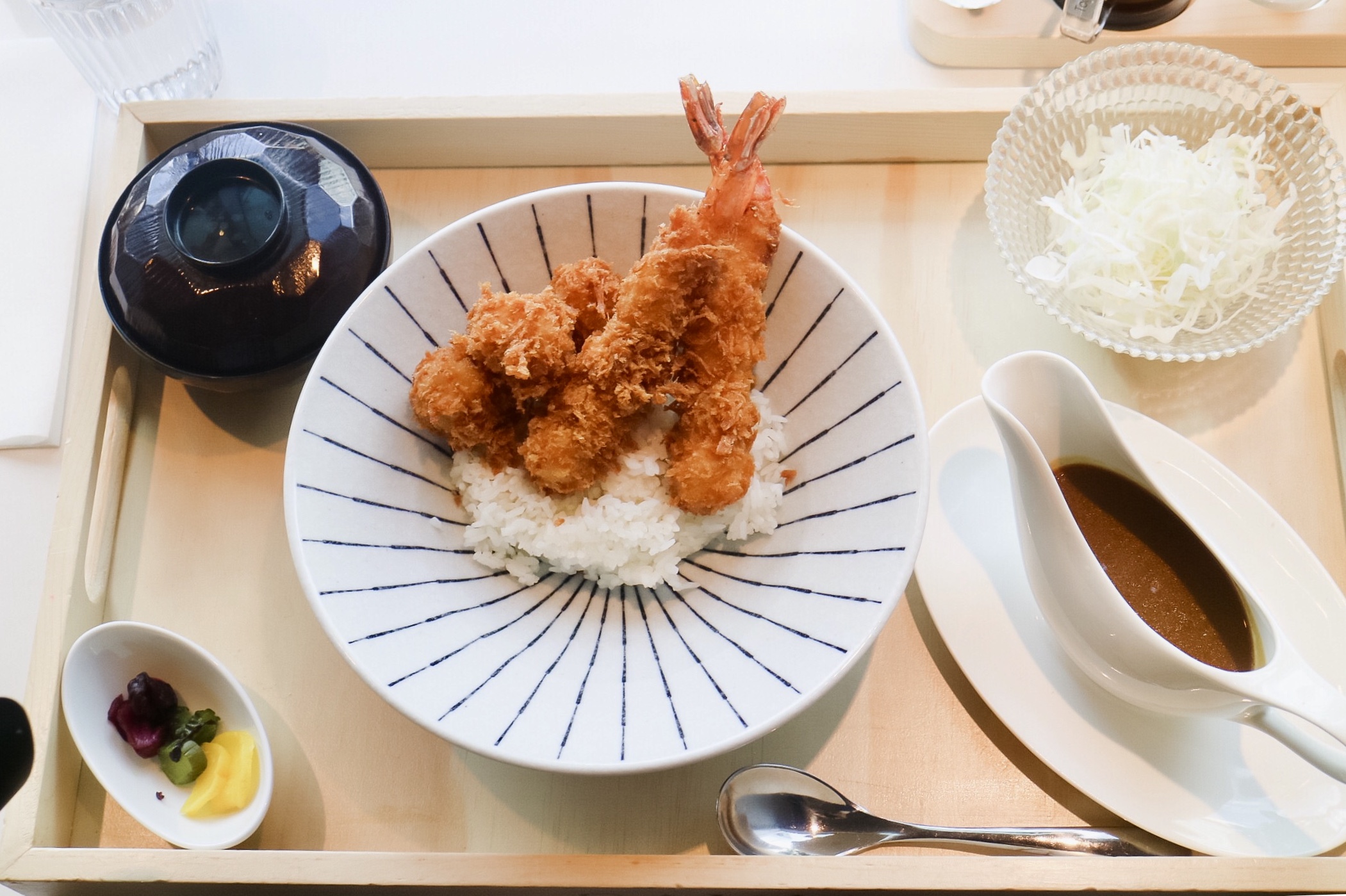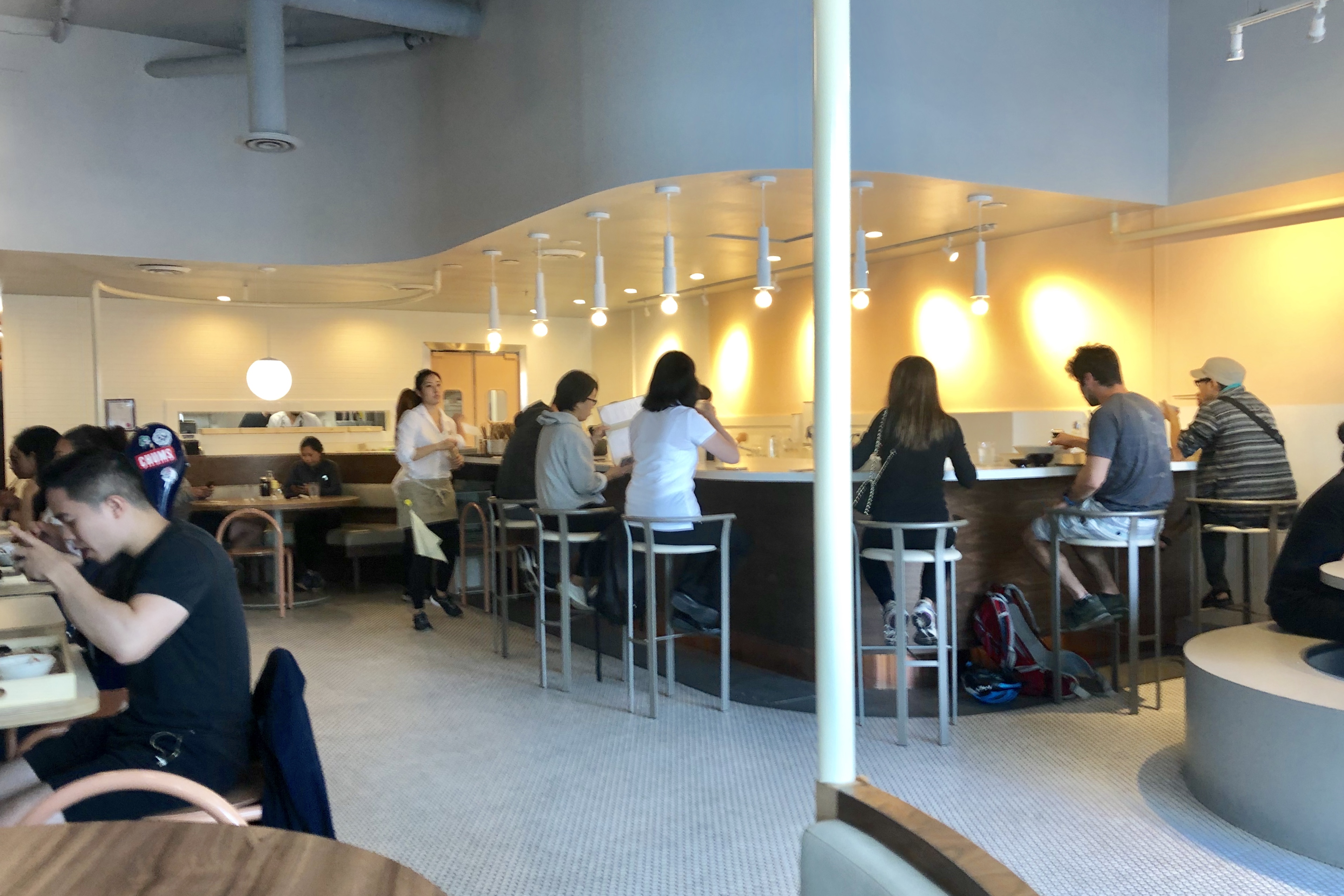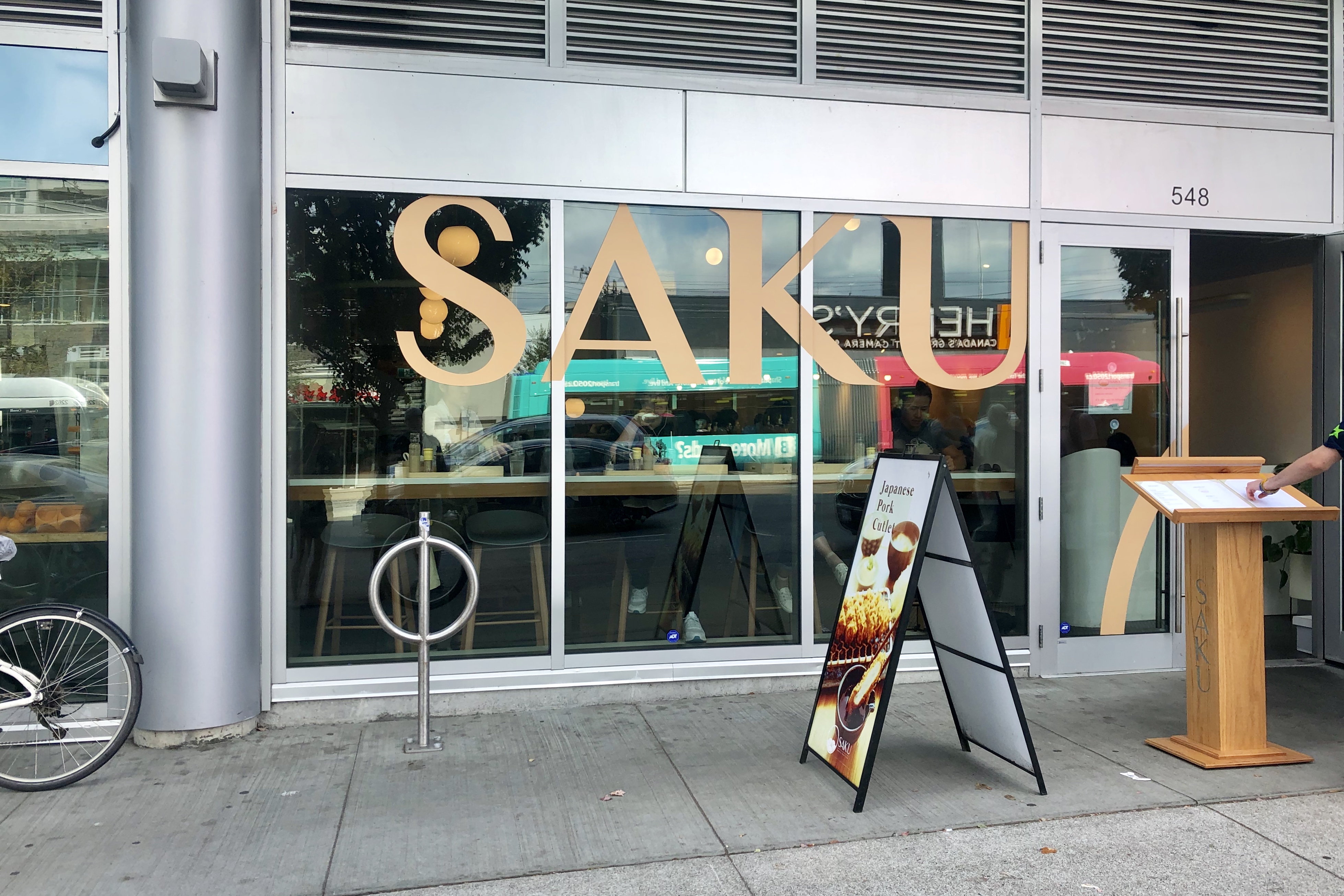 Final thoughts:
I was slightly disappointed, to be honest. The breading on the pork was supposed to be crispy but turned out to be a bit hard. But at least it was crunchy.  The ingredients are fresh but I rather prefer the seafood such as prawns and scallops. The pork cutlet was thick and not as moist and juicy as I had expected. Everything else was okay – the seasoning, the dipping sauces, and the sides. I would probably still like to check out the original location on Robson. But if the pork is as just as dry as the one here, it is not worth the lining up.
$$
rating: 2.5/5
Saku
548 W Broadway, Vancouver, BC V5Z 1E9
(778) 379-5872 or sakuvancouver.com