What are the chances of you getting turned off by one single ingredient on all 3 dishes you order? And I happened to be this LUCKY person at Royal Dinette, the recent establishment by Farmer's Apprentice superstar David Gunawan. I ordered Braised Beef Cheek, Squid Ink Conchiglie with Tuna, and Kale Salad – all such great sounding dishes, making my mouth water even before they arrived. Then I found anchovy in all 3 dishes, and the bloody anchovy was overpowering other delicious components on the plates. I do admire chefs that put their wild imagination to create whimsical dishes, but only when the dishes work. There is a very fine line between quirkiness and madness. And Today I think this meal is just MAD!
I was so looking forward to this lunch. Dennis took me out for a belated happy birthday lunch, although belated, I was very happy about the invitation and super excited about the food. First came the house made bread and butter, which were not superb, but had a great artisan quality to them, pretty similar to what they serve at Farmer's Apprentice.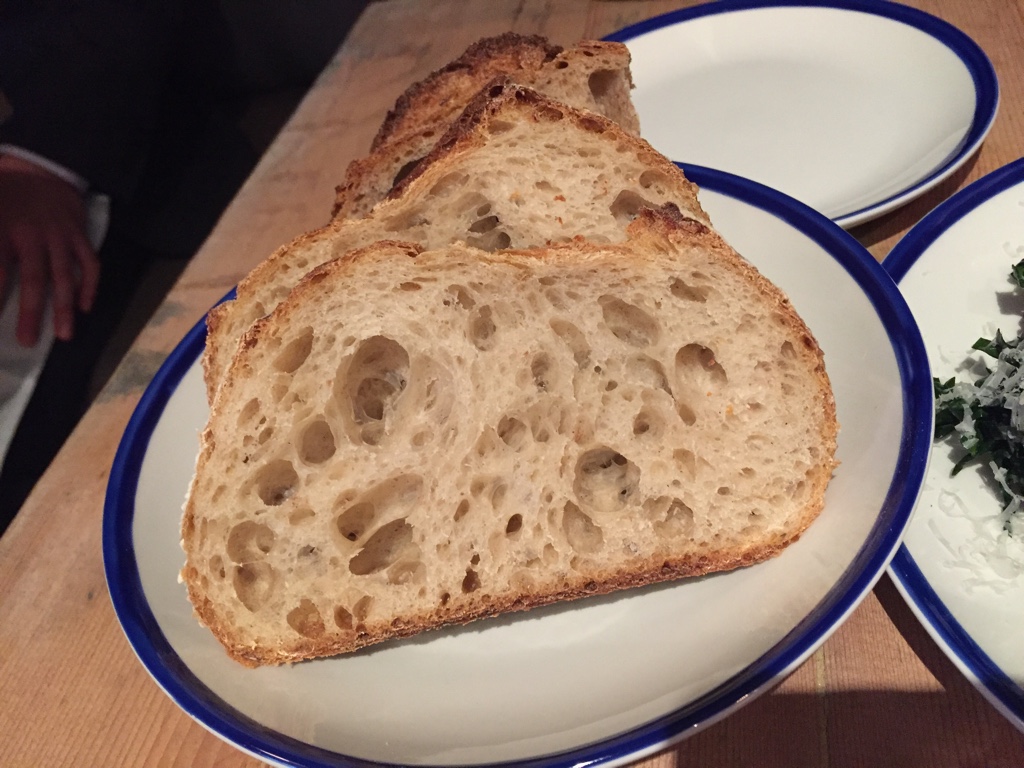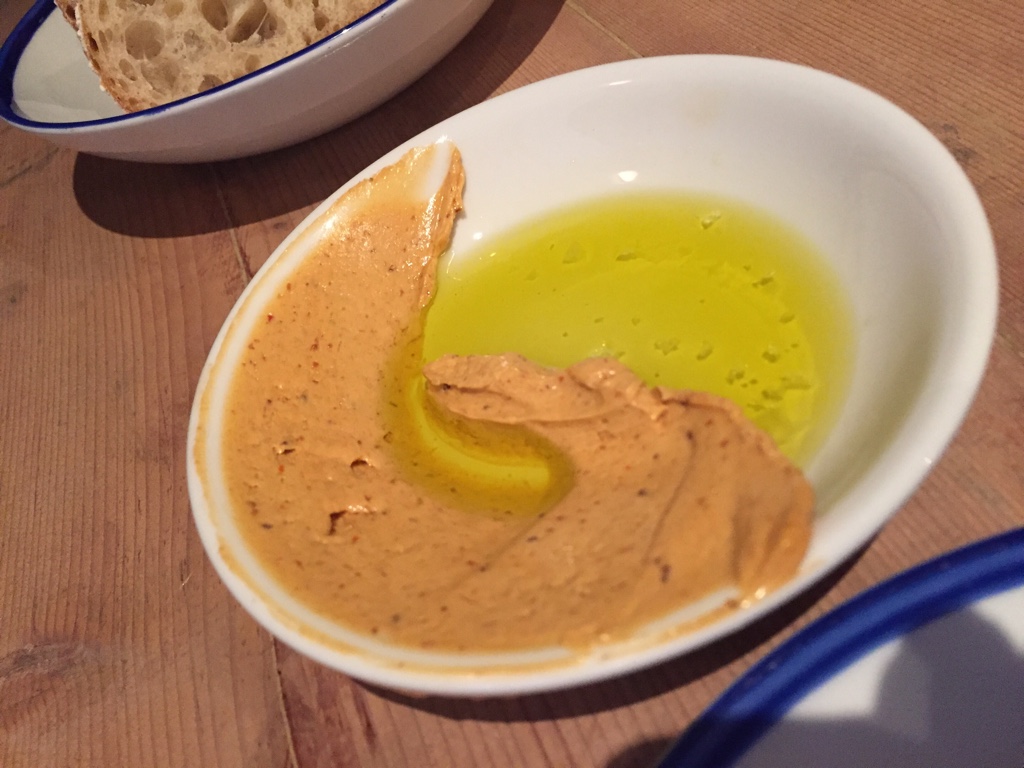 I wasn't in love with the presentation of Kale Salad ($14), with the snowflakes of Parmesan covering the entire plate. As a visual person, I prefer to see every single component of the dish on the plate, and the plating on this dish is just lazy. Kale might be a popular super food but it's never a sexy looking ingredient. On top of kale, they added another chewy component, butter brown oats. Yeah we get it, this is a take on a healthier version of Caesar Salad – Parmesan, anchovy, tough greens, and chewy 'croutons'. But it gives no pleasure in my mouth! And then we had our first dosage of anchovy. Well it was a little fishy, but it was okay I guess.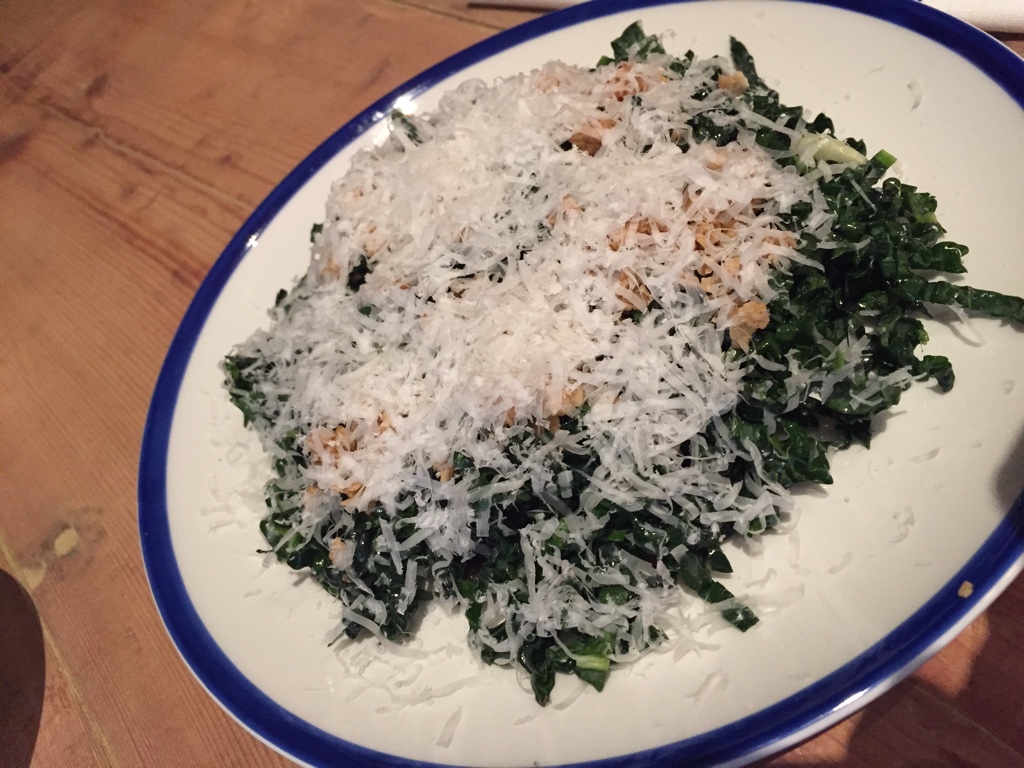 Soon after came the pasta special of the day, Squid Ink Conchigilie with Tuna, Fried Cauliflower, and Anchovy ($19). Texture wise, it was tough and chewy again! Taste wise, I thought it was okay if anchovy was not in the dish. There were quite a few slices of the salted fish fillets in the pasta, and the fishy flavour was quite potent. The cauliflower tasted okay but I was having some issue with the crumbs of the batter, which felt like sands in my mouth, a little unpleasant.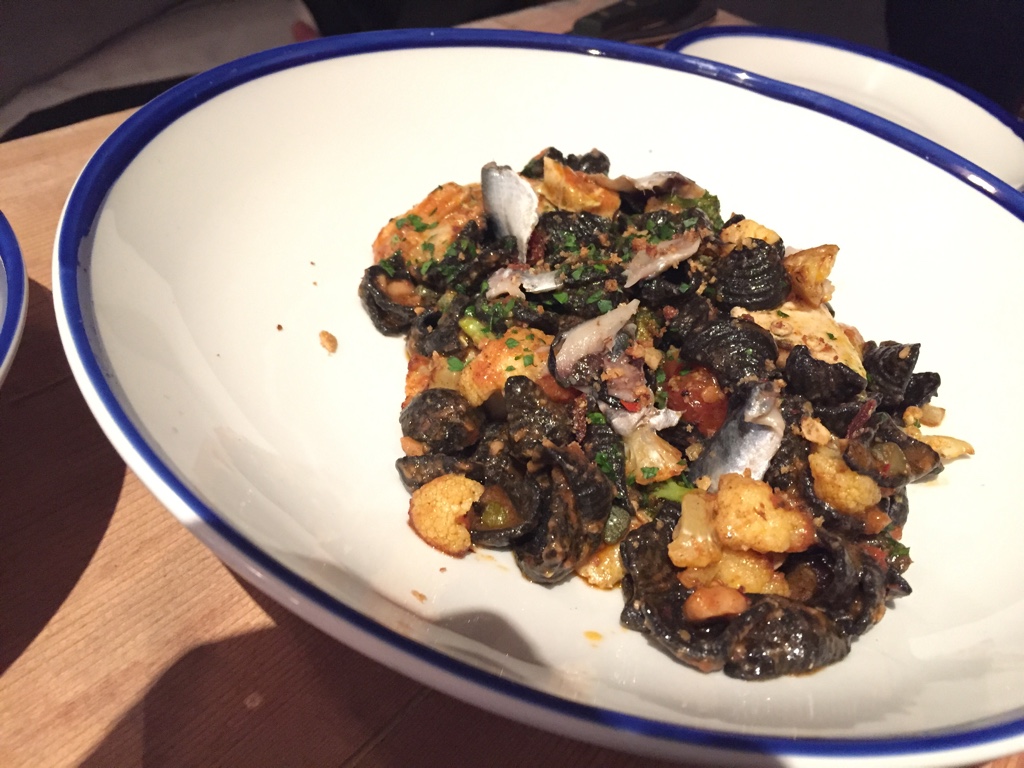 And we had the Beef Cheek($21)… The beef itself was very well cooked – it was warm, moist and full of flavours. The kale under the beef cheek however, was looking messy and miserable on a bed of mashed potato. Then boom, a big slab of anchovy was on top the beautifully braised piece of beef. And guess what? More crumbs! Not exactly sure what those crumbs were… Fried shallots? Fried garlic? They felt like soil in my mouth. Not that I have eaten soil, I just thought this must be how it feels like eating bits of soil or dirt and worrying about being scratched on the teeth. Okay back to the anchovy. Seriously why anchovy? Give me a piece of halibut, I would call the dish a great surf and turf, but definitely not with this whole anchovy overkill!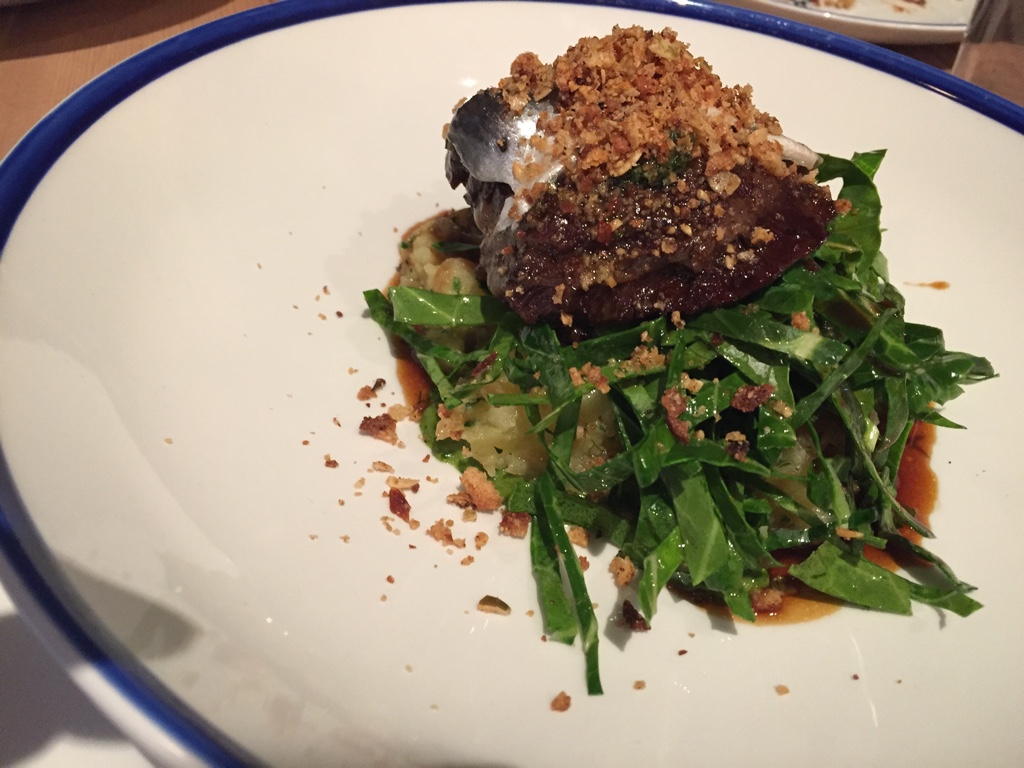 That was my lucky dining experience at Royal Dinette. I'm sure some customers would enjoy their lunch there. But with merely a dozen or so items on their lunch menu, the chance of hitting the anchovy jackpot is pretty good. Personally I don't hate anchovies and I think the right dosage on a salad or a pizza, or in a sauce would do some tasty touches. But but featuring it in so many dishes is just plain crazy!
Website:
http://www.royaldinette.ca/
Location and other reviews: