I was recently invited to check out the new spring brunch menu at Rocky Mountain Flatbread in their Kitsilano location.  If you like brunch, this menu is too delicious to be missed out.
Rocky Mountain Flatbread is known for a few great facts:
With the 'Farm-to-Pizza' concept, they build their pizzas and other dishes with using mostly locally-sourced organic produce, free range organic meats & Ocean Wise seafood.
They have gluten free and nut free options on their pizzas, salads, soups & even, cheesecakes!
They are super family and kids friendly.
They contribute to the community through EarthBites helping kids transform their school garden space into outdoor classrooms and get educated.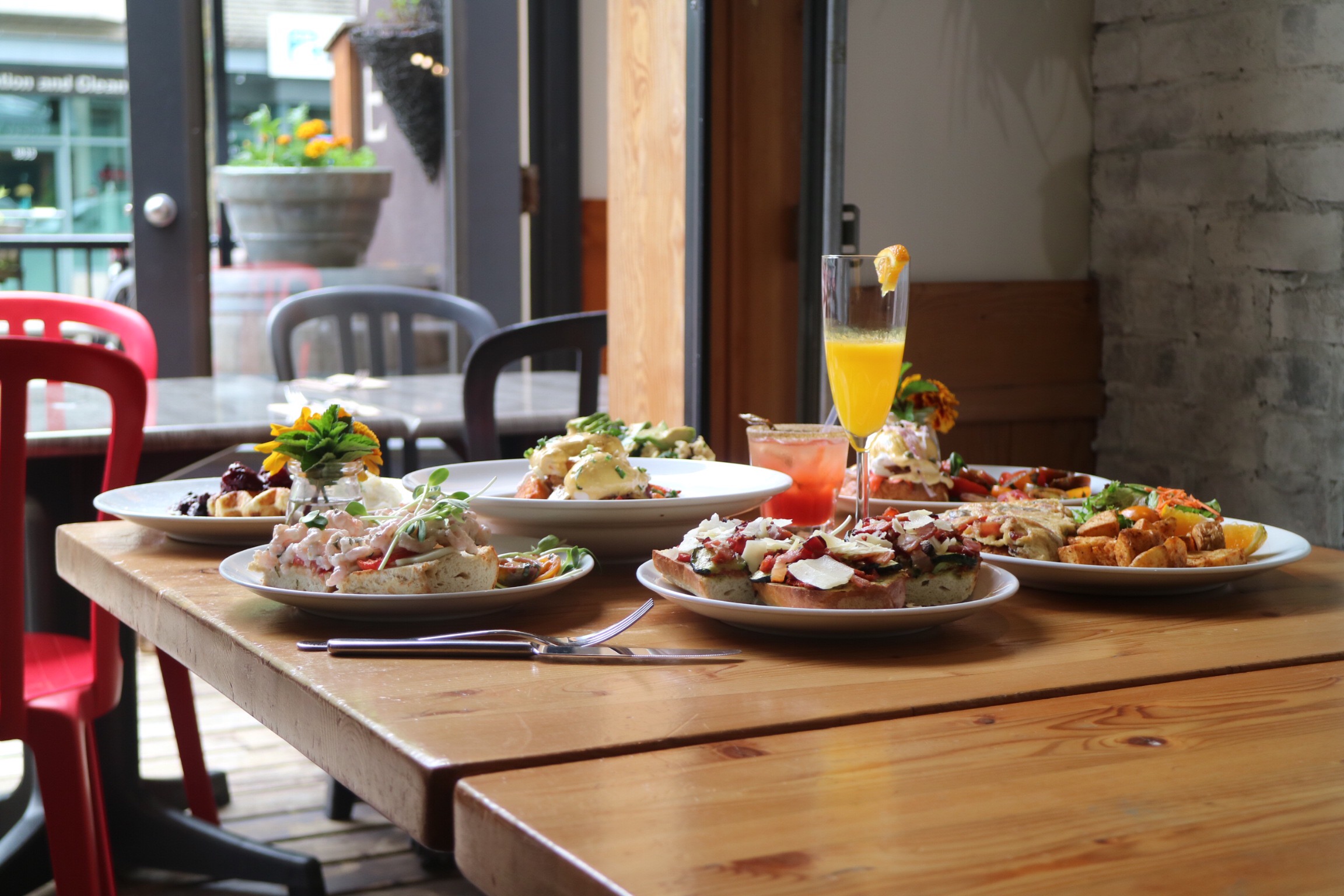 Time to dig into all the mouth-watering brunch dishes, with gorgeous local organic eggs featured on almost every plate, scrambled,  poached or made into omelettes. Even the Market Breakfast Pizza and Yukon Pizza arere both topped with a couple sunny-side-ups along with other locally sourced ingredients with vibrant colours – meats, vegetables, and fresh herbs straight from their own garden.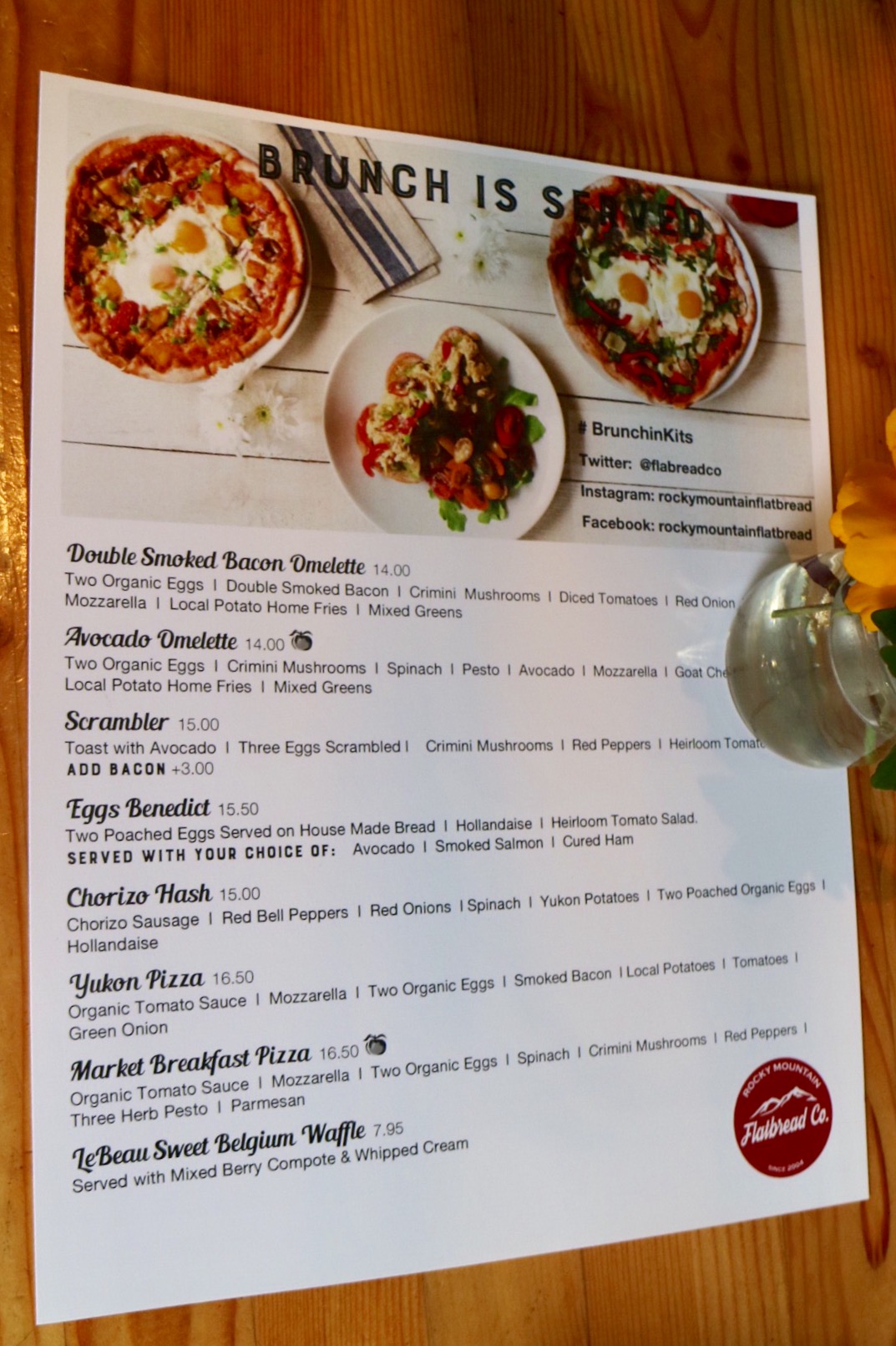 Avocado Omelette ($14)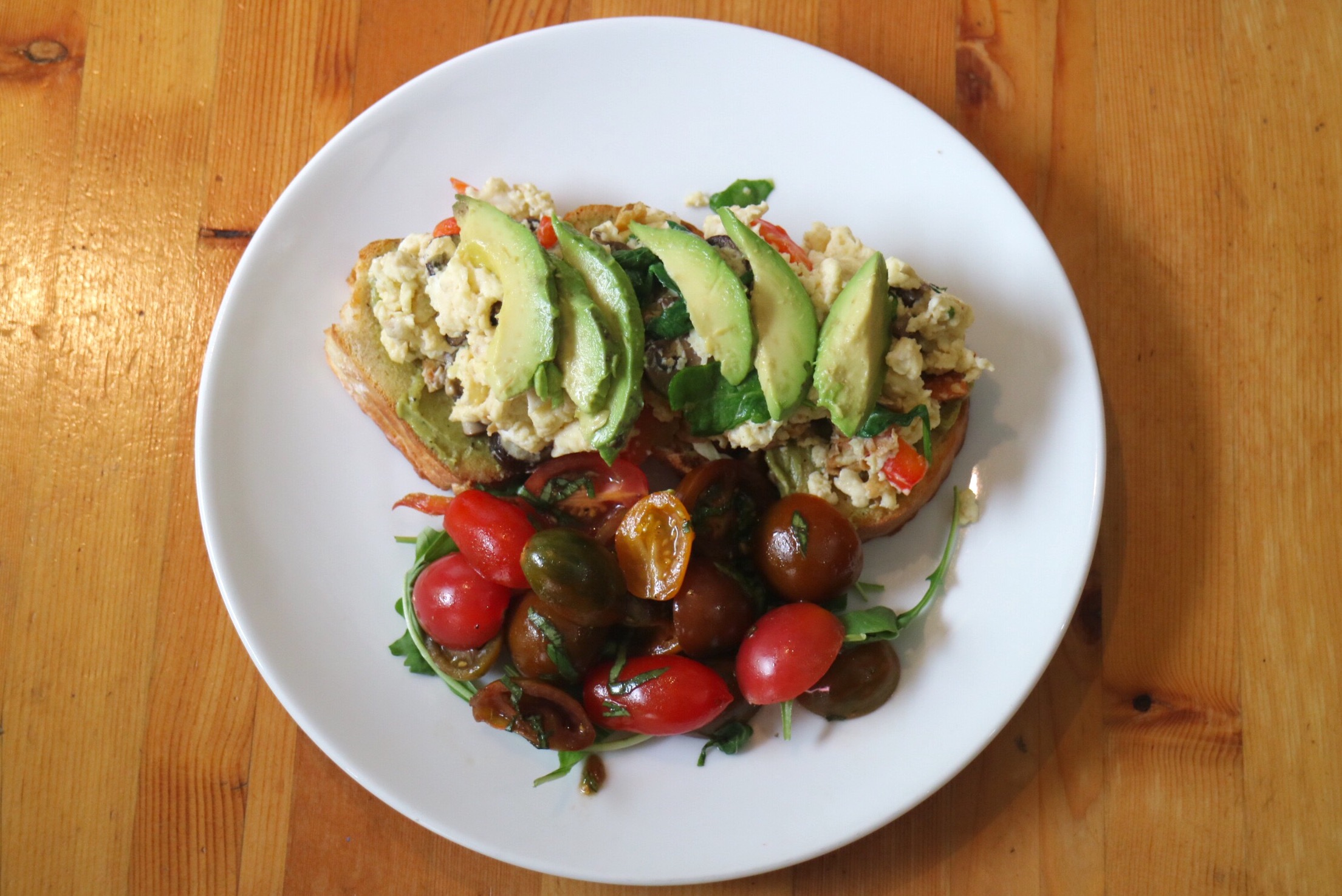 Double Smoked Bacon Omelette ($14)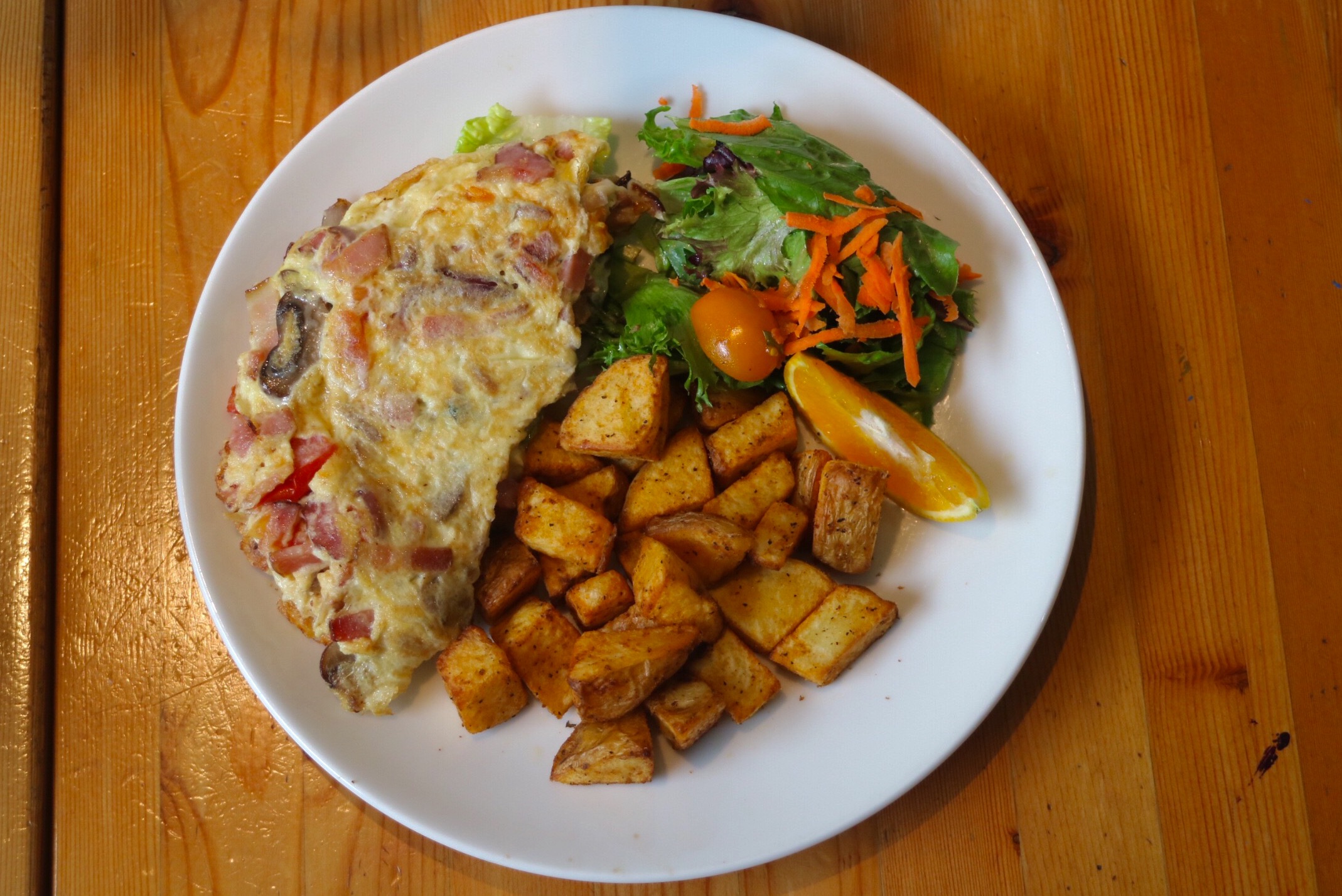 I have become a fan of the pizzas as they are packed with fresh and delicious toppings, great for sharing with the whole family.
Yukon Pizza ($16.50)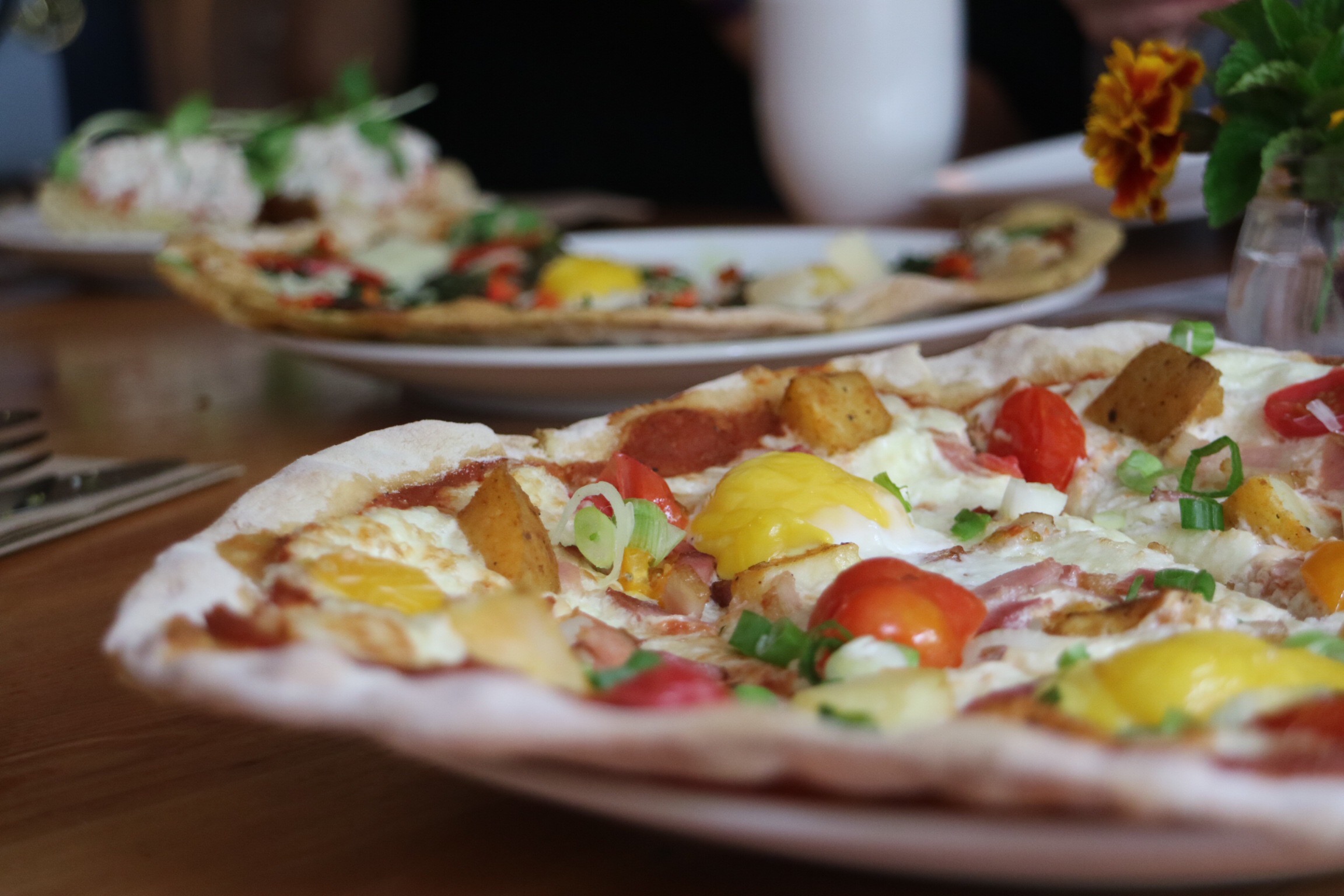 Market Breakfast Pizza ($16.50)
If you are craving for something sweet, the Le Beau Belgium Waffle ($7.95) might be just the fix for you, topped with mixed berry compote and whipped cream.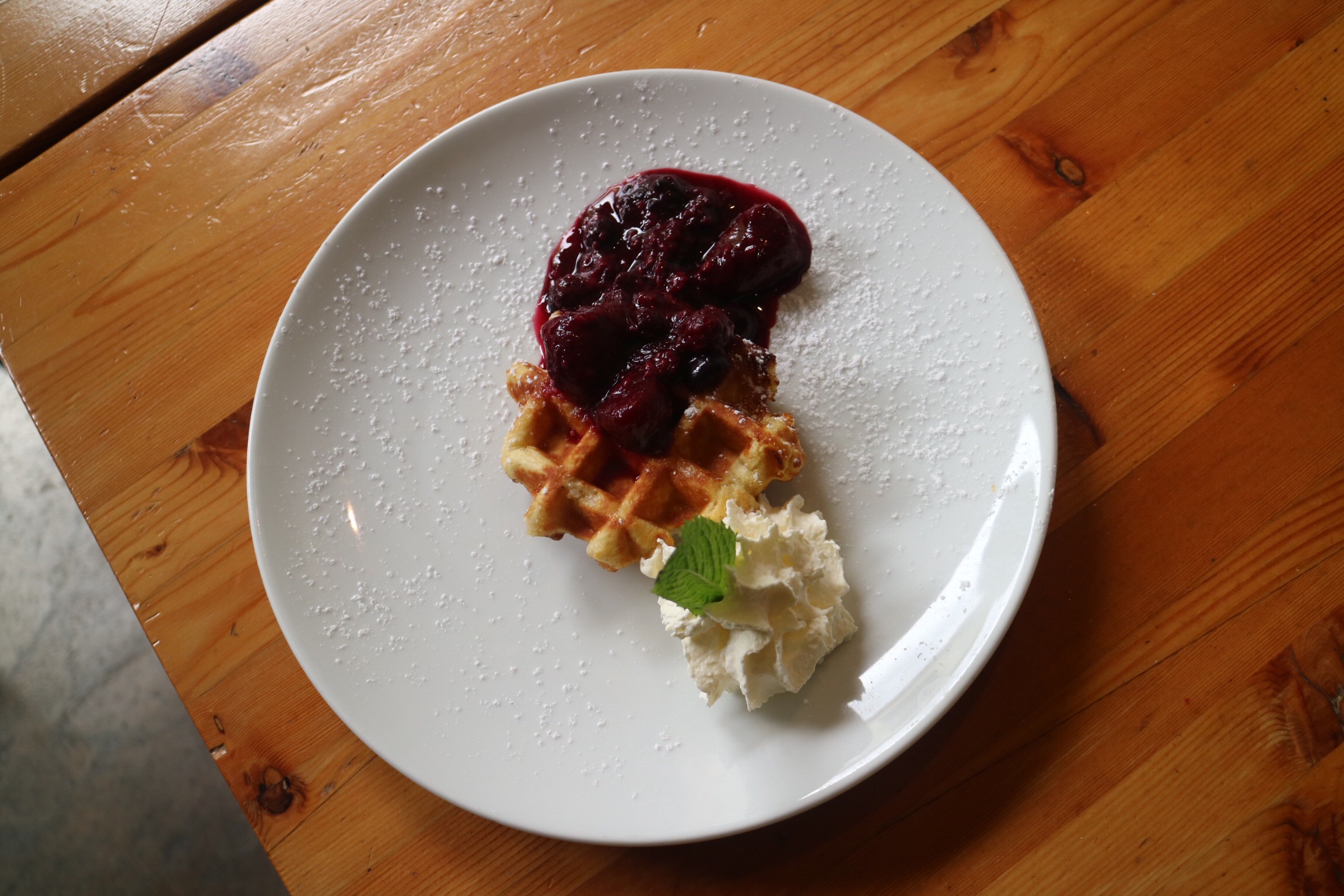 And feeling a little thirsty? A Mimosa or a Bloody Caesar might cure your thirst with a bit of a zing. Or you can just have a cup of Cappuccino like I always do.
Another impressive dish is the Ocean Wise Shrimp Sandwich ($13.50), one of their popular lunch items. Those little sweet and succulent shrimps are dressed with basil lemon mayonnaise, complemented with cherry tomatoes, organic egg and sunflower sprouts.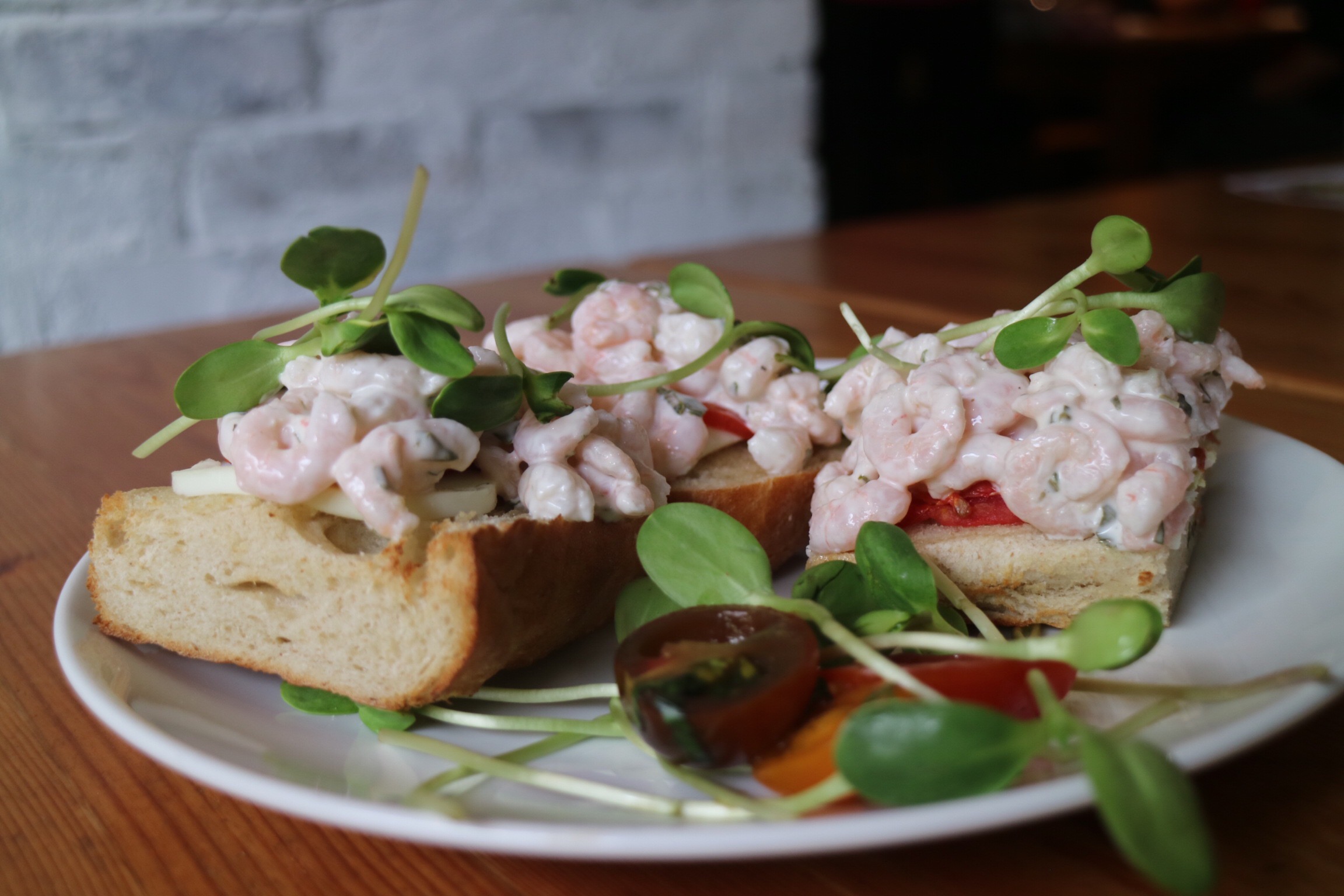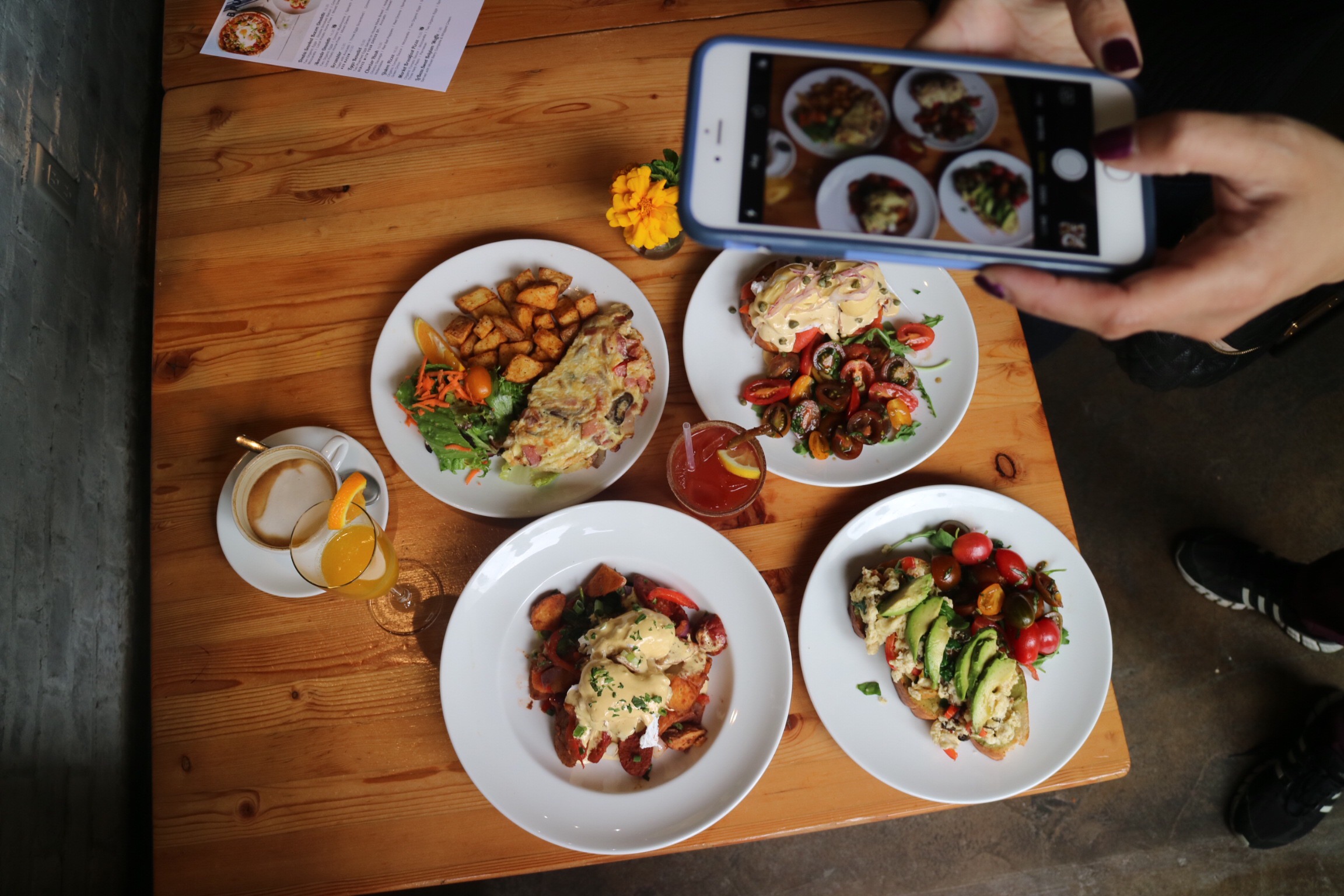 The also have a sizable outdoor patio at the Kitsilano,  very much desired for warm days. But I found their indoor green walls also very interesting. I could feel a great natural energy flow throughout the whole restaurant.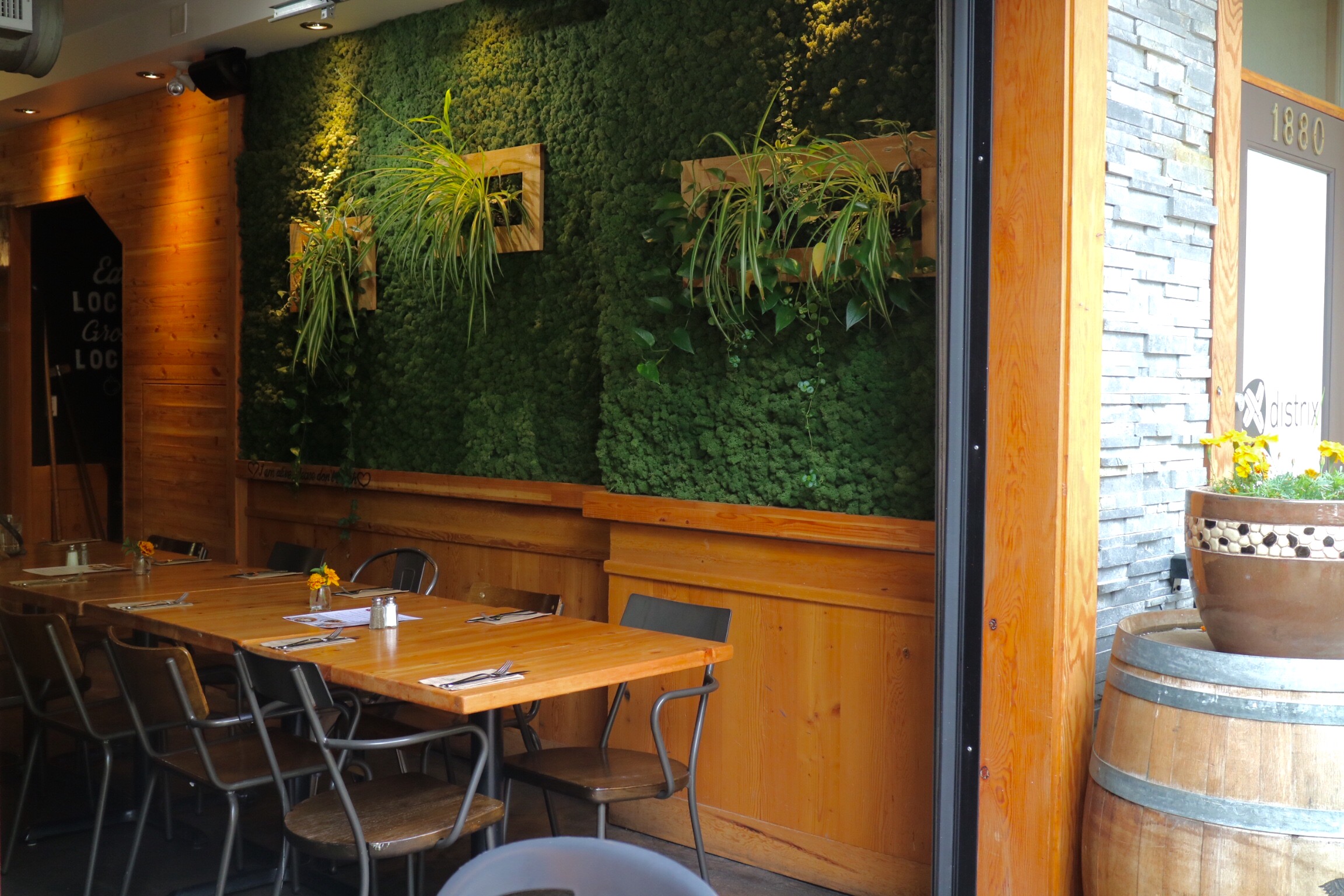 After tasting, restaurant owner Suzanne showed us their "Farm in a Box", which is a unit from Urban Stream that allows the restaurant to compost and to grow their own basil, arugula and mushrooms, all these beautiful ingredients that were on our plates today.
Great job on reducing carbon footprint!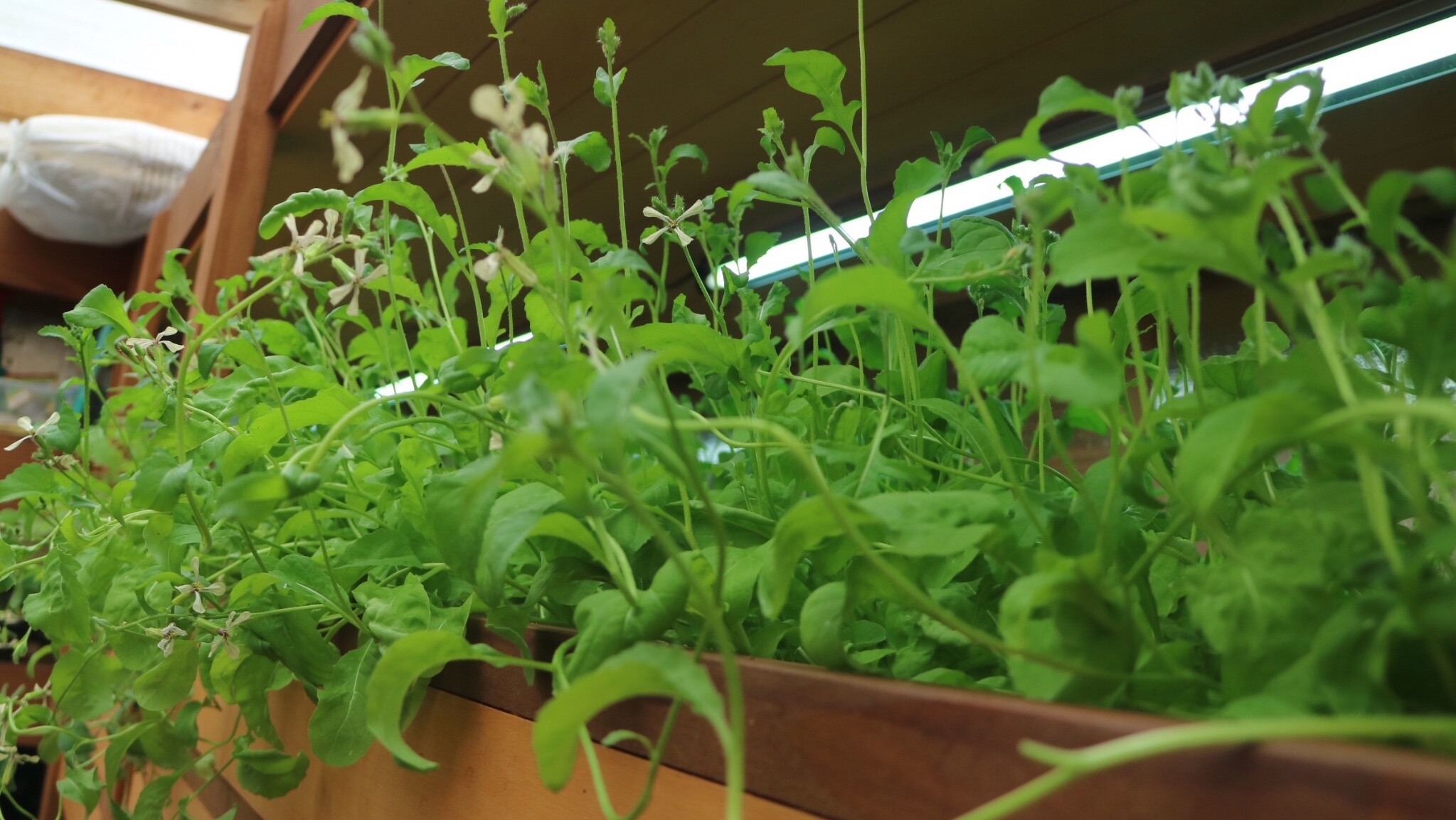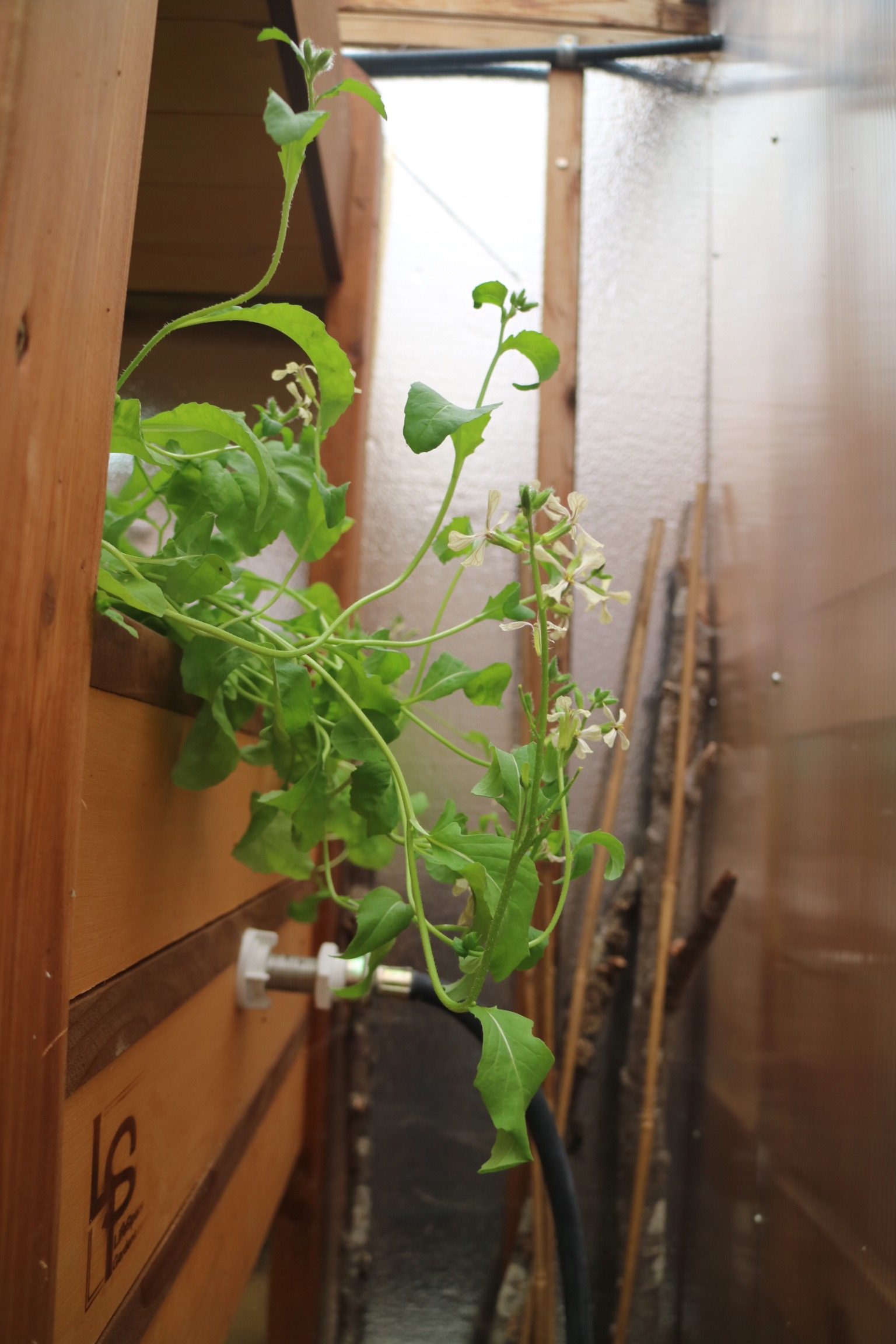 It's a great feeling when I enjoy healthy tasty food knowing exactly where everything on my plate is from and how environment-friendly it is.  And Rocky Mountain Flatbread has done some incredible work to make us feel good eating the food.
For a limited time only, you can receive a 20% discount, by giving the promo code:  Brunch and it is ending on June 17.
Happy brunching!
Kitsilano location:
Riley Park location:
Website:
http://rockymountainflatbread.ca/
* Food and beverages tasted in this post were complimentary. Opinions are on the reviewer's own.