Water Street Cafe has been around for 30 years and is widely considered an icon of Gastown. It was one of the 2 restaurants that I could remember from visiting Gastown when I moved to Vancouver 20 years ago. The other one was the Old Spaghetti Factory, which in my youth, seemed more affordable. But Water Street Cafe always looks so classy ever right across the street from the famous Steamed Clock of Gastown.
After the original owner at end of last year, the restaurant is now owned by two industry veterans: Eli Brennan and Chef Alan Tse, both are formerly of The Teahouse in Stanley Park with Brennan as General Manager and Tse as Chef.  With the updated menu with modern twists on classic dishes, they also have started a series of events including collaborations with well known BC wineries. I had a chance to attend the most recent one of their Wine Makers dinner series with Black Sage Vinyard. They offered Vancouver Gourmet Club members a 2-for-1 deal. For a 5-course 6-wine dinner that originally cost $88 per person, this was too good to be missed.
It was hosted at their beautiful private dining room on the 2nd floor, and the dinner event spanning 3 long tables seemed to be completely sold out.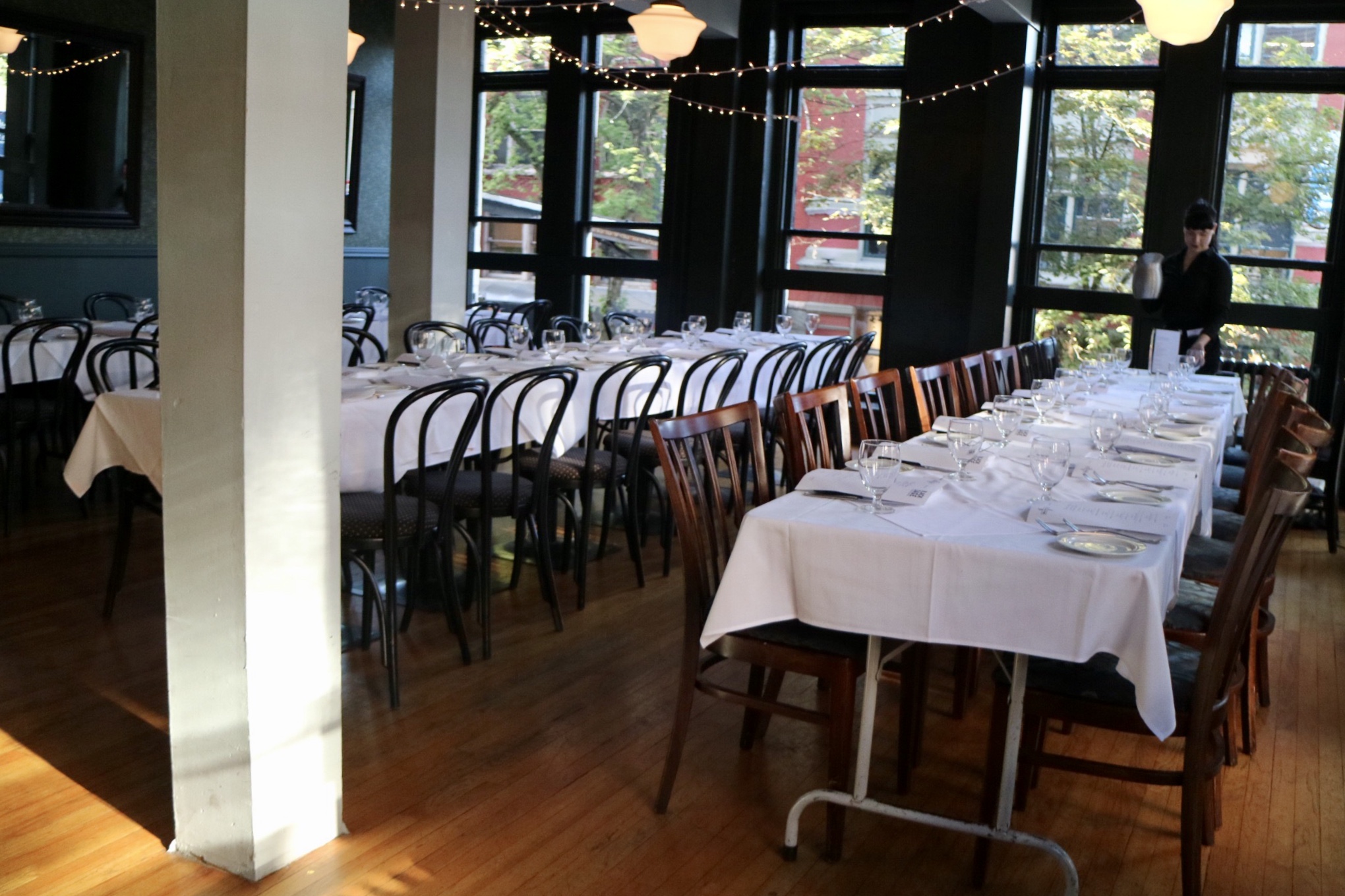 Here is the full menu:
WELCOME WINE 
STELLERS JAY BRUT
1ST COURSE
BISON TARTAR
pickled egg yolk, capers, tabasco, garlic mayo
PAIRED WITH: BLACK SAGE ZINFANDEL
2ND COURSE
DUCK DUO
berry tea smoked duck breast, confit duck tart, pickled turnip
PAIRED WITH: BLACK SAGE CABERNET FRANC
3RD COURSE
ASSORTED CHEESE
local cheeses, house made bacon onion jam
PAIRED WITH: BLACK SAGE MERLOT
4TH COURSE
FENNEL SAUSAGE CANNELLONI
classic Italian sausage, roasted fennel, plum tomato, cracked chillies
PAIRED WITH: BLACK SAGE CABERNET SAUVIGNON
5TH COURSE
FLOURLESS CHOCOLATE CAKE
black cherry compote
PAIRED WITH: BLACK SAGE PIPE (PORT STYLE)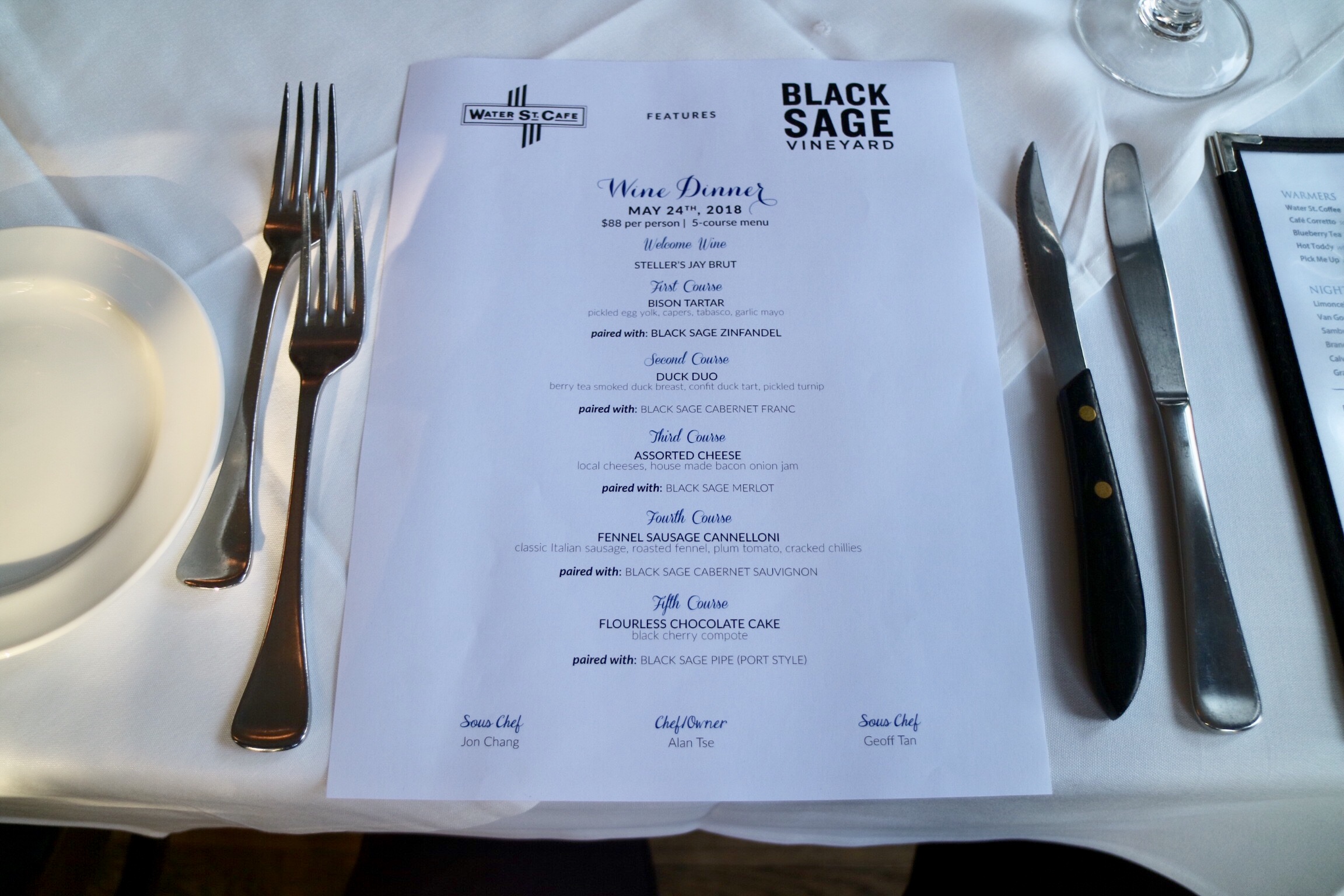 Sat by one of the 3 long tables, we were welcomed with the Steller Jay's Brut, some crisp and complex but also very refreshing bubbles. Also under the Sumac Ridge Group,Steller's Jay is a sister winery of Black Sage Vineyards specializing in sparkling wines.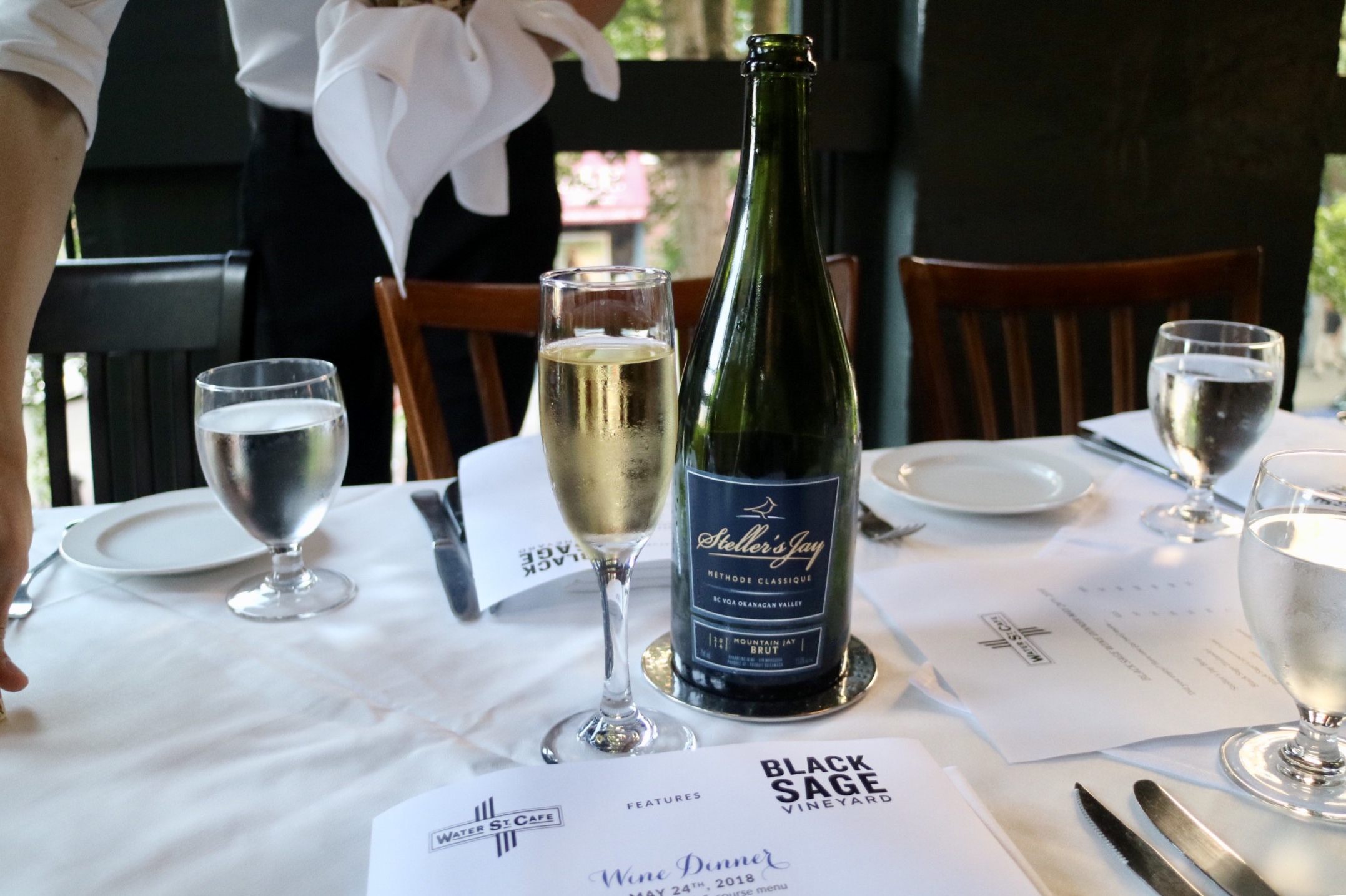 The first course was the Bison Tartare, served with pickled egg yolk, capers, tabasco, and garlic mayo. The richness of the bison and egg yolk, along with the vibrant spices was complimented well by the Black Sage Zinfandel with an aroma of dark fruit. Often known as a Californian speciality, it's hard to find Zinfandel grown in BC. This rare wine should go well with spiced meat dishes such as lamb or pork.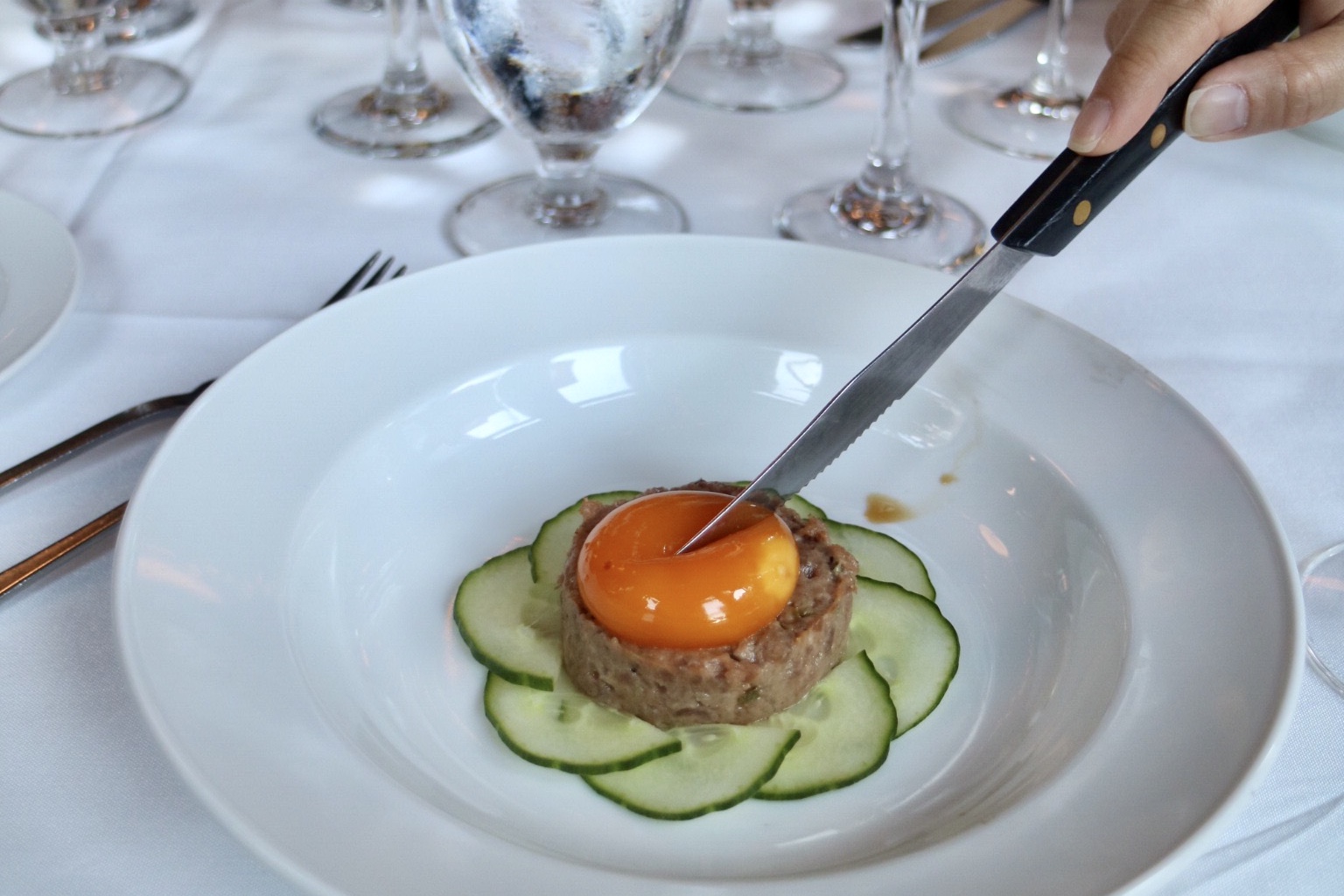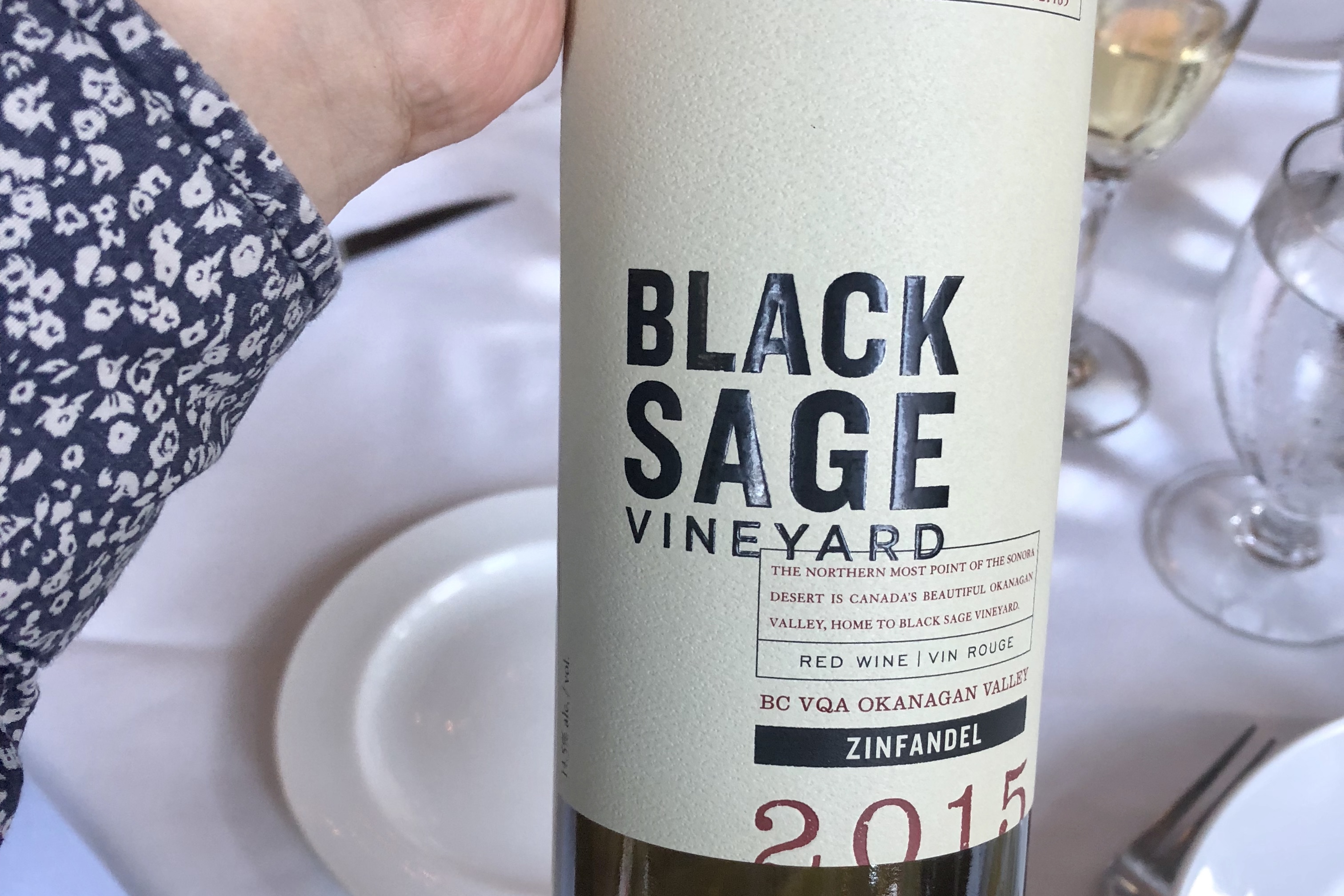 The Duck Duo featured a piece of berry tea smoked duck breast and a couple confit duck tarts, although the tarts looked more like deep fried wontons. The dish worked nicely with a medium body bred like the Black Sage Cabernet Franc. which is earthy and has a dry tea leaf flavour profile itself but also is pretty easy drinking.  It's one of the popular grapes grown in Okanagan.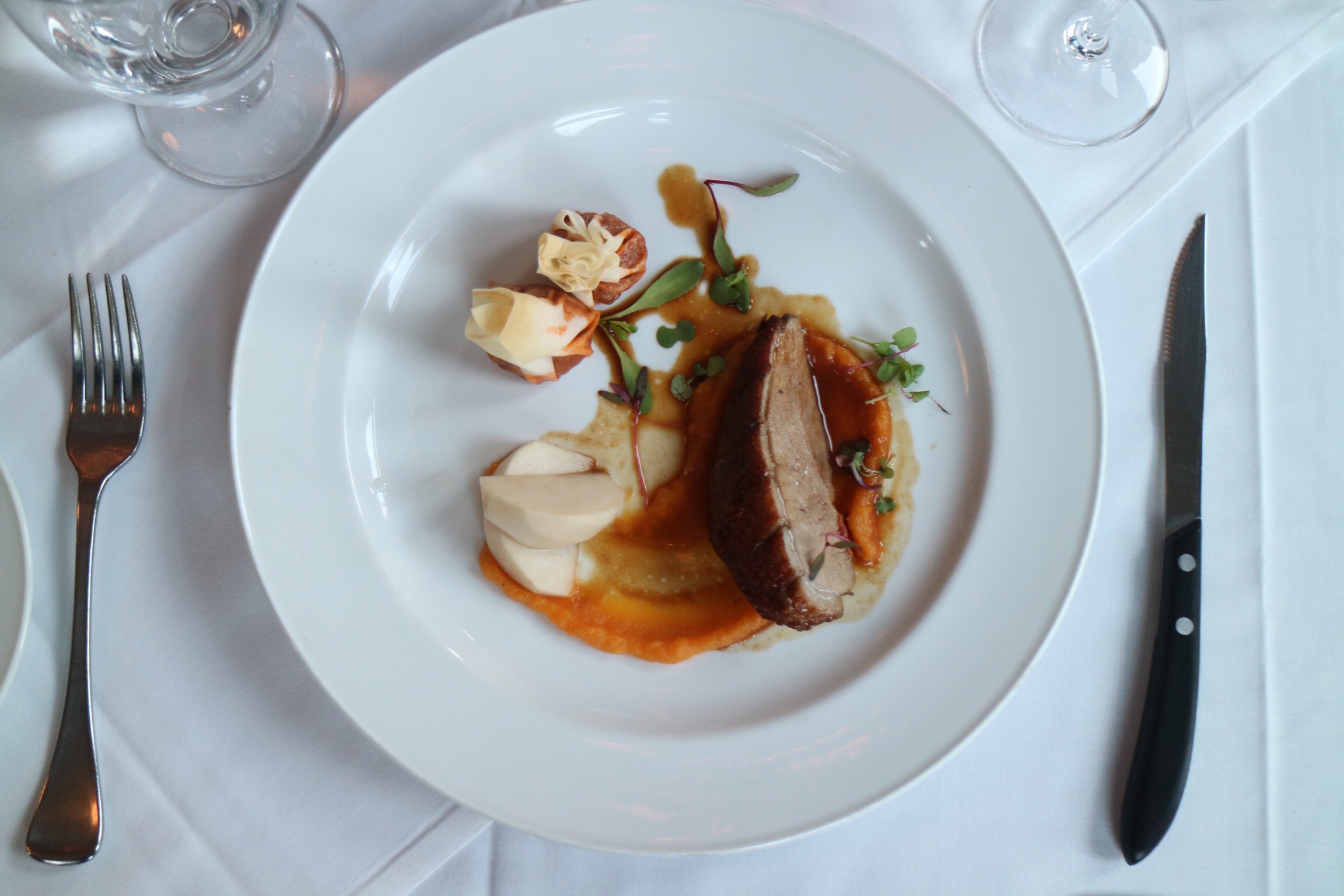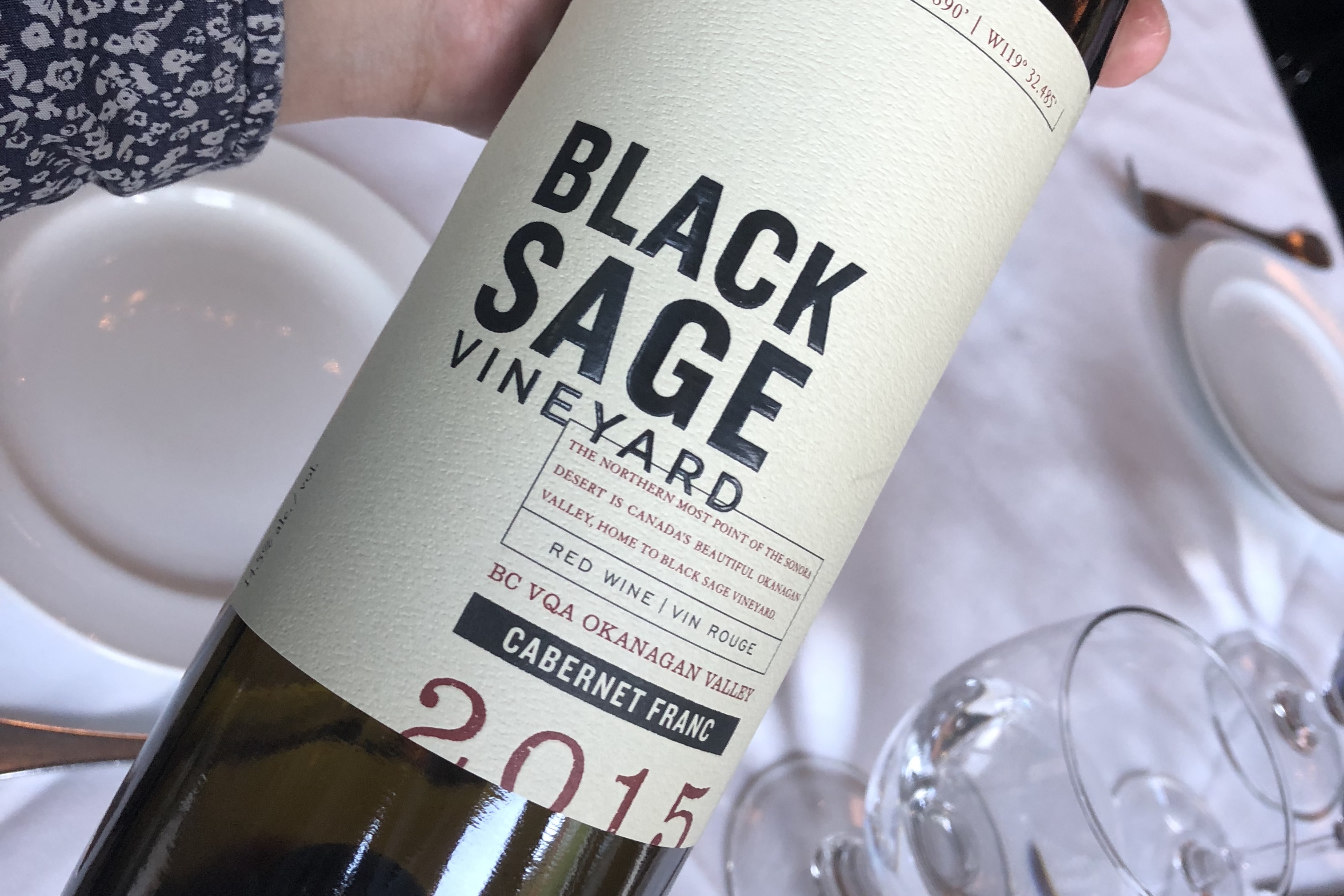 Next, The Black Sage Merlot showed the big jammy quality and plum flavour, which is paired with the Assorted Cheese Plate. The light acidity in the wine complement the richness of the cheeses nicely.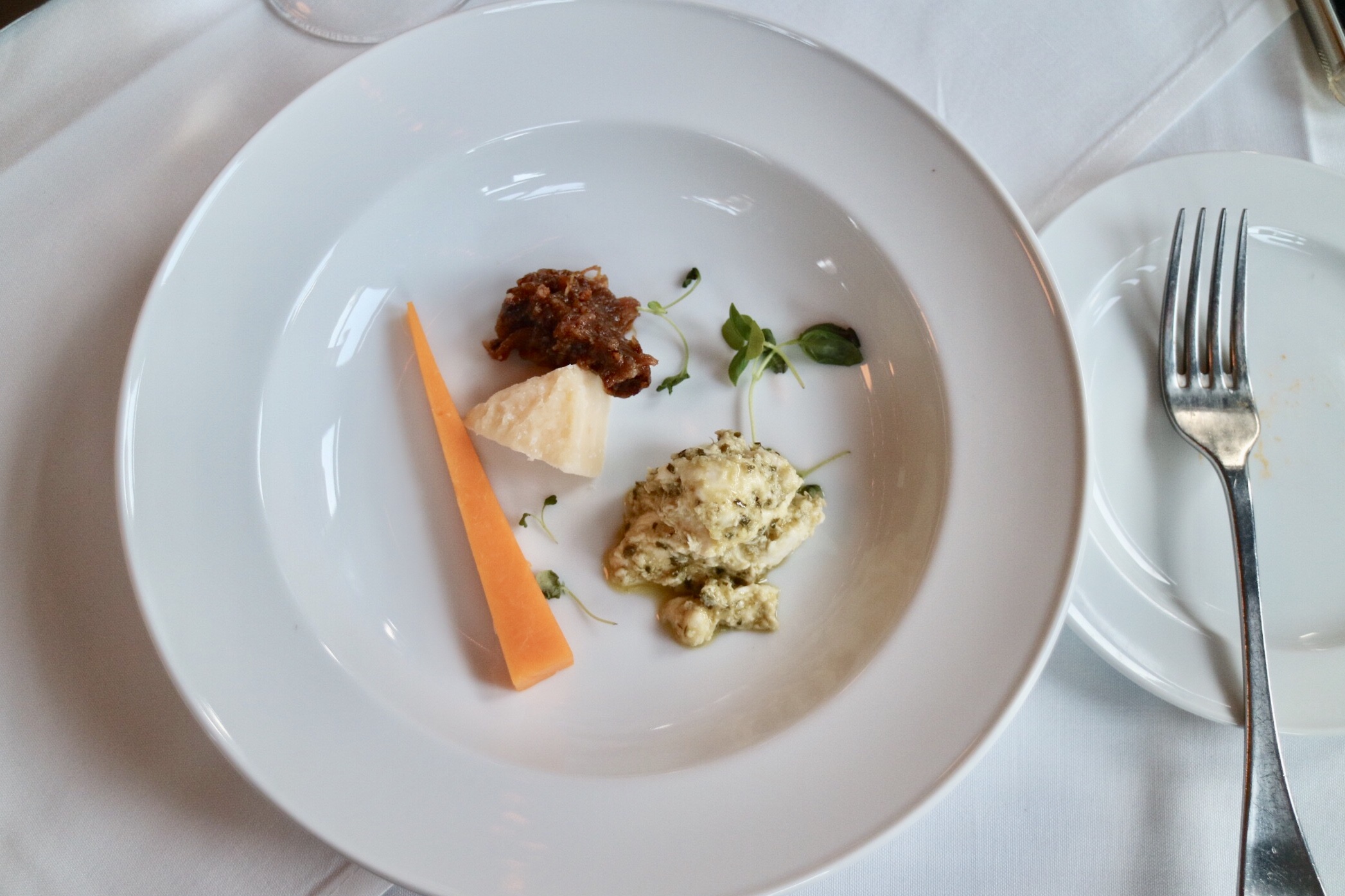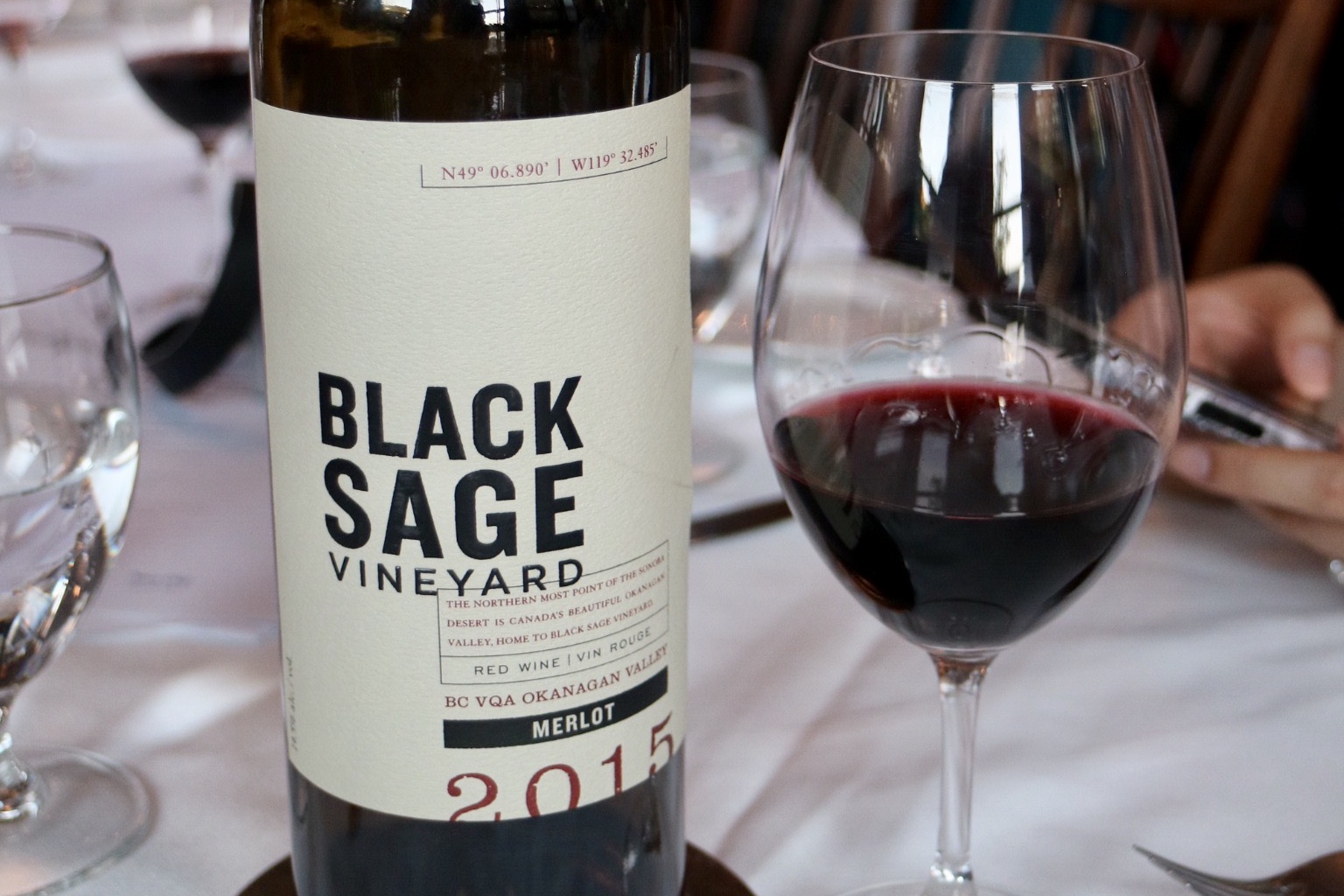 I'm glad to see a pasta dish on the menu as Water St Cafe is known for their classic Italian dishes. The Fennel Sausage Cannelloni is filled with classic Italian sausage, topped with roasted fennel, plum tomato and cracked chillies, and it's a triumph paired with one of the winery's most popular: Black Sage Cabernet Sauvignon. The full-bodied red exhibited dark fruit and vanilla both on the nose and the palate, as well as a long lingering finish, a great match for the meat dishes with tomato sauce.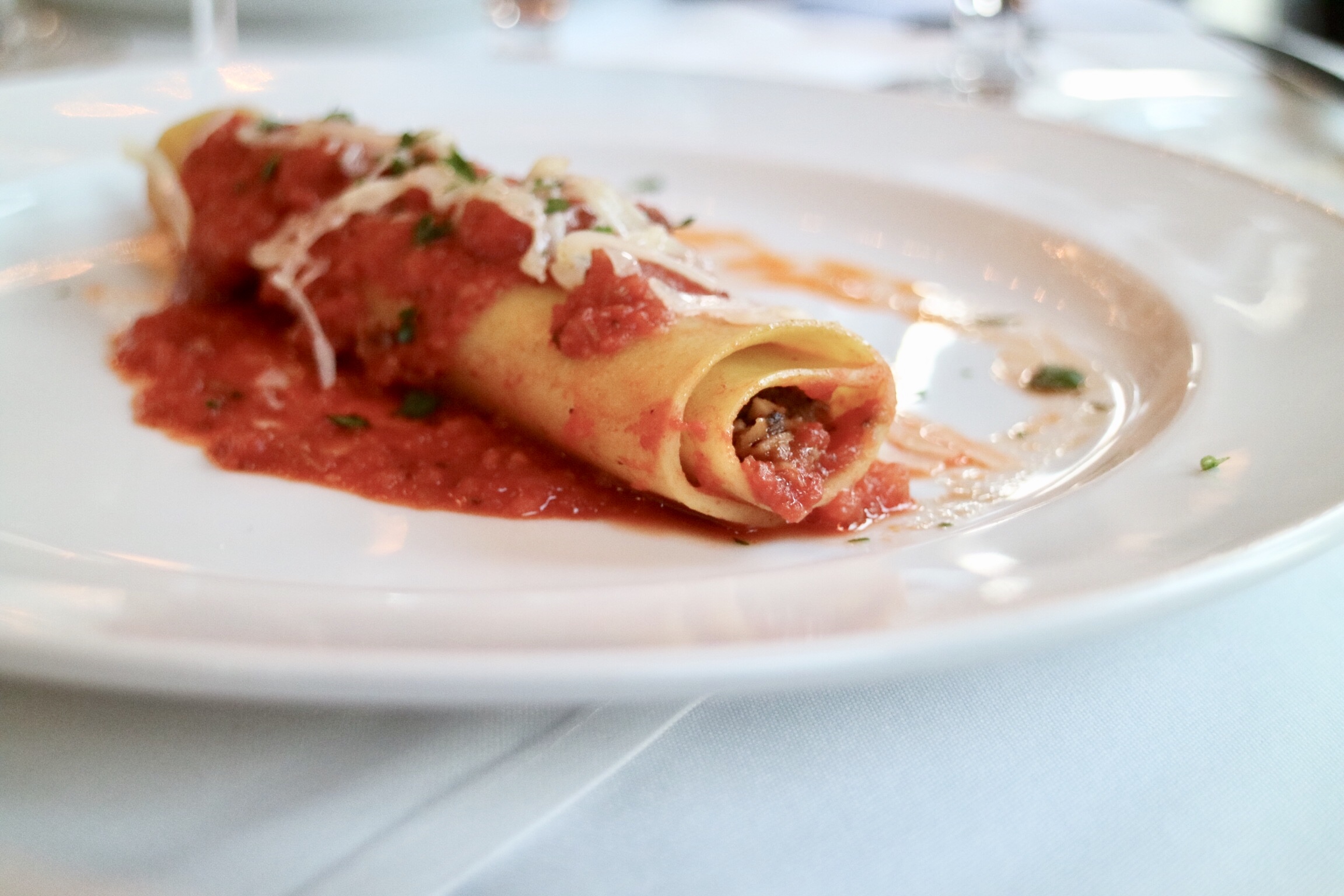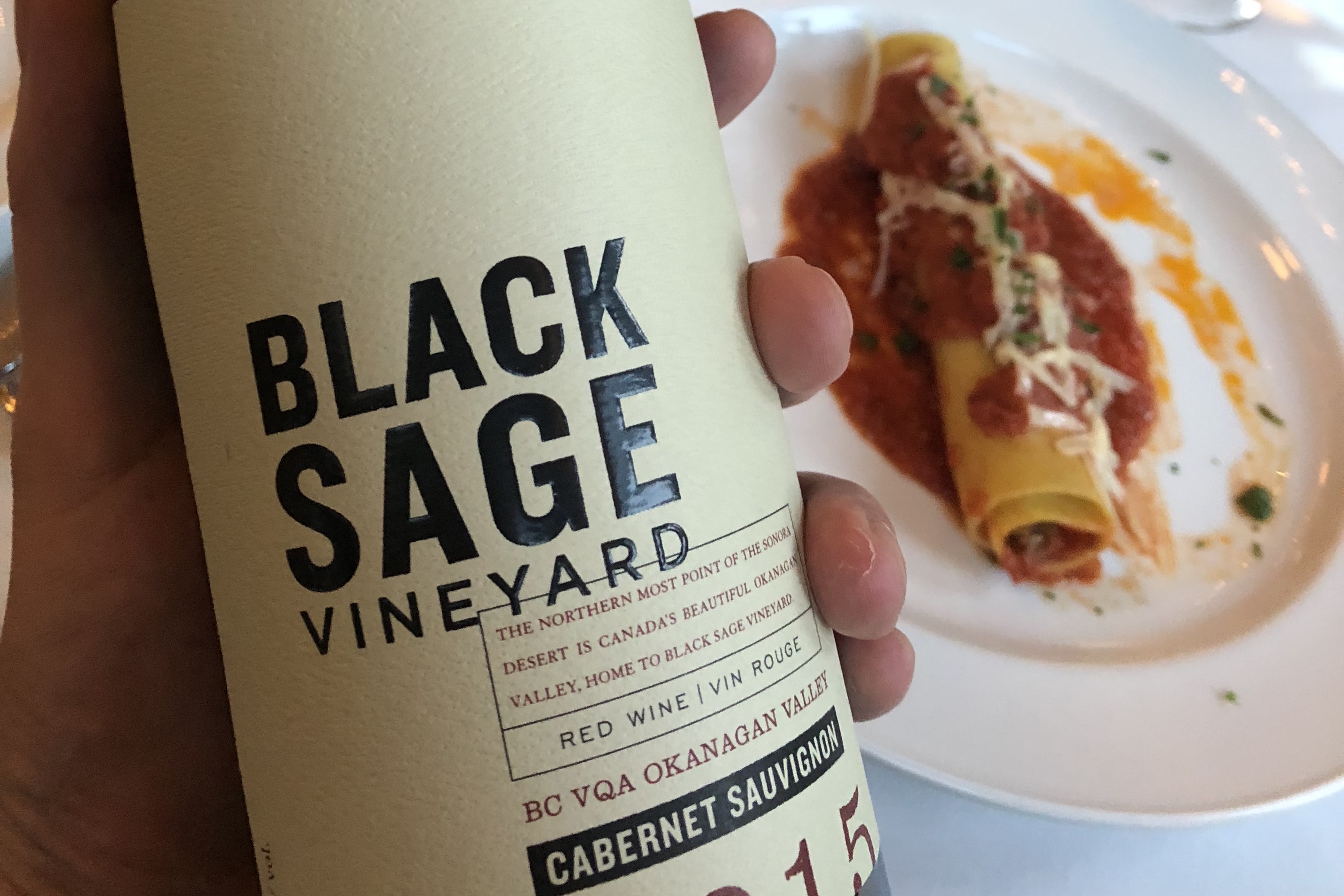 For the dessert course, I enjoyed both of the Flourless Chocolate Cake and the Black Sage Pipe, a port style wine.  Both were simple, elegant and not overly sweet.
Final thoughts
The food was solid and the wine pairing was well-thought and commendable. For the price, the 5-course 6-wine dinner definitely held a great value. But the 2-for-1 deal just made it even sweeter. To me, the progression of 5 red wines during the dinner was one of the best I have tasted from one single winery. And I'm looking forward to the next one!
To find out more about Water Street Cafe's events, visit waterstreetcafe.ca. To find out awesome deals, check out vangourmetclub.com.
$$
rating: [wp-review id="14647″]
Water Street Cafe
300 Water St, Vancouver, BC V6B 1B6
(604) 689-2832 or waterstreetcafe.ca