I was invited to a beautiful Spring Long Table Dinner hosted at Rocky Mountain Flatbread's Kitsilano location, in the great company of Maggi (@magmei), and we feasted on wild foraged foods and learned about their amazing natural health benefits.
Rocky Mountain Flatbread is known for their "Farm-to-Pizza" initiative, and constantly searching for fresh in-season produce from local urban & rural farms to feature on their flatbread pizzas.  They are also committed to using only local organic flours, free range organic meats, organic free range eggs, Ocean Wise seafood, local veggies from urban & rural farmers & local craft beers & local wines.  Now with Chef Oliver Zaulauf's expertise, they are adding wild foraged foods to their menu, taking it to the next level.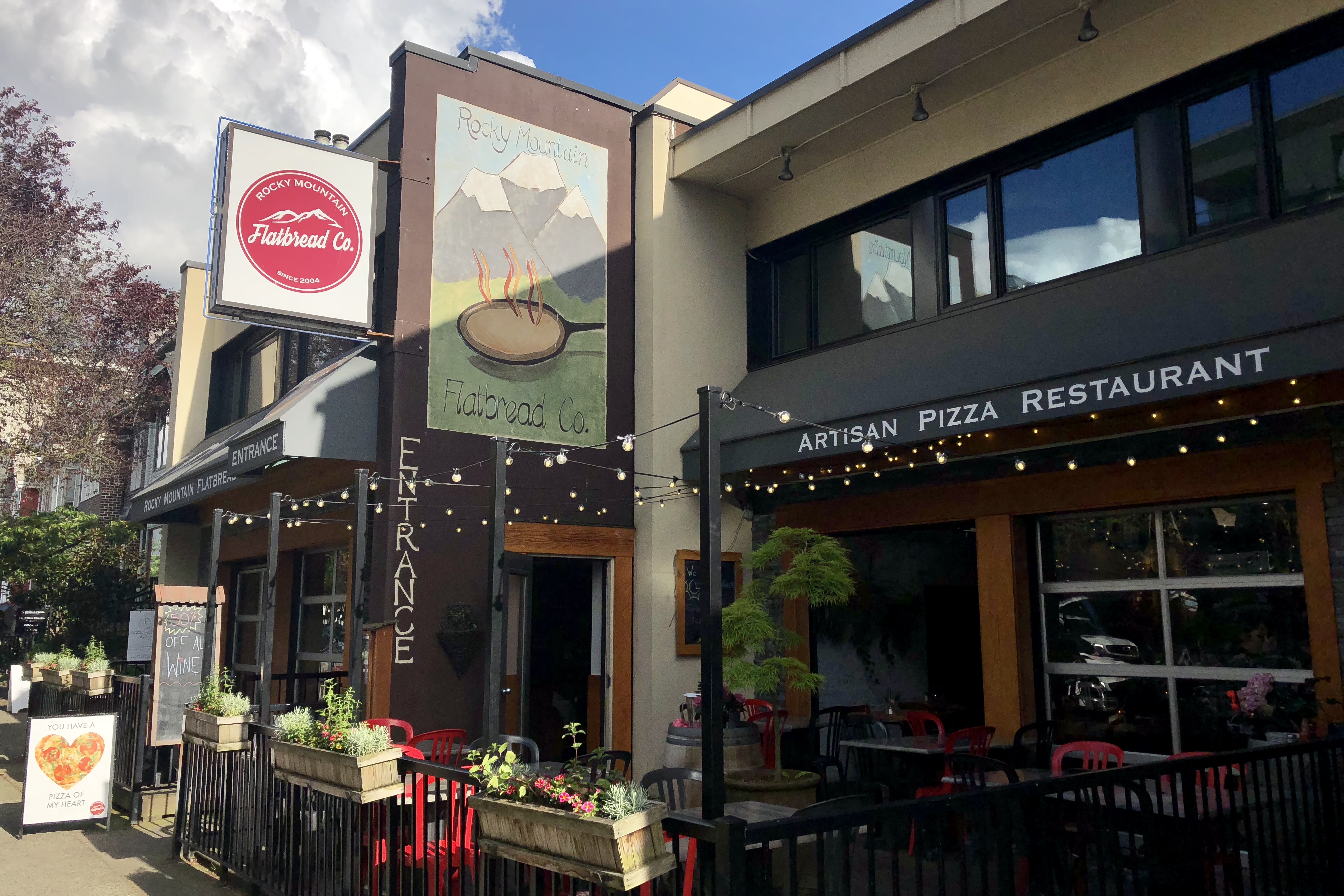 We were welcomed with a couple refreshing cocktails, including a light and citrusy sangria, and a gin cocktail featuring spruce syrup and earl grey, garnished by a spruce tip, which is quite interesting. Who would have known that spruce needles are exceptionally high in Vitamin C, rich in potassium and magnesium, and have many other health benefits!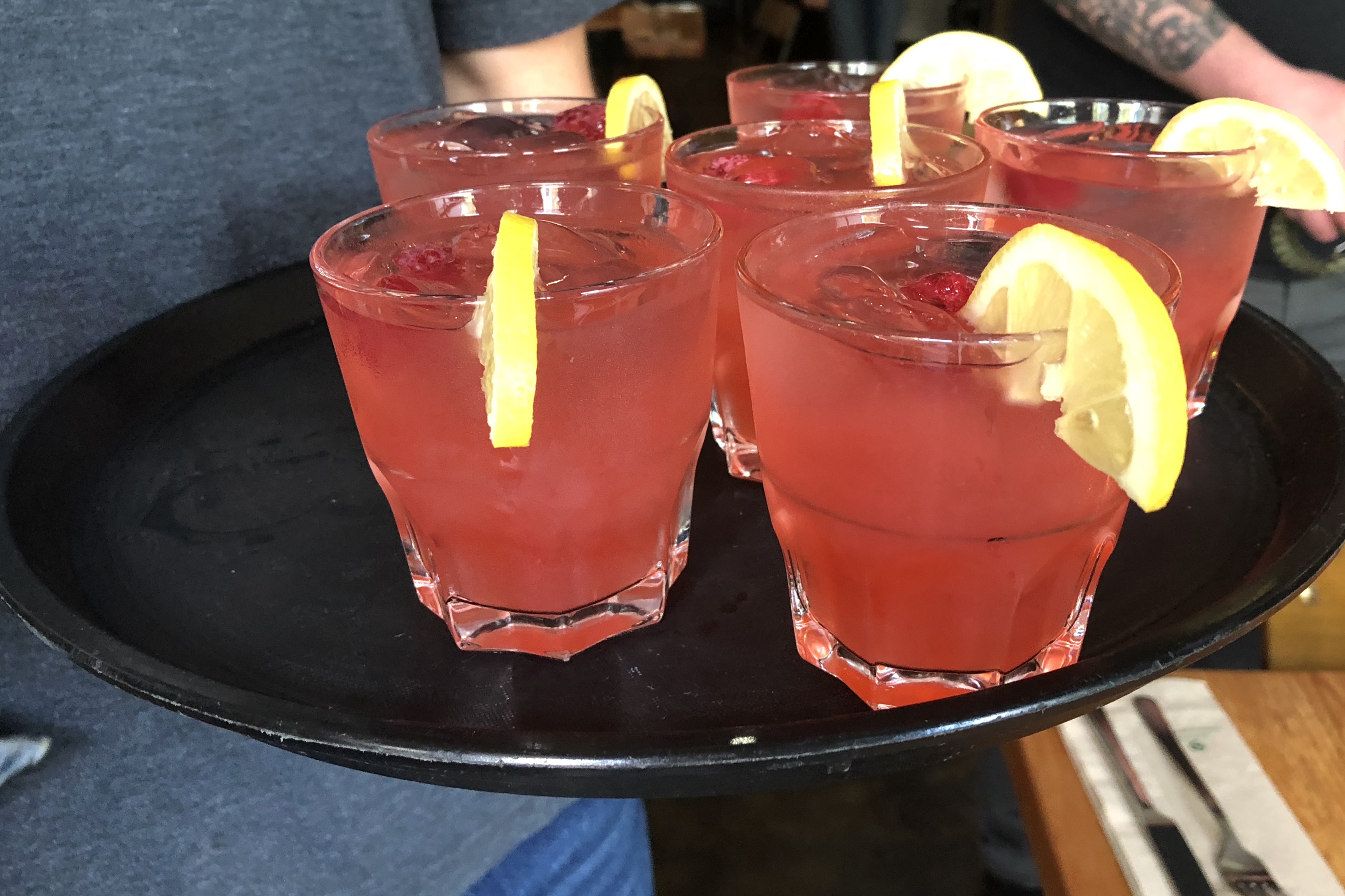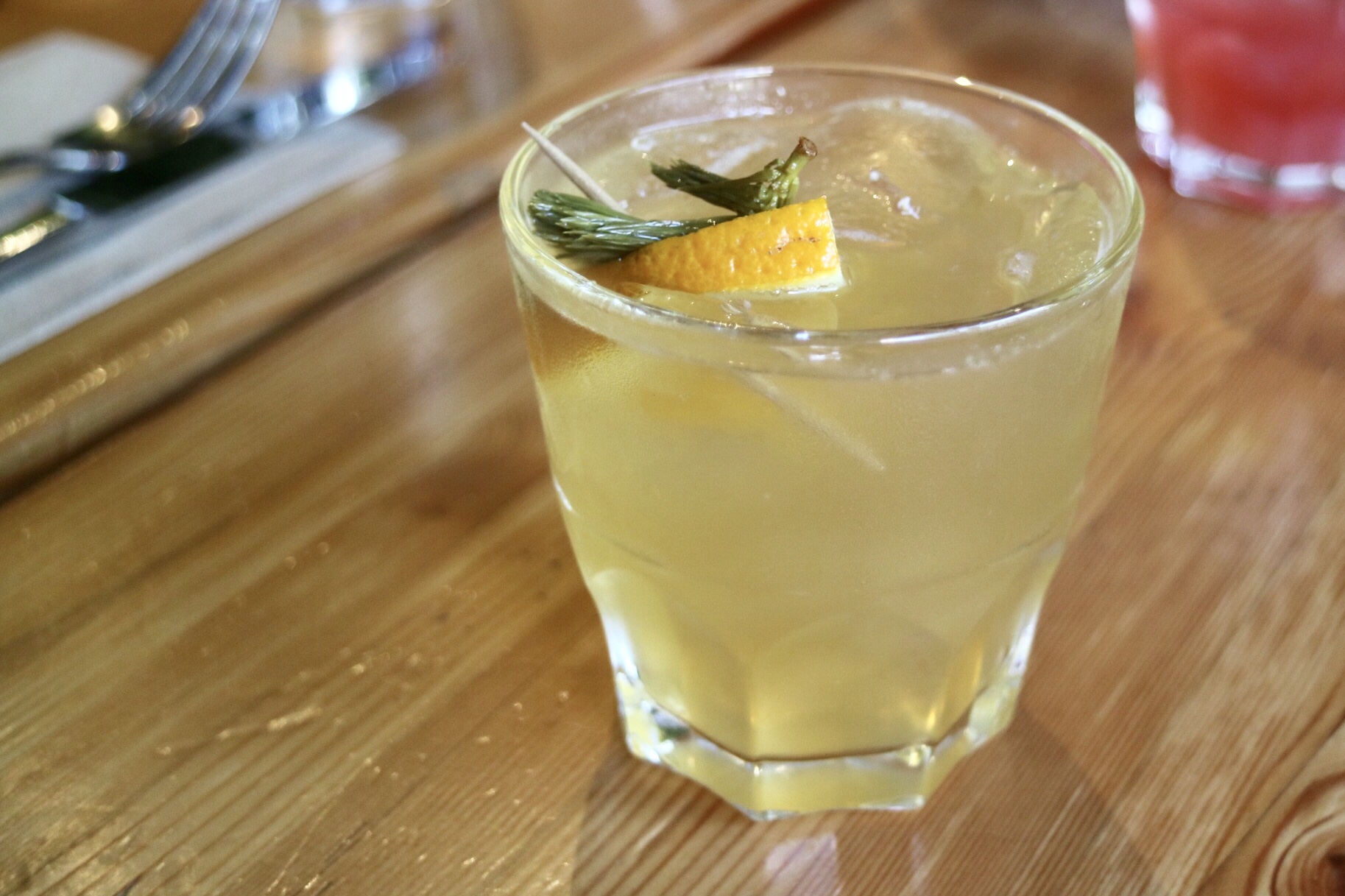 Then we met Carla Budd, a holistic registered nutritionist, who showed us the health benefits of the whole list of wild foraged foods. And the feast followed, with mouthwatering amuse bouche, salad, pizza, and pasta loaded with wild mushrooms and wild greens like cattails, wood sorrel, fiddleheads, mustard greens, knotweed, green garlic, wild fennel, wild onion, miners lettuce, onion flowers, and spruce tips.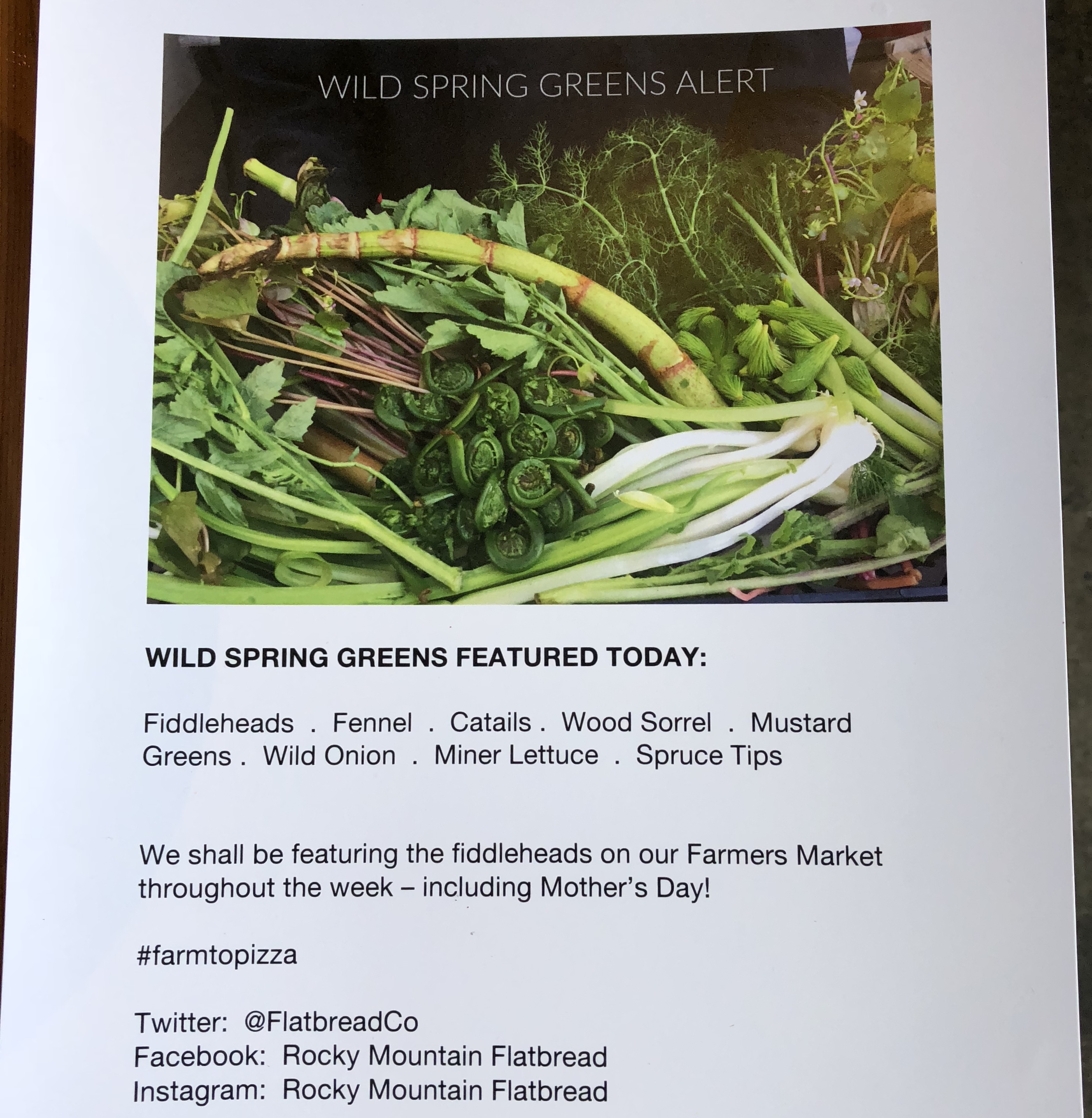 Carla and her husband run West Coast Wild Foods, which is "providing quality fresh wild mushrooms, dried wild mushrooms, fresh wild greens, handcrafted BC maple syrup, morels, truffles and other foraged".  I actually was impressed by their wild mushroom soup and the pickled fiddlehead, down at the Vancouver Christmas Market during the holidays. And they contributed to the delicious first course, the Wild Mushroom Bruschetta. Mushroom is such amazing ingredient that provides a great source of protein and nutrients, as well as the natural umami flavour to the palate.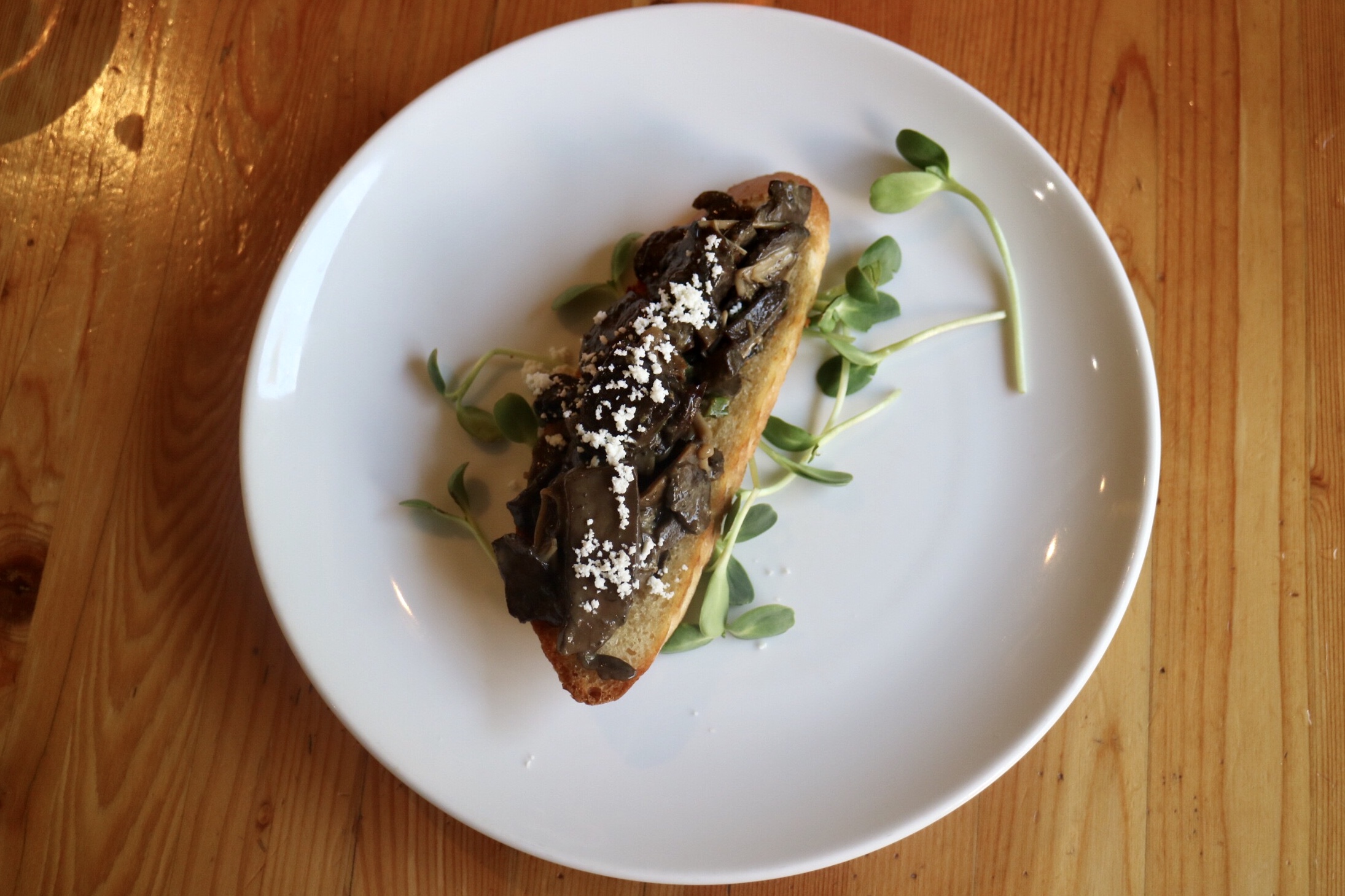 The next course was a Wild Green Salad incorporating many different wild foraged greens.   The main leafy here was mustard greens, an exceptional source of vitamin K. We also found free run eggs, local cheddar cheese, and organic vegetables such as cherry tomatoes, carrot, and cucumber, finished with a very light tangy vinaigrette.   It's a super salad that makes you feel good after eating it. And I have to agree with Maggi that a sweet component might brighten up the dish a bit, such fresh apple or apricot.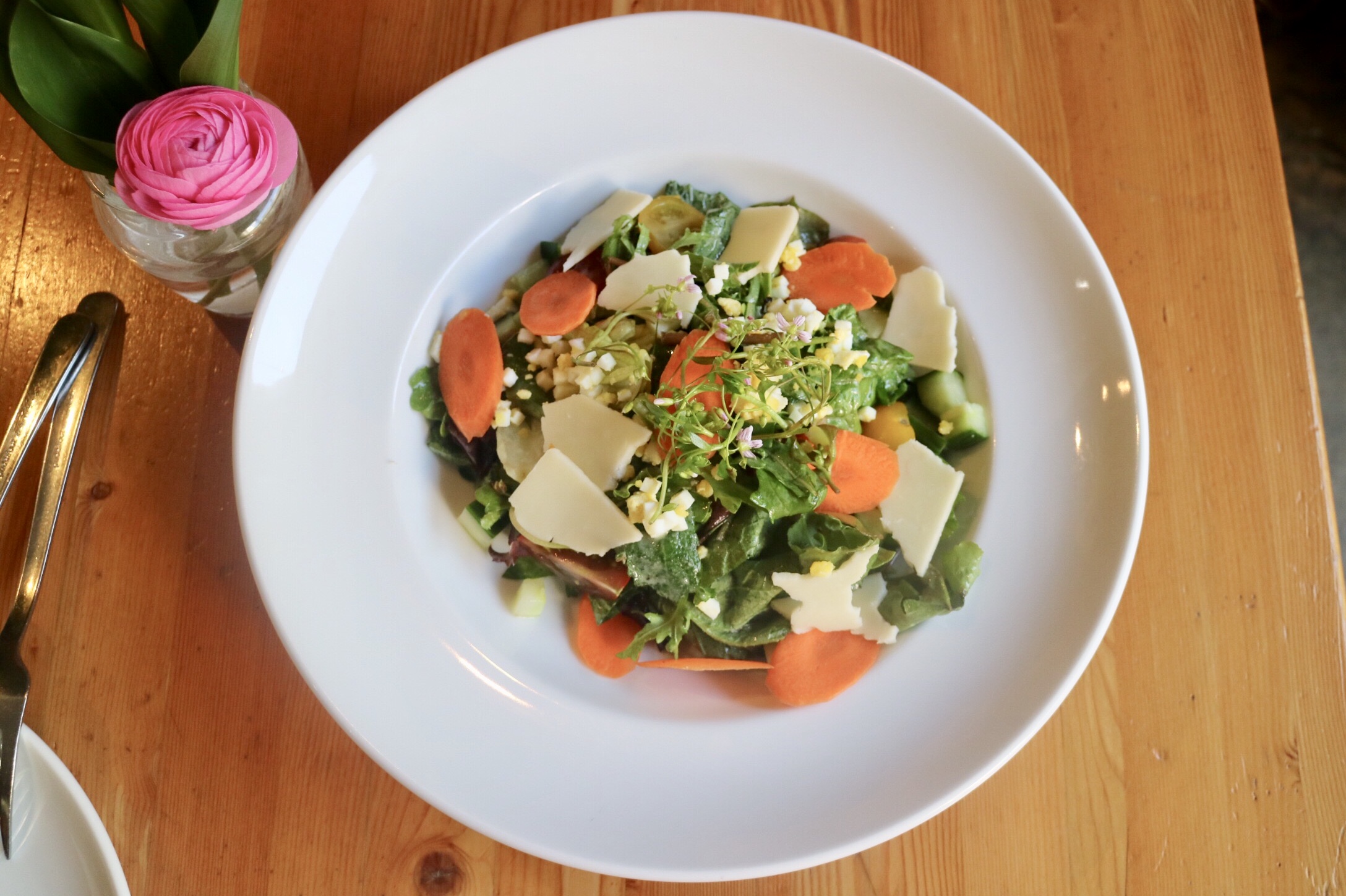 Entered the pasta dish, and I was loving the pesto sauce made with nettle mainly, and a few other wild plants, and a citrusy touch from wood sorrel. And we learned about how invasive plants like knotweed can be eaten and boycotts are taught that cattails were edible in the wild. And all these plants have incredible health benefits. Overall the pasta was delicious and comforting, although I ran into a little extra fibre from the wild plants. It was no easy task for Chef Oliver to carefully prepared the wild plants into the tasty bits in our plates, which we truly appreciated.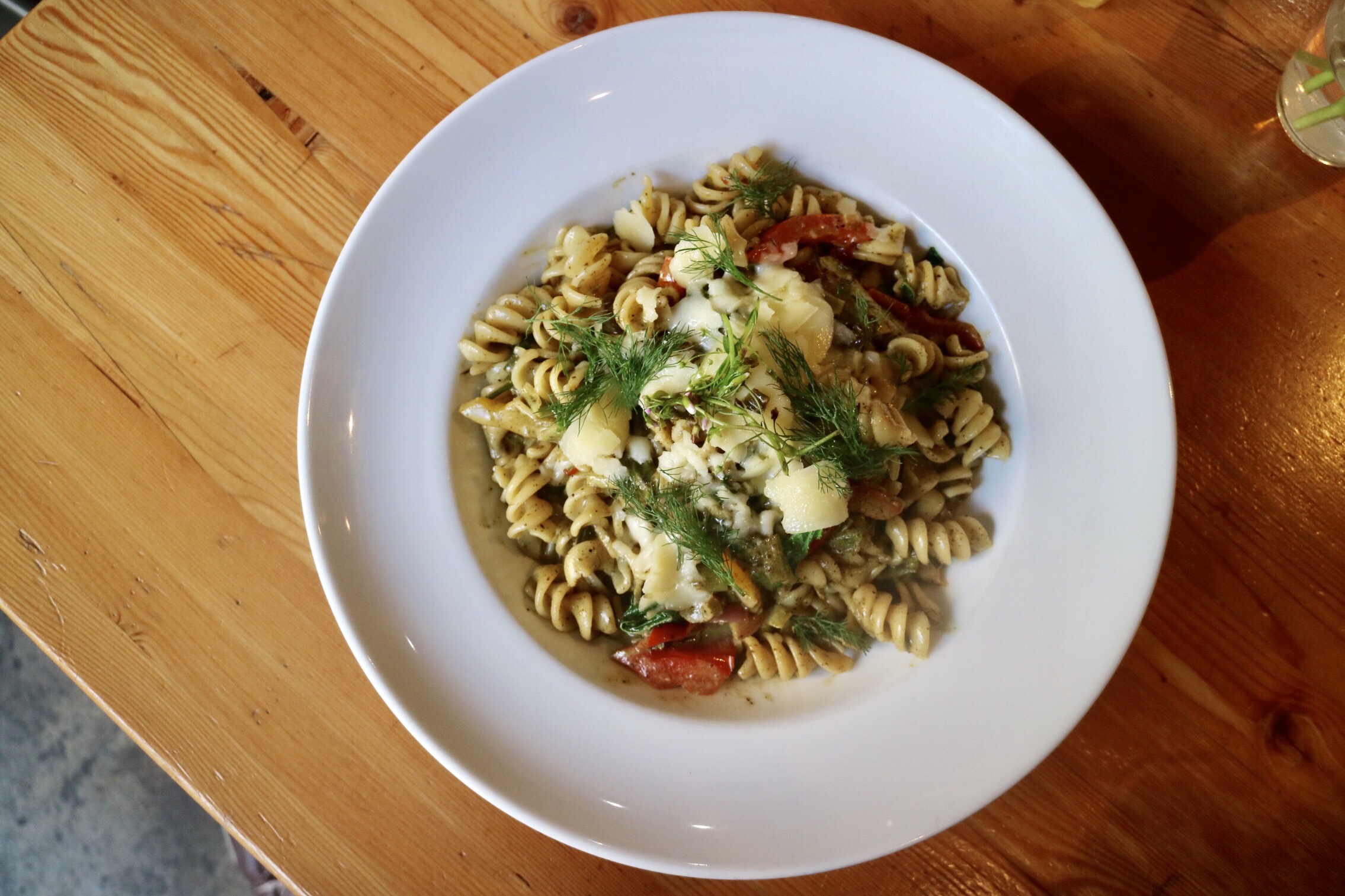 The pizza was awesome as always at Rocky Mountain Flatbread. Besides the similar use of pesto sauce and the wild plant ingredients, the big star here was fiddlehead. Fiddleheads are known to have antioxidant activity, and they are a source of omega-3 and omega-6 fatty acids, as well as high in iron and fibre. They only can be cultivated in a very short period of time in the spring, but they can be frozen or pickled for being used throughout the year. Like the previous dishes, the chef has tactically added ingredients like bell peppers to balance the flavours and texture, which is quite brilliant.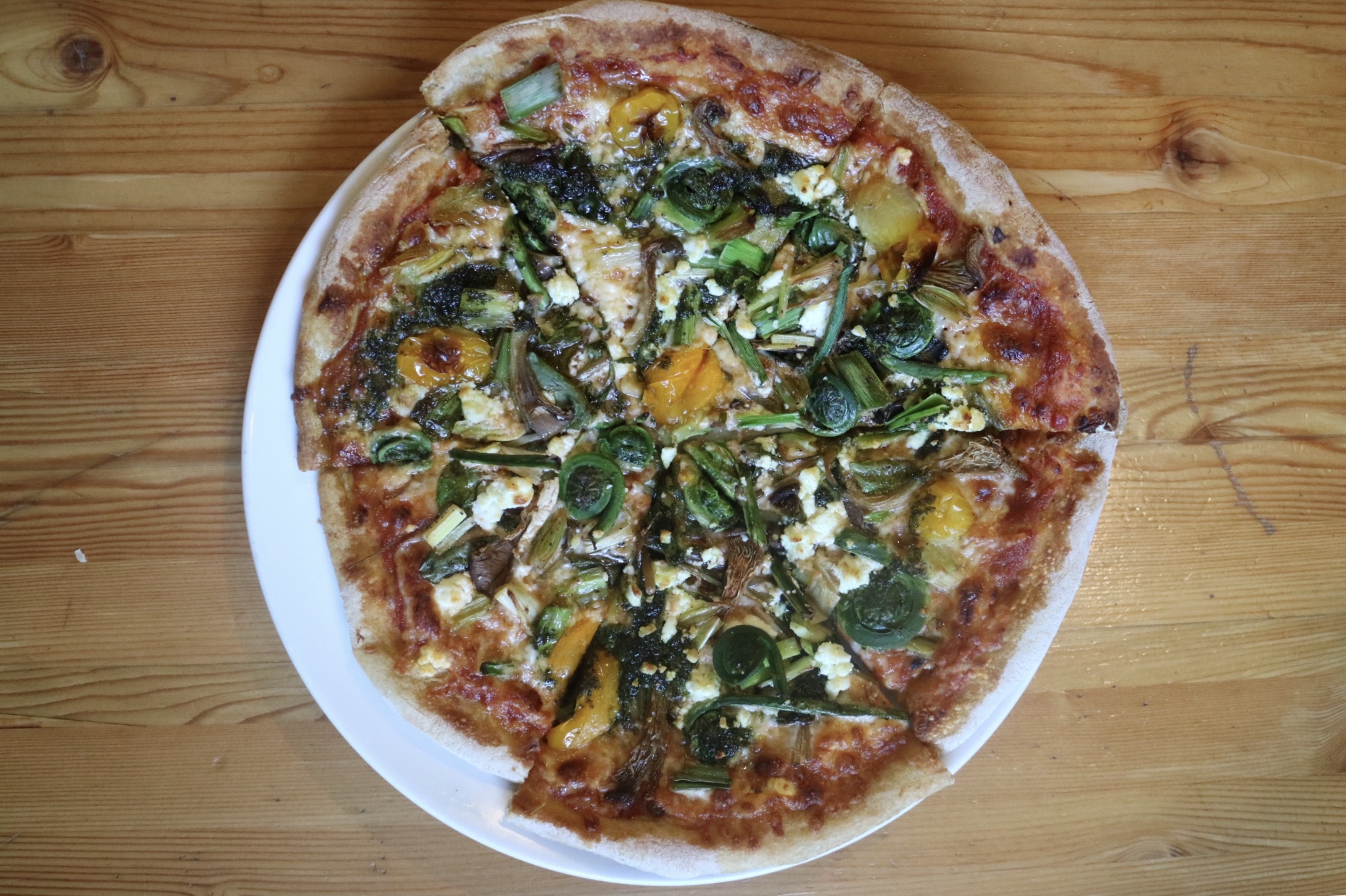 RMF also offered their popular  "Reinvented Fig and Brie", topped with arugula and local cured ham. The dish gives a taste of the Mediterranean sea as figs are a staple ingredient in many of the regions there.  Sweet and creamy fig jam, savoury ham, and crispy crust, all the different flavours and textures working so well together, It was simply divine.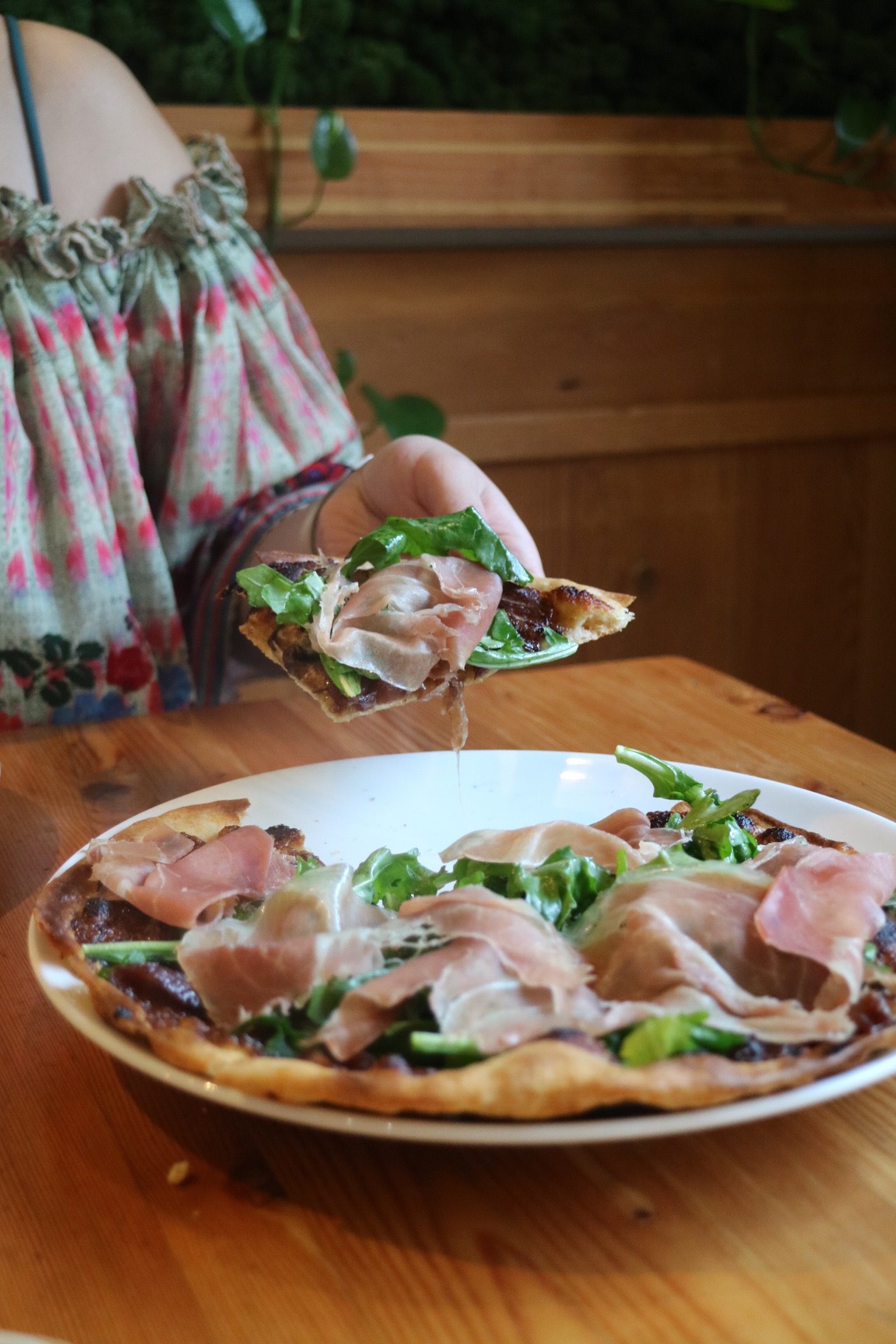 We also tried RMF's famous Chocolate Brownie with House Made Vanilla Ice Cream, some sweet indulging after all the healthy foods that we just ate.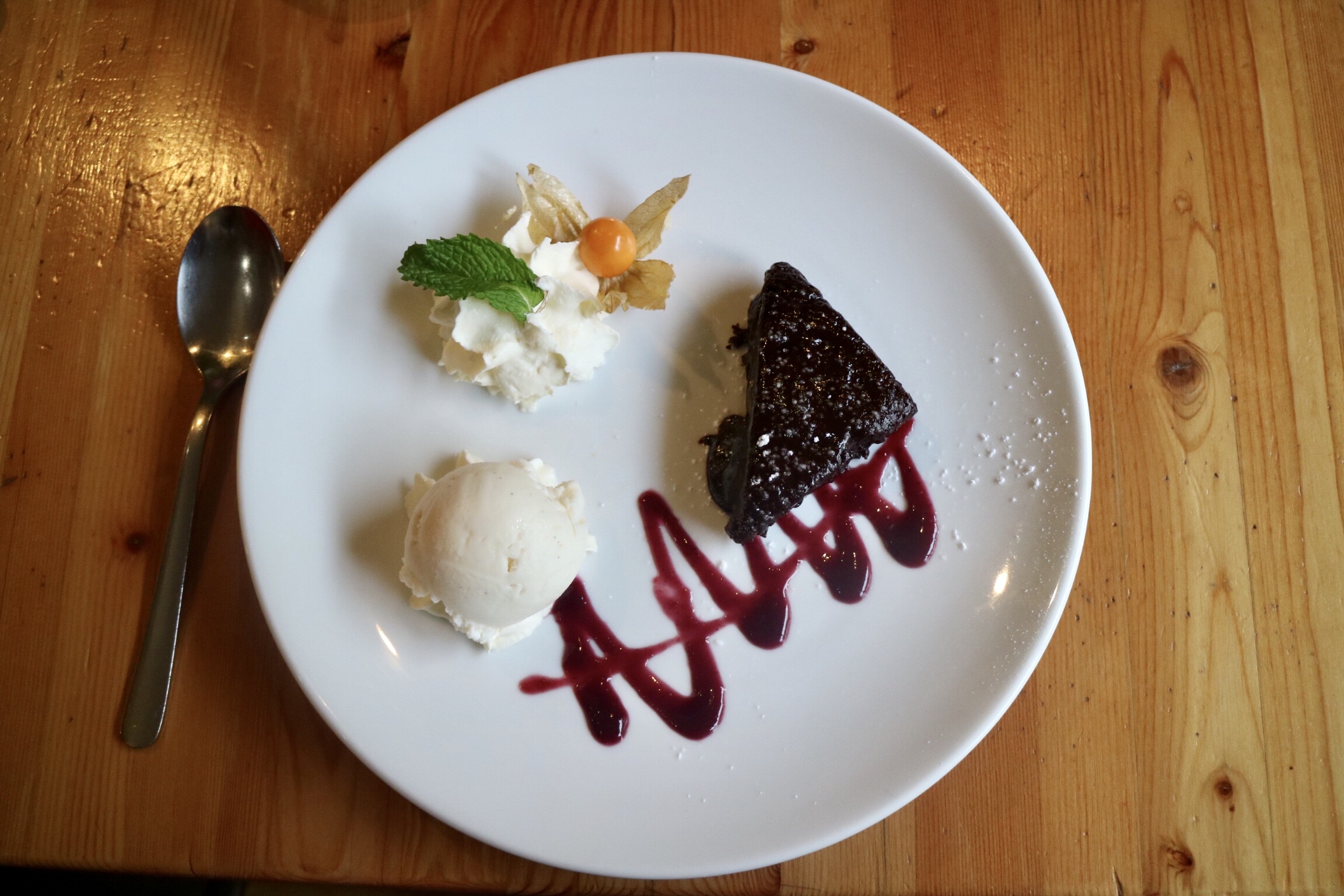 Last but not least, we were served with some "coffee", but actually made entirely with changa mushrooms that grow on birch trees. In the "coffee" blend, we can also find dandelion, chicory root, orange peel, and cinnamon. Not super rich, but soothing and delightful – it would lie right between coffee and tea, and highly recommended for a tasting. It helped Carla to get rid of drinking coffee and it might work for you as well!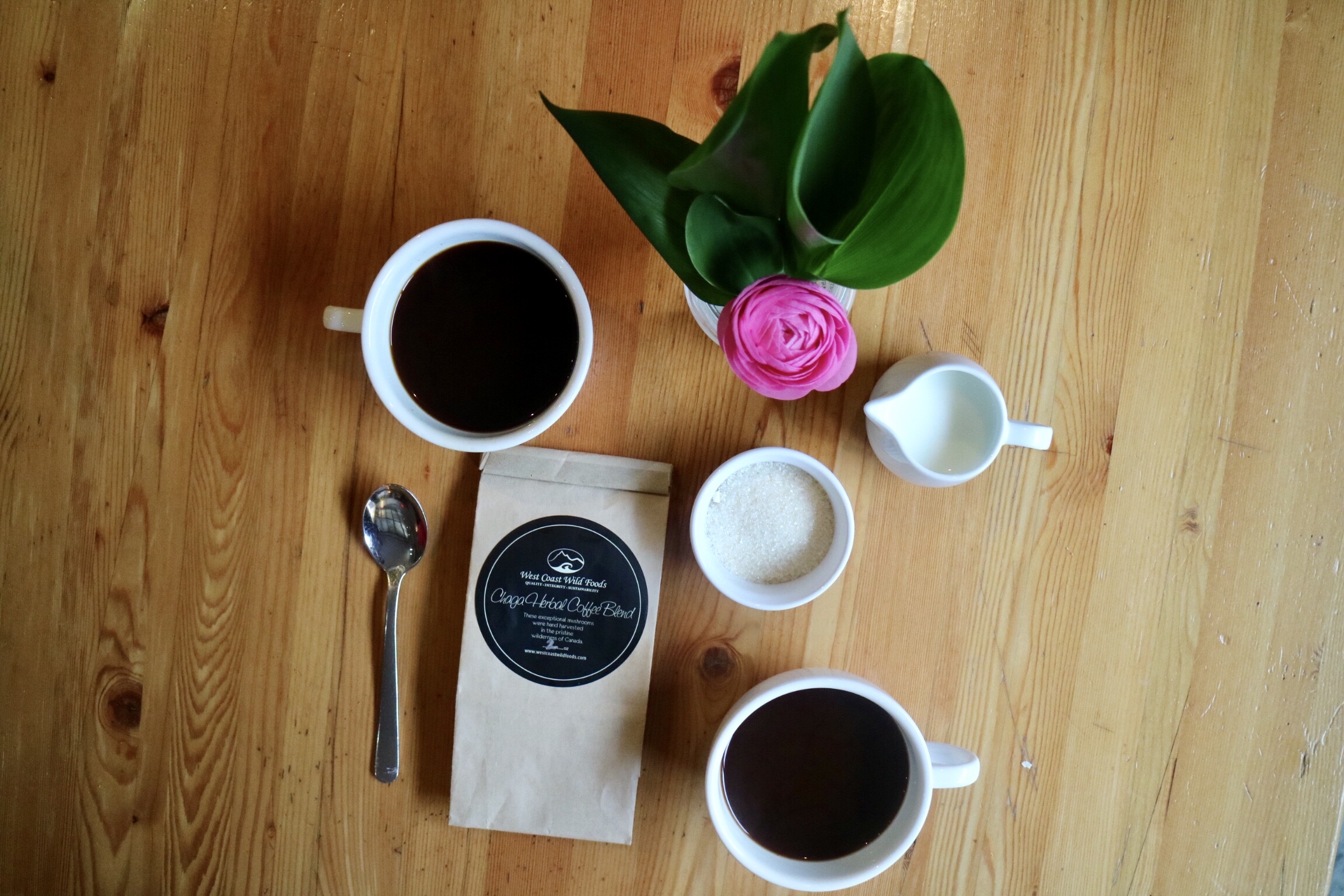 To find out more about wild foraged foods in Rocky Mountain Flatbread's menu, please visit:
Rocky Mountain Flatbread
Riley Park: 4186 Main St, Vancouver, BC V5V 3Y7 or (604) 566-9779
Kitsilano: 1876 W 1st Ave, Vancouver, BC V6J 1G5  or (604) 730-0321
Riley Park