I have been writing the posts on newly opened restaurants on monthly basis on Vancouver Foodie Pulse, and I have noticed all the new 'poke' restaurants popping up in the city like out of control. 'Poke' (pronounced 'po-keh') is apparently a type of popular fast food meal in Hawaii, consisting of raw fish, salad, rice, and all sorts of toppings for texture or flavour enhancement. And the partial DIY experience and the healthy ingredients seem to attract a lot of people.  And how could Picky Diner miss out this latest food trend?
So I dragged Ken to one of poke joints near my office, The Poke Guy on Seymour and Hastings.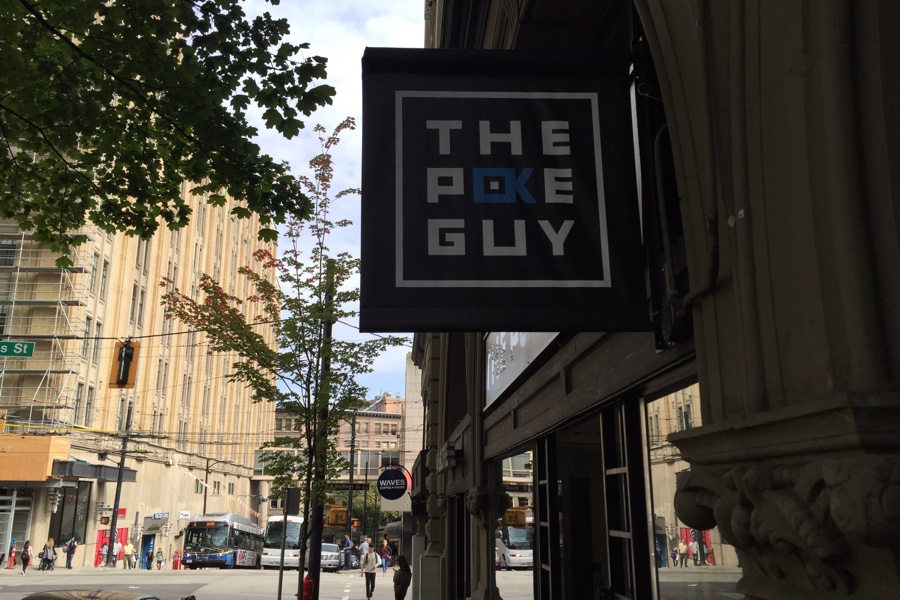 It was around 11:45 am, and there was a bit of a lineup. The place is not big, and it could seat around 15 – 20 people. Not a lot of people were sitting down to eat, maybe because it was pretty warm and almost feeling a little stuffy in there.  But most people here are just for a Grab n' Go anyway.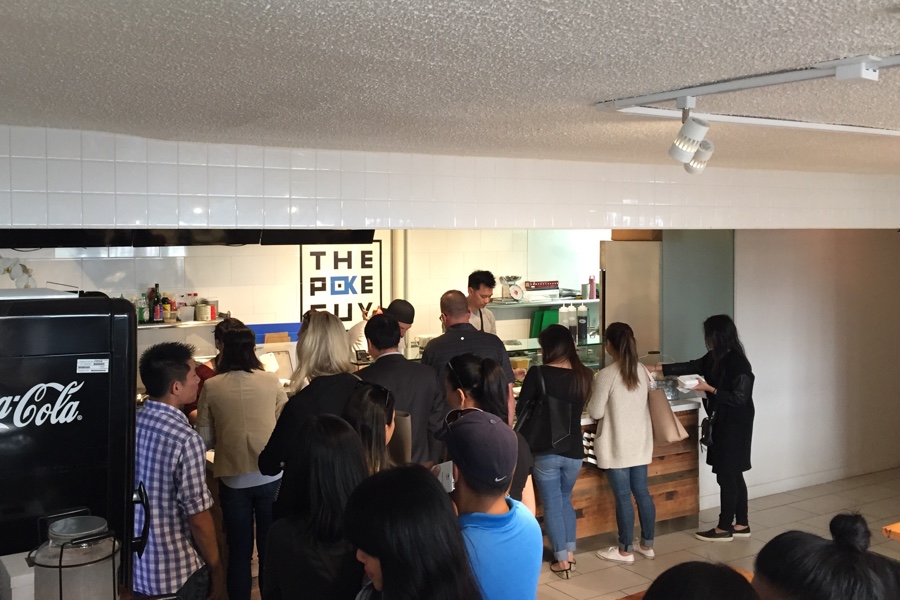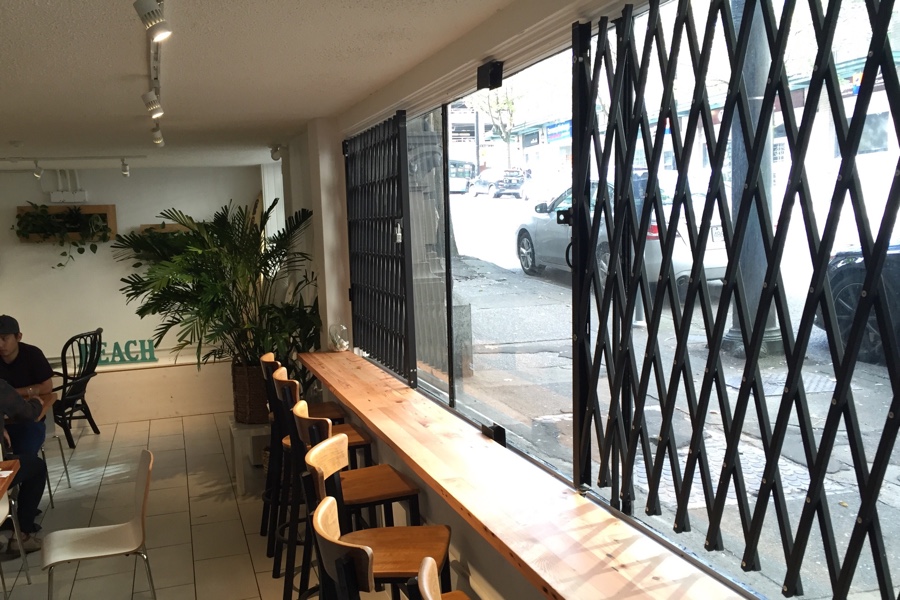 The over the counter service was quite similar to Chipotle,  you get to pick your protein first, with the choices of seafood including sockeye salmon, ahi tuna, baby shrimp, and tako (octopus). I found it hilarious when the girl said 'Tako' when she was describing the options. I was like, 'Taco'?  Is this Hawaiian or Mexican? For around $11, you get to have 2 types of raw seafood on top either rice or salad, or both, which is quite flexible. There are a lot of veggie components to be picked from, and it does take some time for the first timers to figure out what they really want.  So it's easy to just tell them to put 'everything'.  It's nice to find mango and pineapple available because they certainly bring the Hawaiian flavours to the meal.
And at the end the station tramadol c o d overnight there were the toppings for the final touches, such as seaweed, edamame beans, wasabi peas, fried onion or garlic, peanut powder, pea tips, etc.  So many choices!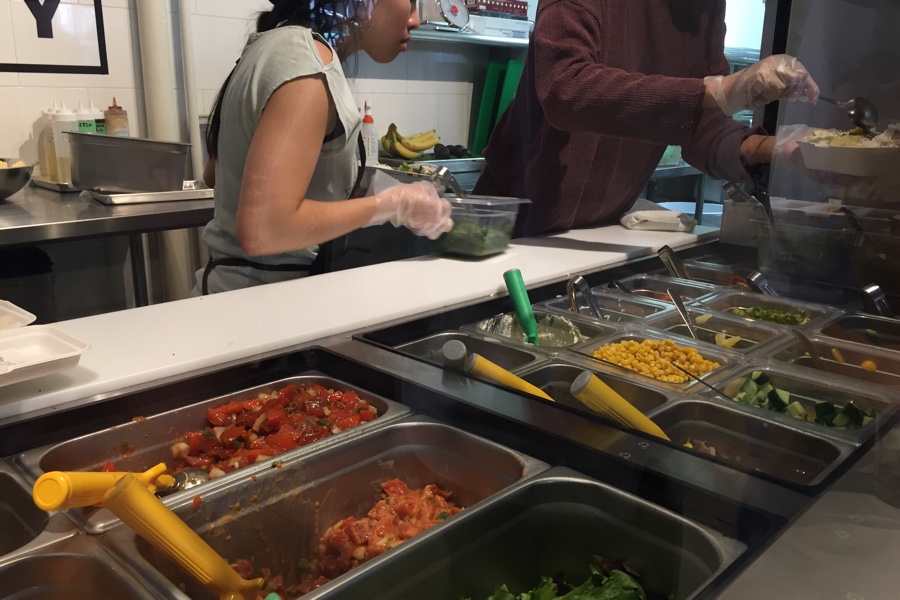 So ta da! These are what we ended up getting…
Ken's got the duo of Ahi tuna and baby shrimp on steamed rice,  dressed up with some flavouring powder that looks like Furikake, edamame beans, wasabi peas, pine apple, and a whole lot of other stuff. I mean it's really no elegant way to present this as it's just a big salad you've just picked from a salad bar. Ken thought it was okay – nothing really stood out for him.  For the same price he would rather go to Kyzock for a seafood rice bowl that's more of a creation rather than a DIY salad.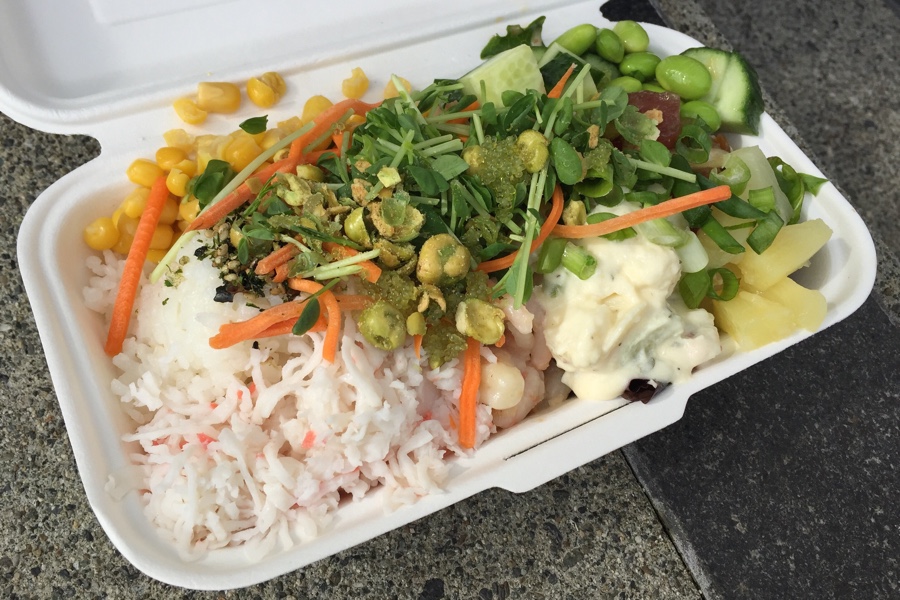 I got 3 types of seafood but ended up playing $5 for the extra scoop of seafood. Ouch!
The spicy sockeye, spicy ahi, and tako (octopus) all tasted very fresh, and the enhancements from pineapple, mango, seaweed salad, cilantro and the Furikake powder were all working together. However at the end of the meal I felt kind of meh.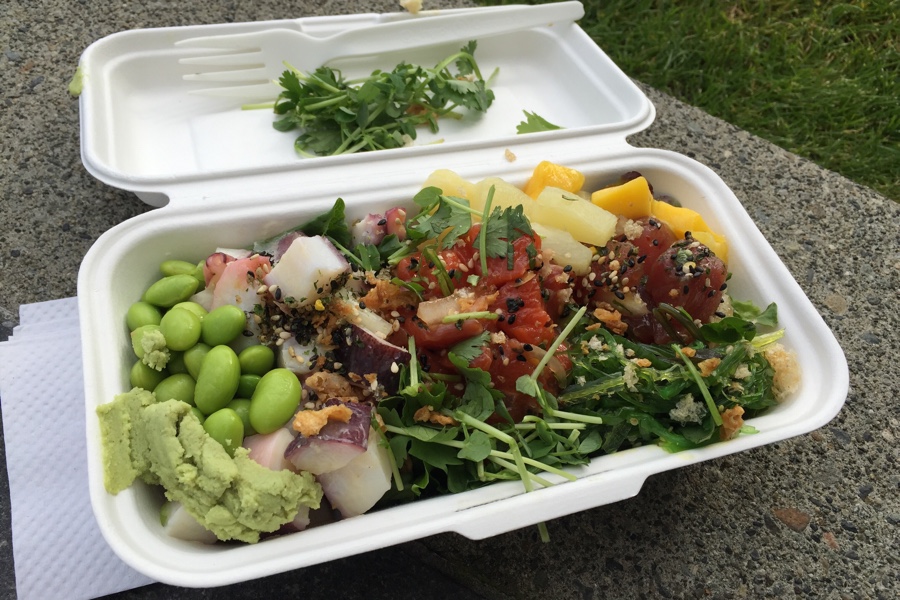 So I get it, a poke joint is pretty much like Chipotle, a fancy fast food joint with lighter and healthier options with quality ingredients. But I think if they can provide some more pre-designed creations rather than having the most of the experience DIY, it would be much more exciting.  Value wise, I don't think I would pay more than $15 for this again – although it was not bad, it just didn't give me a lot of culinary excitement and pleasure.
But if I could find a good deal, I would still try it again. So let me know if you know any awesome poke deals in the city!
Website:
http://www.thepokeguy.com/photos.html
More reviews:
Location: