People enjoy pho and other typical Vietnamese dishes at Pho Tan.  But my buddies didn't take me here for pho, but a secret menu of dishes that need to be ordered 24 hours in advance:  Braised Oxtail, Beer Crab, and BBQ Lamb Chop.  At the end of the evening, I felt the luckiest guy on Earth!
Beer Crab
The Beer Crab dish actually came in 2 courses. Fir, t they served the crab braised in beer in a claypot and with very minimal spices and aromatics: salt and pepper, some ginger maybe, a few slices of onion and a touch of cilantro. The aroma smelt exactly like… beer and pepper. I put a piece of crab leg meat in my mouth. It was at first a sense of delicate and sublime tenderness. Then it hit harder, the tastebuds awoken by a wave of sweetness and freshness. The excitement rapidly emerged and went through the roof! And I had a brief urge of crying: I found the true meaning of umami.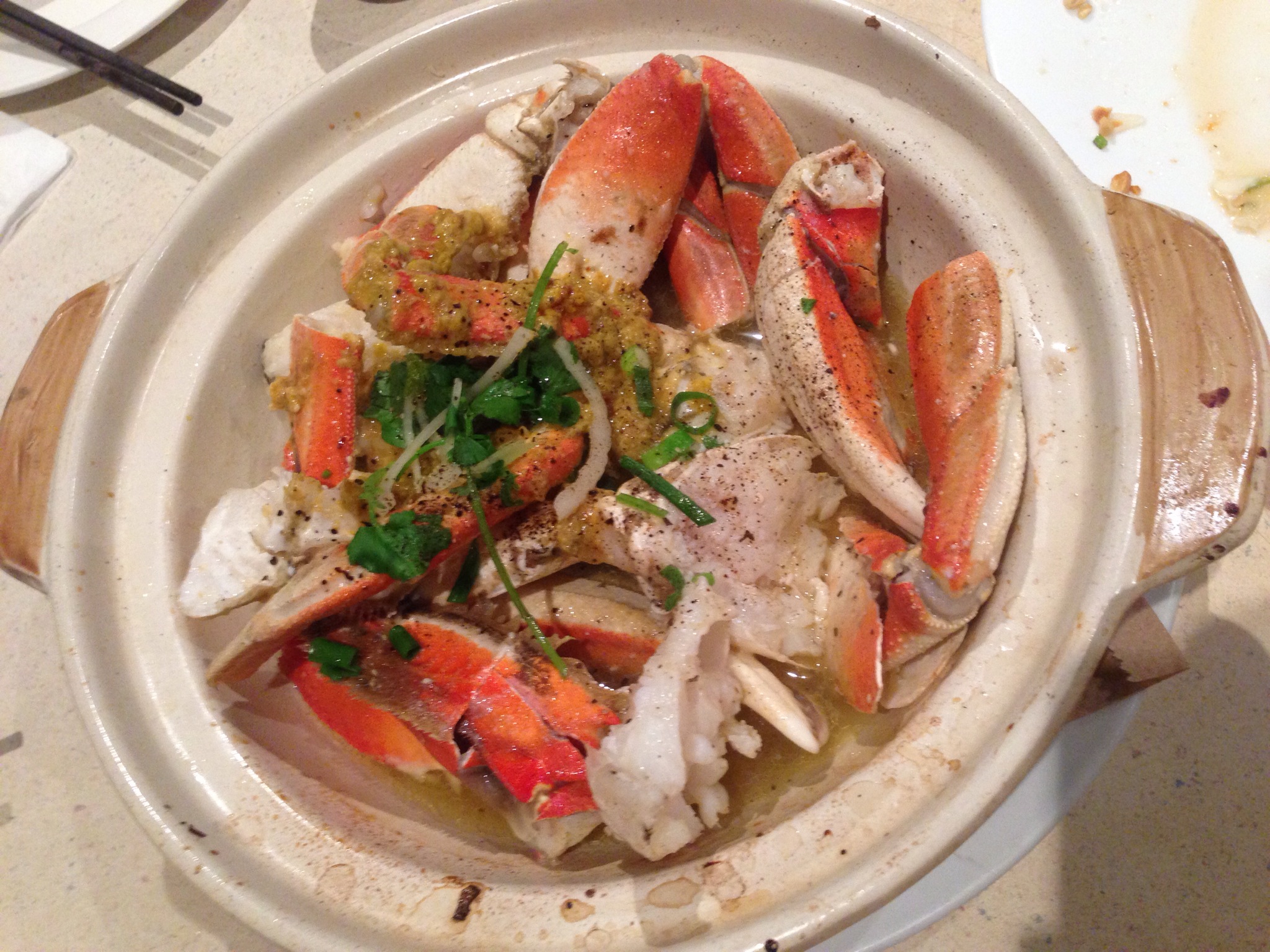 Once the crab pieces were all taken from the clay pot, we had an option of having them use the beer and crab broth and make a rice noodle dish. The rice noodles would have absorbed all the fantastic flavours from the broth. Delicious!
BBQ Lamb Chop
The BBQ sauce tasted somewhat soy-based but with a lot of ingredients and some hint of tomato. However I could still taste how fresh the lamb was. The meat was cooked to perfection of medium rare and it was finger licking good.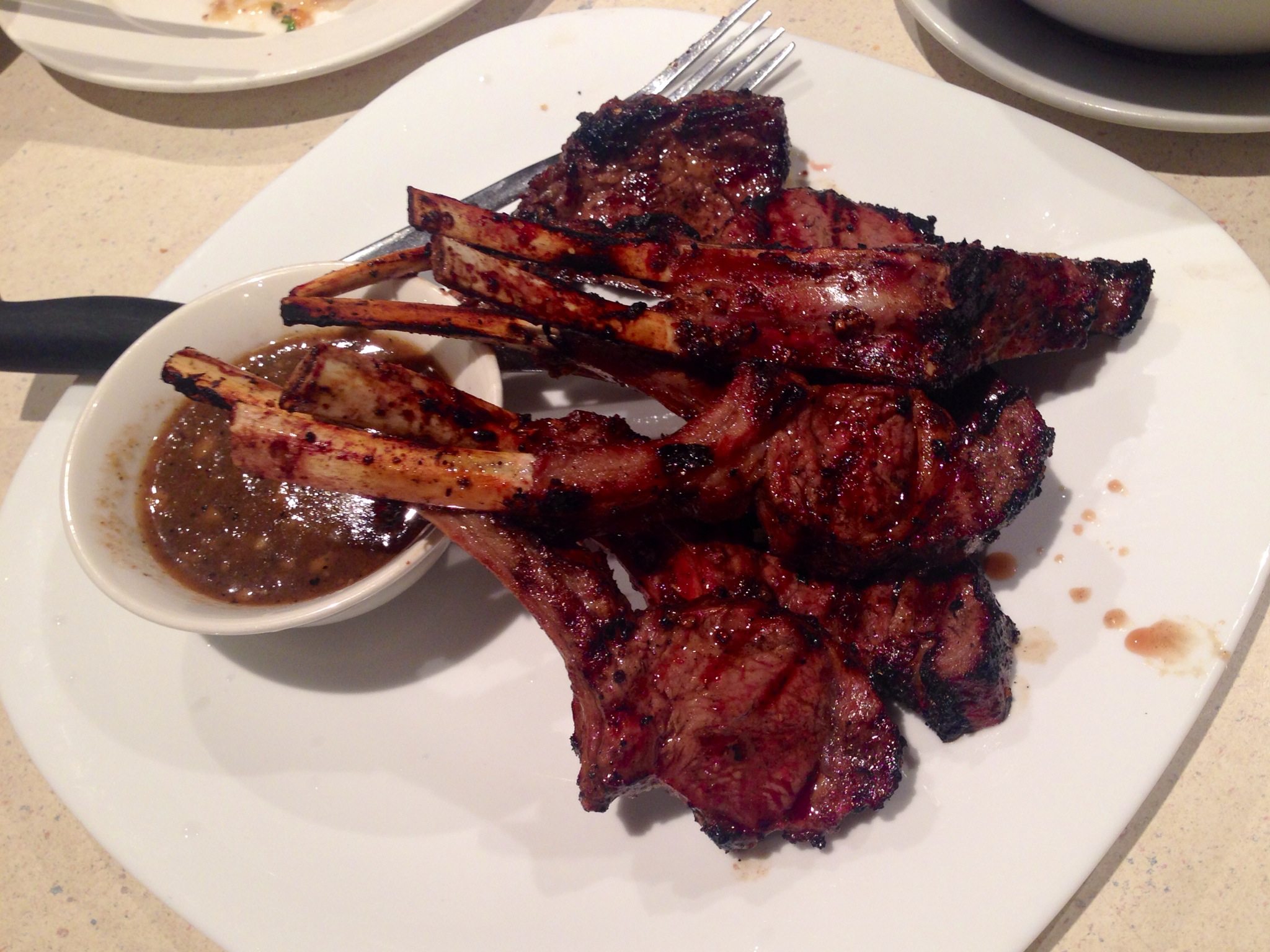 Braised Oxtail
This dish reminded me a popular Chinese dish: braised pork belly. Maybe it was the 5 spices they used, and also I could taste a little bit of that heavenly fragrant caramelization of cooking wine and sugar. The meat easily fell of tail bone and it gave such a satisfying sensation in the mouth.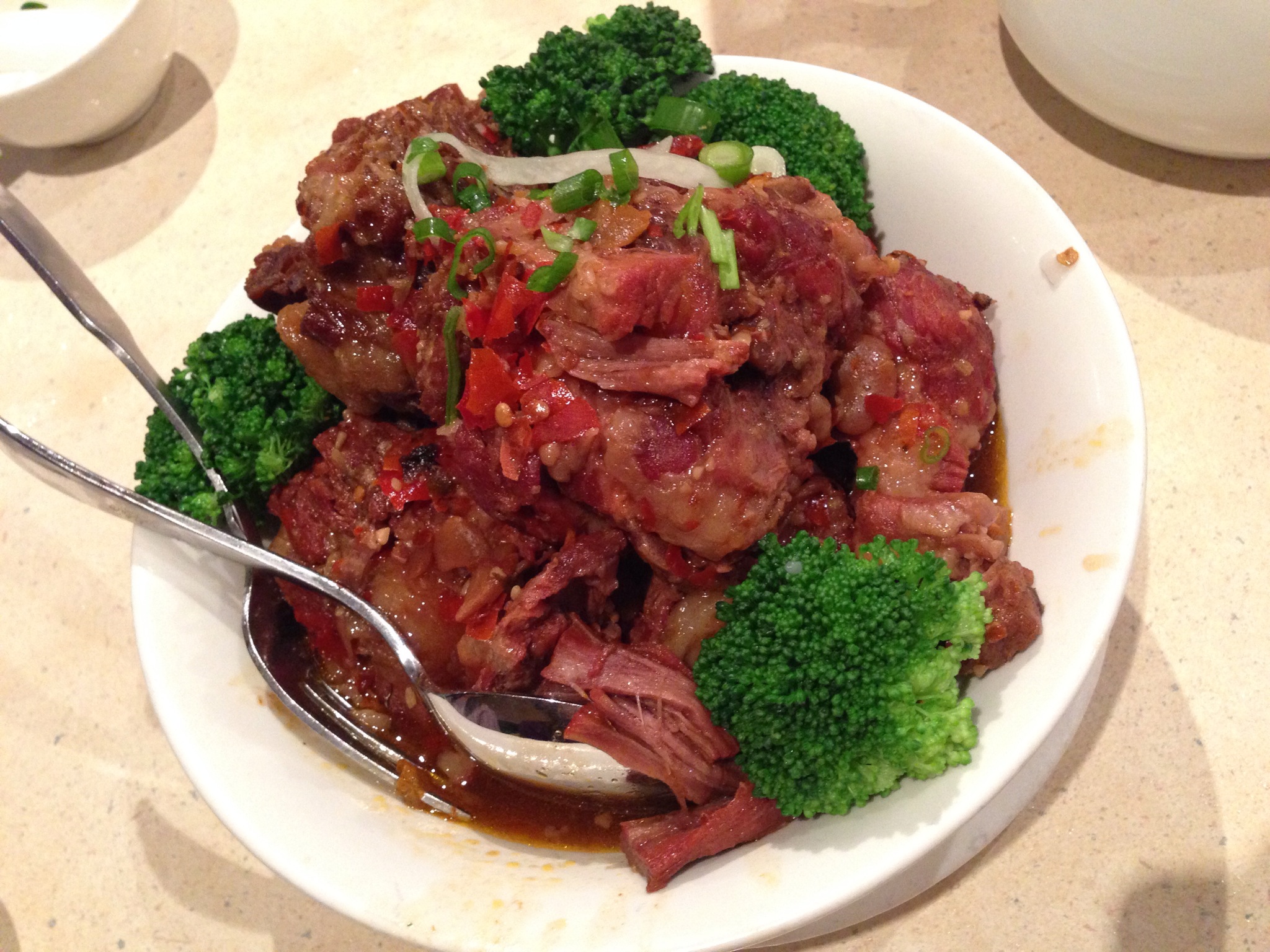 Steamed Eggplant
In this dish, eggplant was chargrilled and skin was peeled off before being sliced and steamed with some chilly sauce. It still had the wonderful chargrilled flavour and it was also sup soft and smooth.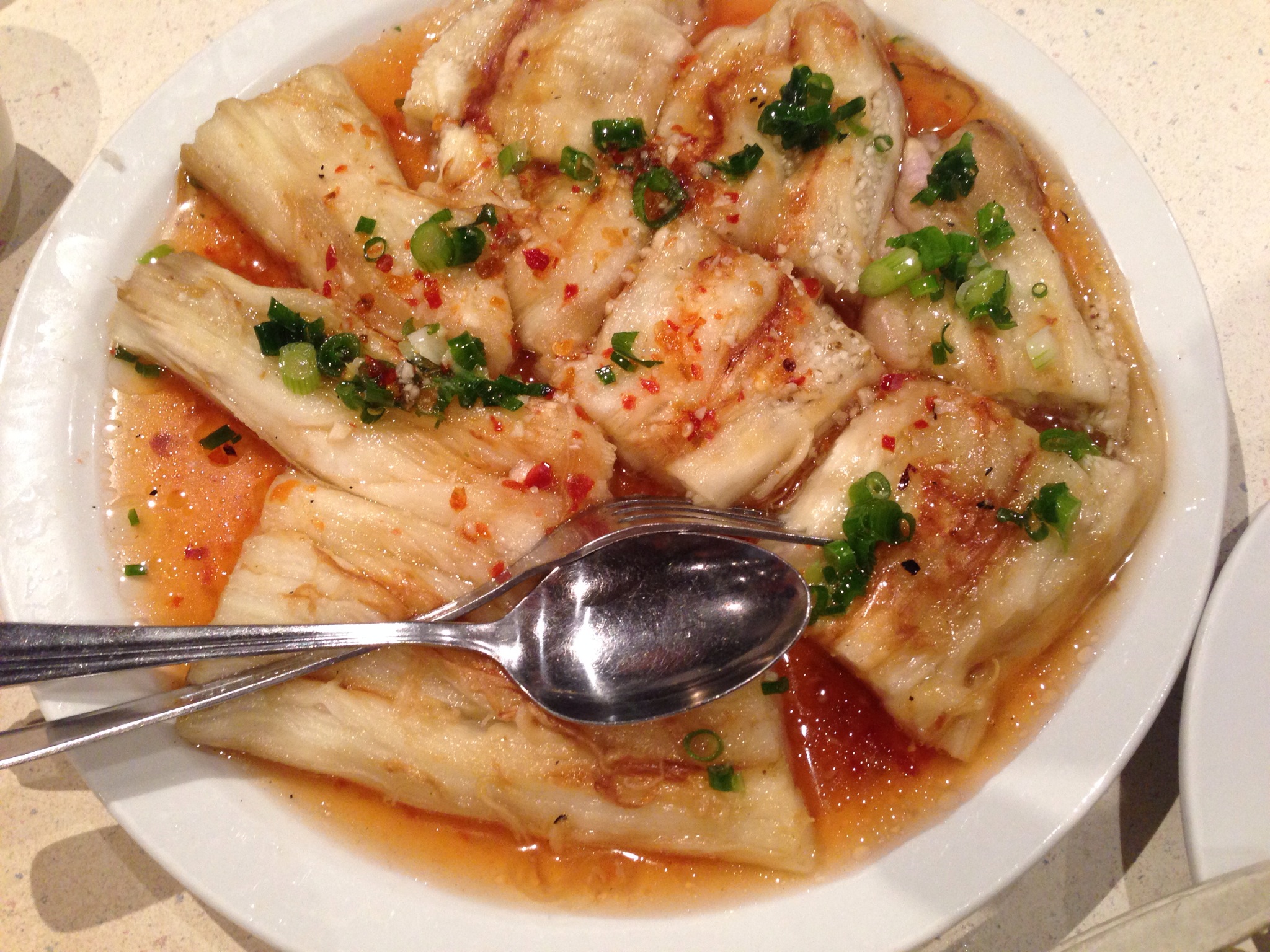 Shredded Chicken Salad
I think they were trying to achieve some wonderful crunchy textures from vegetables: cabbage, lettuce, carrot, etc to contrast the soft shreds of chicken . And I believe it was a success.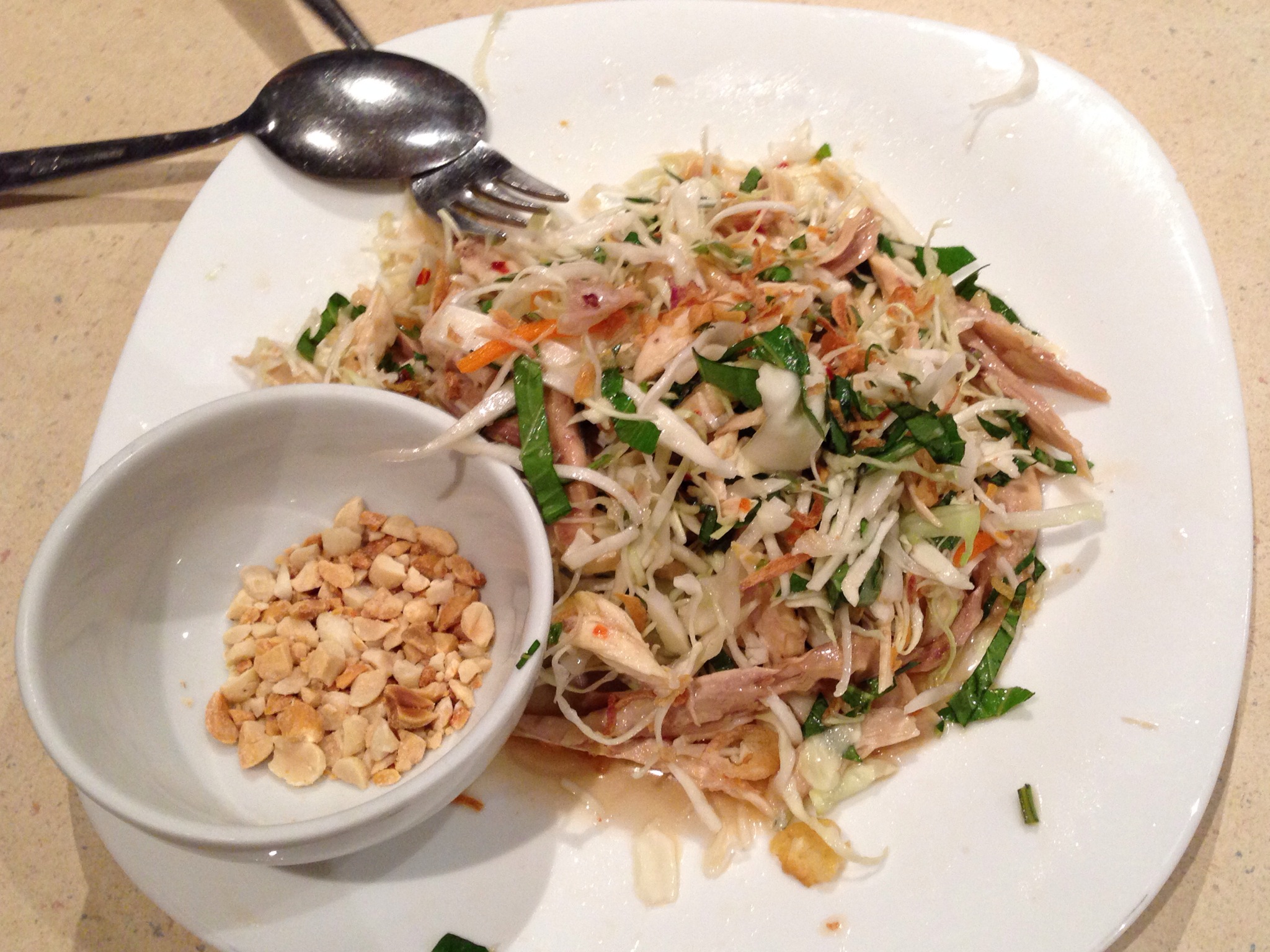 Lemongrass Tofu
I just loved how spicy and tasty this dish was. The stimulating hot chill flavours were whipping down the notes of lemongrass all over my mouth and down my stomach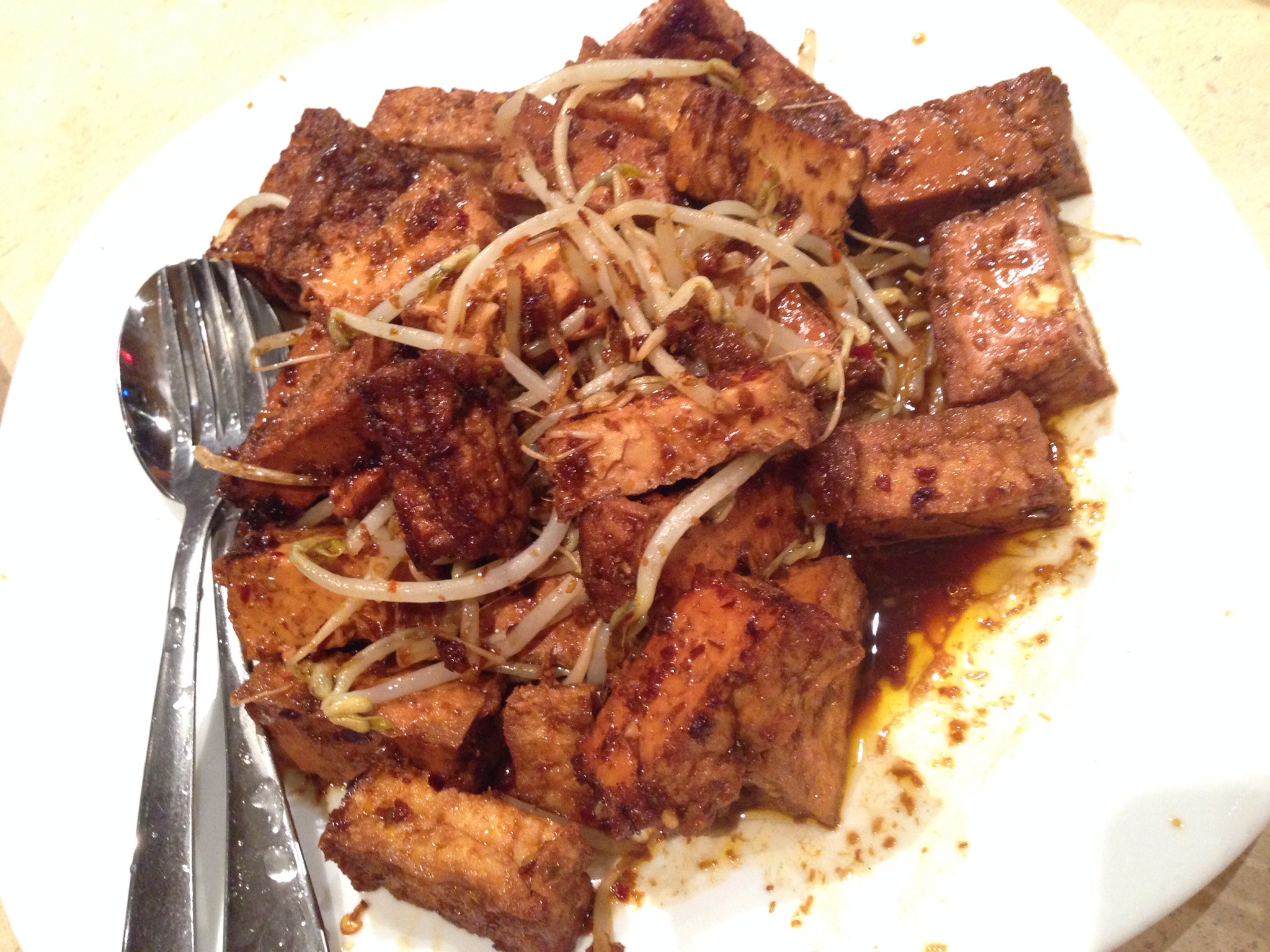 Tong Choy with Shrimp Paste
This is a popular dish among Southeast Asian cuisine: Thai, Malaysian, or Vietnamese. Tong choy is a green vegetable that looks similar to spinach but tastes very crunchy. The dish was cooked well but I thought they did not put enough shrimp paste to bring out the excitement of the dish.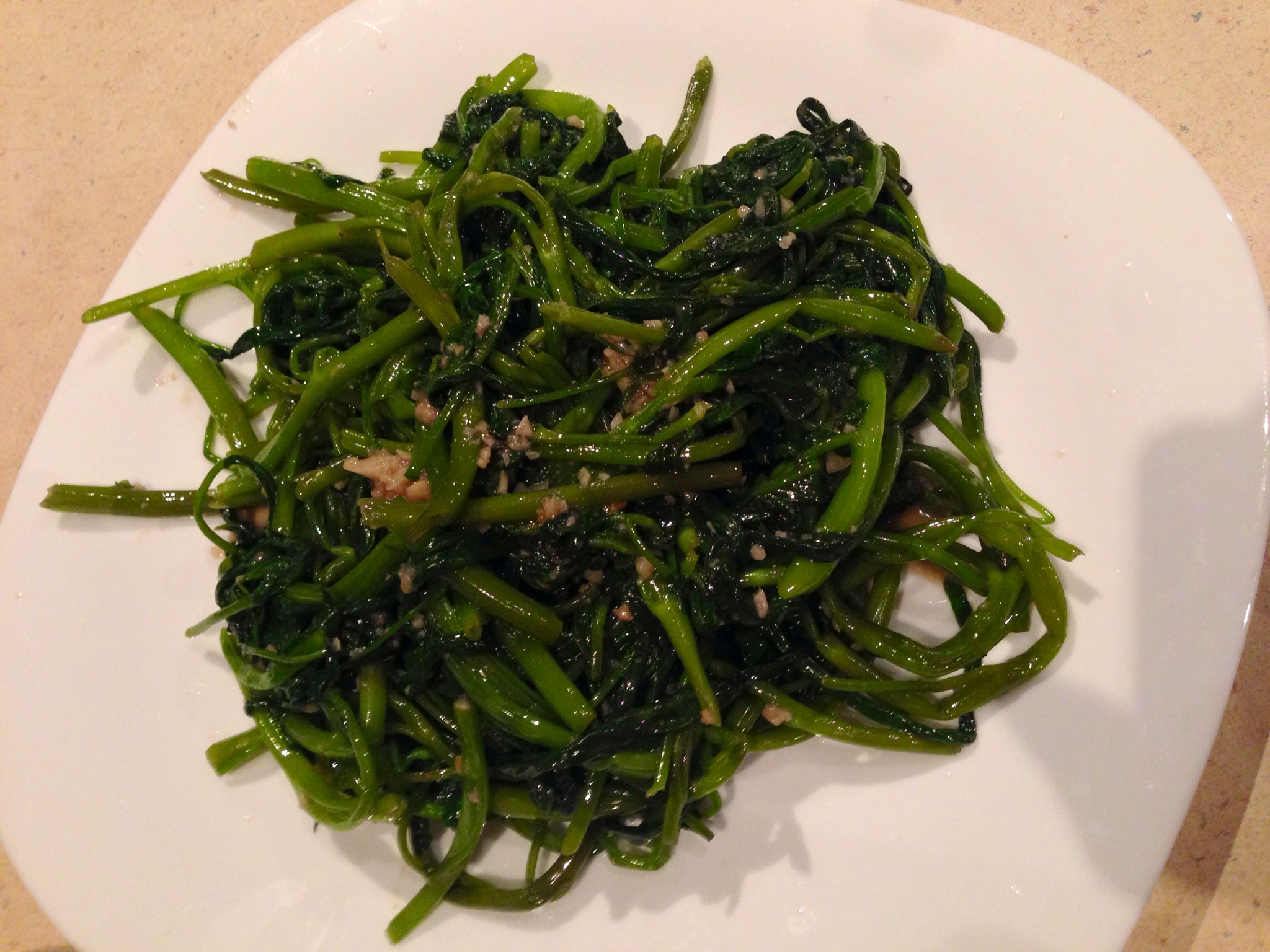 We also ordered a couple items on their regular menu.
Lemongrass Chicken
Lemongrass chicken on rice was ordered for the kids, and they kids were loving it. To me it was pretty standard.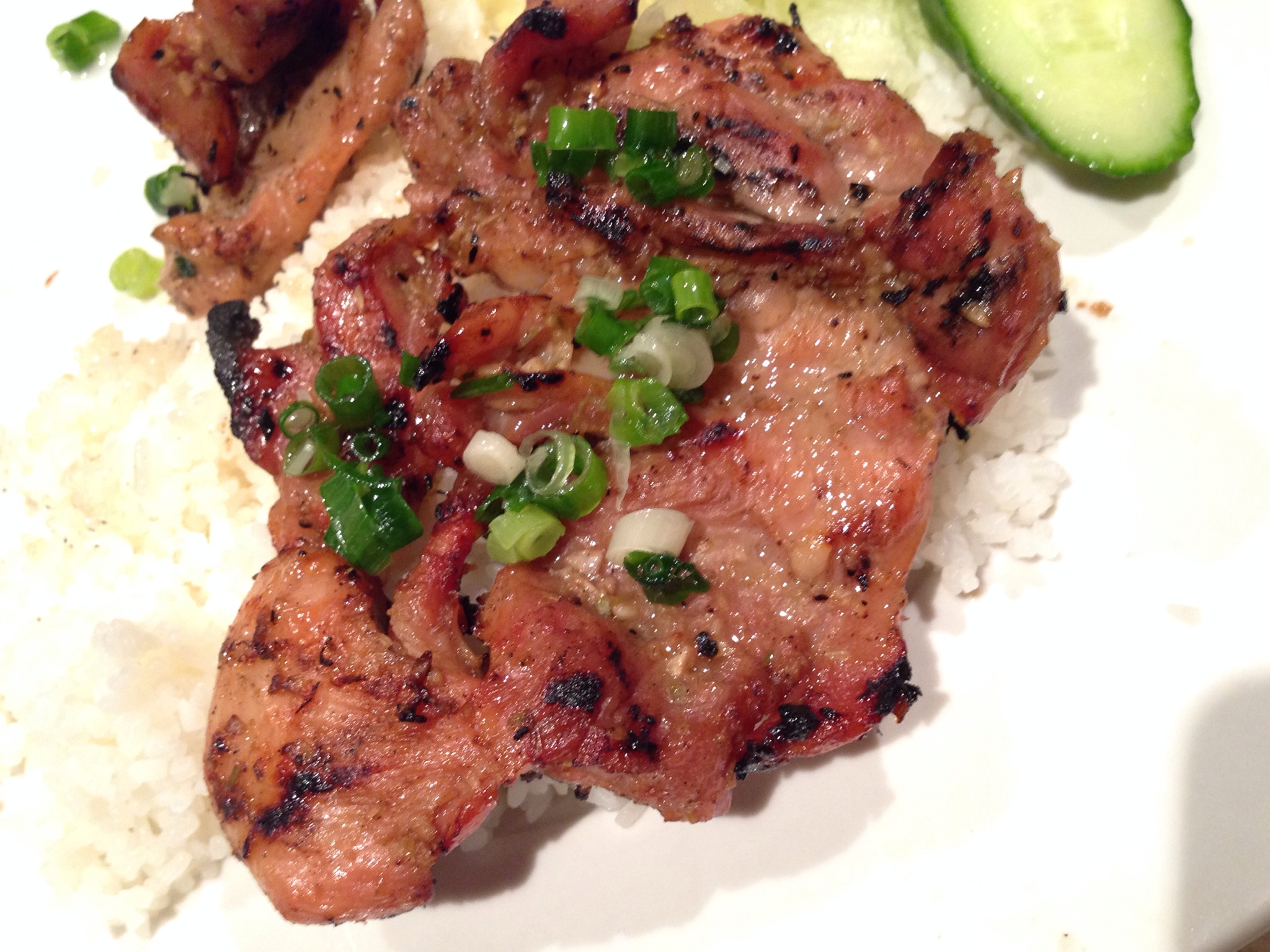 Sweet and Sour Fish Soup
Sweet and sour cat fish soup was a last minute addition. I loved this dish at Phnom Penh in Chinatown. I could find some familiar ingredients such as water lily, pineapple, and tomato. But compared to Phnom Penh, the dish definitely needed more seasoning and spicy elements.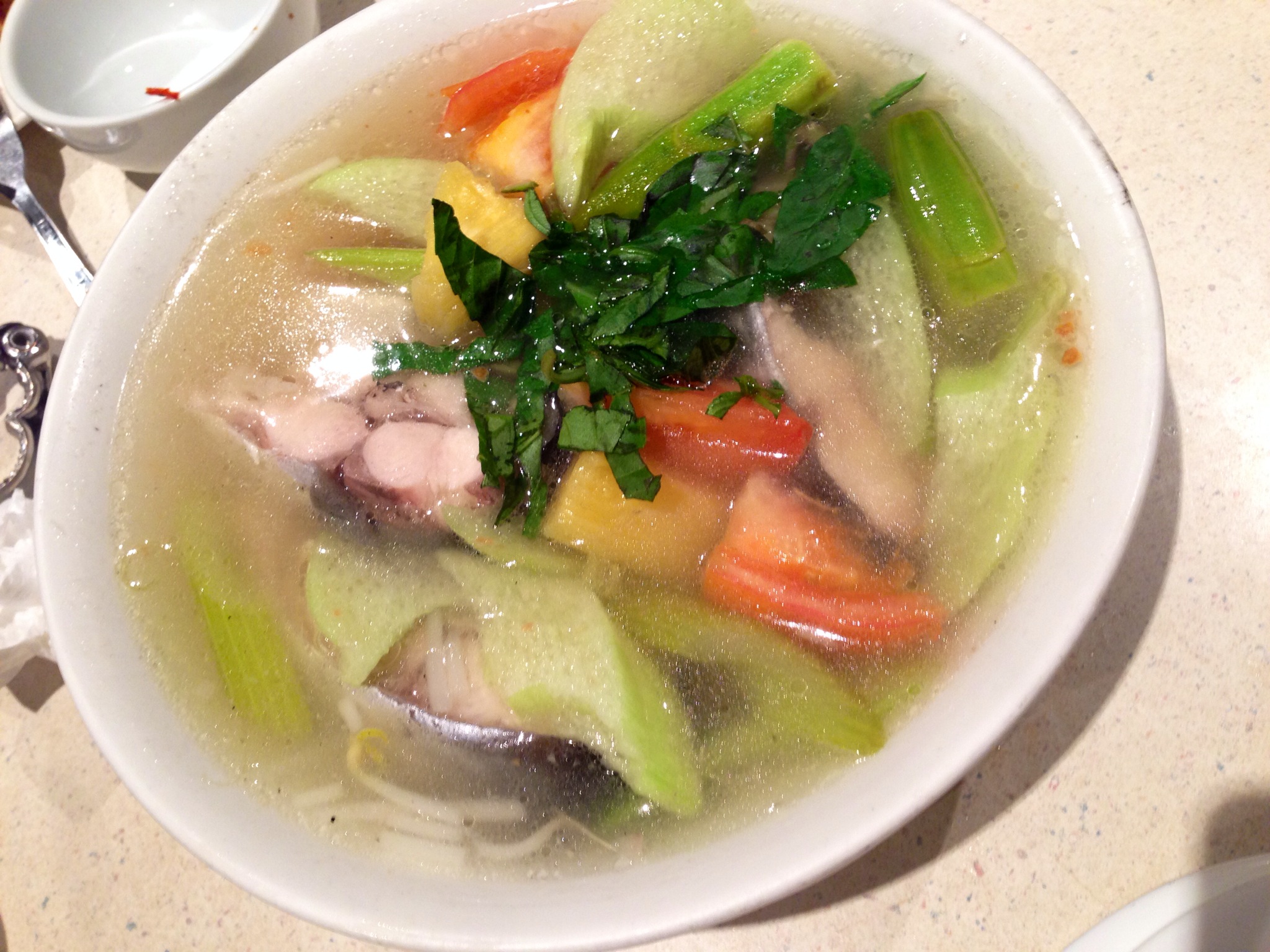 I think if anyone wants to experience anything that is beyond pho or lemongrass chicken at a Vietnamese restaurant, Pho Tan is definitely a great choice!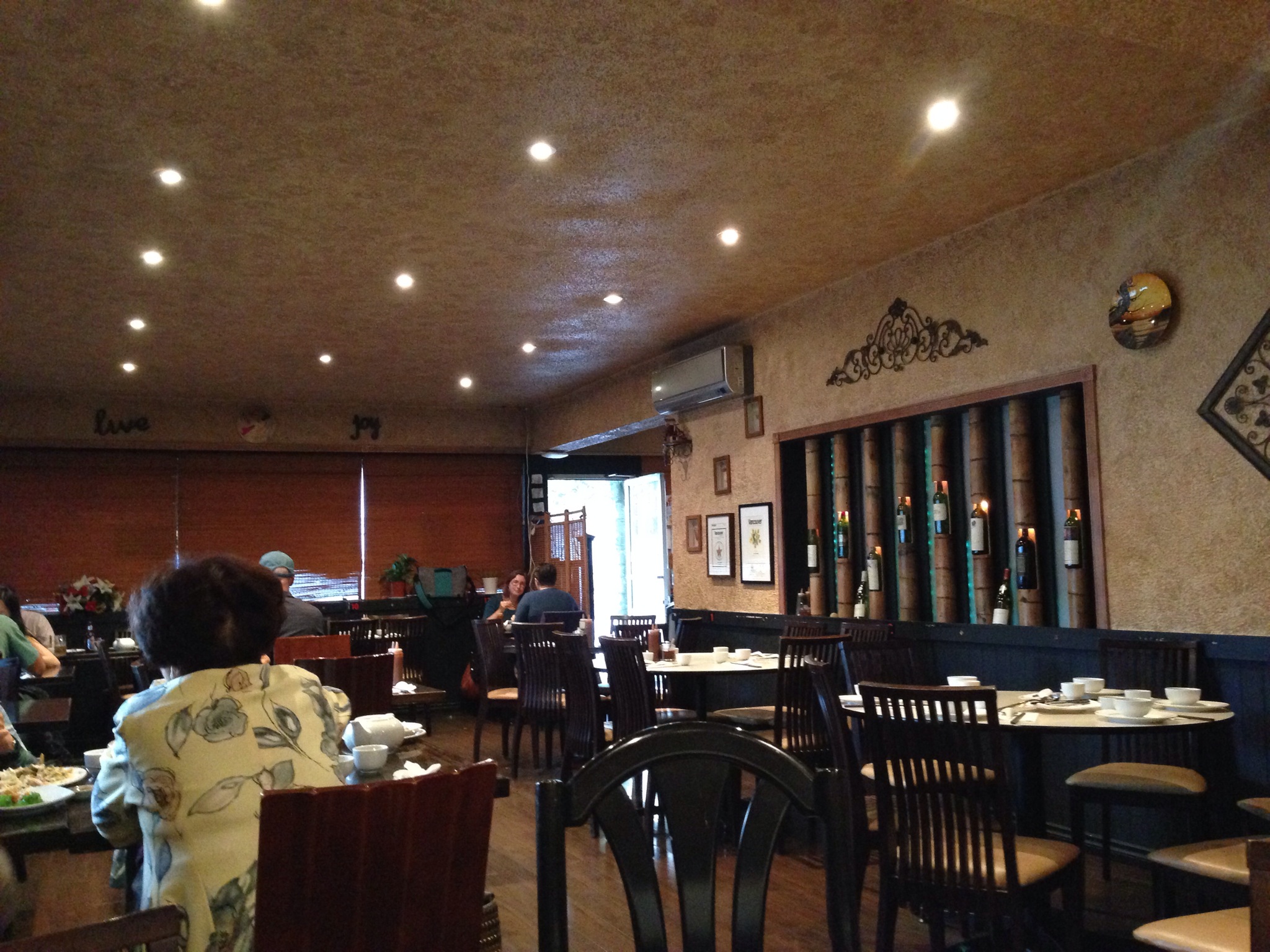 Map and other reviews: