Oyakodon in Japanese literally means 'parent-and-child rice bowl'. It is poetically named after the 2 main ingredients that serve on top of steamed rice: chicken and egg.
You can use green onion or onion or both, and add more healthy and delicious vegetable ingredients as desired, as long as the stars of the dish are the chicken and egg. In my recipe, I give it a small ratatouille twist, using eggplant and zucchini.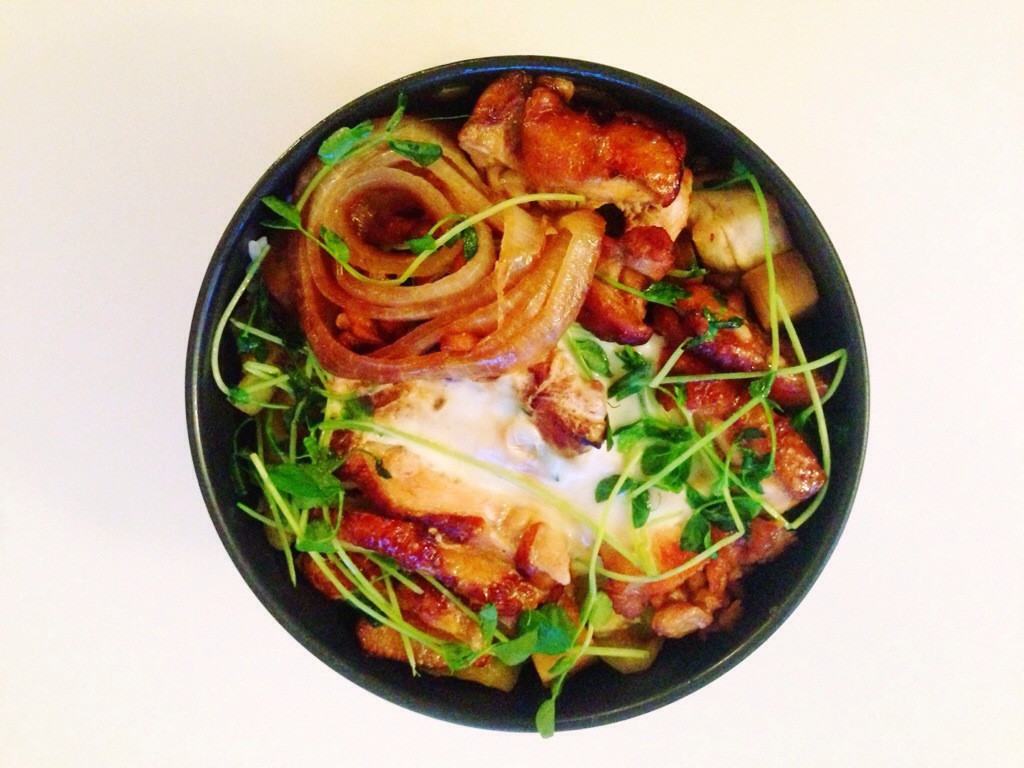 For serving 2, here are the ingredients.
– 3 boneless chicken thighs
– 2 large eggs
– 1 medium onion, sliced
– 2 tbsp green onion (julienned) or 2tbsp baby pea shoots
– 1 small long eggplant, diced
– 1 small zucchini, diced
– 2 tbsp Mirin or cooking rice wine
– 2 tbsp soy sauce
– 1 tbsp sugar
– 1/2 cup chicken broth or water
– 3 gloves of garlic, finely chopped
– 1 tsp ginger, finely chopped
– salt and pepper to taste
– 2 cups of rice
Cook the rice and set aside. This can be cooked while cooking the chicken.
Marinade the chicken with soy sauce, Mirin, and sugar.
Heat a cooking pan with high heat. Place chicken in the pan skin down if it has skin on. Turn down the heat to Medium. Sear each side about 3 minutes.
Pour in the marinade and water. Add zucchini, eggplant, ginger and garlic. Cover the pan, and let it simmer for about 8-10 minutes, or until the chicken is done.
Put rice half way full in the rice bowls. Add a layer of eggplant and zucchini. Slice the chicken and place on top of the veggies. Place onion and green onion/baby pea shoots on top of chicken. Crack an egg and place it casually in middle of each bowl. Poke the egg yokes with a knife. Let the liquid in the cooking pan continue to simmer.
Wrap the bowls with plastic wrap. Use a knife to poke a few holes on the wrap. Heat the bowls in microwave with high heat for 90 – 120 secs. Turn off the heat for the cooking pan. Add salt and pepper to the reduced liquid if necessary. Pour the liquid in the bowls. Garnish with extra green onion or baby pea shoots.
Viola!
Cooking tips:
– Try to butterfly the chicken to make it thinner and easier to cook.
– Leaving the skin on keeps the chicken tender and moist inside. However, skinning the chicken makes the dish healthier.
– You can cook the egg in the pan if you do not want to use microwave.