Kitchen Table has a new member, Pastificio di Luigi joining the restaurant family that has won numerous awards including names like Ask For Luigi, Di Beppe, and Pizzeria Farina. Before it is officially taking the former location of Pourhouse, the new Italian restaurant has found a temporary home at Giovane Cafe of Hotel Fairmont Pacific Rim.
I was invited and paired with my dear foodie buddie Maggi (@magmei) to try their signature house-made pasta and other popular Italian dishes.
We started with some great Italian dinner wines. My Trebbiano was on the dry side as a white wine but refreshing while Maggi's Montepulciano was a perfect complement knowing we were digging into dishes with delicious tomato sauce.
For antipasti, the Suppli al Telefono ($12) is such a fun dish.   Breaking a giant crispy ball and adding a crunch and oozing cheese to a ball of spaghetti is just brilliant. The Polpette Fritte ($14) features 5 deep-fried meatballs that are well-seasoned and with such a satisfying meaty texture.
Time for Insalata, some Italian salad.  I love the touch of peach in the Radicchio & Romaine ($18)as the sweetness and aroma is the key to the perfect balance of the taste. The octopus in the Insalata di pasta e pulpo ($21) was perfectly cooked, tender but still with a bit of a crunch.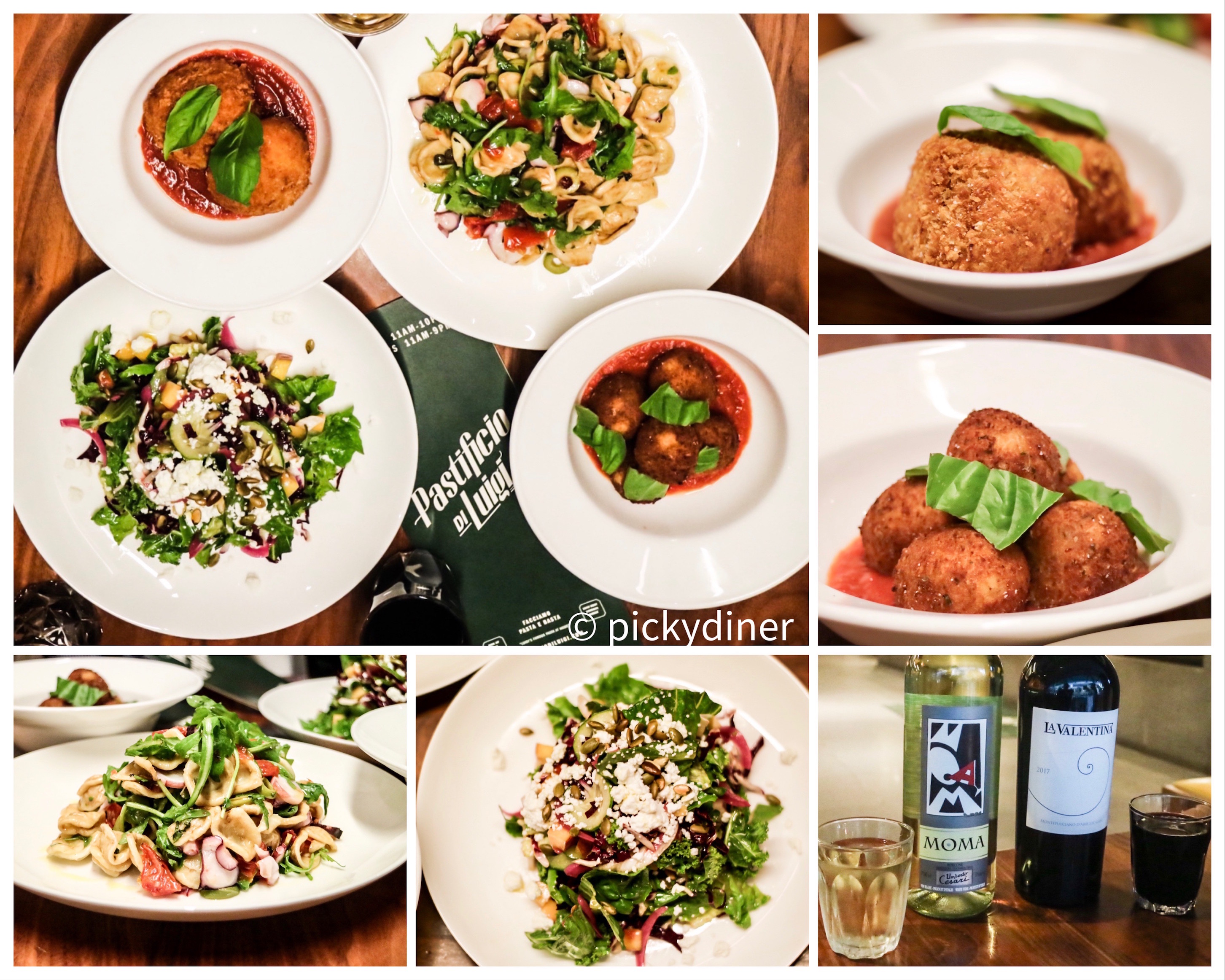 Now come the famous house-made pasta dishes!
The special of the day was feauring the Tortellini with Chantrelle ($23), the in-season mushroom gold, and finished with a luscious butter sauce. From the regular menu, the Radiatore all norma ($19) is inspired by Sicillian cuisine with the signature use of eggplants and a tomato-based pomodoro sauce.  The radiator-shape pasta is perfect for trap the flavourful sauce with.  The other classic is the Ravioli Ricotta & Pea ($23). Savoury cheese, sweet fresh peas, and delicate house-made pasta, are a great combination for a beautiful comfort dish.
We are excited to try desserts made with pasta. This is a first for me! The Ravioli al cioccolato ($11) is much lighter than I have expected, the chocolate flavour is pronounced and the apricot marmalade makes a great condiment. The Espresso with Pistachio Crema is visually stunning with 3 layers of  different colours, reminding me of the Italian national flag. And we decide to go all the way for the full Italian dinner experience, and finish the meal with a shot of Grappa right after coffee.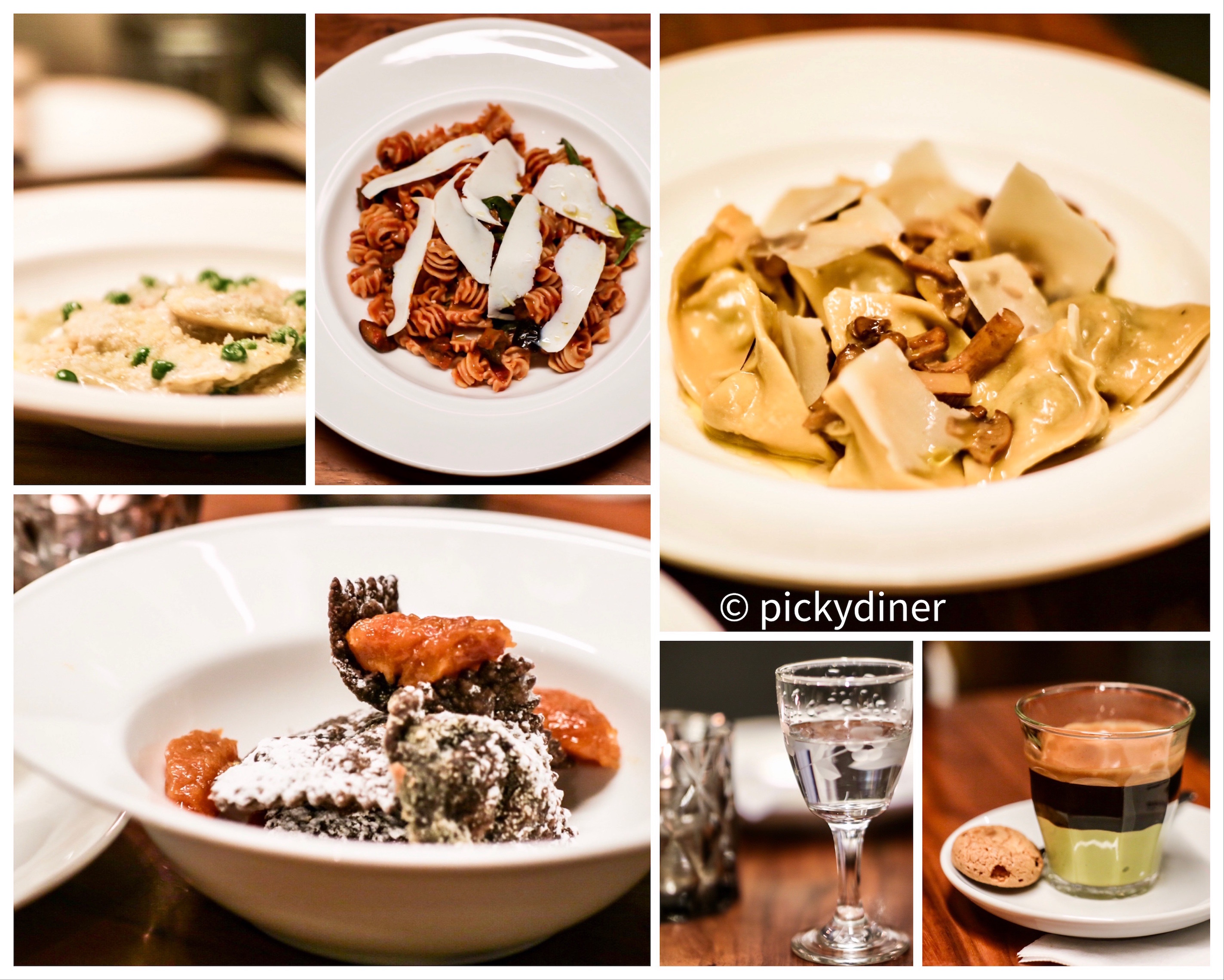 $$ 
rating: 4/5
Pastificio di Luigi 
Giovane Cafe at Hotel Fairmont Pacific Rim
1049 W Cordova St, Vancouver, BC V6C 0B9
(604) 687-9887 or pastificiodiluigi.com
* All food and beverages tasted in this post were complimentary. Opinions are on the reviewer's own.