In June, Chef Felix Zhou started his new project, Bread X Butter Cafe, where folks can enjoy his breakfast and sandwich creations in the heart of Downtown Vancouver. In case you don't know yet, the courtyard patio area of Cathedral Place building is such a lovely spot for sitting and enjoying lunch or snacks outside.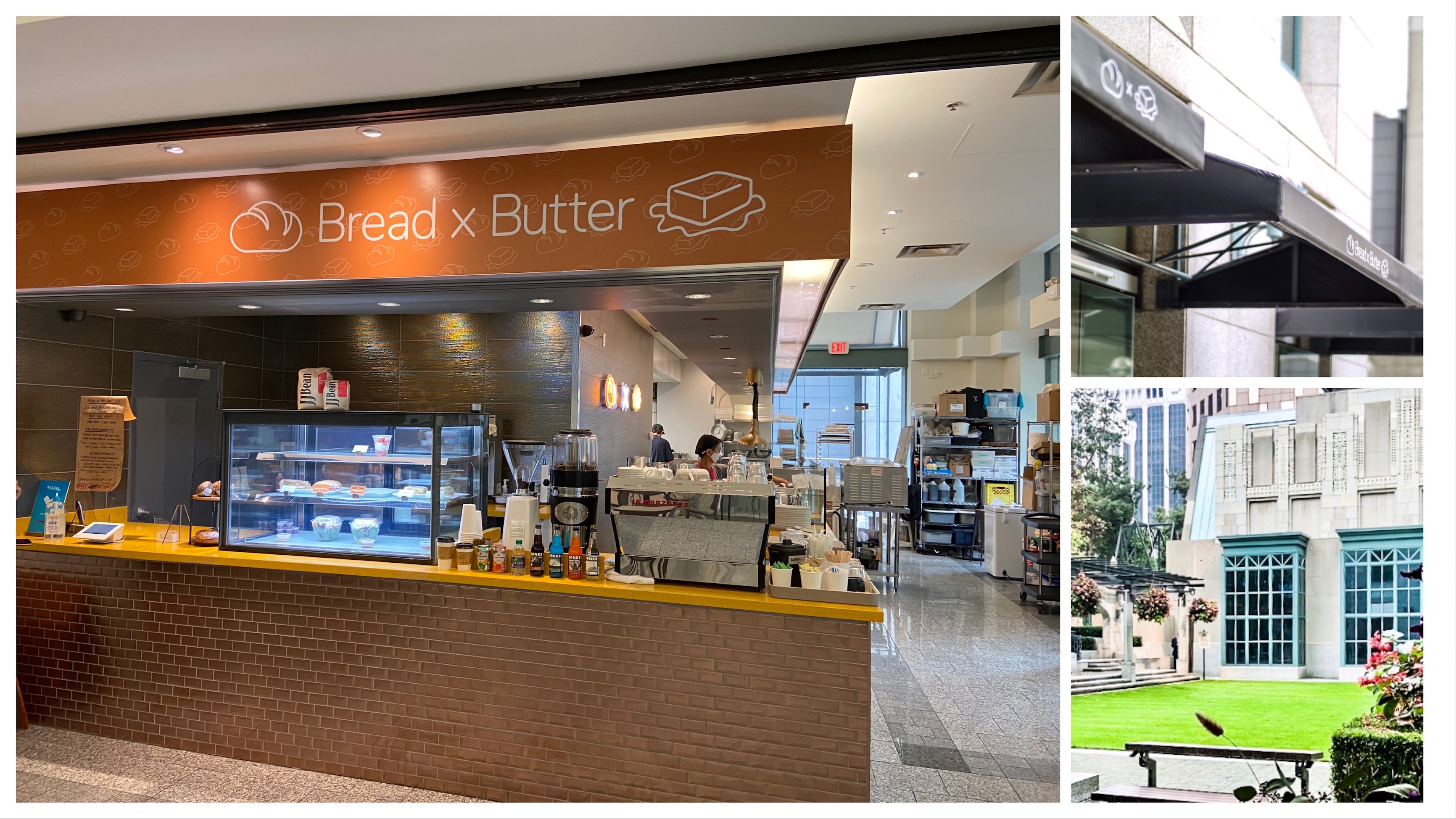 I was a fan of Felix's food at Heritage Asian Eatery back in the days. The former Top Chef Canada contender has a simple but elegant approach to represent great Asian flavours with fresh local ingredients.  I was particularly fond of his bao buns, which are flavourful and a bit more rustic than the sweet boring ones most places served at the time.
Since then Heritage has expanded and added Chinese BBQ to the menu. The BBQ stuff, besides being slightly overpriced, didn't seem to be the kind of food Felix would serve.  And the next thing I knew Felix had left Heritage. I'm not quite sure what the story is behind it,  but I'm glad he's back cooking again with locally sourced ingredients that he's always passionate about. 
When I came to Bread X Butter with Areta (@foodgessing), Felix had just put something new on the menu, the Egg Toast.
We can't help comparing the Bread X Butter Egg Toast to the ultra-popular Korean "Sandi-Egg" on Instagram feeds these days. Although very similar in concept, Felix's version has a pronounced West Coast influence.  Besides the Classic ($8) with ham & cheese, and the Avocado ($9),  the flavours such as the Truffle ($8.50), dressed with mushroom and truffle aioli, the Hawaiian Luau ($9.00), topped with spam and roasted seaweed, and the Prawn Star ($9), filled with poached white prawns and lemon caper aioli,  are the highlights on the menu.
The first thing I noticed was how thick the scrambled egg layer was inside the toast. The egg was so fluffy and luscious. I was happy with my Prawn Star, in which the poached white prawns had so much flavour as well as a lovely snappy texture, proving how fresh they were.  And I stole a bite from Areta's Hawaiian Luau. The classic combination of spam, seaweed, and fluffy scrambled egg is clearly an easy winner.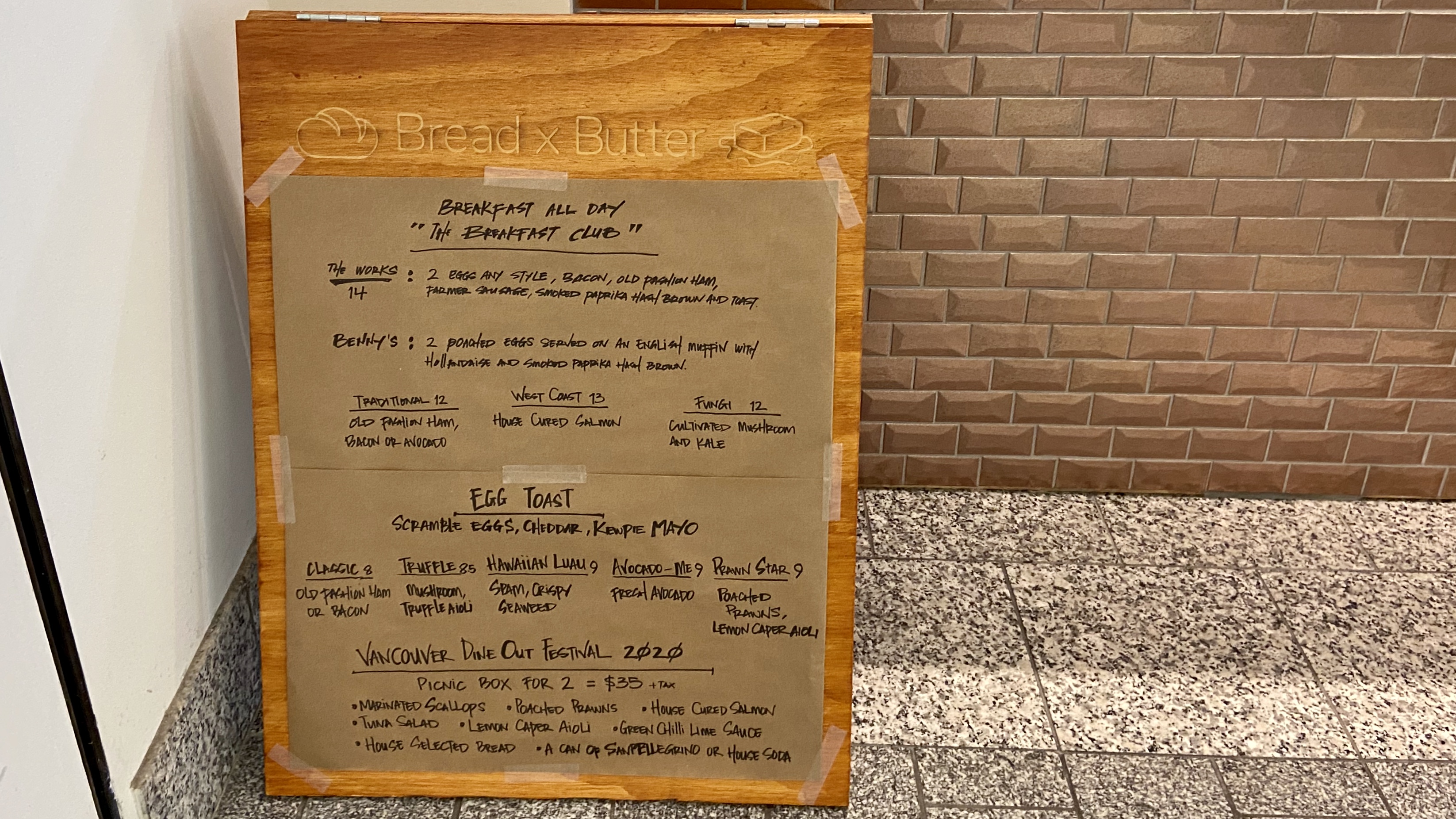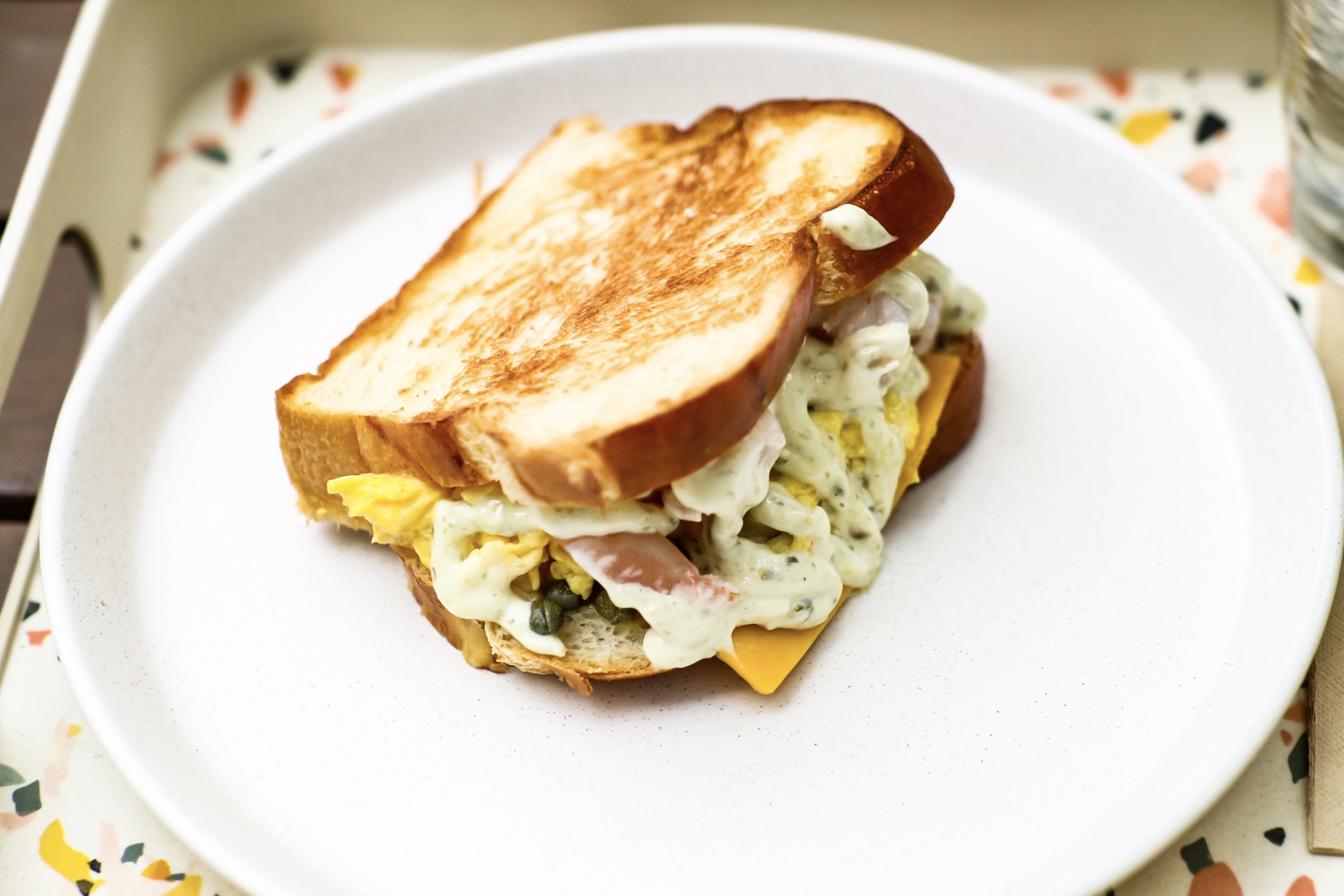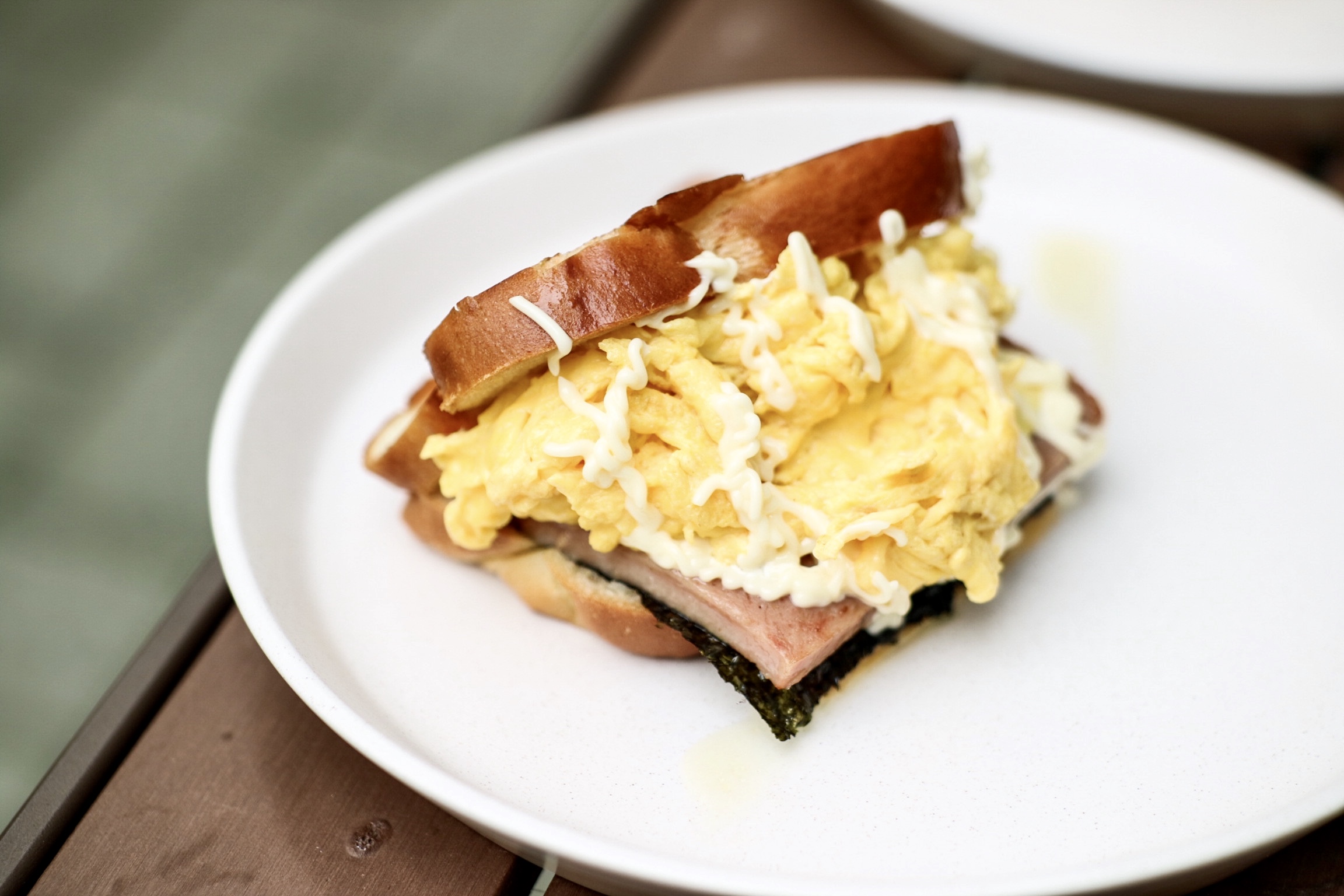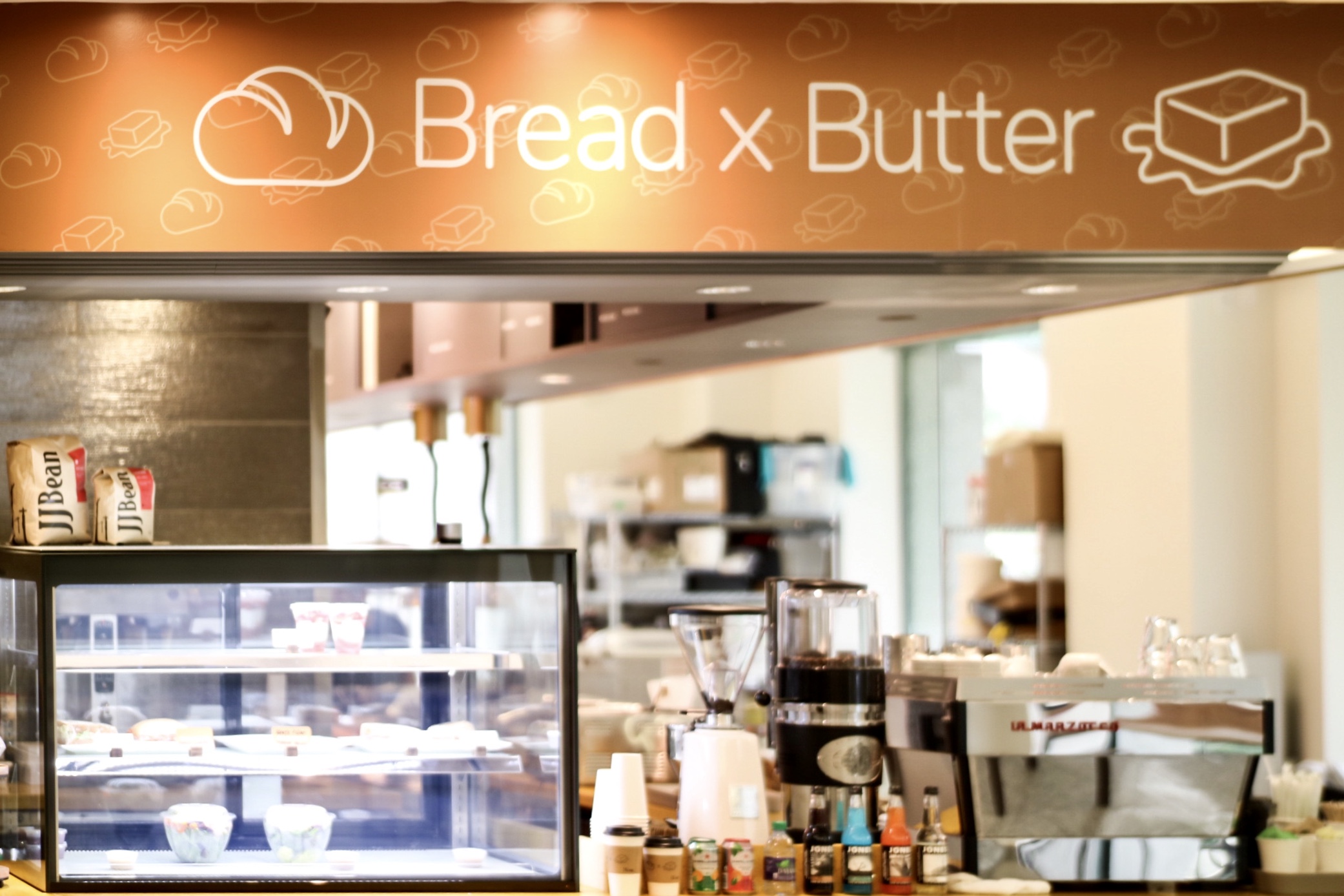 Overall Experience
The Egg Toast from Bread X Butter Cafe is great news for egg and breakfast lovers in Downtown. The egg layer is super thick, super fluffy, and packed with classic West Coast flavours. I highly recommend the Prawn Star egg toast, filled with fresh and flavourful poached prawns and elevated with a tasty lemon caper aioli.  The cafe has such a beautiful outdoor space in the courtyard of the Cathedral Place building, making a cool spot for lunch and snacks in the heart of Downtown Vancouver.
$
rating: 4/5
Bread and Butter Cafe
925 W Georgia St #140, Vancouver, BC V6C 3L2
(604) 631-3981 or breadxbuttercafe.com