Looking for a dinner place for 5 of us in Inner Sunset, my cousin Cecilia had set her eyes on a Vietnamese place. But the wait was way too long. Walking down on Irving, I spotted New Eritrea and was instantly intrigued. I would love to try some Eritrean/Ethiopian food, but how am I going to convince the 3 Chinese seniors in our group, Ceilia's parents (my aunt and uncle) and my mom, who never had anything this exotic? Luckily through the window, I saw a table surrounded by a group of Chinese senior diners, who seemed to be enjoying their meal immensely, which definitely helped me with the convincing. Triumph! We picked quite a few dishes, with both meat and vegetarian, and most of them turned out excellent choices. Eating probably the most foreign meal they ever had in their life, the parents found their dinner here an eye opening experience.
This very unique food journey started with Hakim Stout ($4.50), a Ethiopian beer that's quite dark but smooth and delicious, and Honey Wine ($6/glass, $20/bottle), which tasted not as sweet as I expected, but quite pleasant to complement the spicy dishes in our dinner.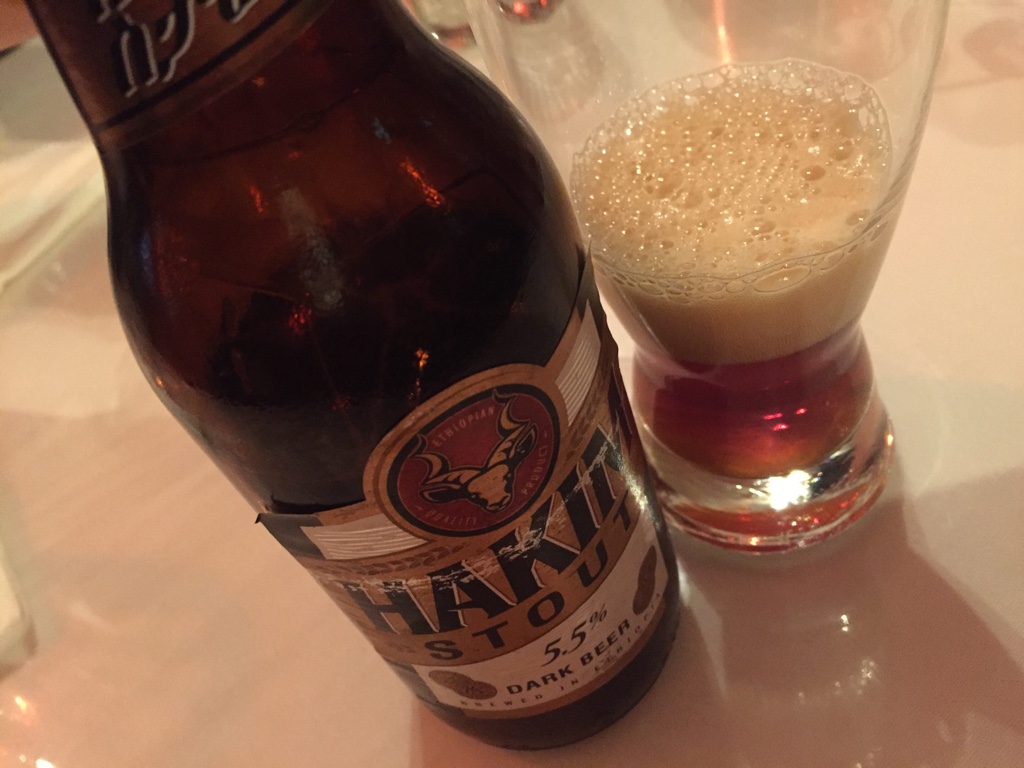 And it was fascinating that here they served all our orders on one single gigantic platter, and all the dishes was so colorful as if they were paints on a palette ready for creating a piece of art. We ordered a meat combination of Zigni (squares of lean beef simmered in red sauce with Eritrean spices), Zebhi Dorho (marinated drumsticks chicken simmered in onions , tomatoes,clarified butter, red pepper sauce), and Alicha Begee (savory lamb cooked in a mildly spiced turmeric sauce with onions & garlic) ($14.50), a single order of Kilwa Begee (Boneless strips of lamb simmered with onions, tomatoes ,garlic & vegetable oil or clarified butter & Eritrean spices) ($14.75), Okra (okra cooked lightly and flavored with fresh tomatoes , onions & Eritrean spices) ($10.00), and a vegetarian combination of Tumtumo ( Lentil beans puréed ,& simmered with Eritrean spices, onions & herbs), Hamli (Collard green and spinach simmered in authentic Eritrean spices), and ALICHA (mildly seasoned mixture of potatoes, carrots, cabbage, garlic and ginger) ($12.75). All the food were on a very thin crepe-like Injera, a sourdough-risen flat bread made of teff flour and a national dish in Eritrea and Ethiopia.
Everything on this platter was sexy and exotic. Finding some flavors that were similar with some Indian or Arabic dishes I tried, I found this meal mostly a new experience. This is definitely a Safari adventure for foodies like me, I absolutely loved it. My favorite has to be Kilwa Begee, the luscious lamb dish cooked with vibrant vegetables and spices. The Okra dish was very spicy, as I could handle it and it is definitely intimidating for our Chinese seniors.
Overall, everyone found the meal quite enjoyable. And I couldn't help smiling when our parents were eager to show the photos on Wechat to their family in China.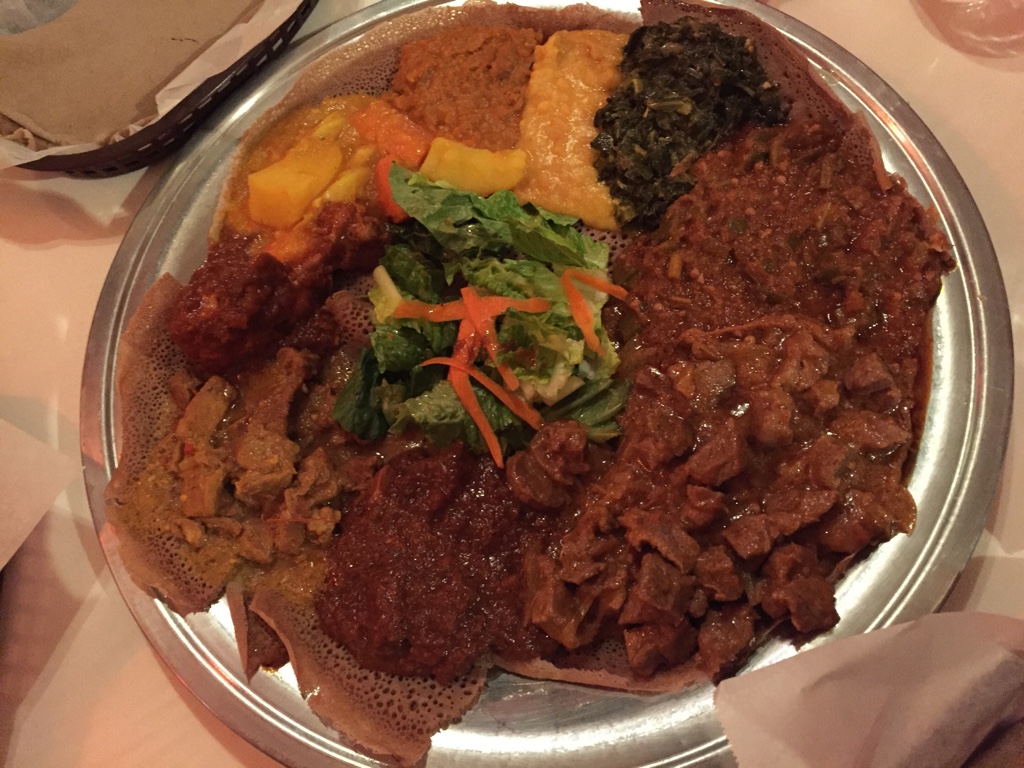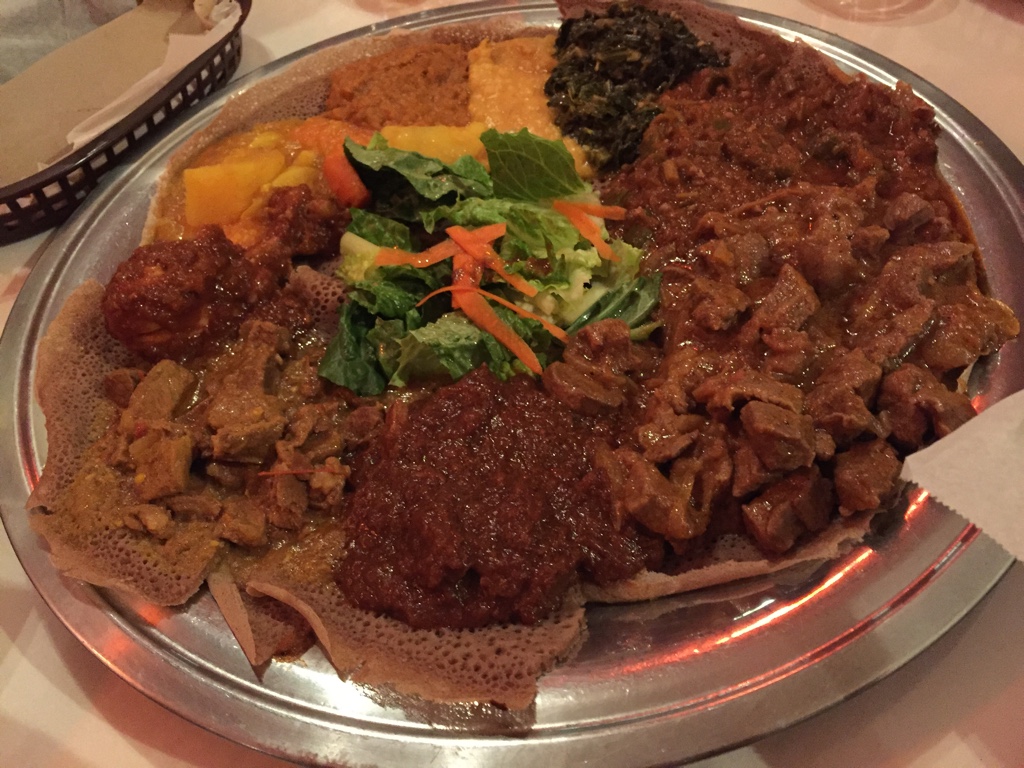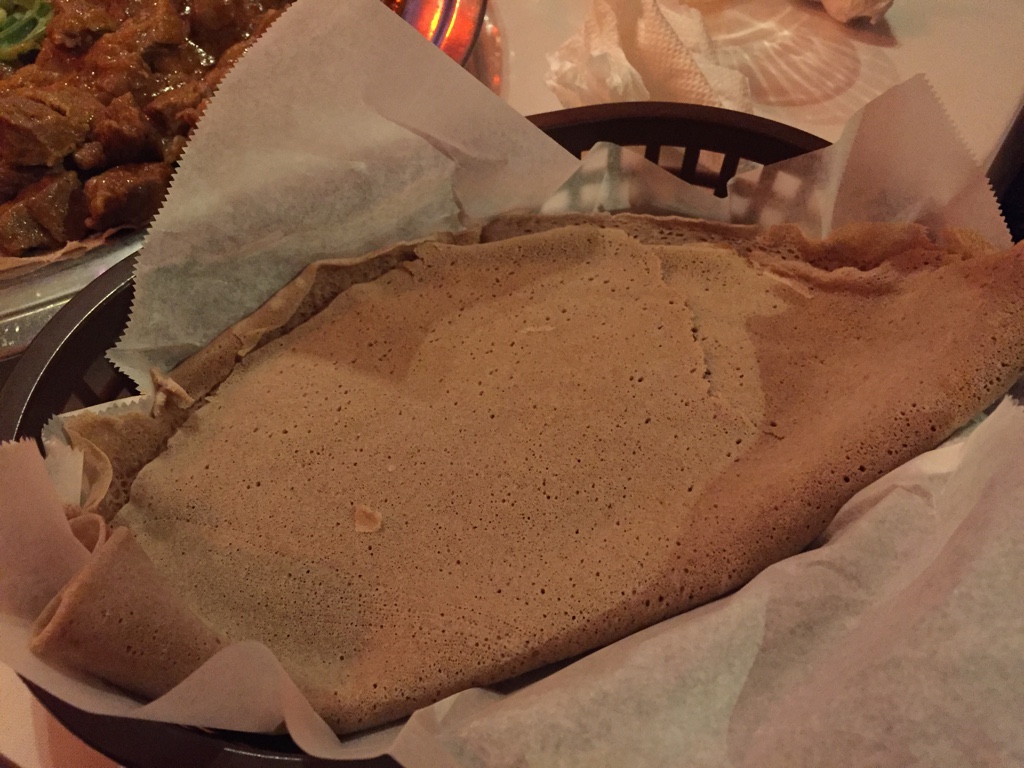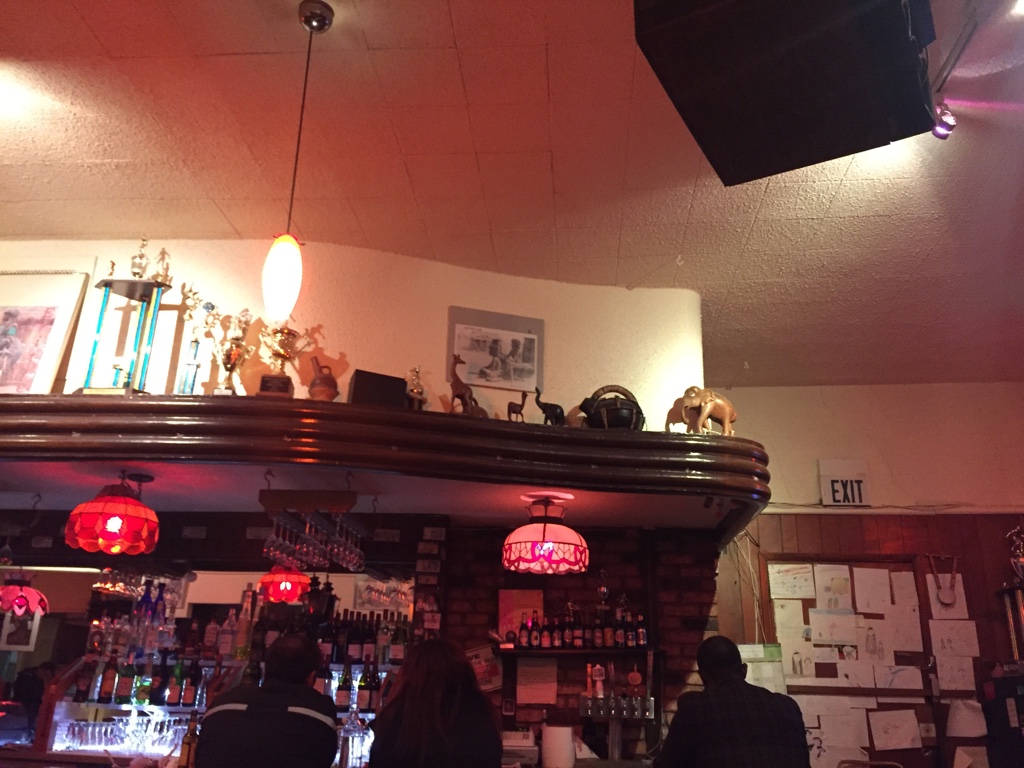 Website:
http://www.neweritrearestaurant.com/
Location and more reviews: