Cantonese people love eating chicken just as much as seafood. But among the 800 hundreds way of cooking their chicken, they love the seemingly unglamorous way of preparation the most: poaching. They believe that it is the only way to taste the freshness of a premium bird. A farmed chicken would never make it to their poaching pot, because it lacks of healthy and much tighter muscle and skin that could be found on a free range chicken. And they simply call dish "Bak Chik Gai" which literally means Plain Cut Chicken.
And do not think poaching a chicken is easy. Cantonese have spent hundreds of years coming up with different elaborate ways to perfect their chicken poaching techniques. They would poach chicken in different kinds of broth, developed over many exotic ingredients. They would complicate the poaching process by adding cooling, or even by rotating poaching and cooling to achieve the desired texture of the chicken meat and skin.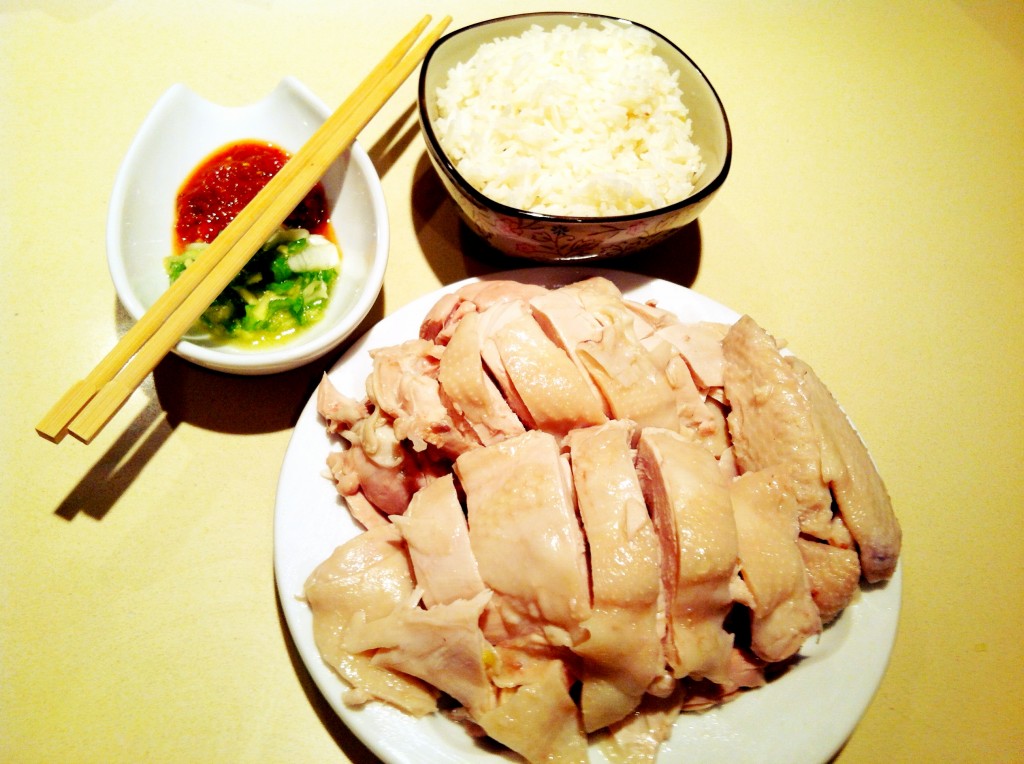 Hainan chicken, among the variety of "bak chik gai", is believed to be invented in the Cantonese communities in south-east Asia. Some even claims that it is the national dish of Singapore. The dish is not complete until you have all 3 components: chicken, chicken rice, and dipping sauces. This dish relies on the quality of the chicken, and requires a minimally simple broth, or even just boiling water. But more aromatic herbs and spices are used in cooking the chicken rice and making the dipping sauces. The rice has to be cooked using the broth used for poaching the chicken. And to be more authentic, the chicken should be deboned before cutting.
I have only tried to make this once. The preparation might be a bit long but it is totally worth it. This is my recommendation: cook the whole chicken the night before, place it in the fridge over night, debone and cut it the next day before lunch or dinner. I have learned the deboning technique from a youtube video (see below).
Here is my recipe. For poaching the chicken:
1 chicken, organic or free range, small (1.5 – 2 lbs)
4 cloves garlic, sliced in halves
1 ginger root, 1/3 palm size, sliced into 1/4 inch thick sections
2 stalk lemon grass, quartered, and chopped into 2-inch sections
1 bunch green onion, roughly chopped into 2-inch sections
4-6 tbsp sea salt, or enough sea salt for scrubbing the chicken, and coating whole chicken inside and outside after
1 large stock pot filled with water enough for the chicken being immersed completely
1 large bowl cold water with ice for shocking
Scrub and clean chicken all over thoroughly with sea salt. Rinse thoroughly with cold water. Cut off the excessive chicken fat and set aside for later. Coat chicken inside and outside with sea salt. Stuff the chicken cavity with ginger, garlic, green onion and lemon grass. Put remaining fresh aromatics in the pot. Heat the pot with high heat till water is boiling. Put in the stuffed chicken in the pot. Turn down the heat to lowest and let it simmer for 40 minutes. Take out the chicken and shock it in the cold iced water for about 5 minutes. Discard the herbs, pad dry the chicken, and put it in the fridge. Save the poaching chicken broth for later.
A little tip: if you want to make sure the chicken is fully cooked, use a thermometer and the reading should be 170F.
To make the chicken rice:
2 cups jasmine rice
3 cups chicken broth
2 tsp ginger, finely chopped
2 tsp garlic, finely chopped
1 tbsp chicken fat, collected from the chicken, or use peanut oil instead.
Wash and strain the rice. Stir fry ginger and garlic in medium high heat, with chicken fat or oil in a small rice cooking pot till aromatic. Add the rice and stir fry for another 2 minutes. Add chicken broth, and keep stirring for another minute. Turn the heat to low when the broth is boiling. Cover, and let it finish cooking in 10 – 15 minutes.
dipping sauce #1, the sweet chilli sauce
2 tbsp sriracha
1 tbsp chicken broth
1 tsp sesame oil
1/2 tsp lime or lemon juice
1/2 tbsp powder sugar, or simple syrup
1 tsp garlic finely chopped.
dipping sauce #2, the ginger garlic sauce
1/2 tbsp ginger, finely chopped
1/2 tbsp garlic, finely chopped
1/2 tbsp green onion, finely chopped
1 tbsp chicken broth
1 tsp salt
1 tsp black pepper
1 tsp sesame oil
1 tsp peanut oil
If you want to be 100% authentic, serve the chicken with condiments like cucumber slices or roasted and salted peanuts.
Here is the video for properly deboning and chopping the chicken.