I tried a couple beers (Life and Ocean) and the cider from 33 Acres Brewing at the Hawkers Market a couple weeks ago, and thought they were quite tasty. At the same event, I also enjoyed a collaborated tasting menu between Merchant's Oyster Bar and Juno Kim (owner and chef of Juno Kim Catering). When my friend Little Home Cook told me that Juno Kim had been doing a dinner series at 33 acres every Monday evening, with a special menu that has only 3 items: Snack, Meat, and Veg, I was eager to check it out.
When we arrived right before 7:30pm, the brewery was already packed. We had to wait for almost 20 minutes before we could seat ourselves at a dinner for 4.
We started with 33 Acres' Cheese Board. It came with 3 different kinds of cheese, a handful of hazelnuts dipped in honey, fruit reserve, and a few slices of bread and crackers. It was a board of local Artisan goodies full of flavours, which my 33 Acres Darkness (a German dark lager) was perfect to go with.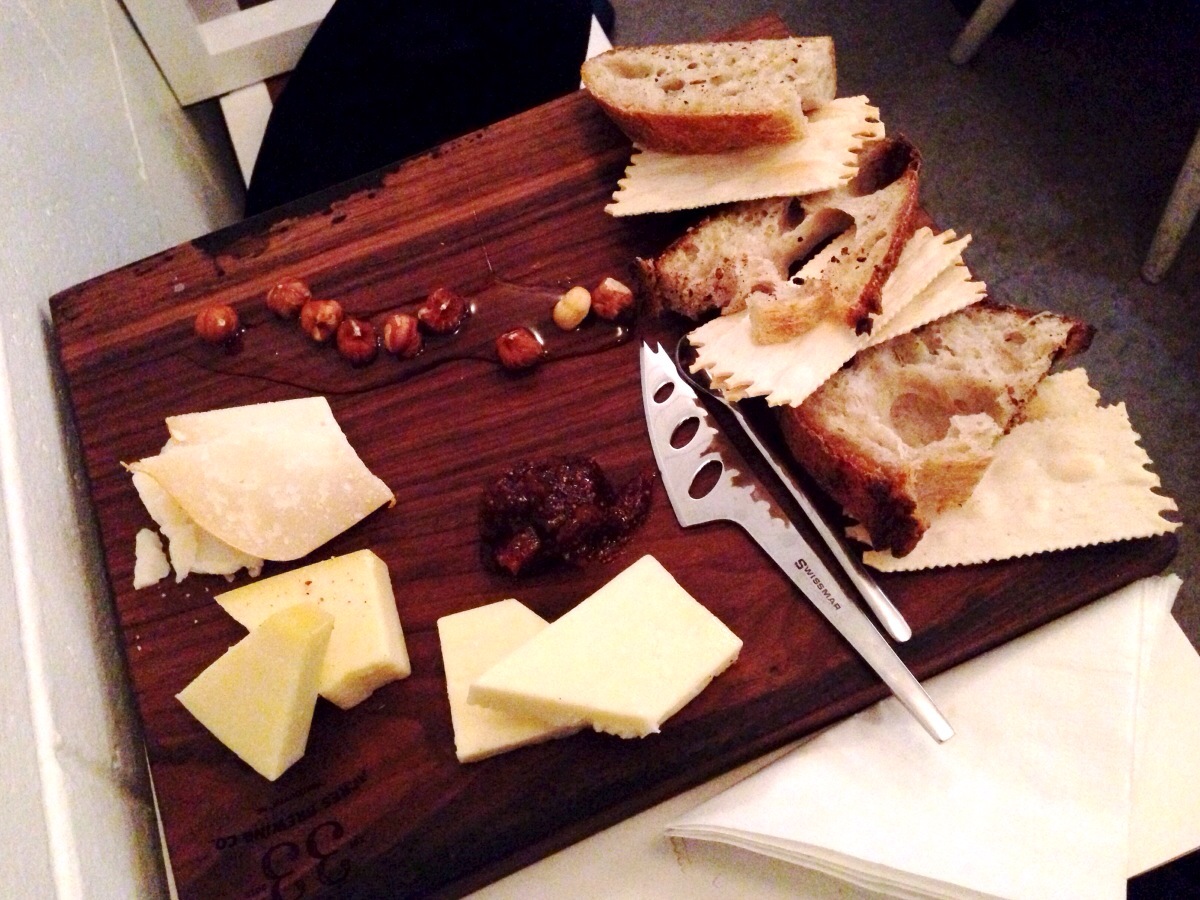 Brad ordered the Snack dish on the special menu, Bone Broth, made from a konbu-infused pork stock, shittake mushrooms, picky enoki mushrooms, wakame, prosciutto, and herb oil. I found it funny because Kid Carson was talking about the Bone Broth Diet earlier in the morning when I was listening to the Kid Carson Show on the radio in my car.
This is something that I do not find strange at all. While buy diovan 320 without prescription broths brewed from bones are mostly used as a base for soups or sauces, in a lot of Asian countries, a bowl of broth would go straight to dinner table as an appetizer or a condiment, kind of like the miso soup served in a Japanese restaurant.
I could smell a strong scent of seaweed from konbu and wakame sitting right next to Brad. However, he was not too crazy about the broth due to the level of saltiness. Maybe a piece of bread could help?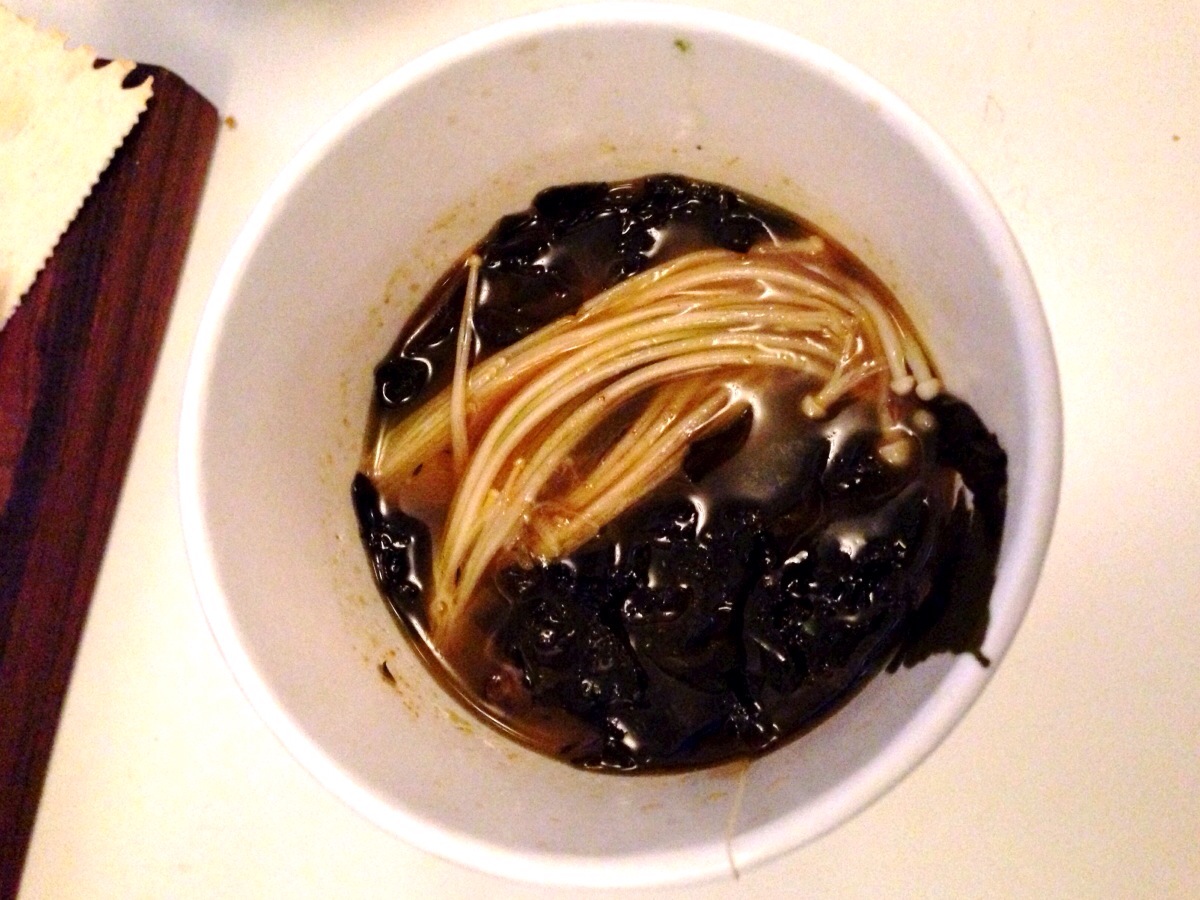 But we all agreed that the Meat dish was really nicely done! The Lamb Osso Buco was slow cooked to a fall-off-the-bone tenderness. The side of braised winter vegetables was good, although a bit too salty as well. The mint in the bulgur salad was a nice touch, whereas the real star was the uber refreshing baby cilantro. Toasted almond milk gel was whimsical to look at, but the almond flavour did not come through as expected. At last but not least, the caraway flat bread was a great hit, something I want to eat all the time with my meals!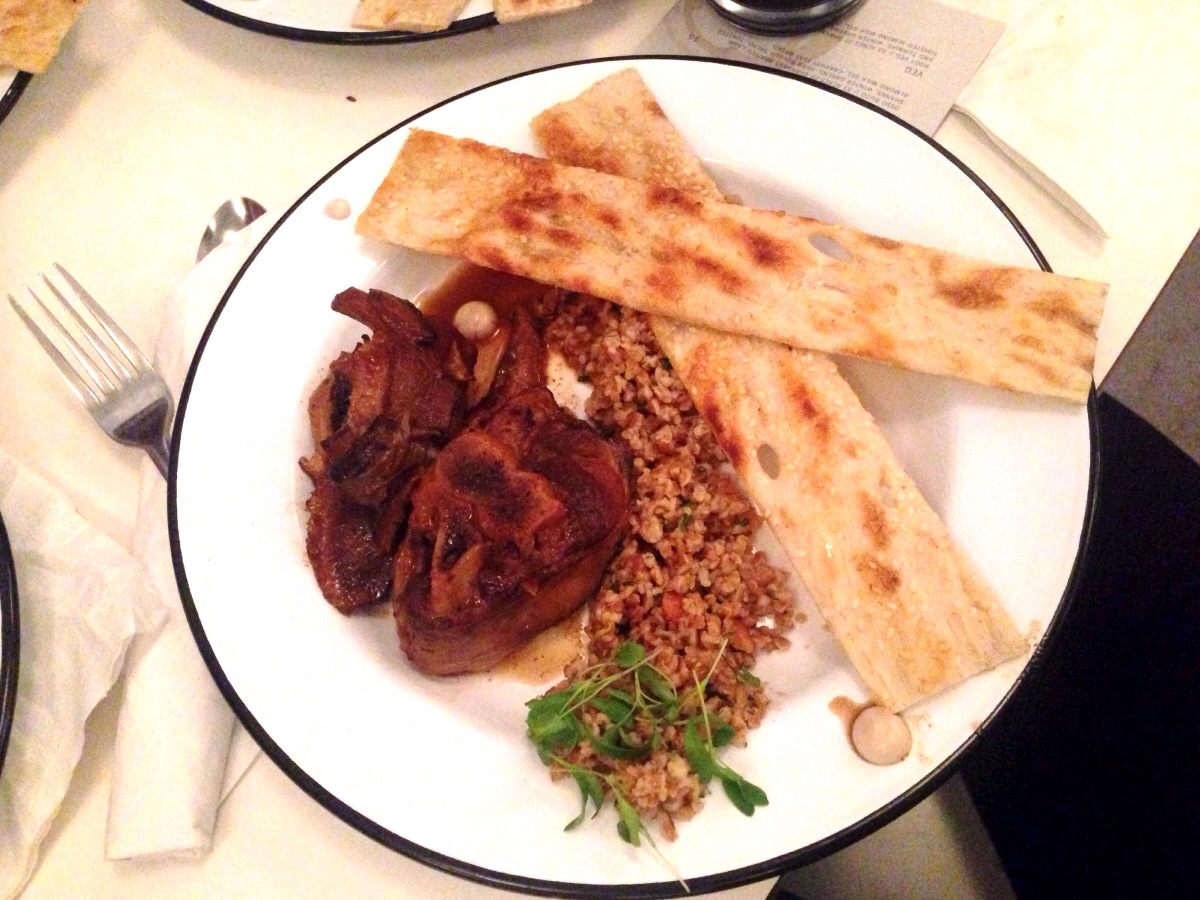 I just loved how casual and fun this evening was going. There was this huge canteen style table in the middle shared by a few groups of younger folks. The beer was good and quite affordable. Food was delicious. I definitely recommend everyone to give this Monday dinner series a go!
Website:
http://33acresbrewing.com

Map & other reviews: