There is always a great vibe about the food scene in Strathcona for the diversity, and the second annual Dine Strathcona initiative, taking place November 18 to 30, will provide great opportunities for foodies to explore the neighbourhood.  Seventeen restaurants, including Vancouver favourites such as Ask For Luigi, Dosanko, and The Garden,  are offering their own featured dish throughout the two-week event period.  Besides supporting local small businesses in the community, diners will enjoy the delicious meals for a great cause – $1 for each dish ordered donated to WISH Drop-In Centre, raising money to provide support for vulnerable individuals in Vancouver's Downtown Eastside.
I was honoured to have a media preview at one of the participating restaurants, Axum Ethiopian Restaurant, taking home their featured Vegetarian Combo  ($15) for a taste of authentic Ethiopian cuisine.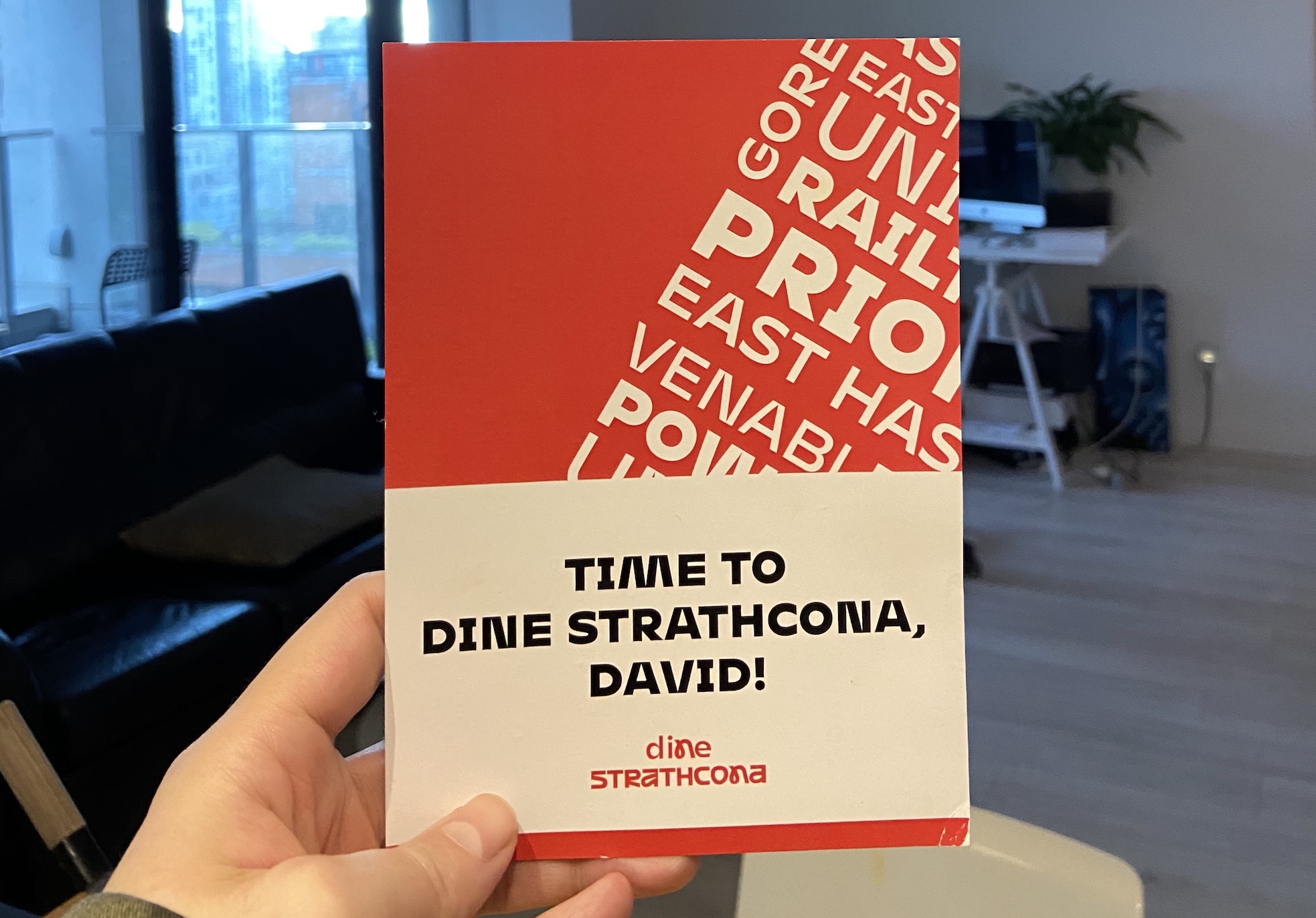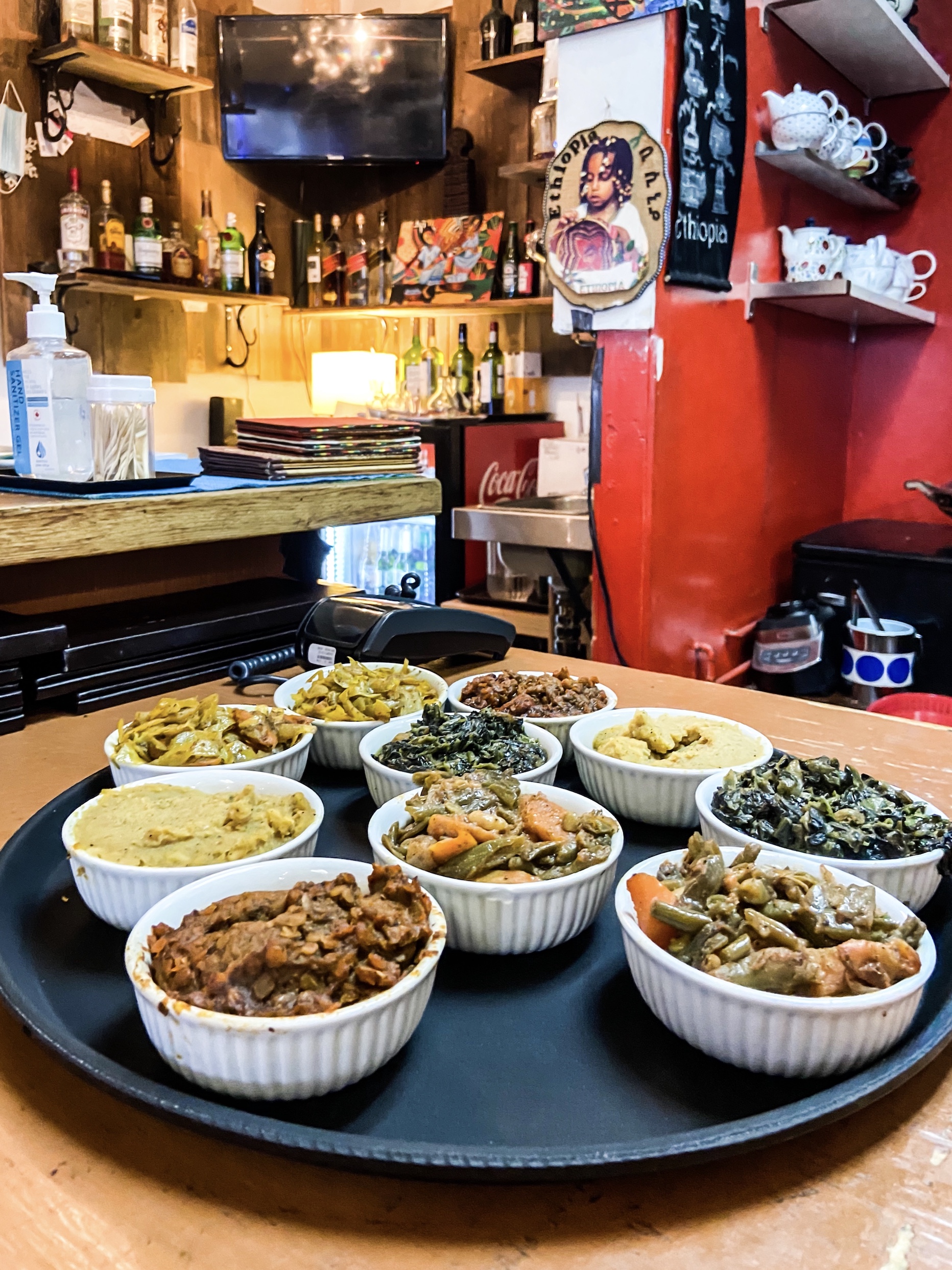 It has been a few year since I had Ethiopian food. and I was excited to be digging into the dishes, prepared with yellow split peas, red lentils, cabbage & carrot and spinach simmered in a mild and spicy sauce, which also came with injera, a delicious traditional sour flatbread that has a slightly spongy texture.
The vegetables were fully cooked but I felt the liveliness from the crunchy texture.  The colours were vibrant and the flavours were truly incredible.
My new roommate Joey,  who just moved here from Montreal, reminded me that Ethiopian food with the injera would be the best eaten with hands!  And I did – what a fun and tasty experience!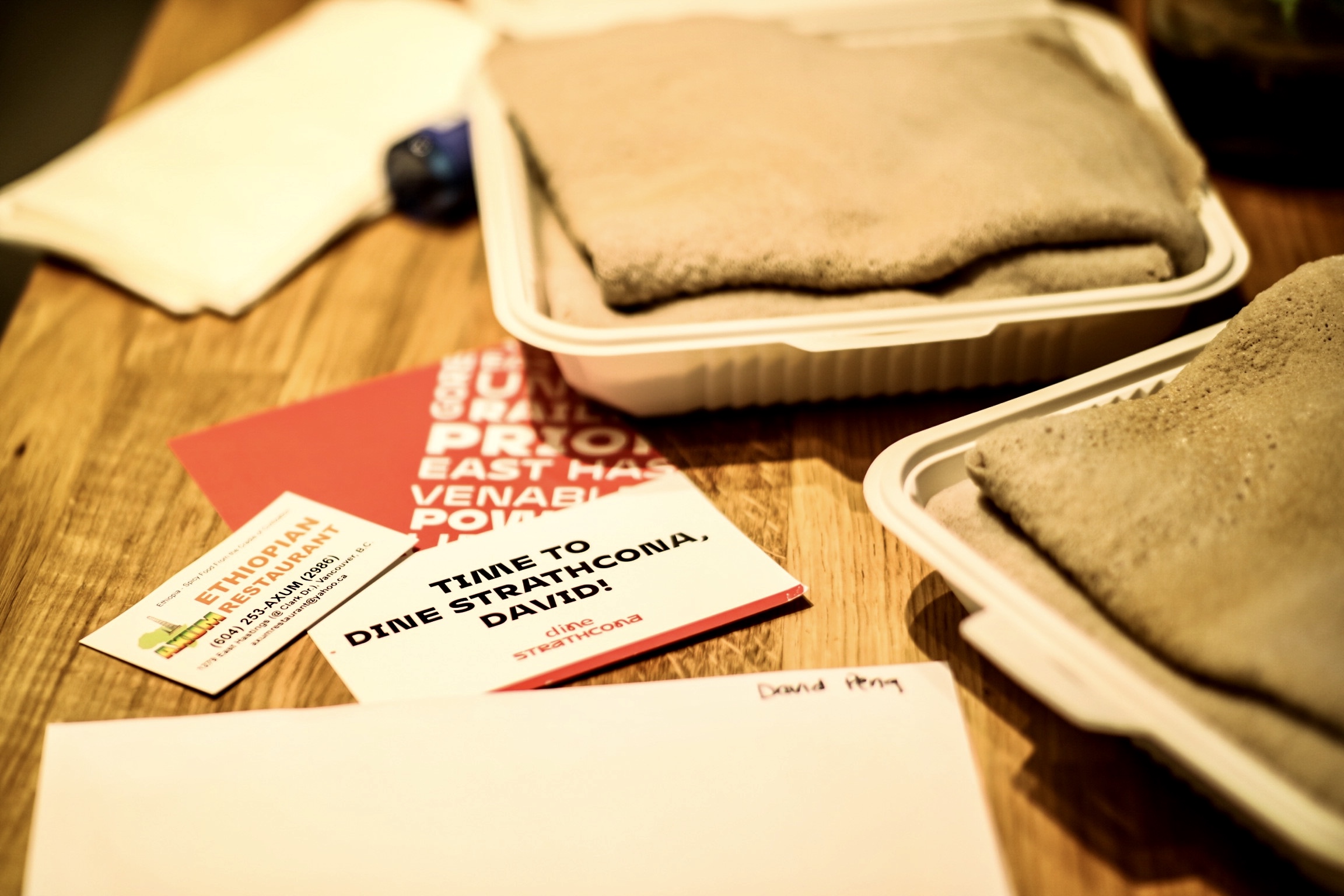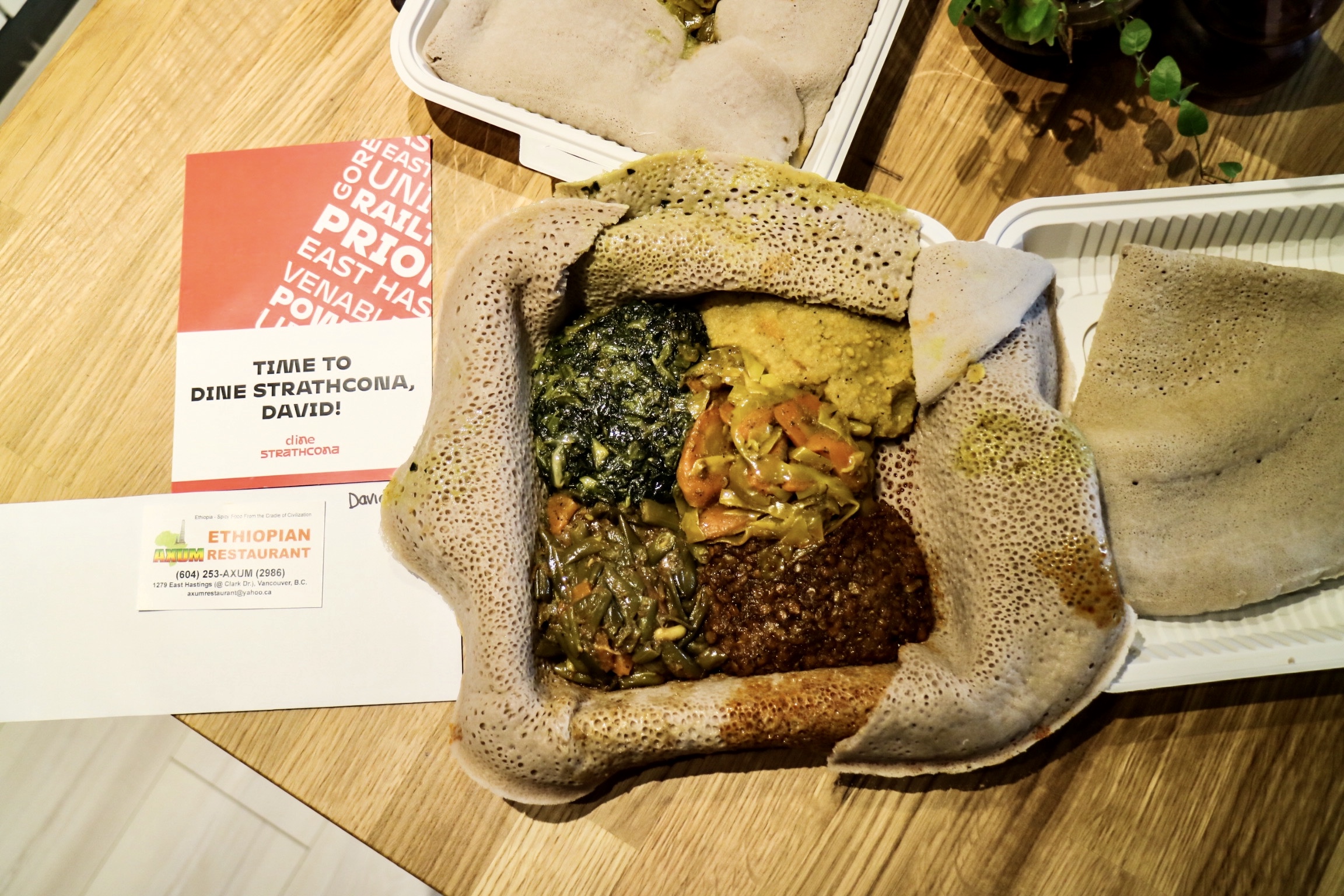 Here are the participating restaurants, cafes and breweries:
Ask for Luigi
Fried Cauliflower and Chickpeas  $15
fried cauliflower and chickpeas with saffron aioli, mint, lemon, parmesan
Axum Ethiopian Restaurant
Vegetarian Combo  $15
a combination of yellow split peas, red lentils, cabbage & carrot and spinach simmered in a mild and spicy sauce
Dosanko
Wild Mushroom Doria  $20
wild mushrooms (chanterelle and lobster), roasted garlic white sauce, onion, rice
LanaLou's Restaurant
Cheeseburger & Fries (Veggie Option Available)  $13
all-beef patty or veggie patty (mushroom swiss) topped with triple cheddar,  spinach, tomato, garlic mayo on a warm toasted brioche bun and served with hand-cut fries.
The Belgard Kitchen
Wagyu Bavette Steak  $26
barley koji marinade, tallow-roasted fingerling potatoes, black garlic 
GF, DF
The Garden
Mushroom Bowl  $12
mushrooms, peas, wild rice, brown rice, black kale, pickled beets, pickled carrots, pickled mushrooms, pumpkin seeds
V, GF
VV Tapas Lounge
Warm Cauliflower Dip  $13
cashews, olives, bread
— CAFÉS —
Harken Coffee
Japanese Curry  13
Japanese sweet curry & koshihikari rice, puffed rice topping, lucky buddha pickles (daikon radish)
V
HoliDrink Cafe
Pegobo Noodle and HoliDrink HoliEH Spicy Ginger  $25
ramen noodle soup with prawn egg garlic onion and bok choy served with a spicy ginger drink
Pallet Coffee Roasters
Grilled Cheese + any Regular-sized Beverage  $10
house made grilled cheese (vegetarian or meat option available) with any regular-sized specialty beverage
Railtown Cafe
The Winter Kale  $12.75
baby kale, black rice, shaved apple, roasted yams, red onion, feta, dried cranberries, Egyptian dukkah, aged sherry vinaigrette
The Uncommon Cafe
Green Cheese & Yam Pizza!  $11
roasted yam rounds, marinara, jalapeño & herbed ricotta
— BREWERIES —
Container Brewing
Rarebit  $8 (small), $14 (large)
a Welsh dish consisting of a Bechamel sauce served over slices of toasted bread, with roasted oyster mushrooms and sharp cheddar cheese
Hastings Mill Brewing Company
Chicken Tacos  $10
trio of seasoned chicken tacos with shredded lettuce, diced tomato, fresh cilantro and pico de gallo
Luppolo Brewing Company
Funghi Pizza  $17
tomato sauce, fior di latte, mushroom, truffle oil, goat cheese
Strathcona Beer Company
Margherita Pizza  $17
tomato sauce, mozzarella, fior de latte, extra virgin olive oil, basil, Grana Padano
Superflux Beer Company
Roasted Cabbage with Beef and Duck Bolognese  $17
roasted cabbage served with organic beef & duck Bolognese and black vinegar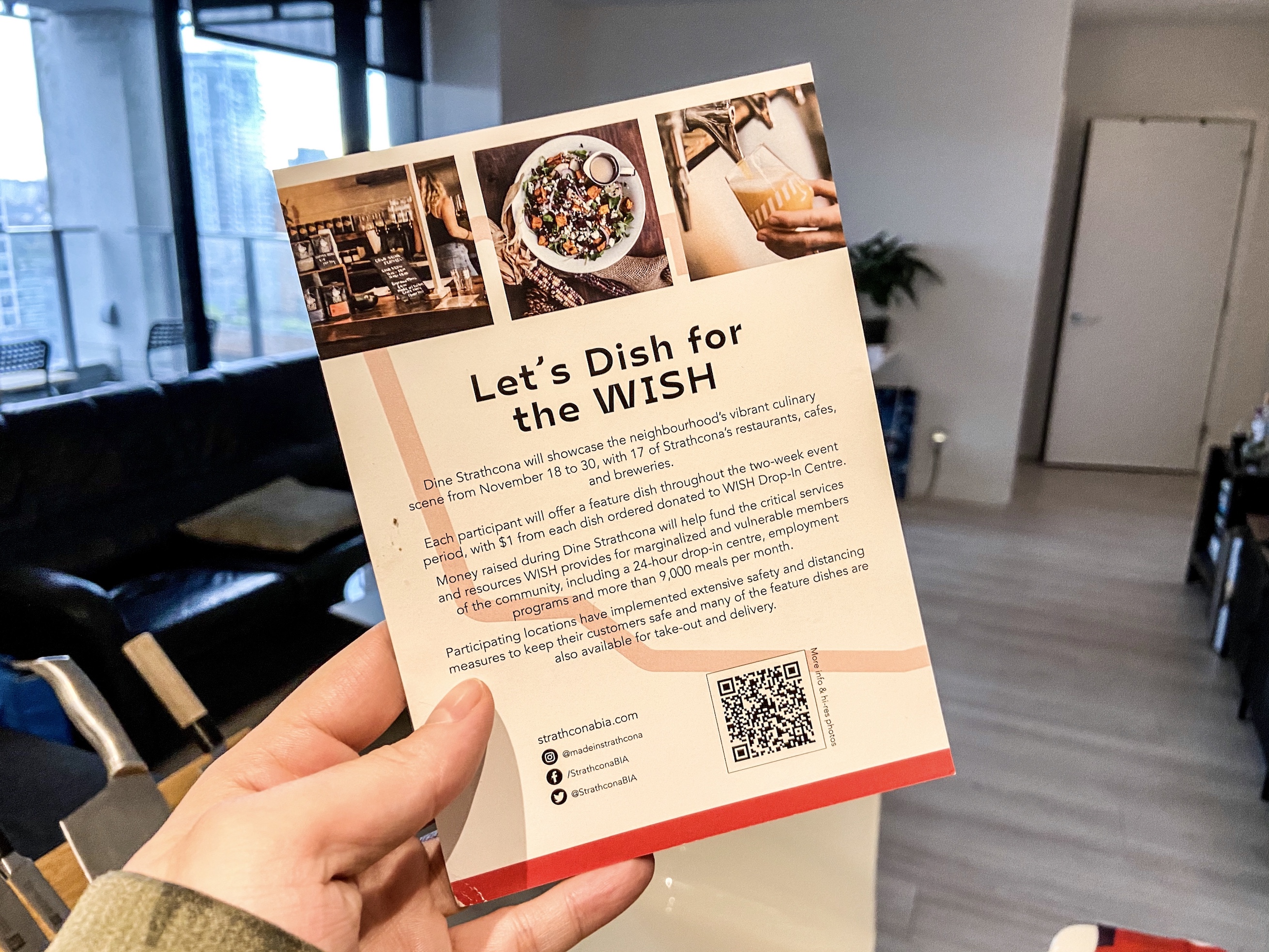 $ 
rating: 3.5/5
Axum Ethiopian Restaurant
1279 E Hastings St, Vancouver, BC V6A 1S4
(604) 253-2986 or  axumrestaurant.ca