My mom was craving for lobster on Canada Day, and naturally I turned to the food section of Sing Tao Daily looking through all the lobster specials. I quite enjoy the benefit of knowing how to read Chinese, which allows me to find amazing Chinese dinner deals all over in the city. Then I saw an ad on Mandarin Hong Kong Cafe, a newly opened restaurant in the Westside of Vancouver, featuring a Fettuccine with Whole Lobster dinner set for only $17.95. What a colourful dish to celebrate this special day of Red and White. Besides, this place is a sister restaurant of Amigo Restaurant in Richmond, where they are known for their quality food and cooking, definitely another reason for us to check it out.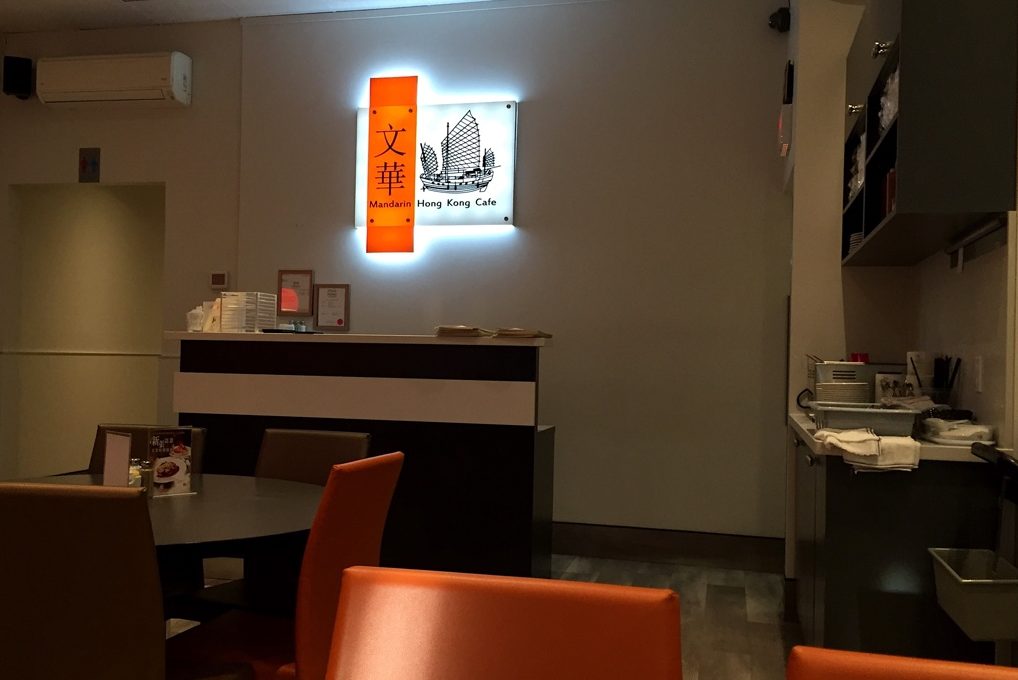 The place was quite clean and elegant inside, and the servers seemed experience and were quite attentive. The menu is similar to Amigo's here. Besides the typical Hong Kong cafe style dishes, they also offer a selection of steak and seafood dinner sets at around $15 – $25, which is on the pricey side for a Hong Kong style cafe.  But if the food is good, I'm usually pretty comfortable to pay a little more.
And the food did not disappoint. We both order their special dinner sets ($17.95). Each dinner set came with soup and garlic toast. The Creamy Lobster Soup ($6 if ordered separately) was satisfying with rich lobster flavour. With $2 extra, we upgraded the other soup to a Creamy Seafood Soup with Puff Pastry ($8 if ordered separately). While the soup itself was hearty with quite a bit of seafood found inside, the puff pastry was light and crispy, providing some fun texture contrast to the soup. The garlic toast was also tasty.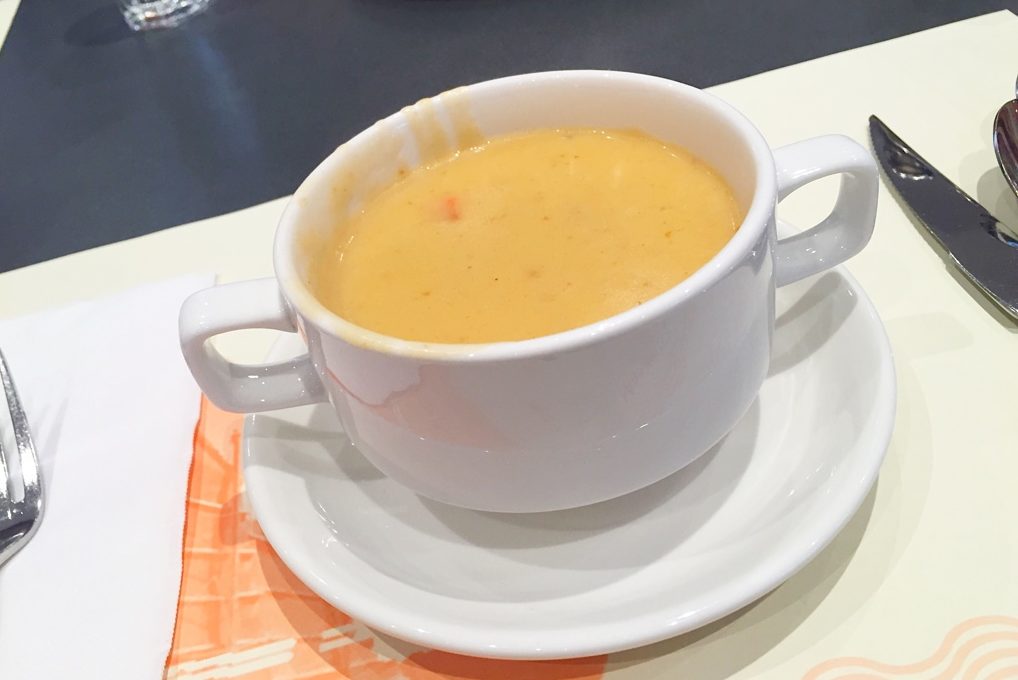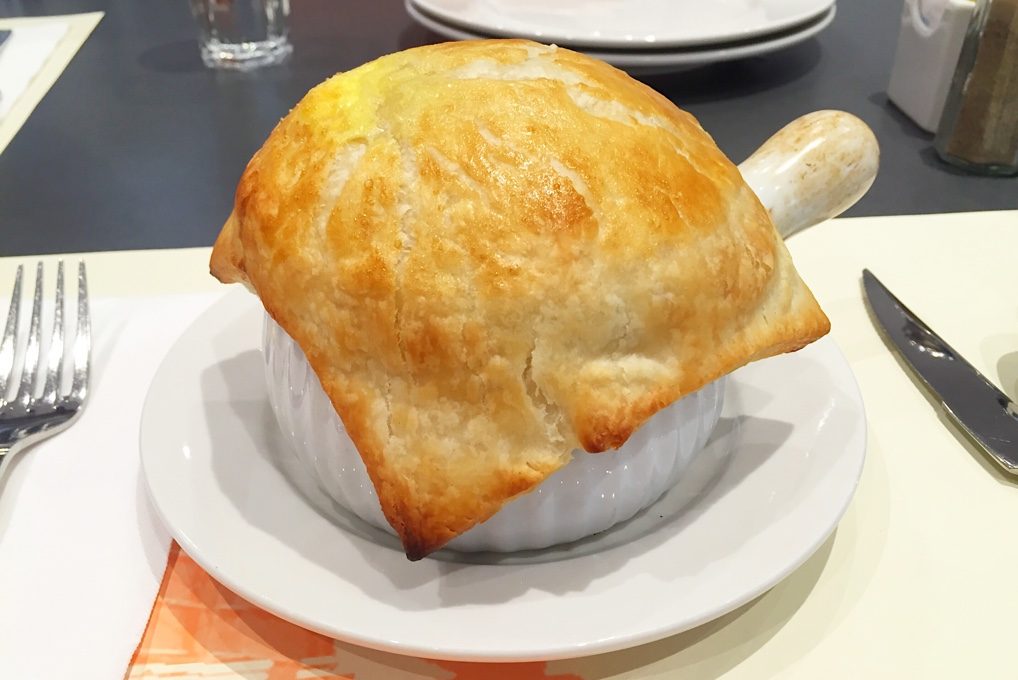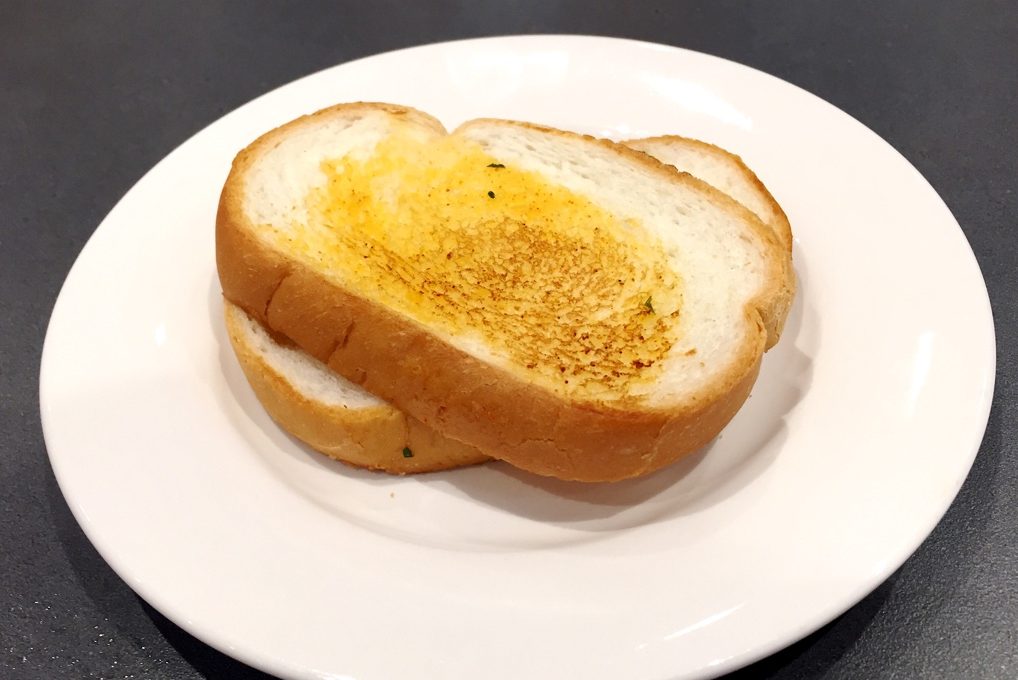 Although it was just a baby lobster (around 1 – 1.25 lbs) served in my mom's Fettuccine with Whole Lobster ($17.95),  the portion of the food was huge. The tomato based pasta sauce complemented the fresh lobster nicely, with the extra parmesan on top added more richness to the dish, showing some simple yet very classic techniques. The dish kind of reminded me of the lobster pasta dish that I had in Greece a few years ago.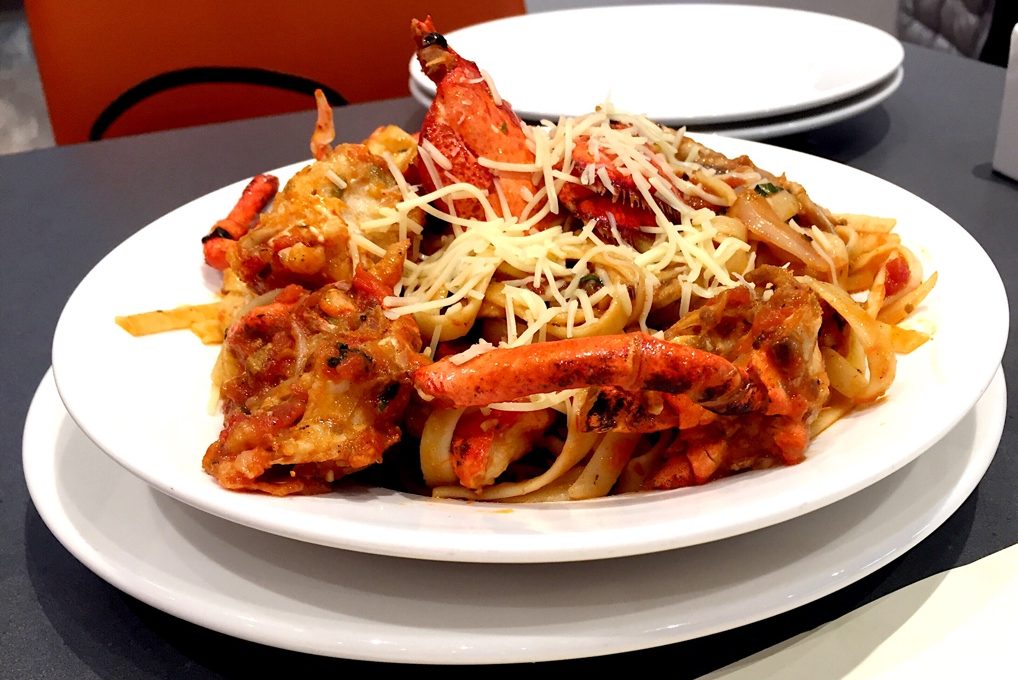 And that piece of steak in the Ribeye Steak with Crawfish ($17.95) was seasoned well and cooked perfectly, sitting on a bed of buttery mashed potato, with slightly cooked fresh vegetables on the side. It is probably the best steak I've every had at any Hong Kong style cafe. That being said, I stopped ordering steak at this kind of restaurants long time ago becauseI gave up on those cut-too-thin and over-marinated steaks at those places. But with the steak here being so juicy, flavourful and incredibly fresh. I was glad I decided to give it another chance.  To top off  this great plate of food, the generous amount of crawfish was like little tasty jewels and I felt like being spoiled.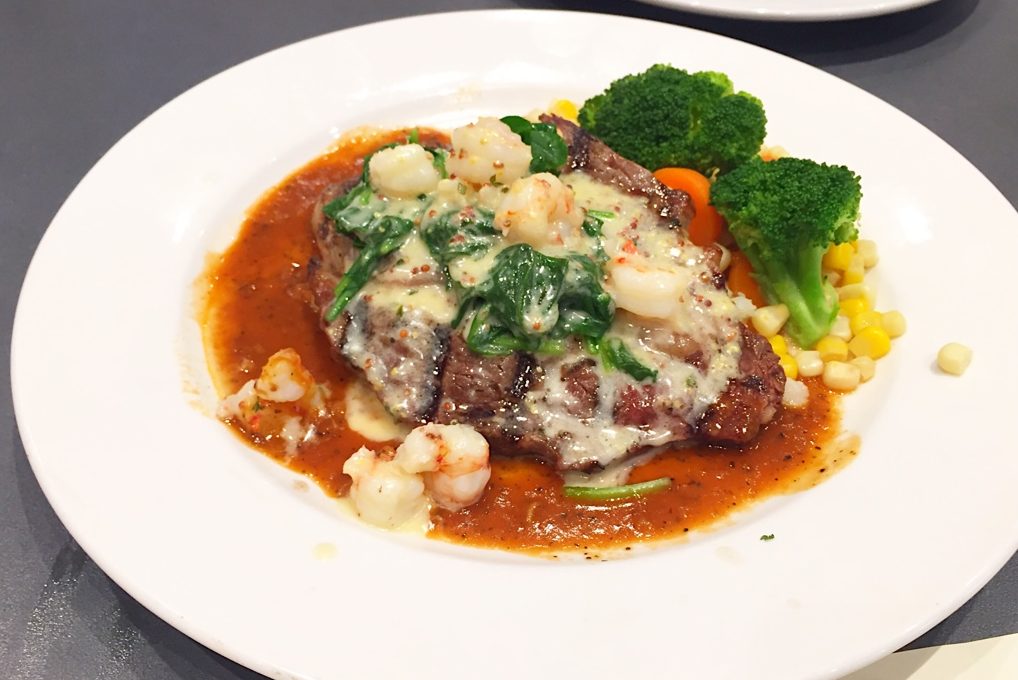 The special dinner set also comes with a dessert, which could be choose from Banana Dessert Crepe or Mango Puding. Both were quite simple but also very delicate and not overly sweet.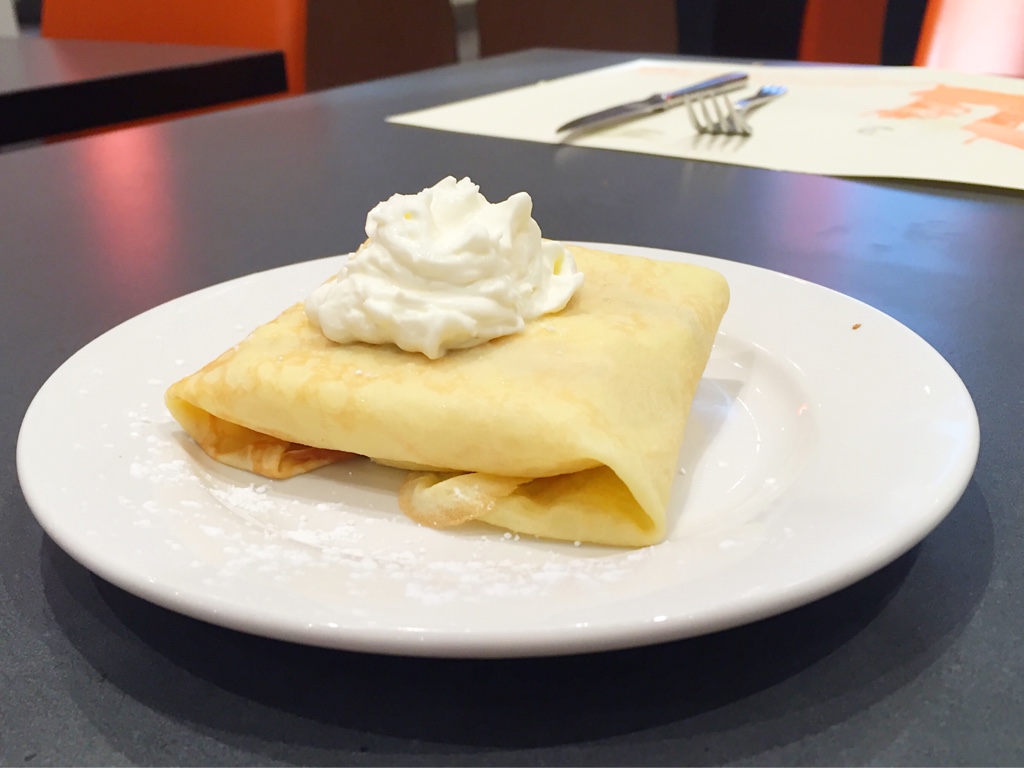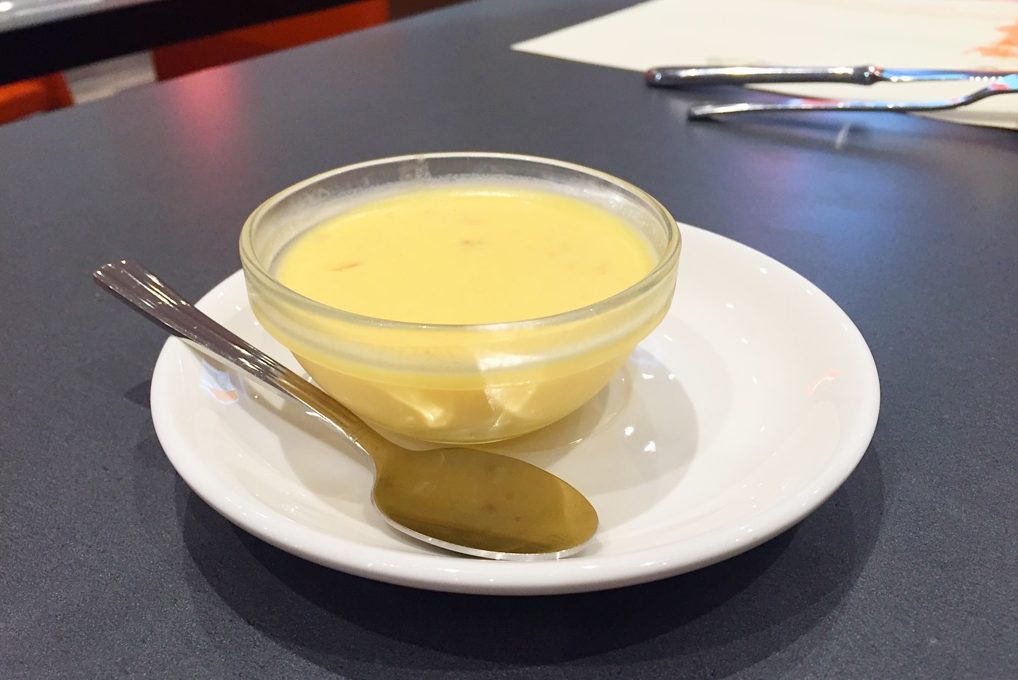 As you can still find the typical cafe fare served at Mandarin Hong Kong Cafe, such as a bowl of wonton noodle soup or a casserole of baked pork chop on rice, you will likely to find the dining experience slighly elevated if you give it a go at one of those special dishes with quality ingredients and refined cooking. The two 3-course dinner specials, the Lobster Fettuccine and the Ribeye Steak with Crawfish, were both quite the steal ($17.95), for which you need to pay over $30 to have that full appetizer, main, and dessert deal at Cactus Club. Yes they are more expensive than the average Hong Kong style cafes in the city, but the quality is definitely worth the extra.
Location: