Kelownians love their sushi! While over 40 sushi restaurants can be found in Kelowna on Zomato, the #1 ranked restaurant in Kelowna on TripAdvisor is Momo Sushi. Going through the long list of Japanese restaurants, I eventually picked Mabui Sushi Izakaya based on some enthusiastic diner reviews. And it would be interesting to see how they focus on serving both sushi and Izakaya dishes as the restaurant name has suggested. Although originally in Japan Izakaya is a pub for men to drink and snack on tapas after work, and Sushi is considered a developed culinary art and only properly trained chefs can serve it in a more formal manner, I personally do not find Izakaya and sushi are 2 conflicting restaurant concepts necessarily – as a matter of fact any type of sushi would makes an excellent tapas dish to go with beer or Rice Sake!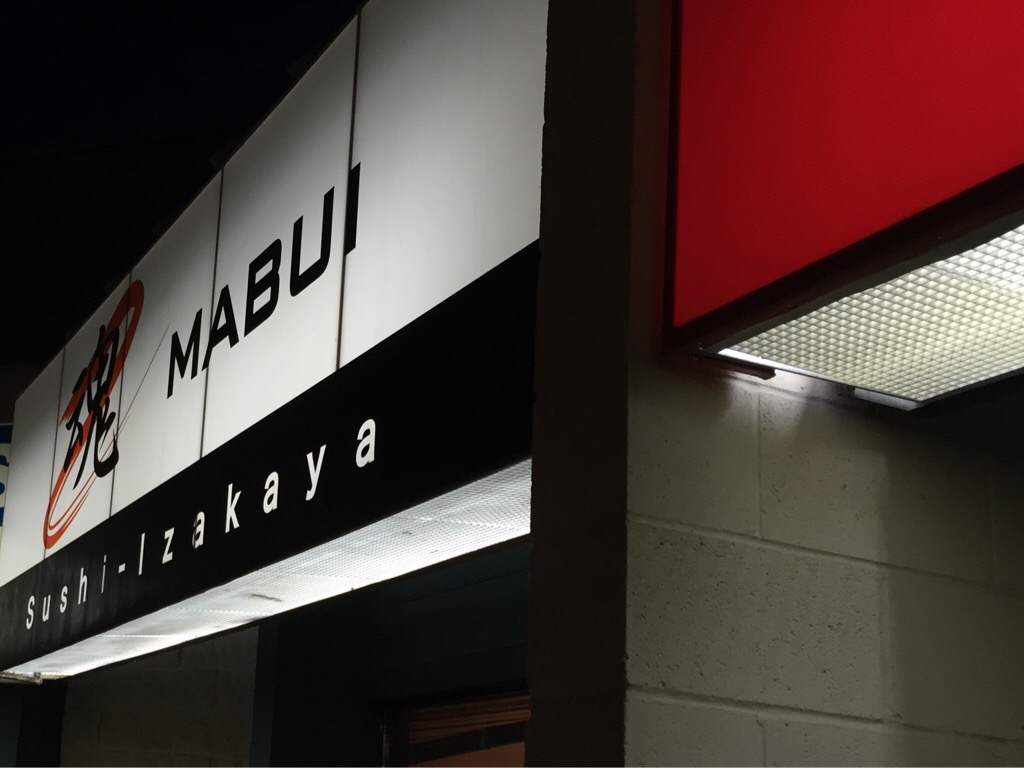 It took us a little longer than expected to find Mabui on a massive block of strip malls, a 10-minute drive from Downtown Kelowna. And there was only 10 minutes left before they were closing at 9pm and their last call is 8:45pm. Thankfully they took us in and offered us a late last call. The closing time does seem a little early for the big city folks.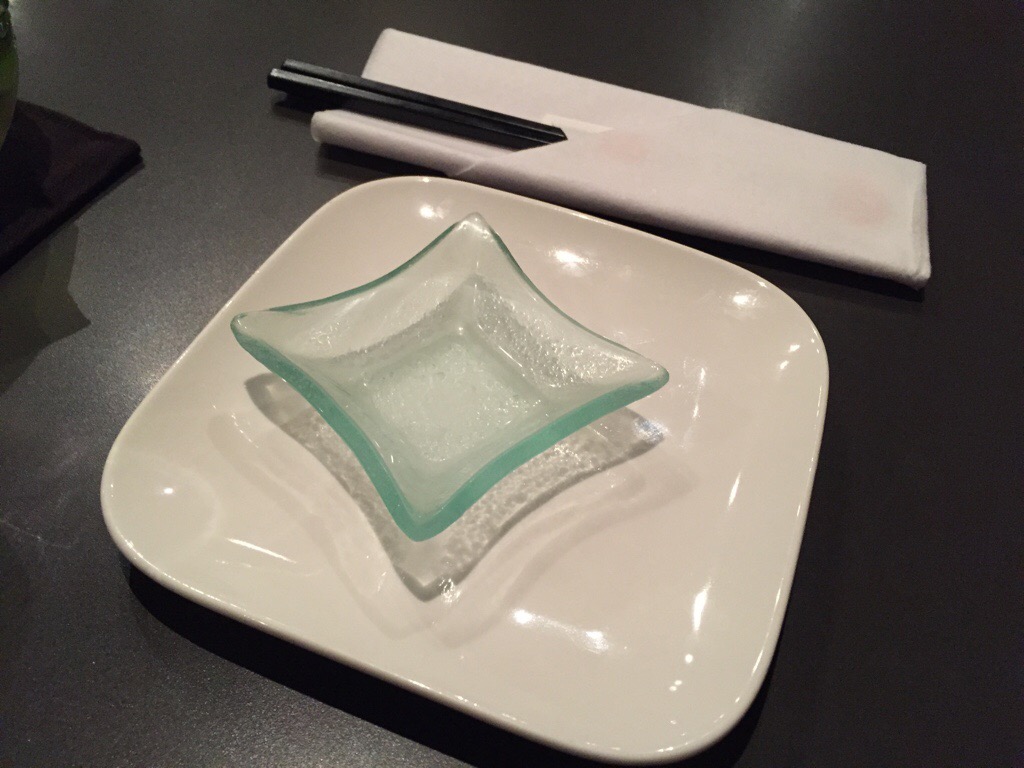 We started with some premium cold Sake, Bizen Junmai Ginjo ($25), served in a very cool looking glass Tokkuri (pitcher), with a built-in pocket to put ice cubes in, keeping the sake nice and chilled. Ginjo is a premium Sake that's much more delicate and complex than the common Junmai Sake. The rice used for producing Ginjo has had the outer 40% of the grain milled away, and the labor intensive process has made the taste much more refined. And Bizen was textbook perfect for a fine Ginjo.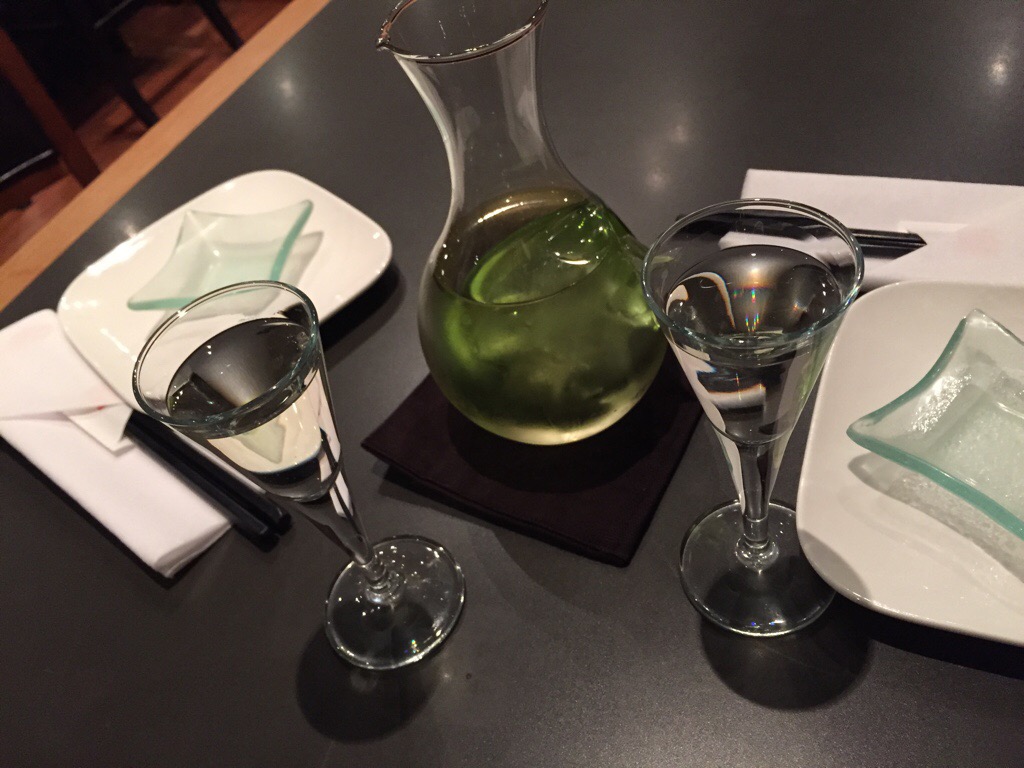 Ginger Beef Kyoto-Style ($4) was a simple tasty dish. Beef was finely chopped and stir-fried with ginger. The flavours were clean and tied up nicely with Mirin.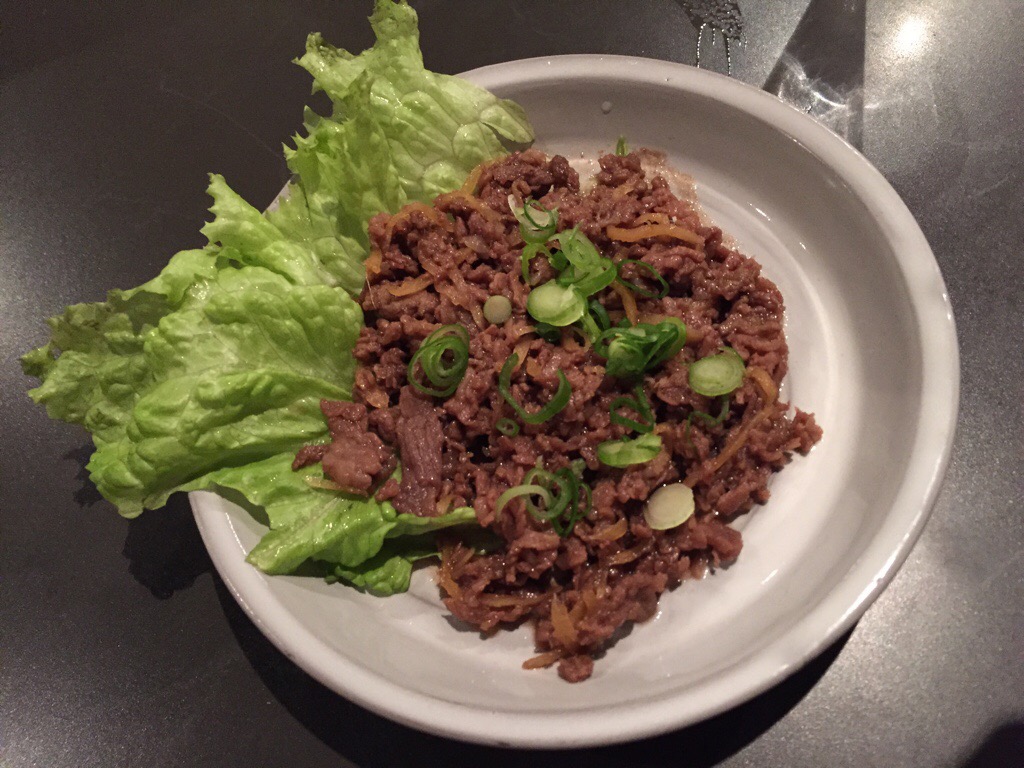 For a long time I only knew okra was used to make Gumbo or prepare some Indian dishes. But apparently it is very popular in Japan as well. Okra Brothers ($5.50) showcases the use of okra in Japanese cuisine in two ways: pan fried then marinated in a sweet ginger soy vinaigrette, and boiled then marinated in Yuzu citrus chili pepper and soy. The seasoning and marinate were very clean and subtle, letting the natural sweetness of this delicate vegetable shine.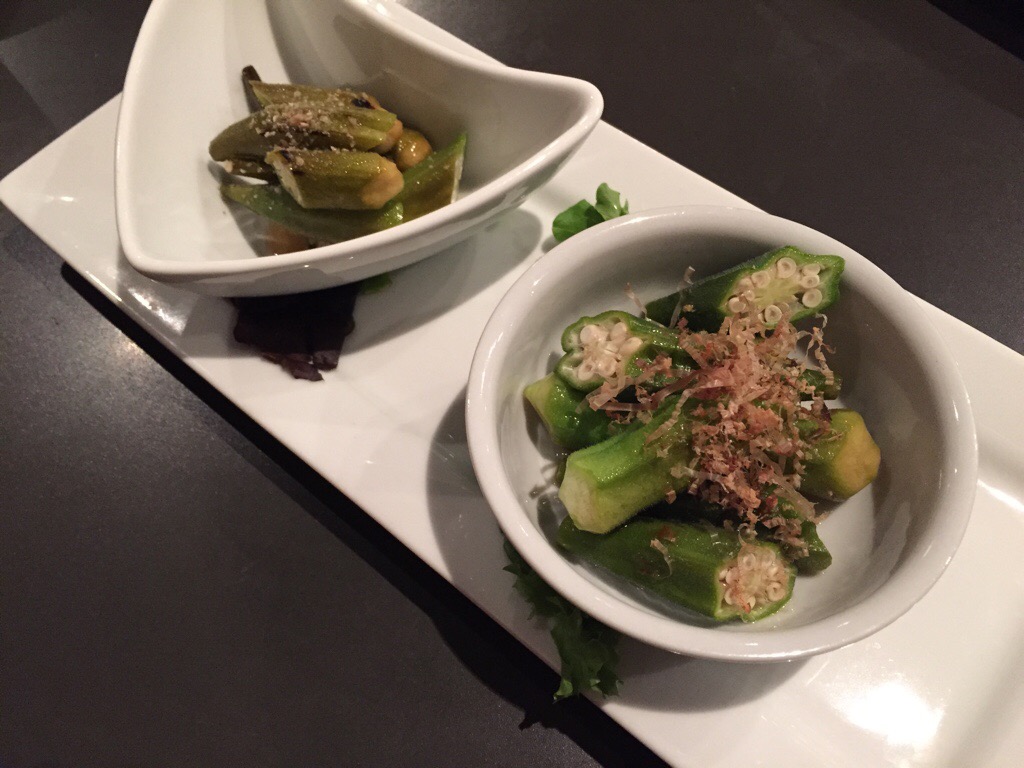 Ebi Mayo ($8), as the staple dish of every Izakaya joint, was prepared well here at Mabui. Although the presentation could be a bit tighter without deep fried vermicelli, which looked like a bunch of foam peanuts I had to dig through in a mailing package.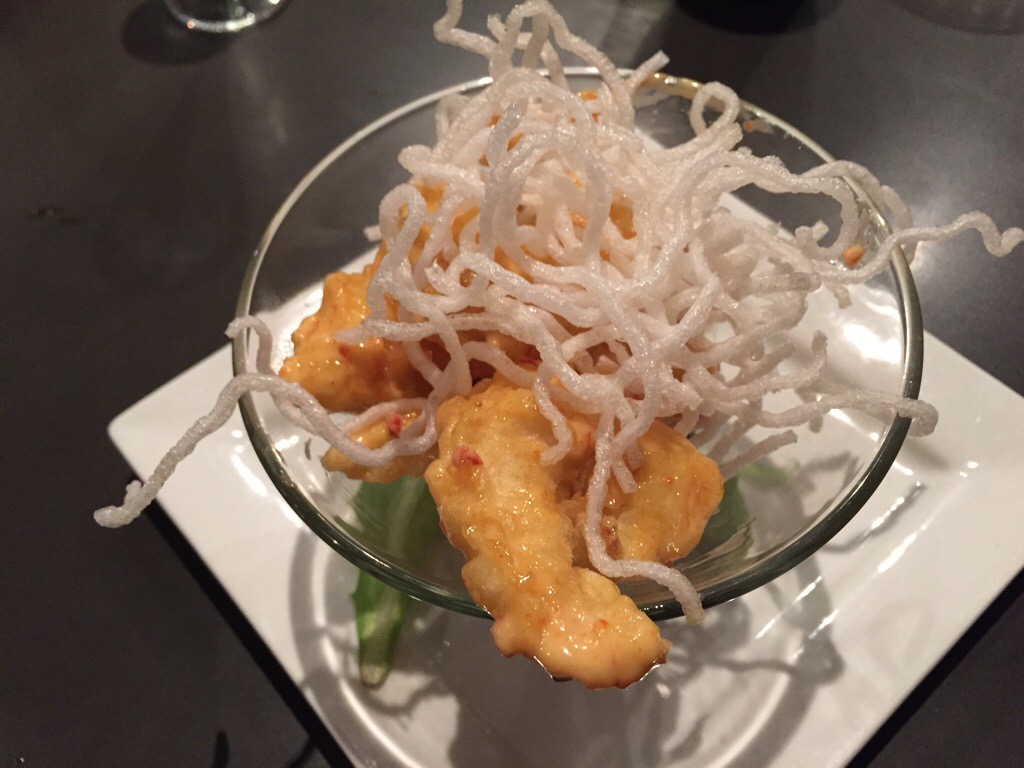 Gyu Tongue ($7), was different from the beef tongue dishes I had at other Izakaya joints. It was presented as rather a cold dish and I found the texture was a bit chewy. However, the dipping lemon juice was more fascinating with some tiny threads of red chili.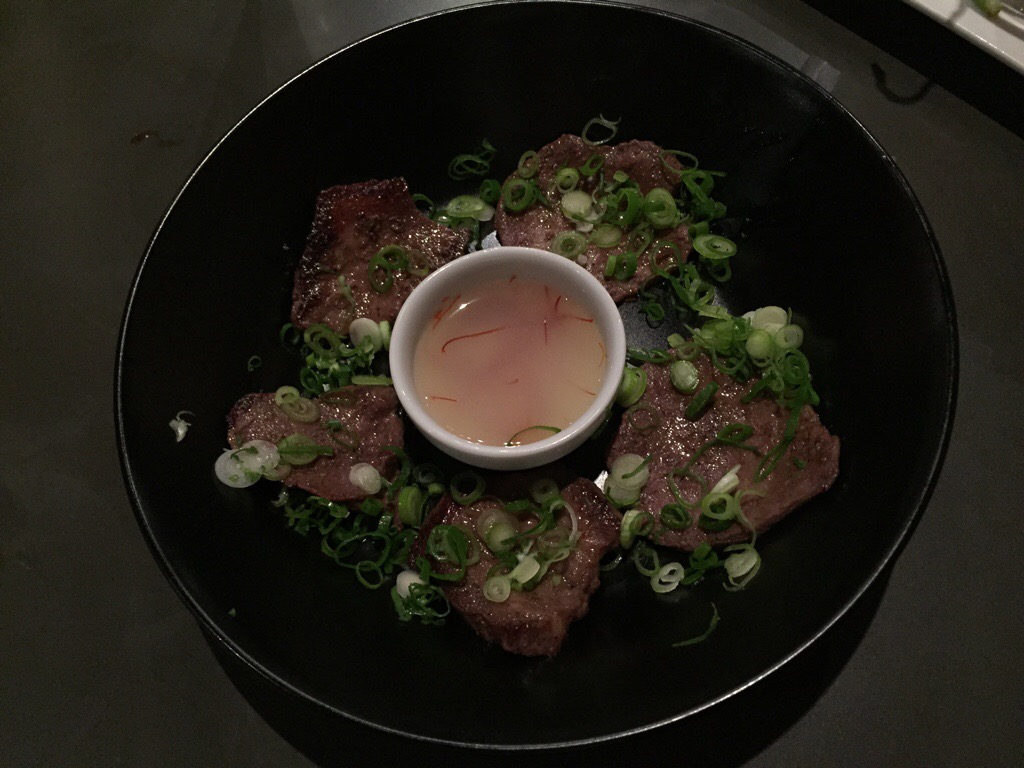 Halfway through the meal, and impressed by the tapas dishes, we were ready for some Sushi!
Both Aka Maguro (Ahi Tuna, 3 pieces for $5) and Hamachi (Yellowtail, 3 pieces for $5) Sashimi were of top quality with the freshest taste and some luscious texture. And I appreciated that they served Sashimi with Shiso leave, a great flavour enhancer to raw fish.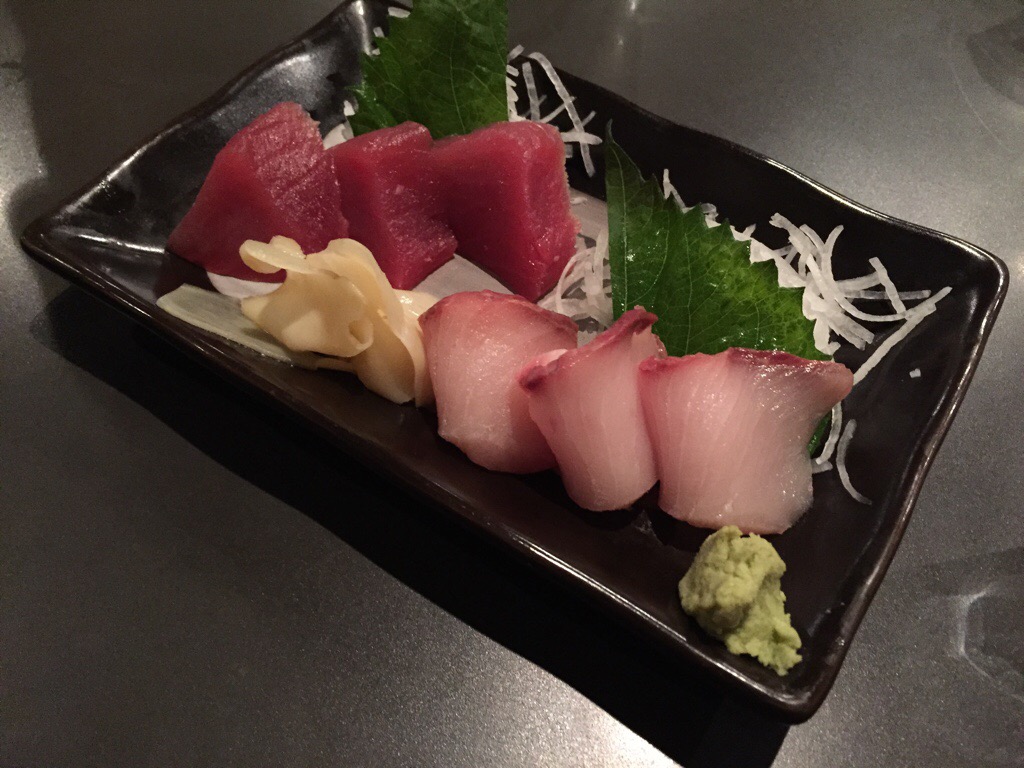 Although being quite far away from BC Coast, I still got an amazing deal on Amaebi (Spot Prawn) Nigiri ($3 each), which made me so happy! And they couldn't be more proper by deep frying those delicious prawn heads and serving them as an additional dish. This definitely deserves an applause!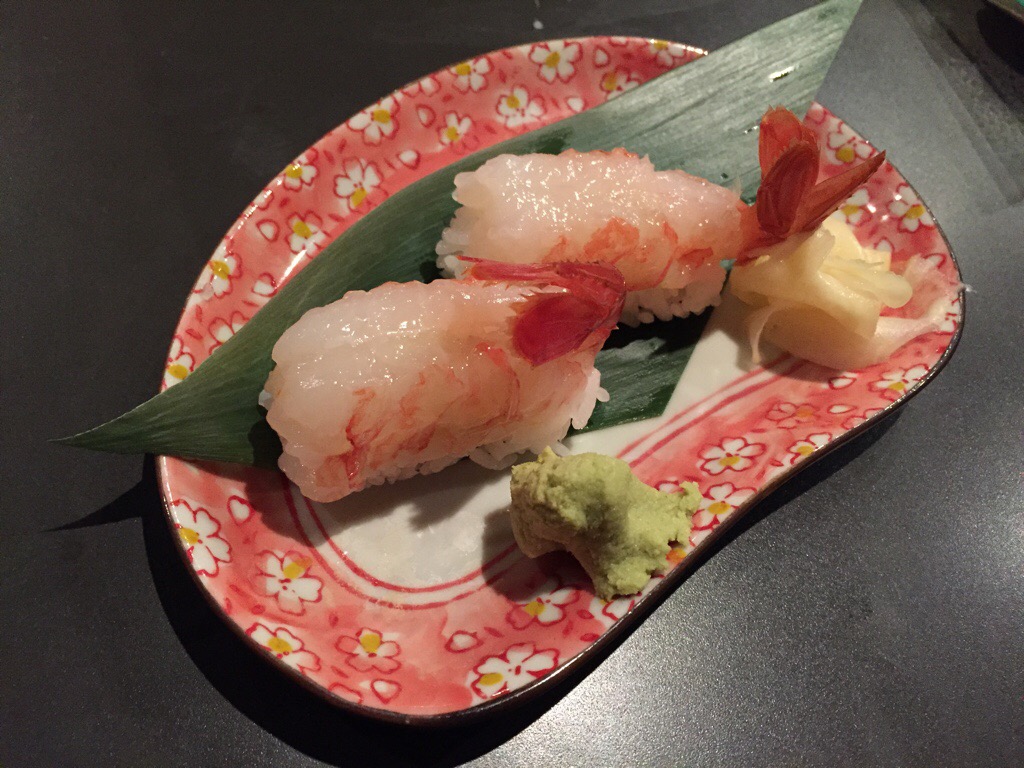 I also wanted to check out their free style Sushi roll, and Mabui Roll ($13.50) seemed to be the natural choice – if they name the roll after their restaurant, it must be their most fantastic creation to carry the brand right? Well maybe expectation was a bit high. Mabui Roll was less exciting that it was described: Chili Salmon, Scallop, Kaiware-Radish, Green Onion, Cucumber, Avocado, Soybean Sheet. It was nice and fresh, but it was lacking in the flavours that pop, and portion was a bit small.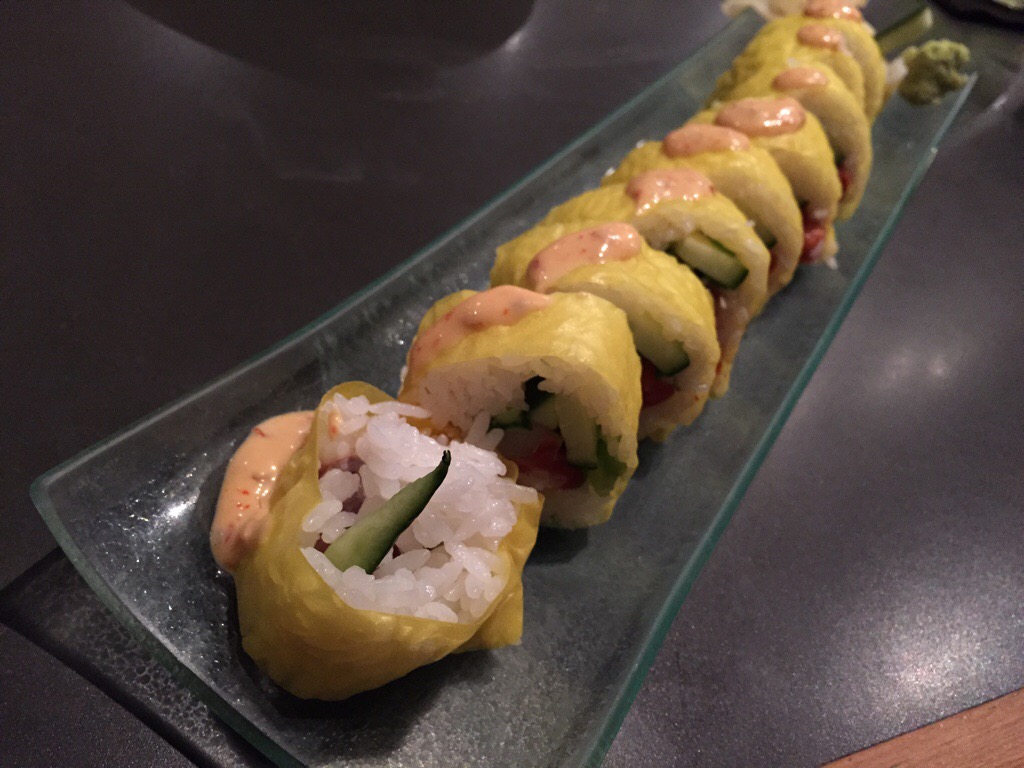 Sumiso Tuna ($8.75) was the Japanese version of Tuna Ceviche with a soft touch of Miso vinaigrette. It was delicious but I think it would be better to serve with some lettuce leaves or some chips to balance the over all texture.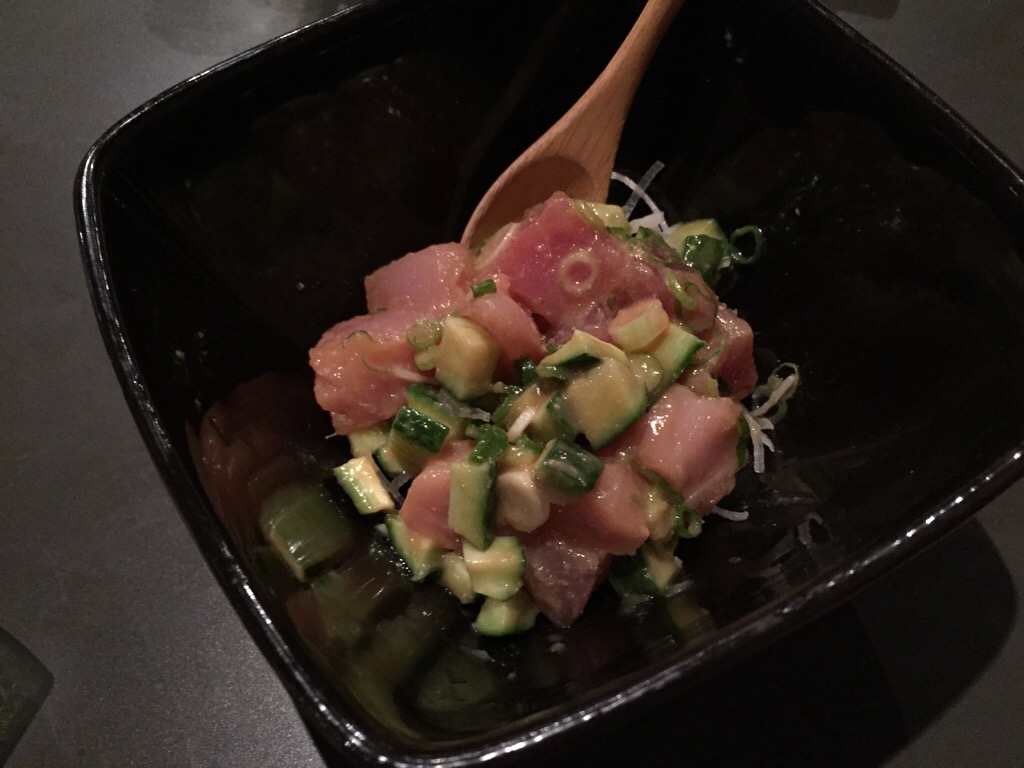 I absolutely loved this meal – the quality of fresh seafood, the carefully designed flavours, and the beautiful details in presentation of the dishes. I definitely recommend it to anyone who wants to find a good Japanese restaurant in Kelowna!
Website:
Map and other reviews: