Although we were not sitting in their new beautiful dining room tucked away in the back, I truly loved our table at L'Abattoir – the first table up in the loft by the stairs where you can look down to the front of the restaurant and the bar, and where you can truly appreciate how tastefully designed this whole place is.
I was a little surprised that the loft dining room was not fully occupied, considering L'Abattoire must be a lot of people's top list for Dineout Vancouver. The restaurant was a favourite for many diners last year, which would certainly boost their popularity in this year's event.
The waiting staff was professionally polite and attentive, despite their slightly over the top hipster appearances, which should be easily overlooked – we are in Gastown after all, and we are here for the whimsical and delicious food, not their hair.
My Duck Raviolo was lusciously complemented by a bed of buttery squash puree, hitting all the right spots with some superb flavours, and the texture of the dumpling was perfect.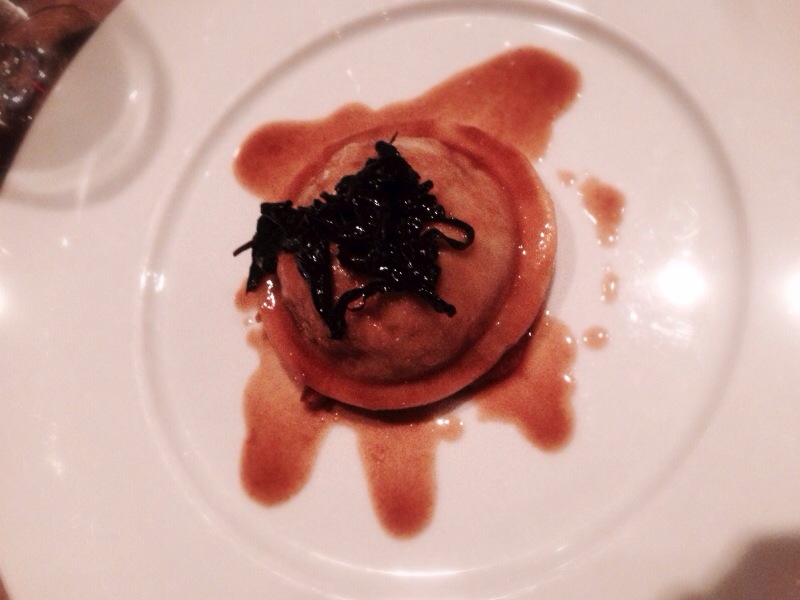 A lot was going on the plate of another appetizer course: thin slices of cured albacore tuna, crispy fried polenta balls, a corn salsa with a bit of a spicy kick from jalapeño. As a whole dish, it was tasty but I was not getting a lot of sweetness from the corn that I was expecting. Nevertheless, it was a very attractive dish.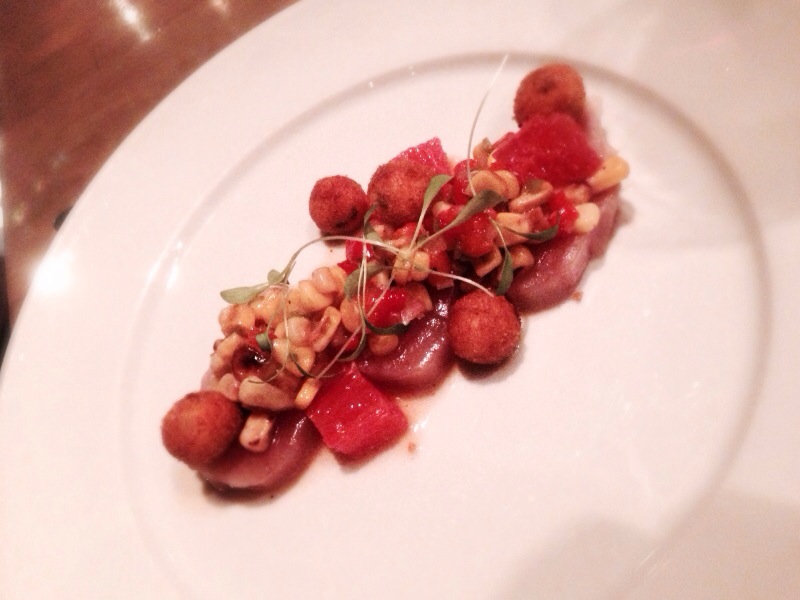 As we quickly progressed to main course, I was pleasantly surprised by the presentation of my Milk Braised Lamb Shoulder. It was nothing like what was I picturing before it came. The arrangement of the components were definitely smart and playful. What impressed me the most was that flavourful red cabbage puree, tying up the whole dish together. However I had a couple really fatty pieces of lamb on my plate.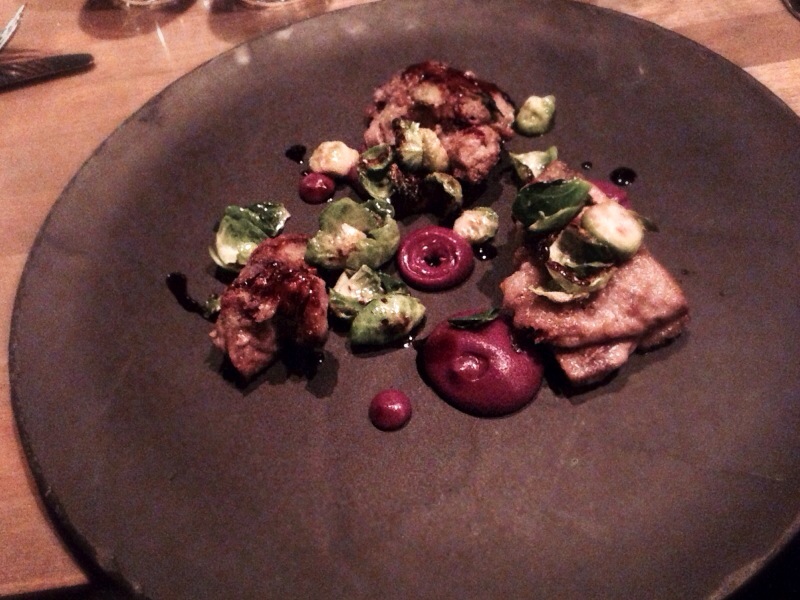 Pascal enjoyed his Coq au Vin. Knowing the fact that it was one of the favourite dishes often prepared by his mother, it was a fine touching moment on this comforting dish.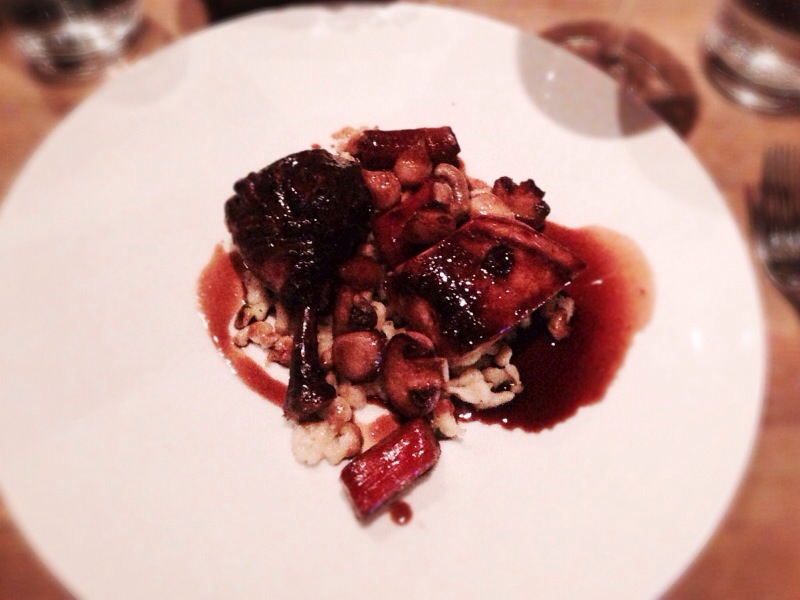 I took a few bites on Ben's Smoked Ling Cod. The fish was a little dry. However the risotto was pleasingly creamy.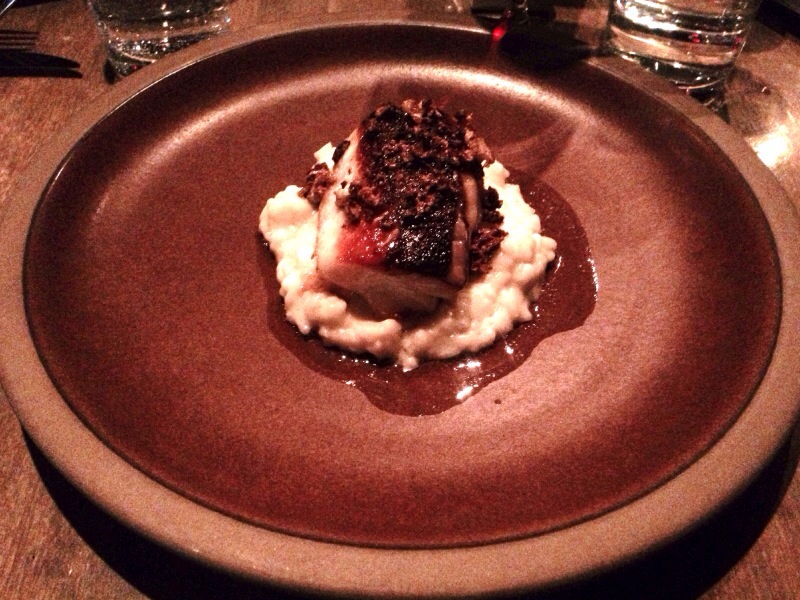 The dessert round was pretty memorable as well. Yogurt and Vanilla Pannacotta lived up to its reputation as one of the most popular sweet dishes on their regular menu, and was incredibly refreshing. Ricotta Cheese Cake was surprisingly light along with a passionfruit mirror and some lime mousse, and it was artistically plated. In my opinion, the true star was Sticky Toffee Pudding with Whipped Creme Fraiche. The warmth of the pudding along with the perfect amount of sweetness had helped it become a real winner.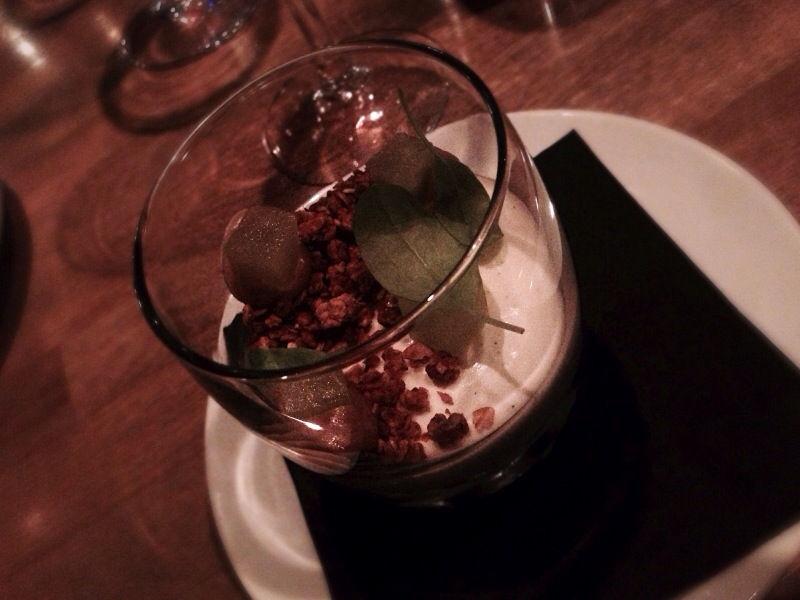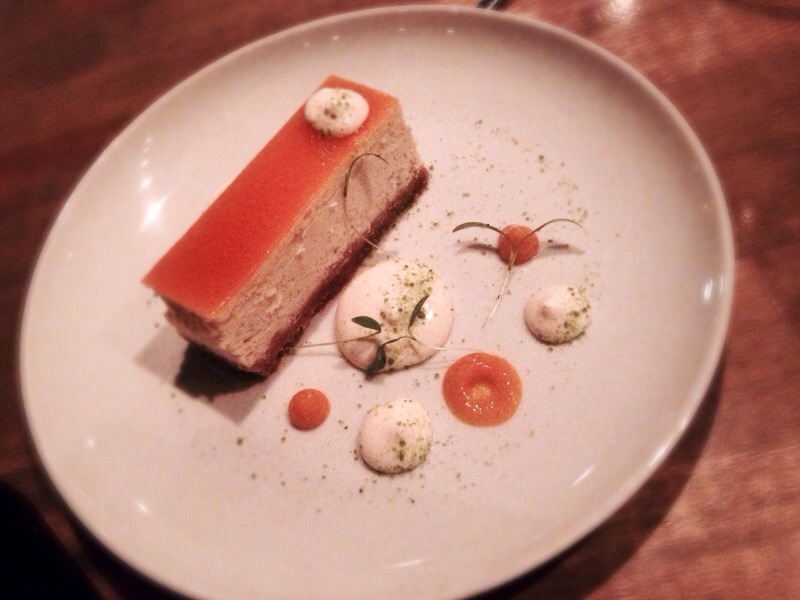 I think I have made an excellent decision on tasting L'Abattoir's Dineout Vancouver menu. As a lot of picky diners have their doubts on the quality of the Dineout menus most restaurants offer, there are always a few places that show some great values. L'Abattorie is clearly one of them.
Official website:
Map and other reviews: