I was fascinated while reading about the recently opened Kozakura in Gastown and their "Kappo" Japanese cuisine. "Kappo" is a style of dining in which the chef prepares and serves a meal on the spot for a customer sitting behind a counter. Although popular in Kyoto, it shall not be confused with Kaiseki, the ceremonial cuisine in Kyoto that also consists of multiple small dishes, as it is less formal.
As I found out Nosh and Nibble was also interested in checking it out, I thought we were just going to pay a casual visit together. Somehow the idea turned into a group event, and I found myself sitting with him and 4 other food bloggers inside the Gastown eatery.  We did think about getting the Omakase option, which is $60 or $75 per person, which seems to be on the pricey side, and finally settled on getting 2 servings of every item on their dinner menu. Normally this would work well at a typical izakaya restaurant, but soon we discovered this did not work as nicely as hoped.
First we had the Osentamago Ohitashi ($6) , featuring a soft poached onsen (hot springs) egg, along with some snow peas in a dashi soy broth. The broth is delicious on its own. Once the egg is broken, the flowing egg yolk gets mixed into the broth, making the broth  richer and even more flavourful.  It is a beautiful dish to set the tone of the evening. But unfortunately this dish is definitely not meant to be shared by 3 people.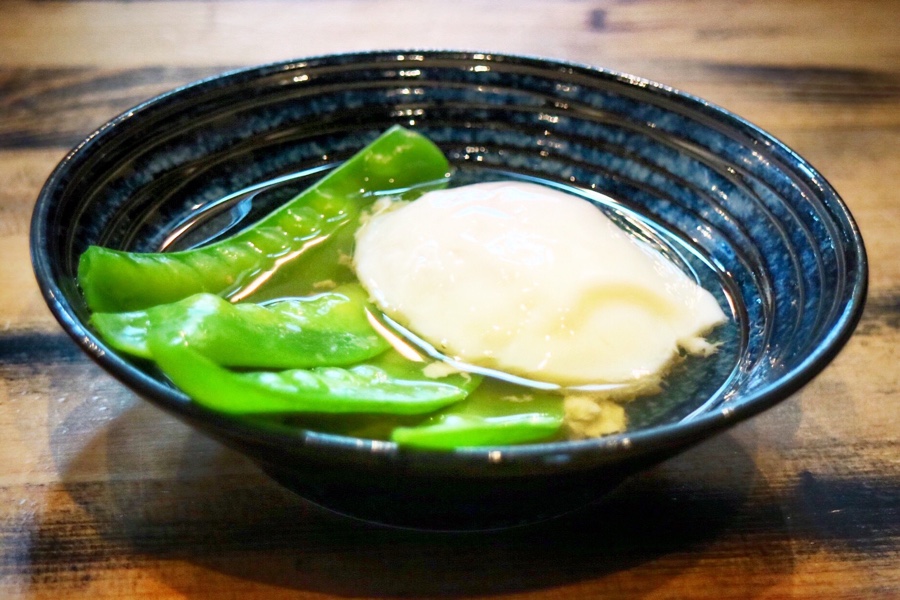 The Aigamo Sumiso ($9) came with sliced sweet soy cooked duck breast, sumiso and flowering chives.   The sumiso sauce, mainly vinegar and miso,  is slightly potent on the vinegary and salty side, and in need of some sweetness or spiciness to balance it out. Although the duck was quite tender, the chives were a bit tough and chewy rather than crunchy as expected.  Since they describe it as flowering chive, why aren't they picking the tenderer part of chive that includes the blossom?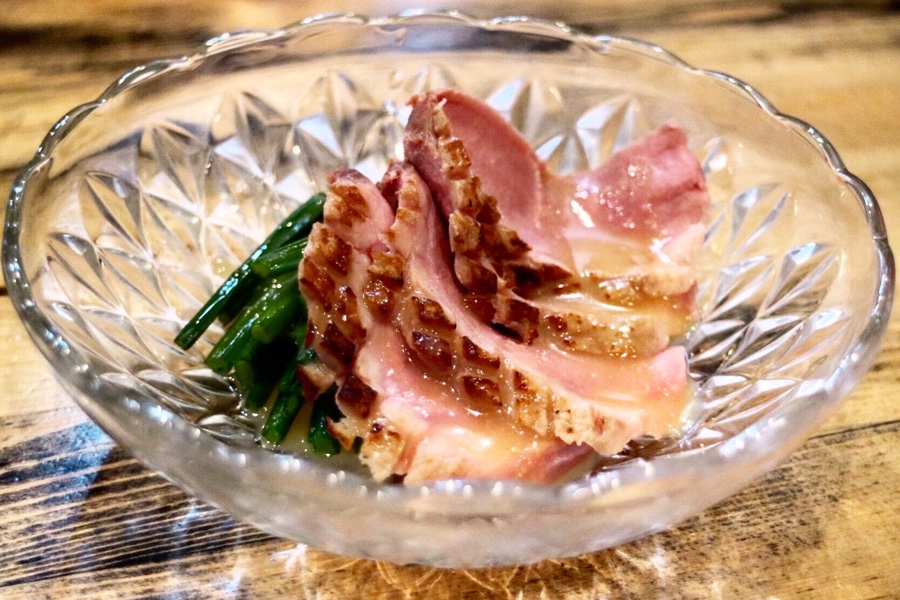 The Honjitsu no Osashimi  ($25) comes with 4 types of sashimi (sockeye, toro, albacore, and amaebi) and 4 pieces each, but the chef managed to provide 6 slices from each type and charged us only $5 extra.  The fish tasted very fresh and I think with such quality the price is reasonable.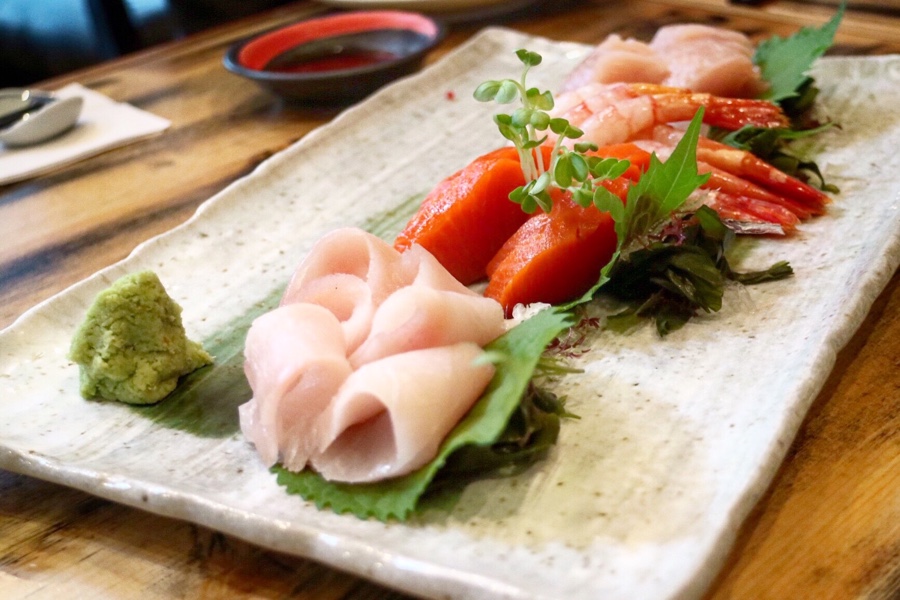 Next we were presented the Tako no Yawarakani ($12) featuring sous vide octopus, dressed with smoked ponzu and garnished with mizuna leaves. Besides the portion being quite small, the octopus was quite salty and the texture was a little tough as well.  As one of the benefits of sous vide is to tenderize the tough meat over long hours, but it didn't seem to be the case here.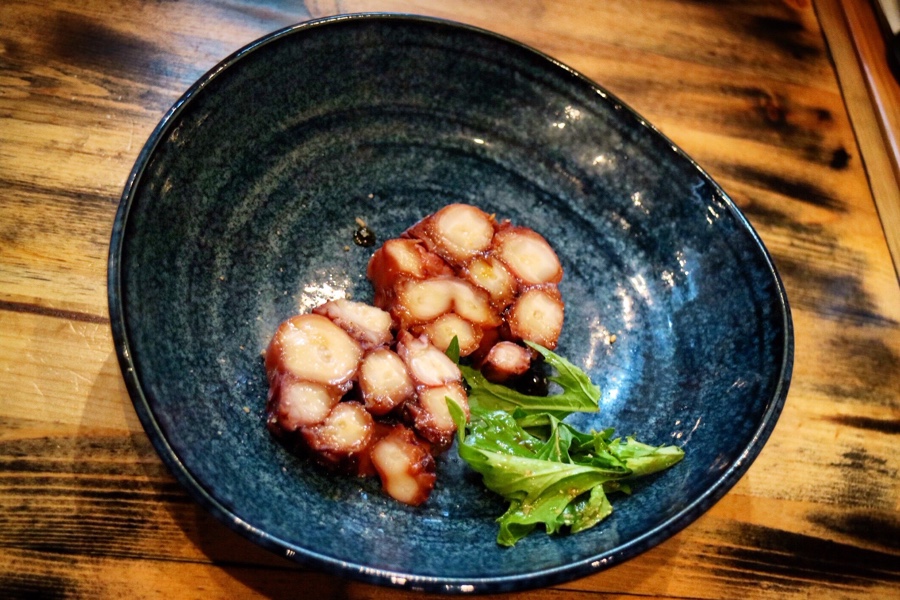 As Food Wench really enjoyed the Sake Kasu Salmon ($10) in which the salmon is marinated in sake kasu for long hours before it was cooked and torched, and she found the texture and flavour unique. I actually found the sake flavour a little overpowering over the delicate fish, and the texture slightly mushy.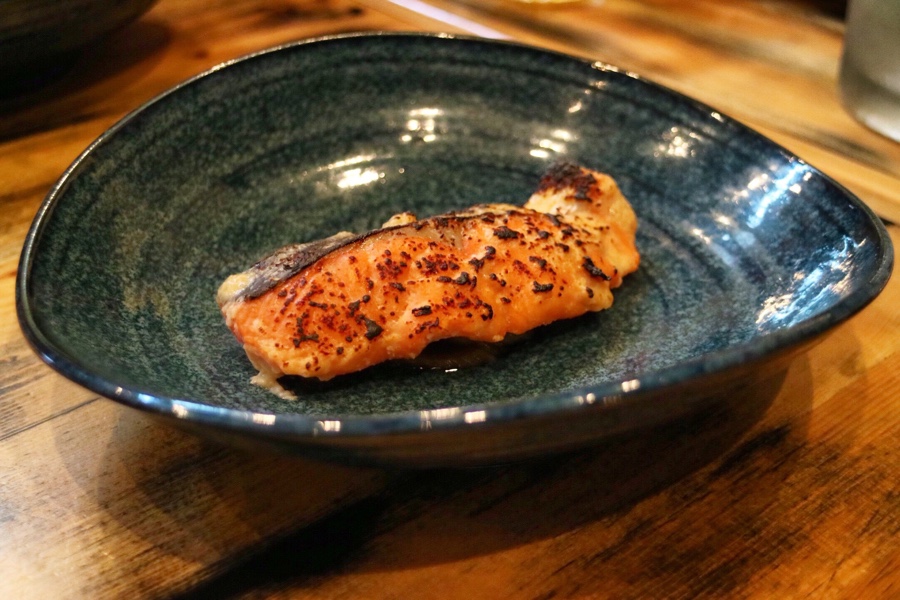 For the Sanshou Steak ($12)  we were presented a piece  of thinly sliced ribeye,  with sanshou peppercorns, and a few shungiku stems. Shungiku, or Tong Ho in Chinese, is one of the very few things that I am not so keen on, but with the sanshou peppercorns, the vegetable was actually bearable. Sanshou tastes just like Sichuan where can i buy valium online peppercorn – spicy, aromatic and having the same tongue-numbing effect. I actually quite enjoyed this dish, and I'm definitely stealing the idea in my own cooking.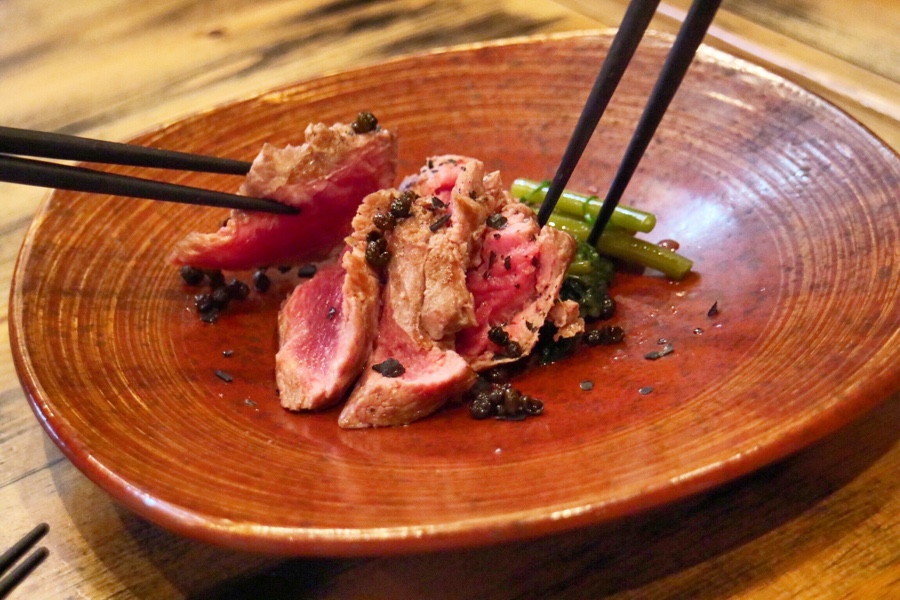 The Sumonomo Salad ($8) was topped with fresh crab leg meat and appeared to be petite and precious. Personally I found the dressing needed a little more sugar to balance the acidity, although I know a lot of people might enjoy the flavour and find it refreshing and appetizing.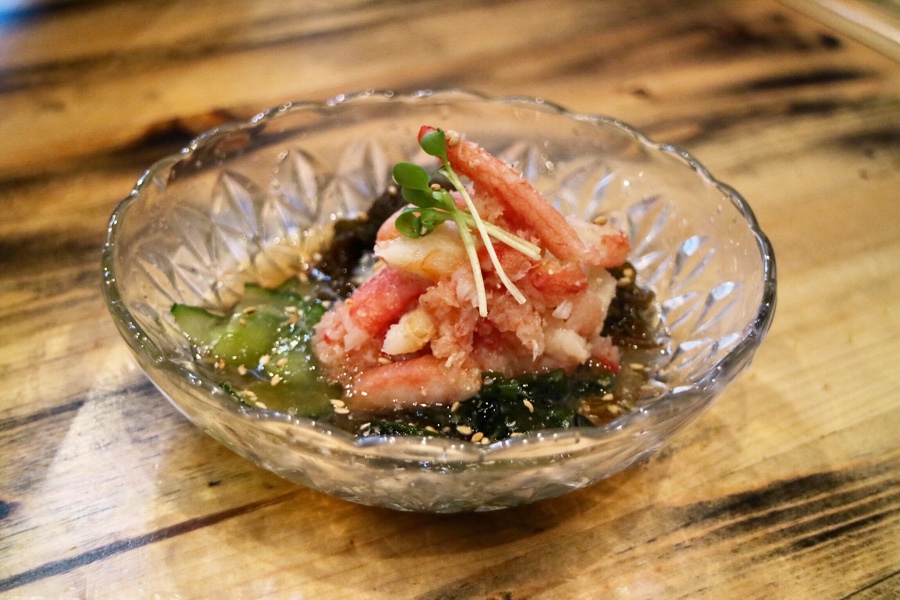 The Yuzu Miso Buta Niku ($10) has a more successful use of sous-vide with sous vide pork loin, yuzu miso paste, and apricot glaze. The texture is slightly chewy but it's  just the way how I like it.  And yuzu miso combined with apricot glaze, giving it all the acidic, savoury and sweet flavours the pork needs.  It was a very small dish as there are merely 5 or 6 very small slices of pork for $10.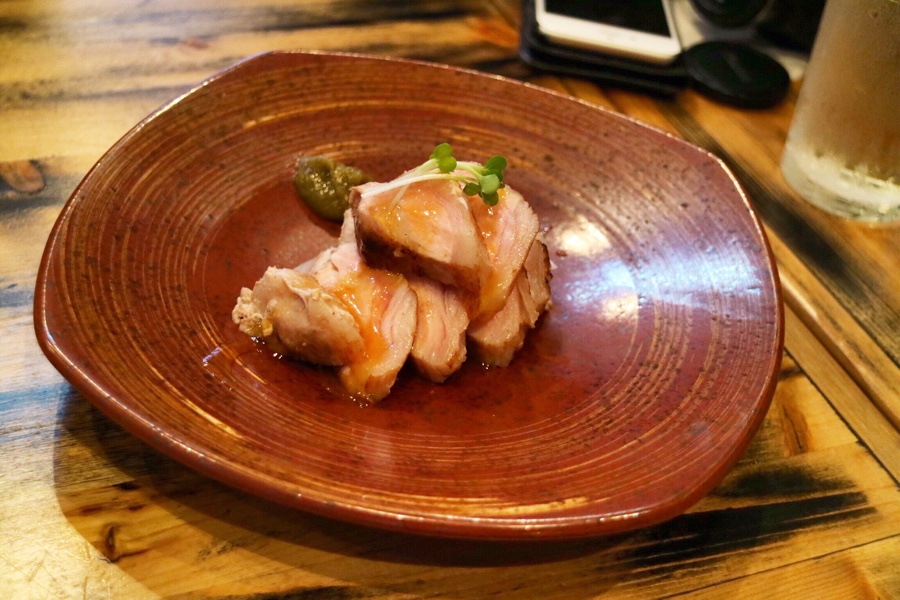 The Madai Sakamushi ($12) is  likable, as a piece of steamed seabream with seared skin, along with a small branch of bok choy, is served in a thick soy dashi gravy-like sauce. The soy dashi sauce is clearly using the same broth for the onsen egg dish, which I really like. The fish itself was  nicely cooked.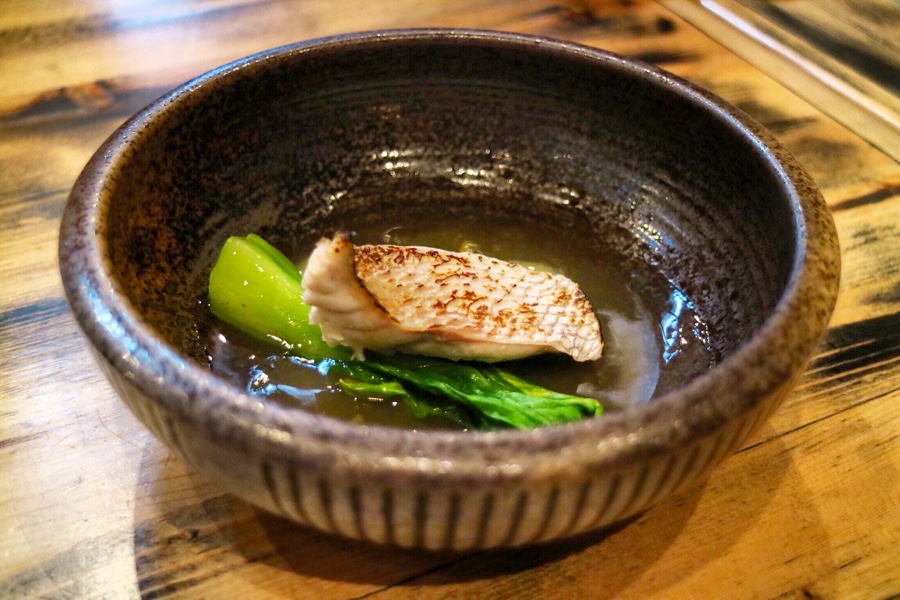 My favourite dish of the night was the Anago Dashi Chazuke ($10), featuring slow cooked sea eel, steamed rice, dashi, and mitsu. Not a huge fan of unagi (fresh water eel) and the unagi sauce that's often a little too rich and too sweet, I rather appreciate how light but flavourful the sea eel is. All the components were cooked nicely with subtle but pleasant flavours. I figure the proper way to eat it, is to mix the rice in the dashi broth and consume it like have congee or soup using both the chopsticks and the bowl.  But to share with 2 other people, it was somwhat challenging.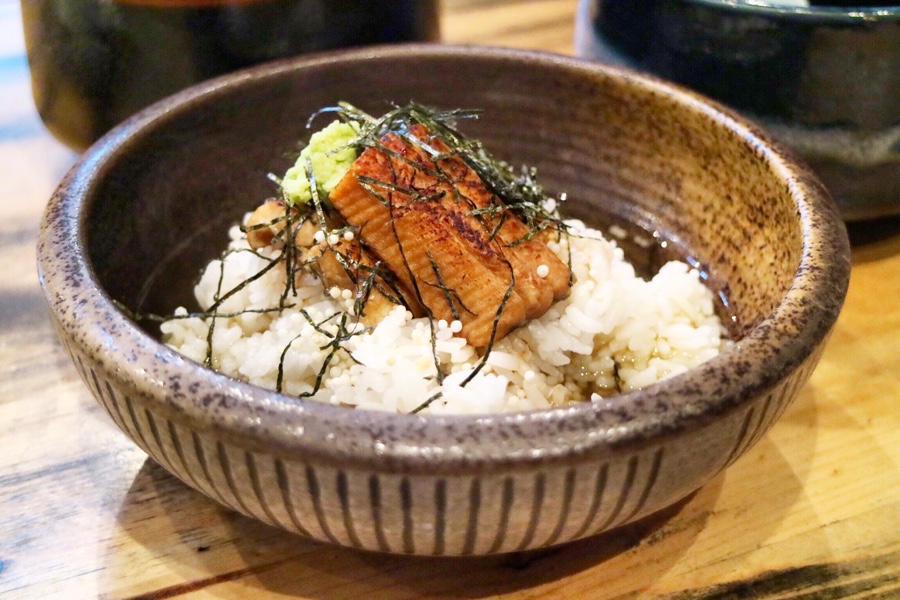 Maggi and I shared some Hakuin Masamune (300 ml for $30), it was an easy drinking sake and it went well with the food.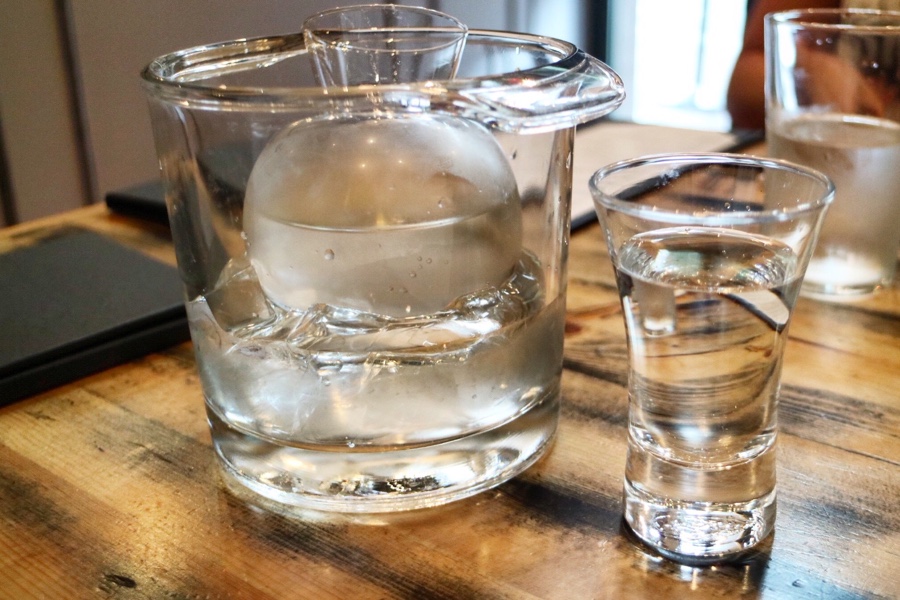 Nosh and Nibble enjoyed a small serving of Yamahai Ume Sake ($10). Not to be confused with Umeshu, which is shochu (distilled liquor) with steeping ume (plum) flavour, this is a sake that's infused with ume. So it is even lighter.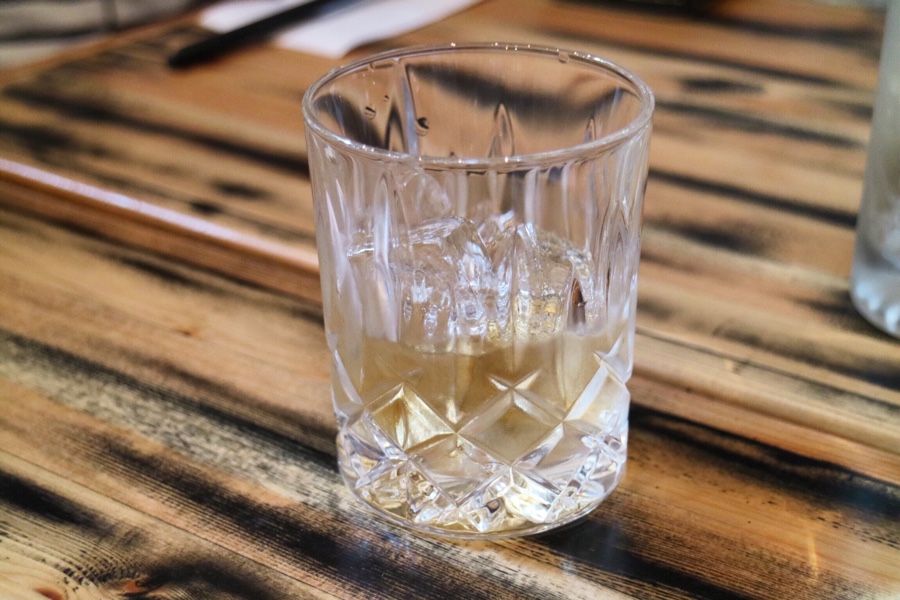 There are a lot of artistic touches to the interior design. Overall the ambiance is very Gastown.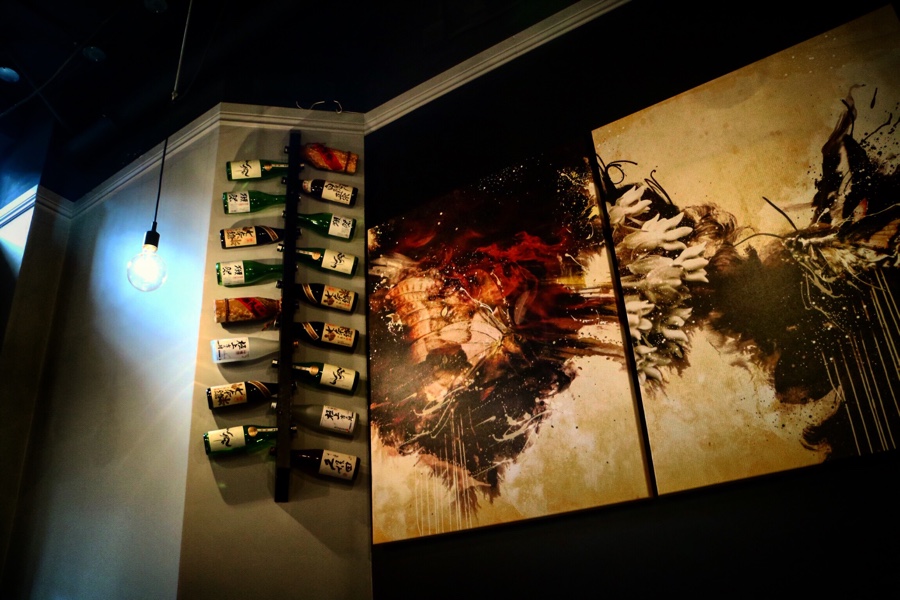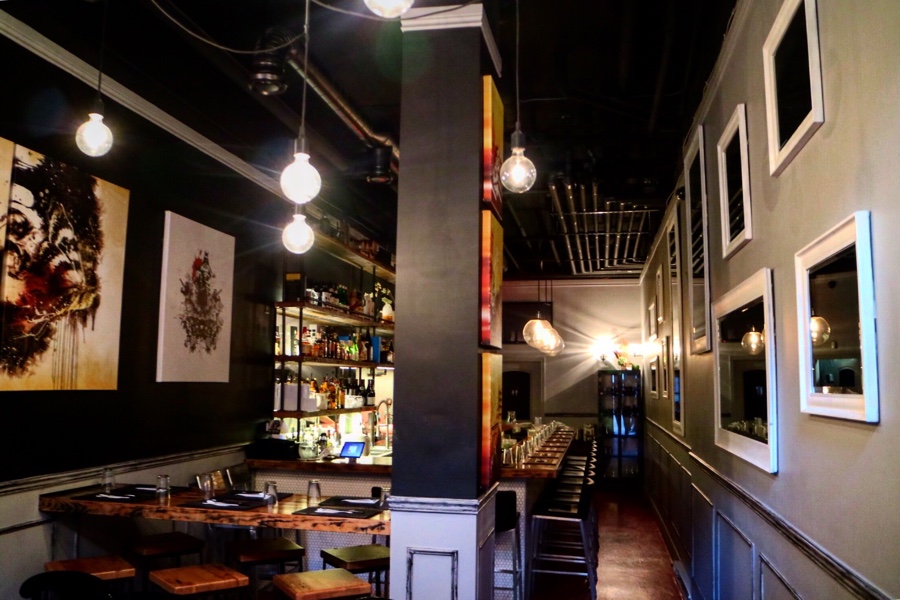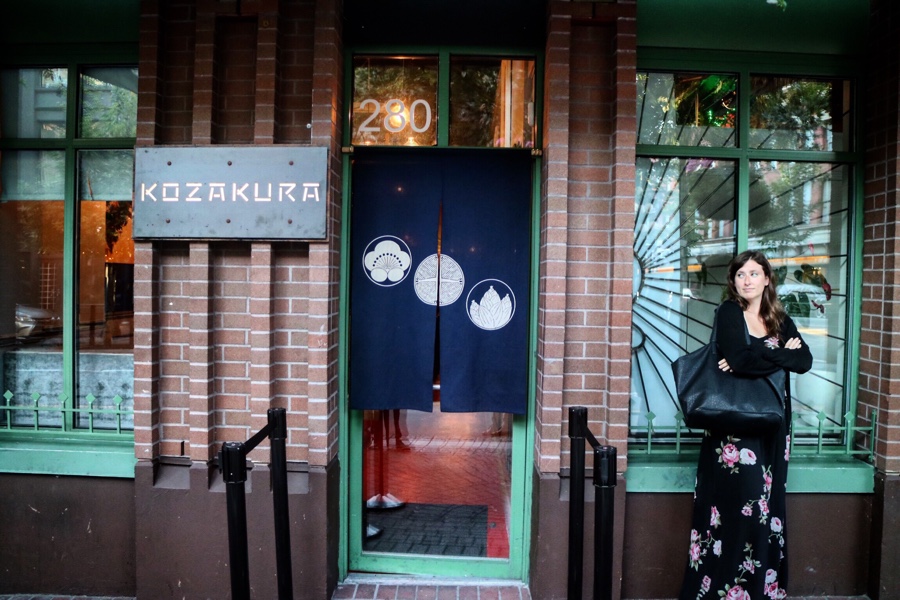 I was also in the company of Foodgressing and Foodology.
I would compare the experience of dining at Kozakura to  a viewing of a small artsy film,which definitely has a few heart felt beautiful moments. But I'm not sure if the whole thing would warm up to the mainstream audience quickly.  However the cuisine style does have potential to be better received if they could fine tune the menu or the format.  A tasting menu with 5 or 6 courses around $45  seems more adequate.  I think people will prefer that over omakase when they visit for the first time. As almost all the dinner dishes here are quite small to share by more than 2 people, if you are looking for izakya style dining, this place is not the right place. If you're adventurous and up for a unique experience, Kozakura is worth checking out.
Website and menu:
http://www.kozakuragastown.ca/
More reviews:
Location: