I should have listened to Anthony Boudain and never ordered fish or sushi on a Monday, not even at one of the best restaurants. On top of that, it is always a tough test for a restaurant to open their doors on Monday when the head chef is likely taking the day off.
Despite all that, our dinner at Kingyo Izakaya was still somewhat enjoyable, proving that they still have what it takes to be among the hottest spots in Vancouver.
They are indeed very popular. Even on a dreadful rainy Monday evening at 6 pm, we are only able to walk in and and grab a table under one condition: we have to leave by 8 pm. As soon as we walked in, we were greeted by a jolly staff in a loud izakaya style. The ambiance was warm and lovely in the dining room and we instantly forgot about how terrible the weather was outside.
My visiting guest Damien and Joanne, happily married, moved to Taiwan several years ago. They now own a small restaurant in a suburb of Taipei and I was eager to hear their exciting stories running their business.
As we were busy catching up with each other, we made a small and common mistake at an Izakya – we ordered too many dishes all at once at the beginning. In barely 10 – 15 minutes. All 5 dishes were already on our table. It certainly looked glamorous to have a table full of food, but we felt a little rushed. And the first 2 dishes they fired were Assorted Sashimi Omakase and Stone-Grilled Beef Tongue, which both needed immediate attention. The hot stone grill only stays sizzling hot for over 10 minutes, as sashimi certainly cannot sit there for too long. So we had no choice to consume both dishes at the same time.
Stone Grilled Beef Tongue was definitely a whimsical dish. Beef tongue was thinly sliced, slightly marinated, and sizzling hot on a round black stone. The garlic miso based dipping sauce for the beef was amazing. I thought it would be more thoughtful and more fun if the server had demonstrated to grill a slice in front of us.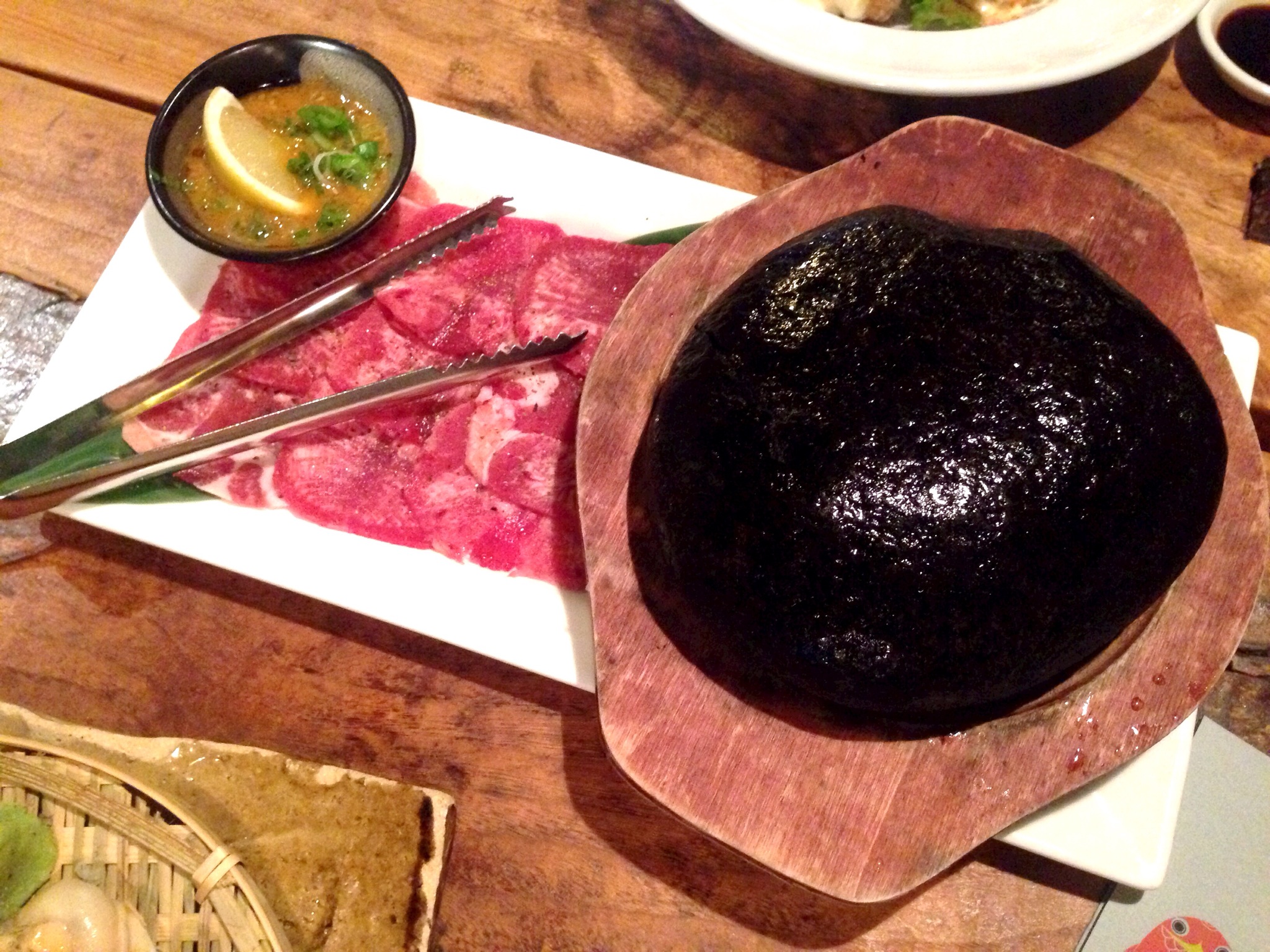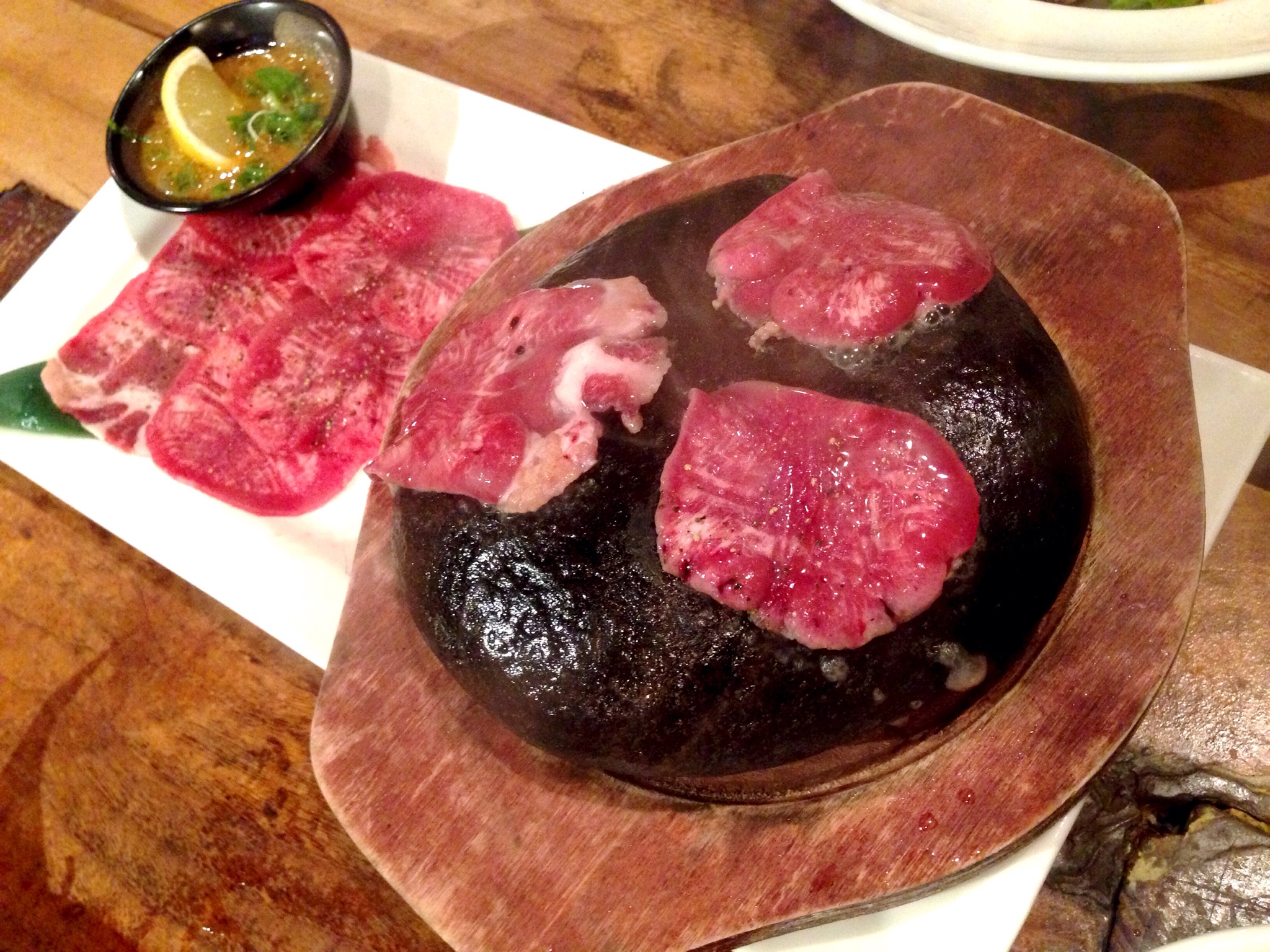 The Assorted Sashimi was beautifully presented. Sockeye, Hamachi, and Ahi Tuna were fresh. But the texture of Scallop was slightly grainy. It was our first time to try Whelk as a sashimi item. It was interesting but it was lacking the sweetness and freshness that we usually look for in sashimi. Also going back and forth between sashimi and the beef tongue dish was not entirely pleasant. It is definitely not a good idea to eat hot and cold dishes at the same time even for small-plate tapas.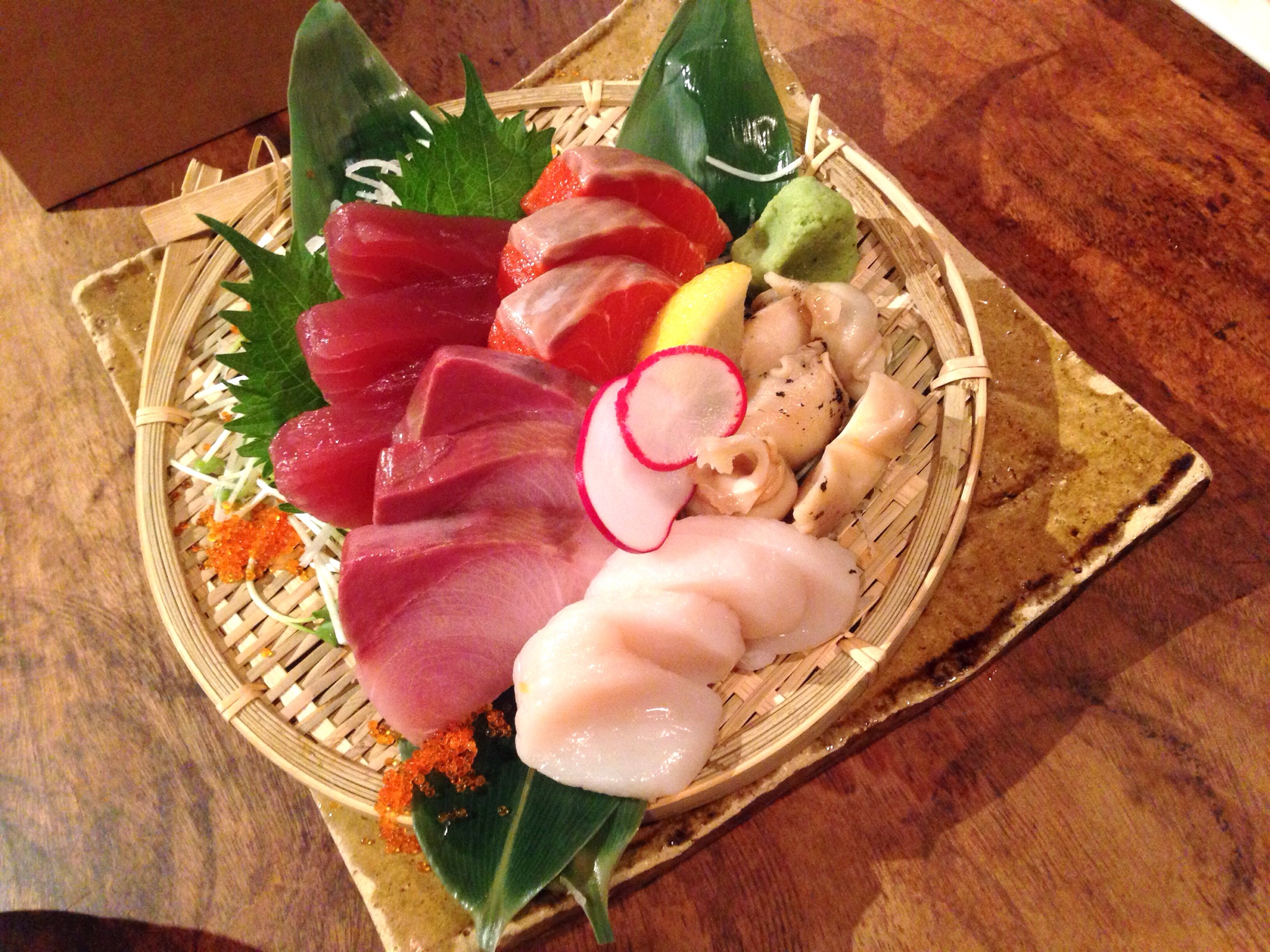 Their deep fry dishes were on point and we had no complaints at all. But Ebi Mayo and Chicken Karaage were nothing special. I have had them both at Guu or Hapa, and they were just as good.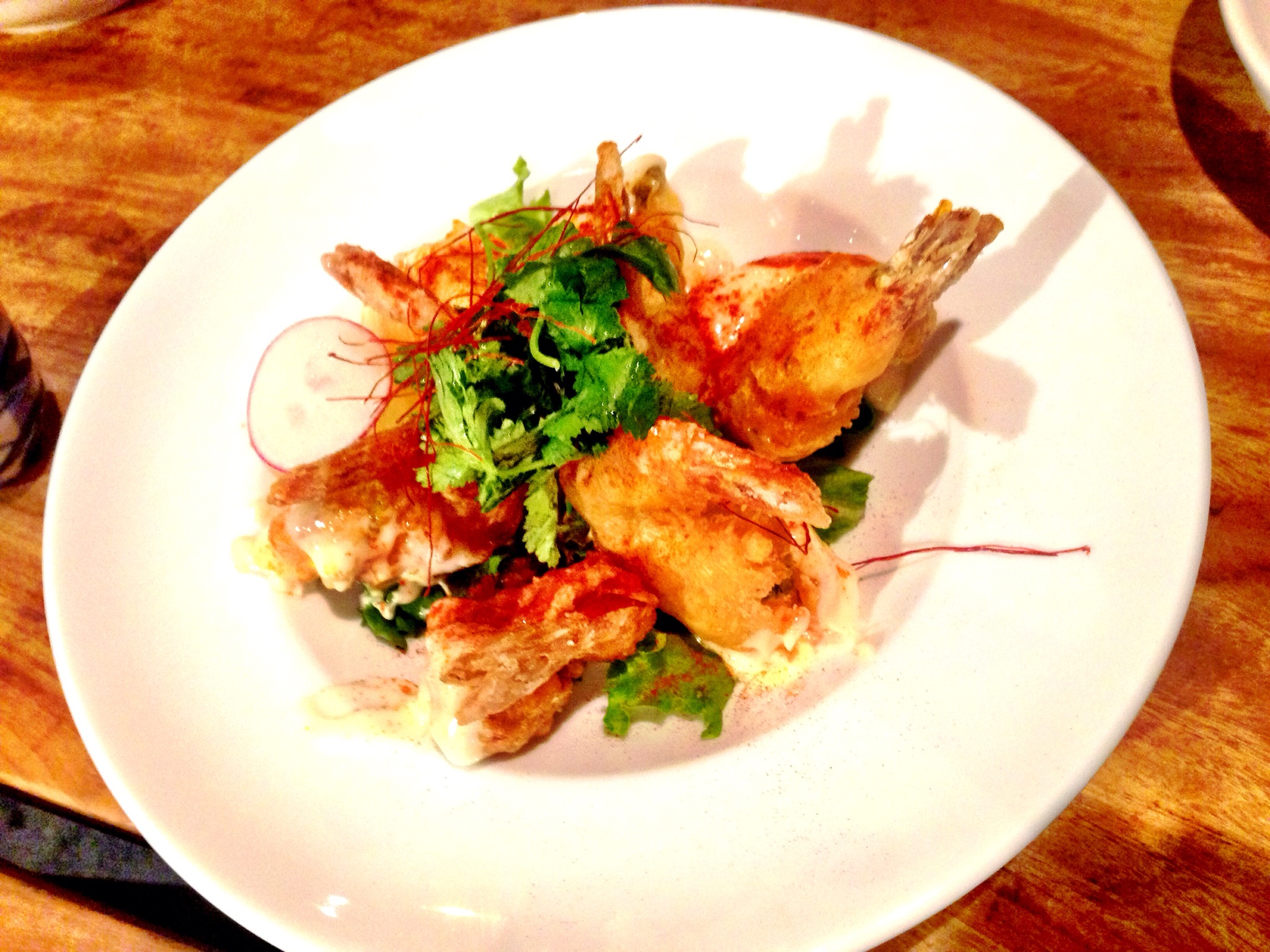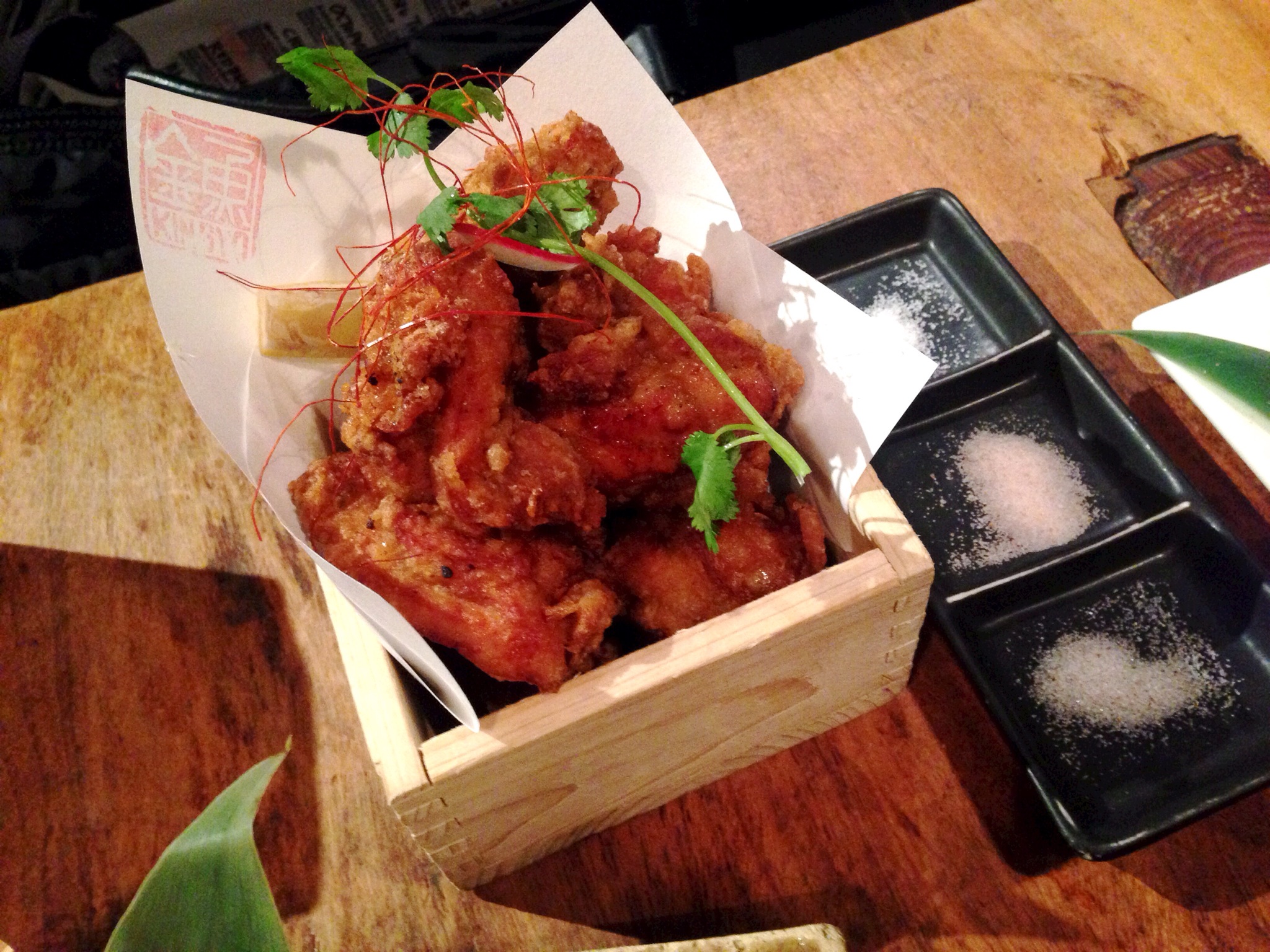 Then here came the first major disappointment of the evening: Snow Crab Pressed Sushi. The crab was clearly not super fresh and also pretty dried out. The rice did not seem properly cooked and flavoured either.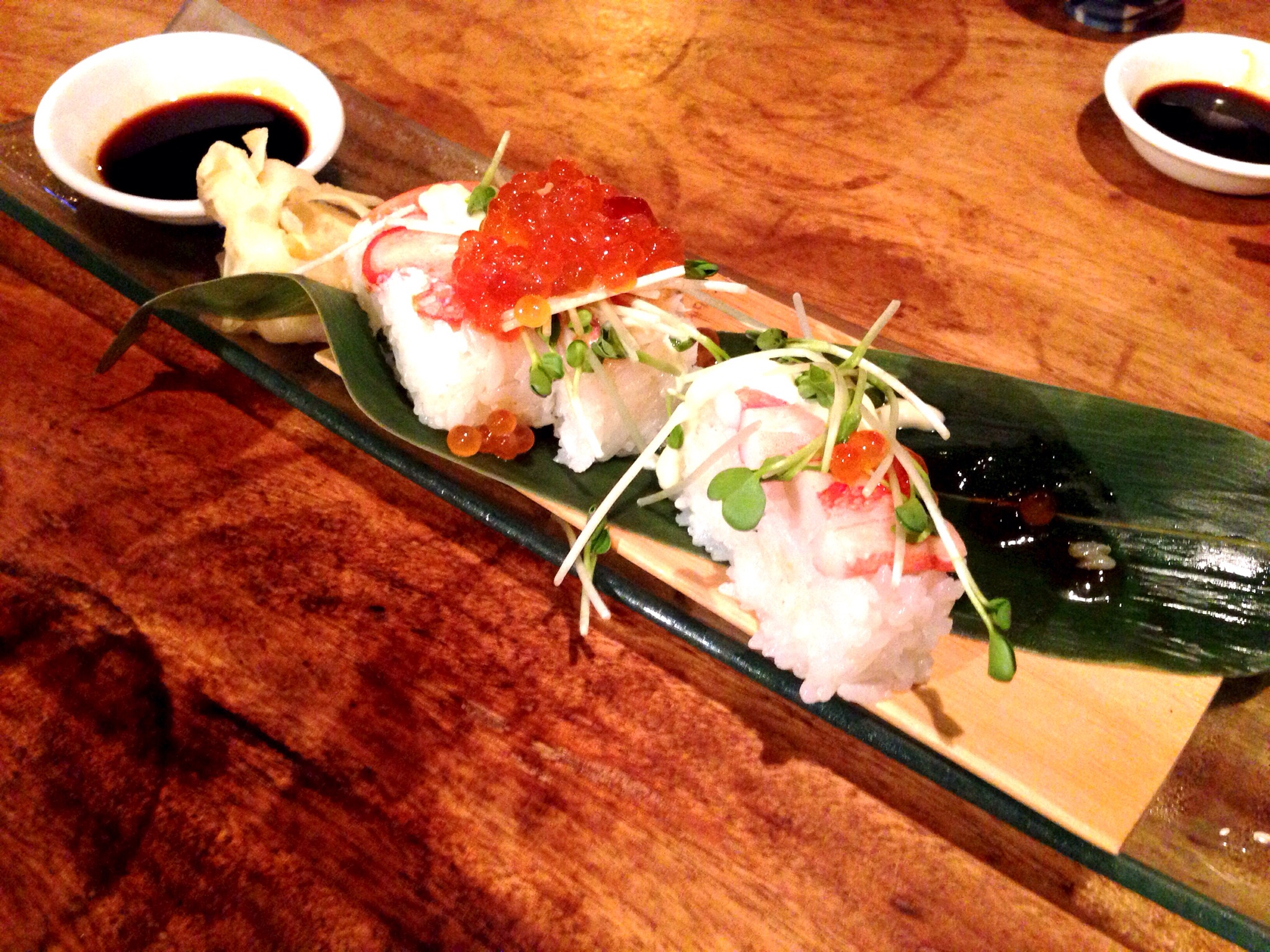 We ordered 3 more dishes to go along the 2nd bottle of hot sake we were having.
Deep Fried Fresh Corn was a small dish with half of a corn on cob split into quarters length wise, deep fried, and covered with soy-butter. It said 'Simple is Best' on the menu right next to the dish. Umm…. Yes it was simple but I didn't see anything even good about it. Maybe they didn't fry it properly? It was just greasy and miserable looking corn that tasted nothing but cooked corn.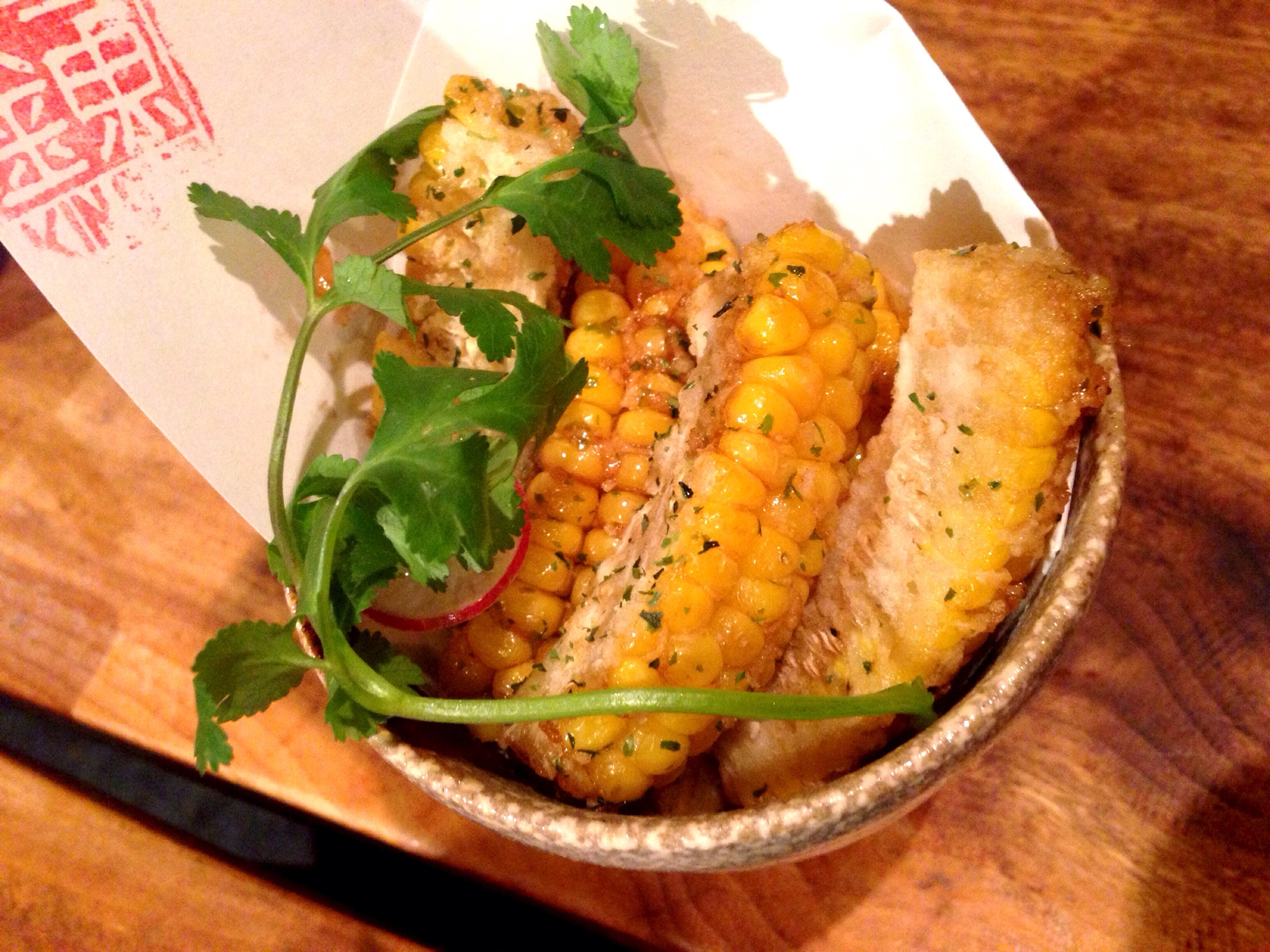 The Age-Dashi Tofu was somewhat interesting – it was covered with a layer of gelatin that seemed to be made from fish broth. I liked the concept but I think the broth itself had some seasoning issue. There might be people who enjoy the taste but it could be interpreted as "off" or "too fishy".
Okay, as we wanted to give their sushi another chance. But there was no redemption. Our meal was ended with a plate of Kingyo Negitoro Sushi that looked underwhelming and did not taste fresh at all.
Although we had pretty decent sashimi, both our sushi dishes failed. As I was really unhappy about it, but then I just remember what Anthony Boudain's famous paragraph in Kitchen confidential:
"I never order fish on Monday, unless I'm eating at a four-star restaurant where I know they are buying their fish directly from the source. I know how old most seafood is on Monday – about four to five days old!"
I am not accusing Kingyo of using 4 or 5 days old fish in their sushi. But I think Boudain has a very valid point – restaurants are not likely to bring in fresh seafood on Mondays and you have a higher chance to be served withslightly older seafood!
Also it could be the execution of the sushi roll as well, which brings up another issue of eating out on a Monday – the head chef might have the day off and your visit might help contribute to their backup chef's training.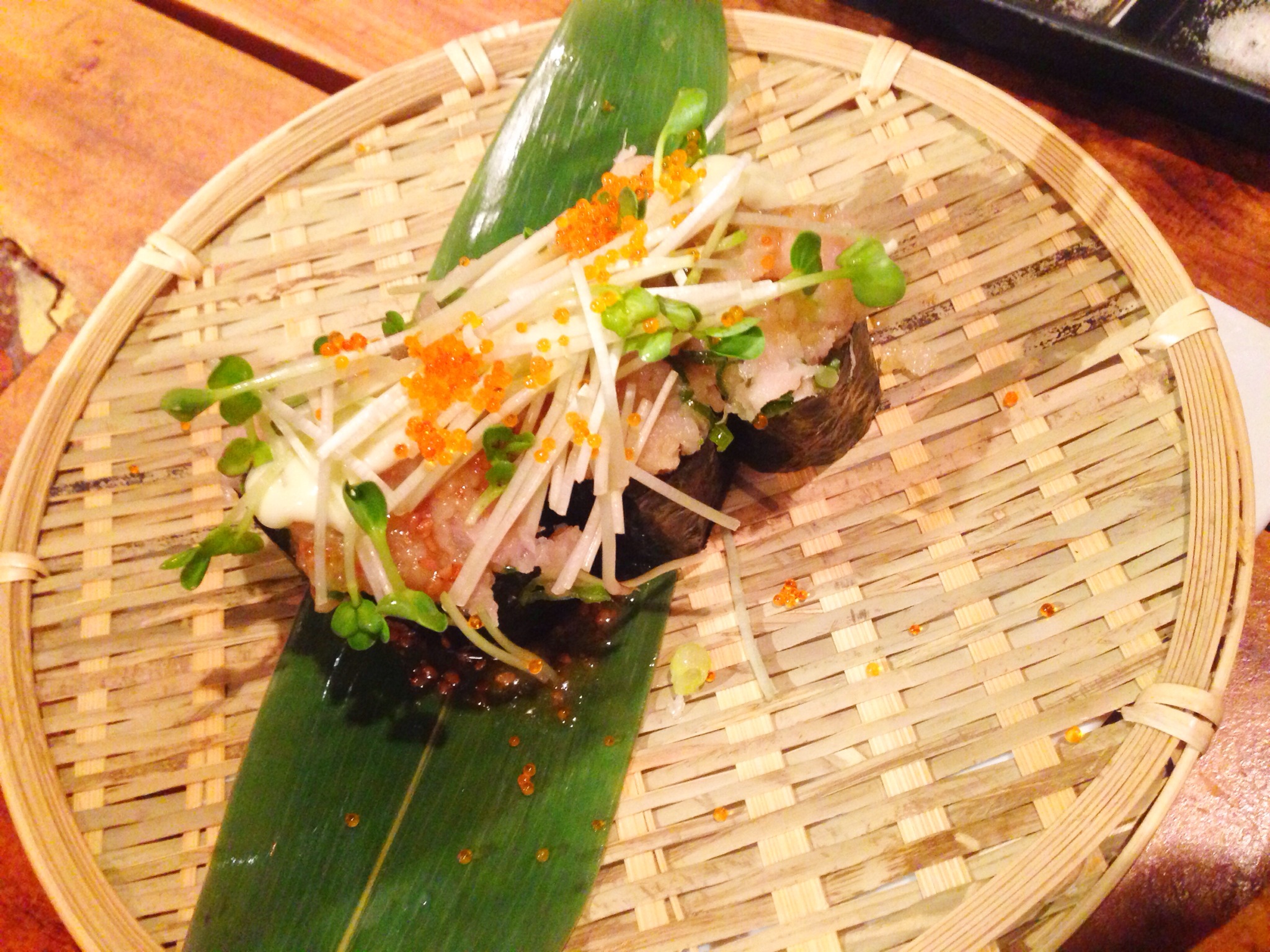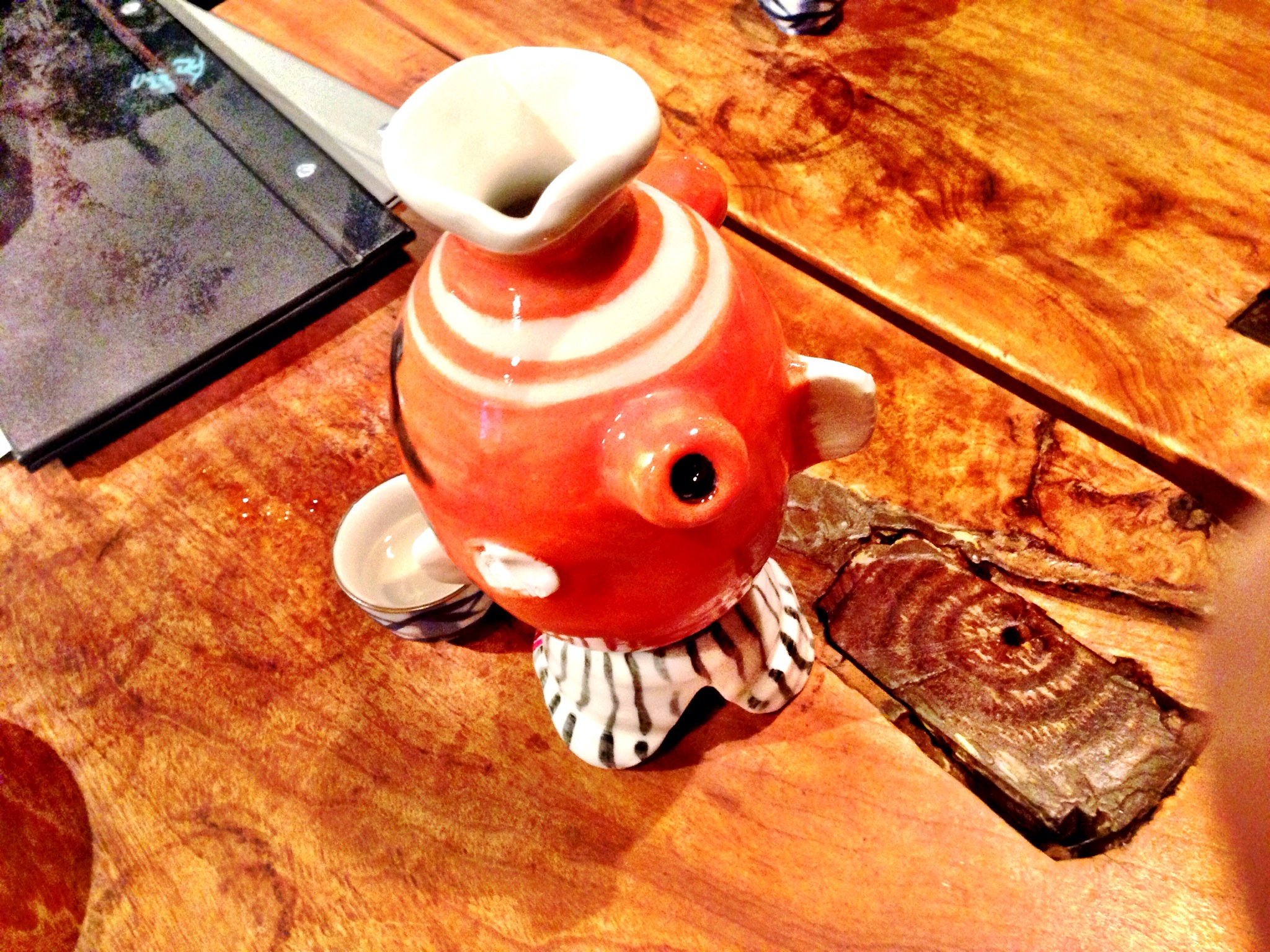 I still consider Kingyo as a fine restaurant, but if they want to be the best, they probably need to do something about those little gaps.
Official website:
Map and other reviews: