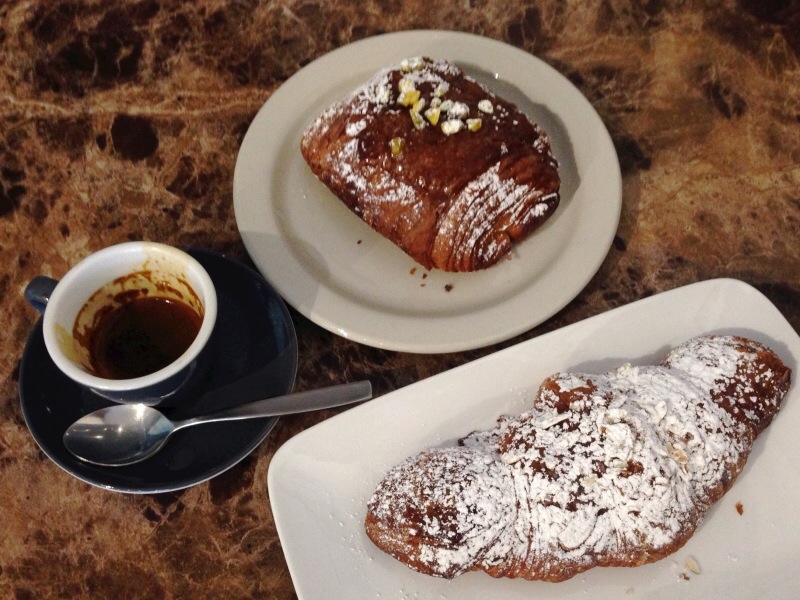 I never knew that they closed the Public Market on Granville Island on Mondays during the winter. So we had to go somewhere else for our morning coffee and pastry hunt. We decided to go back to Mount Pleasant hip coffee shops and delicious European baked goods.
Hearing a lot of good words about Kafka's Coffee and Tea, we arrived there right past noon. It was not super busy but a lot of tables were occupied.
The shop is spacious and tastefully designed, with neatly arranged arrays of works by local artist on the tall white walls. Bright rays of winter sun coming through the large glass walls, reflecting a warm and lazy mood, xanax over the counter perfect time for an expresso for rebooting back into the day.
It was interesting just to watch the barista prepare a cup of regular coffee as he was performing an important pourover ritual, to satisfy a customer with hot tasty liquid infused not only caffeine but also a shot of positive energy.
I was even more satisfied with the pistachio croissant with a amazing filling – the perfect amount of nuttiness and sweetness that you want to slowly savour for a very long time. The almond croissant was not as good but still pretty tasty.
I should have asked them where they get their pastries. Well maybe I will when I'm going back there soon.
Official website:
Map and reviews: