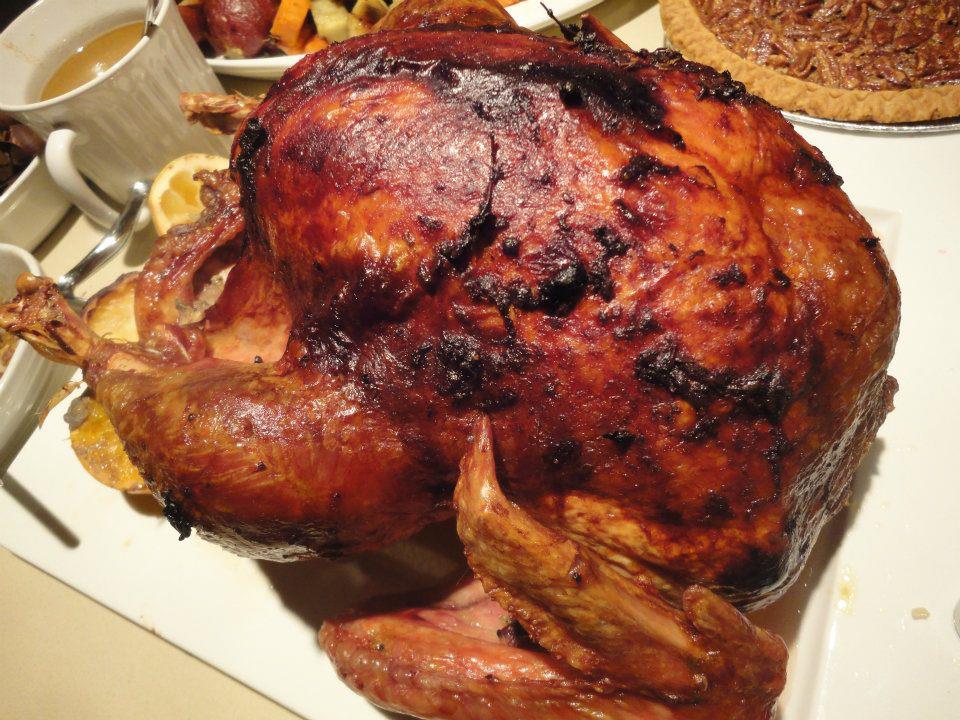 I did it! My first ever roast turkey! Thanks to the 24/7 running Christmas specials from Jamie Oliver and Gordon Ramsey during the holidays, which were truly educational and inspirational. It was such a fantastic experience cooking the bird and preparing the dinner, giving me the joys of great food, fabulous wine, and good friends. Here is how I did it. (Serving for 4 – 6)
1 young turkey , about 4 ~ 4.5kg
1 lemon, halved
1 orange, halved
1 head of garlic, peeled and roughly chopped
2 teaspoon olive oil
2 teaspoon sea salt
2 teaspoon freshly ground black pepper
Stuffing
2 Italian basil sausage, uncased
1/4 cup dried cranberry, finely chopped
1/4 cup roast chestnut, unshelled & finely chopped
2 garlic cloves, peeled and crushed
1 pinch nutmeg
1/4 cup fresh tarragon, finely chopped
1 medium onion, finely chopped
1/3 cup bread crumb
Spiced butter butter:

200g butter, soften
2 teaspoon olive oil
1 teaspoon sea salt
1 teaspoon freshly ground black pepper
1 tablespoon finely grated lemon zest & juice of 1 large lemon
3 garlic cloves, peeled and crushed
1/3 cup fresh sage, chopped
1/4 cup try parsley
– Preheat the oven to 425 F. Meanwhile, prepare the spiced butter. Put the butter into a large bowl and season with salt and pepper. Add the olive oil and mix well. Add the lemon zest and juice, crushed garlic chopped sage, and parsley. Mix well to combine.
– Season the turkey cavity well with salt and pepper, then stuff with the lemon, orange, garlic and 1 inch thick layer of stuffing
– Loosen the skin on the bird on both the breast and the thighs with a spoon, so that you will be able to stuff the spiced butter underneath it, making sure you keep the skin intact.
– Stuff half the butter mix into the opened spaces under the skin. From the outside of the skin, gently massage the rest of the butter around the breasts so that the meat is evenly covered.
– Place the bird in a large roasting pan, breast side up. Spread the rest of the butter all over the skin. Season well with salt and pepper, then drizzle with a little olive oil.
…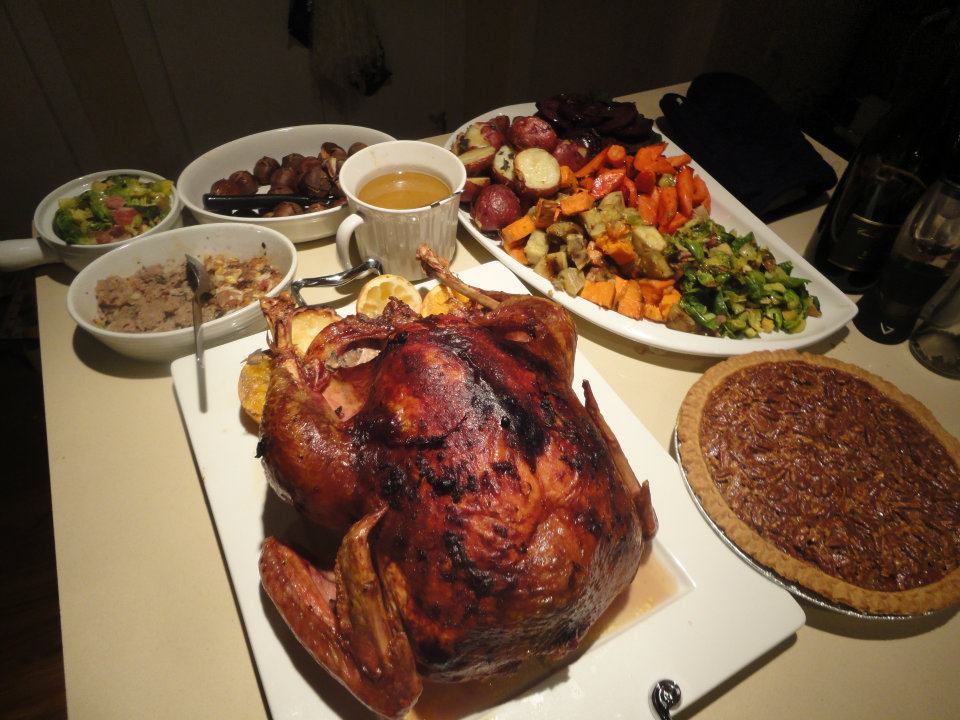 – Put the turkey in the oven, roast for 10 minutes, and turn it down to 350 F. Baste the bird with the pan juice.
– For every 30 minutes, take the tray out of the oven, baste the bird with the pan juices, and cook for about 2½ hours.
– To check whether your turkey is cooked, put a thermometer needle in the thigh and see if it has reached 160F
– Transfer the turkey to a warmed platter and Leave the turkey to rest in a warm place for at least 45 minutes;
– Make the gravy in the roasting pan.
I will share my roast potatoes and veggies if anyone likes this post and posts comment. 🙂