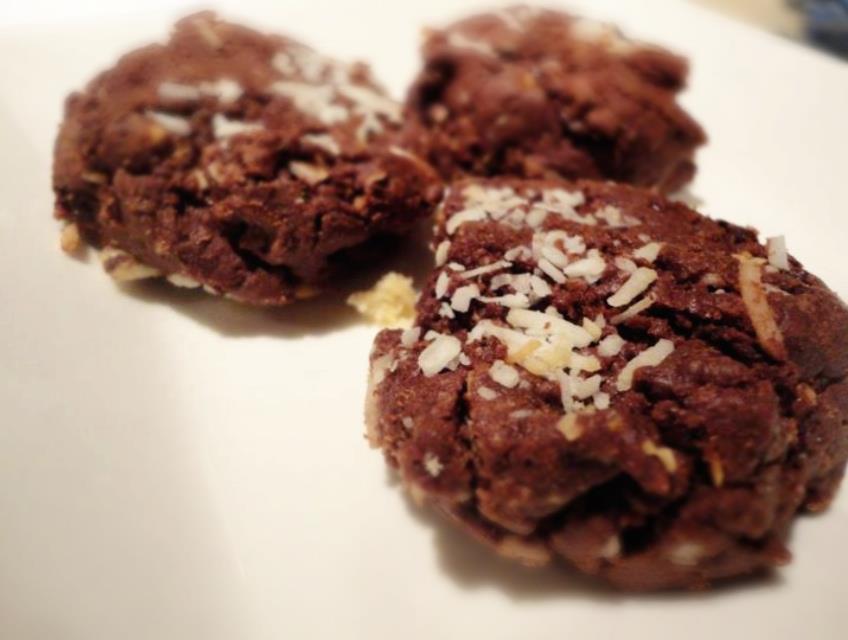 I told Rick that I was requested to bake cookies and share them at a dinner party where all the guests were asked to do the same thing. I had never baked cookies before! Rick showed me this recipe and made some in front of me. A week later I made my first batch of cookies ever, and they tasted great! And it was amazing how wonderful the freshly baked cookie fragrance is in the kitchen!
I somewhat changed the recipe a little bit to make it a little more luxurious. Here is the recipe:
2 cups all-purpose flour
3/4 cup Dutch cocoa
1 teaspoon baking soda
1/2 teaspoon salt
1 cup unsalted butter, softened
1/4 cup maple syrup
1 cup brown sugar
1 teaspoon vanilla extract
2 eggs
1 cup dark chocolate truffle, chopped to chunks
8 pieces Ferrero Roche, chopped to chunks
1/3 cup of coconut shreds
– Preheat oven to 350 F.
– Mix flour, can you get xanax over the counter cocoa, half of the coconut shreds, baking soda and salt in a medium bowl.
– Beat butter, brown sugar, maple syrup, and vanilla extract in a large mixing bowl until creamy.
– Beat in eggs. Gradually beat in flour mixture. Stir in chunks.
– Drop by rounded tablespoon onto baking sheet(s). Scatter the rest of the coconut on top of the cookies.
– Bake for 11 – 13 minutes or until cookies are puffed and centers are set but still soft.
– Cool on baking sheet(s) for at minutes; cool on wire rack til completely cool.
My version of the recipe has less sugar (replace by more brown sugar and maple syrup). Using dark chocolate made it less sweet as well. Ferrero Roche definitely had made the cookies puffer.
Rick, thanks for the hand mixer! And I think I might use it more often. 🙂