A dinner at Hawksworth was on my wish list for a very long time. I think I would always feel incomplete as a foodie without dining at the most prominent restaurant in the city, the only place in Vancouver that has been ranked in Canada's top 10 for the last 5 years.  I did visit them once for brunch,  and it was a memorable experience, and a glimpse of their greatness.   So finally the chance arrived when Will decided to visit me in Vancouver, and  I was very determined to to show him the best restaurant of our city. There was a lot of expectation, given the fact that, first of all,  Will came from San Francisco, a well-known world city for amazing food,  then secondly, when I picked him up in Seattle we visited some of the best restaurants over there, and finally, the other 2 friends who would be joining, Yann and Ken, lived in global cities such as Paris and Singapore not too long ago and had great taste in world cuisines.
Our dinner reservation was at 9:00pm. We arrived at the Rosewood Hotel Georgia around 7:30pm and grab a few drinks at their snazzy jazz bar, Prohibition. We were impressed with the 1920's underground bar inspiration and enjoyed the amazing cocktails.
So it began.
A later dinner didn't help us feel more intimate as the dining room was filled to capacity. But the dim lights did provide a lovely ambiance. And everything looked luxurious, from the glass fireplace, gleaming cutlery, to probably the most well-dressed waiting staff in the city.
The Somm
I was excited like a little boy when a sommelier was sent over to our table. How often did I get to be served by a full sommelier? Only at the finest restaurants in the city. I suggested a light red to share by 4 of us, which is my usual strategy for choosing a wine before everyone decides what to eat for dinner. The sommelier lady was knowledgable and very patient. She help us pick Unworth Pinot Noir, Vancouver Island ($78), a modestly inexpensive but very palatable choice. The wine was kept in a elegant decanter away from our table, and our glasses were kept filled as the sommelier came checking attentively during the whole dinner service.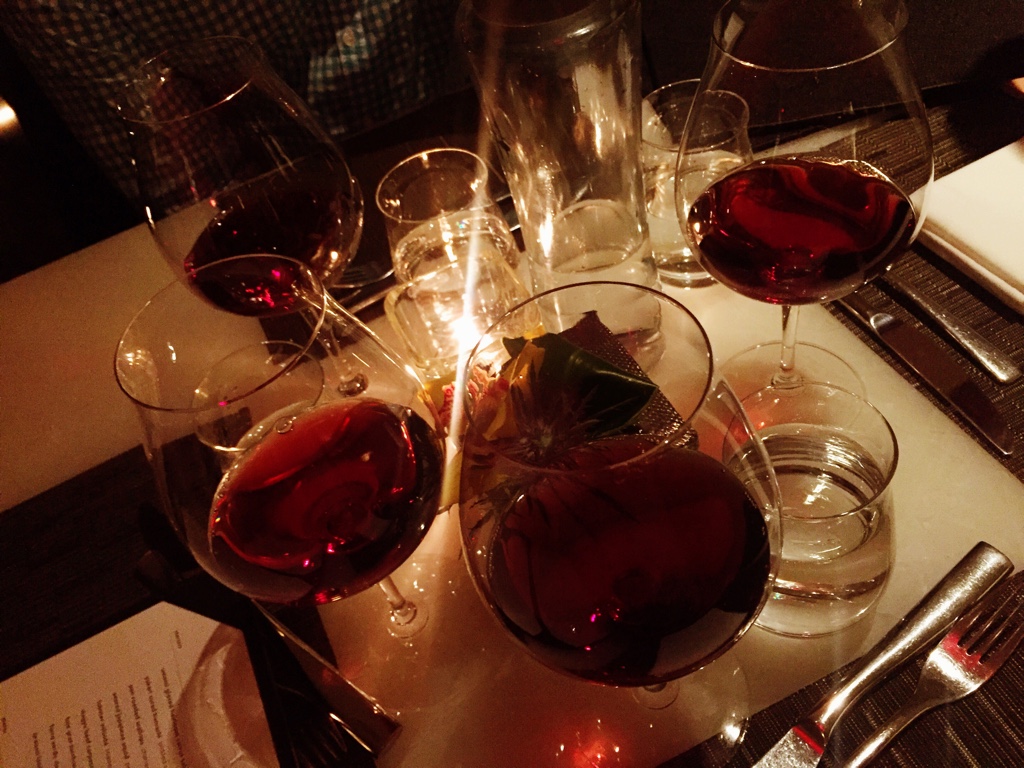 The Starters
We did place our order quickly. Our waiter was polite although not super friendly. I guess he was just being adequate. But sometimes a smile or a few friendly words would make such a difference in a dining experience. The service was a little slow but that was expected. And I was a little surprised we were not offered any of those not-exactly-free bread everyone was talking about. Nevertheless we were enjoying each other's company and having a good time so far.
And the starter dishes came.
My Lobster Velouté ($20), although visually stunning, was not quite what I pictured in my head. I was expecting a warm light lobster soup, but there were a lot of fresh herbs and green shoots in it, and I felt like eating a salad at the same time. For the liquid part, I tasted more tomato than lobster in the veloute, which was also unexpected. The quenelle-shaped whipped sorrel butter in the centre was very pretty to look at, but the lemony and tart flavour was quite subtle. Overall it was a tasty dish but it wasn't quite the Lobster Veloute I had anticipated.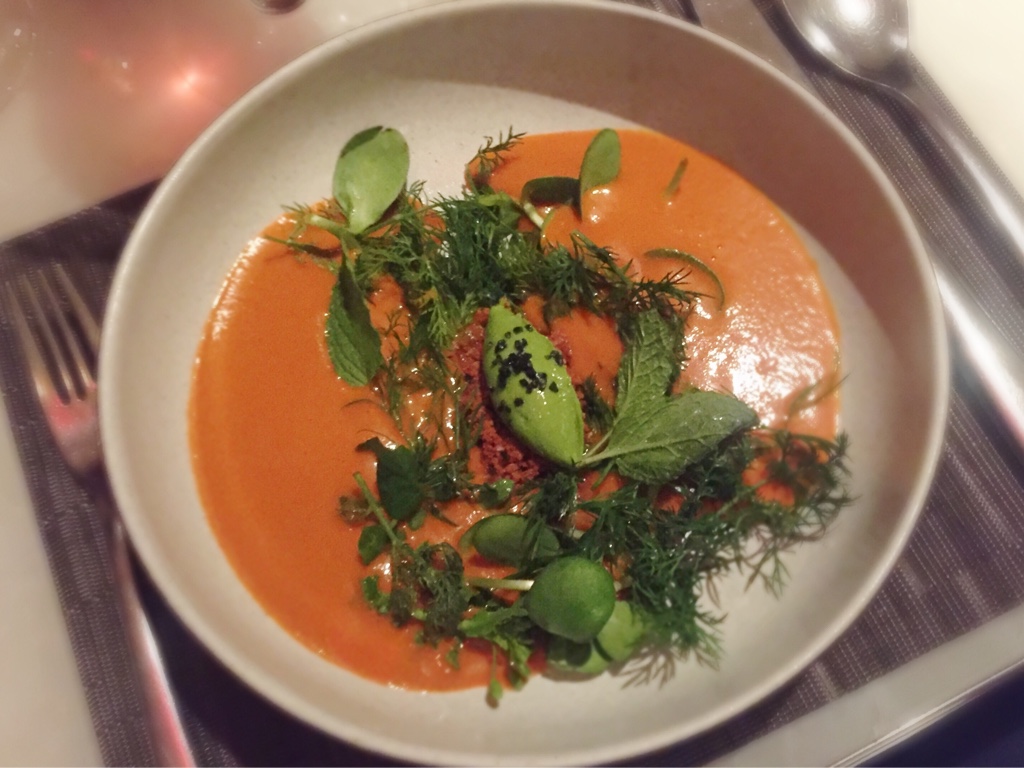 The rest of the starter dishes received mixed reviews. Will loved his Hamachi ($22), which was another artfully presented plate.  The quality of the hamachi sashimi was impeccable,  tender but firm, and incredibly buttery. But as it was served in drizzles of oil and what it tasted like essence of berries of some sort, and the acidic flavour was a little overpowering in my opinion. However, Yann's Pan Roasted Scallops ($24) and Ken's Seared Japanese Squid ($19) did not look as good with the plating. There were a lot of shreds of vegetable ingredients looking very messy on top of other components. I could barely see the the roasted scallops in the scallop dish. And both seafood dishes were not as delicate as they should be, as the scallops and  the squids were both slightly overcooked.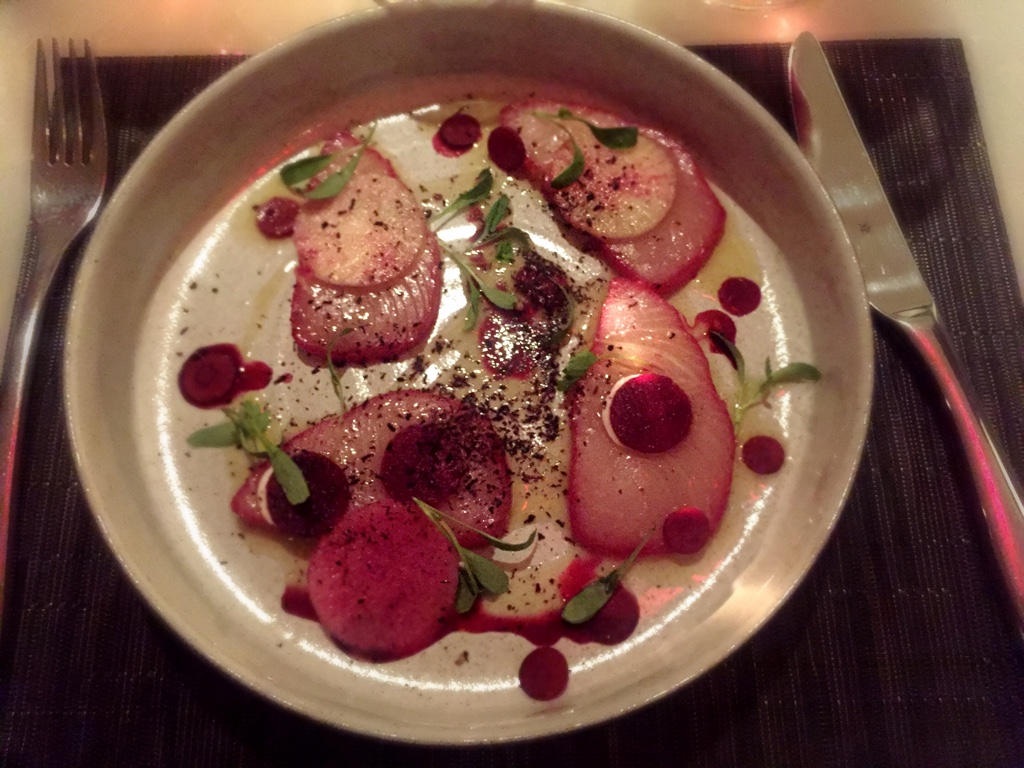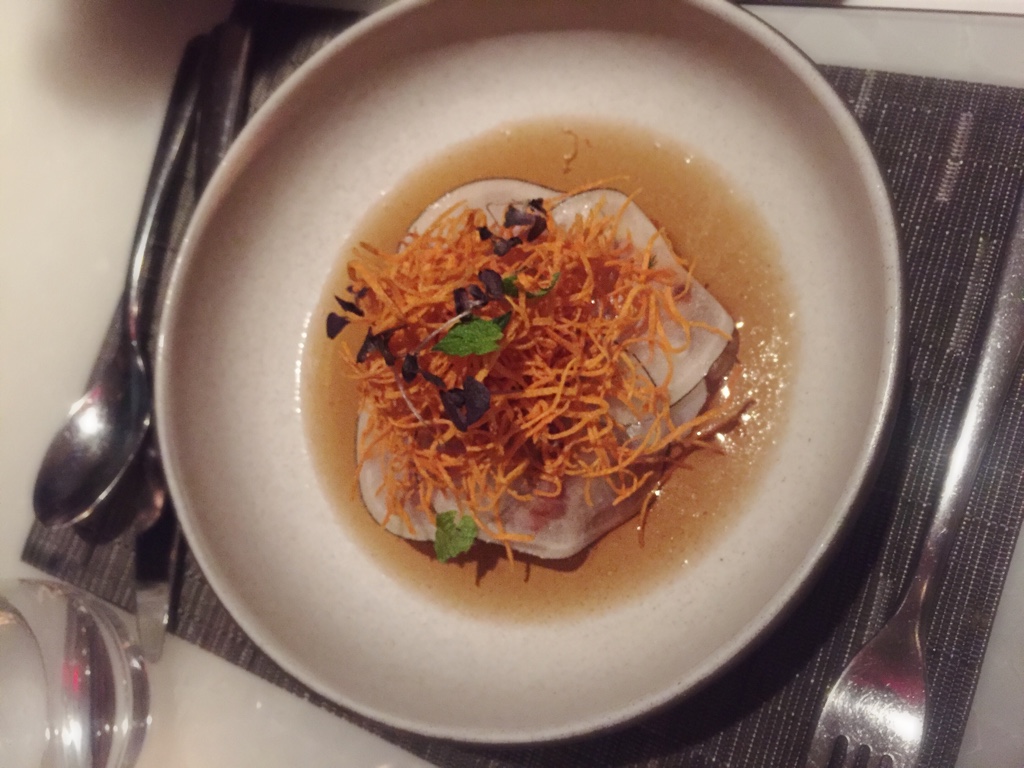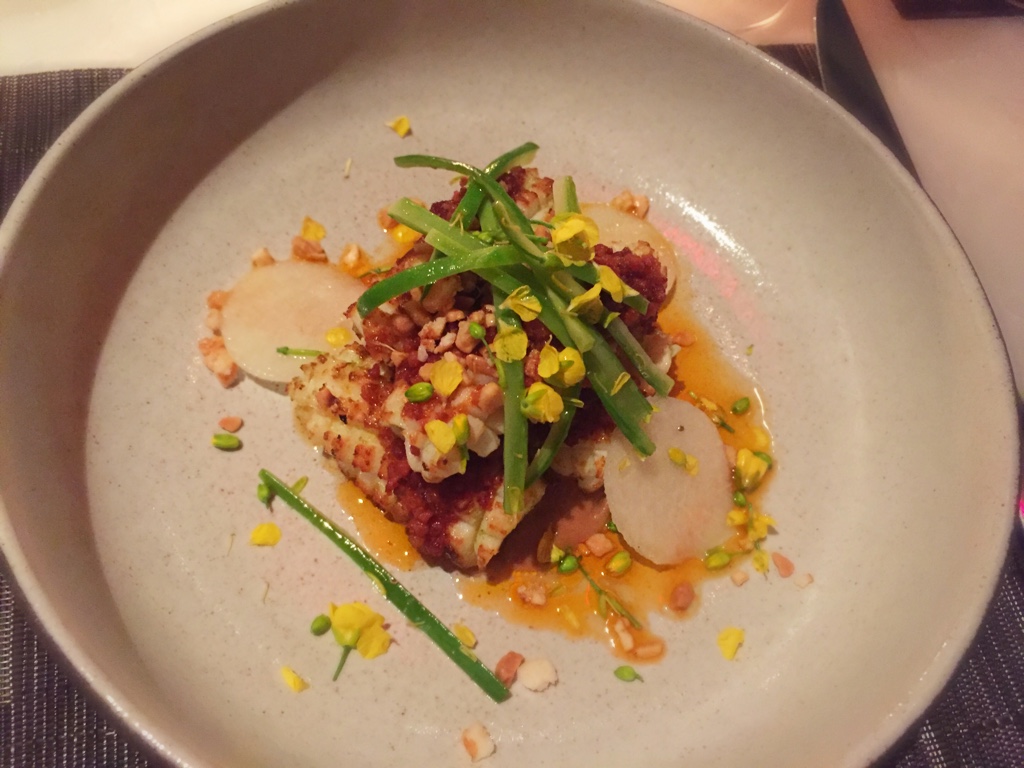 The Entrees
I really enjoyed my Lamb Saddle ($46), which was actually a lamb two-way with lamb saddle and confit lamb neck, complemented by smoked carrot, couscous, fava bean, tagine jus. The lamb was cooked perfectly, and all the flavours worked really well together. I particularly liked the lamb neck, so tender and tasty. However the plating was  a bit  of a let down for me, especially with that piece of grungy looking bread cracker on top.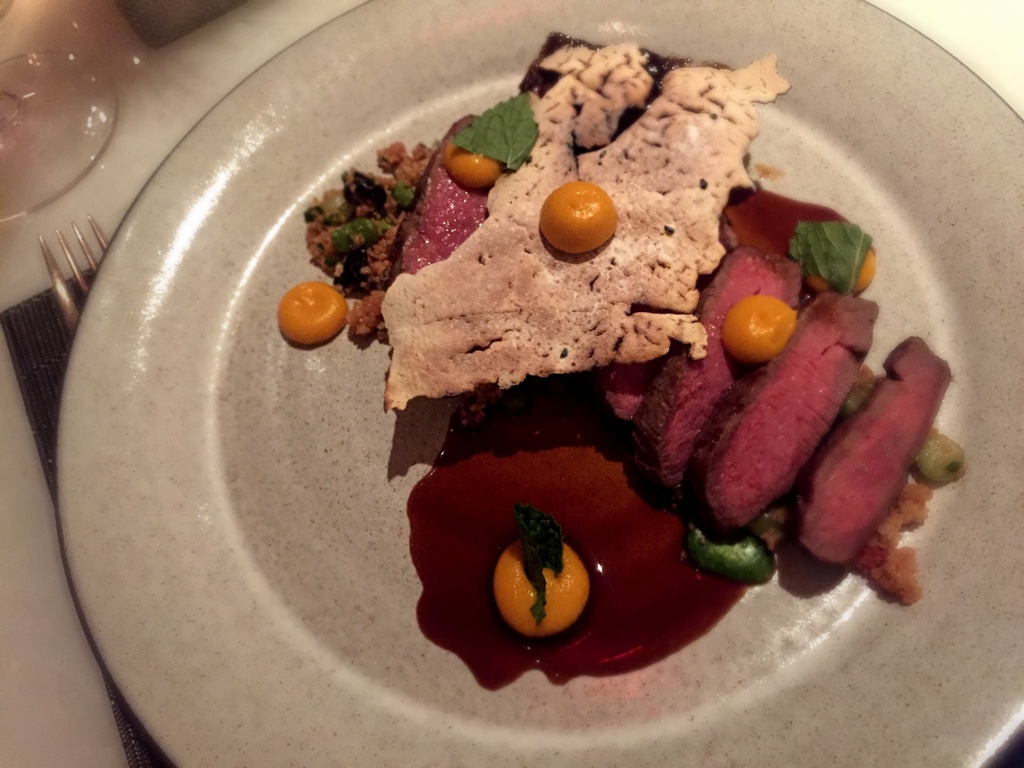 Again, mixed reviews were made among the rest of the entree dishes. I had to agree with Will that his Parmesan Crusted Chicken ($42) was well prepared, with the crispy golden skin on the chicken being the highlight of the dish, and rest of the components, potato gnocchi, english pea, cavolo nero, and black truffle, created a very unique flavour profile, almost like a preserved vegetable taste. Ken was happy with his Yarrow Meadows Duck Breast ($42), which came with leg confit tamale, white bean, morel mushroom, corn, and mole jus. Hmm… Maybe it was inspired by Thomas Keller's duck breast recipe at The French Laundry? The duck breast was seared perfectly, however the pile of corn, beans, and mushrooms on the side looked like a messy corn hash. Yann was slightly underwhelmed by his Charred Wagyu Flank ($49) for some reason. I didn't get to taste the beef , but again found the plating of the beef dish less attractive than I was expecting.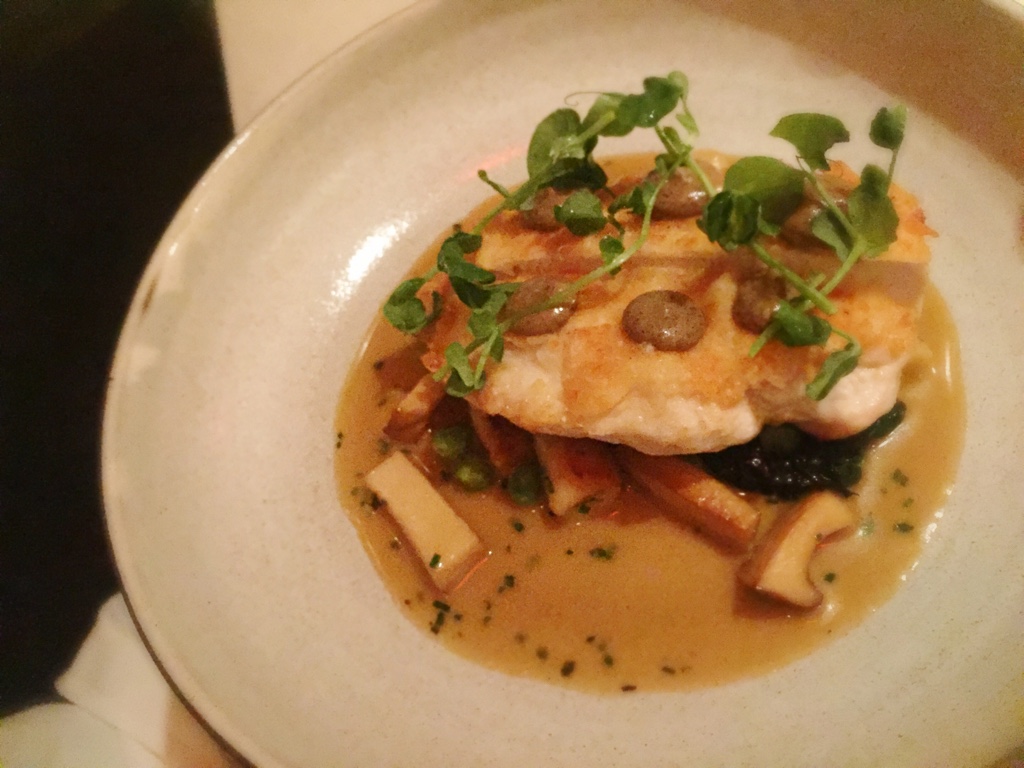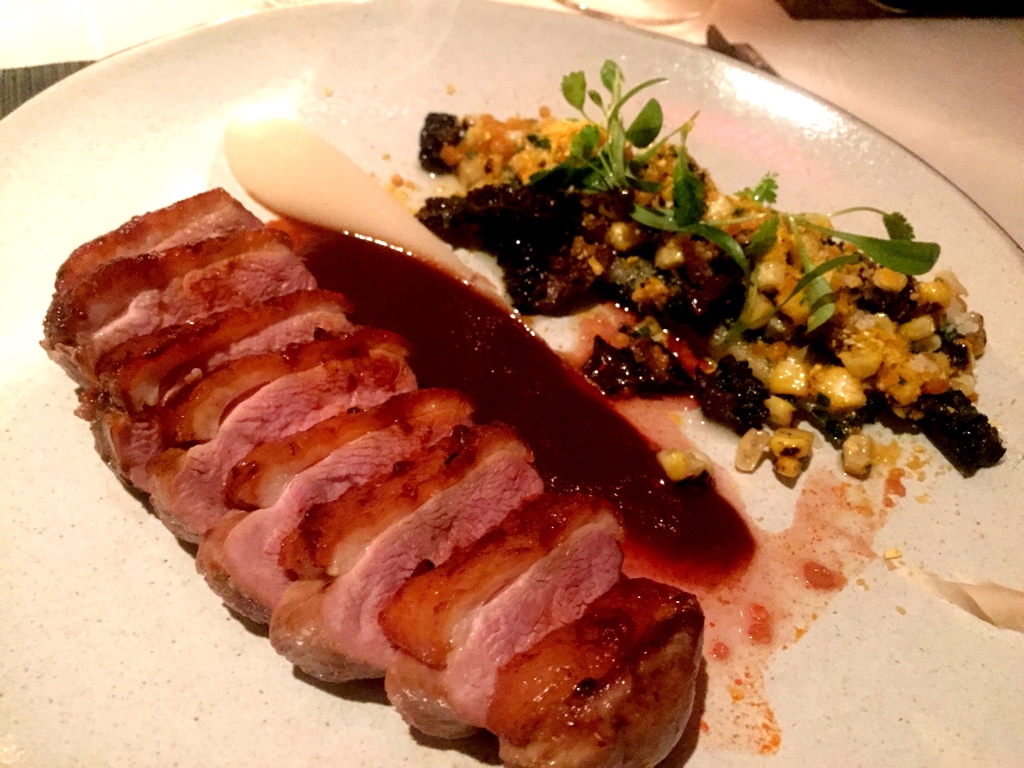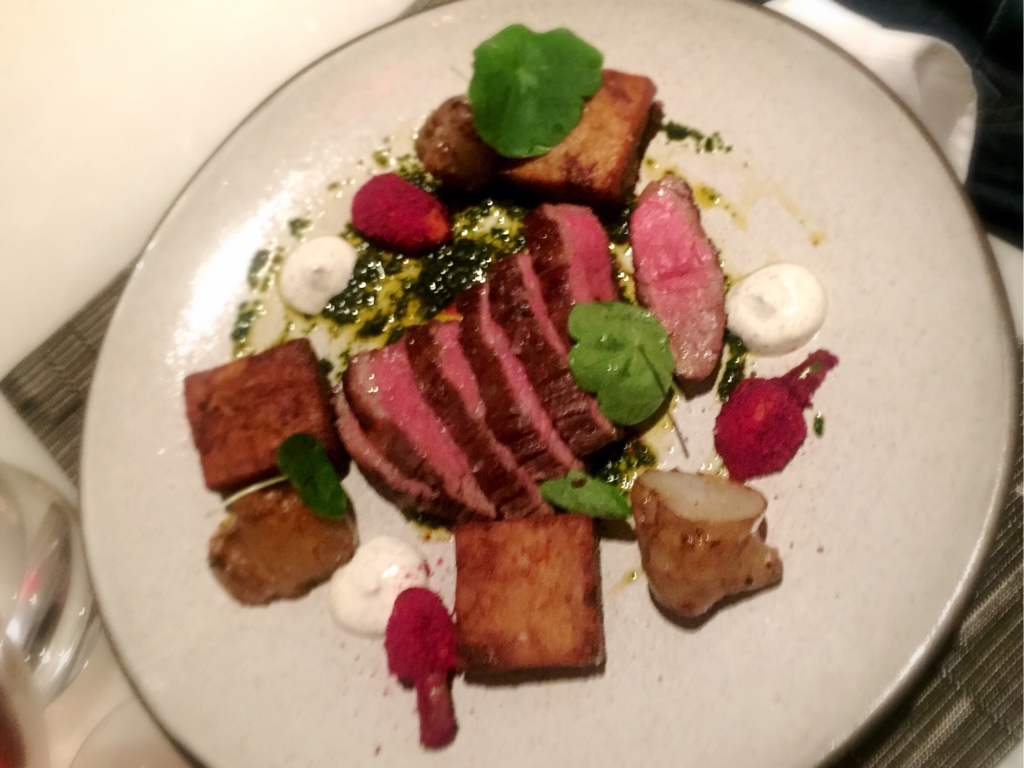 The Desserts
We ordered a couple sweet plates to share and end our meal, and they turned out to be quite enjoyable. Although never a huge fan of Macarons, and never quite understanding people's craze over Ladurée, I found the Sampling of Macrons ($12) delightful with the perfect level of sweetness and delicate texture. And surprisingly, the Crème Catalana ($12) turned out to be my favourite dish of the evening.  The dish name was seemingly inspired by Crema Catalana, the Portuguese version of creme brulee, but the interpretation here was definitely far from the original. The aerated yuzu was so fluffy that it tasted rather like snow than a mouse or a custard, and the crispy rice provided some fun contrast in texture. And boy,  the yuzu flavour bursting on my palate was just fantastic.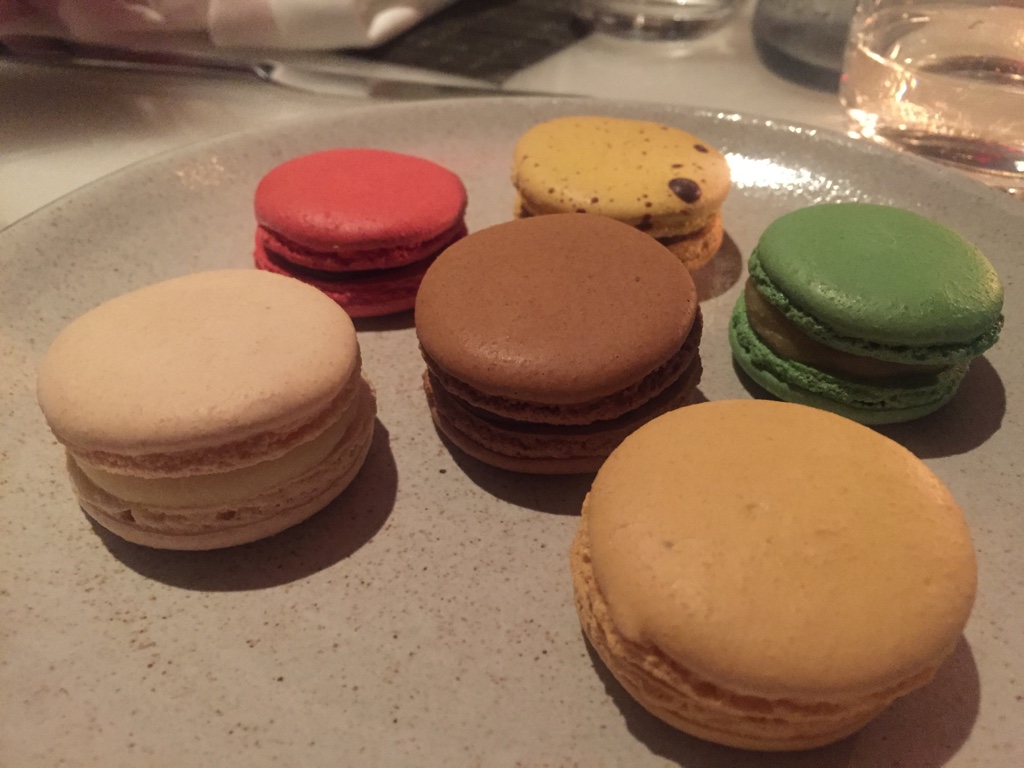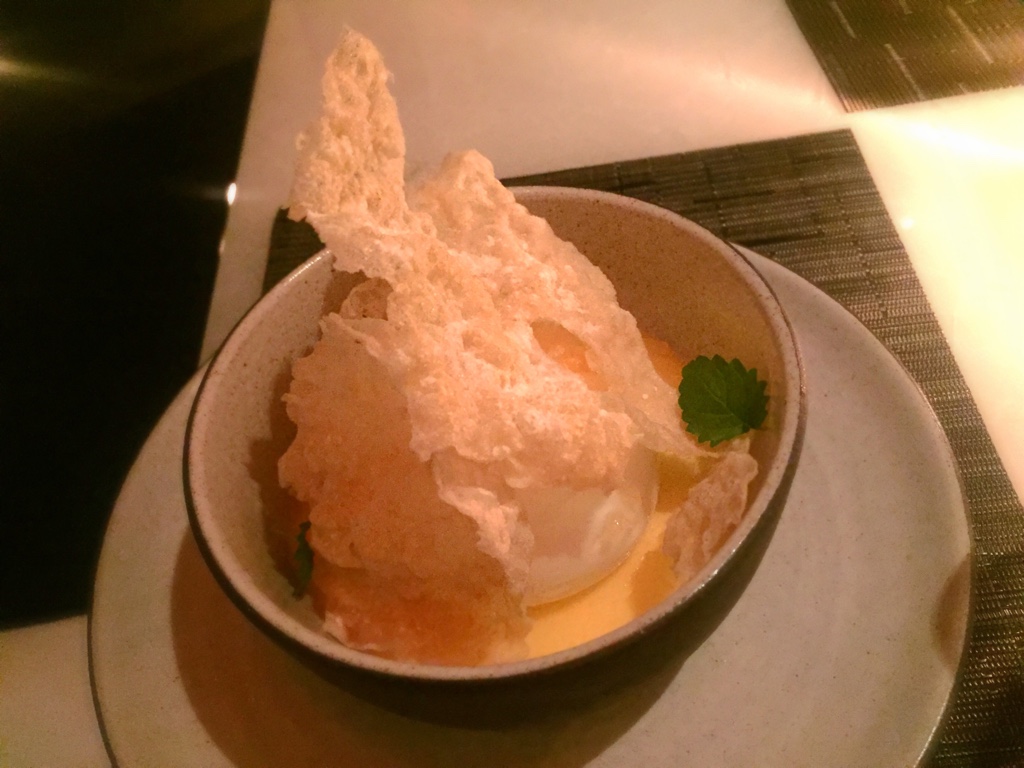 The Final Words
There were definitely parts of the dining experience were great but I was expecting so much more. Without any questions, Hawksworth is one of the most up-scaled restaurants in the nation, with the Michelin Star quality stamped all over – the classy dining room, the well-dressed staff, and the top grade ingredients. However, there were hits and misses in the dishes of the evening. While some dishes were excellent, such the Lamb Saddle and the Creme Catalana, I found some dishes had way too many components, and the taste profile became somewhat over complicated. It's definitely not an easy task to build up layers of flavours from too many ingredients because without cohesion and balance, it just won't work no matter how many fancy ingredients you put on the plate. And for the plating of some of the dishes, oh boy, I'm just not sure what happened that evening. I have seen pictures of the same or similar dishes posted by other foodies or food bloggers, which had such breath taking presentations with such finesse in plating and arrangement. But tonight I felt a little let down by not getting a lot of visual treats. Despite the misses, I still recommend everyone to pay them a visit,  because after all tasting is even more subjective at this level of fine cuisine, and the entire dining experience should be what you come here for. I'm hoping my next Hawksworth Experience will prove their greatness more convincingly.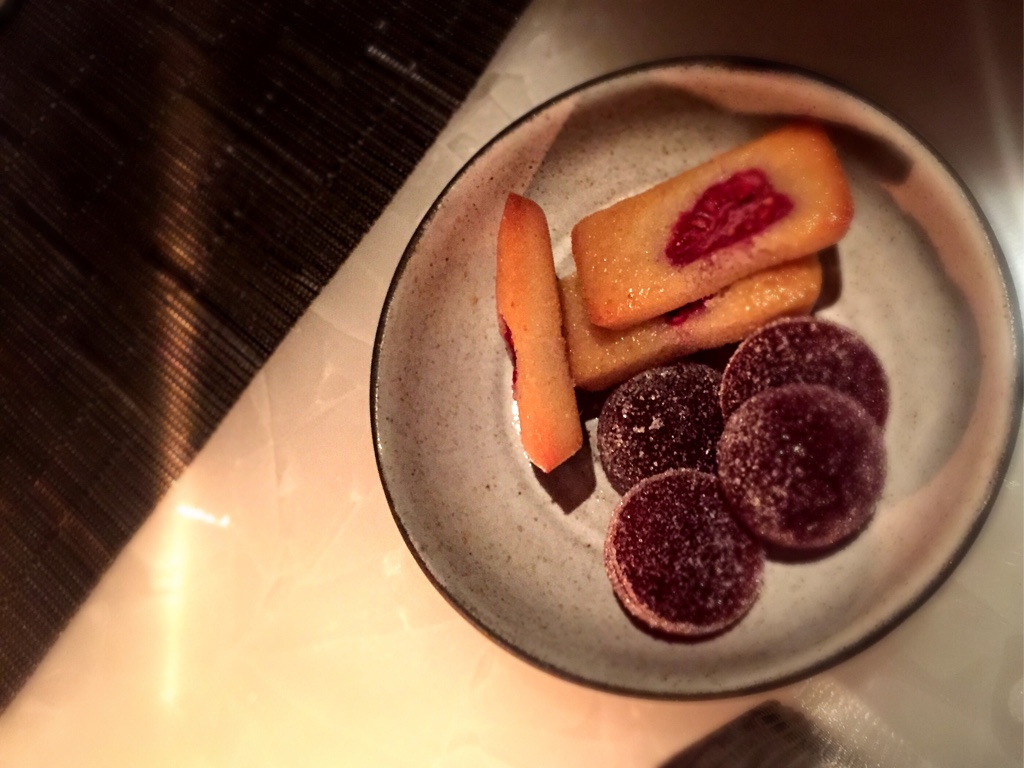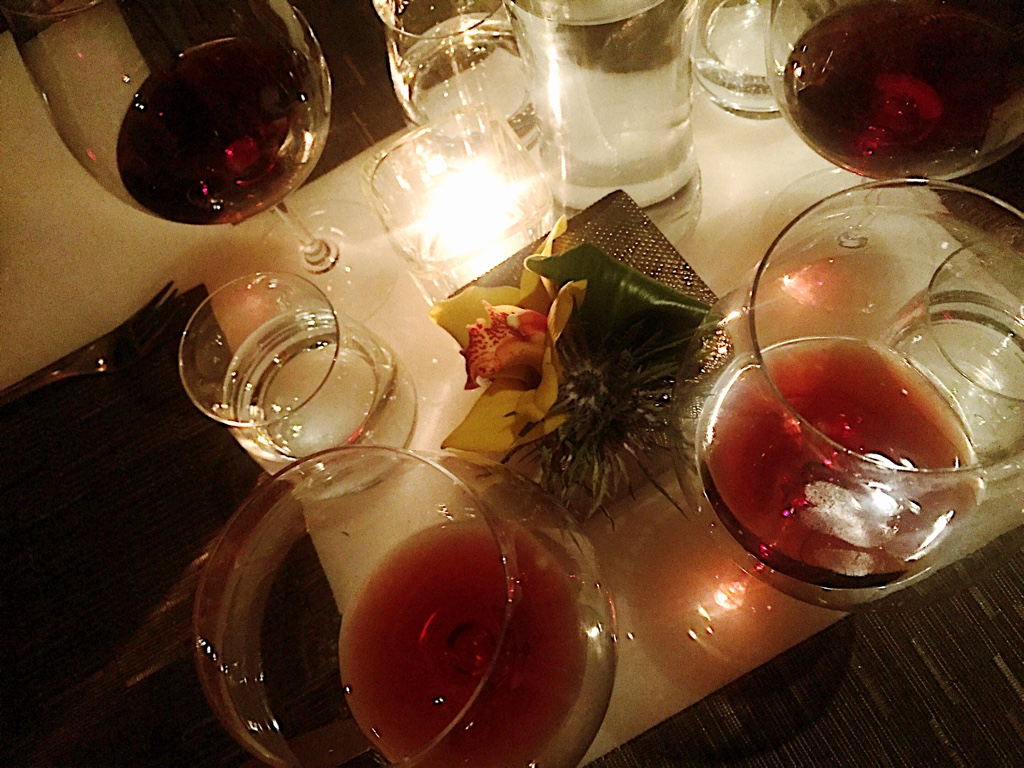 Website:
https://hawksworthrestaurant.com
Menu:
https://hawksworthrestaurant.com/menus/
More reviews: