My favourite dim sum place in Richmond is Garden City Hot Pot (新鏞記火鍋).
Garden City Hot Pot is a high end Cantonese style hot pot restaurant. I am always a little disappointed with how many of the Chinese restaurants name themselves in English. Their English names usually mean so far off from their Chinese names. Why can they use their Chinese name Sun Yung Kee. It sounds perfectly original and so… exotic and mysteriously delicious!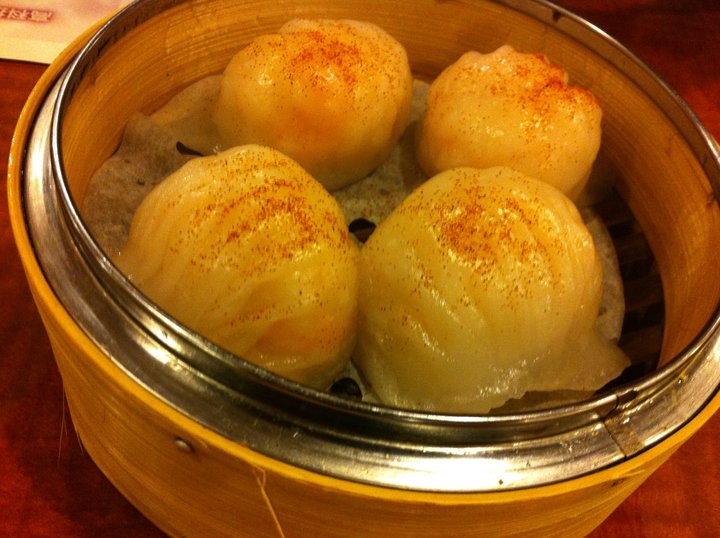 This restaurant is famous for not just hot pot dinners, but also a great selection of gourmet tea imported from all over China, and a tasty menu of dim sum dishes.  I really appreciate another quality: they seats are usually very comfortable. You do not see a lot of Chinese restaurants that provide comfy booths.
My favourite tea has to be Long Jing (meaning dragon well in Chinese),  a hand-produced high-quality green tea that has claimed the title of national tea of China for years. The  brewed tea looks so green and pretty, and the taste lingers all over your taste buds for such a long time. It is the perfect complement for any savoury comfort food that is a little heavy with meat and carbs.
Shrimp dumpling is often reckoned as the king of dim sum. One can always tell how good the dim sum service is by tasting this dish.  Garden City Hot Pot always wins my heart with this dumpling dish. The dumpling skin is so thin and yet perfectly al dente. The shrimps are so fresh and so sweet that your watering mouth alway savours down to the last single bit.
These are my other favourite dishes: steamed tofu with garlic scallops, siu mai (a type of dumplings) with pork liver, and 60's style sticky rice wrap.
Map and other reviews on Urbanspoon: