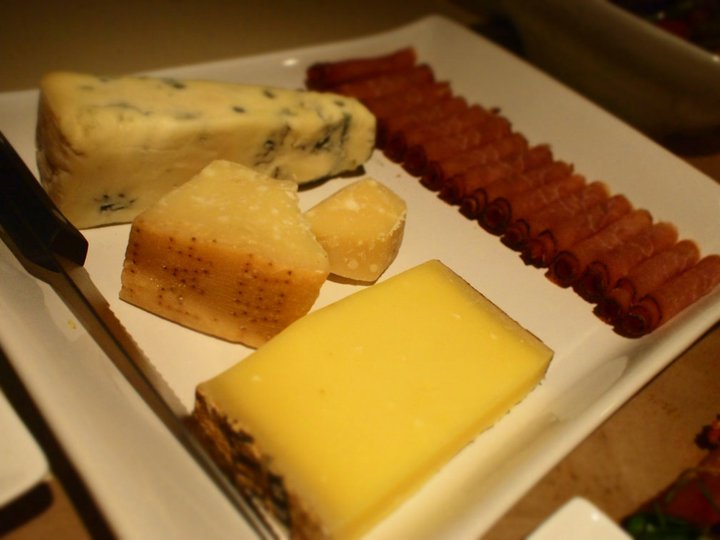 My roommate Sean is from Switzerland. He has incredible tastes in good food and wine, proving to us how Europeans love cooking and enjoy life.
It is easy to slice up a few fruits and vegetables, saute a few shrimps and scallops, whip up  a sauce with vinegar and oil, and call it a pretty-looking dish. This seems more like a food stylist's trick  to wow your guests, but it is not the way to show your heart in the dishes.
How does Sean do it? He loves slow cooking. Given a beautiful piece of meat, such as a beef loin roast or a whole organic chicken, packed with different types fresh herbs – garlic, rosemary, sage, oregano, or thyme.  After hours of the roast sitting in the oven with low heat,  the kitchen was immersed with such amazing aroma, as if we could already taste the juicy tender goodness and feel the love.
Sean is creative as well. Guess what else he puts in the chicken wrapped in bacon and rosemary in the picture? Baby bak choy! The crunchiness has certainly added more texture to the combination.
I, more than once, have been inspired by his cooking.  One time he made this incredible sauce with dijon mustard, olive oil, and finely chopped baby dill. It was for his appetizer dish, quick pan fried chicken liver and asparagus. The next day, I was having my own dinner party cooking for 8 guests. And I screwed up with one of the courses. The grilled tiger prawns were left on the barbecue a little too long. What to with the rubbery prawns?  I saw a big bowl of Sean's leftover baby dill sauce. I poured a glass or champaign in the sauce,  put in one egg white, and whipped up a foam. And I was just hoping the foam would add good flavour and moisture to the overcooked prawns.  And… The guests liked it!  Sean's sauce saved my day!