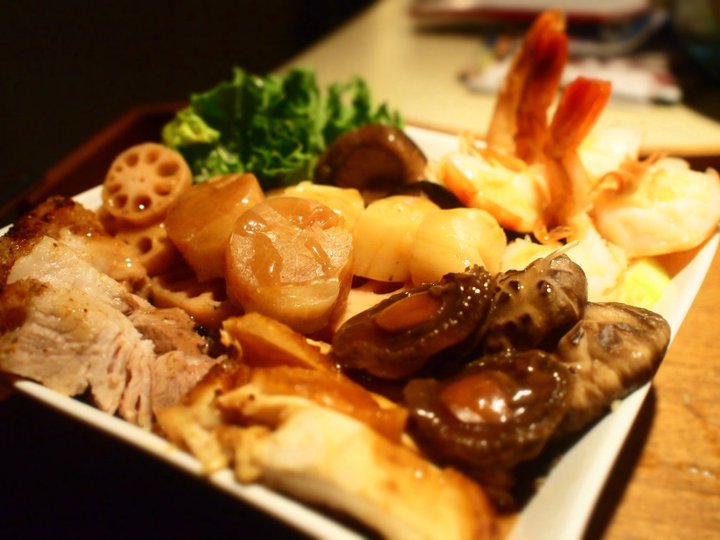 When I asked Sean and Louis what they wanted for Chinese New Year dinner, Louis jokingly said, "Hahah.. Poon Choi!!"  He was not being serious because a Poon Choi (盆菜) Feast could be a very elaborate meal to prepare. Poon Choi is a traditional type of dish originating from Hong Kong village cuisine. What makes it special is that it is composed of many layers of different ingredients. And it has become very popular in different parts of Hong Kong or even South China regions for traditional holidays and festivals. (Read more about Poon Choi here…)
But I smiled at him… Poon Choi eh? Why Not?
Of course I did not have the time to prepare the whole 20, or 30 layers of ingredients, but I could try to create my own tasty version with lush and appealing looks.
Here are what I put in my Poon Choi: abalone, dried scallop, fresh scallop,  tiger prawn,  dried shittake, roast pork, soy chicken, lotus root, leaf lettuce, and Chinese vermicelli. 10 items = not a lot.
I also prepared some pan seared belt fish (also called hairtail) and a warm stem lettuce salad.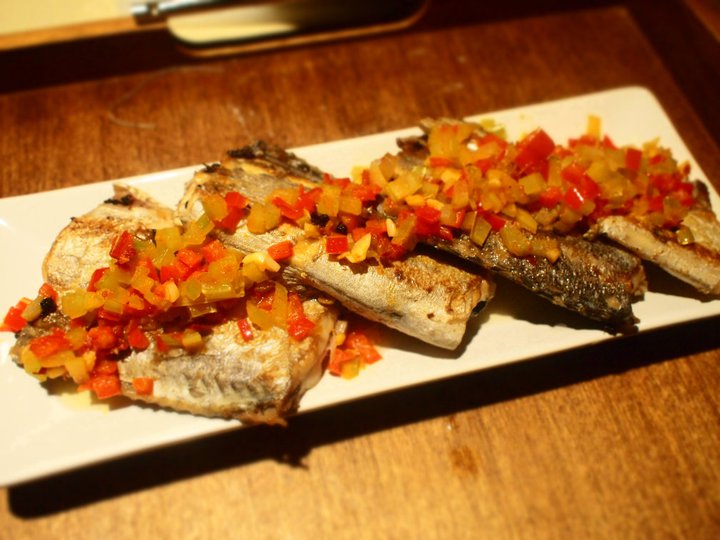 Cooking Poon Choi was rather straight forward. All the ingredients were braised in a sauce that consisted of chicken broth, soy sauce, sesame oil, rice wine, a lot ginger and garlic, and little bit Chinese rock sugar.  Items like abalone and lotus root needed a little more cooking time before settling down to the perfect texture.   A final touch gravity of oyster sauce, corn starch and broth made the dish shining like an open box of treasures for a bunch of hungry pirates.
I gave my best effort to put most of the Cantonese new year traditions on the table.  All the round goodies like abalones, scallops, mushrooms, and lotus root slices represented the round gold and silver nuggets .  Fish, roast pork, and chicken were must-have favorites on the dinner table for generations. Even lettuce had a special meaning because in Cantonese it sounded like 'Sheng Choy' (生财) – meaning making tons of profits!
That was my Cantonese lunar new year's dinner.  Happy New Year everyone!