It is a Saturday night in December before the holidays, and it isn't hard to imagine how busy the dinner service is at an established restaurant, with parties and gatherings of different sizes everywhere. But this is the perfect test for seeking out the truly great restaurants. We picked Fisherman's Terrace for our holiday dinner party (8 adults and 2 small kids) as an alternative to Kirin, where the tables got booked up insanely quick. Although not the best, we thought its reputation of a high-end Chinese seafood restaurant in Richmond should still account for something. Sitting in a huge and crowded dining hall with decorative grand chandeliers, and dozens of servers moving swiftly and waiting on all the big tables adequately, the food however was rather disappointing.
The Peking Duck ($46.80) here comes with a costly price tag but might be one of the worse ones that I have ever had. The duck skin pieces were in different shapes and not exactly pretty to look at. And I really wondered how big the duck was because there was not a lot of skin. The lettuce leaves provided for the lettuce wrap were in odd shape and could't be peeled off without crumbling.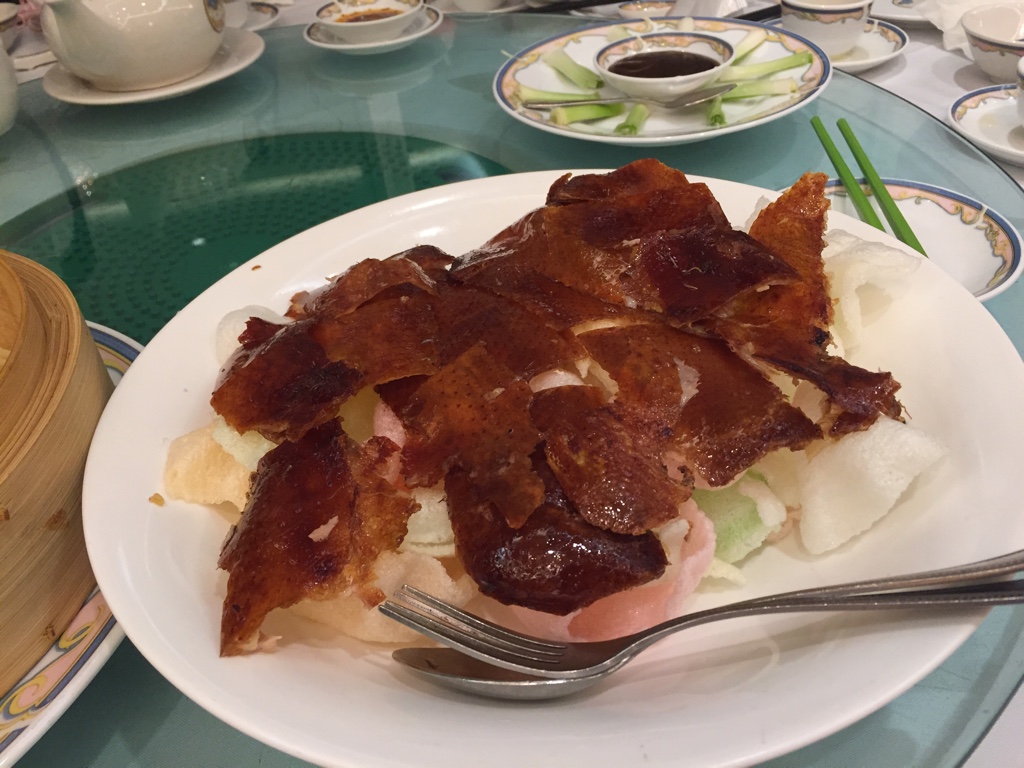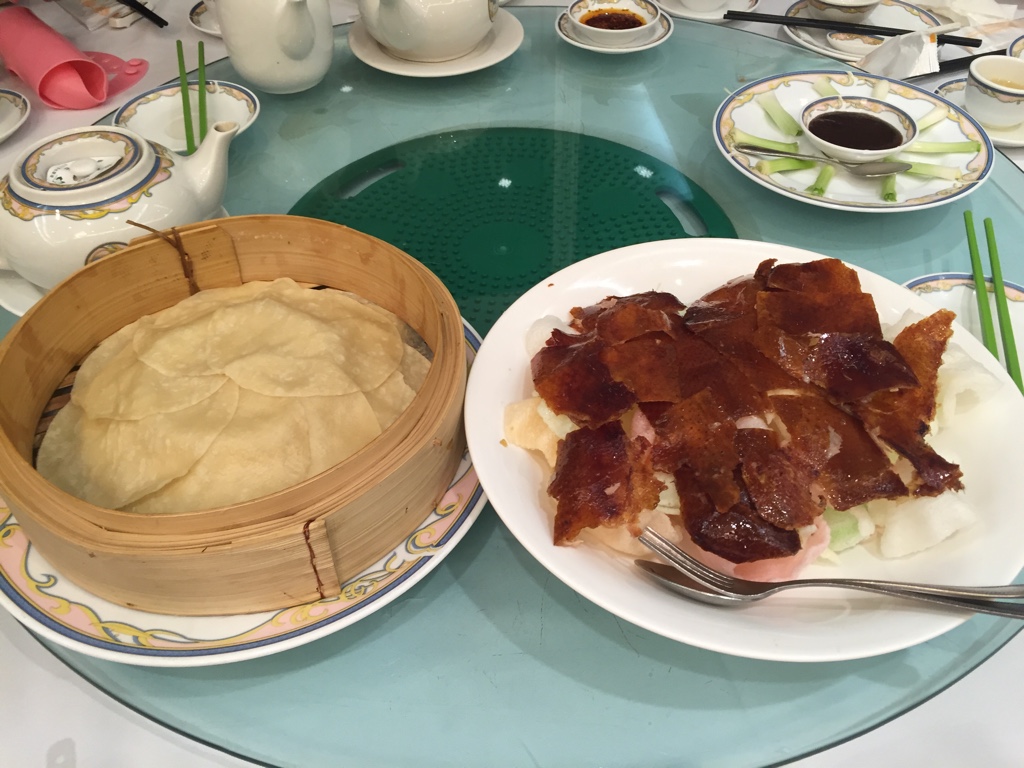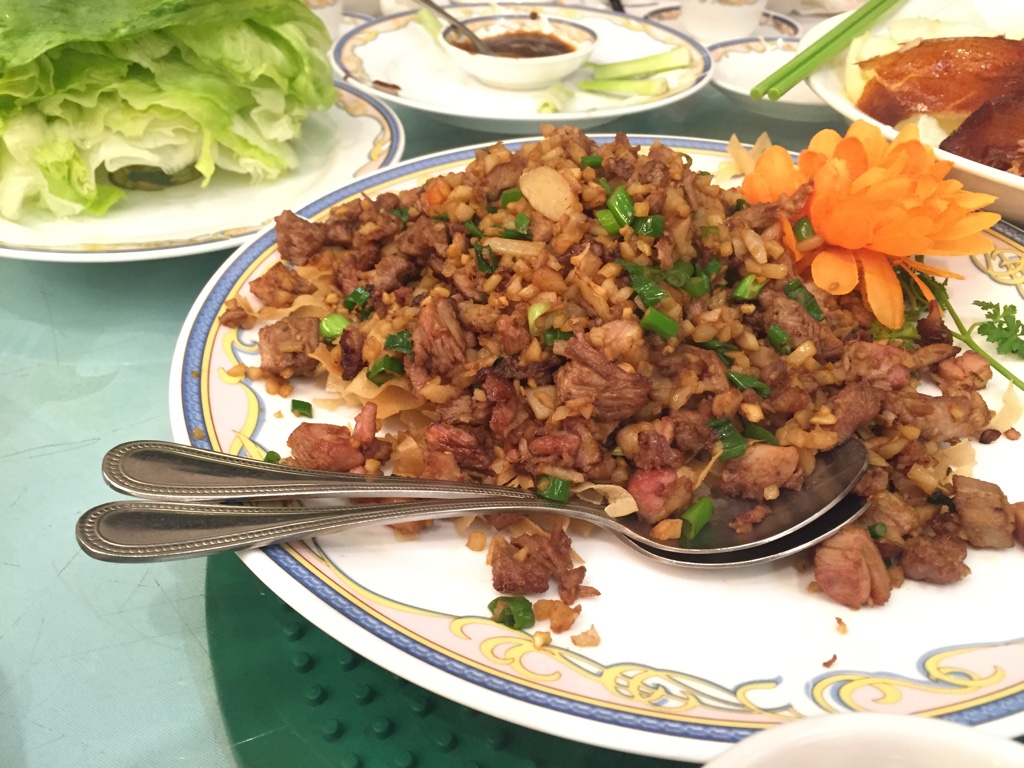 The pea shoot in Pea shoot in Broth with Tofu Skin ($18.80) was definitely over cooked in the broth, because the green color on it looked a little dead, and the texture was a little mushy.
Mushroom and Beef Mongolian Style ($20.80) was served in a tinfoil wrap. Is that how they serve beef in Mongolia?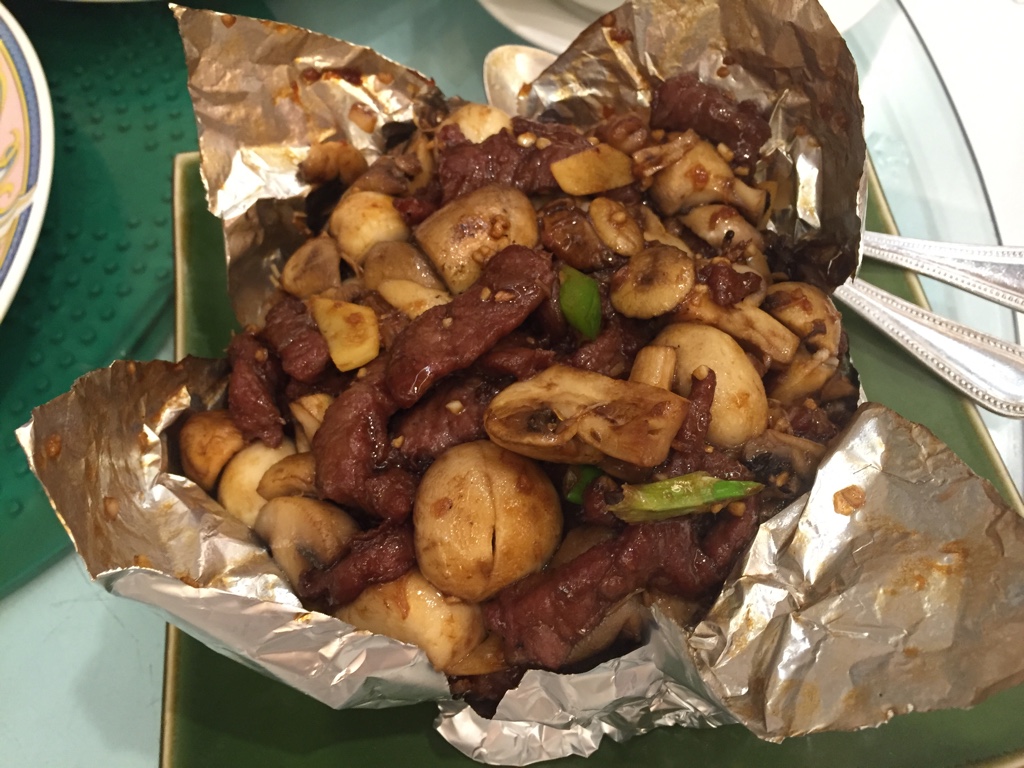 The concept of Steamed Chicken with Ham on Lotus Leave ($16.80) is great, and combination of salty ham, shittake, and lotus leave would give a unique flavour to chicken. But unfortunately the ratio of the ingredients was a little off. There was too much saltiness from the ham and there was not enough mushroom.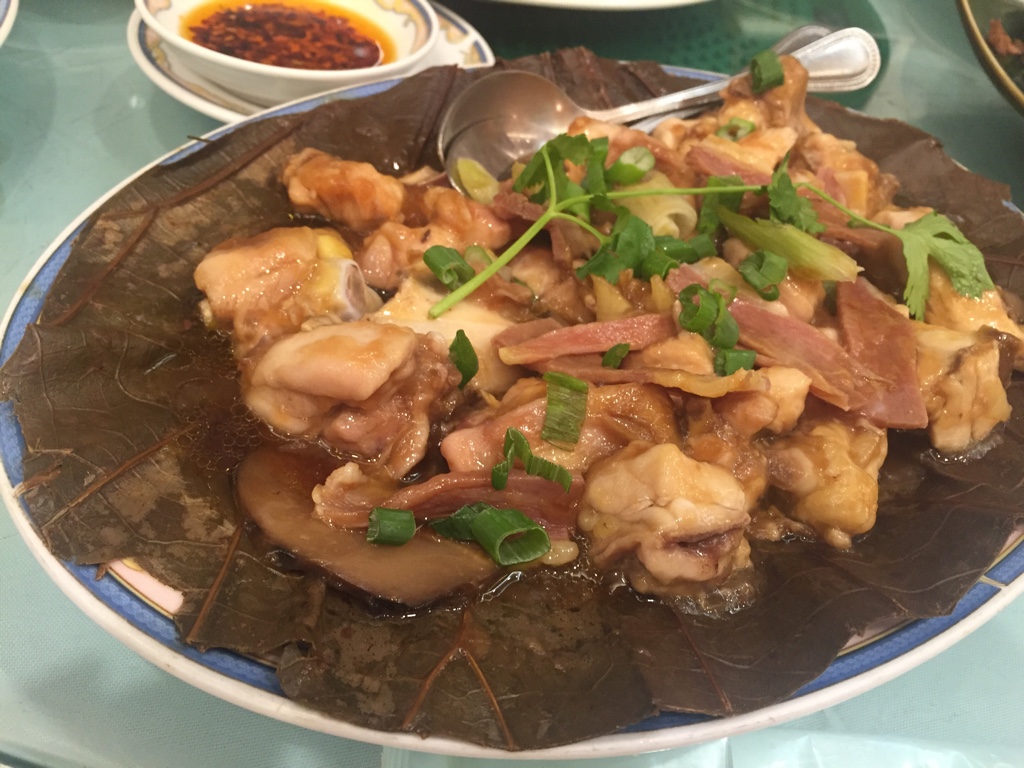 The worst dish had to be Black Cod in Clay Pot, Teochow Style ($19.80). Everything in the clay pot looked cooked to death, and there was hardly any fish! I finally found a piece and put in my mouth, the texture was mushy and the flavour was funky but not in a good way.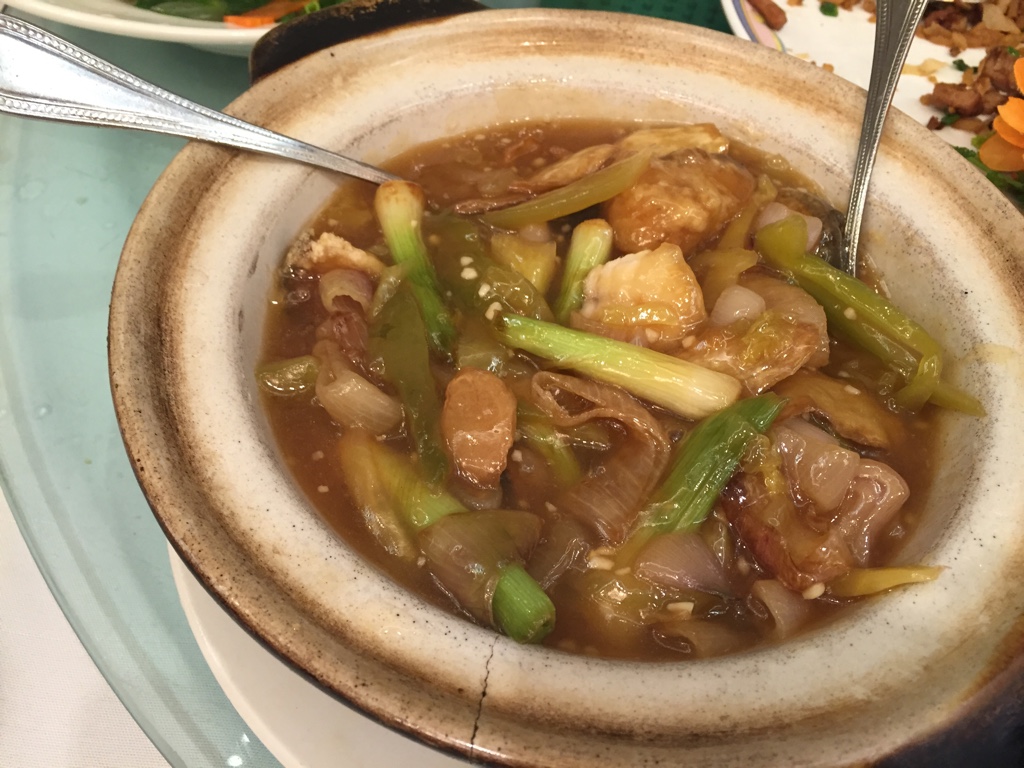 We added Fook Chow Seafood Fried Rice ($16.80) because Bert was late and we decided to order him a fresh hot dish on top of all the food we saved for him. It was probably the most decent dish of the evening on our table, but it was nothing special.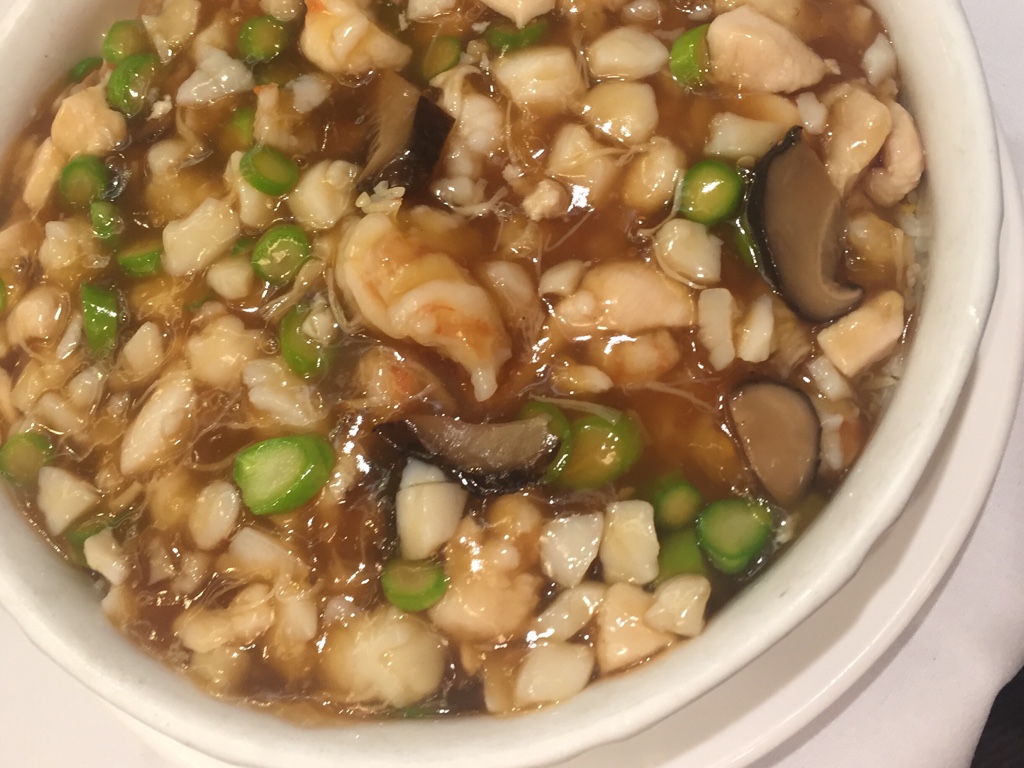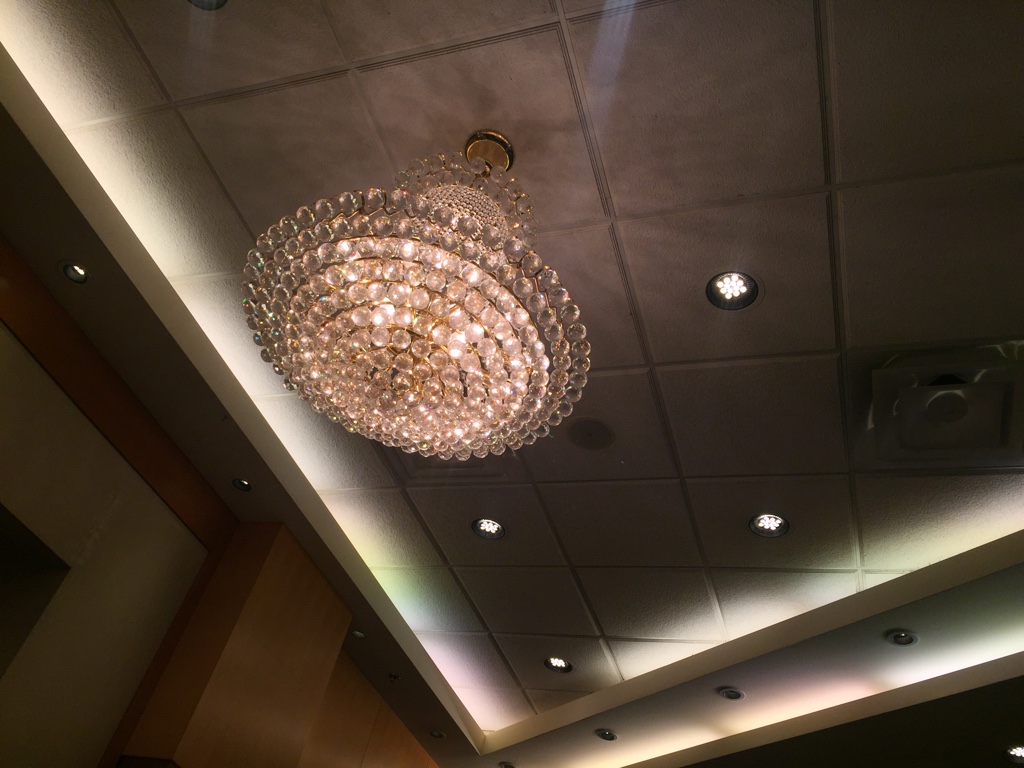 Well I was aware of the crazy night they were having, with all the holiday party diners and the big party in the main hall. But I had experienced the same busy dinner services at restaurants like Kirin, Empire Seafood or Sun Sui Wah, and they seemed to do a much better job cooking the food.
Facebook:
https://www.facebook.com/pages/Fishermans-Terrace-Seafood-Restaurant/107056229342358
Location and other reviews: