BBQ is definitely the comfort food category of Cantonese cuisine. The BBQ sauce is unique and flavourful, showcasing notes of soy sauce, rice wine, ginger, and most importantly honey, which makes it a little bit more on the sweet side. The meaty goodness makes a perfect marriage with steamed rice.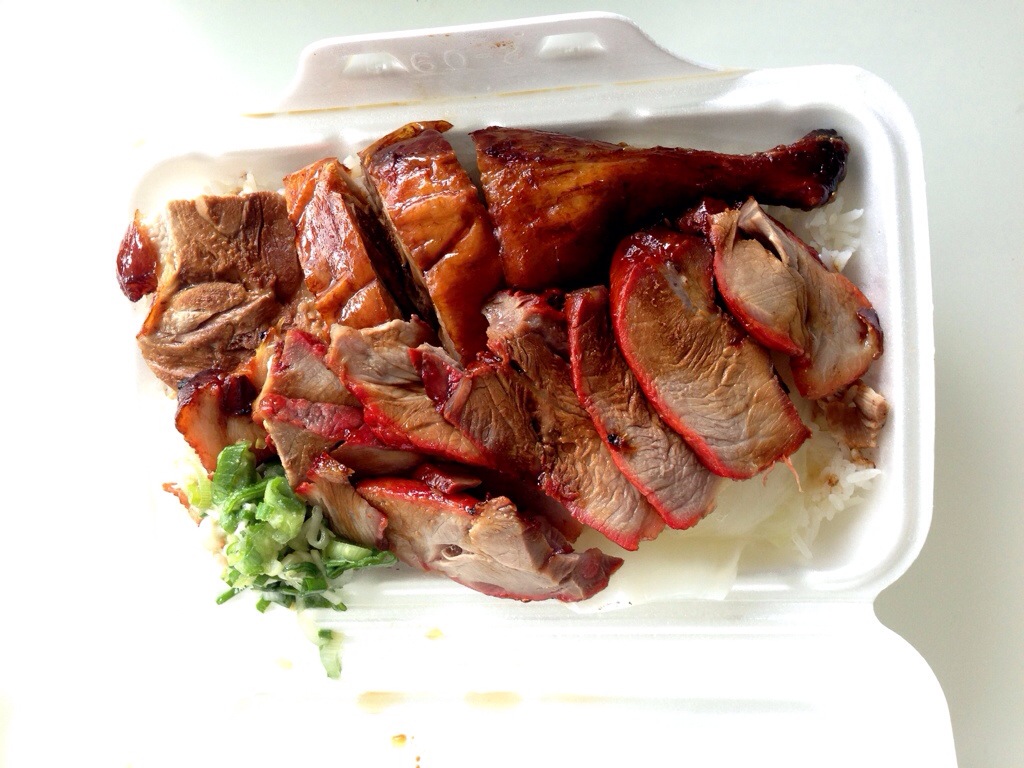 Richmond is the centre of quality Cantonese cuisine, and full of BBQ places. I have tried quite a few places. And here are some of the Cantonese BBQ in Richmond.
Tak Fook (??? at Parker Place. It is actually a Cantonese noodle and congee stand at Parker Place food court. But their BBQ has a greater reputation. It has become my new favourite place. Their BBQ duck is not too sweet but perfectly balanced. I like that they always give you a side of ginger garlic dip even you are not ordering chicken dishes.
Parker Fresh Meat (???[???]??????) at Parker Place. I tried their BBQ Duck once. It was okay, nothing special. However they also serve BBQ Goose, and it is really good. Although half of a goose is $20 but goose is significantly bigger with a lot more meat.
Datang BBQ Express (????) at Yaohan Centre. Excellent BBQ duck. They also sell BBQ quail, and steamed meat loaf with salty egg, just making this place extra special!
Sam Well BBQ (????) at President Plaza, right beside T&T Supermarket. They carry a brand cheap aciphex online name that originated in a famous area for BBQ in Hong Kong, Sham Tseng. The quality is just okay.
HK BBQ Master???????? is hidden at a corner of the Superstore parked. This place is very hyped. Always lineups in the evening or on the weekends. Their BBQ duck is probably the most expensive in the area, half for $13. For me, it's always a hit and miss. I wish I always get the same perfectly good stuff there and give them a raving review, but I just can't.
Kowloon Bay BBQ House (??????, next to Pricesmart. Formerly Sun Cheong Loong BBQ House?????????? Such a shame it is a different store by a different owner, the former business was once my most favourite. After I found my BBQ duck still bleeding off the leg bone once at the new business, it is now on my not-to-go-to list.
Another one has not made it to my good list. It is Butcher's Best Meat Market, at Richmond Centre. The BBQ there is very mediocre, and the service is terrible. It is always the same butcher guy, and he always tries to sell you the worse piece of meat first if you are letting him pick. This is such a shame because I almost walk by this place after work everyday. But maybe it is a good thing. After all, I can only allow myself to indulge once or twice a month.