When I was in Seattle in April, I wanted to fit in one of  Taylor Shellfish's oyster bars in my 24-hour Seattle Foodie Crawl, but ended up going to Elliot's for the late lunch / early happy hour after we decided to stay around the waterfront. But guess what, Taylor Shellfish have brought their tide-to-table dining experience to Vancouver. Fanny Bay Oyster Bar is the Canada's very first vertically-integrated oyster bar that controls the supply of their products, and provides the freshest to the locals for eating-in or taking-to-go.
Our party of 3 wasted no time in ordering our oysters. Unlike other oyster happy hour spots in the city, they offer 3 different types of oysters for a-buck-a-shuck. So we order 6 each on all 3 kinds: Golden Mantle, Fanny Bay and Royal Miyagi, all our BC's very own, with the latter 2 directly from the shellfish farm.  When they arrived, we were surprised how big they all were. As I was  satisfied with fullness of the largest Royal Miyagi oyster I had ever seen, both Kristina and Carol stated their preferences on smaller oysters. I do understand the brininess could be a little strong in your month if you have to chew on a meatier oyster body before you can swallow it.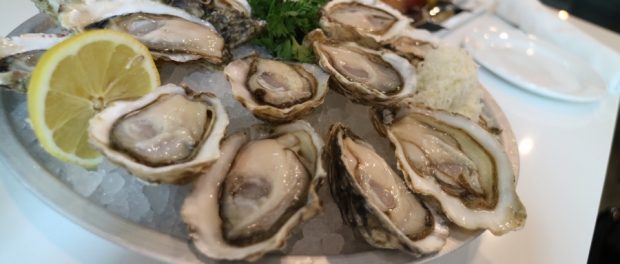 They have some interesting choices on dipping sauces. In addition to the classic Mignonette and cocktail sauce, watermelon habanero vinaigrette and mango chutney both were packed with vibrant flavours. But for oysters this fresh, I still prefer the most natural way with only a few drops of lemon juice or a few fine shreds of horse radish.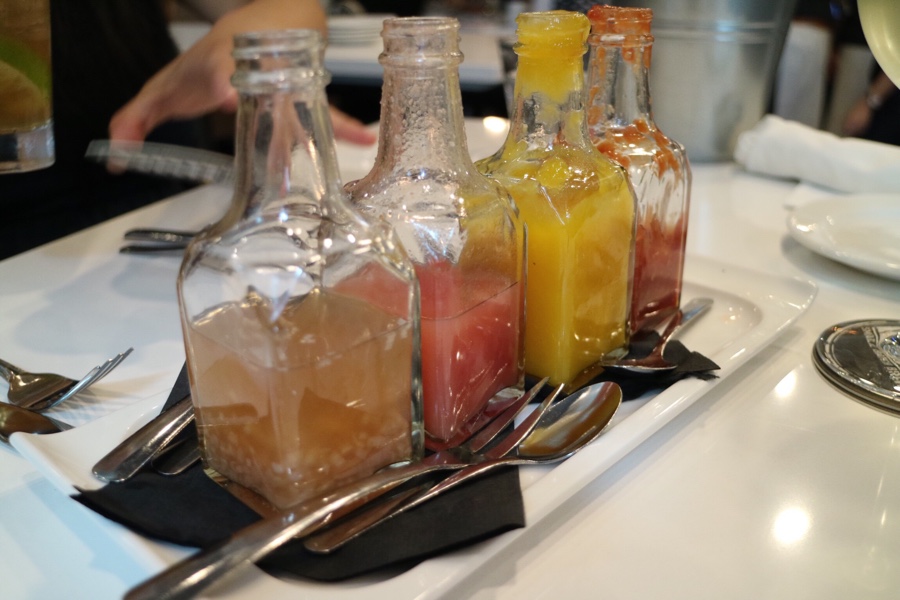 However the oysters are the only food item that is on special during happy hour. We tried a couple dishes from the Small Plates section. Although the concept sounds great for the dish, the pork belly in the Scallops and Pork Belly ($17) was a little too salty, overpowering the scallops. Neither of the complimentary minty pea puree, apple cider jus and arugula salad helped much.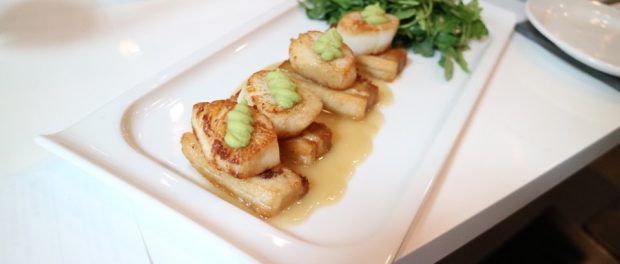 The Ceviche ($13) was visually stunning with a colourful medley of seafood, and those tortilla chips were quite the killer.  But all that could't help much for the slightly underwhelming overall flavours on the ceviche.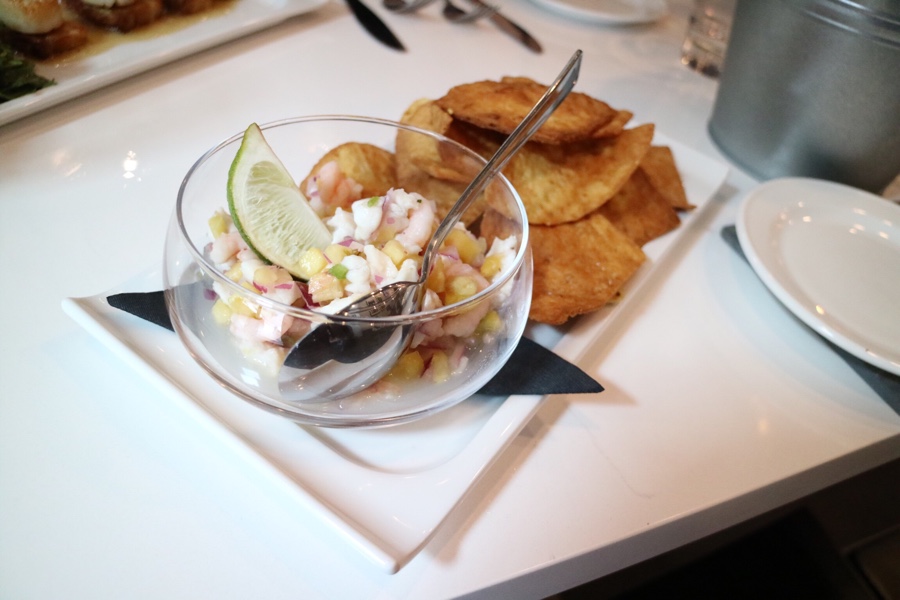 When Graham and Rick arrived, we were told a 4th option just became available for the buck-a-shuck deal. The Mattaki, usually a premium oyster on their menu, was definitely the perfect little jewel for whoever prefers the smaller types of oyster. They were sweet, juicy and succulent, turning out to be the best thing that I had tasted all day so far.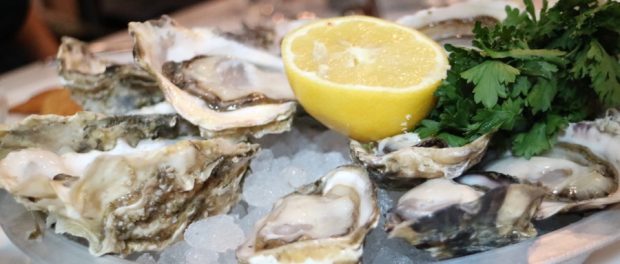 We also sampled the Creme Brulee Trio,  with 3 different flavours: vanilla, citrus, and earl grey. I definitely like the citrus one more for its tanginess that cuts right through the rich creaminess of the custard.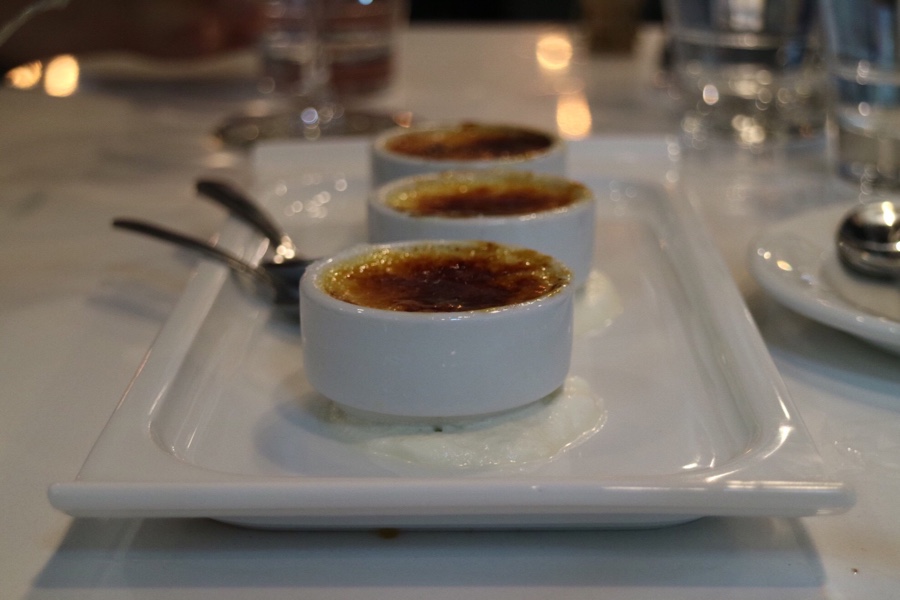 Surprisingly, there are not a lot of obvious deals for the happy hour. There was only the Oyster Stout on special for beer, and there is no deduction on wine. However you get to have extra 3 oz in your wine glass during happy hour.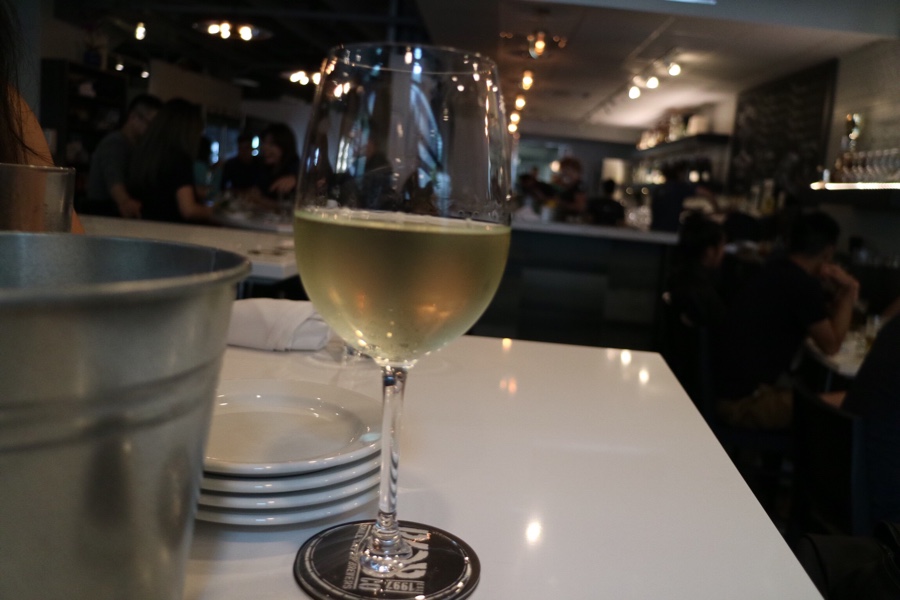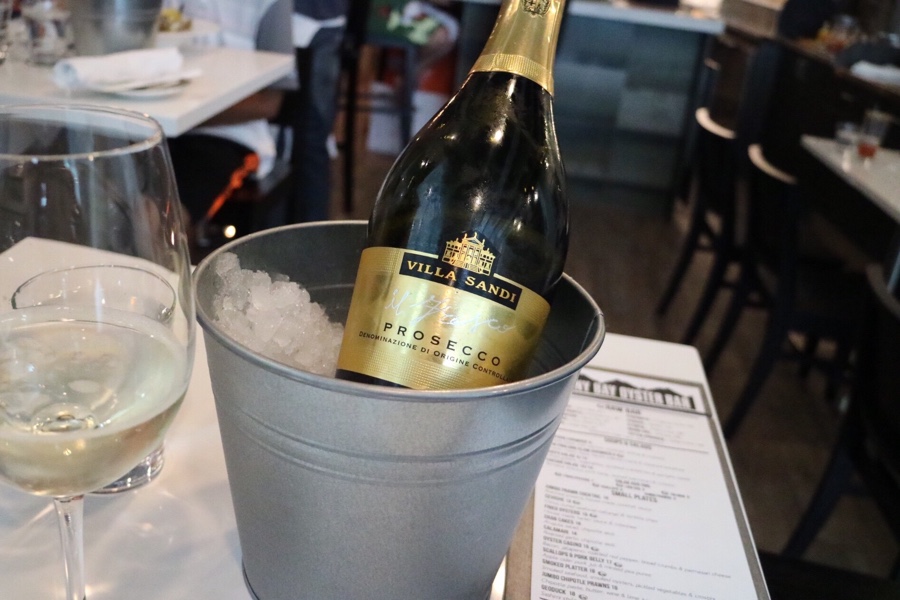 It is pretty darn fantastic to see Fanny Bay Oyster Bar having 3 – 4 kinds of oysters on their buck-a-shuck board. Being the supplier themselves is definitely an advantage over other eateris that offer oyster happy hour, which is quite appealing to the oyster fans like me, and a pretty good reason for me to come back here.  The flavours on their small plates such as the Scallops and Pork Belly and the Ceviche could use a little more fine tuning. And they would make the customers much happier if they offer better deals on drinks.
Website:
http://www.fannybayoysters.com/location/oyster-bar–shellfish-market
More reviews:

Location: