The farm-to-table movement is the new flourishing Bohemianism of food scene in Vancouver, with talented chefs coming up with new ideas showcasing local sustainable ingredients, a direction in which Exile Bistro appears highly anticipated with their intriguing menu. This all seems a good reason why I should choose this place for a last minute dinner with my buddy Albert, who has been away from the city for 2 years, with the other reason being its convenient location for our later evening plans.
When I was making reservation on the phone, they told me there would be a special set menu for the evening – 4 courses for $45. My first reaction was, this is ballsy – you have to be a truly amazing chef to dictate on delivering such a small menu by saying, this is what we offer, take it or leave it!
We arrived on time at 8:30pm. Looking at the set menu, we suddenly realized it was a Valentine's Day special menu. I guess we are in for a romantically delicious dinner… We chuckled. However a romantic dinner could mean a slow dinner service? We waited almost 15 minutes modafinil over the counter usa before the waitress came over and asked for our drink orders. After we ordered 2 glasses of Prosecco, she paused for a second, told us they had quite a few kinds of Prosecco and she would send the bartender girl to take care of it for us, then she ran off before I could try to speak to her. I was pretty sure, the was only one Prosecco on the wine menu! But she did not talk to the bartender right the way, instead she was busy discussing something with the other waitress. There was clearly something on her mind – it might have been the seating arrangement that she was working on. And she did offer us better seating and moved use from the bar to a nice table later on. But anyway, she finally remembered us and sent the bartender over. We were actually sitting at the bar, only 2 feet away from the bartender girl, who seemed also quite occupied the whole time and did not even look up to our direction once until the waitress told her about us. Seriously the restaurant was so tiny, we could see pretty much everything that was going on in the dining room – there were only 20 seats in the restaurant, and only a few customers at time, but we had no idea why the servers seemed so clueless and hectic. These are just really bad signs showing lack of experience and poor organization.
The bartender girl told us they ran out of Prosecco, and they were only serving the Bella sparkling wines that they used in the wine pairing option. We tried a couple of them and they were quite crisp and clean tasting. Bella is a sparkling wine house in Okanagan that uses products from other local vineyards to produce sparkling wines . I particularly enjoyed the Blanc de Noir Gamay, made from Gamay Noir from Beaumont Winery.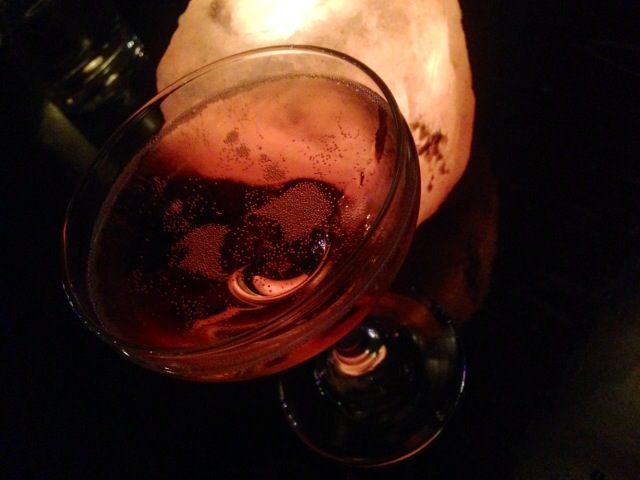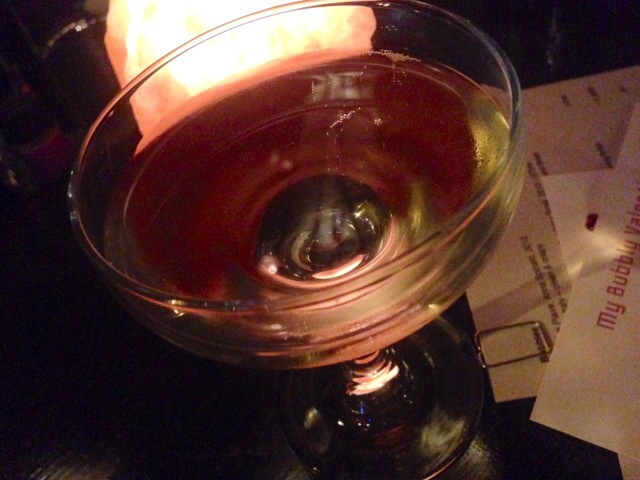 Although Albert and I did not mind the fact that we sat for almost 50 minutes before the amuse-bouche came, as we were busy catching up, I just thought for a set dinner service, it would be thoughtful to offer the amuse-bouche earlier or serve us even a few slices of bread or something.
For the amuse-bouche, we were presented a plate of defined version of crackers-and-carrot-sticks-with-dip. Some might argue amuse-bouche is supposed to be a one small bite and this is way too big. But I seriously did not care as I was staved. The house-made crackers were decent, and the dip made from roasted cauliflower, parsnip and lemon white truffle oil was also tasty, although not amazing.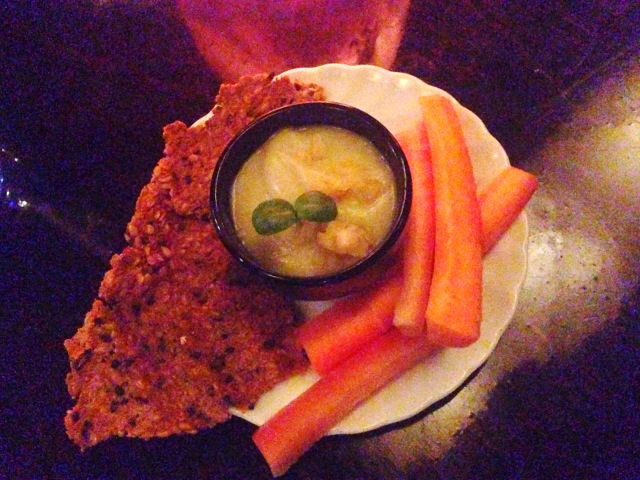 The appetizer course was named 'Wild Heart Soup', and its main ingredients were beet, leek, and fennel. And it also came with black rye bread. The soup was seemingly a more exotic version of borscht with the addition of some barley-like grains. With the vegetable components, the soup was much more palatable, but towards the end when there was only liquid left, the acidity in the soup got quite strong, and became less and less enjoyable. The black rye bread was not as hearty as its name suggested. This while dish was definitely a little underwhelming.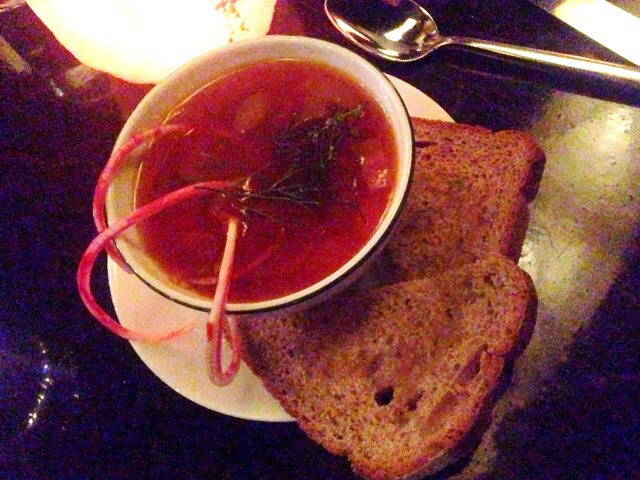 'Dear Deer Duo' was the main course of the evening. It was actually a well cooked dish. They threw in a few extra slices quick seared venison heart on the plate, so along with a seared venison tenderloin and a venison tenderloin tartare, the dish became 'Dear Deer Trio'. The quality of meat was outstanding. The seasoning on the meat was on points. Venison heart and potatoes provided some texture contrasts to the soft tenderloin. Although chanterelle could have been handled bit better – it tasted a little bland which did not do such a beautiful product justice. But overall, I could finally see some passion on the plate!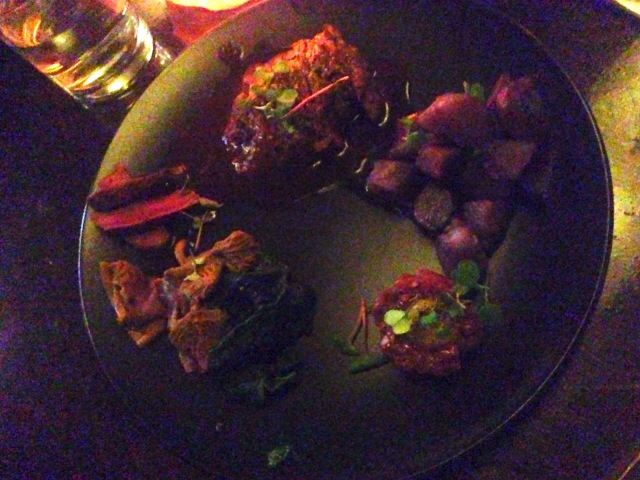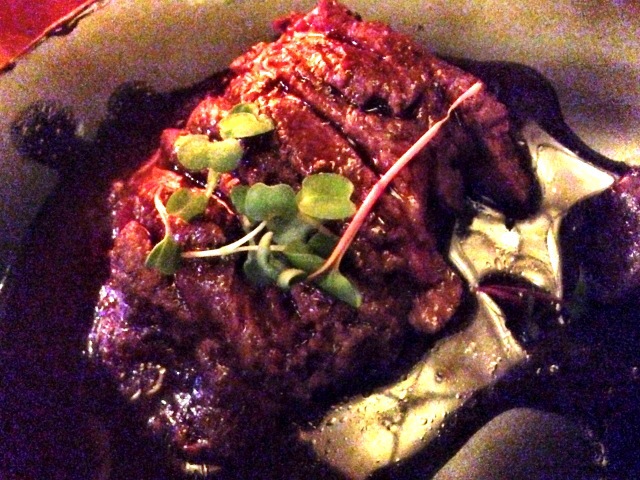 The dessert course 'Burn my Fire' came out pretty quickly after our main course. The concept of the dish was very ambitious for being vegan and glutton free – an Early Grey creme brulee, and a vegan version of chocolate truffle made of cocoa butter and raw chocolate, infused with flavors of raspberry and cinnamon. Unfortunately I did not taste Early Grey tea flavour in the creme brulee, and the chocolate component did not give me the burning pleasure that I was hoping for, as the bitterness slightly overpowered both spiciness and sweetness.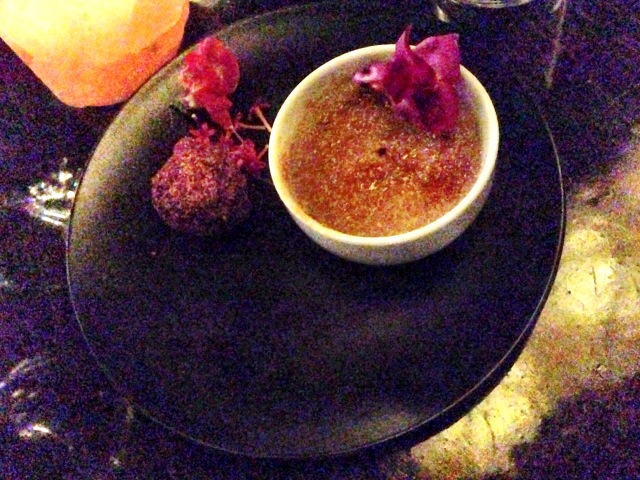 Maybe it was intended for the romantic theme, this 4-course dinner was awfully slow at the beginning. And the food did not live up to my expectation. Even though the main course was actually quite decent, it did not save the overall experience as the dinner fell short on planning and execution. Maybe I could return and try their regular menu, hopefully they are better organized on a regular night, and are able to come up with delicious food but not just great concepts and ideas.
Website:
Map and other reviews: