I simply don't have anything negative to say about the food at Tuc Craft Kitchen! All the dishes we got were finely crafted, bold in flavours although mostly savory, and well matched with their carefully selected beers and wines. And it definitely takes some tremendous passion and amazing talent to design such a menu, showing their modern interpretations of classic cooking techniques, understanding of quality ingredients, and setting up no nonsense prices. Our waiter was extremely attentive and knowledgeable on food and beverages, making the meal much more enjoyable. Basically, they just know how to run a restaurant properly!
Crispy Bacon and Egg ($4) is an example of a sophisticated dish with simple ingredients. Inspired by Scotch egg but tasting much lighter with the use of tempura batter and bacon, the egg could not be more perfectly cooked. The egg yolk is barely cooked through and allows only a couple luscious drips slowly running down on the plate. And it was delicious in my mouth and I was taking my time to savor it!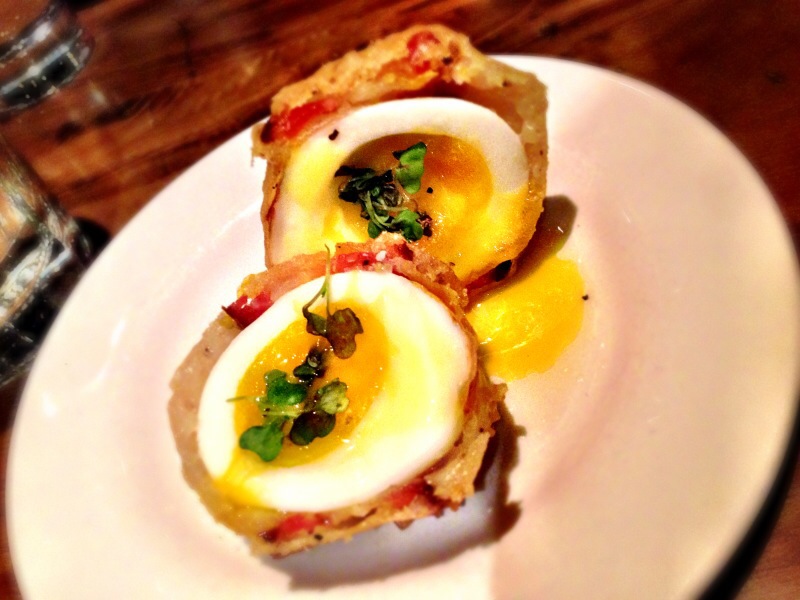 When Parsnip and Smashed Potato Fries ($7) arrived, I totally thought the chips were parsnip, and the skinny curly fries were potato. But how are those little fries made from smashed potato? I puzzled. The fun part came in when I bit into a curly fry and realized it was parsnip. And the chips are indeed thick potato wedges blanched, smashed flat, and deep fried. I never had parsnip fries before and I just love how incredibly light and tasty it is with its mild sweetness and earthiness.
Mussels and Clams ($13) has a very generous portion. But what impresses me is the sauce, which reminds just me a recipe from my The French Laundry Cookbook. Simply add the juice extracted from steaming clams and mussels with white wine and basic aromatics like garlic and shallots, to heavy cream, giving it such a clean and classic flavour. And the timing of those steamed shell fish was impeccable, they all tasted so tender, plum and juicy. This is by the best mussels and clams dish I have ever had.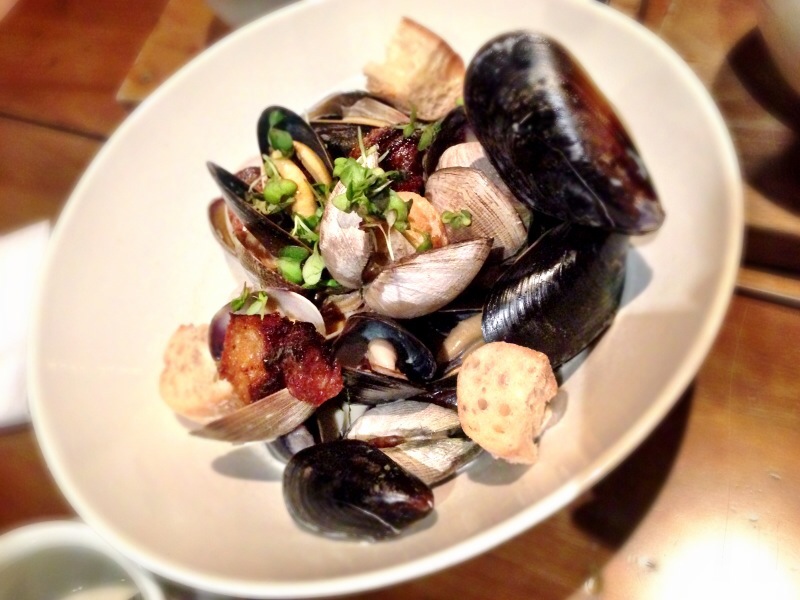 The star anise in Pork Belly Crackling ($8) implies the Chinese cooking technique, but they have added their own spin by replacing the Chinese cooking wine with red wine, and also they fry the skin to crackling crispy after slow braising the pork. It might not please the Chinese cuisine purist completely, but it was a great version of a classic dish in my opinion.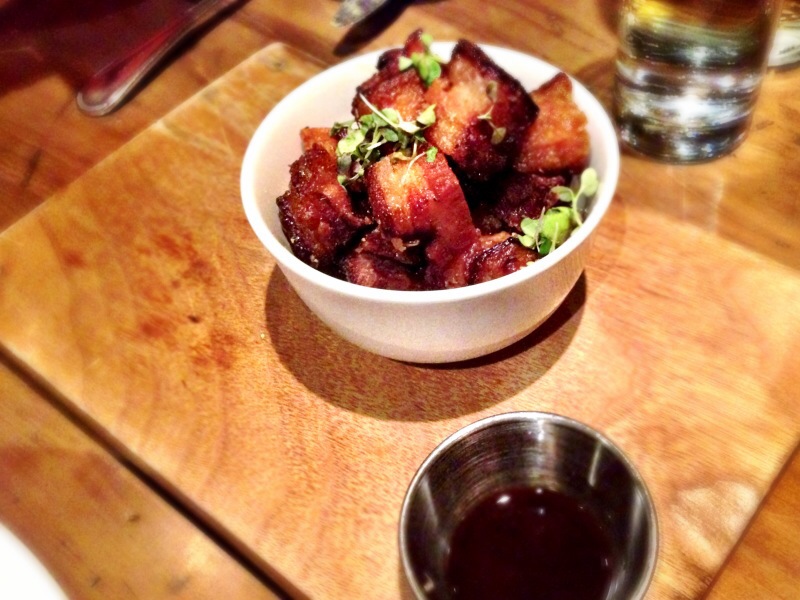 Chicken for Two ($22) is another Classic European dish with Asian influence. The chicken is slow roasted, and while it might be as tender as it is free range chicken with less fat, but the flavours are much better. The Asian influence is in the chili tamarind glaze, that add a sweet and sour dimension to the dish.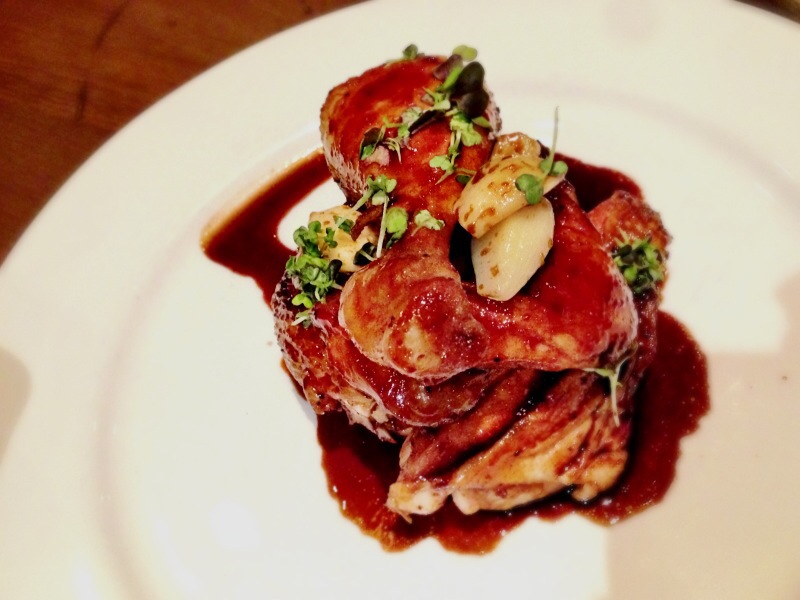 Boy the Cabernet Braised Beef Cheeks ($22) were ooh so tender! But I kind of regretted that I did not listen to the waiter and ordered Farmer's Crop Pot ($15) as well. Those 2 dishes are very similar since they both have gratin potatoes, when the Crop Pot is close to a Shepard's pie but with only vegetables. They were both very tasty but unfortunately we were getting really full.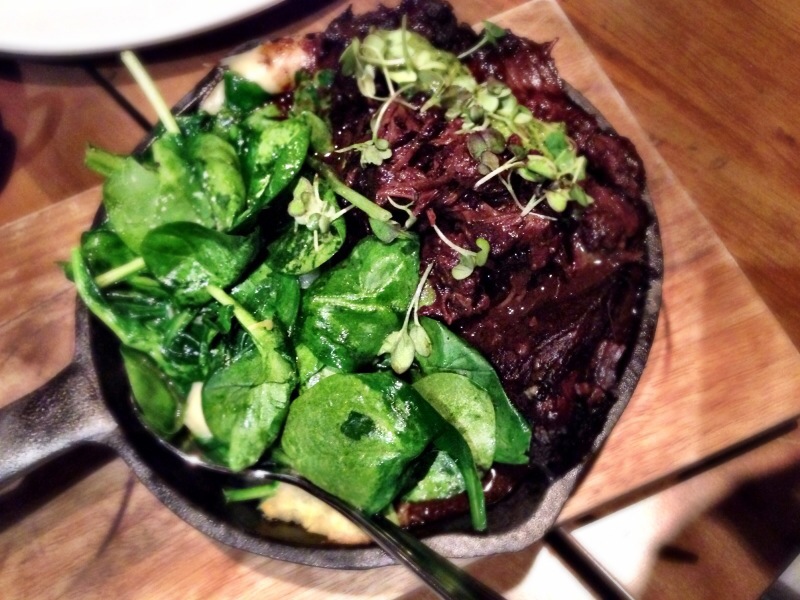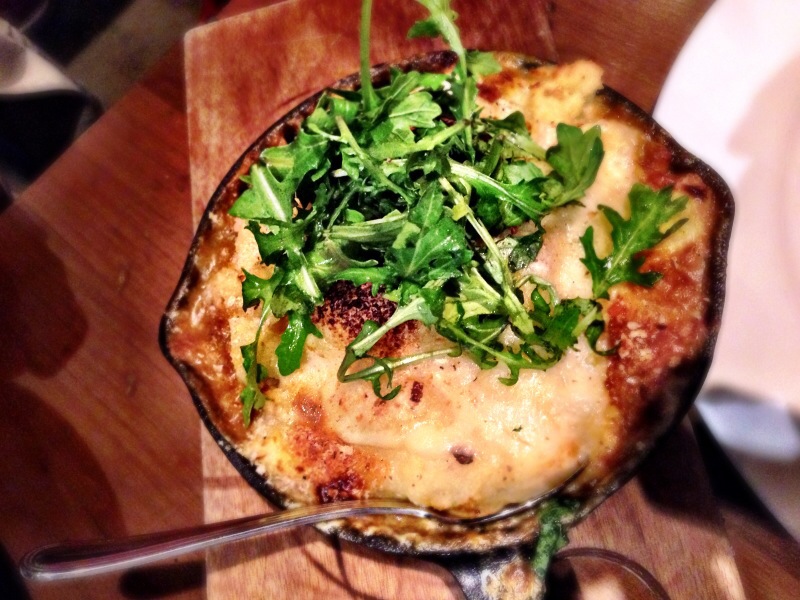 At the end of the day I was truly proud of myself picking Tuc Craft Kitchen for Louis's welcome home dinner. The food was beyond my expectation. And the affordable prices add even more values. I also want to mention that their wine list is pretty decent, as they offer wines on happy hours special from famous BC wineries like Joie Farm or Quail's Gate. And we ordered 2 bottles of Louis Latour Domaine de Valmoissine Pinot Noir for only $42 (around $30 at private wine store) each.
I will definitely go back there!
Website:
http://www.tuccraftkitchen.com

Map and other reviews: