The New Burger Joint
If you ever see a lot of people lining up for a new restaurant, the food must be great right? I accidentally walked by CaliBurger on their opening day, and saw the line-up almost took over the whole block on Thurlow and Robson.  This got me all curious. What the heck is this CaliBurger? My first reaction was, it'd better not be another Chipotle.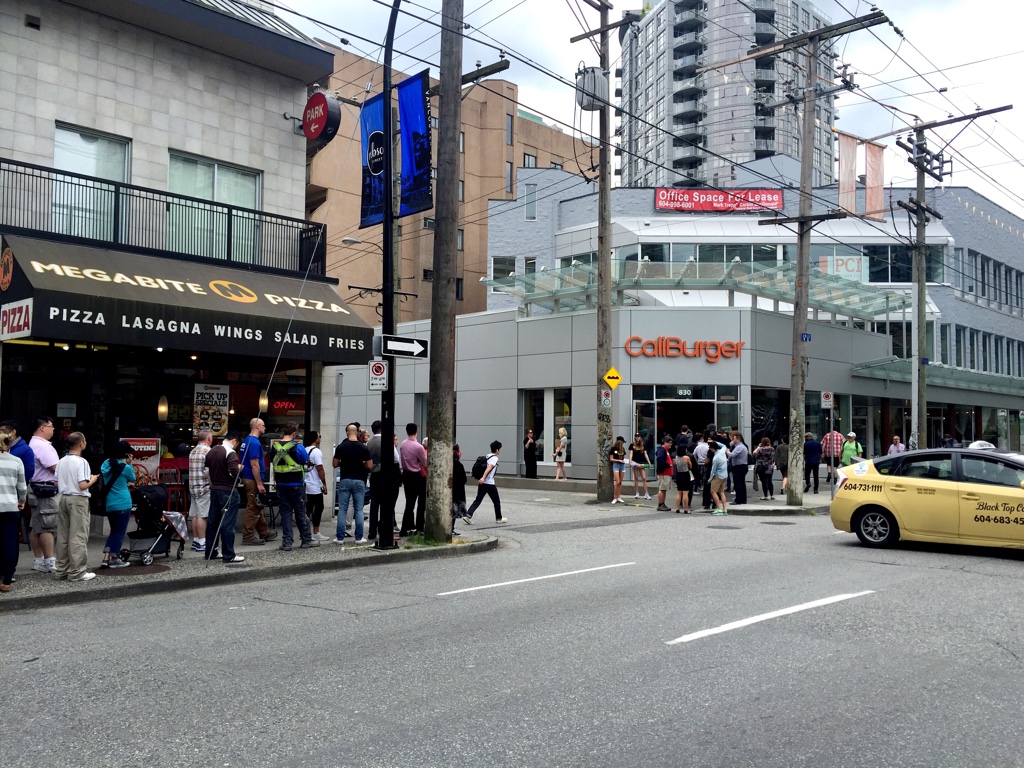 In-N-Out vs. CaliBurger
Then I read about this burger restaurant chain on Vancouver Sun. Apparently CaliBurger opened their first location in Shanghai, but the burger recipes were inspired by the popular In-N-Out Burger restaurants in the States. I did hear my cousin rave about In-N-Out when I was in San Francisco last Christmas, but never had a chance to try their food. Basically I had absolutely no idea of what the burger at this place would taste like.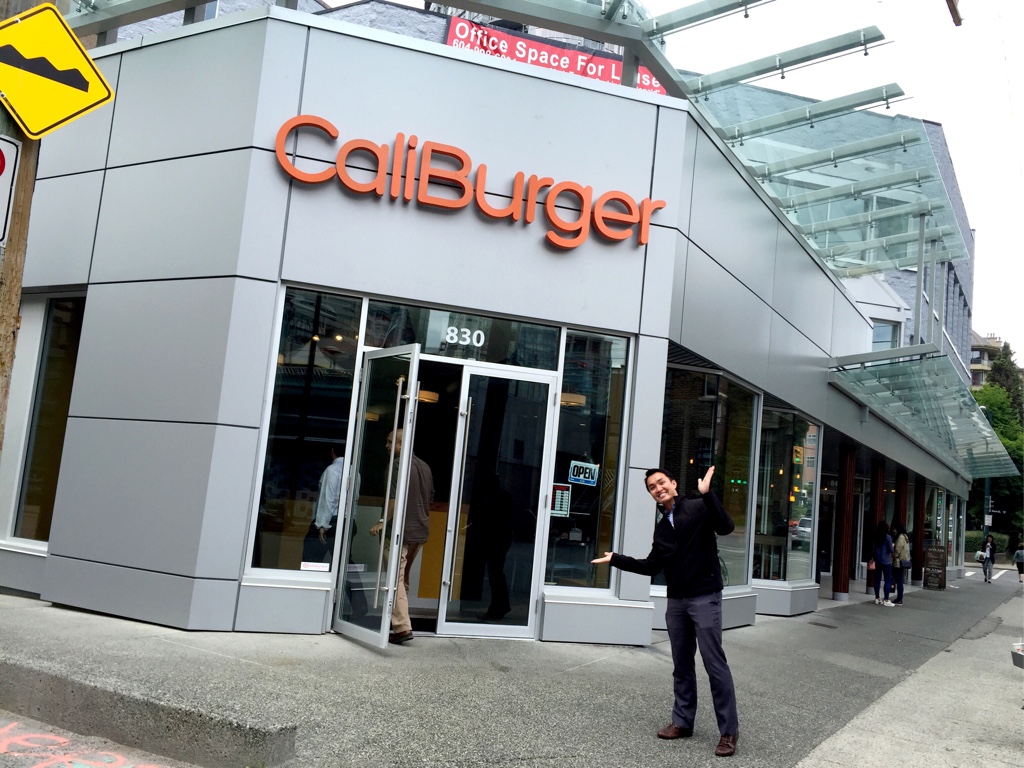 The Experience of the Line-Up
So I dragged Ken to CaliBurger for lunch. It was just past 11:30am on a Thursday. The line-up was still pretty short and we didn't have to wait outside. The place was spacious and bright, and I did feel like getting fast food on the beach in California.  Behind the cashier there was this large open kitchen, with least 6 or 7 people busy working on the burgers and fries. That's a huge assemble line.. I mean, don't they only have 5 guys working at Five Guys?  But maybe some people are still in training?    Then I noticed that there was only one cashier taking everyone's order when there were 2 cashier registers.   While the line-up was getting longer quickly and extending through the front door, there was still that lone cashier working at the front.    When we got to the front and placed our order, the cashier seemed very friendly, but also very thorough and patient, which I didn't have a problem with at all personally, but I couldn't help feeling bad for the people on the the huge line-up built up behind us.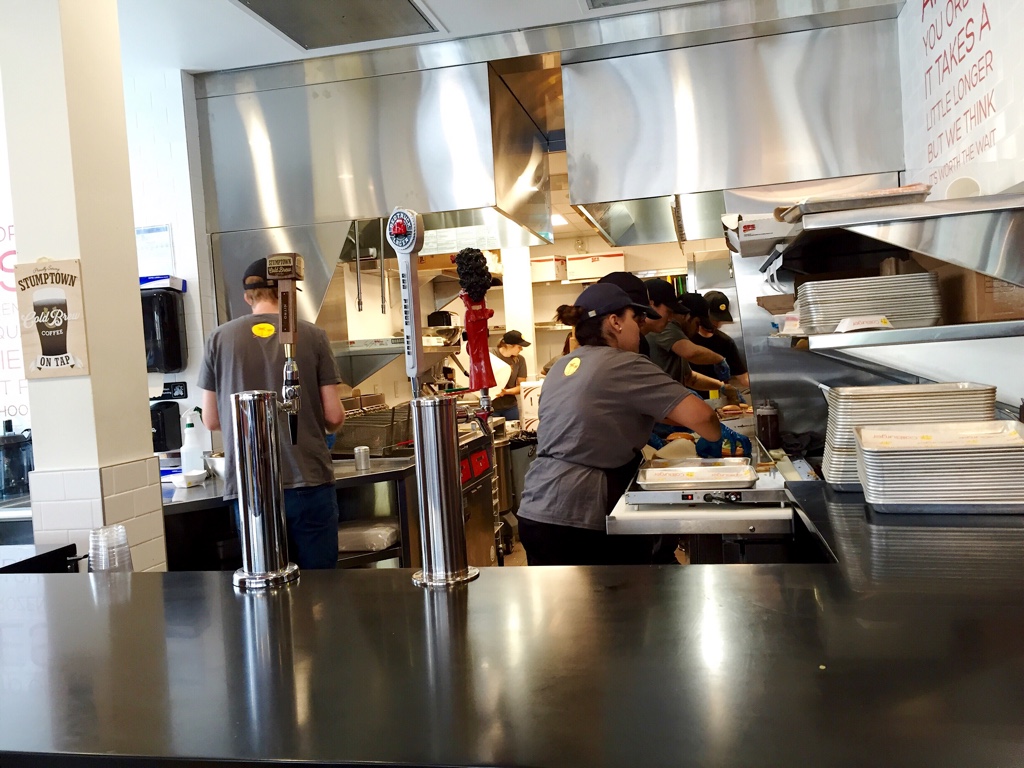 The Burger
We waited for 7 or 8 minutes before our food  was ready.  My  Cali Double combo, usually costs $12.97, with the burger alone priced at $6.99, but cost me extra $2 for the upgrade to the Cali Fries from the regular Freshly Cut Fries. After tax the whole meal cost me a whopping $15.72!
And the burger was not bad, although not super amazing. Combined with grilled onion and melted cheese, the beef patty was seasoned well and cooked nicely, which gave it some decent flavour. However the patty itself was not very dense. I don't mean I wanted the meat to be tough and chewy in my mouth, but I was expecting the meaty and succulent texture from a hearty piece of meat. There were also tomato, lettuce, pickle, and mayo sauce  in the burger but they didn't really taste anything special.  I know they were labelled as  'Fresh Quality Ingredients', but how fancy can you get if you use iceberg lettuce?   The burger buns were holding up well enough during the whole meal, which deserved a couple extra points.
Before I dug into my Cali Fries, I tried a couple pieces from Ken's regular Freshly Cut Fries. Those fries were thin and tasted all right. They could be a little bit crispier, just enough to give a better texture. And now my Cali Fries, topped with melted cheese, grilled onion, and some pink aioli-looking sauce, all together it looked like someone just scraped off the toppings on a cheese onion hot dog and dumped the whole thing on top of the fries. As the toppings got cold pretty quickly, the fries became a soggy mess, and I didn't want to touch after a few bites.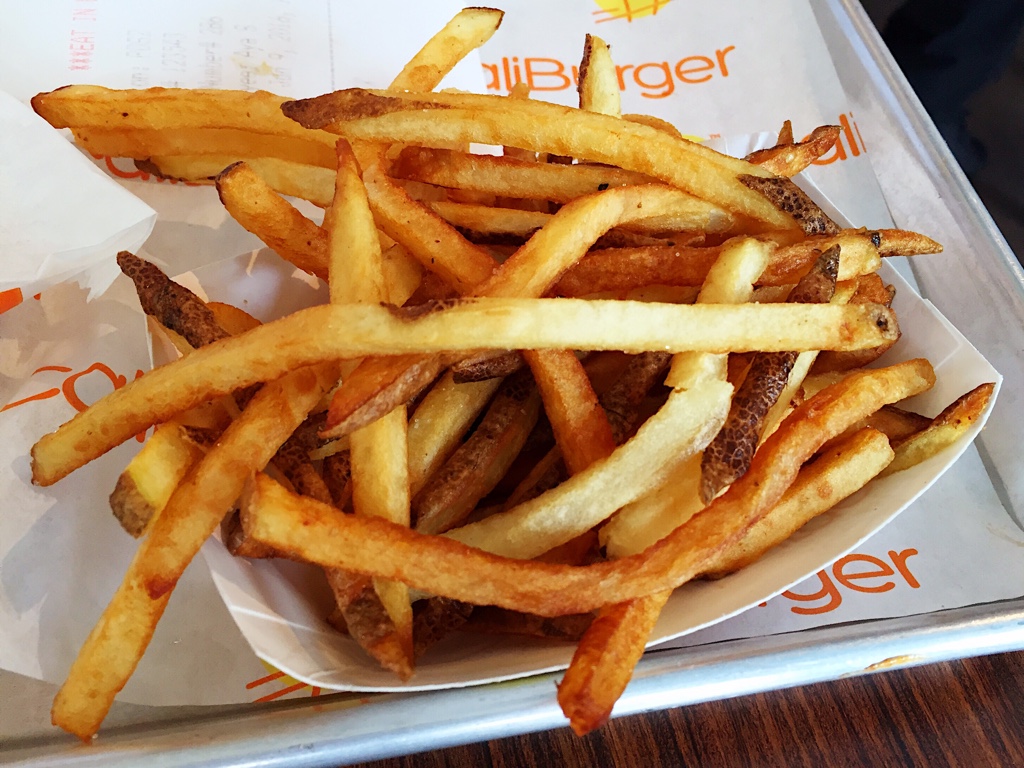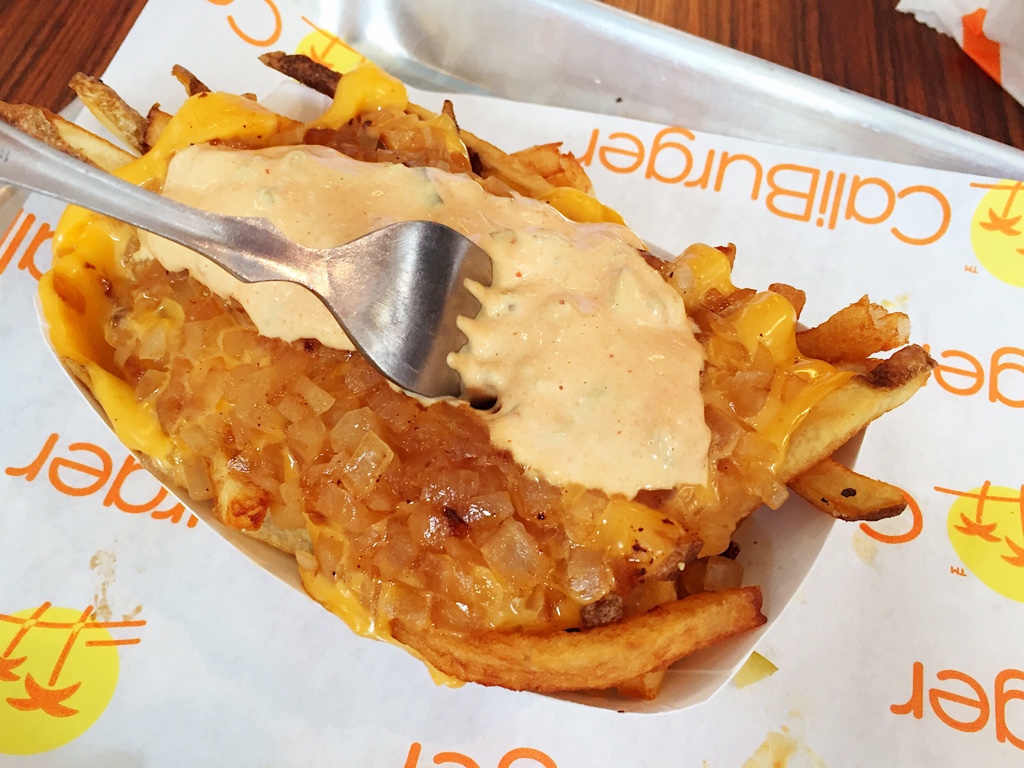 I had a bite on Ken's Chipotle BBQ Chicken Sandwich, and it tasted pretty fresh. Ken however, said he would prefer my Cali Double burger.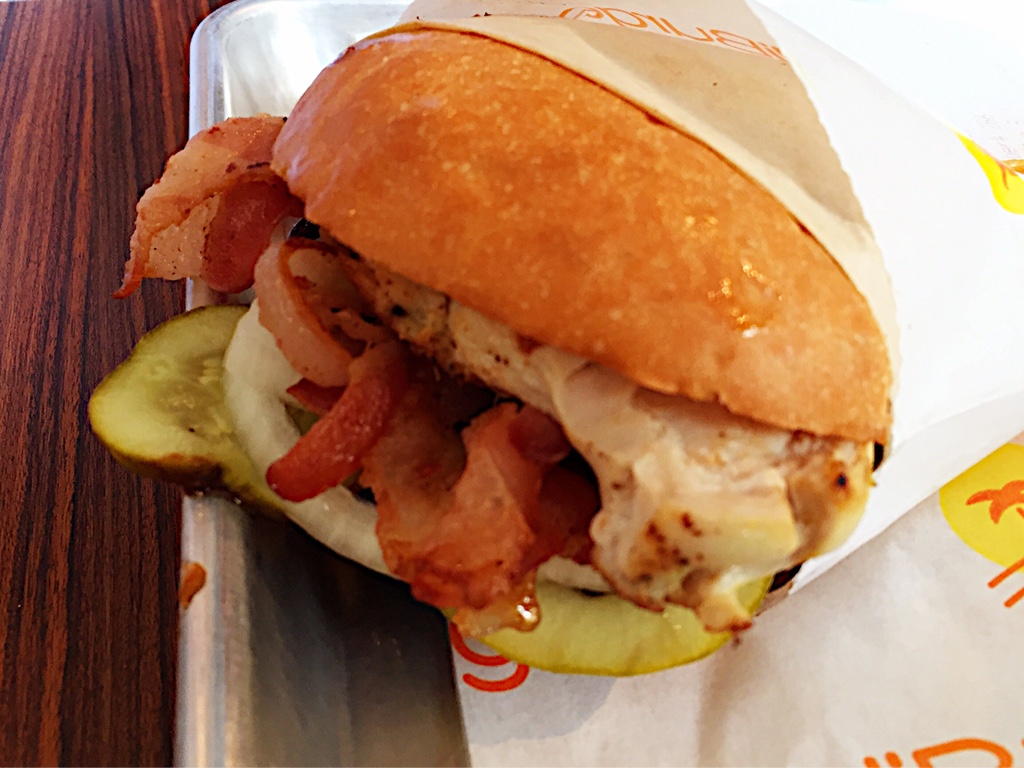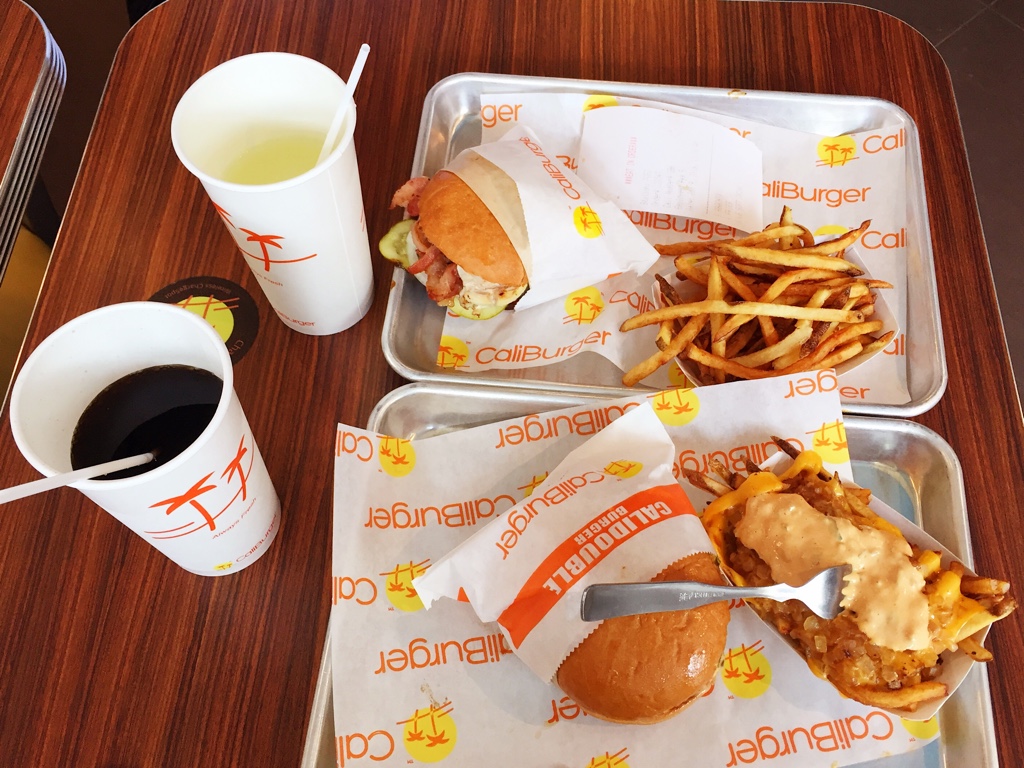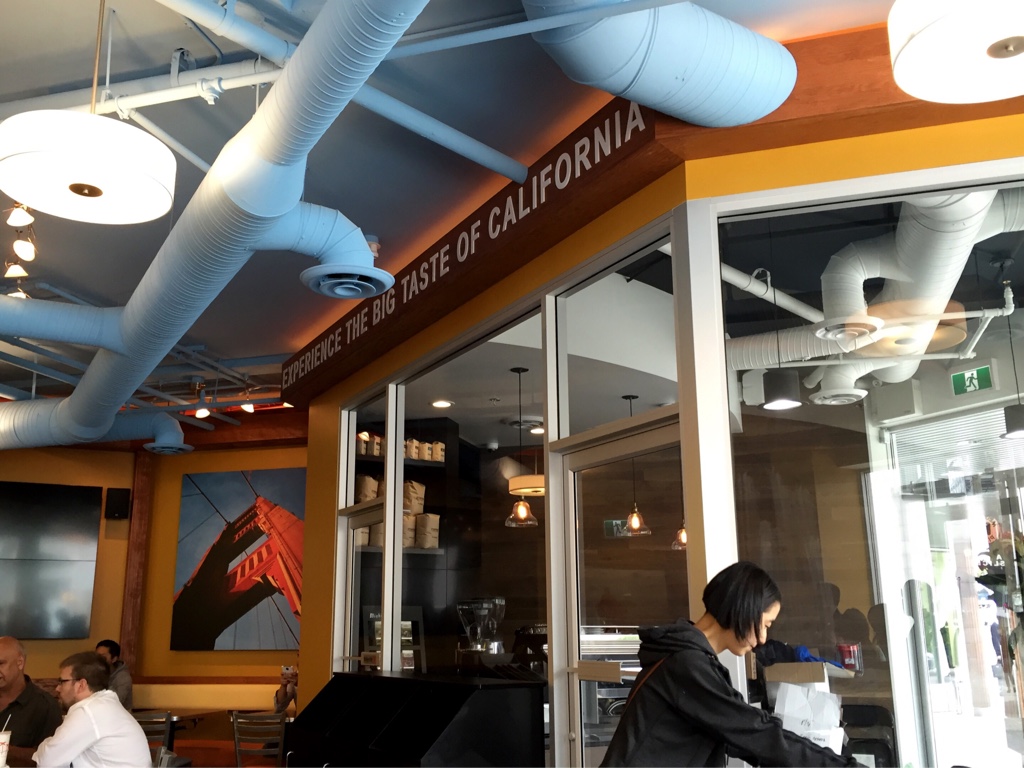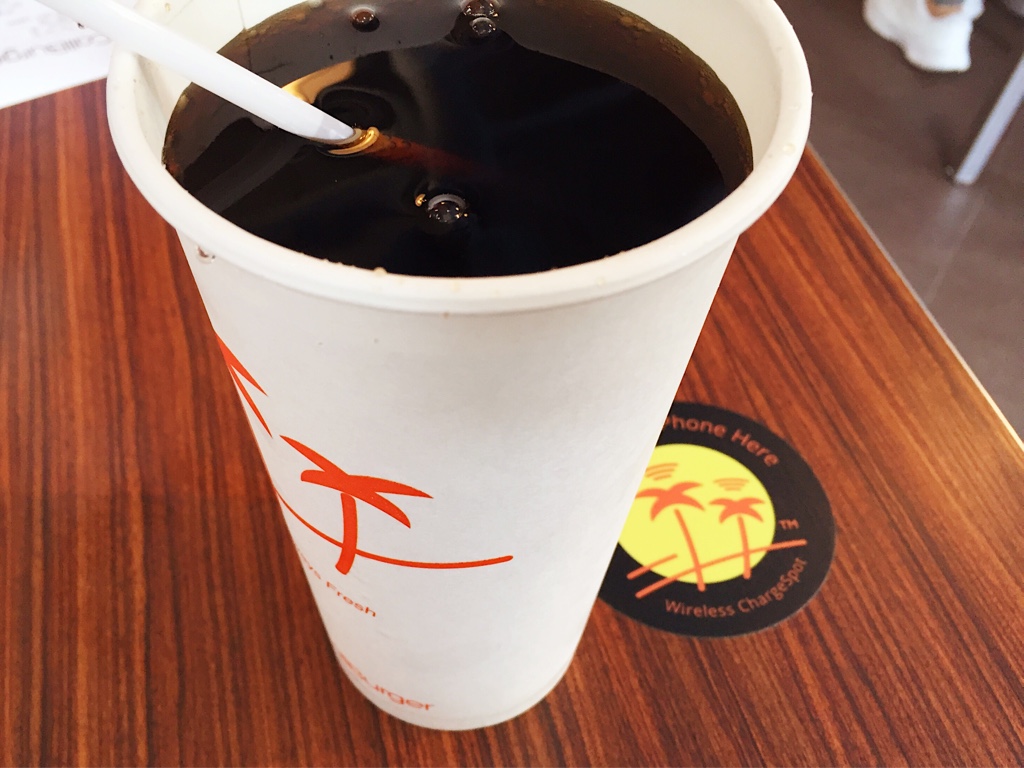 Overall
Thank goodness we came in early (11:30) and we only had to wait for 12 minutes before we got our burgers. It took us 30 minutes to finish our meal. But during that time, we witnessed that the folks who came in just when we sat down with our food, still didn't get to place their orders when we finished.  Also during the whole time, there was only ONE cashier taking people's orders while 6 or 7 people in the kitchen working on burgers and fries. Really not sure what was going on.  Although the burger was decent, I had difficulty finding the food here worth the price and waiting over 20 minutes for.  To me the burgers here didn't seem more enjoyable than A&W's. For a better comparison to a similar restaurant, although it has been a while since I went to Five Guys Burgers and Fries,  to me the Five Guys burger is definitely more memorable with that satisfying meaty texture I seek in a good burger.
Website:
https://caliburger.com/vancouver
More reviews:
Location: