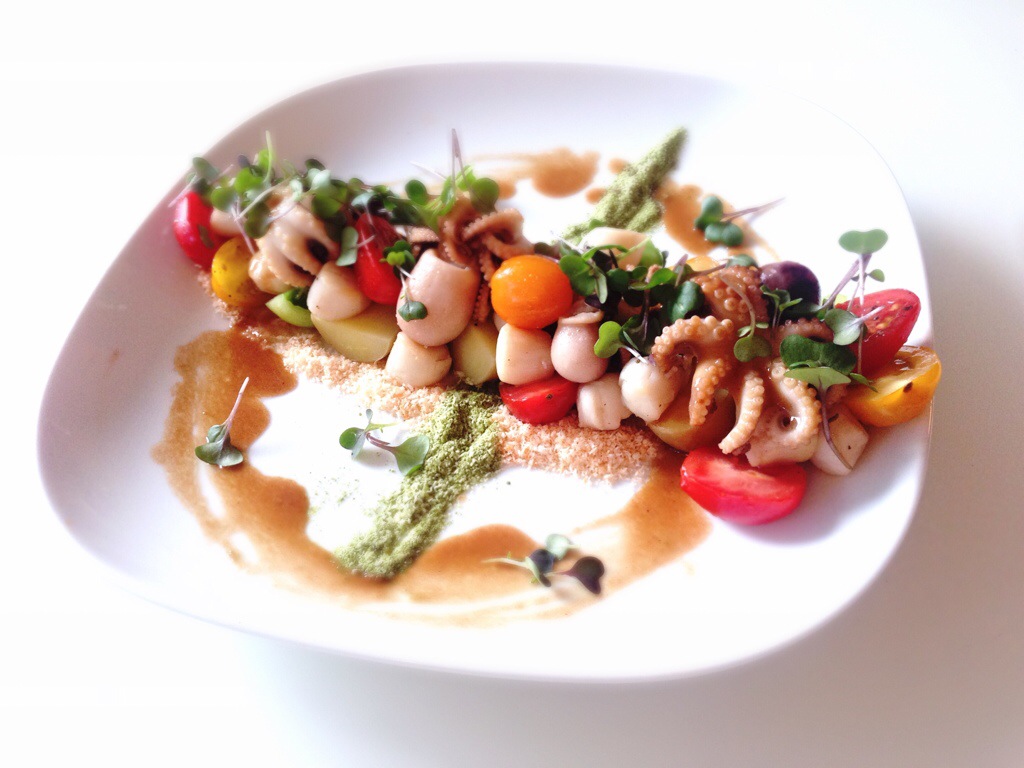 I love baby heirloom tomatoes. Those little beautiful jewels are colorful, sweet, and packed with healthy nutrients. As they are always used in my garnish or in a side dish such as a salad, this time I have tried to make them the centre of the dish. This is to serve 2:
Let's cook the potatoes first:
– 2 or 3 yellow nugget potatoes, quartered
– 1 tsp olive oil
– 1/2 tsp lemon juice
– salt and black pepper to taste
Blanche and strain the potatoes. Mix with olive oil, salt, pepper, and lemon juice. Set aside. Note: if time permits, finely chop a couple pitted black olives and mix in the potatoes, and omit salt and pepper.
Ingredients for the main dish:
– 1/2 lb baby heirloom tomatoes, halved
– 1/2 tsp lemon juice.
– 8 baby octopus, cleaned
– 1/2 lb bay scallops
– 2 tbsp butter
– 2 tsp olive oil
– 1 shallot, finely chopped
– 2 gloves garlic, finely chopped
– 1/4 tsp chili flakes
– salt and black pepper to taste
for soy beurre blanc
– 1/2 tbsp soy sauce
– 1/2 cup dry white wine or Chinese cooking wine
– 2 tbsp butter, cold
Season the tomatoes with lemon juice, olive oil, salt & black pepper, and set aside. Quickly saute the scallops and octopus with high heat in a frying pan with butter, olive oil, chill flakes, garlic, shallot for about 5 minutes. Remove the seafood and set aside. Add soy sauce and wine to the pan, and stir till it boils. Turn the heat to medium, let the liquid simmer for about 5 minutes. Add the cold butter and stir, till the sauce is smooth. Combine potatoes, tomatoes and seafood, and plate. Pour the soy beurre blanc sauce on the side. Voila!
Notes:
– Optional: put some lemon zests while mixing the tomatoes and seafood and brighten it all up!
– Scallops and Octopus are very delicate. Rather leave them medium rare than have them overcooked and taste like rubber.
– I garnished the dish with home made tomato crumbs (blended tomato paste, kosher salt, and panko crumbs), and wasabi crumbs (wasabi paste, matcha powder, kosher salt, pank crumbs), and micro greens.