This is by far the most amazing Japanese sushi meal of my life. Going through 20+ courses, I felt like being my hero, Anthony Boudain, who had just conquered the Mount Everest of culinary pleasure.
Sitting at the bar, we watched Chef Tony slicing and dicing on some of the finest seafood in the world with his own magical touch, occasionally filling up our sake glasses, and explaining to us on each course with such great passion. Although the preparation seemed minimalist, but the flavours and presentation were impeccable, showcasing a lot of sophisticated sushi master techniques .
Lou kept repeating those few words the entire evening.
"I could die now…"
Yes life is certainly looking more beautiful after tasting all this incredibly pleasurable food.
We started with some small plates and beer, warming up our palates and easing into the mood.
First came a trio of gabo (burdock root), gari (pickled ginger), and raw sake kama (soft salmon collar bones). The serving of gabo looked like a pile of ginseng roots. An additional gobo salad was presented with the roots are finely julienned. I always love gobo for its mildly sweet and earthy taste – such a perfect palate cleanser. The soft salmon collar bones did not have a lot of taste but I enjoyed the slightly crunchy texture.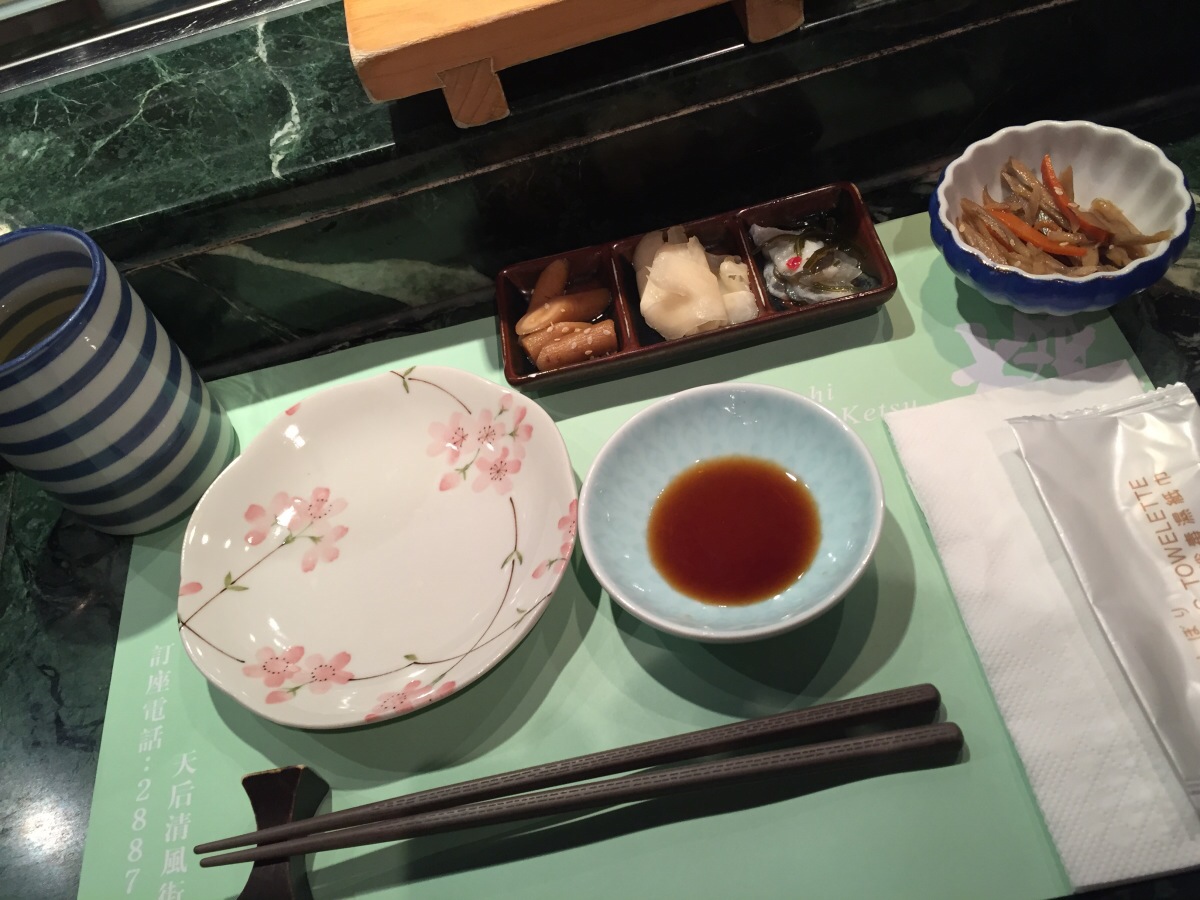 Tako (octopus) Salad was a small lovely bite of sweetness and crunchiness.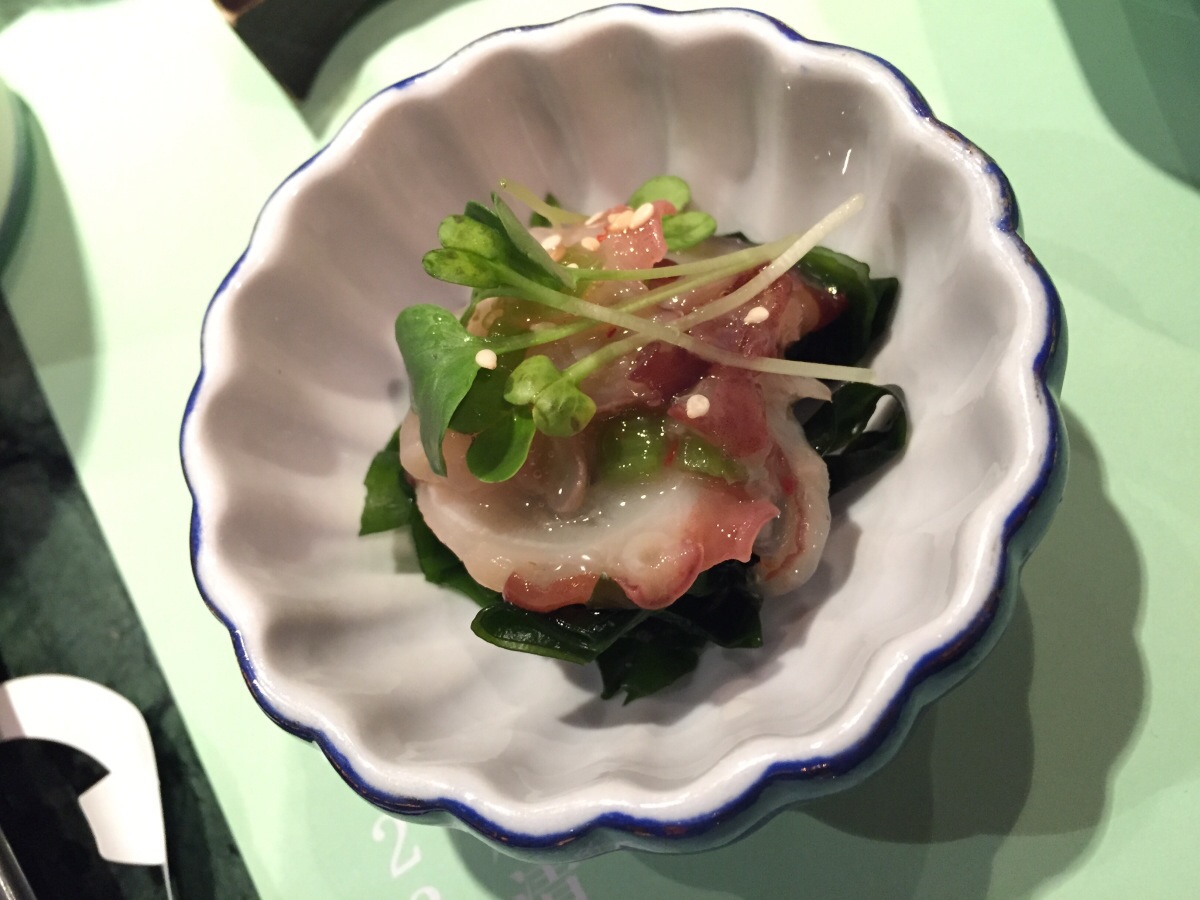 For a moment I thought we were served flatbread chips, but the chips were actually made from dehydrated wild cod. They tasted similar to Japanese squid jerky but had a much softer texture, just like flatbread!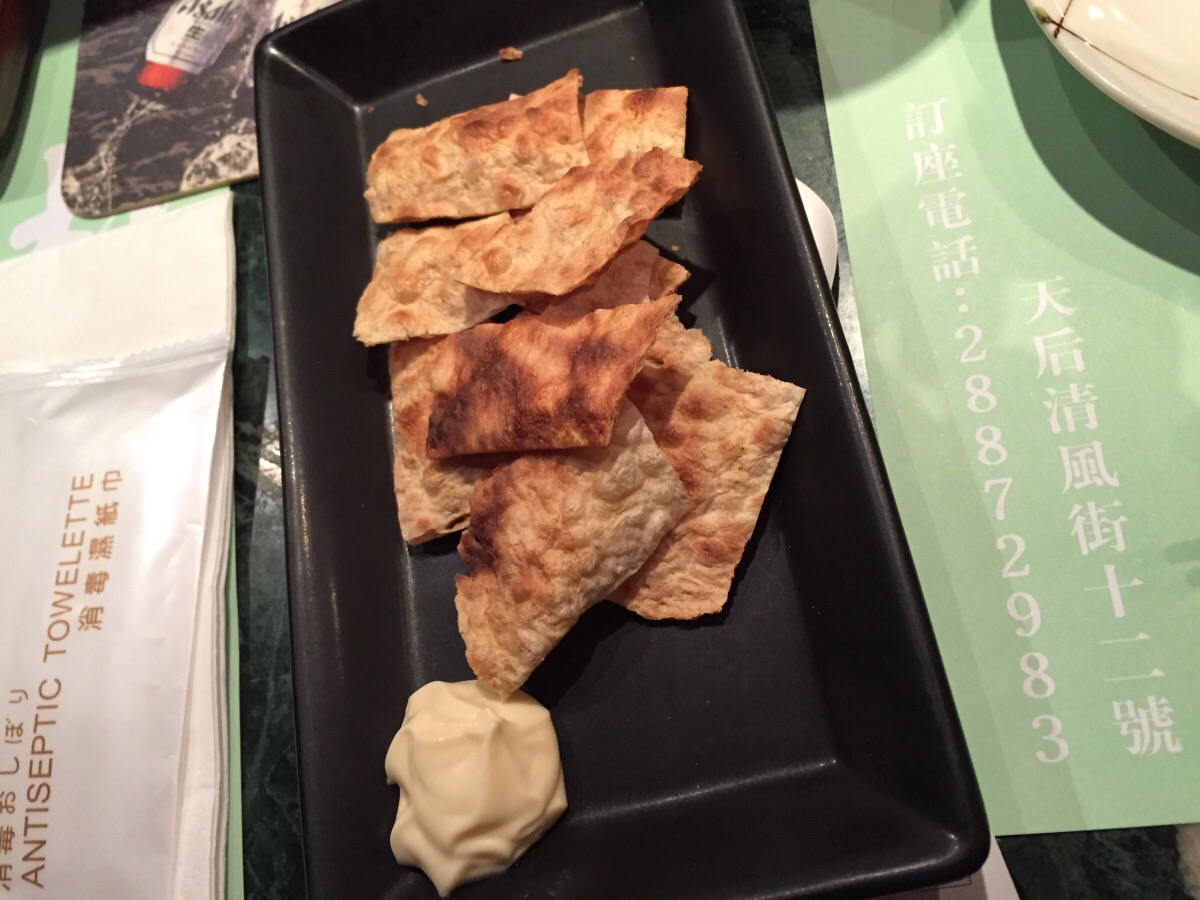 For alcohol, we kicked off with Suntory the Premium Malt's, an award winning Japanese beer, then Rojoh-Hana-Ari Tohka, a premium sake by the prestigious Kotsuzumi Brewery in Hyogo, Japan. The sake was so smooth, and it definitely helped enhancing the fresh seafood experience.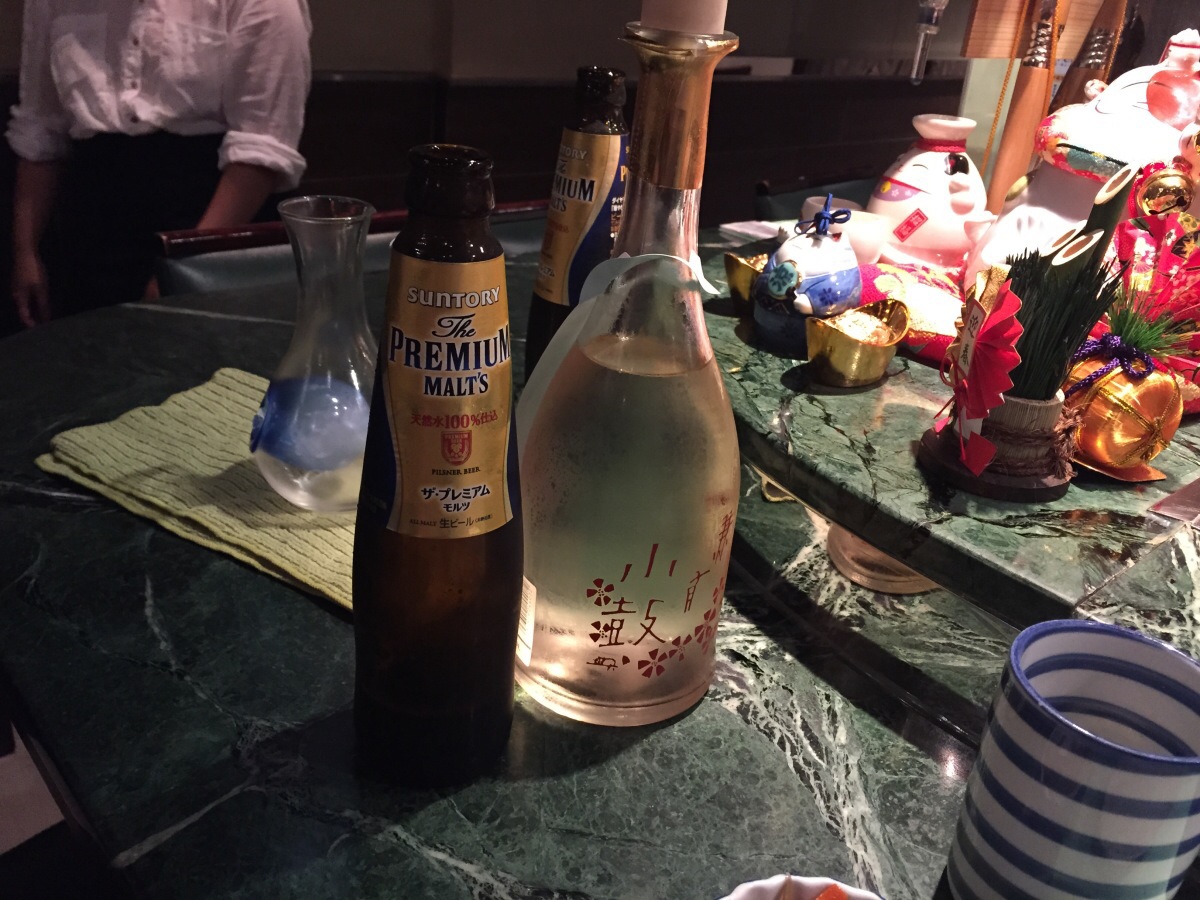 First highlight of the evening was a beautiful raw oyster from Hyogo, served in Japanese style – a bit green onion, ponzu, and wasabi! The oyseter was big, plum, and juicy… It was near perfection!  And I was also intrigued to see how beautiful the shell look!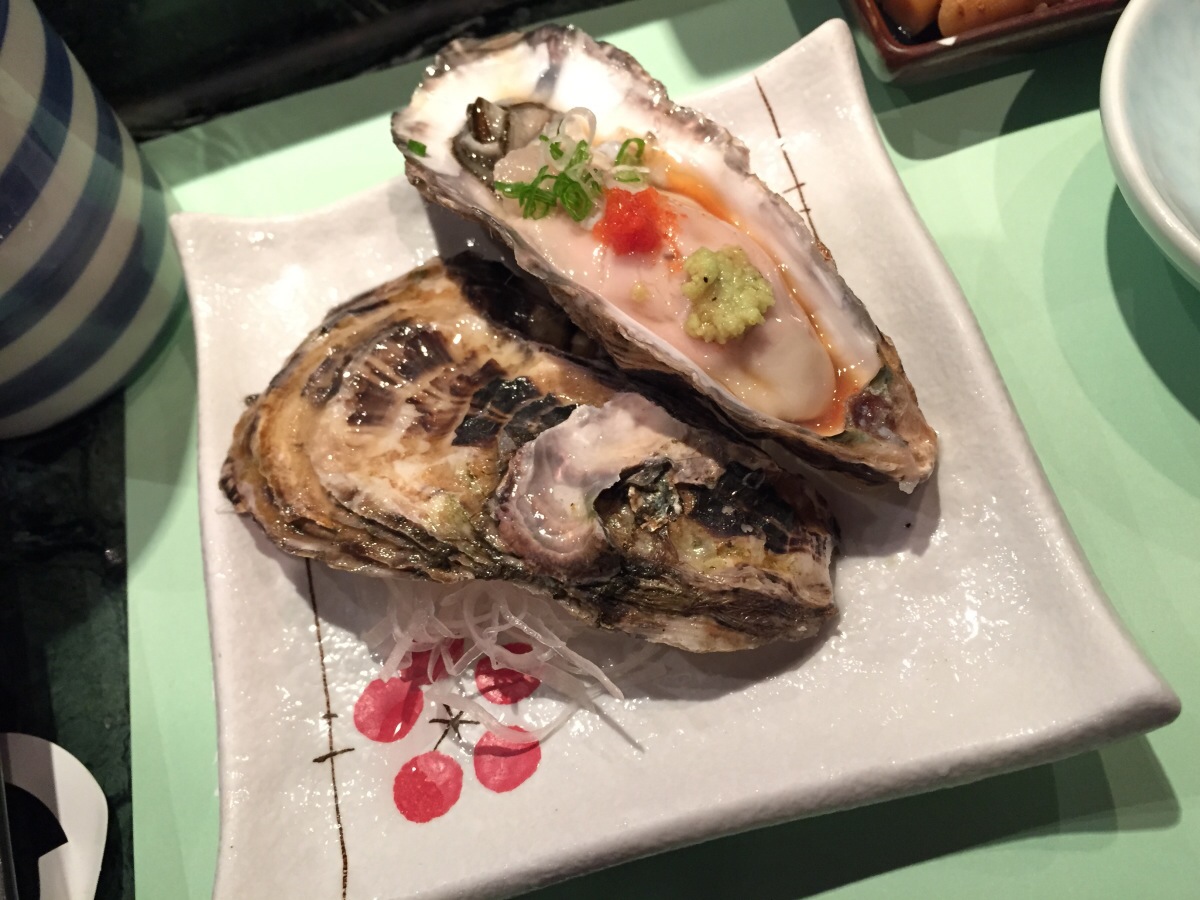 The next course was nothing like what I ever had before. Barafu, a native plant from Okinawa, with a refreshing mild sweetness, but a very unique texture like eating very thin sheets of cucumber. This mystical green was well accompanied and balanced by a velvety and lucious rose of Norwegian salmon. It was a winning combination!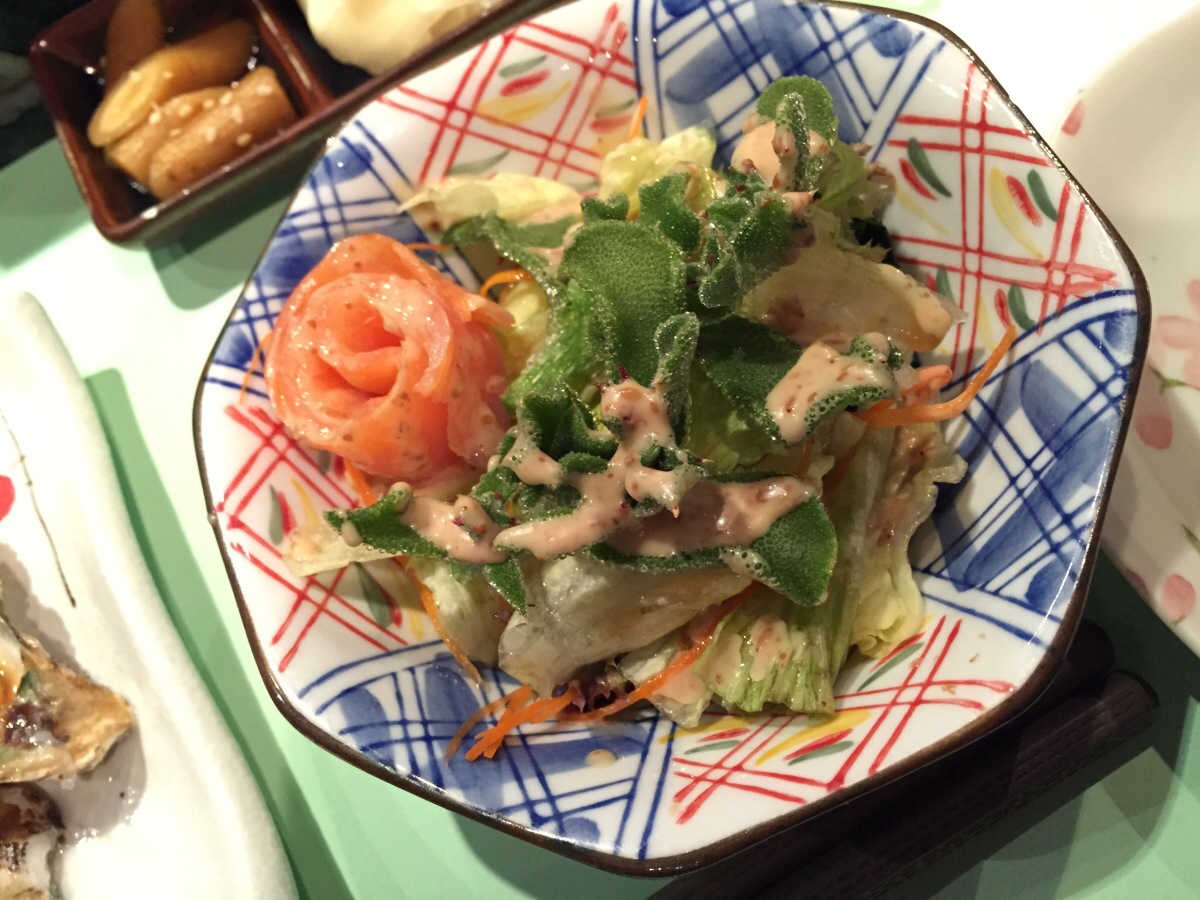 Chef Tony sent out the first Sashimi course – Tai Sashimi 2 ways:  Negi (green onion) and Uni (sea urchin). The pieces of fish were sliced to very thin, and looked translucent over the bright colour ingredients underneath. I always thought Tai (red snapper) was pretty bland back in Vancouver and was never a big fan. But the first piece of Tai with Negi just completely changed everything! It was so sweet and delicious, a hundred miles far from being bland or boring. Loving the touch of lemon zest on the Sashimi, I was also surprised how subtle but effective the green onion was. The 2nd piece of Tai with Uni was a little bit of a shocker – Uni was so fresh, sweet, and rich but I could still clearly taste the flavour of Tai… This is truly amazing!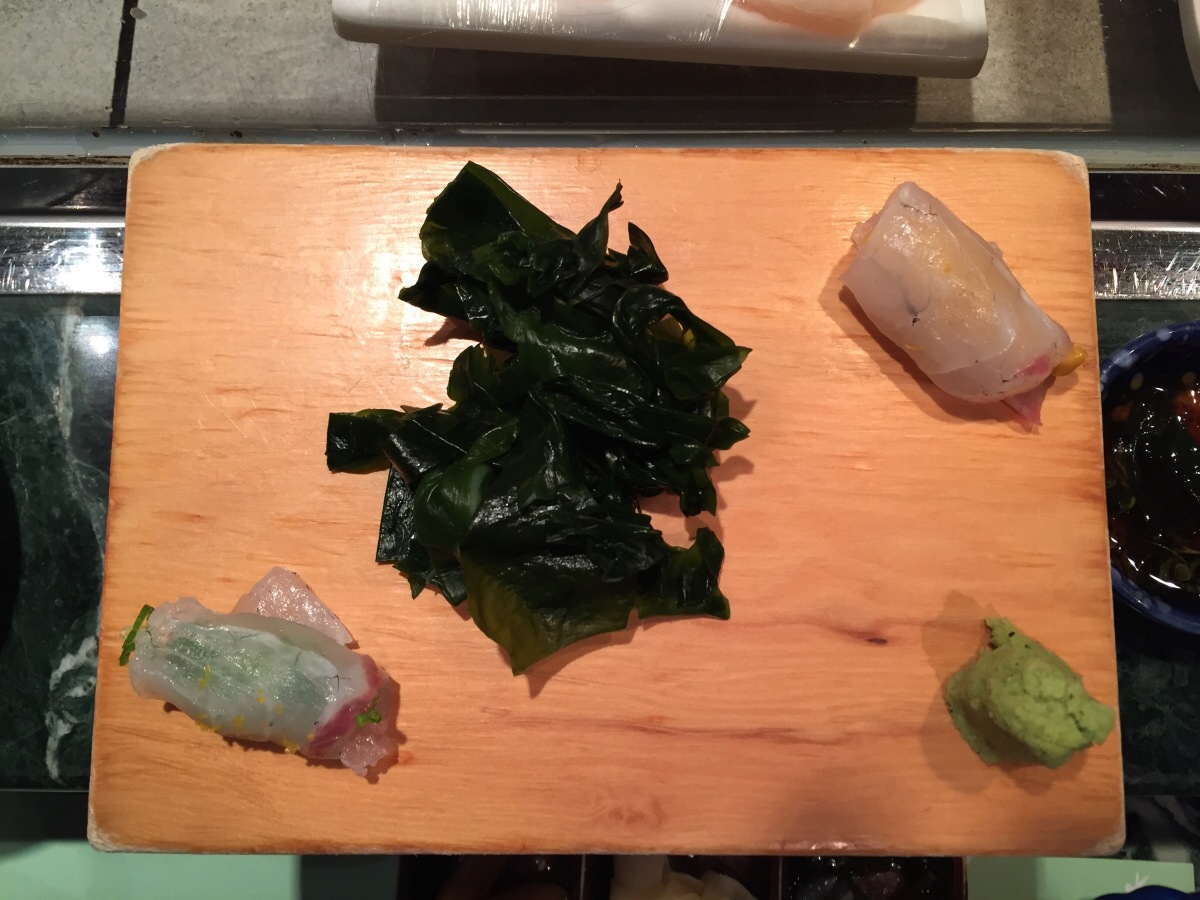 Next course was still Tai – 2 generously thick cuts of a larger deep ocean red snapper, skin slightly torched in Aburi style. The quality of the fish was just over the top! The amount of oil content made it taste even more luxurious than some of the Hamachi I'd had in Vancouver. It was so pleasurable in my mouth and trust me, I took quite some extra time to savoir it. 🙂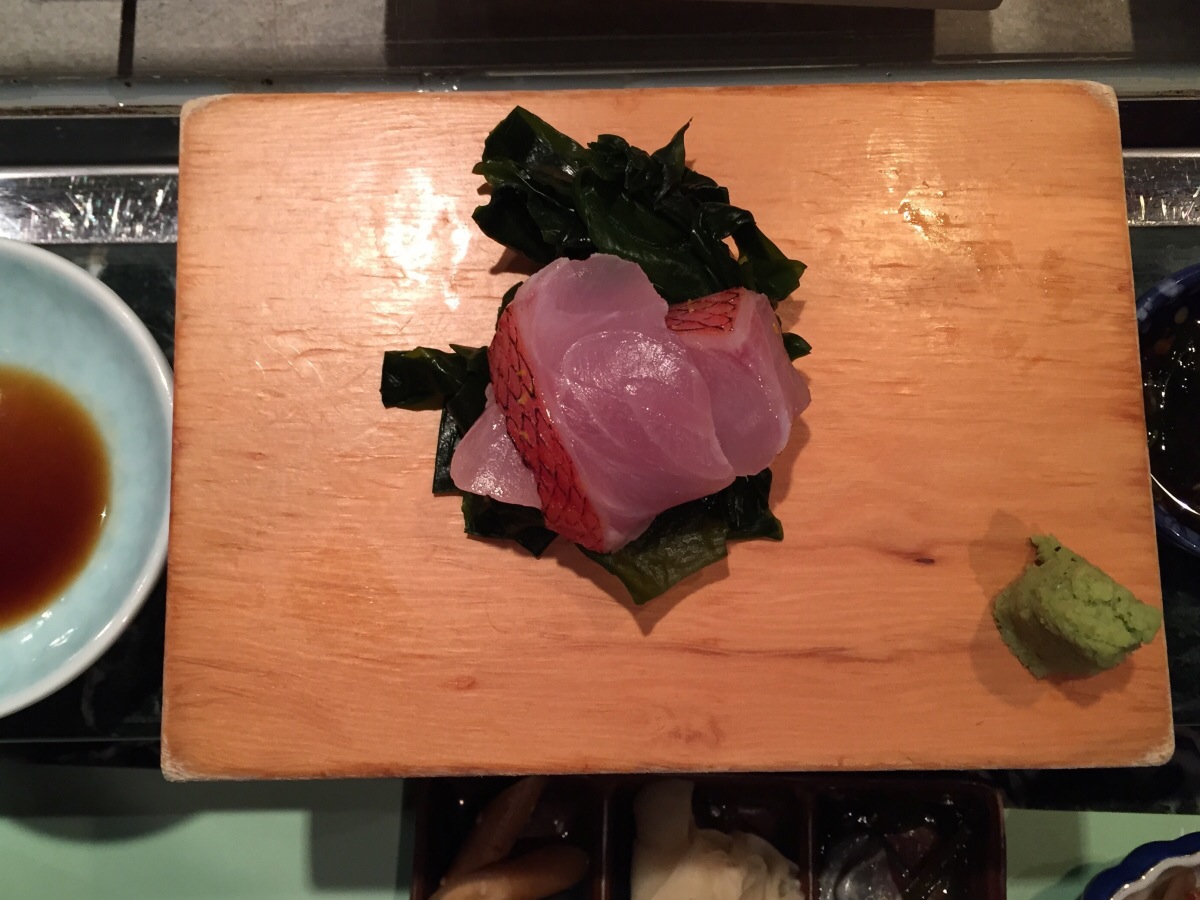 A small plate of Fuji Firefly Squid served with cucumber, daikon sprout and freshly ground ginger. It was slight fishy but the raw ginger really helped. We couldn't help joking about turning off the lights so that we could see them glow like fireflies in the dark.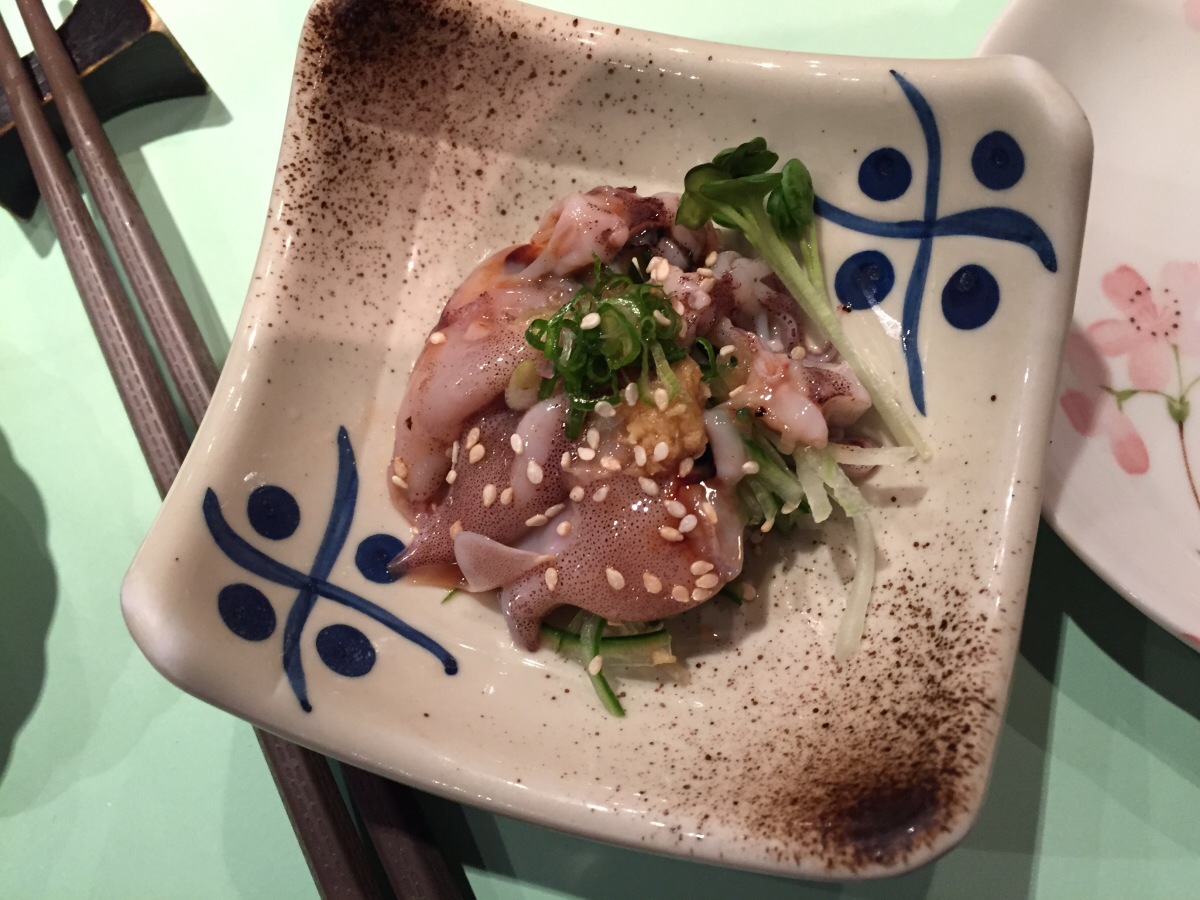 Without very little warning, we were hit by a wave of 4 sensational Sashimi courses – it was the first climax of the evening, and I felt like I was getting a luxury royal treatment! I only had Aji once before, and it was served with a whole fish filleted and sliced paper-thin, with the head-to-tail fish bone as the the center piece. But here it was the thickness that help tasting the fish. Hamachi Belly and Shima-Aji (striped mackerel) had just brought the deep ocean fish fatty goodness to a whole new level – it was an Omega-3 explosion with flavours on my tongue. While Shima-Aji has a slightly deeper flavour, Hamachi Belly has a more velvety texture. Mekajiki (Swordfish) looked and tasted similar to Abacore tuna but the flavour was much sweeter and more complex.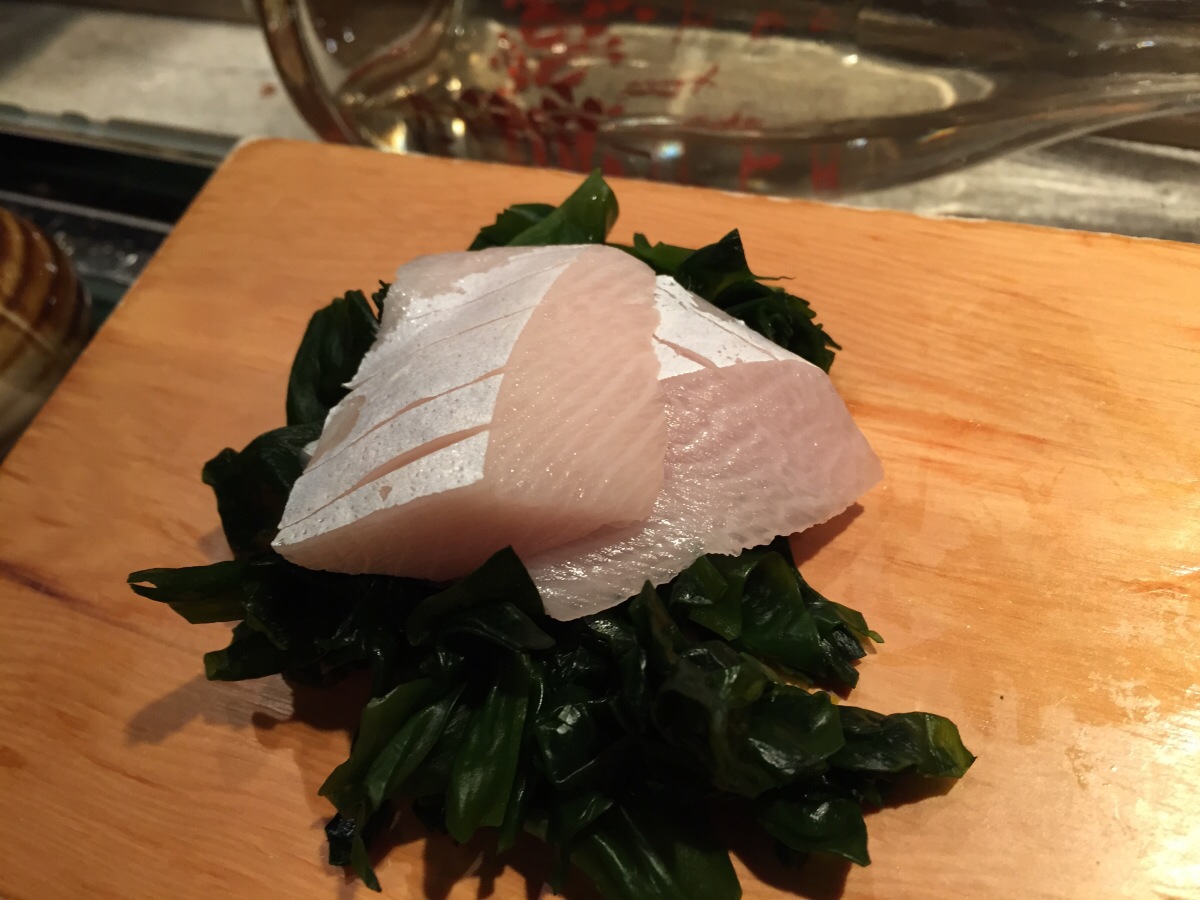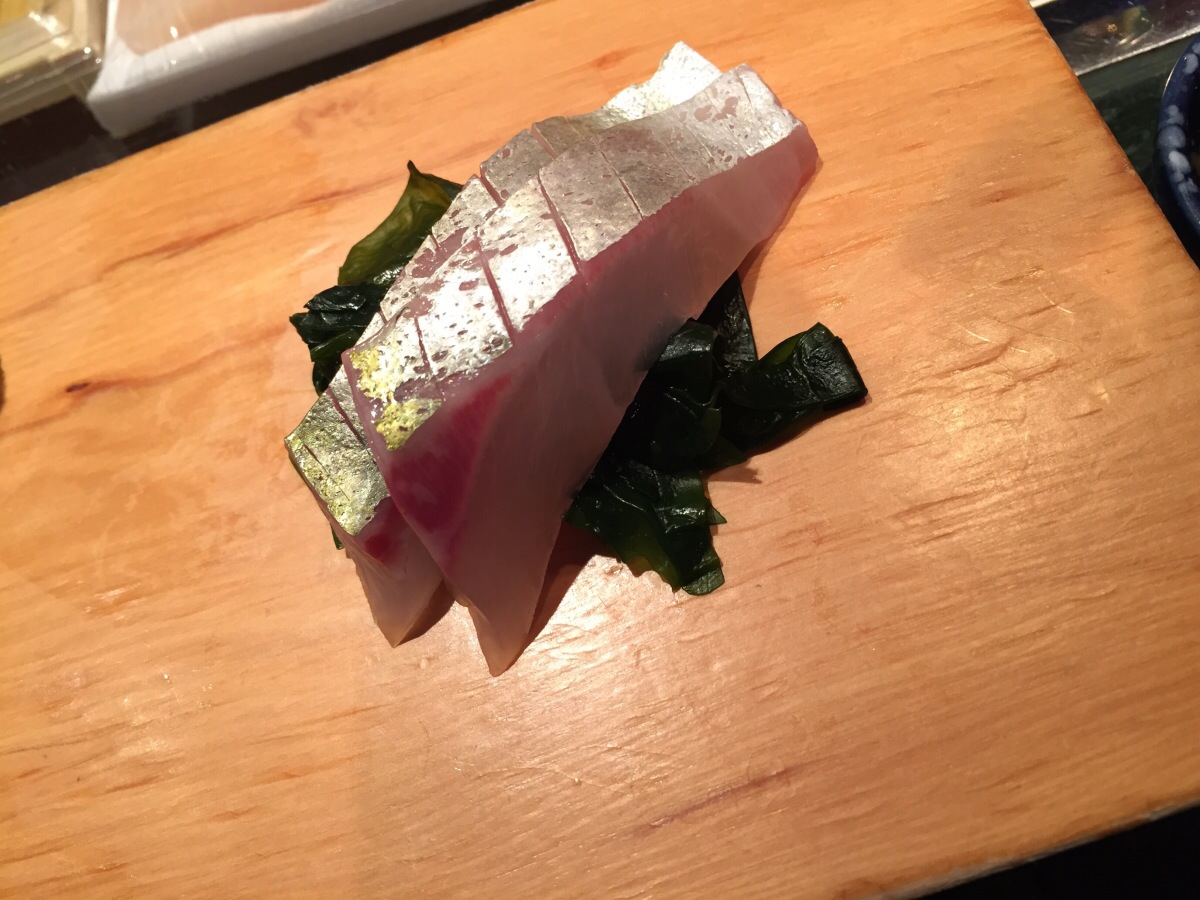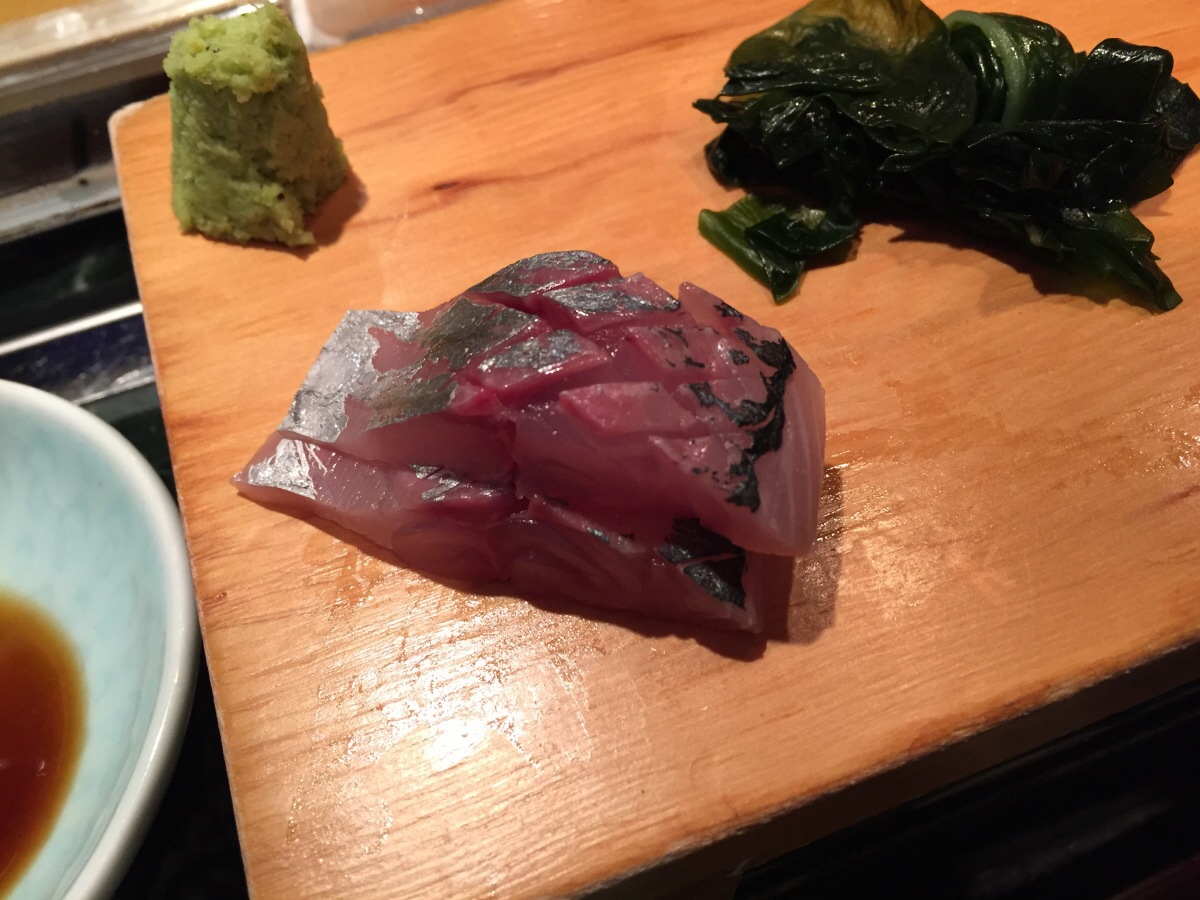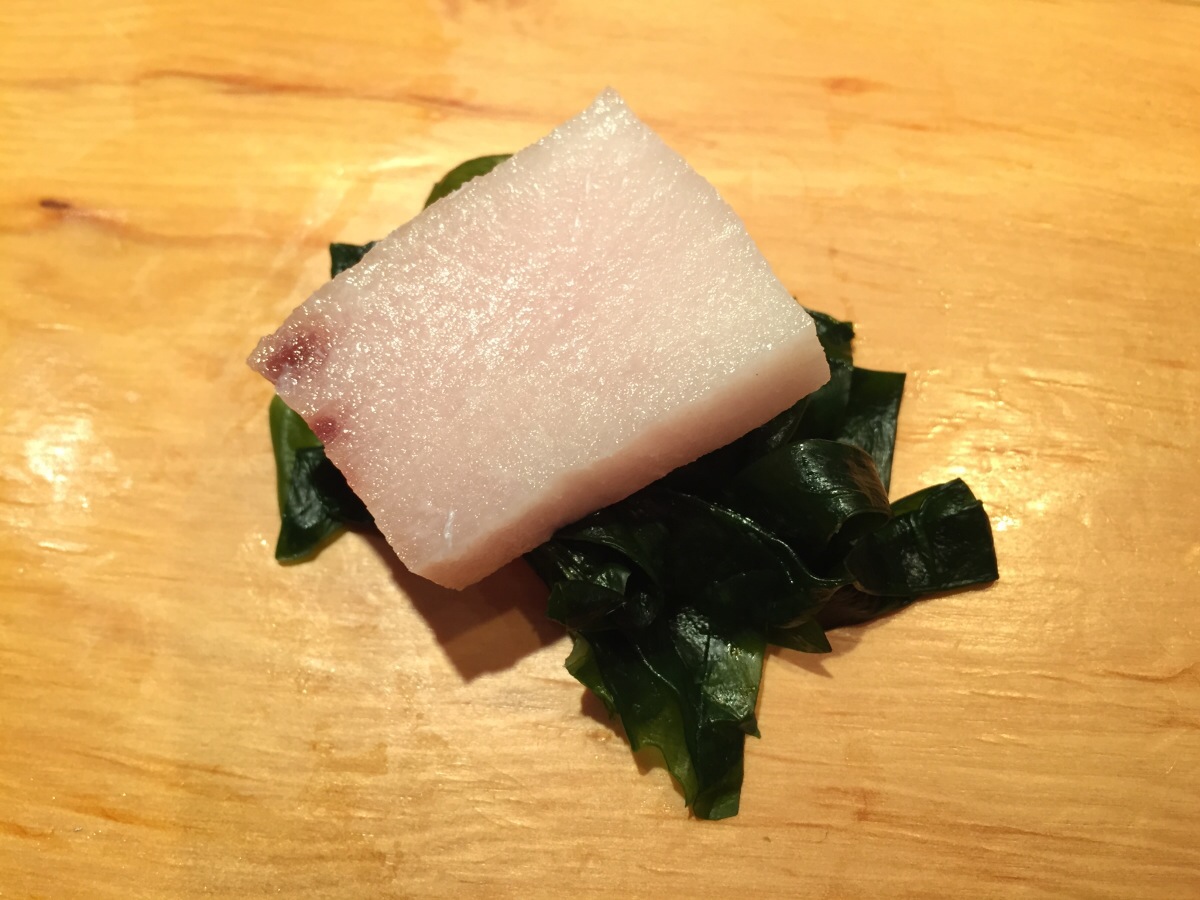 Chopped Tai was definitely a fun hands-on dish: fish was thinly julienned and mixed with green onions, and shiso and seaweed were provided for wrapping the fish into a nice big cone. The shiso leave really shined through here and brought out the fresh seafood flavour in a rather unique way.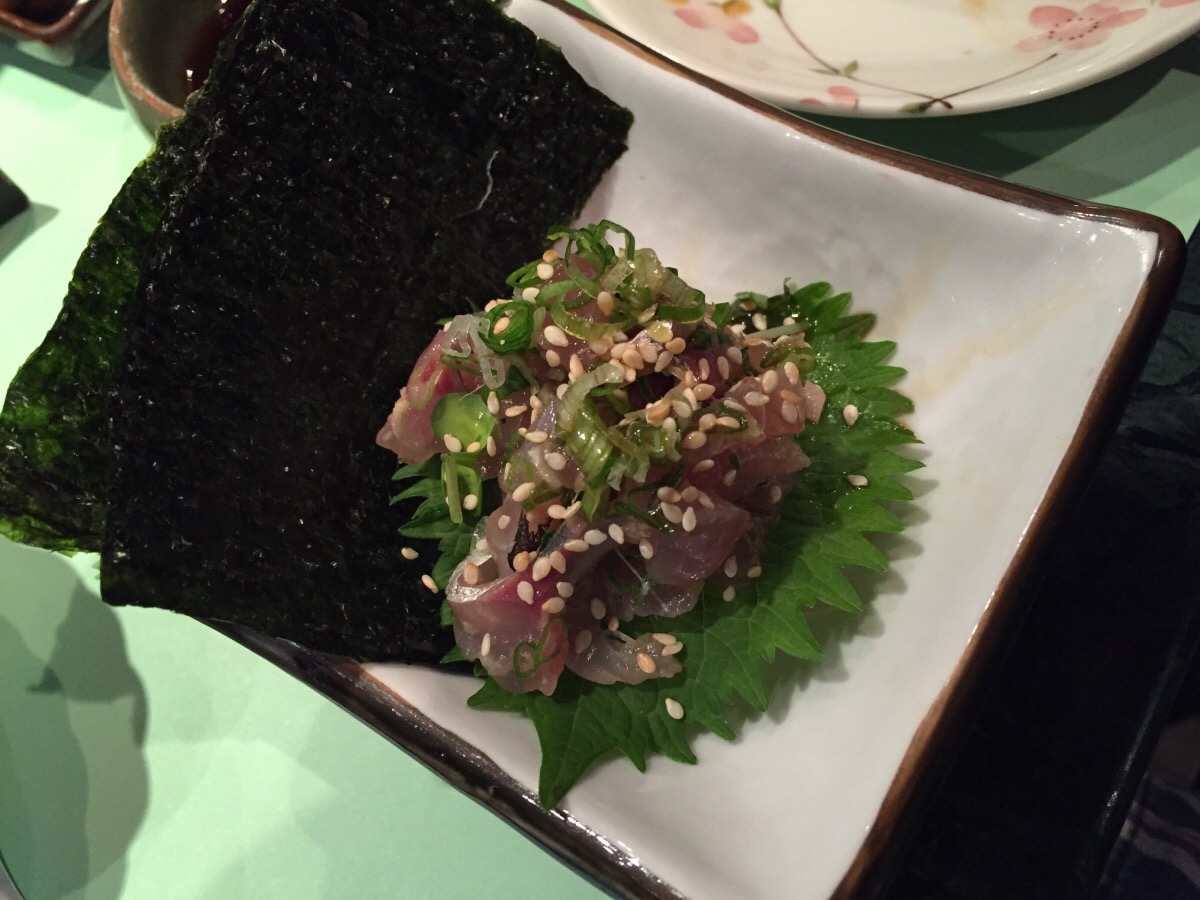 I have not been much of a big fan of Saba (mackerel). Back home Saba is usally cured with salt and has a very strong fishy taste. But here at Ketsu, Saba is only semi-cured so it still has some sweetness and is less fishy. Tony served it with ginger and sesame seeds, definitely making it much more palatable.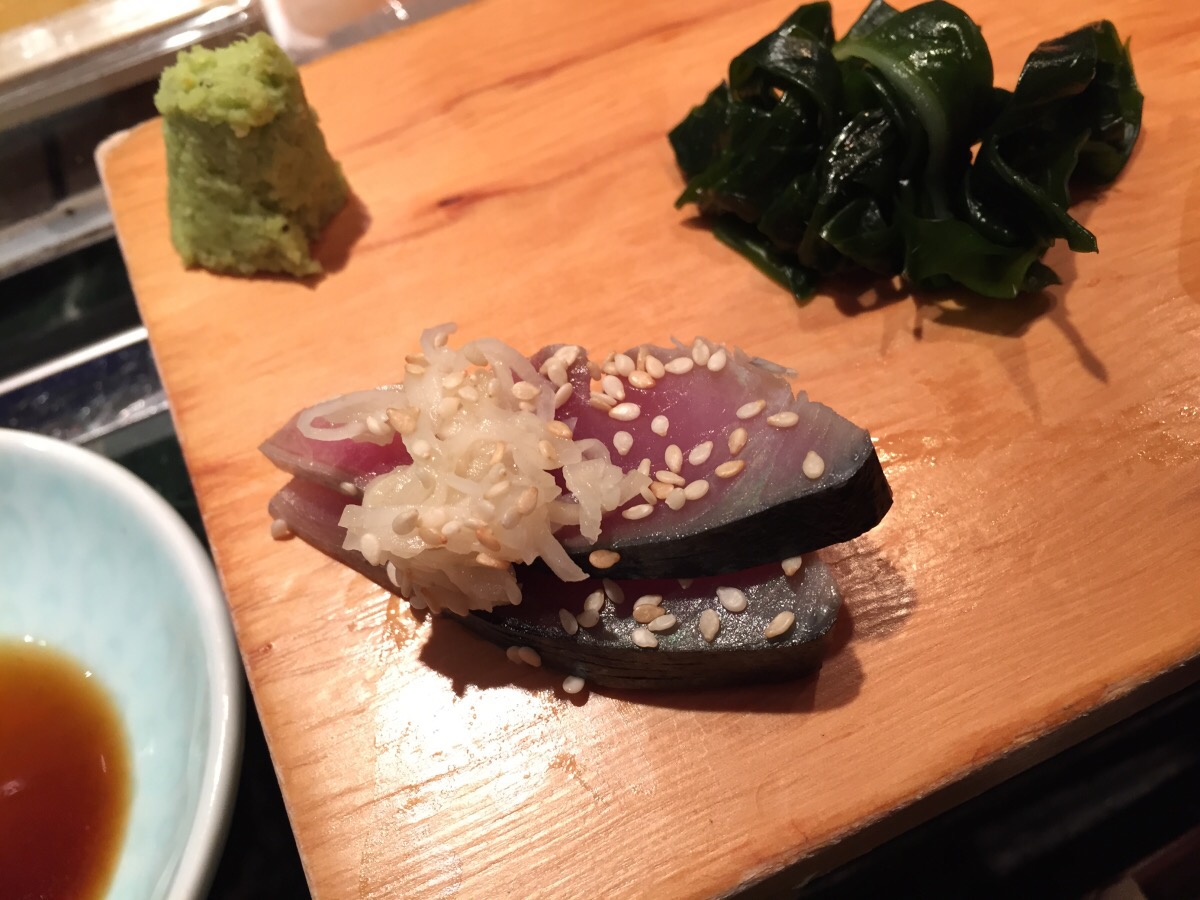 A piece of sweet white corn from Hokkaido was served as Intermezzo. It was a perfect course to cleanse the palate after so much seafood was eaten. The corn itself was sweet and tasty, but the texture was a bit rough. I have to say I've had better white sweet corn from Chiliwack back home!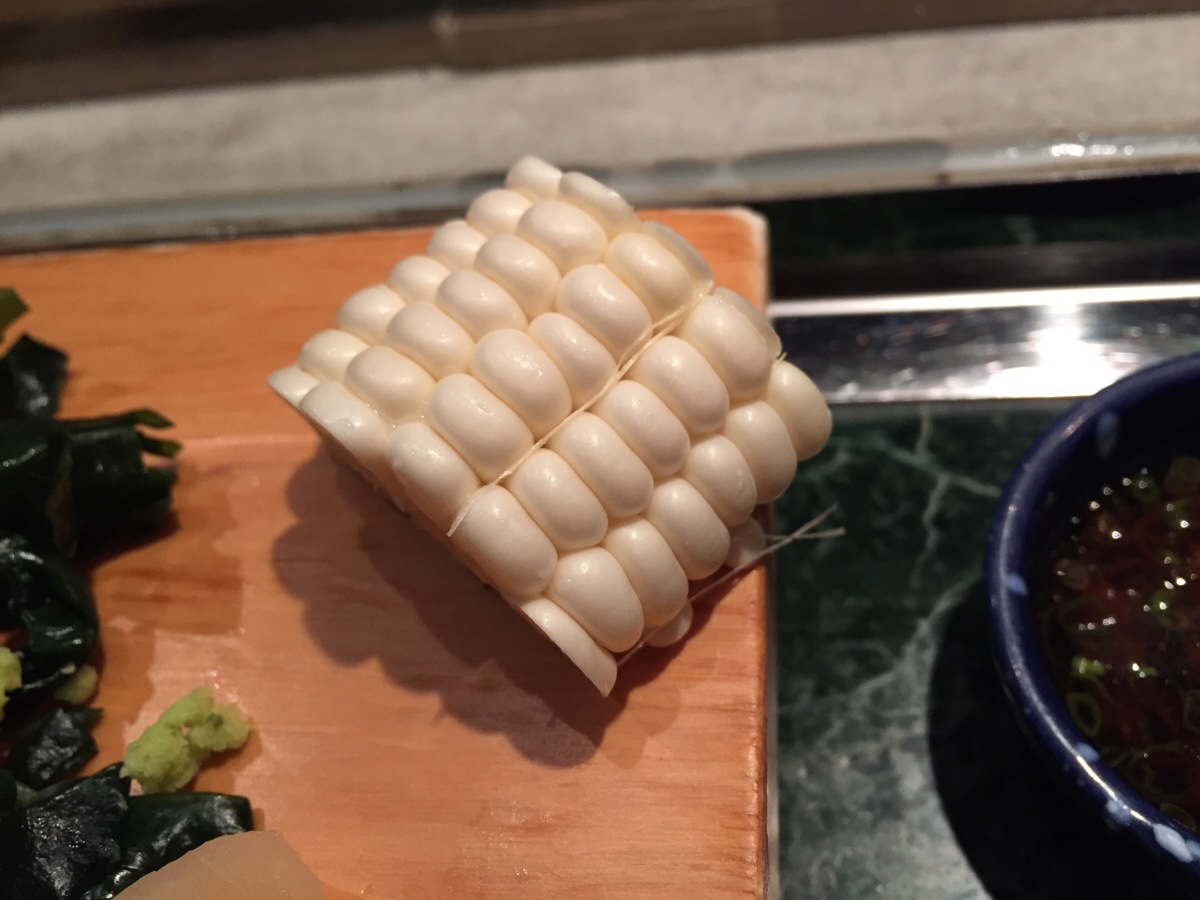 The next few courses focused on shell fish Sushi. I was ecstatic. Sushi is the true art form putting the beautiful ingredient and rice into a one perfectly balanced bite.
To show how fresh his Hokkigai (surf clam) was, Tony smacked the clam meats on a wood chopping board, and they were still moving vigorously. It was definitely my first time to have fresh Hokkigai. In Vancouver, they usually use cooked surf clam that appear bright red. But I got to say, the fresh surf clam tastes a million times better. Tony drizzled a few drops of his house made yuzu infused oil on the Hokkigai, and it was brilliant – the freshness and sweetness of the clam, the aroma of yuzu, and the soft and slightly glutinous texture from the perfectly cooked sushi rice. It was just so good!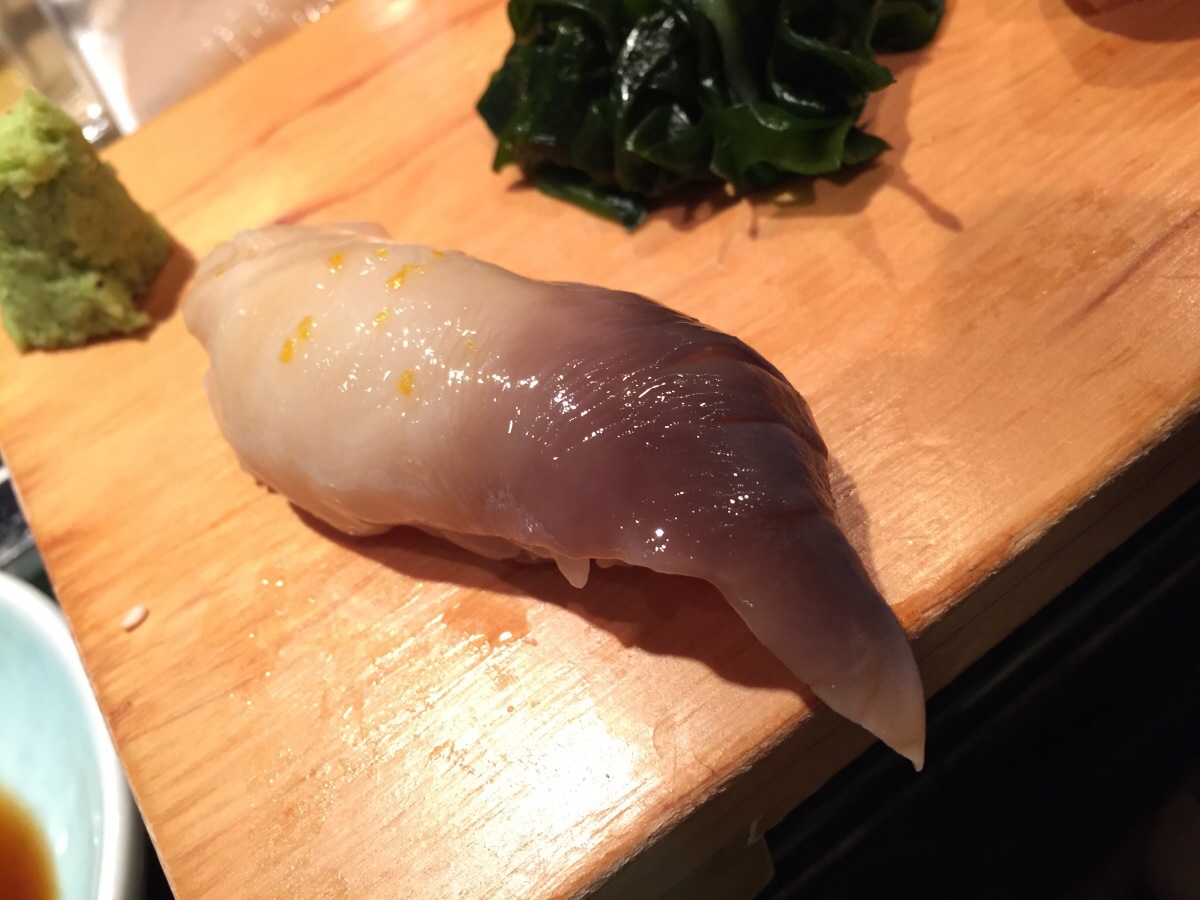 And look at the size of that Hotategai (jumbo scallop)! Again with same treatment of yuzu oil, the meatiness and softness of the scallop was even sweeter and couldn't be more delicious.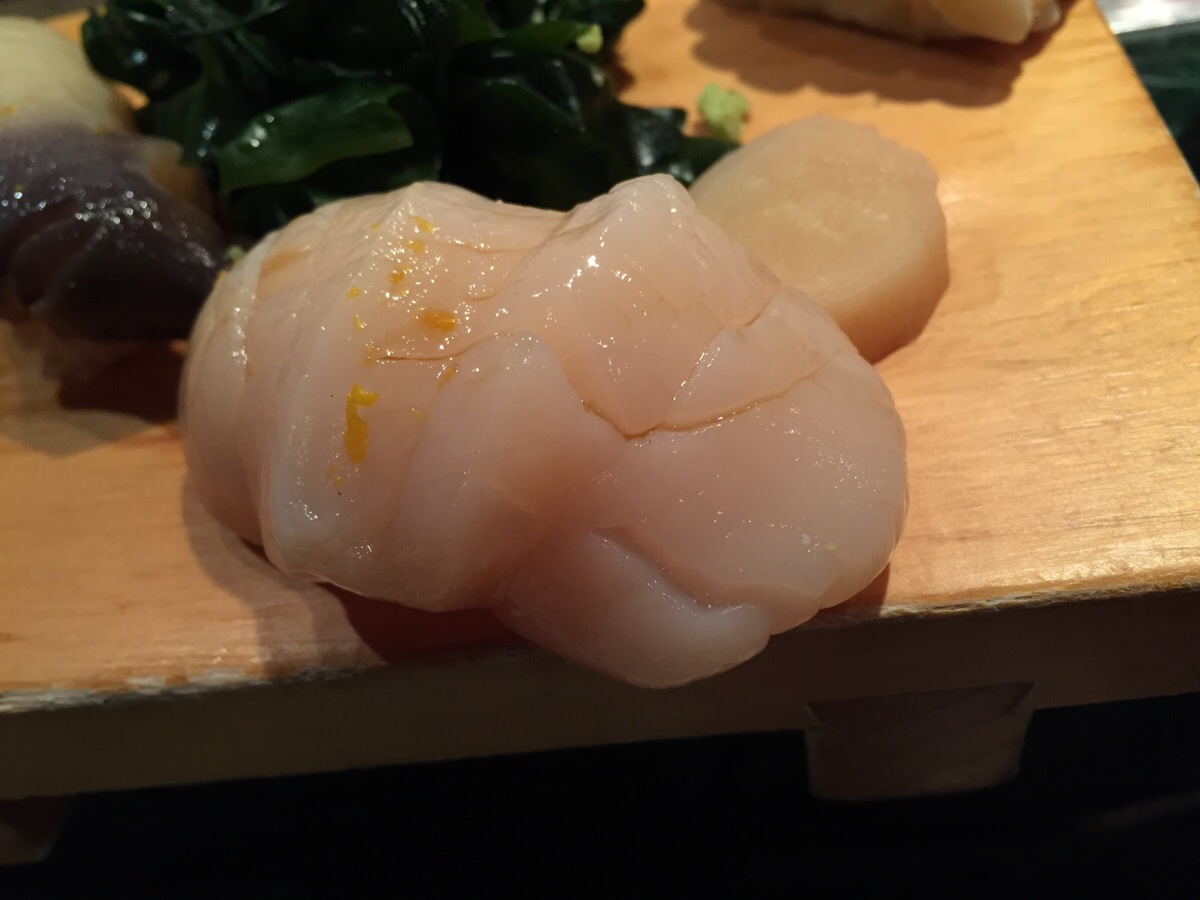 Tony used the clam skirt cut from making Hokkigai sushi, along with a few vegetable ingredients, and made a beautiful roll. It looked just like a spider roll, and it was yummy!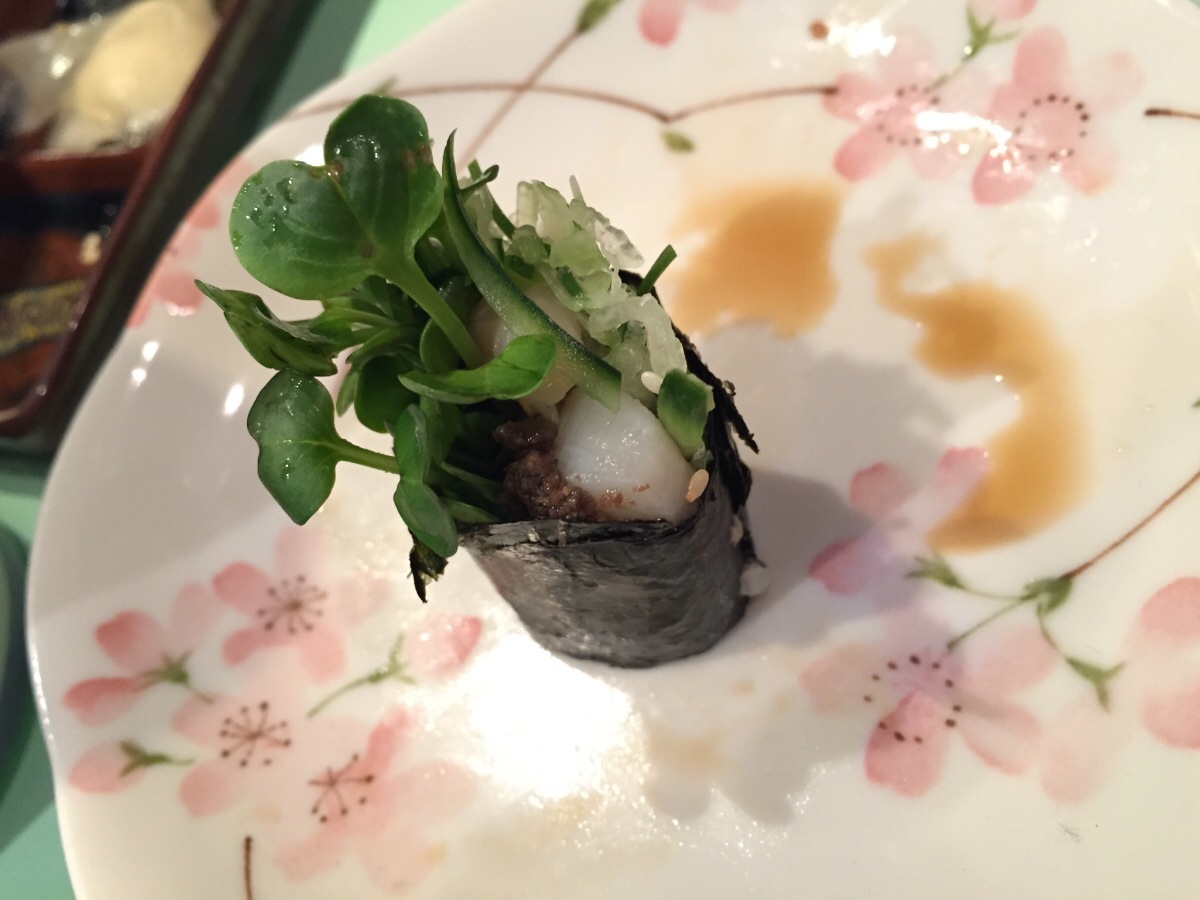 When Tony showed me the marbling on a piece of Toro, I was in awe – I thought I was looking at a piece of Wagyu steak! This is the most gorgeous piece of sashimi that I have ever seen. The preparation was simple. The piece of fish was Wrapped with shiso and seaweed with only a touch of house light soy sauce.
I just want to mention that at a high-end Japanese sushi restaurant, the chefs usually make their own soy sauce for serving sushi, by mixing natural soy sauce, bonito flakes or other dry fish products, and Mirin. When they serve you a piece of Nigiri at the bar, it is usually flavoured with house-made soy sauce and possibly wasabi, and you don't need to add more flavours. Dipping it in the sloppy mixture of soy sauce and wasabi on the table will be a sin!
It was utterly perfection in my mouth. The piece of Otoro was so delicious that we were completely silent. It melted in my mouth like a piece of butter, and the flavours were incredible. This is indeed like eating the seafood version of Kobe beef!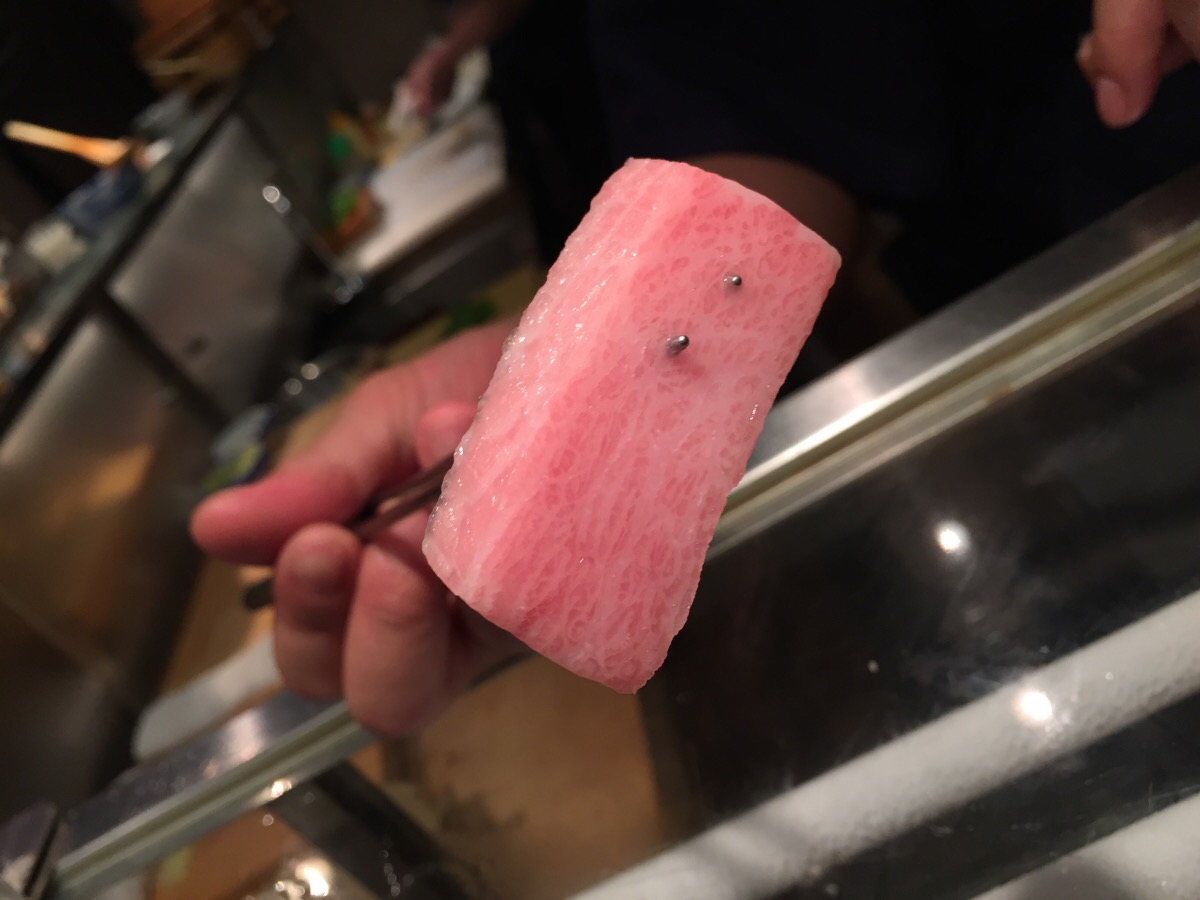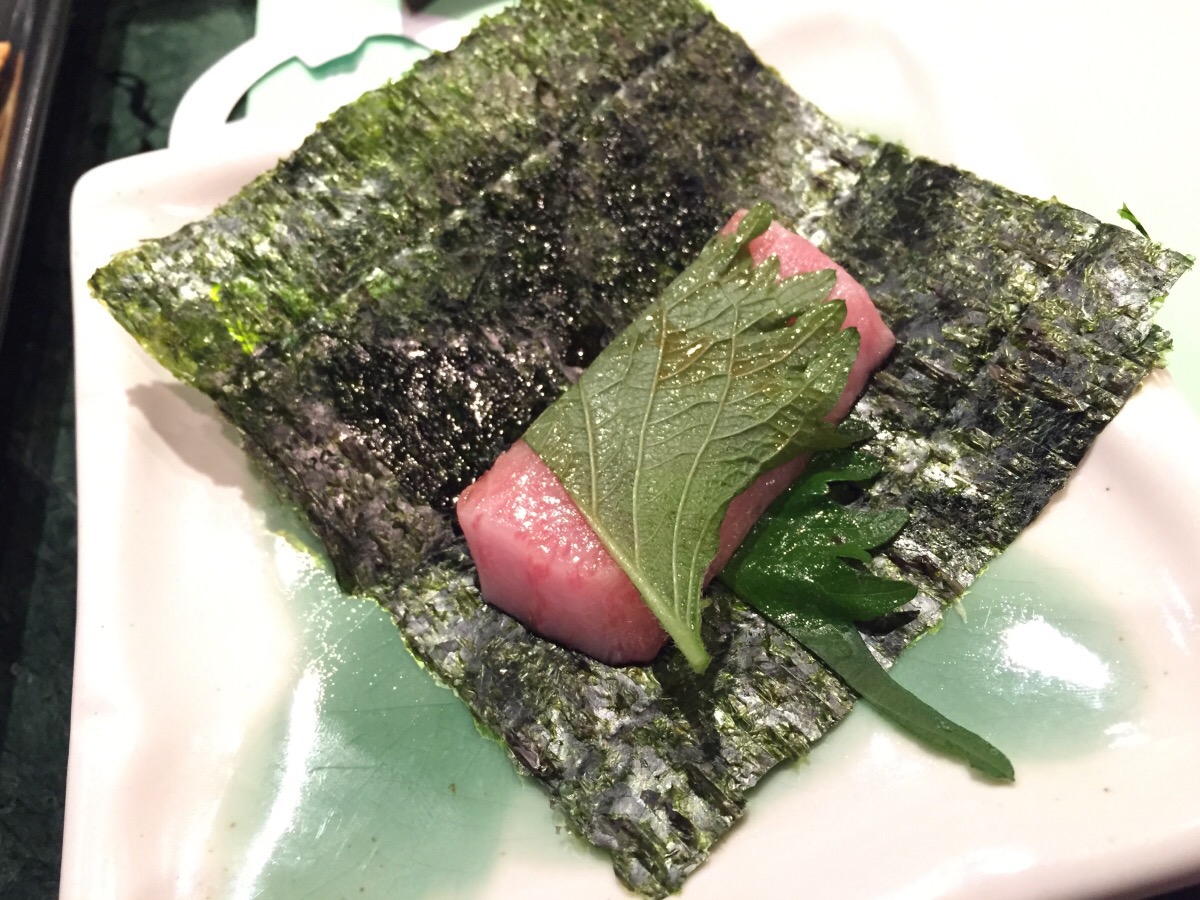 When we thought we probably had reached the biggest climax of the evening, Tony's sous chef presented us a creation that he had been working on for a while. The base of the Nigiri is a beautiful Japanese sweet prawn, and it is topped with a layer of prawn brains torch grilled and a little bit of black truffle, and finished with a drop of Ikura(salmon caviar).
AND NOW THIS IS WAY OVER THE TOP!
It was so exotic and luxurious and delicious all in one bite. And when I consider the Aburi sushi at Miku is good, this is just another level beyond. However I am not too surprised why this was so good – when we have just started bringing modern Japanese cuisine to North America, in Japan, Hong Kong, and Taiwan, where Japanese cuisine is extremely popular, the level of creativity is always a notch higher. But I really hope we are catching up eventually!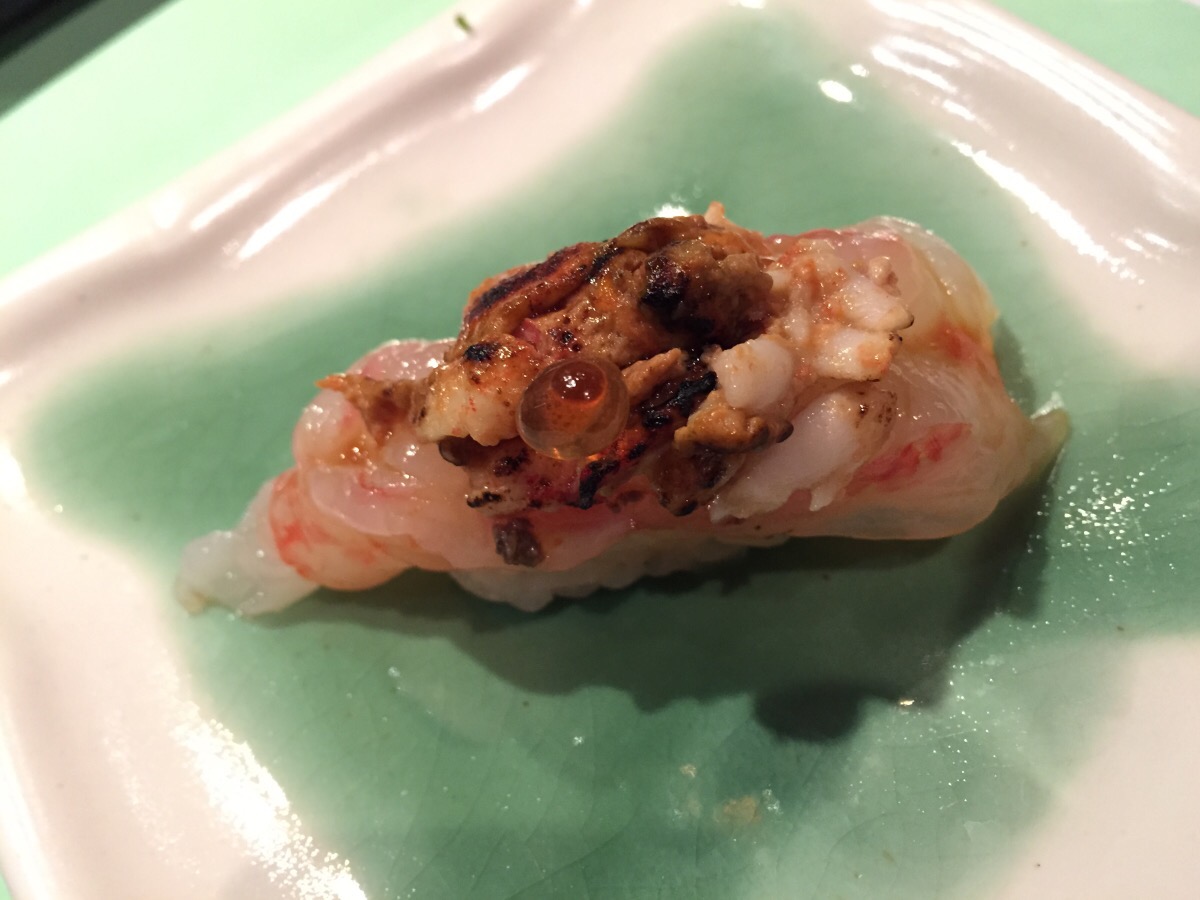 And we continued feasting on those wonderful sweet prawns.
Deep Fried Prawn Heads is no strange dish to me. In fact I have made it a few times myself. They are just too good and a perfect snack when you are drinking.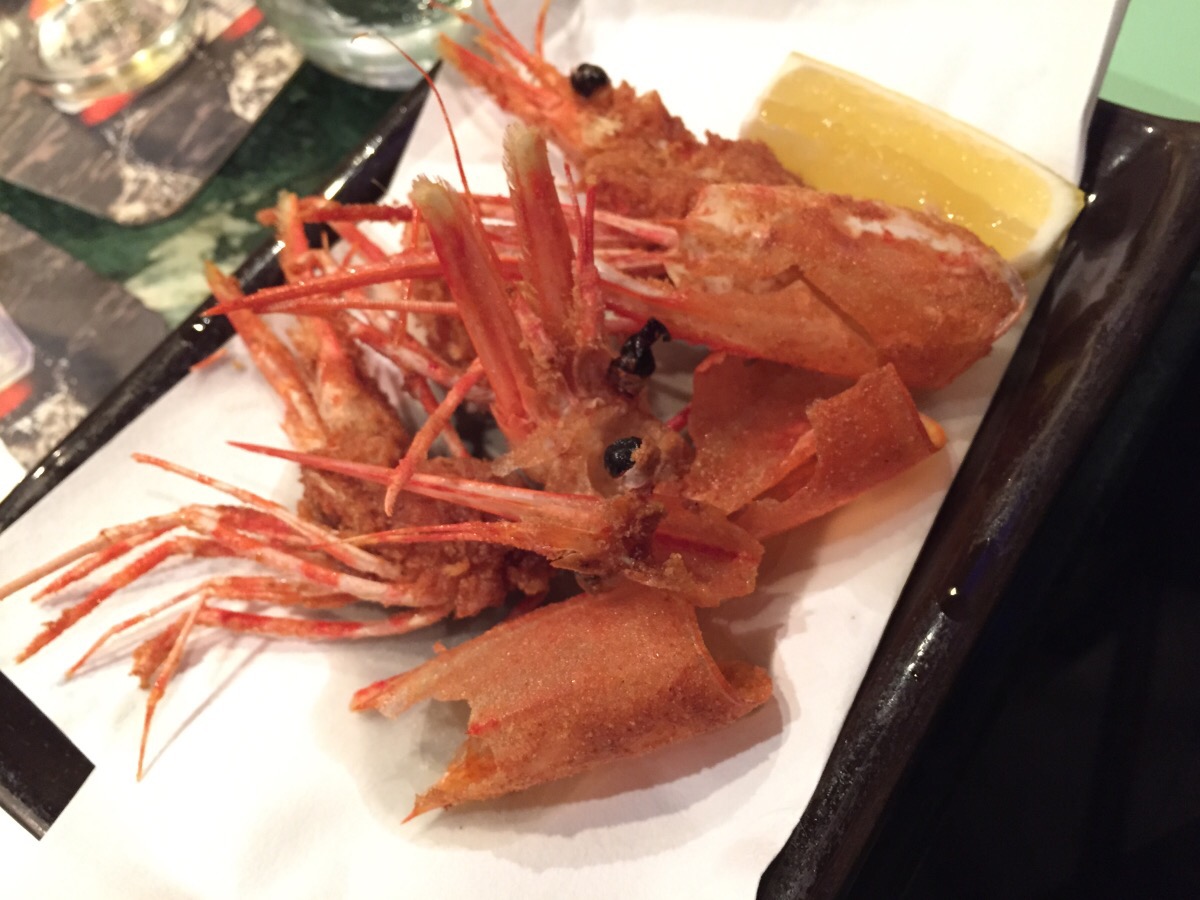 Yaki Kawa Ebi was pretty special not just because it was delicious but also because of the labor put into the dish. They take the skin off chicken legs, have it blanched slightly, shocked in ice water and patted dry, and use it as the wrapper to make little prawn rolls on skewer sticks. Then they put them on the grill like making Yakitori. The crispy chicken skin and juicy succulent prawn meat are definitely a perfect match in heaven.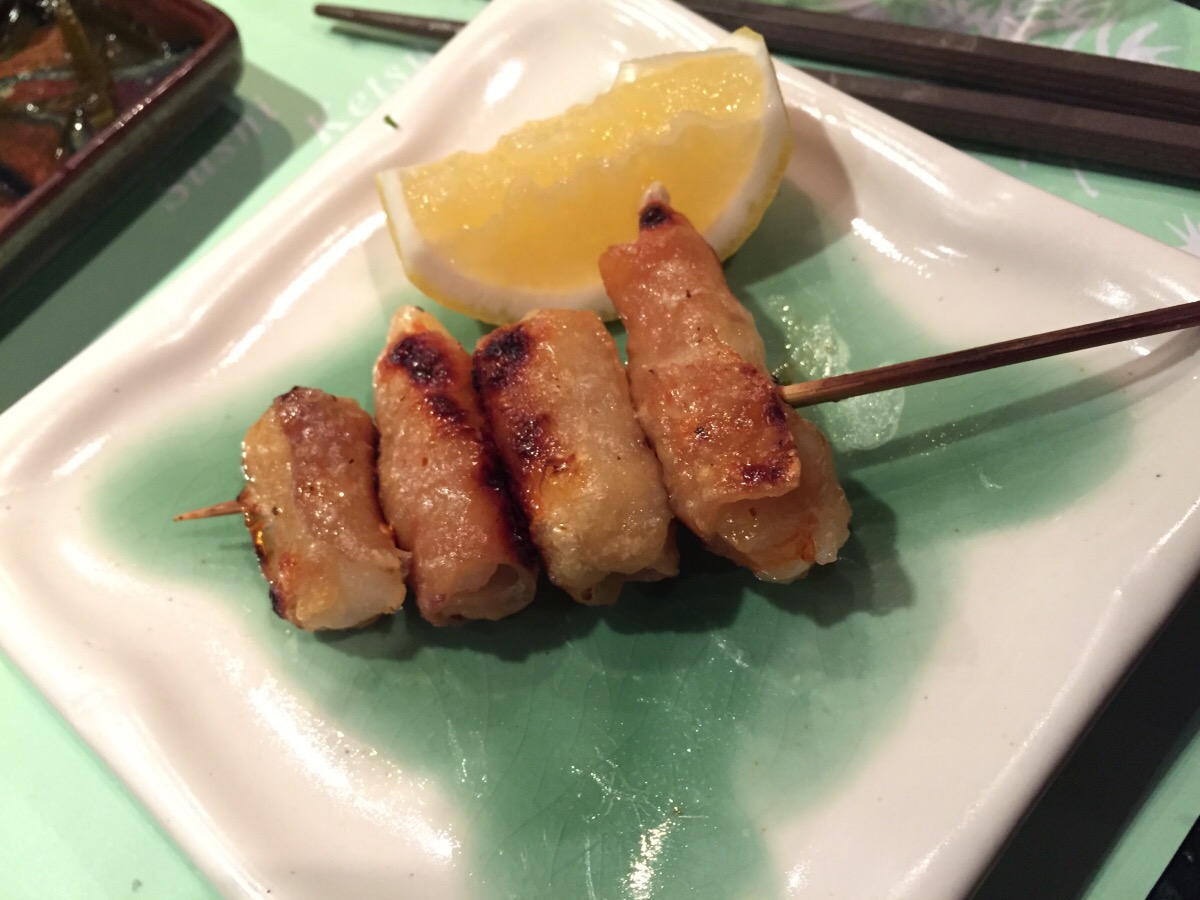 More fried food! When we saw this funny looking plate of Tempura, we could not figure out what the ingredient was.
And Tony described it with a smile, "You can only find it on a male fish…"
Oh is it what I think it is? Oh boy I thought it was only an urban myth that Japanese chef would use male genitalia of fish AKA milt or soft roe in cooking. Today we were having red snapper milt in our dish called Shirako. And they were quite delicious and I was glad I just had a big protein boost in my body. 🙂 And another great use of red snapper, who was truly a star throughout the whole dinner today!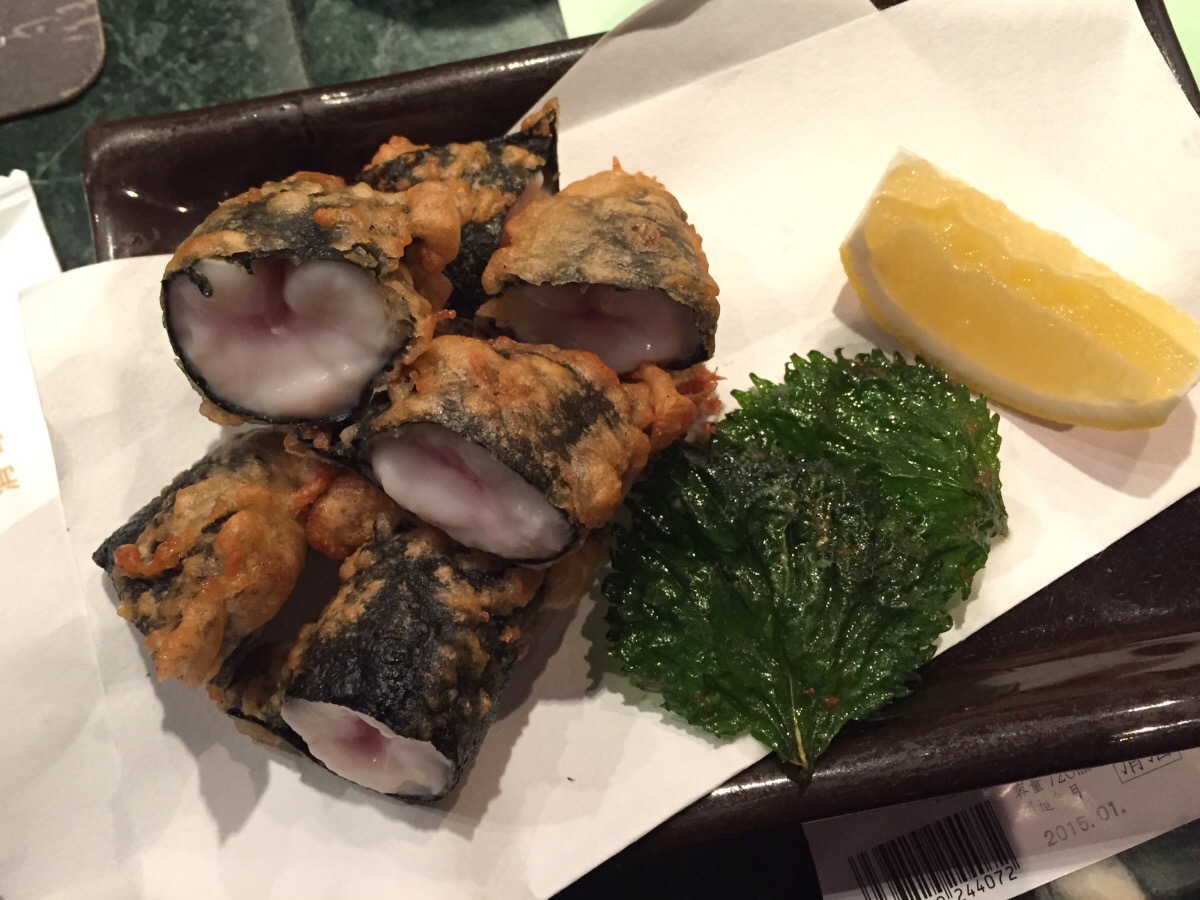 And when we thought this could not get any more exciting, Tony made another Nigiri in front of us – Aburi Salmon Belly with Uni.
THIS IS GETTING OUT OF CONTROL!!!
Another immaculate bite of such heavenly ingredients. The salmon belly is so fatty and soft, and so flavourful from the torching. And the Uni was so fresh and and sweet and creamy… And I almost cried. This gotta stop… Or don't stop – it is just so damned good!!!!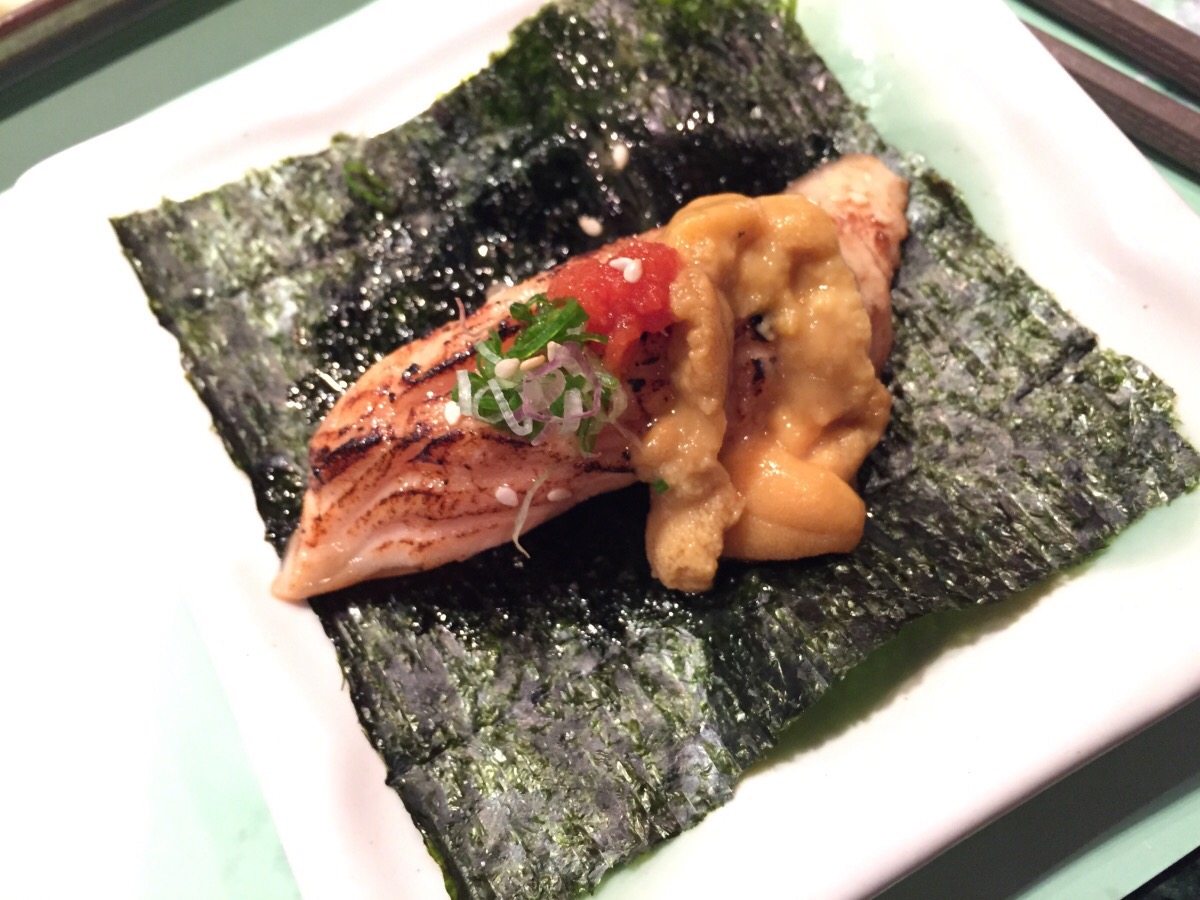 We were at this point, very very happy and satisfied, and also very very full. But Tony had one more savory course for us, Udon in House Special Fish Broth. The broth was so creamy and tasty. They do not only use a lot of roasted fish bones, but also soy beans to make the taste richer and creamier. To me it tastes kind of like the savory soy milk at Shanghai restaurants but with a ton of umami flavours.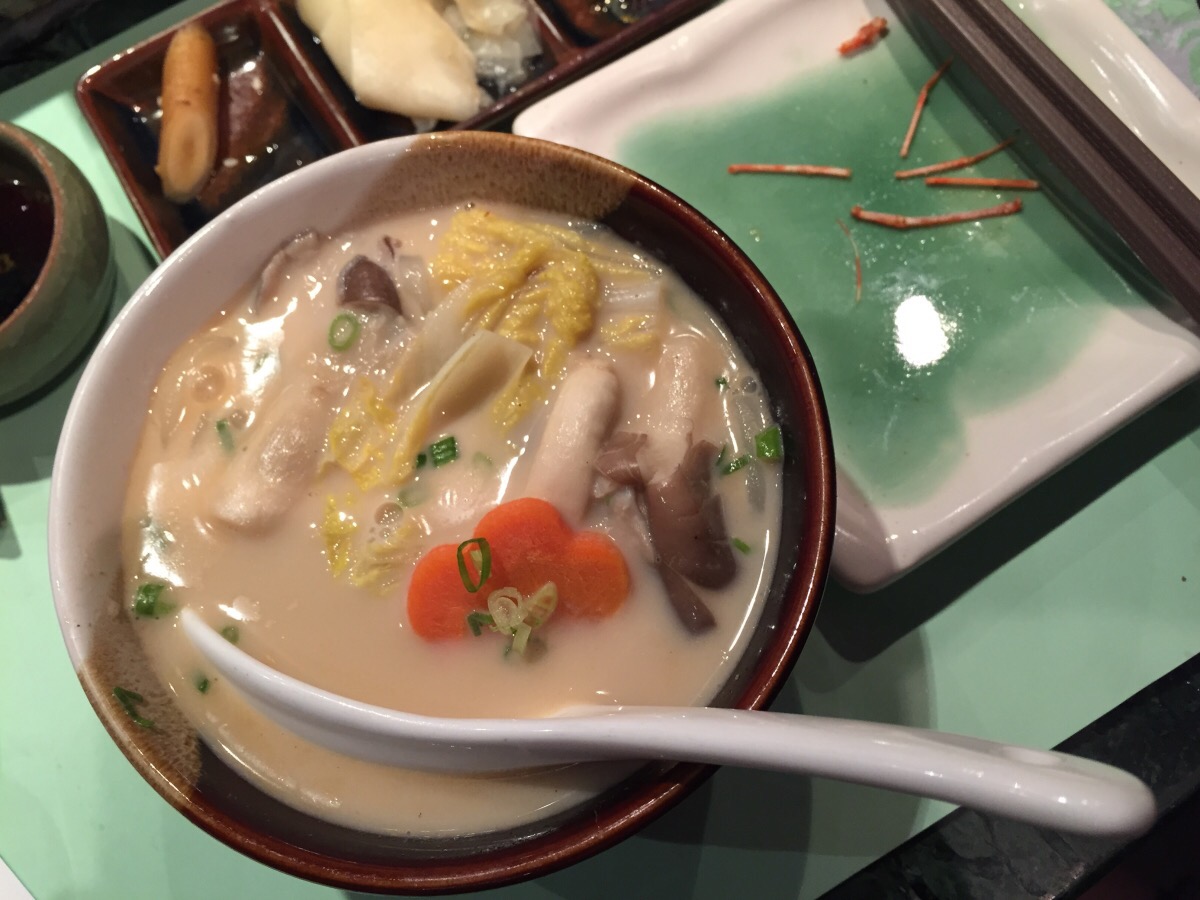 Although being extremely full, we still managed to taste some Japanese ice cream in both yuzu and matcha flavours as desert. They were both really good, but I enjoyed the yuzu one particularly since the acidity was good for digesting such a big meal that we just had.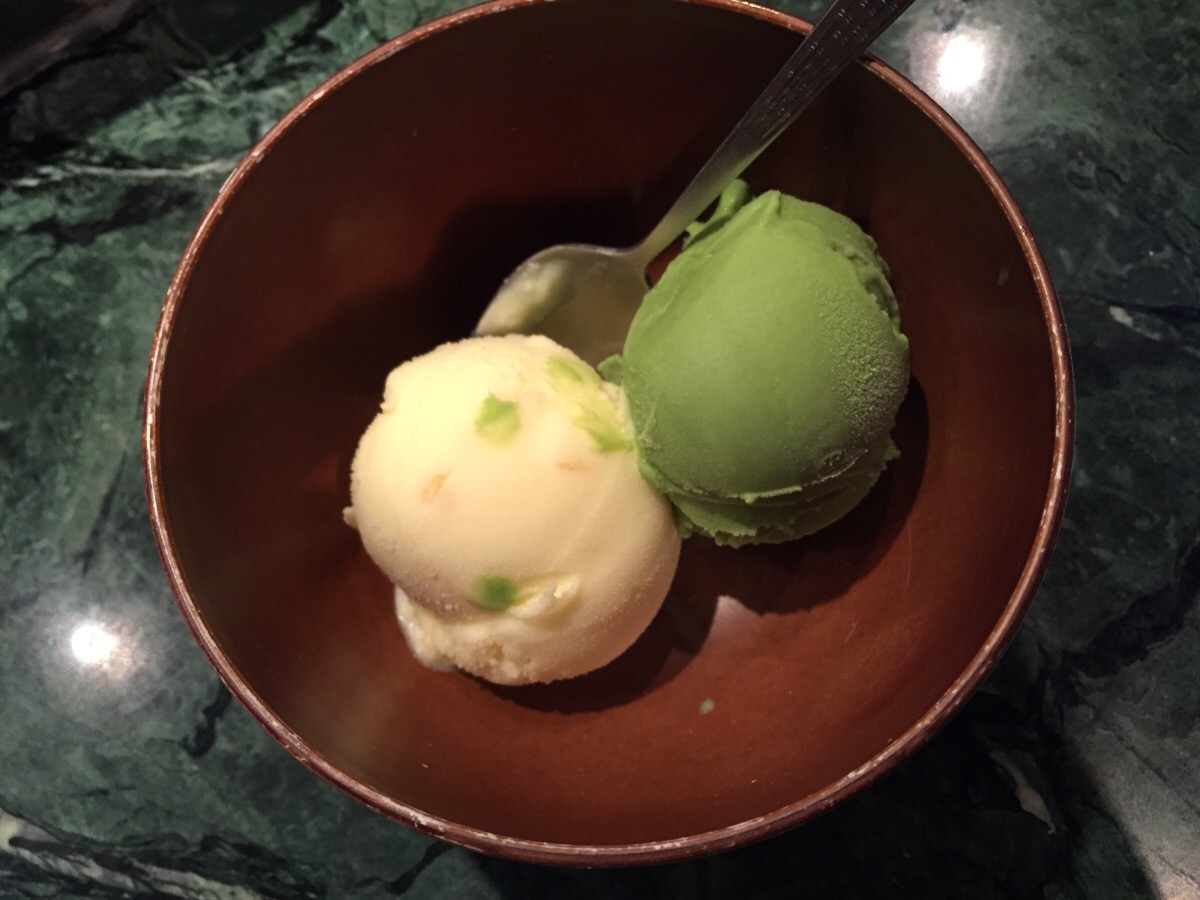 This is definitely mind-blowing experience that I will not forget forever. A big thanks to Sofina and Lou who took me there and gave such an amazing start of my trip. And also big thanks to Chef Tony, the maestro who conducted this spectacular symphony of fine Japanese cuisine with a perfect progression, showcasing the bits and pieces of immaculate ingredients and his astonishing talent.