I have been cooking Christmas dinner every year for a few years now. Nothing beats having a good time over delicious food and wine with close friends, the ones who do not have family dinner plans during the holidays. This year I invited 5 friends over for dinner on Christmas Eve.
My dear friend Melissa invited me to her Christmas Day  turkey dinner. I was simply overjoyed because I was in a treat for a traditional meal without tackling the cooking of the big bird myself!
Don't get me wrong. One of those days I'll do a turkey like no one has ever seen before!
All right let's roll out the menu: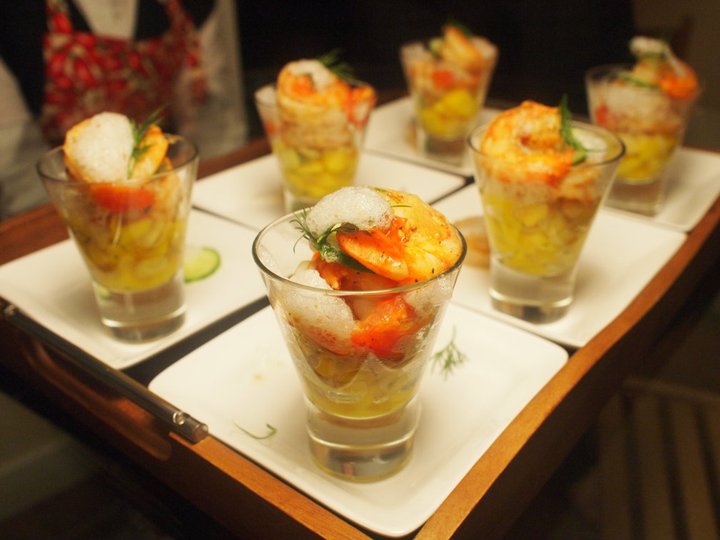 Appetizer Dish:
Prawn and Fruit Cocktail, Butter Seared Scallop, with Champagne Foam.
Here are some details in the making. Fruit salad in the cocktail: guava, mango, lotus root, and cucumber, with Champagne dill sauce. No trick in searing the scallop, just butter, salt, pepper and lemon juice
Champagne foam whipped with dijon mustard,  maple syrup, and the key ingredient: egg white!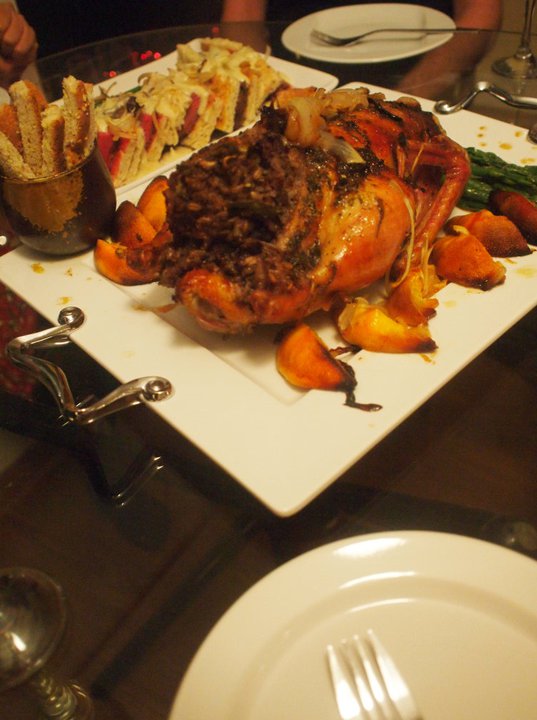 Main Course:
Roast duck with Multi-Grain Rice and Shiitake Stuffing, with Warm Asparagus Salad.
Swiss Cheese and Steak Sandwiches.
Here are some details in the making those dishes:
Dry rub for the duck: fresh chopped tarragon, orange juice, lemon zests and orange zests, generous amount of garlic salt and black pepper, maple syrup. High heat for browning the duck for 20 mins, low heat  for slow roasting for 2.5 – 3 hours on top of a bed of slices of oranges and onions.
18-grain rice (produced in Korea apparently), pre-cooked with chopped shiitake mushroom, sauteed duck liver, and a few thinly sliced dried orange peel (which need to be soaked in warm water for 8 hours before used).
Asparagus poached in water til dark green, sauteed in a large pan with grape seed oil, white wine, lemon juice and lemon zest. Salt and pepper to taste.
Top sirloin steak grilled to medium rare. Sautee onion with garlic til caramelized.  Make a roux and add in grated fine Swiss cheese and stir to smooth consistency. Salt and pepper to taste.  Lay onion and  pour cheese sauce on the sandwiches.
I have to thank Louis and Jane, who help me with some prep work. And Sean! Thank you for the beautiful and ultra delicious pink Moet and helping me making the cheese sauce. After all, Swiss people know their cheeses. LOL. I also thank Morgan and Graham for coming for my cooking and bring over more  holiday spirits!
Cheers!