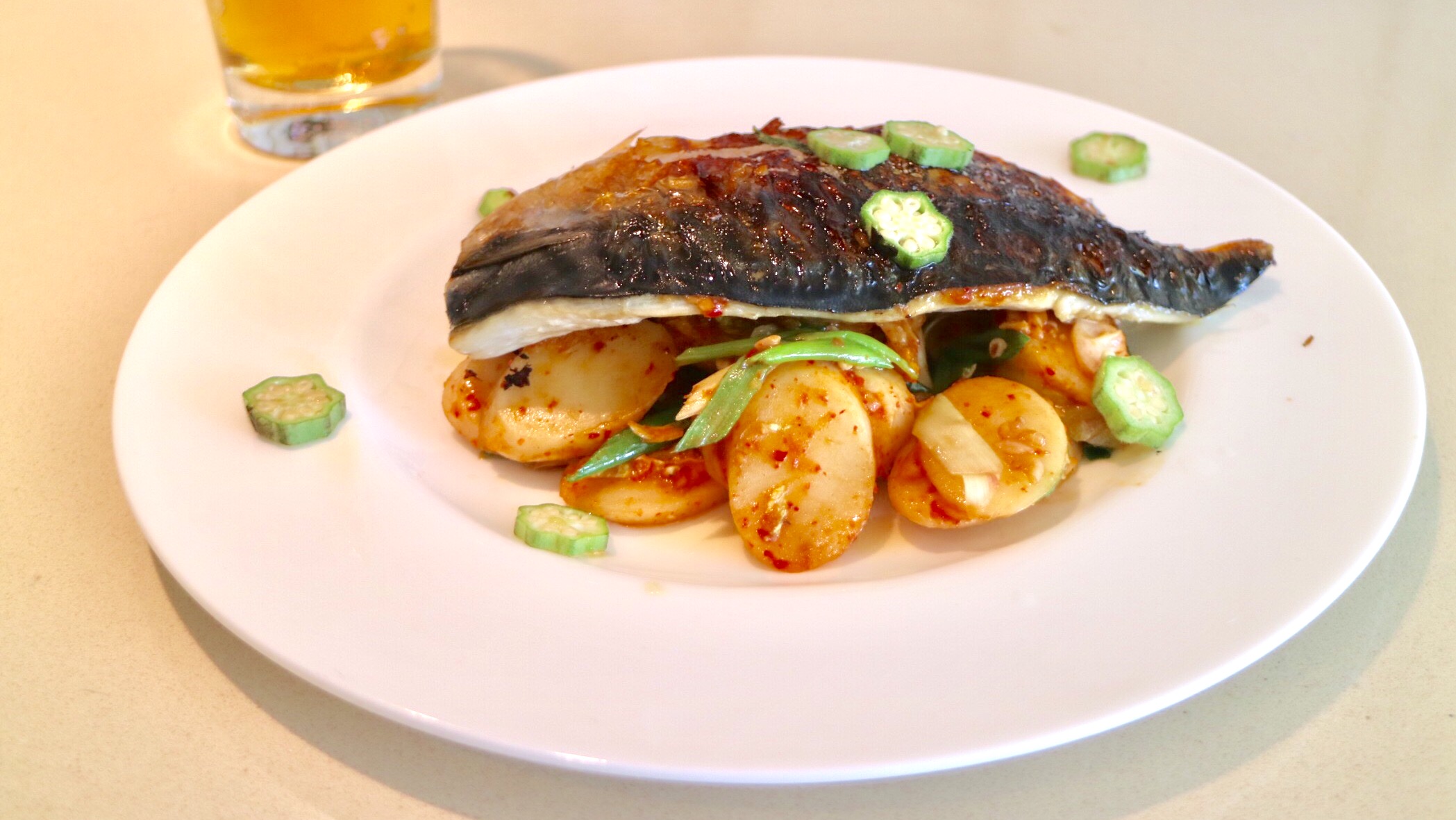 So I just posted my first home cooking video on my YouTube channel!!
The idea of the dish came up when I became a fan of the salted mackerel fillet at H-Mart, a Korean supermarket in Richmond. The fish is already seasoned with salt and very little additional seasoning is required.  Just pan sear the fillet a few minutes on both sides on a frying pan, and it will turn out delicious! When my friend Jessica (Domo Is Craving), a bride-to-be (congrats Jess!), asked me to show her how to cook something quick, simple and delicious for 2 people, I thought the pan-seared mackerel was easy enough, and I could help her build a simple meal with the mackerel and other Korean inspired ingredients.
It is delightful to see okra always available at the Korean store. I really like the sweetness and the texture of okra, which go well with staple Korean ingredients like rice cakes and kimchi.
Here are the ingredients:
salted mackerel fillet, 2 pc
Korean rice cakes,  350 – 450g
kimchi, half cup, finely chopped
okra, 10, sliced in halves
green onion, 2, finely julienned
ginger 2 tsp, finely chopped
garlic 2 cloves, finely chopped
soy sauce, 1tbsp
Korean soy bean paste, 1/2 tbsp
Korean Mirin (Japanese Mirin or Chinese cooking wine ) 1 tbsp
cooking oil, 1 tbsp for blanching, 1/2 tbsp for pan frying
salt 1 tbsp for blanching
black pepper, a pinch to taste (optional)
lemon, 2 slices (optional)
The steps:
boil water (at least 1.5 litre) in a large frying pan or  a wok
add salt and oil to the boiling water
blanch okra for one minute (low heat), strain
blanch rice cakes for one minute (medium heat), strain
dry the pan and heat it on hight heat
add cooking oil and ginger, and stir-fry ginger for a minute
add okra, rice cakes and garlic,  and stir-fry for 2  minutes
add soy sauce, soy bean paste and Mirin, and stir-fry for 1 minute
add kimchi, and stir-fry for 1 minute
add black pepper if needed
add green onion and stir-fry for 1 minute
place the stir-fry on a separate plate
wash and dry the pan, put it on a high heat
pan sear mackerel fillet 3 minutes on both sides
plate the rice cakes and mackerel with lemon slices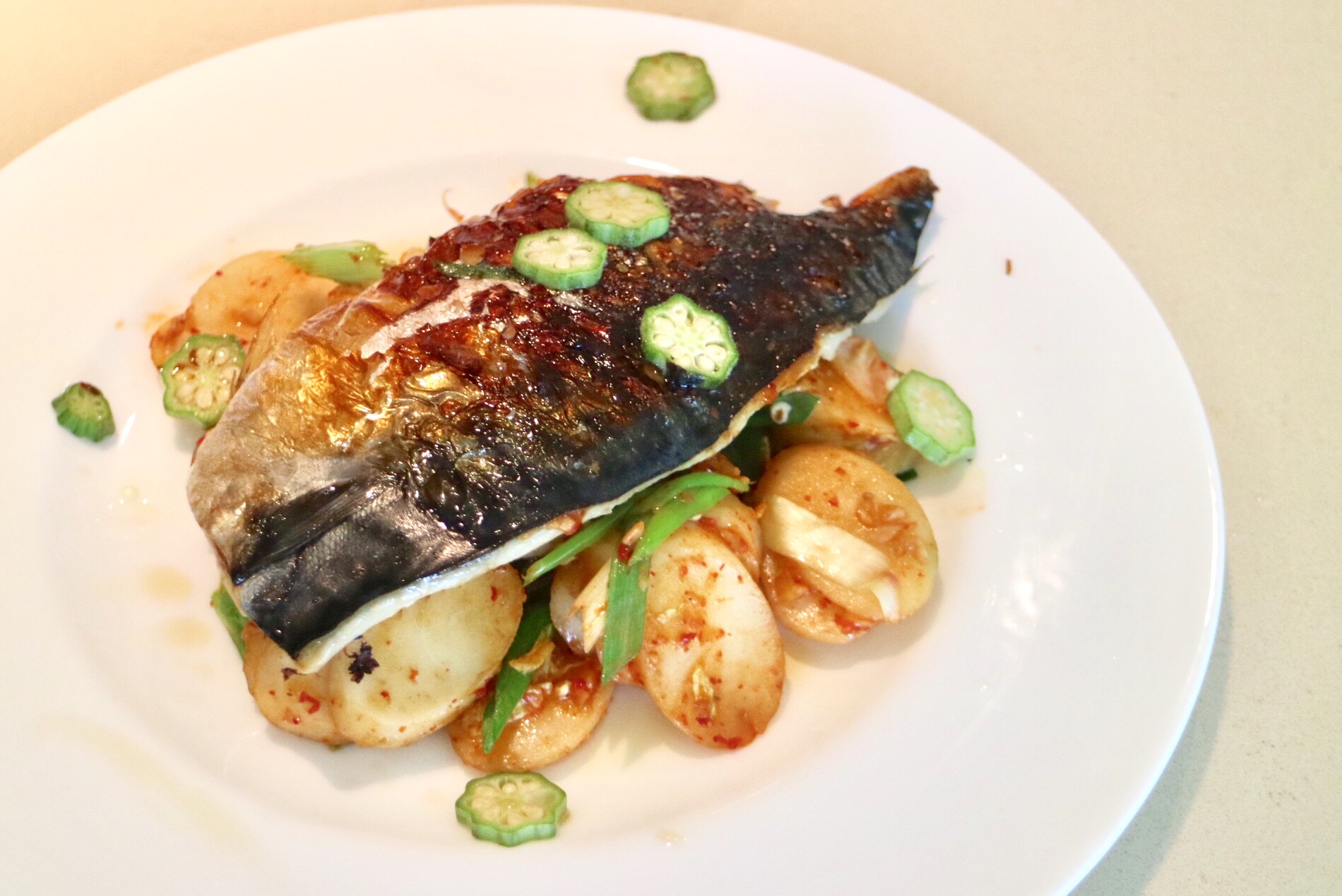 Hope you guys enjoy my first cooking video, and please let me know if you have any comment or suggestion. And if you enjoy the video, please LIKE the video and SUBSCRIBE to my channel… Much appreciated!
Picky Diner on
YouTube: https://www.youtube.com/channel/UCK8MVmAmO_tR2xFwl1Zd3tw
Instagram: @pickydiner 
Twitter:  @pickydiner
Domo Is Craving on 
YouTube: https://www.youtube.com/channel/UCT1vgaB7lCPwnLi2frd8TgA
Blog: http://domoiscraving.com
Instagram: @domoiscraving